Skillshare could be an outstanding platform for creative learners. For others especially techies – not so much!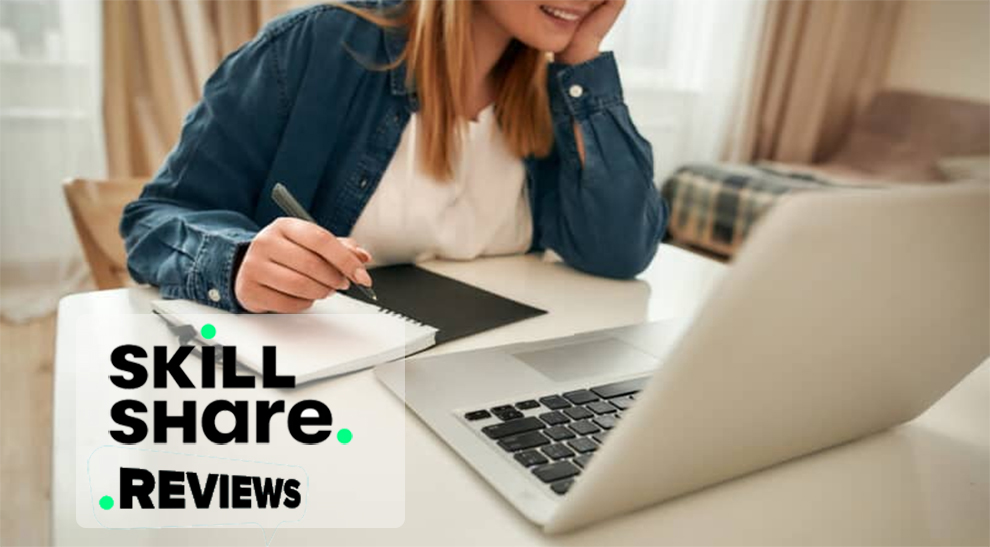 Skillshare is an online learning platform that offers a wide range of courses and tutorials on various subjects, including business, design, technology, and numerous creative topics.
But are all these courses equally good?
While some Skillshare classes provide you with an amazing learning experience, others lack depth. This Skillshare review will tell you all about the good and bad sides of Skillshare courses.
The courses on Skillshare are created and structured as short video lessons that are easy to follow – which is great! Up till early 2023, Skillshare didn't offer a certificate but now it has started awarding a class certificate after the completion of a class.
Users can learn at their own pace, and the platform offers a community-based learning experience where students can interact with each other and share their work.
It has a subscription-based model that gives users access to all courses on the platform. To test how good is Skillshare, it offers a free trial period of one month for new users. You can cancel your membership if you don't like what you receive.
The platform is user-friendly and provides a mobile app for learners to access courses from their smartphones or tablets.
Skillshare Snapshot – Is Skillshare Good?
Yes, it's good if you're not an advanced learner.
Topics range
Design, photography, writing, business, psychology, technology, creative arts, and more
Certificates
Yes (Newly added feature)
Course duration
The average duration of courses on Skillshare is around 20-60 minutes, but course lengths can vary from a few minutes for short tutorials to several hours for more in-depth classes.
Pricing

Individual plan $168 annually
Skillshare Teams $159/year

Both paid upfront

Free courses
No free classes are available
Trial
A 1-month trial is available after signing up.
Instructors (anyone/specialized professionals)
All kinds of people from famous instructors like Natalie Portman, Roxane Gay, Aaron Draplin, Simon Sinek, Seth Godin, Gary Vaynerchuk, Jasmine Star, James Victore to common people.
Cancellation & refund
Refunds for annual Skillshare memberships are offered if you contact the team within fourteen days after the charge has been processed.
Skillshare worth it for
Creative Learning fields like graphic design, illustration, photography, writing, web development, coding, animation, and music production.
Alternatives to Skillshare
Udemy, Masterclass, Free Youtube Learning, CreativeLive
Can You Actually Learn On Skillshare?
If you are wondering 'how good is Skillshare when it actually comes to learning'? Let us assure you that, yes, students can definitely learn a lot on Skillshare.
The platform has a vast collection of courses and classes covering a wide range of topics. Each course is taught by an expert in their field, who has carefully structured the course material into short, easy-to-digest video lessons.
The platform's format is designed to facilitate learning, and students can learn at their own pace, on their own schedule.
Skillshare review suggests that courses are also designed to be practical. The classes provide hands-on projects and assignments, allowing students to apply what they've learned and get feedback from the community.
Skillshare's community-based learning model is another aspect that supports learning. Students can interact with instructors and other learners, share their work, and get feedback, which can help them learn and improve faster.
Is It Worth Paying For Skillshare?
For a one-time thing, buying the entire subscription is a waste of money.
Additionally, some users may prefer more structured learning environments with live instruction and interaction with instructors, which Skillshare may not provide.
Skillshare Pricing
Before heading on to Skillshare courses review, know that Skillshare offers a subscription-based model, where users pay a yearly fee to access the entire platform's content.
The cost is relatively affordable compared to other online learning platforms, and the platform offers a free trial period for new users.
Skillshare Premium membership is currently priced at $168 per year. Skillshare does not have a separate monthly payment plan for its users as of now. However, the cost per month of the annual premium Skillshare membership comes out to be $14 per month.
Skillshare also has separate subscription plans for group learning where employees from the same enterprises and students pursuing the same courses can subscribe for a 'Teams' plan.
Skillshare Teams provides three different subscription plans depending on the
size of the team. They are:
1. Starter Plan:
Best for teams of 2 to 19 members
Priced at $159 per user, per year.
Unlimited access to all resources.
2. Enterprise Plan:
Best for teams with 20+ members
Custom Pricing
Unlimited access to all resources.
3. Revive Plan:
Best for teams with 50+ members
Custom Pricing
Comes with employee benefits and perks
Unlimited access to all resources.
Related: How much is Udemy | Coursera's Pricing
Is Skillshare Worth It For Artists?
Skillshare provides value for money, especially for artists who want to learn practical skills such as graphic design, photography, painting, and other creative fields.
According to Skillshare reviews, the creative courses are taught by experts in their respective fields and are designed to be practical, with many providing hands-on projects and assignments.
The community-based learning experience also provides opportunities for learners to interact and get feedback, making the learning experience more engaging.
Is Skillshare Good For Learning Languages?
Skillshare is primarily known for its courses on creative arts, business, and other similar subjects. While the platform may have some language courses, it is not primarily designed for language learning.
That being said, the Skillshare reviews for language courses available on Skillshare can be helpful for learners who are looking to understand whether a particular language course would be good for them.
However, it is important to note that the selection of language courses may be limited compared to other dedicated language learning platforms.
If you're specifically looking for a language learning platform, there are many other options available, such as Duolingo, Babbel, Rosetta Stone, and others.
Is Skillshare Worth It For Coding?
No, not so much. Though the platform offers a wide range of coding courses taught by expert instructors, covering various programming languages, frameworks, and tools.
However, it is important to note that Skillshare's format is primarily focused on short video lessons, which may not be suitable for learners who prefer more in-depth and comprehensive learning.
Additionally, the selection of coding courses may be limited compared to other dedicated coding platforms.
Skillshare Courses Review (Variety, Quality, Instructor)
Skillshare has gained popularity over the years due to its affordable pricing and engaging course content. Since it did not award a certificate of completion till recently, people were skeptical about it, but as of early 2023, it has started with its class certificates. So, it's a win-win.
In this review, we will evaluate the variety of courses and categories available, the quality of course content, and instructor qualifications and experience, to determine whether the cost justifies you bear is justified.
A. Variety of Courses and Categories Available
 
Skillshare offers a broad range of courses in different categories, including design, business, technology, photography, writing, and many more.
The platform has a vast selection of courses, with over 30,000 classes taught by experts from around the world.
These courses are designed to cater to different levels, from beginners to advanced learners. So, the Skillshare reviews for them varies greatly.
But, since these are short lessons, they best serve beginners. Also, Skillshare's non-tech courses are much better than its technical ones.
B. Quality of Course Content
Skillshare courses are well-structured, and engaging, but not all of them are as informative. The instructors do present the content in an easy-to-understand format and also provide transcripts for learners who prefer to read.
Even though the Skillshare courses' reviews are usually encouraging, the quality of the course content can vary, and learners may need to do some research before enrolling in a course to ensure it meets their expectations.
Some courses lack depth and complete information. They could be a good option for someone who needs a brush up on his/her existing skills.
But you cannot become an expert with Skillshare courses, especially for more complicated topics apart from creative ones.
C. Instructor Qualifications and Experience
Most Skillshare reviews state that the instructors are usually experts in their respective fields, and the platform takes pride in working with experienced and knowledgeable instructors.
The qualifications and experience of the instructors can however vary, and learners may need to check the instructor's credentials before enrolling in a course.
Skillshare provides instructor profiles that learners can review to understand the instructor's qualifications, experience, and teaching style.
D. Justification of Cost
Skillshare's cost is relatively affordable, with an annual subscription fee of $165 considering the variety of courses and categories available.
However, is Skillshare good for you or not cost wise depends on your expectations after course completion.
Related: Udemy Review | Coursera Review
Skillshare Classes Review
 
Skillshare classes are typically conducted online, and they follow a structured format designed to make learning easy and engaging.
The format may vary somewhat depending on the instructor and the subject matter, but there are some common elements you can expect to encounter in most Skillshare classes.
Here are some typical methods and formats of highly rated Skillshare classes:
1. Video lessons: Most Skillshare classes consist of pre-recorded video lessons that you can watch at your own pace. These videos are typically broken up into short segments that cover a specific topic or concept.
You can read the Skillshare reviews for each class on its course page.
2. Assignments: To reinforce what you learn in the video lessons, many Skillshare classes include assignments or projects. These can range from simple exercises to more complex projects that require you to apply what you've learned.
3. Discussion forums: Skillshare also provides a platform for students to interact with each other and the instructor through discussion forums. You can ask questions, share your work, and get feedback from your peers and the instructor.
4. Live sessions: Some Skillshare classes also offer live sessions, where the instructor will hold a live video conference with students to answer questions and provide additional guidance.
5. Quizzes and assessments: Some classes may include quizzes or assessments to test your knowledge and ensure you understand the material covered.
Whether you are a beginner or an experienced learner, reading a Skillshare review can help you determine whether the platform's courses are worth investing your time and money into.
Keeping In Mind The Platform Interface – Is Skillshare Worth It?
Yes, it is. The platform interface reviews are usually all positive. The platform provides clear directions and guidance on how to navigate through its different features. Additionally, Skillshare is easily accessible, with both a desktop and mobile app. This allows learners to access the courses at any time, from anywhere.
Overall, Skillshare is an excellent platform for those looking to learn new skills in a flexible and accessible manner, with a user-friendly interface and a variety of resources and tools to aid their learning.
Do You Get A Certificate With Skillshare Courses?
Yes! Now you do. Skillshare has started with this feature in 2023. The certificate shows the learners name, class taken, class length, instructors name, date of issue, and unique certificate ID.
With the inclusion of certificates, the answer to is Skillshare good, is a definite yes.
Student Community Learning and Feedback
Skillshare's community is an essential aspect of the platform, and it can provide additional learning opportunities and support.
If you're interested in networking with other learners and instructors, Skillshare's community may be worth the investment.
Discussion forums and community features: Skillshare provides discussion forums and community features that allow learners to interact with each other and with instructors.
These forums are a great way to ask questions, get feedback on projects, and connect with other learners who share similar interests. The community features also help to foster a sense of camaraderie and support among learners.
The feedback system for instructors and courses: Students often ask 'Is Skillshare good when it comes to their feedback system?' Is it transparent?
To answer that query let us assure you that Skillshare has a robust and transparent feedback system that allows learners to rate courses and instructors based on their experiences.
This feedback is important for helping to improve the overall quality of the courses and ensuring that learners are getting the most out of their learning experiences.
Instructors also receive feedback on their courses, which can help them to improve their teaching methods and course content.
Student testimonials and reviews: Skillshare features student testimonials and reviews on its website, which can provide valuable insights into the learning experiences of others.
These reviews for Skillshare courses can help learners to determine which courses to take and which instructors to follow.
They can also provide valuable feedback to instructors and the Skillshare team, helping them to improve the platform and the courses that are offered.
If you are hesitant about enrolling in Skillshare classes, you can always read the Skillshare classes reviews to get an idea of the quality of the courses before committing.
Skillshare Pros and Cons
Pros
Cons

Affordable: Skillshare offers a yearly subscription at a reasonable price, making it accessible for people with different budgets.
Diverse course selection: Skillshare offers a wide range of courses in various topics, which means there is something for everyone.
Engaging learning experience: Skillshare courses are designed to be interactive and engaging, with hands-on projects and community features.
Flexibility: Skillshare's courses are self-paced, which allows learners to learn at their own pace and on their own schedule.

 

Limited course depth: Skillshare's courses are usually not as comprehensive as those offered by other online learning platforms, which may limit the depth of learning.
Quality inconsistency: As the courses are taught by different instructors, there may be inconsistencies in course quality and teaching style.
Limited certifications: Skillshare does not offer formal certifications or degrees, which may limit the value of the courses for some learners.
Short course duration: Skillshare's courses are often shorter than those offered by other online learning platforms, which may not be enough for some learners to gain a comprehensive understanding of the topic.
Common Skillshare Complaints and Areas For Improvement
While Skillshare reviews are generally positive and it is a well-regarded learning platform, there are some common complaints and areas for improvement that users have identified.
Here are a few of them:
A limited selection of advanced courses: While Skillshare offers a wide range of courses, some users have noted that the selection of advanced courses may be limited. This can be a challenge for learners who have already mastered the basics of a subject and are looking to take their skills to the next level.
Inconsistent course quality: While Skillshare's courses are generally taught by expert instructors, the quality of courses can be inconsistent.
Students should always read Skillshare classes review before enrolling in any course to get an idea of the experience and effectiveness of the course.
Lack of interactivity: Some users have noted that Skillshare's format, which is primarily focused on short video lessons, can be limiting in terms of interactivity.
While there are opportunities to interact with instructors and other learners, some users have suggested that the platform could benefit from more interactive elements, such as quizzes, assessments, and live sessions.
Limited features for tracking progress: While Skillshare offers some features for tracking progress, such as bookmarks, users could benefit from more robust tracking features, such as personalized learning paths and progress reports.
How Good Is Skillshare When Compared To Its Competitors?
Skillshare is a pretty good option when compared to its counterparts. Among the Skillshare alternatives, MasterClass only deals in creative topics like photography, cooking, and filmmaking.
Udemy is well-rounded but Domestika restricts itself to a creative zone. Again, YouTube is free but lacks authenticity. So, all-in-all Skillshare reviews are better.
A detailed comparison is done below.
Masterclass: Masterclass is a platform that offers courses taught by celebrity experts in various fields, including writing, filmmaking, cooking, and more.
While Masterclass courses are high quality and offer the opportunity to learn from top professionals, they are also relatively expensive compared to Skillshare. Skillshare, on the other hand, offers a wider variety of courses and is more affordable.
Domestika: Domestika is a platform that focuses on creative courses in fields such as art, design, and animation, while Skillshare covers a greater range.
While Domestika courses are highly focused and of high quality, they are also relatively expensive compared to Skillshare.
Udemy: Udemy is a platform that offers a wide range of courses in a variety of subject areas just like Skillshare. Both are extremely easy to navigate and offer good source of information.
Free YouTube Learning: YouTube offers a vast array of free educational content across a variety of topics, but you will have to be smart enough to know which videos to watch. But, this won't be a structured way of learning.
Related: Skillshare vs. LinkedIn Learning | CreativeLive vs. Skillshare | Domestika vs. Skillshare
Reviews for Skillshare: Is It Worth It?
Skillshare is worthwhile for anyone who wants to get knowledge and get certified. It is not meant for advanced learners or techies looking to upskill themselves in Machine Learning or Data Science.
It is best meant for creative professionals or home learners from a variety of domains like filmmaking, drawing, graphic designing, animation, fine arts, painting, writing, music, dancing, boxing, crocheting, etc.
In terms of quality, Skillshare courses are generally of high quality, and the platform has a feedback system that allows learners to rate courses and instructors.
We hope that after reading this detailed Skillshare review you can now have a fair idea about whether Skillshare is the perfect fit for you.