Reading Time:
11
minutes
Udemy can be a valuable resource for learning new skills, but it ultimately depends on the individual courses since not all courses maintain the same quality.
Udemy is a prevalent online learning platform that offers various courses, from design and programming to lifestyle and personal development.
Founded in 2010, Udemy started with the purpose of democratizing education by making it accessible to anyone, anywhere, and at any time.
Since then, it has grown vastly and become one of the most popular online learning platforms globally, with more than 40 million students enrolled and over 155,000 courses available.
Primarily the popularity and positive Udemy reviews are dedicated to the platform's affordability. All courses and even Udemy's subscription are priced modestly.
Also, most of the time you will find one or the other promotional discounts running on the platform.
Features
Udemy
Pricing
Pay Per course or Subscription (subscription not available to all)
Free Courses
Yes
Cost

Individual courses $12.99-$199.99
Monthly subscription $29.99 onwards

Course Access
Lifetime
Subjects
Wide range from tech to business and creative topics
Instructors
Experts + Anyone with knowledge in the domain
Course Quality
Variable
Live Lessons
No
User Experience
Smooth
Best for
Ideal for beginners and intermediate learners for brushing up their skills
Languages
Multiple languages & subtitles
Certification
Yes, in all paid courses
User Support
Fewer options to contact
Visit
Udemy
In addition, the courses from Udemy are taught and created by experts in their fields who are not necessarily teachers. So the teaching style is fresh and unique breaking the monotony.
On the downside, since anyone can build and sell a course on the platform, there will be a discrepancy in the expertise and quality of the instructors.
In addition, even though some classes are comprehensive and offer valuable skills and knowledge, others may be outdated and not worth the investment.
This detailed review of Udemy will help the students understand the good and bad of Udemy.
Udemy Feedback: What Makes Udemy Unique?

 
What makes Udemy stand out is its:
 
1. Self-paced Learning: One of the promising attributes of Udemy is its emphasis on self-paced learning. Unlike traditional and classroom-based learning, you can complete the courses from Udemy at your pace.
Hence, students can enjoy learning at their time and schedule, making it a solid pro for busy professionals or anyone with other commitments that make it challenging to attend in-person classes.
2. Interesting Learning Format: Beyond this, reviews for Udemy's teaching style are also pretty good. It has several course formats to cater to different learning styles. Some courses come as video lectures, whiles others have exercises and interactive quizzes.
Many may even include downloadable resources like PDFs, e-books, or other material that students can access anytime.
3. Real World Instructors: Further, Udemy lets people become an instructor and create and sell their courses on the platform easily. Students can learn from experts in their fields with real-world expertise and experience.
But while reading through the Udemy courses review, we found another side to this aspect: Since anyone can produce courses on Udemy, you must read through the ratings and reviews before enrolling in any class.
 
4. Multiple Language Options: Its global reach is another standout feature. Udemy is available in multiple languages and helps instructors and students located globally.
It builds a vibrant and diverse learner community that can connect, collaborate on projects, and share ideas.
5. Learning Tools: Udemy provides a variety of tools and features to help students succeed. For instance, several courses have discussion forums wherein students can share ideas, ask questions, and get feedback from their instructors or peers.
6. Certification Included In Course Price: Lastly, one of the most liked aspects of Udemy is that it offers a range of badges and certificates that students can earn upon course completion. It can be a good value addition to the CV or resume.
What the Udemy Reviews Have To Say About Who Should Choose Udemy?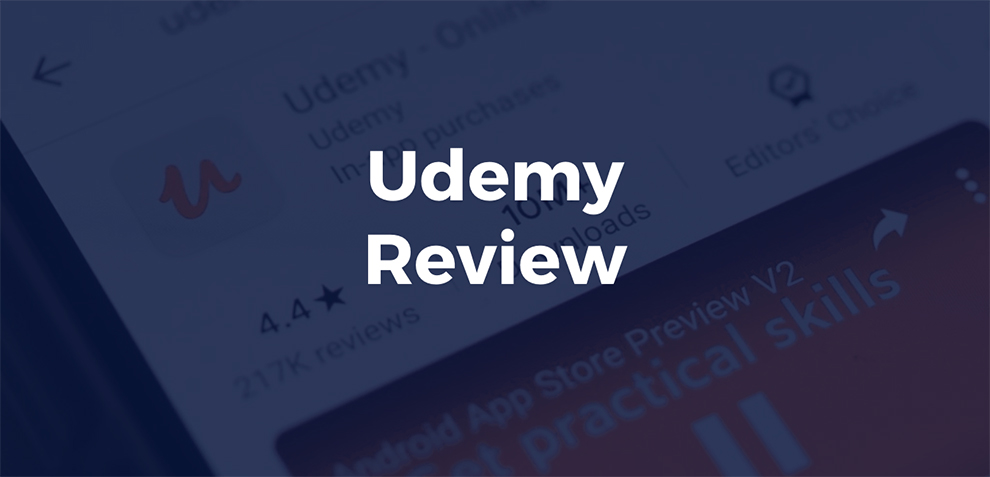 Udemy is best suited for the people who fit in one or more of these following categories.
1. Best for New Learners: Udemy is the best option for everyone trying their hands at anything new. It is also not a bad option for anyone aspiring to improve their knowledge or skills in a particular domain.
The platform provides a vast range of courses across multiple disciplines. Hence, there is something for everyone, irrespective of professional experience, education, and background.
 
2. Meant for Flexible Self Learning: Basis Udemy classes review, we also think it is well-suited for individuals seeking a flexible schedule, who wish to have an instructor explaining things but not interrupting in between or rushing them.
The course's self-paced nature gives the learners the liberty to move ahead as they like without rushing.
3. Professionals Wanting to Stay Updated: Udemy also benefits professionals hoping to stay updated with the latest developments and trends in the industry.
You can find courses on data analysis, digital marketing, and programming that can help people who need to be updated with the changes in their domains.
4. Ideal for Turning Your Hobby Into a Profession: Lastly, we found that people who like to explore new interests and hobbies will find Udemy beneficial.
You can find various photography, art, music, and cooking courses. Hence, it is a quality go-to option for those wanting to pursue their hobbies and passions.
Is Udemy Worth It: Udemy Courses Reviewed In Depth
Let us look closely at the features of Udemy's courses. Starting with their course range to customer support, read on to know how well Udemy performs based on different aspects.
A. Udemy's Course Selection Range
Diversity wise Udemy classes reviews are fairly positive. Udemy provides a huge range of courses that no other online platform will provide you. You get courses across multiple disciplines, making it a suitable pick for hobbyists, professionals, and students.
Some of the most popular categories on Udemy are personal development, technology, lifestyle, and business. You can also find courses on niche topics like pet care, spirituality, and gaming.
The range of courses on Udemy keeps growing from python to machine learning to AI, with new ones added daily. It implies that there is something for everyone to learn, and students can expand their skills and knowledge horizon over time.
Examining the Udemy ratings, we found that even though the variety is impressive, the course quality and credibility of the instructors can vary significantly.
It is because anyone can become an instructor on Udemy. On one hand, it means that students learn from professionals adept in their fields with real-world expertise. On the flip side, it also means that the course quality can be variable.
However, Udemy has established several requirements and guidelines for course instructors. For instance, they must go through the vetting process before publishing the courses.
Further, the platform continuously monitors Udemy reviews and ratings to ensure that the instructors produce top-quality content. Moreover, you also get a 30-day money-back guarantee with every class that adds a protective layer for the students.
You also get accreditation and certification for several courses on the platform. Upon course completion, students bag a certificate of completion.
But the downside is these certifications are not always recognized by employers or universities and do not hold the same weight as accredited certificates and degrees.
Udemy Course Range – Key Takeaway
Variety across multiple domains, but quality and credibility vary with instructors.
It comes with a money-back guarantee to ensure secure students' interests.
You earn a certification after completion.
B. What Do You Get With Udemy's Class?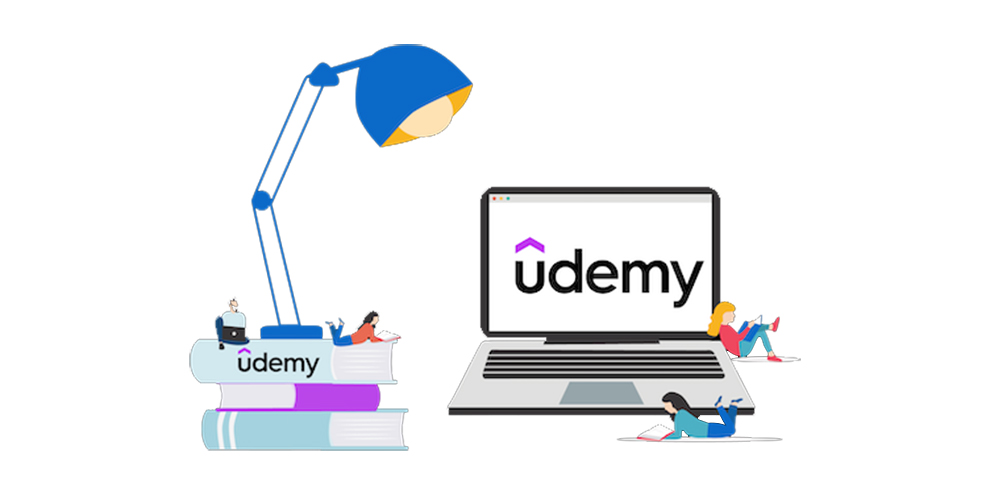 With Udemy you get short video lesson and other study materials. The course duration is variable, but a factor of praise in Udemy reviews was that most courses come with lifetime access to the resources.
It implies that the students can access the content at any time, even after they complete the sessions for the first time.
It is a significant advantage over traditional classroom-based learning, which requires you to complete the session within the specified timeline.
Further, instructors offer supplemental study material like downloadable resources, articles, and e-books that help students solidify their understanding of the course content.
Some sessions also include interactive assignments and quizzes that help students implement their knowledge and receive instructor feedback.
Lastly, Udemy has a mobile app that allows students to access the course material on their phones and tablets. So, students can enjoy learning on the go, even while away from the computers.
Udemy Class's Key Offerings
Flexibility
Downloadable study material, quizzes, assignment
Lifetime access and free gateway to new course updates
C. Udemy User Experience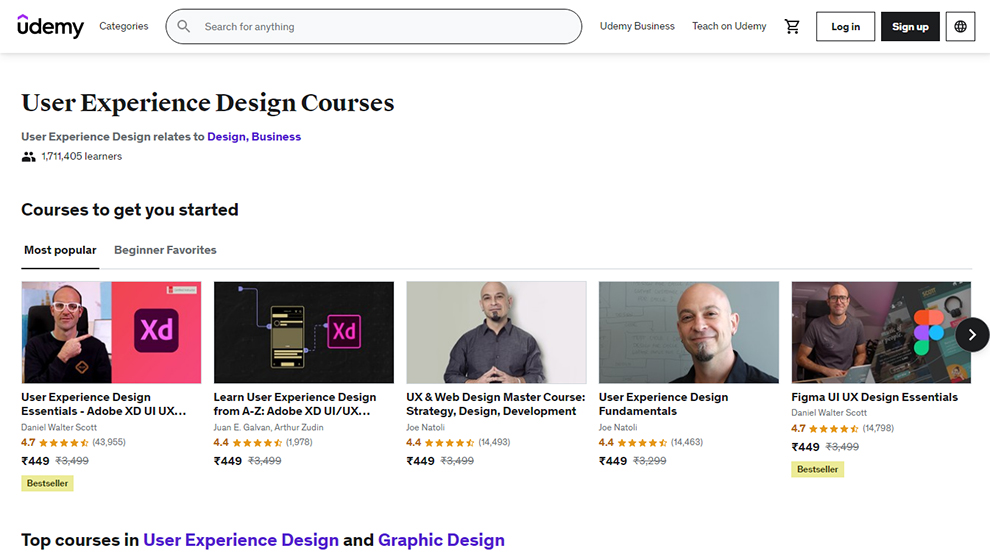 Udemy courses are well accepted for their user-friendliness. Its non-chaotic and very simple. Udemy can be called a user-dedicated platform with intuitive navigation, simplifying how students enroll and find courses.
Its seamless search function, which makes finding the required classes effortless – by category, keyword, or instructor further adds to seamless navigation.
After you enroll in the course, you will get access to all the course materials, assignments, quizzes, and videos from the account dashboard.
Basis Udemy customer reviews, we evaluated that the audio and video quality on Udemy mostly varies depending on the instructor's production and equipment values.
Udemy offers minimum video and audio quality requirements and encourages instructors to employ top-quality production and equipment values to ensure students have the best learning experience.
They also provide subtitles and captions for many courses, simplifying how students follow along with the content.
Beyond this, the Udemy feedback page has many students gaga over its additional tools and features that amplify the learning experience. For instance, Udemy lets students ask questions and receive answers from the instructors and other students in the discussion forum.
Key User Experience Takeaways
User-friendly platform with intuitive navigation
Variable quality of audio and video
Lifetime access to materials
D. Pricing and Promotional Campaigns of Udemy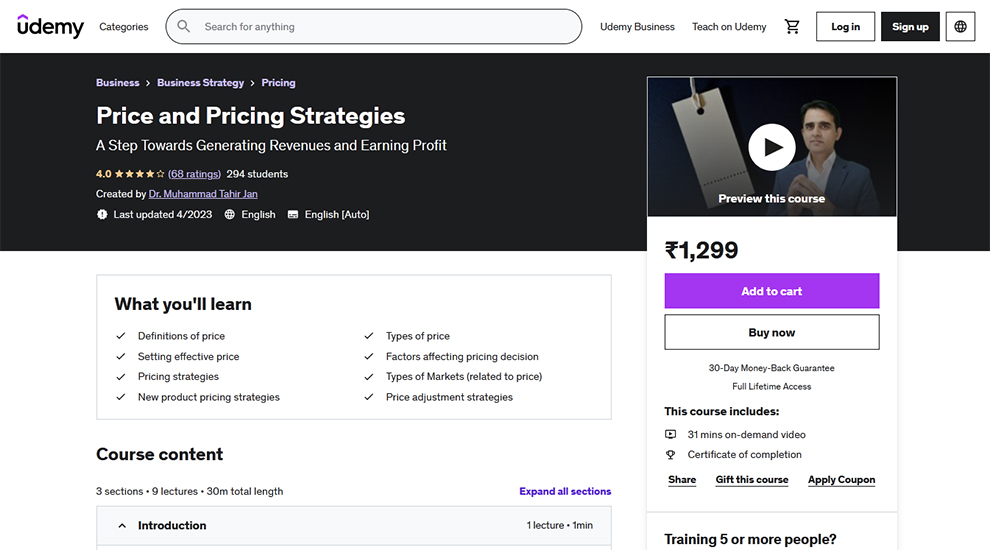 Udemy has a flexible pricing structure, allowing students to buy individual courses or a selection of courses via their subscription service or Udemy for Business.
The prices usually range between $20 and $200 or more, but you can find several promotions and discounts, allowing students to buy the courses at cheaper rates.
All paid sessions come with a 30-day money-back guarantee. Hence, many students have appreciated this risk-free guarantee in their Udemy reviews.
You can buy their subscription service, Udemy for Business, to access a selection of courses. The cost varies depending on the number of users and the selected course packages.
However, it can be affordable for companies hoping to provide employees with ongoing development and training.
Many users give negative Udemy ratings because of the absence of a free trial. But the saving grace is that several classes on the platform come with a free preview video or sample content, allowing students to get a sense of the course before buying.
Compared to other online learning platforms like Coursera or Skillshare, Udemy's fees are almost in line, but the prices for the courses on niche topics or once created by individual instructors are cheaper.
Further, their pricing structure lets you buy individual courses or access a selection of courses via Udemy for Business, offering greater affordability and flexibility.
Udemy's Prices Summarized 
The Course fee is just and not overpriced.
The pricing structure is flexible, allowing students to buy individual courses or shop for a selection of them through Udemy for Business.
You get no free trial, but there is a 30-day money-back guarantee.
There will be frequent promotions and discounts.
E. Customer Support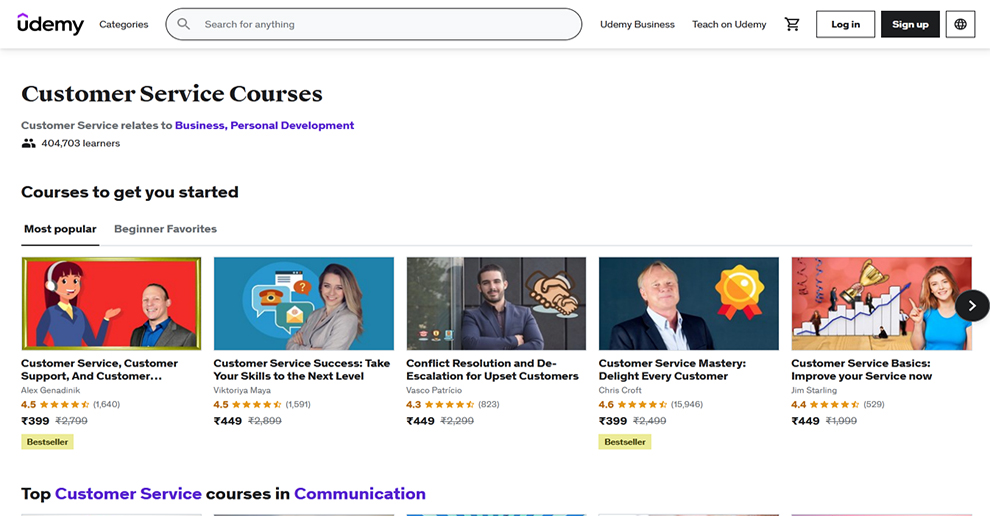 Udemy offers several support options to help students with their queries and concerns. So, in the Udemy courses review it grabs an extra mark for it.
Udemy's support team is available around the clock via chat and email. So the students can contact them anytime. Further, Udemy offers a help center with a comprehensive range of articles, FAQs, and tutorials to cover the different issues students face.
Udemy also has a community forum where students can ask questions, collaborate with instructors and students, and share ideas.
Udemy staff moderates it, making it a safe separate space to get assistance. The general Udemy feedback is that the support is helpful and responsive. So, most customers receive a reply within 24 hours.
But some users have reported issues with customer support responsiveness, especially in cases that need advanced technical assistance.
Udemy's Customer Support Key Points
Range of support options.
24/7 chat and email support.
The community forum and comprehensive help center.
Poor responsiveness in advanced technical issues.
Related: Udemy vs Pluralsight | Udemy vs Coursera| Udemy vs Coursera| Udacity Reviews| edX Reviews| MasterClass Reviews| MasterClass Reviews| Pluralsight Reviews| edX Reviews| MasterClass Reviews| MasterClass Reviews| FutureLearn Reviews| Domestika Reviews| Craftsy Reviews
Is Udemy Helpful In Career Growth?
Yes.
To some extent, the platform can benefit your career growth if not give you big leaps. Udemy offers a plethora of courses on different topics, covering technical and soft skills.
The only downside Udemy online courses review revealed is that the certifications do not hold that much value because they are not accredited.
Learners can deepen their understanding or learn new skills by enrolling in Udemy's courses.
Unlike Udemy alternatives, there are courses for all levels on Udemy. Here you can update yourself with the newest knowledge and information. It can be especially beneficial for those in rapidly evolving industries.
Udemy Customer Reviews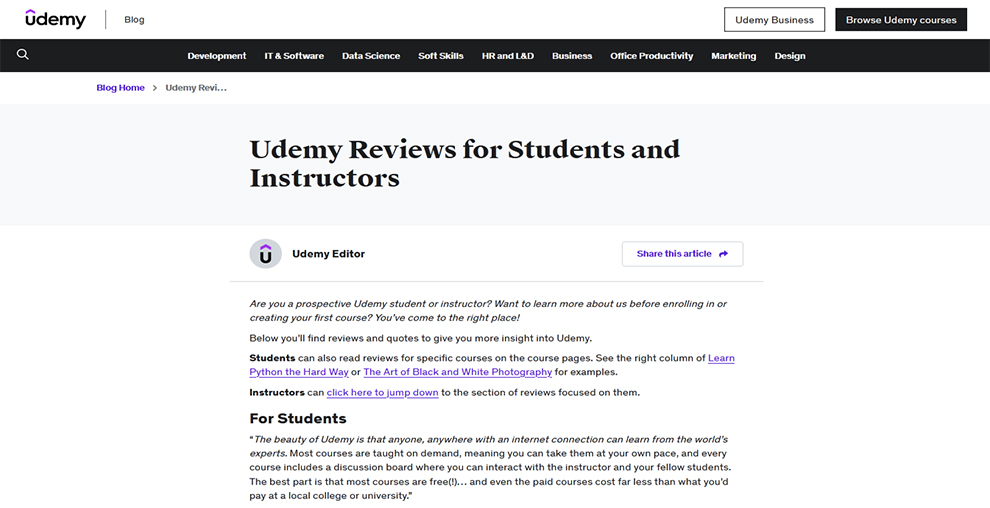 Udemy has a vast collection of customer feedback and reviews, ranging from positive to negative. Here are some prevalent themes we noticed in the reviews:
Positive
Customers love the vast selection of courses and the diversity in topics.
The affordability of the courses is also widely appreciated.
Many Udemy classes review suggest that the courses are easy to follow.
Customers also love the flexibility that allows the learners to take courses at their pace and schedule.
Negative
Some customers reported technical issues with the platform, such as problems with video quality or difficulty accessing the course content.
Course quality can be variable, with some classes being less informative or beneficial than others.
Some customers gave a negative Udemy rating because of the long wait or unhelpful responses from the Udemy support team.
Overall, the reviews are mixed, but please understand that they are based on individual experiences.
Udemy Pros and Cons
Pros
Cons

Wide variety of courses on different topics and niches
Relatively more affordable classes than most other traditional or online platforms
Ensures a flexible learning experience
Lifetime access to all the course material
Certificate of completion
Esay to follow classes

 

Course quality can be variable
The formal educational institutions do not accredit the courses
Students reported technical problems with the Udemy platform
Interaction with the instructor is limited

 
Udemy's Scope For Improvement As Per Udemy Reviews
Even though Udemy has several strengths, it still has many areas for improvement. These include:
1. Uniform Standards: Udemy can work on the course review process to ensure that all courses meet a certain level of rigor or quality to lower the variability in quality.
 
2. Accreditation: Formal education institution does not accredit their courses. It limits their value to some institutions and employers. Udemy can explore partnerships with accredited institutions to provide more recognized credentials.
 
3. Instructor Training: Udemy instructors may not have experience in designing or teaching courses. Providing the instructors with more training and resources can help ensure that all classes are effectively taught and well-designed.
 
4. Customer Support: Unresponsive support is a significant cause of many negative Udemy ratings. Improving the responsiveness and quality of customer support can help avoid these concerns.
 
5. Need for Interactive Learning: The courses are self-paced and flexible. Hence, they do not allow enough interaction with the instructor. Proposing more opportunities for feedback, collaboration, and discussion can help accentuate the learning experience.
Final Thought –  Do  Reviews For Udemy Make It Worth Your Time?
Whether or not Udemy is worth it or not depends on your individual goals and learning needs.
Students seeking flexible and affordable online courses that let you learn at your time and pace will find Udemy an excellent resource. They all come with lifetime access that can benefit students who may want to use them for future reference.
But the courses are not accredited by a formal educational institution, which lowers their value to some institutions and employers.
Further, the course quality can be variable, and the lack of instructor-student interaction may be a bummer for many learners.
Nonetheless, we would conclude this Udemy review by saying that it is an Udemy is a great value for money platform to accentuate your knowledge and skills, provided you carefully examine the offerings before enrolling.