Reading Time:
12
minutes
It's difficult to choose from the two. Udemy has more variety of courses but lacks in terms for instructor credibility. Whereas Pluralsight has credible instructors but does not offer a certificate in all courses.
Udemy is home to more than 155,000 courses. It is a diverse platform that covers almost every topic you can think of learning.
The first difference you'll notice between Udemy vs Pluralsight is their pricing model. Udemy is a pay-as-you-go model, and their individual courses usually range between 19.99 and 199.99 USD. Although Udemy has a subscription option, it is NOT available to all learners.
Pluralsight works on the subscription model for all as well as allows you to take single courses as you may please. Their standard plans cost $29 per month or $299 yearly. You can also opt for their Premium Plan, which costs $45 per month or $499 annually for individual learners.
The second area of highlight is that Pluralsight is a technology skills platform specializing in data science, coding, and computer science and helps individuals and businesses acquire the necessary skills but Udemy is like a jack of all trades covering creative topics to language skills, coding to data science, and business.
Some of the world's most renowned academics teach their courses and develop students' knowledge rapidly. Udemy has relatively more users than Pluralsight, but their instructors may not have as bright credentials as Pluralsight, but it majorly depends on your course choice. 
These are just three aspects of difference. But having to pick one between Udemy vs Pluralsight, which is better, you need to consider other factors as well.
Both these platforms have some similarities and differences, which makes one better than the other. So, ultimately, the choice depends on what you seek from them and how you like to learn. We will pit them against each other to help you make an informed choice with this in-depth comparison.
Which Is Better, Udemy or Pluralsight?
| | | |
| --- | --- | --- |
| Attribute | Udemy | Pluralsight |
| Pricing Model | Per course. Subscription not available to all | Per course and subscription |
| Free Courses | Available | Available |
| Cost | Individual courses $12.99-$199.99 Monthly subscription $29.99 onwards | Core: $299.00 yearly or $29.00 monthly Premium: $499.00 yearly or $45.00 monthly |
| Topics Covered | On almost every domain | Tech-related only |
| Instructors | Anyone can teach | Tough screening process |
| Course Quality | No standardization | More standardization |
| Live Classes | No | A few |
| Ease-of-use | Not as intuitive as Pluralsight | Better and more sophisticated interface. |
| Ideal For | Beginners to Advanced learners for business topics, coding & creative topics. Even suited for the absolute novice. | Software and web development topics for different levels |
| Languages Available | Many | Only English |
| Certification | Yes, in all paid courses | Yes, in certain courses |
| Customer Support | Fewer options to contact | More options to contact |
| Course Access Duration | Lifetime | As long as the subscription is valid. |
| Website | Udemy | Pluralsight |
Which Is Best, Pluralsight or Udemy?
Despite picking two of the most prolific platforms on the internet – Pluralsight, and Udemy, students might often be confused about which is the best and worth investing in.
The definition of best is subjective, yet to give you some insights, we micro-examined these two platforms and compared them on different metrics to help you form a wise decision.
A. Udemy Or Pluralsight, Which Is The Most Affordable?
Udemy courses are usually cheaper.
Udemy's USP is its price, which justifies why students love it so much. The platform allows you to get your hands on a $200 course at only $10 if you are in time for their flash sales. Moreover, you can also get some coupons from instructors' social media profiles, allowing you to buy full-length 20-hour courses at a lower price.
Hence, Udemy has become the go-to platform for every student. You can use it to learn web development via a coding bootstrap instructor at a steal deal instead of shelling out hundreds of dollars for the same instructor in their live classroom session. So, when it comes to pricing, Udemy is generous.
Taking this Udemy vs Pluralsight comparison further, the latter mostly has a membership model. So, to view their courses, you will have to shop for their subscription or membership. You can get their annual or monthly subscription at $299 or $29, respectively. It is their personal plan.
They also offer a Premium membership priced at $499, comprising projects, assessments, quizzes, and several interactive courses. They provide certifications once you finish the session, but that feature is also available with Udemy's paid courses.
Thus, at $499, you can access over 5000 courses for a year, which is a sweet deal. You can choose to renew the subscription next year or lose your access. However, Udemy courses come with lifetime access. Like Udemy, even Pluralsight runs some flash sales, but they are not as generous as Udemy.
 
Related: Pluralsight Pricing & Subscription Cost
 
B. Udemy Vs Pluralsight, Where Can You Find Better Free Courses?
Udemy is a clear winner as they offer access to thousands of free courses
In all honesty, the answer to this question can change on what you expect from a free course. Udemy's free courses have a more simplified learning experience. However, the free ones are limited by features. For instance, you do not get a certification in these courses.
If you opt for the Pluralsight free trial, you can try their Expanded library, with >7000 courses, and Core library, with >2500 courses, for ten days. Or you can get up to five free courses every month with their subscription
C. Is Pluralsight Better Than Udemy In Terms Of The Range Of Topics Covered?
Udemy has a clear edge in the number of disciplines in which it offers courses. Their broader selection lets you find something that best matches your interests and needs. Udemy also has several free courses to choose from.
On the contrary, Pluralsight focuses on tech-related classes. Thus, they are more selective in their offerings, which shows in their quality too. They give you access to some leading industry experts via their courses. However, be careful and pick only the latest or recently updated ones.
Udemy is a global marketplace and offers courses on several different subjects. It is so versatile and broad that learners from different levels and areas can find the materials that best fit their interests and needs.
Udemy has courses on the following domains:
Business
Personal Development
Finance and Accounting
Office Productivity
Music
Marketing
Development
Teaching and Academics
Lifestyle
Photography and Video
Health and Fitness
IT and Software
Design
Instructors and course creators manage and create these courses. Lessons usually contain lectures comprising texts and videos, and the instructors also offer add-on resources like practice exercises to streamline the learning for students.
However, the problem is Udemy is not very selective with its course content. So, you may find a mix of extraordinary and some average courses. It is the reason for the many mixed reviews on Udemy.
The good news is there is a way to overcome this challenge by using a search filter and finding the course that best matches your requirements. It will help you pick the class as per the features, subtitles, video duration, price, language, level, and level of understanding.
Alternatively, you can also preview the course before you pay for it. You get a free preview to assess whether the particular class will fit your needs. Reading the course reviews can also help.
On the contrary, Pluralsight centers more on the course offering. It offers content for tech professionals and businesses. But it primarily focuses on technology-based and skill courses. They have more than 1500 experts who provide lectures via Pluralsight.
Pluralsight has classes on the following domains:
Architecture and Construction
IT Ops
Machine Learning/ AI
Creative Professional
Data Professional
Information and Cyber Security
Software Development
Manufacturing and Design
Business Professional
Cloud Computing
However, some courses on Pluralsight are dated. So they may not be relevant anymore. Thus, you must check its creation and last update date before buying any class.
 
Related: Pluralsight Reviews | Udemy Reviews
 
D. Live Classes – Udemy Or Pluralsight, Which One Should You Choose?
Sadly Udemy has no live lessons. So, if that's what you seek, you must opt for Pluralsight.
Udemy offers pre-recorded sessions. So, they do not have any live video lessons. Pluralsight has a few, which can be a good bonus for many students.
E. Instructors and Course Quality – Is Pluralsight Better Than Udemy?
Because Pluralsight has a more intensive quality control measure for instructor selection, they are better at maintaining the quality across different courses.
When you select an online learning class, you want to ensure that the course is good and the instructor offering the course holds the credential to teach you this content. So, in this aspect, which is better, Pluralsight or Udemy?
On Udemy, the courses are managed, owned, and created by the instructors.  But the criteria to be an instructor on Udemy aren't very strict. So, if you have the knowledge and interest in any subject matter, you can also use this as an opportunity to teach on Udemy.
Udemy requires no formal approval to work as an instructor. But if you want to choose between the available experts, you can read through the small bio on the instructor and their respective reviews and ratings and decide if they fit the bill for you.
Sometimes instructors may also include teaching assistants in their course who can help answer students' questions on their behalf. However, to ensure every session meets some specific standards, they go through a Quality check. For every session, the minimum requirements are:
At least 30 minutes of video content or five lectures or more
Good audio
HD quality
Pluralsight has a team of 1500+ expert authors who take the lessons. If you wish to take a class on Pluralsight, you will be supported by the platform in editing, video production, and content creation.
After that, authors undergo a peer review to ensure technical accuracy and content quality. This intensive quality control by Pluralsight helps maintain superior quality across all courses. When picking from the different authors, you can read through the small bio about them, stating their ratings and the lectures they have authored below.
F. Pluralsight Or Udemy, Which One Is Better To Use With Ease?
Pluralsight has a more sophisticated interface for businesses. They split the approach into two sections – Flow and Skills.
In the former, you can leverage the workflow data for better management. The analytics in Flow help you better operations and eliminate roadblocks.
In Skill, you can upskill your teams in the technologies and trends required to materialize the strategic objectives. 
Udemy and Pluralsight have a mobile app for offline use, a quick registration process, and an easily navigable interface. Udemy lets you register with your email, name, and password, and you can start using their trial version at no cost.
Pluralsight demands you add payment details when signing up with the free version. Of course, you can cancel the subscription before the trial window is over, but if you forget to do so, it will result in a charge on your card.
Navigating through both platforms is easy. Udemy and Pluralsight demand that instructors create classes with text-based and audio/visual content, including downloadable resources, additional activities, and quizzes, allow discussions and feedback and monitor progress at every point.
G. Pluralsight or Udemy, Which One Has More Language Options?
Since Udemy offers courses & subtitles in more languages, it is a clear winner in this round.
Udemy is a localized platform, and you can get information in Japanese, Indonesian, German, French, English, Dutch, Polish, Russian, Portuguese, Korean, Chinese, Italian, Spanish, Thai, and Romanian. You can create a course in any language you like as an instructor.
On the contrary, Pluralsight offers its content only in English. However, they have subtitles and captions in other languages. So, you can pick the captions in your preferred language as desired. Hence, it is almost an indirect requirement to be well-versed in English to get the most from a Pluralsight class.
H. Certification
Pluralsight is selective with who gets to teach you. Thus, your certification holds more weight in your career than a typical Udemy certificate. So, if you are after CPE or CEU credits, opt for Pluralsight.
Someone who is solely into personal learning should not care much about certifications. But what should be your choice if you also need to boost your credentials, Udemy vs Pluralsight, definitely Pluralsight.
You do not get any certificate with Udemy's free courses. Other than that, every other class on Udemy will bag you a completion certificate.
You can download this in a JPG or PDF format. However, please remember Udemy is not an accredited institution. So, even though you can download, share, or include your credentials in your CV, the employers know it is not formally accredited.
On the contrary, Pluralsight will bag you a completion certificate once you finish the class. You can get them in PDF format and submit them for continuing professional education credits or education units to the ISACA, PMI, and CompTIA, among other organizations.
I. Customer Support
Udemy vs Pluralsight, which is better? We find the former better in support and assistance because they offer multiple options for solving clients' issues in a time-bound manner.
Pluralsight offers diverse support options to meet the different needs of the users. They have a contact desk wherein you can send your queries and get a resolution in a time-bound manner.
In addition, they also have a sitemap, IP whitelist, and a help center for getting a response to your queries in a brief span. The different categories enable the customers to navigate through the whole process seamlessly.
On the contrary, Udemy provides email support for all its users. In addition, they have an in-built system that allows others users to solve your queries. This service is available 24/7. So, you can avail help anytime you need.
Related Platforms: Udemy Vs Coursera | DataCamp Vs Codecademy | edX Vs Udacity | Skillshare Vs LinkedIn Learning | Alison Vs Coursera| CreativeLive vs Skillshare| DataCamp vs Dataquest| CreativeLive vs Skillshare| DataCamp vs Coursera
Which Is Ideal For Whom – Udemy Vs Pluralsight
Udemy
People who wish to learn at an affordable price.
Those interested in learning new skills
People interested in no-tech-related subjects.
Tech professionals who want to brush up their skills or get well-versed in any specific topic.
Pluralsight
Pluralsight is one of the top platforms for:
Those seeking step-by-step learning.
Students interested in in-depth tech learning
Professionals who need real project experience.
People who wish to advance their career or bag a promotion
Here are some of the best courses offered by Pluralsight.
 
Is It Worth Doing Courses From Udemy?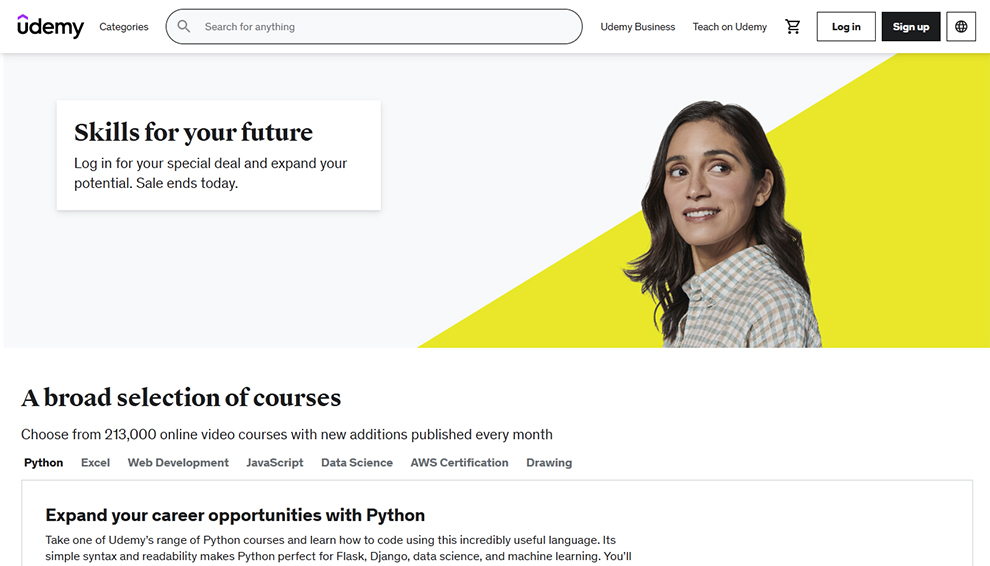 It depends on why you are taking the course. If it's for merely learning a new skill, then it's an absolute yes! But if you are looking for college credits or accredited courses, do check before signing up.
Udemy is one of the most popular learning management systems and is a giant pool of classes. It has over 100,000 courses in different domains like musical instruments, software programming, astrology, mathematics, yoga, etc.
Given the vast number of sessions, it is one of the biggest digital learning platforms online. Their lessons start at a minimum fee of only $10, and each course has lifetime access. Independent professionals and authors draft these courses. They have their personalized teaching plan.
Hence, you won't find any standardization in their lessons. You can find multiple classes on the same topic, covering a distinct curriculum and compiled by different authors. Sometimes, picking the right course with the overwhelming variety of options feels tricky.
Sadly, Udemy does not maintain a check on its content quality, and the authors can create and design their courses. Consequently, some of Udemy's courses are excellent, while a few are questionable. But to play it safe, you must read through reviews before spending money.
Pros
Cons
 

Udemy has more courses than any other platform.
All sessions on Udemy are more affordable and cheaper than most platforms.
They have regular deals, promotions, and sales. So, you can get your classes for as low as $10.
The classes take you into detail and explain the topic well.
These come with lifetime access.
Udemy has instructors who hold decades of experience but there is no strict criteria for instructor selection.

 

Course quality is not the same.
Certifications do not add value to your CV.
No subscription for all.
They do not have a definite learning path.
Do employers trust Udemy?
Honestly, employers do not give as much value to a Udemy certification as compared to Coursera, edX, LinkedIn or even Pluralsight because anyone can teach on Udemy, and there is no accreditation.
Are Udemy certificates respected?
Not much in the professional world! Even though you can put the Udemy certifications on your resume, they do not make much difference. But you will gain from the classes you take on Udemy.
Can I put Udemy courses on my resume?
The skills you learn on Udemy are your personal skills. Hence, there is no harm in including them on the resume.
Is the Udemy certificate valid in the USA?
No Udemy certificates are not valid.
Is Pluralsight Worth The Money?
 
Yes, Pluralsight is a good platform and worth your money. However, it vastly differs from Udemy. You won't find a class on every topic under the sun as it centers mostly around tech-related subjects, like security, design, programming, etc.
You can find over 6500 courses on the platform. They operate on an annual or monthly subscription model. So, you can enroll by buying this subscription.
Beyond these lectures, Pluralsight also provides different learning paths. These contain various courses for learning a subject. They have courses for expert, intermediate, or beginner levels. You can either finish all classes in the learning path or choose to do an individual session.
The platform maintains quality in its courses, and each author undergoes an examination before they create a class. They also review the sessions before making them available for the students.
Beyond their paths and courses, Pluralsight provides mentor support, community forum, and industry-oriented projects. They can help you get adept at the practical aspect of the topics.
Pros
Cons
 

They have a more variety of tech-related courses.
Their courses are credible because they partnered with Fortune 500 companies
Pluralsight instructors are highly qualified, and they have an easy-to-understand method.
They have a definite learning path, letting you go from beginner to expert level.
Pluralsight provides you with skills that can help you progress in your job.

 

They are costlier.
The videos can be too technical sometimes.
They do not have chat support.
Not many free course options.
Are Pluralsight courses accredited?
It is not 100% accredited but is recognized by many top universities.
Is Pluralsight for beginners?
Of course! Pluralsight has 100s of courses available that target a different set of audiences. They also have several options to help beginners kick-start their journey. So all you need to do is pick a course for the newbies, regardless of the program you are interested in.
Is Pluralsight expensive?
Compared to Udemy, Pluralsight is a little expensive.
Final Verdict – Udemy vs Pluralsight, which is better?
Udemy and Pluralsight are two of the most renowned platforms and for a good reason. They serve different things but are good at what they do.
If you seek a one-off skill in diverse domains at a reasonable fee, Udemy should be your go-to platform. But if you demand more detailed knowledge related to tech, Pluralsight is the perfect pick.
So, the bottom line is that the choice depends on your learning style and personal requirements and expectations from a course.