Reading Time:
9
minutes
Real estate photography may seem like an offbeat topic to many. But it is an inevitable part of the real estate business. Check out the top six courses that can alter your real estate  photography skills for good.
"Photography is the story I fail to put into words." – Destin Sparks
I am a realtor in the business for 7+ years. But I have always had a passion for photography. Over time, I discovered that capturing stunning images of properties can make a significant impact on my otherwise slow business. However, given the unpredictable nature of my schedule, attending a traditional photography school did not seem feasible.
Fortunately, online real estate photography courses came to my rescue. These offer the convenience and flexibility necessary to pursue my hobby and amplify my real estate photography skills.
If you find yourself in the same boat, I would like to share some of the best online resources that helped me excel in the field.
Why These Courses?
My recommendations for real estate photography classes stand out for multiple reasons:
They cover crucial topics, such as shooting techniques, equipment selection, and post-processing skills, ensuring a comprehensive learning experience.
In each of these courses, the instructors are industry experts or renowned professional photographers with several years of experience.
These classes teach you photography and offer guidance on editing techniques to boost your images.
Some listed courses encourage student involvement via real-world examples and practical exercises.

 
Students Enrolled: 22,093 students
Rating: 4.5
Certificate: Yes
Special equipment: Camera, tripod, wide-angle lens, and either a cable release or wireless camera trigger
Key Highlights:
What I liked most about this class is that you will be joined by the award-winning commercial photographer Charlie Borland. Through this course, he will present a step-by-step approach to photographing architectural properties.
There are several ways to shoot architecture photography, and the method employed depends on how the images are going to be used.
Will you use the pictures for a commercial developer, home builder, realtor, or architect? Depending on who you are shooting for, you will approach photography, and this course covers several methods you can apply to each kind of client.
Here you get real estate photography training in the following areas:
How to capture images without relying on additional lighting sources.
Efficient methods for quickly processing digital files.
Techniques for shooting with High Dynamic Range (HDR) in mind.
How to process images to enhance HDR effects.
Lighting techniques using strobes to illuminate rooms.
Strategies for managing and minimizing reflections.
Methods for digitally replacing lights, lamps, and windows.
Correcting distortion issues in photographs.
Techniques to work efficiently on low-budget assignments.
Color correction methods to fix problematic color representation.
Using flash to effectively light up rooms.
Shooting with post-processing in mind, specifically for Photoshop editing.
Creating visually stunning architectural photography for high-end clientele.
Utilizing the hide-a-light technique effectively.
In-depth Photoshop techniques to enhance the beauty of architectural photography.
Related: Best Food Photography Courses | Newborn Photography Classes | Wildlife Photography Training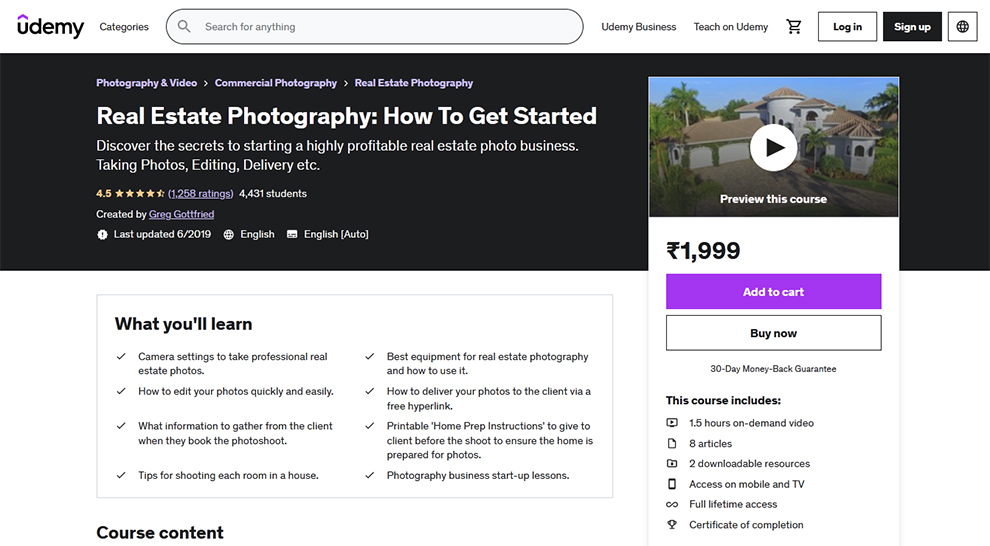 Students Enrolled: 4,428 students
Rating: 4.5
Certificate: Yes
Special equipment: Any camera or smartphone will do
Key Highlights:
This real estate photography course comes with 1.5 hours of on-demand video. With this class, you get eight articles and two downloadable resources.
This program has a couple of things for you to learn. These are the main highlights of the course that got my attention:
Camera settings to take professional real estate photos.
How to edit your photos quickly and easily.
What information to gather from the client when they book the photoshoot?
Best equipment for real estate photography and how to use it.
How to deliver your photos to the client via a free hyperlink.
Photography business start-up lessons.
Printable' Home Prep Instructions' to give to a client before the shoot to ensure the home is prepared for photos.
Tips for shooting each room in a house.
This course in real estate photography is suitable for:
Realtors seeking to improve their own photography skills.
Individuals considering entering the field of real estate photography.
Photographers in search of optimal camera settings for capturing properties.
Aspiring entrepreneurs in real estate photography aiming to expand their business.
Review Dhiren Naidoo:
"
This course is very well presented and is easy to follow. The creating your own website part went by quiet quick and was difficult to follow on the first watch, but with repeat viewing i am sure it will get easier to follow the steps. The overall info in the course is excellent and i will definitely recommend this course if you are considering photography.

 
Students Enrolled: 1,889 students
Rating: 4.4
Certificate: Yes
Special equipment: Drone
Key Highlights:
It is an excellent course with flexible real estate photography classes for beginners with zero experience and even advanced photographers with years of experience. The course has all the basics for the beginner level and then goes into the advanced content for people with experience.
It has 1.5 hours of on-demand video, eight articles, and two downloadable resources. All of these resources come with lifetime access. So I have the luxury to visit them anytime and revise the lessons.
Some of the things that I learned with this program are:
Steps to add drone services to your current photography business.
Best drone equipment and how to use it.
How to edit your photos quickly and easily.
How to send professional online invoices.
Steps to starting a highly profitable real estate drone business.
How to deliver your photos to the client via a free hyperlink.
Drone camera settings to take professional real estate drone photography.
Real estate drone photography tips for shooting angles and times of the day.
Review John-Paul Deacon:
"
Awesome simple example of starting your own business, I would however have liked more on using the drone.
Students Enrolled: 5,114 students
Rating: 4.4
Certificate: Yes
Special equipment: Smartphone or Camera
Key Highlights:
This real estate photography training is a masterclass wherein I came across several elements of shooting professional real estate photos. The course has been crafted to appeal to all skill levels, from beginners to experienced photographers.
I got a thorough explanation for every concept, and every technical information is explained via diagrams. The course also has 30 case studies. These studies discuss the settings and the techniques that are used for capturing every composition.
Even though this is not a photo-editing course, there is a Photoshop tutorial in the Workflow module, which presents you the right way to edit an interior image photographed using the technique taught in this course.
I also liked how these real estate photography classes are in a slide-show format. This makes it easy for students to refer back to certain lectures in the future at different stages of their business growth.
Some of the things that you will learn with this are:
Selecting the correct camera body, lens, and other equipment necessary for shooting real estate.
Compose and shoot house exteriors, apartment buildings, balconies, views, pools, and lifestyle facilities.
Recommended settings and shooting process for real estate photography.
Review Morgan Reddy:
"
This was an amazing course. I learnt a lot more about the basics of Photography and the settings on my camera. Very well explained. This course was much more than expected. I loved every minute of this course. It was not boring at all. Thank you Steve
Special equipment: Smartphone or Camera
Key Highlights:
It is a beginner to the intermediate-level course. The course is perfect for photographers who are looking forward to breaking into the real estate photography business.
Some of the things that I focussed in these real estate photography courses include:
The necessary gear for various budgets – from the bare minimums for the rookie who's just breaking in to the seasoned professionals who may need to tweak just one or two little things in their existing arsenal of gear to break in to the real estate photography marketplace.
Lighting, composition, and techniques for showcasing properties for the digital marketplace.
Some learnings from the actual clients and what they require from their real estate photography professionals.
Understanding of the website and virtual tour hosting
How to photograph Front Elevations, Kitchens, Master Bedrooms and Bathrooms, and an entire shoot of a multi-million dollar estate home, in addition to other special features of homes and how to frame them for the best possible presentation in the digital marketplace
Managing Post Processing – From Basic Editing all the way to advanced photoshopping for those higher-end homes – including when it's time to outsource.
Setting up your business
The future – Video, Matterport, and Drones
How to get paying clients in the first place.
Students Enrolled: 34,400 students
Rating: 3.1
Certificate: No
Special equipment: Smartphone or Camera
Key Highlights:
Usually, people use photography to document, sell, and advertise buildings, spaces, and homes.
If that's what you think is your purpose, too, you can join Mike Kelley for an introductory real estate photography classes for learning the fundamentals of architectural photography. This course can help you bolster your photography business.
It is a great course and debunks the common myths about architectural photography. I was surprised at some of the shocking revelations in between courses myself.
Apart from the fun you have, you will learn the best practices for working with real estate agents, architects, interior designers, commercial clients, and editorial outlets.
Further, the course also teaches you the best approach to photographing any subject, whether you're representing it realistically or embellishing its features.
Also, you will explore special techniques, such as lighting, staging, and infusing your unique style into your shots. As the course advances, Mike will present you with a step-by-step process of capturing an architectural image, which goes from planning to shooting to editing to client delivery.
A Few More Paid + Free Courses To Learn Real Estate Photography
While scouring the internet for some real estate photography courses near me, I even stumbled upon some more fairly decent options. Obviously I can't take all the courses and write about them. So here is a list of them if you'd like.
The Art & Science of Great Composition [Tony Colangelo]
Online Real Estate Photography [Skillshare]
Limitations of An Online Course for Real Estate Photography
According to me some disadvantages associated with an online photography class are:
Lack of immediate feedback and interaction with instructors
Limited hands-on practice opportunities
Potential difficulty in finding a mentor or guidance for specific challenges
Limited networking opportunities with fellow photographers
Reliance on self-discipline and motivation to complete the course without external accountability.
What Real Estate Photography Equipment Is A Must For All Photographers?
Some crucial equipment for real estate photography is DSLR or mirrorless camera, wide-angle lens, tripod, remote shutter release, flash or strobe lighting, and a computer for editing.
How To Become A Certified Real Estate Photographer?
You do not need a college degree to be a certified real estate photographer. Look for 'real estate photography classes near me,' preferably online certification programs that offer hands-on experience and practical lessons.
Opt for courses that cover vital techniques, editing, lighting, composition, and business aspect. You can develop the knowledge and skills to be a certified real estate photographer by completing these classes and gathering practical experience.
Apart from learning through course material, keep looking for real estate photography workshops in your area or online. These workshops could be a great source of face-to-face group learning.
Are Real Estate Photography Jobs Actually Available?
Yes, real estate jobs are available and can be a viable career option. Brokers, real estate agents, homeowners, and property developers usually need professional photographs to showcase their photography in the best possible manner.
These photographs go in marketing materials, brochures, online listings, and other promotional purposes.
Is Real Estate Photography Profitable?
Yes.
For skilled photographers, real estate photography can be helpful and profitable. Your earnings depend on factors like work volume, geography, and reputation.
Most Helpful Real Estate Photography Tips That I'd Like To Give
Use a wide-angle lens to capture more space and emphasize room size.
Pay attention to lighting. Employ natural light and consider supplemental lighting if needed.
Stage the property by organizing, decluttering, and adding tasteful décor.
Capture multiple angles and perspectives to depict the best features.
Keep practicing and refining your skills over time by enrolling in a good real estate photography training program.
Edit your pictures to boost its appeal, sharpness, and colors.