Reading Time:
11
minutes
edX is surely a worthy option that gives you a certificate of completion in the paid version and a variety of course options from business and tech. However, creative learners edX is not the best choice.
edX is a reputable online learning platform founded by MIT and Harvard University in 2012. It provides extensive programs and courses from well-known institutions and universities globally.
What sets edX apart is its commitment to offering top-quality education and making it accessible to anyone with an internet connection. edX reviews are mostly on the positive side. One of the noteworthy things appreciated by many is its emphasis on Massive Open Online Courses (MOOCs).
It lets 1000s of students enroll in a course simultaneously, making education more inclusive and allowing learners from diverse backgrounds access top-tier knowledge from the best institutions globally.
You won't find edX course reviews on the platform itself because it does not have a built-in review system. The platform's extensive course catalog, flexible learning schedule, accredited degrees, and free audit option are a few things that work well in edX's favor.
In the free audit track, you get access to view the course materials. But if you want full access to course exercises and get certified, you need to bear a fee.
While most learners appreciate the platform for its quality education, some criticism exists.
edX could surely expand its financial aid options to make the platform more affordable. It could also provide career development services just like Udacity provides. This includes resume building, job boards, etc.
Is edX Worth It – An Overview
Yes, it sure is!
| | |
| --- | --- |
| No. of courses | 3000+ |
| Enrollments | Millions of learners worldwide |
| Course range | Diverse subjects, including science, technology, humanities, business, etc. |
| Accreditation | Some courses offer accredited certificates and degrees |
| Certification | Certificates available for completed courses (paid) |
| Class type | Self-paced, instructor-led, and collaborative |
| Paid/free | You can view the course materials for free. To get certified you need to pay the fees |
| Refund | Varies depending on the course provider |
| Ideal for | Lifelong learners, professionals seeking career advancement, students looking for college level programs with credits |
Is edX Legit Accredited?
Yes, edX is a credible and legitimate platform, but edX in itself is not accredited. However, it partners with many well-renowned accredited institutions that provide accredited programs and courses.
With edX, you can find 12 fully accredited Master's degree programs from top universities like the University of Queensland, Purdue University, and the University of Texas at Austin.
These programs take place 100% online, making it an alternative for those who have full-time jobs. edX's Master's degree is equivalent to their on-campus counterparts.
What Kind Of Programs Does edX Offer?
edX offers multiple types of programs listed below:
A. Single courses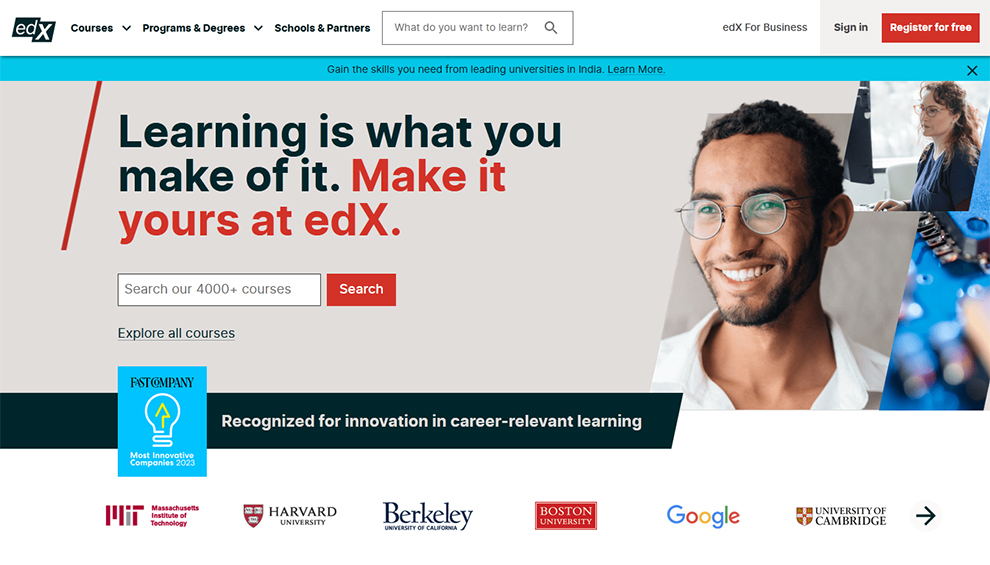 edX has over 3000 courses on subjects like Business, Architecture, History, Computer Science, etc. Most classes take you from beginner to advanced level and come sans any prerequisites.
Courses can be instructor-led or self-paced with varying schedules and structures. Most lessons are in English. It is a common drawback pointed out in the edX course reviews. But you get subtitles with classes that make them somewhat better.
Instructors at edX encourage community engagement and discussions. You can download the lectures for offline viewing. edX also has an app available for both Android and iOS.
B. MicroMasters Program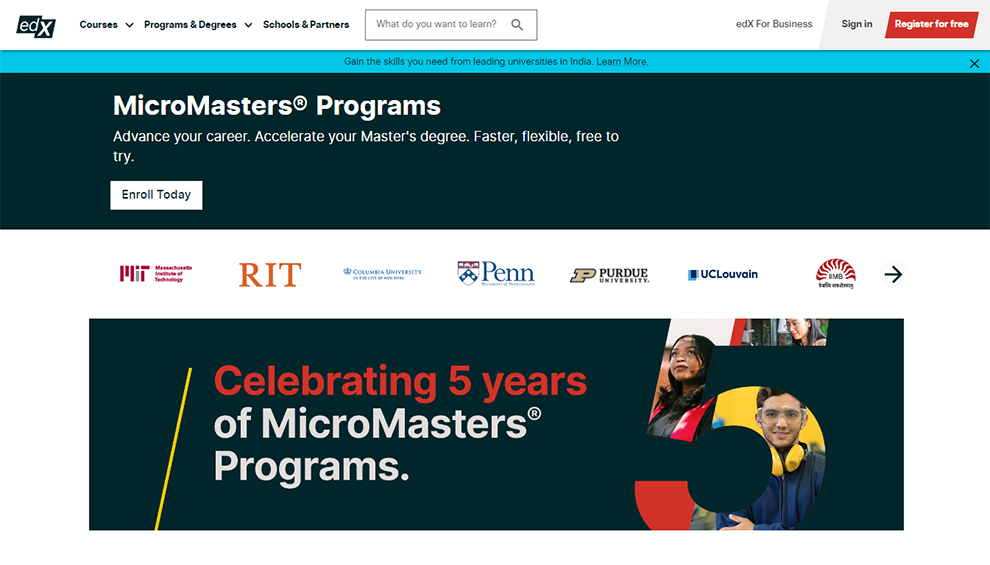 edX has about 59 MicroMasters programs and graduate-level courses for career advancement. On average, the classes cost between $700 and $1400. Typically, the programs take approximately 1-1.5 years.
You can apply the MicroMasters certificate to the Master's program at any accepting university, wherein you get university credit. edX reviews speak highly of their MicroMasters program.
C. MicroBachelors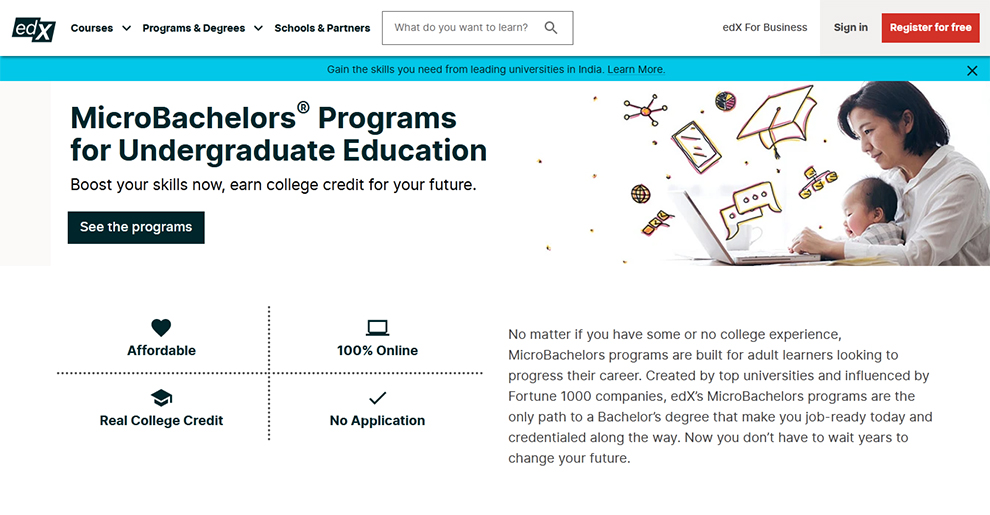 edX launched the MicroBachelors programs in collaboration with corporations, colleges, and universities. Five programs are available, such as Computer Science Fundamentals and Marketing Essentials.
The programs last three to six months, costing $500 to $1500. But is edX good with these programs? Yes, completing these MicroBachelors programs offers transferable college credit, with each credit costing $166, typically lower than the national average.
It is open to everyone and needs no applications. The classes are self-paced, but you get personal coaching too.
D. Professional Certificate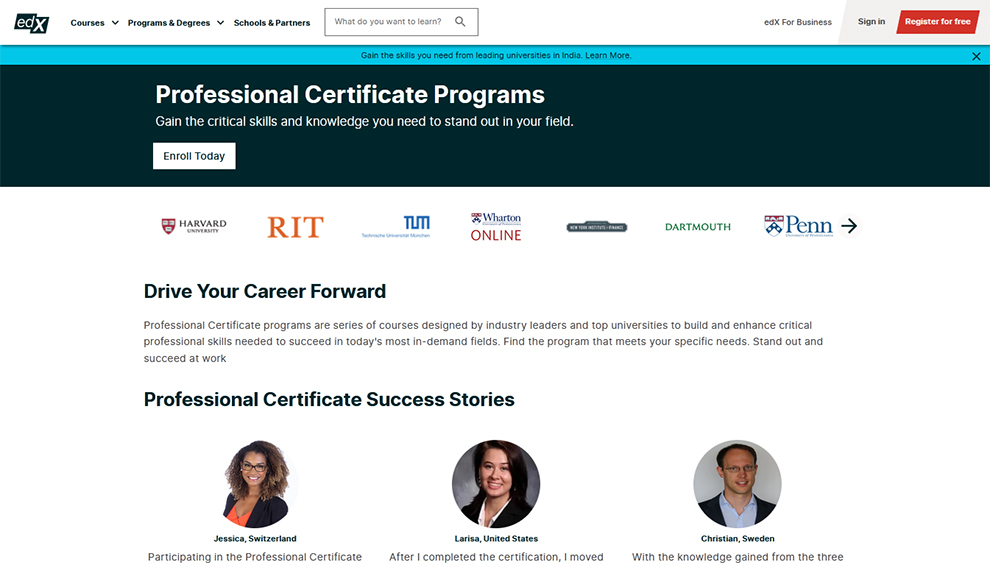 The professional certificate programs accentuate your skills and help with career growth. edX has some 140 programs that cover different subjects. They assure self-paced learning, a factor repeatedly praised in the edX classes review.
Once you complete the courses, you will earn a certification. The pricing for the professional certificate ranges from $100 to $2340. The programs last three to six months.
For instance, the program by Harvard – Computer Science for Artificial Intelligence costs $260 and takes five months to complete. It requires an effort of 7-22 hours weekly.
E. XSeries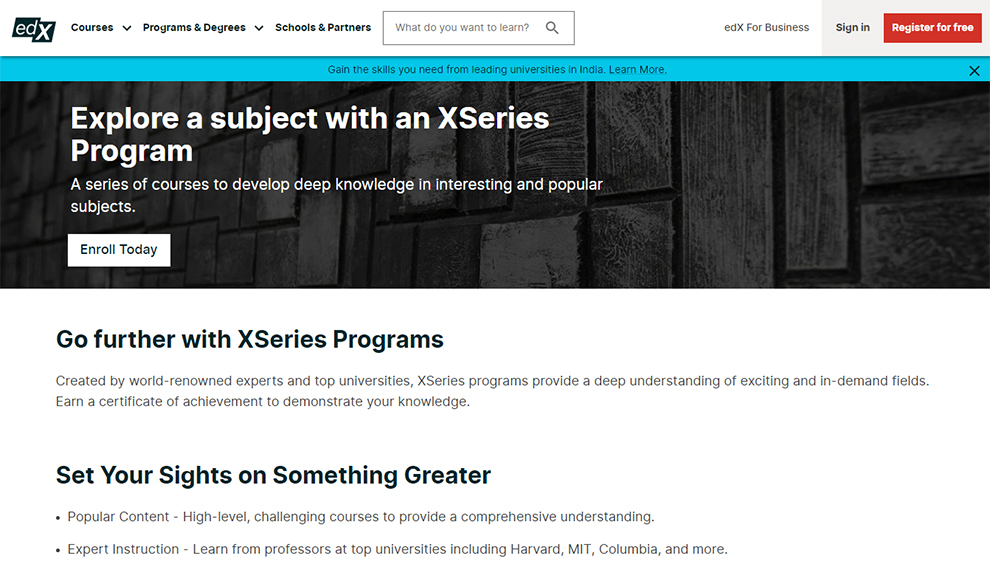 The XSeries program by edX takes you through specific topics and facilitates self-paced learning. These comprise multiple courses, and completing every class in the verified track bag a certification.
Typically, the price for the XSeries lessons varies and averages between $100 and $450. So, there is no question of 'Is edX course worth its cost.' You will study with professors from recognized universities like Harvard, Columbia, and MIT.
F. Master's Degree

edX has twelve accredited online Master's degree courses from top-notch universities like Purdue, UT Austin, and Queensland. It is ideal for working professionals, as the classes are 100% online.
Typically, you can complete the courses in 1.5 to 3 years. Every program has a specific application requirement and costs between $10,000 and $25000. These programs cost significantly lower than on-campus programs and hold the same value as on-campus degrees.
Is edX Worth It for Its Pricing?
edX has options for both paid and free courses. The free audit option offers access to course materials for free, but it does not provide graded assignments or certificates. However, you can benefit from the videos, lectures, readings, and practice assignment questions.
To acquire the certification, you can opt for the verified track, which involves fees ranging from $50 to $300 per course.
But is edX good for the price you pay? Yes, edX's pricing is justified. edX offers certification that you can share on different platforms for professional purposes.
But sadly, edX has no free trial. You can always start with their Demo course that lets you get well-acquainted with the platform before fully committing.
Do You Get Financial Aid or A Scholarship With edX?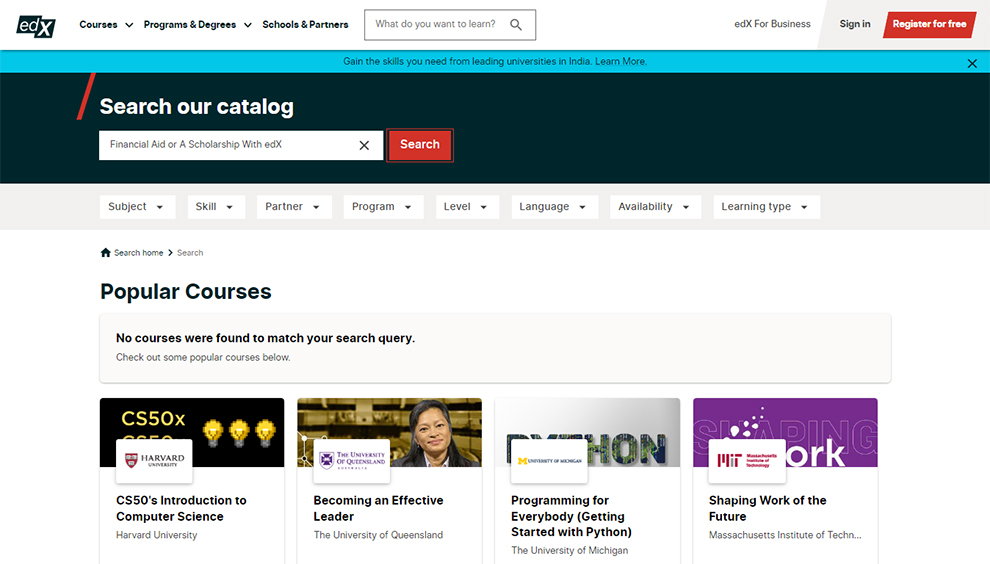 Yes, edX has financial aid option. So, if you are facing difficulty in enrolling in the course due to financial reasons, you can avail of their financial assistance.
It covers up to 90 percent of the total cost for most programs and courses. You can apply for financial aid up to five times per year.
Since edX course reviews are good, financial aid gives the opportunity to anyone and everyone to take up a course.
Applying for financial aid is a straightforward process – enroll in the audit track and complete the application. The edX team goes through your application within 2-4 days, and if approved, you receive a unique code via email to apply during the payment process.
Financial aid is available for Professional Programs, XSeries, MicroBachelors, and select MicroMasters. It is important to note that you must complete a separate application for each course rather than a complete program.
Is edX Good Value for Money?
Let us analyze edX on different parameters to see if edX gives a value-for-money experience:
A. Topic offered by edX
On edX, you can find an array of topics. They have more than 3000 courses that span a diverse subject range covering computer science, chemistry, business and management, energy and earth sciences, economics, and finance. The list doesn't end here.
You also have architecture, design, food and nutrition, literature, environmental studies, engineering, science, medicine, law, history, music, and others.
This extensive topic range on edX legit accentuates edX's value proposition by catering to diverse interests and needs. Thus, professionals and students seeking knowledge in different fields can find the relevant courses to meet their career goals and interests.
Further, the diverse topic range depicts the academic expertise and vigor of edX's partner institutions and universities. Naturally, this range of topics does contribute to the value of money experience for learners.
B. Course quality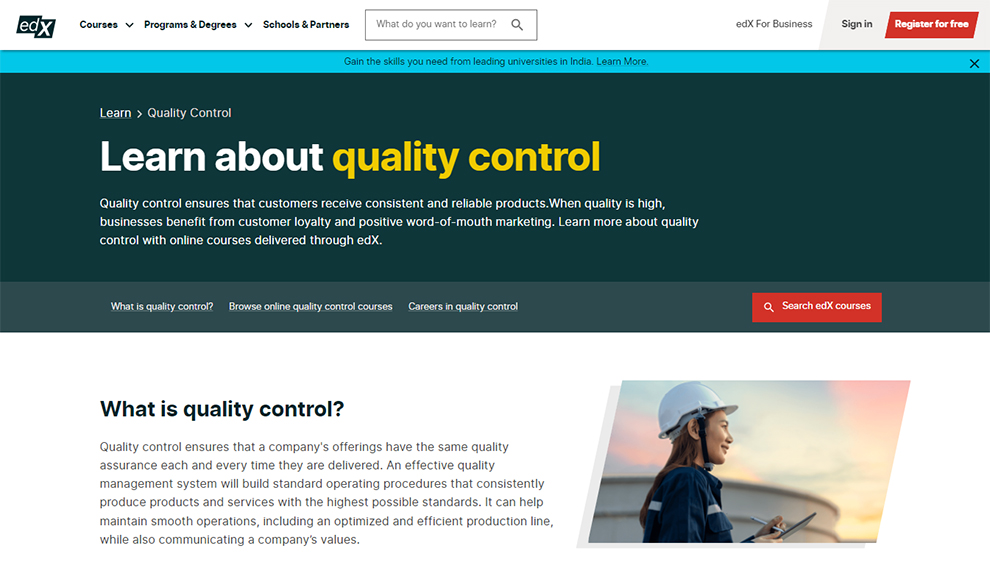 Content quality is the primary attribute to measure the platform's success. We mostly found conflicting edX reviews on edX course quality, depicting the polarized opinion.
Some users enthusiastically affirm that edX is worthwhile, citing positive experiences and comprehensive learning. Conversely, skeptical reviewers question edX's legitimacy, criticizing the technical glitches and the general course quality.
Critiques point out numerous grammatical errors, limited feedback, and poor construction on edX.
Further, technical issues, especially Mac iOS crashes, have been reported. However, generalizing the course quality would not be fair, given edX's vast range.
But as a university-based forum, edX must focus on resolving these concerns to uphold its commitment to excellence.
C. Instructors
The quality of instructors on edX can vary depending on the course and the institution providing them. While prestigious universities like Harvard, Berkeley, and MIT offer lectures on the platform, not all lessons are by instructors from these renowned institutions.
edX collaborates with over 150 institutions, including lesser-known ones, to provide different courses.
Keeping aside good edX course reviews, in terms of instructor quality, we can say that there can be inconsistencies. It concerns us that instructors for online classes may not have the same expertise or experience as active professors at prestigious universities.
Adjunct instructors or individuals hired particularly for online teaching may be involved in delivering some courses.
It's important to note that this variation in instructor quality is not limited to edX but can be found in online education platforms in general.
D. Learners career outcome
The career outcomes for learners from edX dramatically vary depending on different factors, such as the course or program they enroll in, expectations from the course, their background, and skills.
Generally, edX does not guarantee career opportunities or specific outcomes for the learners. But they design the programs to offer valuable skills, knowledge, and credentials that accentuate learners' career prospects and development.
Many learners have depicted positive career outcomes or advancements post completing the courses, including securing promotions, career shifts, and new job opportunities.
So, while edX can give you tangible proof of your skill, you must physically demonstrate them to get your desired career outcome.
E. User interface and intractability

A platform's usability has a significant role in determining its success. The navigation, user interface, and overall experience all add to the initial impression of the website.
Their main page gives a university-website vibe that aligns with their university-level and professional course offerings. The brevity and simplicity on the pages are appreciated, as it depicts features without giving away overwhelming trivial information or intrusive pop-ups.
It allows easy access to different courses. Since users can easily find what they need on their website, they praise its intuitiveness. It is no wonder why edX reviews are in its favor.
Users see a brief description and an introductory course video on the course page. In addition, edX lists other crucial details like language, price, and duration. All of this proves beneficial for the students.
However, some reviews suggest that edX can work on its course description. Though the content is apt, the presentation lacks its aesthetic appeal. An unformatted, plain wall of text usually deters users who desire visually appealing and engaging course descriptions to align with their motivation to learn something new.
Further, their testimonial section also falls somewhat short. It merely has plain text sans any visual element or formatting. Including the generic tag "learner" at the end does little to enhance the legitimacy of the testimonials.
This aspect may raise doubts for students browsing the website, questioning the credibility and value of edX. Regardless, the user interface is well-organized and intuitive, allowing seamless navigation and efficient information retrieval, but there are some things (as mentioned) that require improvement.
F. Cancellation and refund ease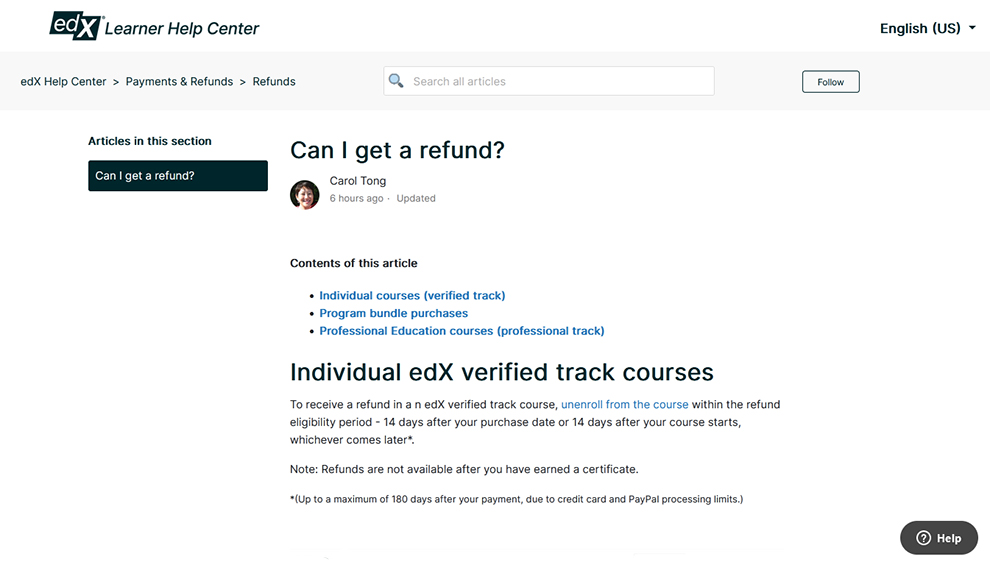 You can get a full refund if you cancel the course within 14 days of starting it. It allows you to treat it as a prepaid trial. If the class does not match what you had read in the edX classes review or if you find it challenging to allocate time, you can cancel and receive a refund.
edX Reviews by Learners – What People Like and Don't Like
The reviews about edX highlight different aspects that people love and hate about the platform. The positive reviews mainly speak about the wide selection of courses covering diverse topics from well-known institutions.
Learners also love the flexibility of learning from an online platform that lets them enjoy learning at their pace and time and accommodate courses in their schedule.
Of course, many students question, 'Is a certificate from edX worth it?' But then, given their affordability compared to traditional education, it certainly works in the platform's favor. Most learners find their courses engaging, informative and well-structured.
On the flip side, we have also found some negative reviews on edX where users have expressed their concerns and frustration, especially with the technical glitches associated with the platform, including crashes or navigation problems.
Some dismissed the course and instructor quality and the inconsistent teaching style across the platform. Further, occasional errors in the course content and lack of feedback only add to the concerns.
Many users even pointed out about support team's unresponsiveness. But the opinions are subjective and vary with courses. So, please read through the reviews, avail yourself of the free trial, and only then commit to a class.
Best Courses on edX
Some of the best courses on edX are:
Is edX Worth It for All – Who Shouldn't Go for edX?
edX may not be suitable for:
Students who seek a traditional classroom-like experience with in-person interactions and face-to-face discussions.
Individuals with creative interests can also avoid edX as there are fewer creative courses here. For creative courses, Skillshare is a good option.
Those seeking formal accreditation or degrees may also be unable to fulfill their purpose with edX.
Learners seeking hands-on and practical training may also not get good value with edX.
edX Alternatives
Below are the three most popular edX alternatives:
1. Coursera: While Coursera is a leading online learning platform with a selection of programs and courses from reputed institutions and universities, edX differentiates itself from Coursera by being an open-source platform.
Though Coursera reviews are as good as edX reviews, there is a subtle difference between the two.
It implies that the tech and software behind edX are freely available. So, organizations and institutions can customize and create their online learning environments.
The openness fosters collaboration and innovation amongst institutions, making edX a community-driven platform.
2. Udemy: Udemy is a known platform with several courses by individual instructors. Unlike edX, which offers classes from reputable industry giants, Udemy focuses on providing diversity in lectures from different sources.
Thus, edX has a clear advantage in quality control and academic rigor, as renowned universities review and draft their sessions. Check out the complete Udemy review here.
3. Khan Academy: It is an NPO that offers video tutorials and educational resources that targets K-12 students. Though they have valuable resources for self-paced learning, edX extends beyond K-12 education and focuses on a much broader range of subjects.
Related: LinkedIn Learning Reviews
Do Employers Care About edX Certificates?
Employers value certificates from edX accredited institutions as tangible proof of your skills and dedication to updating your knowledge. However, securing a job depends on your skills, experience, and qualifications.
So, if edX reviews have motivated you to enroll on the platform, go ahead. Just know that there is no guarantee of a job.
Do Colleges Recognize edX Certificates?
The recognition of edX certificates by colleges varies. While some colleges may acknowledge and accept edX certificates as part of their admissions or credit transfer processes, others may not.
If the goal is to use edX certificates for college recognition, it is advisable to verify the acceptance and recognition policies of the specific college or educational institution beforehand.