Are you seeking out the best free online courses with certificates? Well, you're at the right place.
Certifications act as evidence of your experience and skills. They help to bump up your credentials and get you noticed by recruiters.
If you do not have any certifications to list on your resume, fret not. There are a number of websites, organizations, and companies that offer free courses with shareable certificate of completion.
For starters, search for the best free online courses on the internet and get yourself enrolled. Then, of the umpteen number of free online training, look for the classes that match your requirement and are most suitable for you.
You will find free online certifications for almost every industry such as IT, business, finance, management, HR, and fashion design, etc.
We have done half the work for you. We have compiled a list of the best free online classes in consultation with experts. You can read the course highlights and select the one that is perfect for you.
Top Platforms With Free Courses
Best Free Online Certification Courses For 2023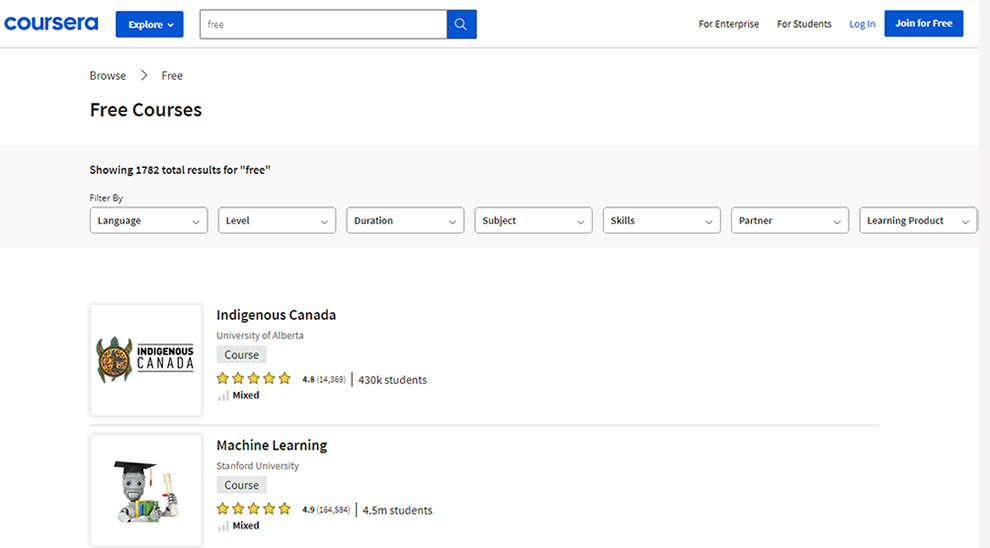 Founded by two Standford professors in 2012, Coursera is one of the world's largest massive online course providers.
The platform is associated with some of the leading global universities to provide full remote and self-paced learning opportunities with free online certifications.
It has launched some of the best free online courses from leading colleges. In addition, the online platform offers an array of undergraduate, graduate, and postgraduate courses with digital certificates.
They have free online courses with certificates on various topics right from Data Science, Health, Computer Science, Languages, Personal Development, Business, and more.
Some of the universities offering free online training options on Coursera include Indian School of Business, Duke University, Yale, Imperial College London, Johns Hopkins, Yonsei, and Princeton.
The key USP of this online platform is that you learn from top colleges and enhance a variety of skills at no cost. In addition, some of the free online classes offered here are specifically made free for the lockdown.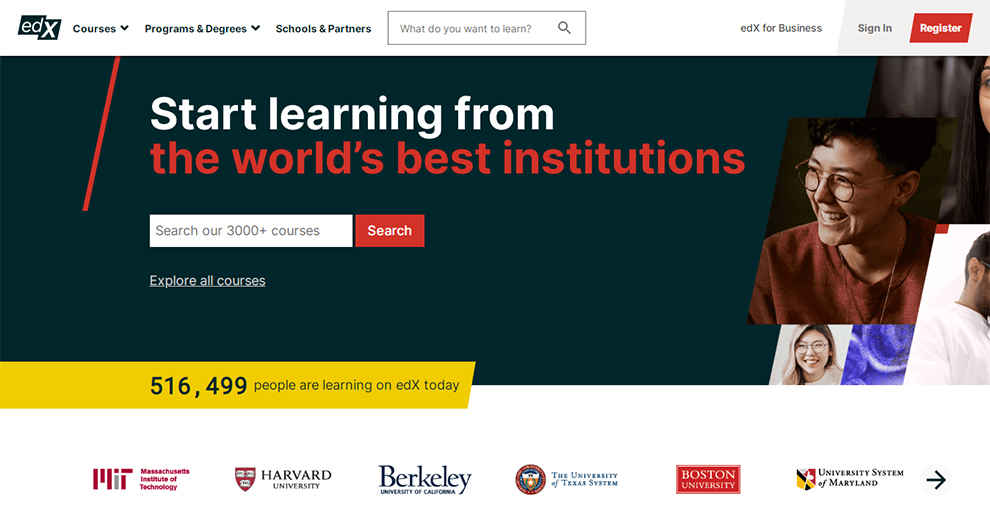 How about learning from premier institutions like MIT, Harvard, Berkeley, University of Texas, and Boston University? Well, then edX is your best place.
There are more than 1000 free online courses with certificates to choose from on edX. All entry-level courses are for free on this platform.
The only downside of these courses is that the learners are supposed to pay for the certificate despite the course contents being free.
Some of the popular free online classes offered by edX are:
Computer science
History
Business/management
Languages
Architecture
Chemistry
Biology
Business Management
Environmental Studies
Humanities
Law
Music
Engineering
Finance
Design
Considered to be one of the top e-learning websites today, edX is fully committed to ensuring that learners get access to the best content irrespective of their field of choice with a free online certification.
With this in mind, edX has partnered with some of the top colleges and universities. We have listed a few of them here: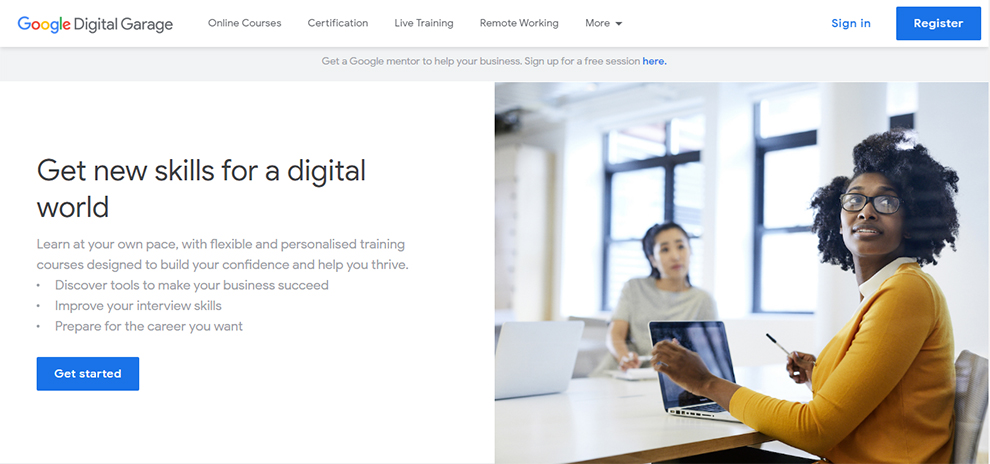 Though everyone uses Google on a daily basis, many of its users are not aware that Google has a full-fledged course platform for online learning.
Google offers most of its lectures for free online courses with certificates of completion. The majority of the free online classes include no time limits, modules, unlimited access, and videos.
Once you complete these courses, you can download the accredited Google certificates. All the free online training offered by Google is quite interactive, keeping users engaged and eager to learn more.
Some of the categories and free online classes include:
Google Cloud Platform
Social psychology
AI
Big data
Productivity
Business security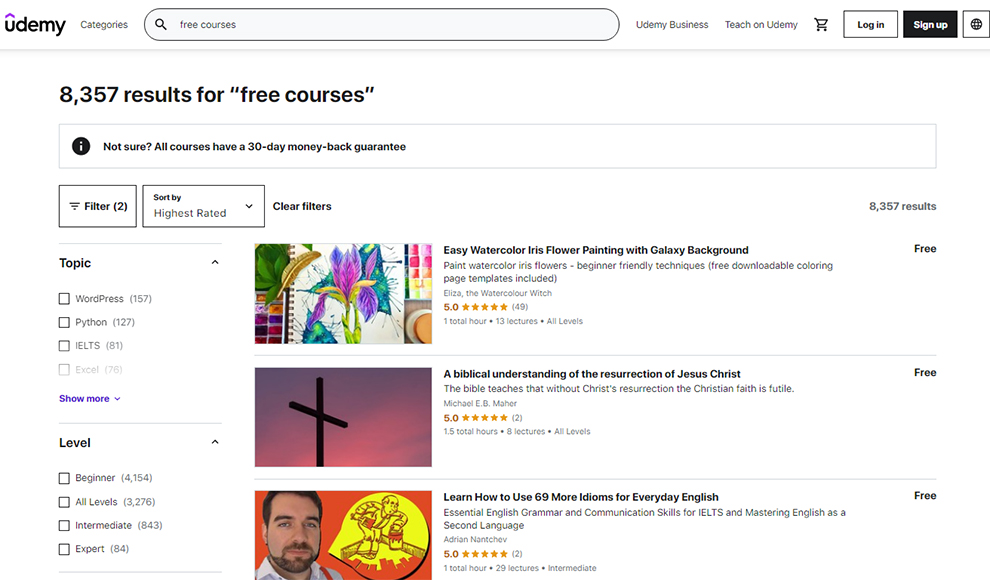 Next on our list of best free online courses is Udemy. This platform is another well-established provider.
While Udemy predominantly provides courses for a fee, it also offers some free online classes. The best part about this platform is that it evaluates its tutors to ensure quality teaching.
Some of the popular free online training on this platform are as follows:
Python
HTML
Digital marketing
Spanish language
Microsoft Dynamics 365
AWS
Java
Graphic Design
iOS
Microsoft Excel
Blockchain
Linux
Programming
NetDevOps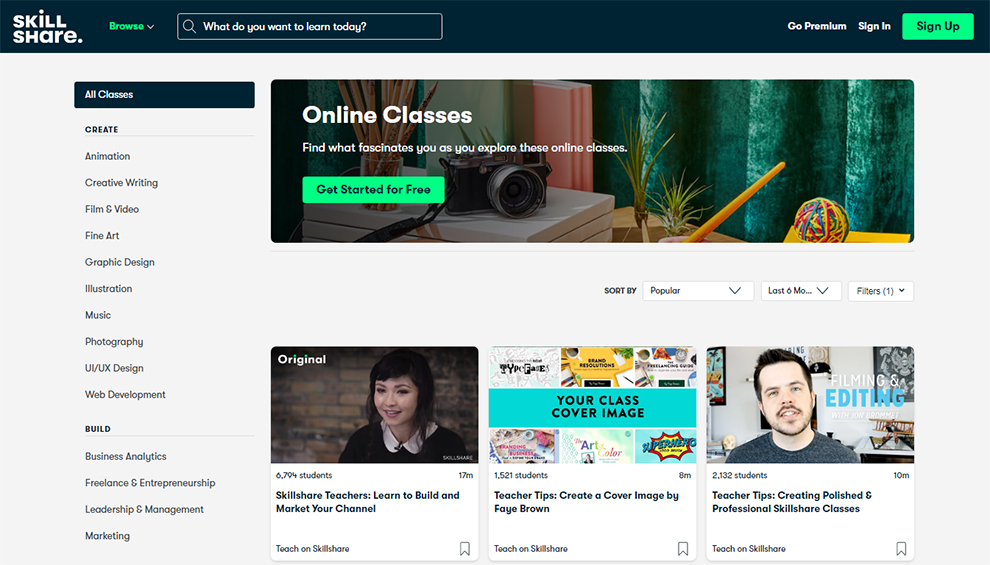 Skillshare is one of the most used and largest platforms offering the best free online training. They have the most extensive libraries of free online courses.
This platform is popularly known as the 'Netflix of learning'. Anyone possessing expertise or experience in a particular area can make a course on this platform. The only downside of Skillshare is that it doesn't provide any certificates.
Here are some popular free online classes that Skillshare offers:
Mastering illustration
Logo design
Creative writing
DSLR photography
Drawing
Book cover design
Instagram marketing
Becoming a freelancer
Personal branding
Social media advertising
HTML
Cinematography
Building an Etsy Shop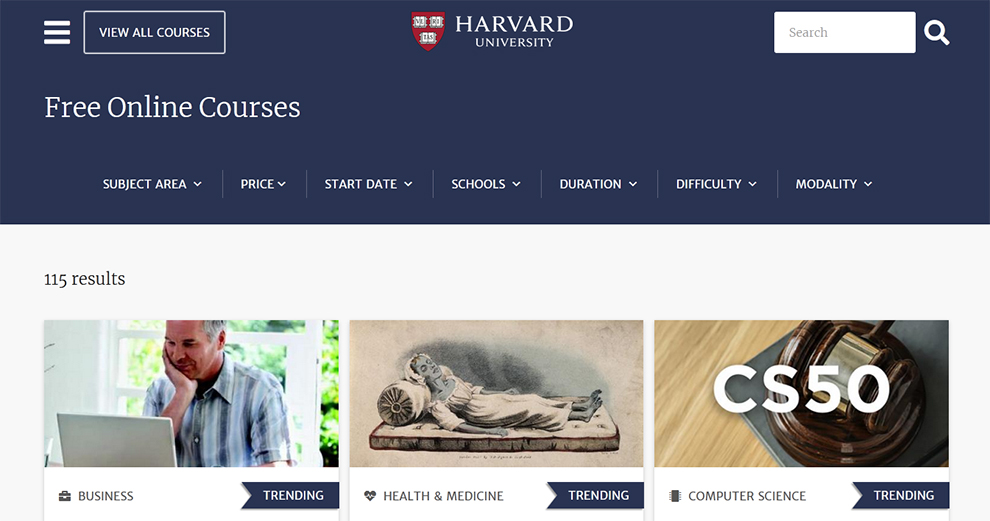 Up next on our list of top free online courses with certificates is Harvard. If you have always dreamt of getting educated from one of the top universities, you should check the series of programs offered by Harvard.
You will learn from the experts and faculty who are always engaged in teaching and research to push the boundaries of human knowledge and get a free online certification.
Harvard lets you take the course for free, and by paying a small fee, you can receive the verified certificate.
Some of the courses offered by Harvard include Neuroscience, CS50, Calculus, Contract Law, introduction to data-wise, modern China's foundations, humanitarian response to conflict and disaster, and much more.
Harvard provides in-depth coverage of your chosen topic with relevant case studies, interactive videos, examples, and more. In addition, there are ample exercises and assignments for you to practice.
You will also get an opportunity to interact with your peers and instructors to clarify your doubts. One of the nicest things about Harvard's best free online courses with certificates is that there are no prerequisites to enroll in beginner-level courses.
British provider FutureLearn has made it to our list of best free online classes. FutureLearn is a massive open online course provider founded in 2012 in the United Kingdom by 12 university partners, including the University of Leeds and King's College London.
Unlike other platforms, FutureLearn has a fantastic study routine, wherein they structure their courses through narrative, with weekly to-do lists that help learners stay on top of coursework.
Once you have reached a certain minimum score in the tests, you are provided with an accredited certificate for free. Along with the learning content, a detailed transcript is included.
If you have only completed a part of the course, you will be given a statement of participation, which can be shared in your LinkedIn profile easily. Additionally, it is also possible to complete certain academic degrees through FutureLearn.
The University of California, established in 1868, has been committed to innovation in teaching and learning. UC Berkeley facilitates online education initiatives, including credit and non-credit courses, online degree programs, and MOOC projects.
Some of the free online courses with certificates of completion offered by Berkeley include Statistics, Marketing Analytics, Journalism, Quantum mechanics, and English Literature.
UC offers high-quality online education to students around the world. Most of their programs are free to take up, and by paying a nominal fee, you can also avail a certificate. Their programs are available on the leading e-learning platform edX.
 
LinkedIn is one of the most well-established and trusted providers for the best free online certification courses. It offers more than 16,000 online video courses.
Also, their free online classes are taught by industry experts. This makes it one of the trusted sources for relevant and reliable information. The course content on this platform is extremely engaging as it includes quizzes, interactive lessons, videos, etc.
The USP of this platform is its certificates. Learners can display the certificates on their LinkedIn profile to show potential employers their skills or can even download them and print them out.
LinkedIn offers 1- month free trial with no upfront cost. During this duration, you can take any online course and even receive a printable certificate for free. Some of their top free online courses with certificates are:
CAD
IT
Cloud Computing
Data Science
HR
Marketing
Project Management
Finance & Accounting
Animation & Illustration
Graphic Design
Photography
Web Design
HTML
Video/photo editing
AEC
Graphic Design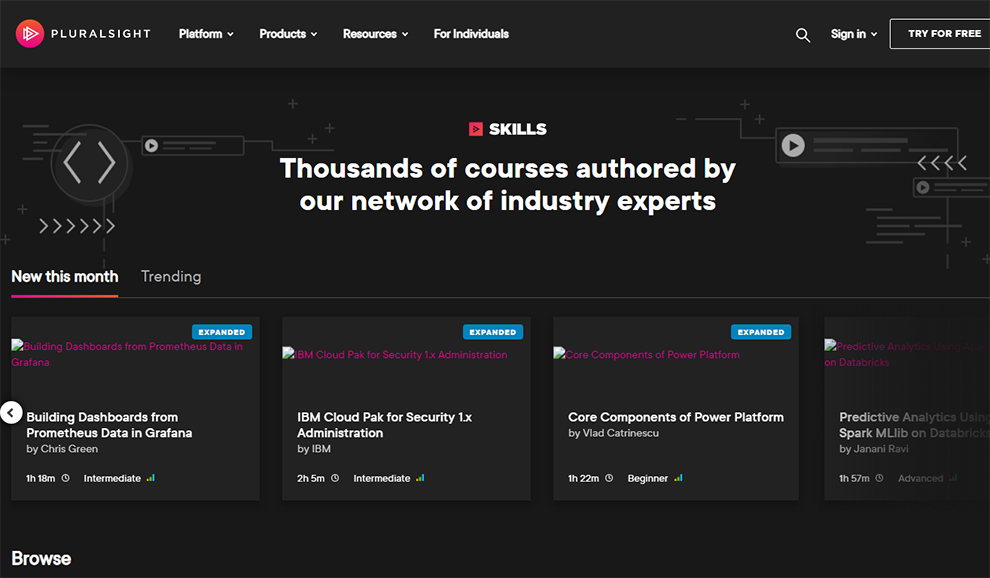 Pluralsight is the best place for free online classes if you want to hone your technical skills from the best mentors in the world. Pluralsight has partnered with some of the best and most prominent companies globally, such as Google, Oracle, Microsoft, Oracle, etc., for the online classes.
Although this platform offers paid service, you can even sign up for a free 10-days trial to complete your course. During the trial period, if you can complete the course, it won't cost you a penny. In addition, on successful completion of the course, you will be given a certificate.
Some of the best free online certification courses offered on the platform are:
Oracle
Python
Java
C#
SQL
IT operations
Angular
Cloud Computing
Android
Tableau
Malware Analysis
Software Development
Cyber Security
Manufacturing & Design
Architecture
Artificial Intelligence
Machine Learning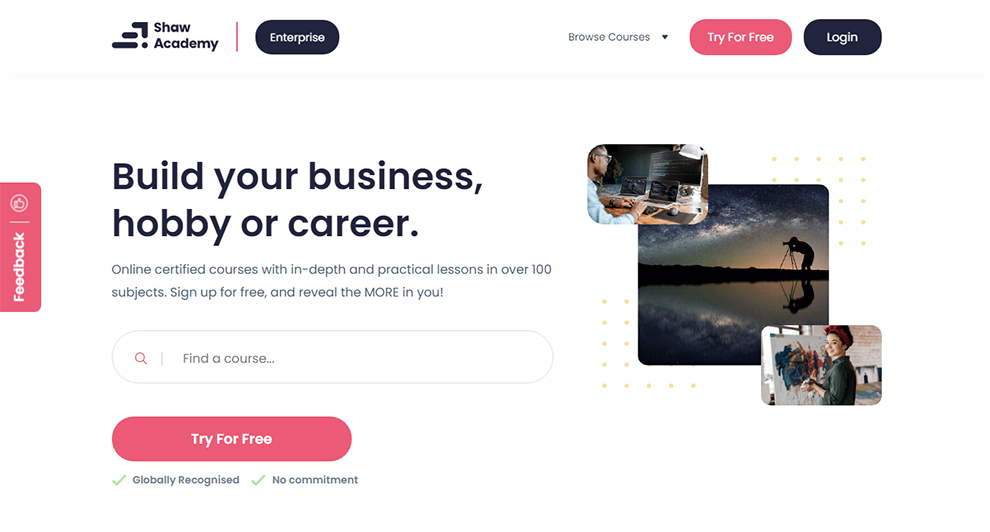 Next on our list of best free online courses with certificates is Shaw Academy. The best part about this online course provider is that the professional diplomas are internationally recognized and rated by the European Qualification Framework.
This means that the users will get an industry-recognized certificate that is valid in the US, UK, Canada, Australia, and other countries. They offer the certification in both hard and soft copy, whichever you choose.
All the free online courses with certificates of completion provided by Shaw Academy are value-packed with videos, quizzes, assignments, interactive lessons, etc.
Although this platform offers a 1-month free trial, every course takes 4 months to complete as it is broken into 4-month modules. So while you can get the first month for free, you will have to pay for the rest of the 3 months for availing of the certification.
Shaw Academy runs diploma courses in:
Design
Photography
Finance
Health & Wellness
Marketing
Technology
Business
Music
Language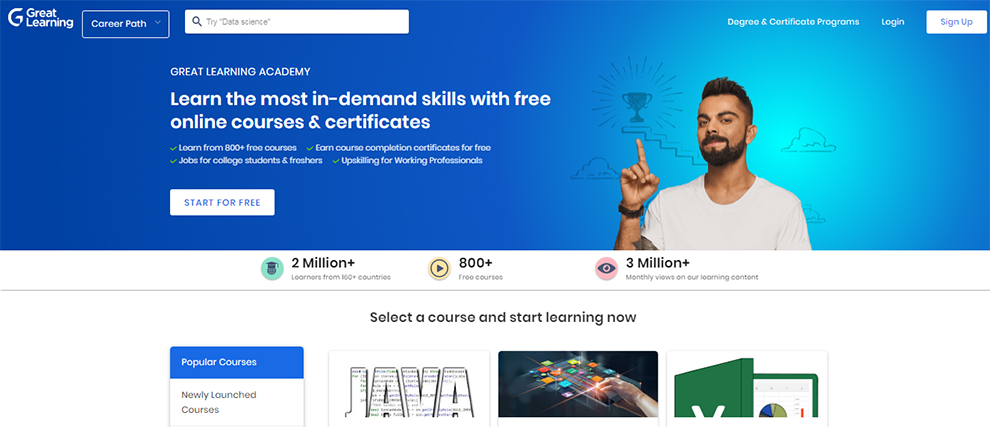 Great Learning features in our list of best free online certification courses as it aims to help learners gain new practical skills. It was created in 2013 to make current professionals future-proof.
They offer the best free online classes that are a perfect fit for those looking to upskill. The online platform provides career-relevant programs from world-class universities in data science, cloud computing, full-stack web development, digital marketing, cyber security, and more.
Learners receive weekly mentorship sessions with industry experts. They also get hands-on experience with industry-relevant projects.
Great Learning has an extensive placement assistance program. As a result, thousands of learners have achieved successful careers at leading companies such as Google, Microsoft, Amazon, Accenture, IBM, McKinsey, and more.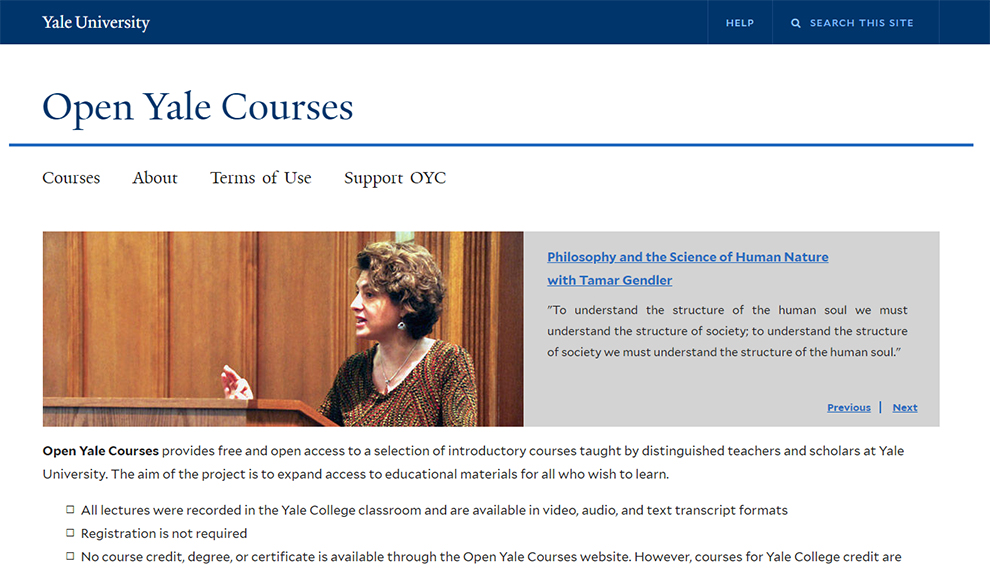 Open Yale Courses have made it our list of best free online certification courses as they are open access, free, non-credit introductory courses recorded in Yale College's classroom.
They are available online in a number of digital formats. The courses are on a range of liberal art disciplines such as physical and biological sciences, humanities, social sciences, and more. No registration is required for the courses.
The only downside is that there is no course credit, degree, or certificate. The online platform also offers you options for structuring the learning process like redistributing and remixing the course materials and downloading.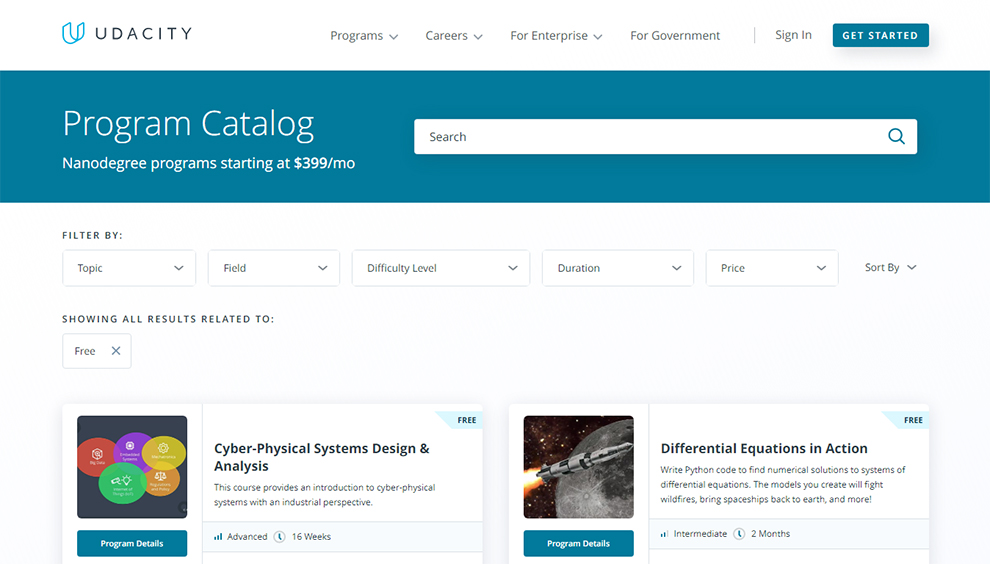 Udacity offers a perfect mix of online teaching & human interaction. It has some of the most renowned programs for individuals, businesses, as well as government in the following domains.
Its featured course list also includes: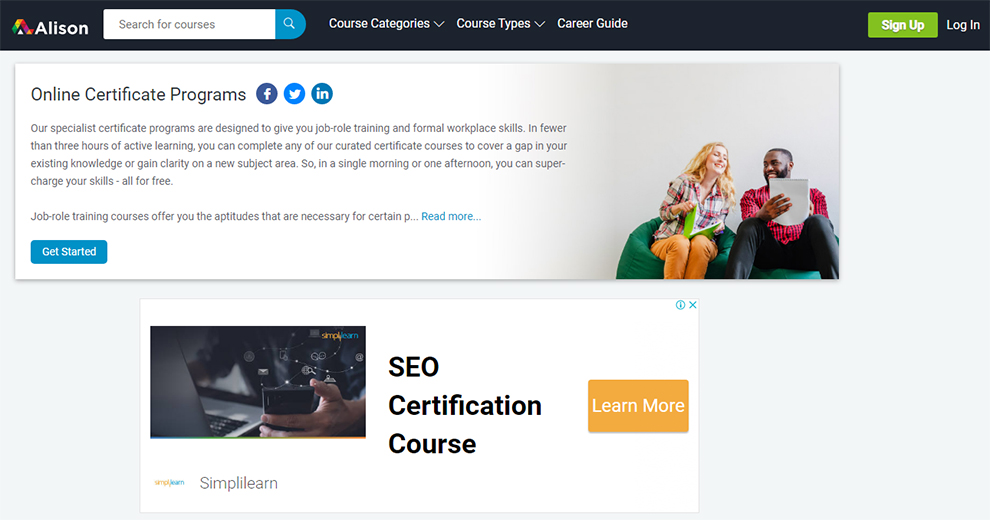 Alison has some of the best free online classes that will help you with your requirements if you are looking at gaining critical knowledge of individual concepts within a field.
The free online certification includes an array of subjects such as media studies, languages, public relations, journalism, computer programming, health and fitness, business studies, networking, and more.
Alison enables you to learn from over 1000 best free online courses with certificates available across 9 distinct categories. The courses are self-paced and designed by experts. All their courses are interactive and provide an enriching learning experience.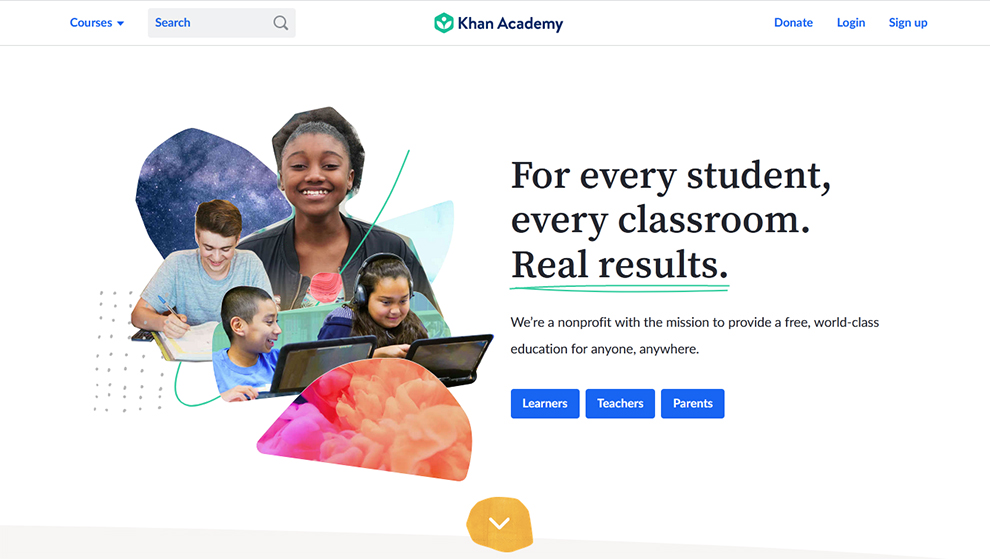 Up next on our list of best free online courses is Khan Academy, an excellent non-profit provider of some of the best free online training programs. This platform was started with the aim of delivering high-quality education for those who do not have the means to pay for the courses.
Today, Khan Academy is one of largest global storehouse of learning that integrates practice exercises, instructional videos, and a personalized learning dashboard.
The platform focuses on maths and science. They also offer an Android and iOS app for learning. For those looking towards brushing up their calculus, algebra, trigonometry, statistics, and arithmetic, Khan Academy is the place you should opt for.
There are even resources to help parents and teachers with extra learning and tutorial material. It is a fantastic resource when it comes to modules on college admission advice, how to get into college and how to steer your career etc.
The only downside of the platform is that it doesn't provide any certification.
Microsoft is one of the leading companies that offer free online certification that will help you broaden your experience with cutting-edge technologies in data sciences, mobile development, and cloud services.
These free online classes are taught by Microsoft experts and are perfect for hands-on learners. They can be taken up for free.
Taking these top free online courses with certificates by Microsoft will help you build innovative services, applications, and experiences that will let you make a meaningful impact in today's world.
All the introductory lectures will teach you how to configure the necessary software and tools. The content is well-structured. All the concepts are explained with interactive examples and demonstrations.
In addition, there are ample assignments and assessments to measure your grasp on the topics covered.
MIT is the online hub of resources, materials, and videos on all various subjects created by some of the world's best academic and industrial experts.
This is the reason we have included it in the list of best free online certifications. You can choose from a collection of free audio or video lectures, free classes, and more.
You will also get to use supplementary resources and online textbooks to enhance the learning experience. For completing the certification, you need to complete the graded assignments and assessments.
Explore topics and subjects such as calculus, chemistry, entrepreneurship, energy, introduction to programming, transportation, and life science. By the end of your chosen course, you will be proficient in the concepts covered and be ready to apply them in industrial scenarios. 
Academic Earth is an easily accessible online platform for academic video courses and guest lectures. Launched by Richard Ludlow, the online platform was launched to build a user-friendly platform for educational videos that would provide free access instruction to anyone from the scholars and guest lecturers at the leading academic universities.
The site offers the best free online training consisting of 60 full courses and 2,395 total lectures from MIT, Yale, Harvard, Stanford, Princeton, and UC Berkeley.
Additionally, editors have compiled lectures from different speakers into Playlists. The site also features famous guest lecturers on technology and entrepreneurship such as Guy Kawasaki, Elon Musk, Larry Page, Carol Bartz, etc.
If you are looking to enhance your creative skills and increase your job prospects, then CreativeLive is the perfect place to start.
As the name suggests, this platform offers the best free online courses in creative skills. Some of the courses it mainly focuses on are photography, art, design, craft, writing, personal finance, music, audio, podcasting, and more.
Although CreativeLive offers paid courses, they also stream free classes 24/7. In addition, learners can see classes that will be streaming on upcoming dates.
The only downside of this platform is that students won't be able to view the courses at their own pace. Nonetheless still, CreativeLive is a great learning platform. Unfortunately, as far as certifications are considered, CreativeLive doesn't offer any paid or free online certifications.
Codecademy is a good platform with free online courses with certificates
if you are looking at building strong fundamentals of coding. We have included the online platform in our list of best free online classes as it teaches you how to code in multiple programming languages.
All the courses are for less than 11 hours. The content not only focuses on the theory but on practical learning as well. You will get an opportunity to write working codes from the beginning, giving you enough confidence in the methods and techniques covered in the videos.
Codecademy has trained more than 45 million learners in programming, computer science, data science, and web development. No prior experience is required to get enrolled.
You will get to work on real-world projects and test your knowledge with an ample amount of quizzes.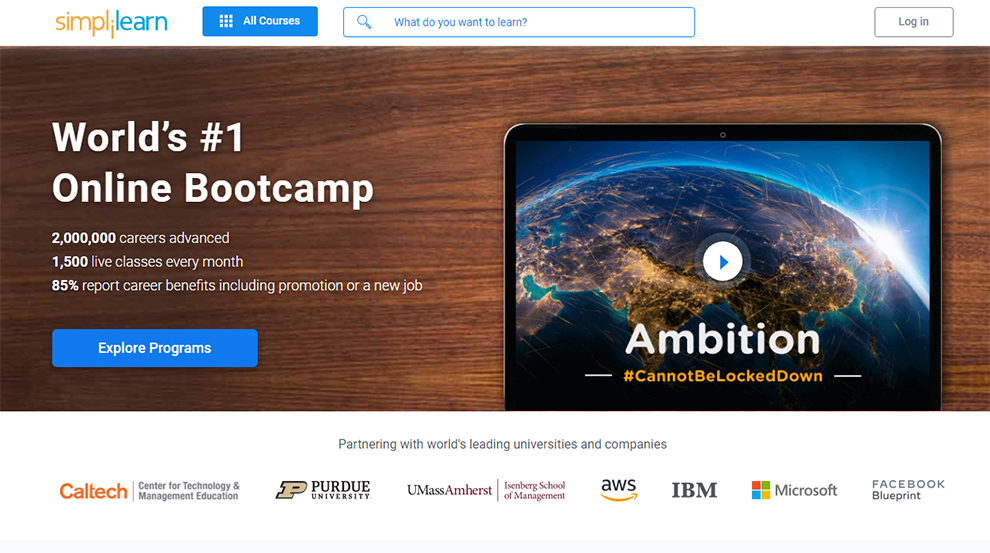 One of the leading online course providers to offer the best free online courses with certificates is Simplilearn. These courses are focused on providing strong foundational skills on some trending subjects that will bolster your career.
SkillUp is the initiative through which Simplilearn offers all courses with free online certification. All the courses are taught by global experts and are self-paced. There are free guides on salaries, career paths, interview tips, and more. More than 300 job-ready skills are on offer on this platform.
Here are 12 different categories under which you can get free online training on Simplilearn.
Cyber Security
IT Service and Architecture
Data Science & Business Analytics
Software Development
Big Data
AI & Machine Learning
DevOps
Agile and Scrum
Project Management
Quality Management
Business and Leadership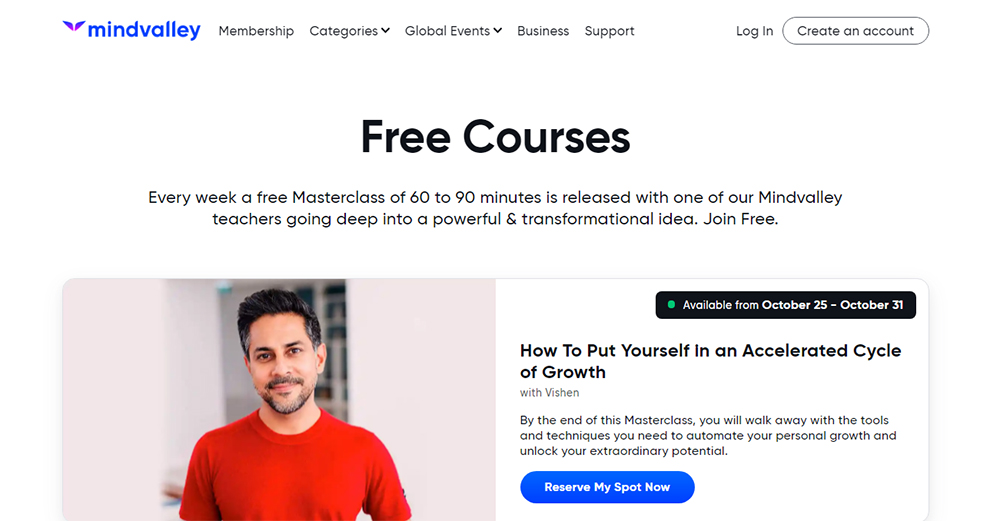 If you are looking for personal growth, then Mindvalley is the perfect place to start. Founded in 2003 by Vishen Lakhiani, an entrepreneur, author, and activist, Mindvalley is little different from the standard academic platform.
It is an online platform that offers the best free online classes on personal growth. An impressive number of more than 10 million students have enrolled in Mindvalley courses.
Their learning programs are called Quests. These Quests are made up of high-quality content and taught by inspiring authors, teachers, and visionaries. The USP of this online platform is its strong online community dedicated to supporting your learning experience. M
indvalley offers free masterclasses of 60-90 minutes every week that gives you a chance to get a taste of the platform.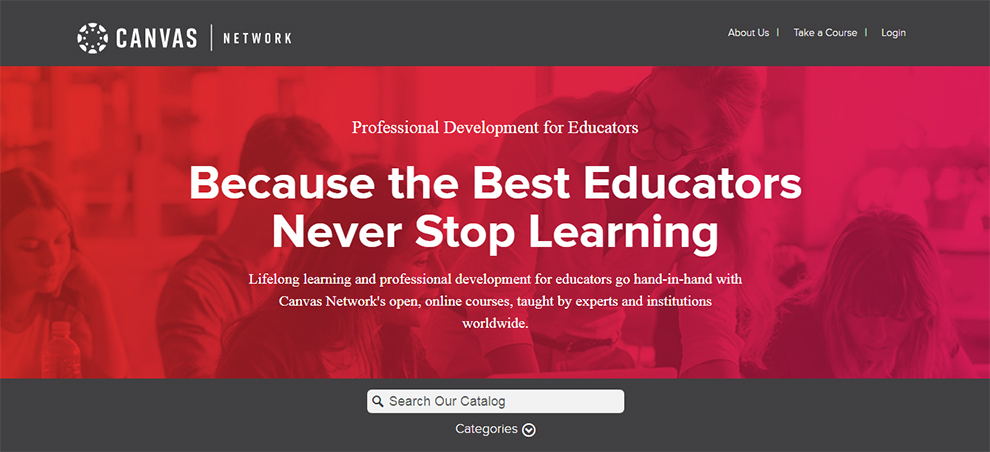 Canvas made it to our list of best free online courses as it specializes in professional development classes for teachers, administrators, and education leaders.
Some of the topics include research data management for librarians, supporting women in STEM fields, and leading and applying assessment in student affairs. Learners can access MOOCs in Portuguese, Spanish, Chinese and English.
Unlike other platforms, Canvas provides free and self-paced online classes. Educators also benefit from open licensing options that enable them to freely share content and reuse them as well as integrate third-party tools for their own purposes.
This also enables teachers to run their own MOOCs to strengthen traditional classroom instruction.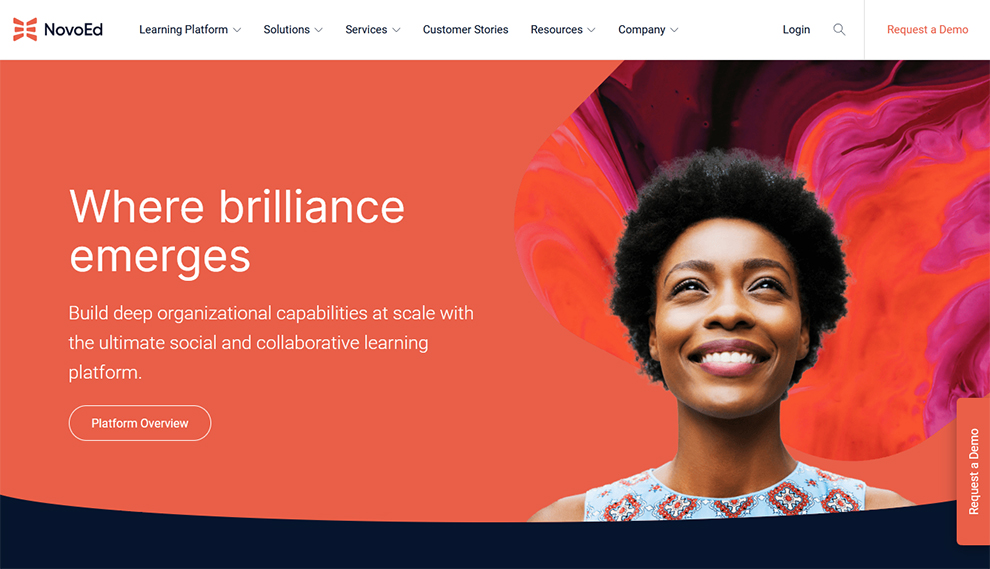 NovoEd is a software company that was created to make online education effective and engaging. Their solutions enable customers to train their employees, customers, partners, and students productively.
The online platform offers a range of free online classes from thought leaders and distinguished professors from top universities. They have a number of easy-to-use social features that create a peer-powered network that links, organize, evaluate and mentor students.

 
We have included Ted-Ed in our list of free courses as it is truly a hidden gem that not many know about. Ted-Ed is TED's award-winning youth and education arm that was created to share and spread ideas from teachers to students.
With a global network of more than 2,50,000 teachers, the platform offers free online training to millions of people around the world. Ted-Ed has got a collection of the best free online courses to help everyone learn. They have a lot of short term video tutorials to help learners get a quick grasp on a subject.
The online platform includes innovative content like animated videos and a platform for teachers to create interactive lessons. In addition, you will find interesting lessons on topics such as Philosophy & Religion, Business & Economics, Mathematics, Literature & Language, Social Studies, and Teaching & Education.
It also includes Ted-Ed Club programs to help learners discover and present big ideas in Ted-style talks.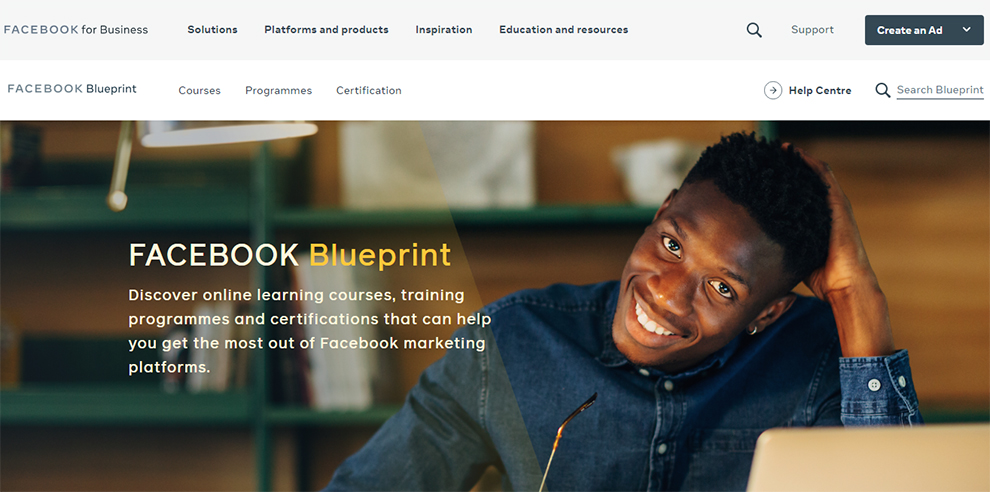 Facebook has an extensive library of free online classes. It is home to some of the best free online certification courses and learners can choose from any of their 400+ topics. However, the learners will have to take an extensive exam to show what they have learned instead of receiving a certificate.
There are 5 domain, each specializing in a specific area from marketing, campaign management, technical implementations, API integrations, and Facebook Pixel ads.
Once a student has taken a few online classes and takes exams, he will be offered a Facebook Blueprint certificate. This certificate is highly valuable for freelancers, job seekers and digital agencies.
 
Bottom Line
Whether you choose to enhance your existing education or acquire a new skill, our list of free online courses with certificates of completion will help you gain valuable knowledge.
These courses will add feathers to your academic cap with a chance of upskilling for free.
[xyz-ihs snippet="schema-best-free-online-courses"]