From a beginner to advanced level – edX outshines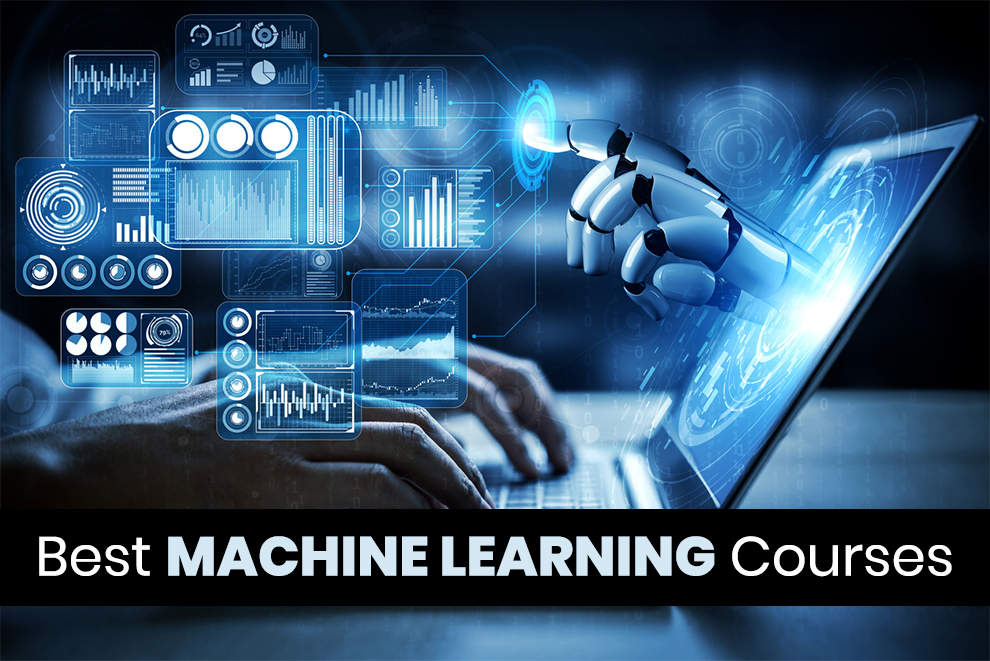 Machine learning is your entryway to any career path in data analysis. Organizations today, to sustain and survive have turned towards data. Switching to data analysis is the only way to analyze current efforts and make predictions for the future.
In Machine Learning, there is an amalgam of statistics and computers together that harness the predictive power. It is an imperative skill for every data scientist, data analyst, or anyone who wishes to churn the data into refined information for predictions.
For a career in machine learning, in class lessons prove helpful, but they are not a viable option for working professional or students who need it the most. The simplest way to counter that is by picking a machine learning course online. To help you commence your journey or add value to your existing knowledge, here are some courses for you.
Best Course for Machine Learning Training Online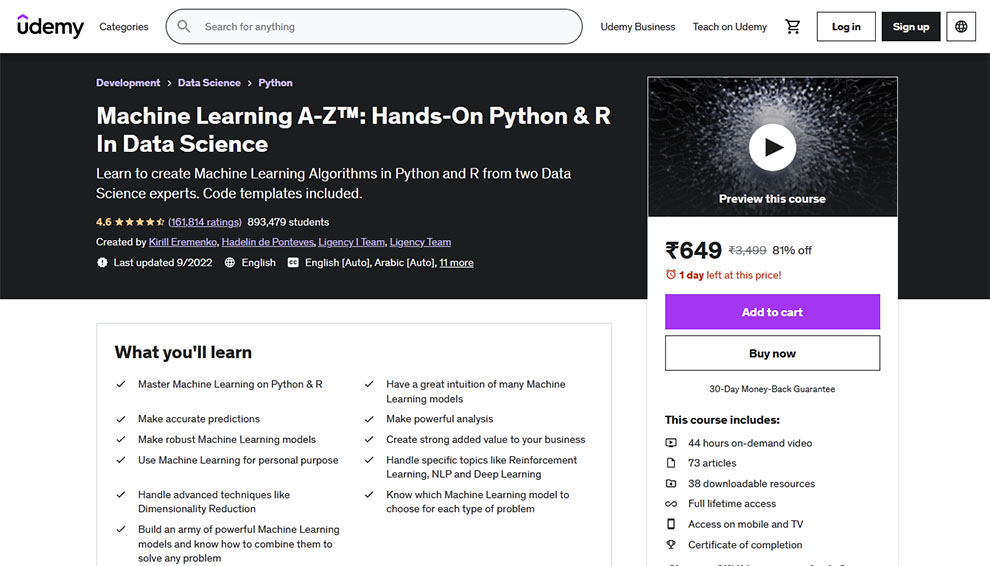 Why This Course
It is overall the best machine learning course online because over 892,881 students have enrolled in this class and has an average rating of 4.6.
What's There To Like
You learn with two professional data scientists who break down even the most complex algorithms in a straightforward manner.
It is full of real-life examples and practical exercises. Hence, it is one of the most hands-on machine learning courses for beginners.
In this class, you get a 30-day money-back safety net.
You will bag lifetime access to the resources and lectures.
What Could Be Better
It is challenging to clarify the doubts in a recorded session.
The walk-through videos are unnecessarily long, which adds to the length of the whole course.
You will get well-versed with Machine Learning in Python and R with this Udemy's course. It will enable you to make impactful analyses and accurate predictions, create solid added value to the business, build robust machine learning models, and employ machine learning for personal use.
You will also get acquainted with topics like deep learning, NLP, and reinforcement learning and understand how to work with advanced techniques like dimensionality reduction. Further, the class teaches you how to pick the correct machine learning model for every problem and devise an army of power-packed machine learning models.
Prerequisites
Although there are some prerequisites for machine learning in Python, you only need high school mathematical knowledge for this machine learning course online.
Related Read: Best Data Science Courses|Prerequisites for Machine Learning and AI
 
Review Srikanth G.
"
It's a great course for any level of people. Looking forward to have separate courses on each algorithm with detailed explanations and real time problems.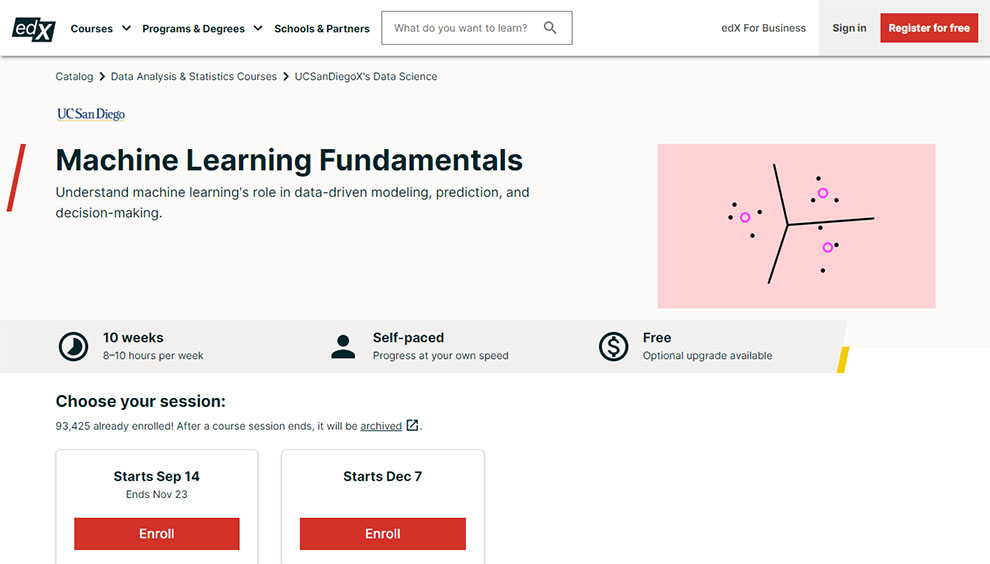 Why This Course
Offered by The University of California, San Diego (UC San Diego), it is one of its kind advanced courses taught by professor Sanjoy Dasgupta – a well-reputed name.
What's There To Like
It is one of the most reputed machine learning online courses with certificate.
It is a self-paced class. So, you can take it at your time and schedule.
You will find multiple real-world case studies in this class.
Option for free version with limited access available
What Could Have Been Better
If you opt for free machine learning course version, you will not earn a certification. In addition, there will be no graded assignments.
Compared to the Coursera and Udemy classes, it lies on the costlier end of the spectrum.
This class is a part of the Data Science MicroMasters program that takes you through various supervised and unsupervised learning methodologies. Though it is a hands-on machine learning course online, you will be well-acquainted with the theory behind every algorithm.
As part of this program, you will know how to identify salient topics from the mammoth of documents and classify images, automatically capture the semantic structure of words and employ it for document categorization, and partition people as per their personality profiles.
Once you finish this course, you will have ample knowledge to analyze different kinds of data and build descriptive and predictive models.
Prerequisites
Former undergrad-level knowledge in linear algebra and multivariate calculus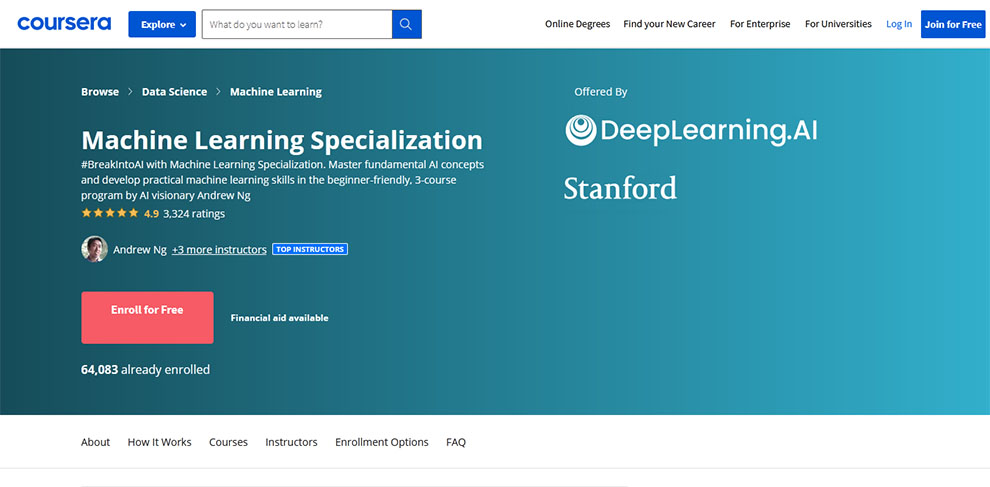 Why This Course
This courses for machine learning training online comes directly from DeepLearning.AI and Stanford University, with a high rating of 4.9.
What's There To Like
It is a beginner-friendly class. So, you start from the basics and move to the advanced level in this three-course specialization.
You will learn with Andrew Ng, an AI visionary who has been a part of critical research at Stanford University, Google Brain, Landing.AI, and Baidu.
More than 4.8 million learners have taken this course since its launch in 2012.
What Could Have Been Better
The degree of theoretical concepts is massive in this class.
The instructor's pace is too slow.
Offered and backed by two of the most renowned institutes, it is one of Coursera's best machine learning courses online that helps you build ML models with sci-kit-learn and NumPy. You can use this class as a medium to discover how to train and create models for binary classification tasks and prediction.
It also familiarizes you with TensorFlow for performing multi-class classification and employing and building decision trees with tree ensemble methods. As you progress into this machine learning class online, you will know how to create recommender systems with a content-based deep learning method, a collaborative filtering approach, and a deep reinforcement learning model.
Prerequisites
This course assumes former experience with fundamental coding knowledge (for loops, functions, if/else statements) and high-school-level math (including algebra and arithmetic).
Know about the prerequisites for this course in detail here.
Review Jamie H.
"
Excellent content. I'm a math guy so I would have enjoyed some more in-depth theory, but that's what books are for I suppose!
I've been using Python for a long time now so understanding the code was nice and easy.
Thank you for your hard work putting this together!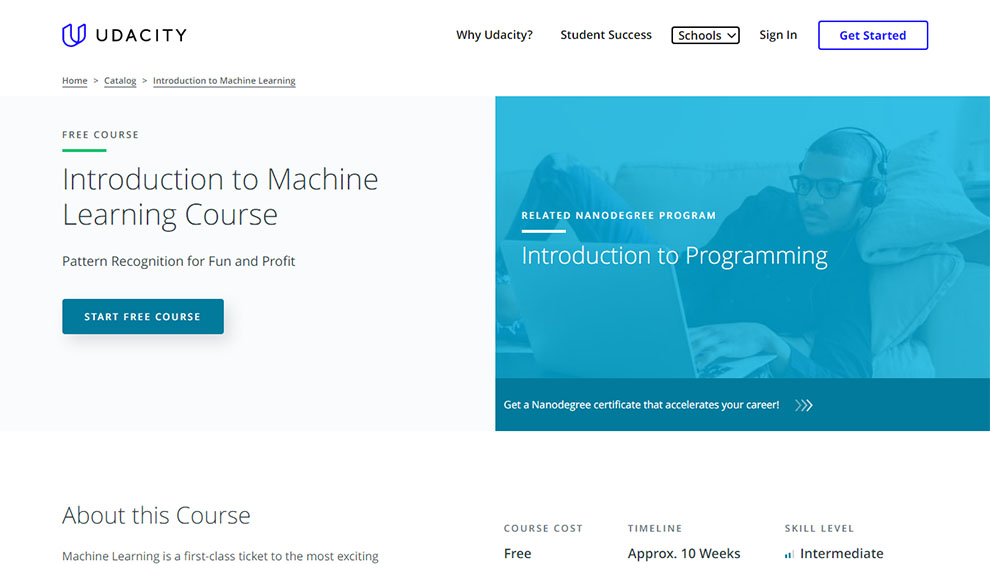 Why This Course
It has got rich learning content. There are a few prerequisites in this course, but Udacity takes care of it all through its refresher courses.
What's There To Like
It is a free machine learning course online.
There are multiple interactive quizzes in the class.
It is presented to you by recognized industry professionals – Katie Malone and Sebastian Thrun
You can take it at your pace.
It is a hands-on class. So, you will learn by doing.
What Could Have Been Better
There is no certification in this course.
In this machine learning course for beginners, you will study the data investigation's end-to-end process via a machine learning lens. It will also teach you how to identify and extract the vital features that represent your data the best.
Lastly, you will also study the learning algorithms and evaluate the performance of the machine learning algorithms. This class is a part of Udacity's Data Analyst Nanodegree.
Prerequisites
You can excel in this machine learning training online if you are proficient in basic statistics and Python programming. However, if you lack the skills in this department, you can consider enrolling in the below-listed courses first: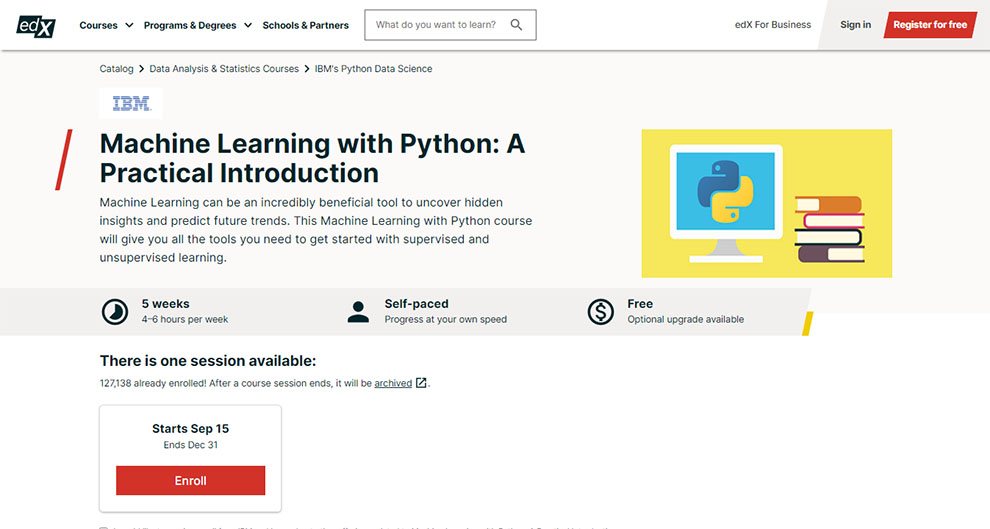 Why This Course
It is a good place for machine learning python beginners. Secondly, you earn a skill badge from IBM after the successful completion of this course.
What's There To Like
You will work on many real-life machine learning examples and see how it affects society.
Many hands-on labs will help you put your theoretical knowledge into practice.
It is a self-paced class.
What Could Have Been Better
If you opt for the free variant, you will not receive a certification.
Also, you get limited access and no graded assignments in the free version.
In this machine learning class online, you will get well-versed with all the tools required to commence supervised and unsupervised learning. You will examine the machine learning fundamentals with Python. As you progress further, you will also study how statistical modeling is related to machine learning and compare them.
When your fundamentals are clear, you will explore algorithms like Classification, Regression, Clustering, and Dimensional Reduction and popular models such as Train/Test Split, Root Mean Squared Error (RMSE), and Random Forests.
Prerequisites
You can take the Recommended: Python Basics for Data Science class before you start with this class.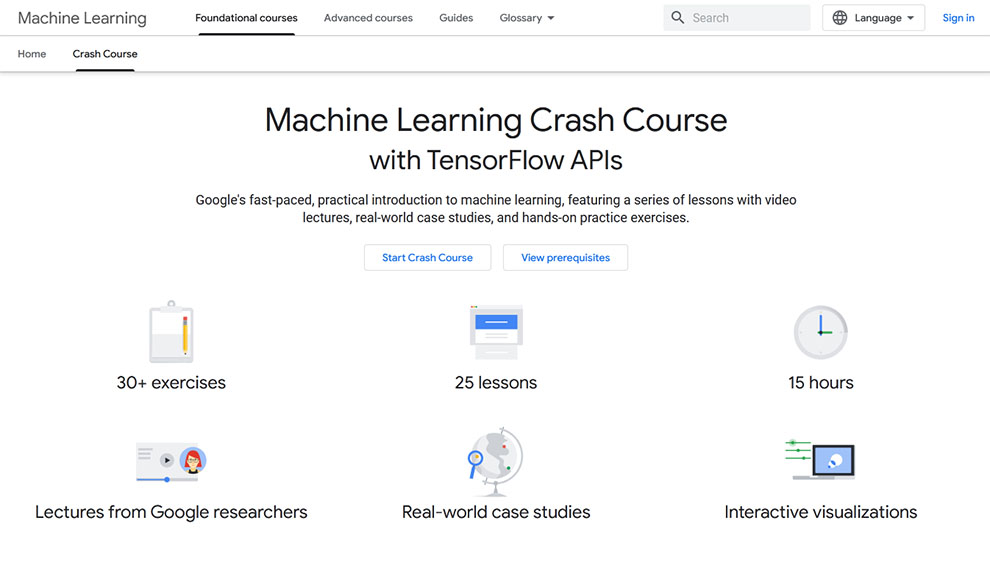 Why This Course
This isn't just any crash. It is a course by Google that covers TensorFlow APIs through lectures by Google researchers for free.
What's There To Like
It is a fast-paced class. You will find many real-world case studies in the course.
There are over thirty practical exercises to give you hands-on experience.
You will discover many pivotal machine learning concepts in this free machine learning class online. You will study the difference between traditional and machine learning programming. The instructor will also explore topics like what loss is and how to measure it, how gradient descent works, ways to determine the model's effectiveness, data representation for a program, building a deep neural network, and more.
Prerequisites
You must be well-versed with linear equations, variables, statistical means, graphs of functions, and histograms. In addition, you must be an excellent programmer to succeed in this class because all the programming exercises are in Python.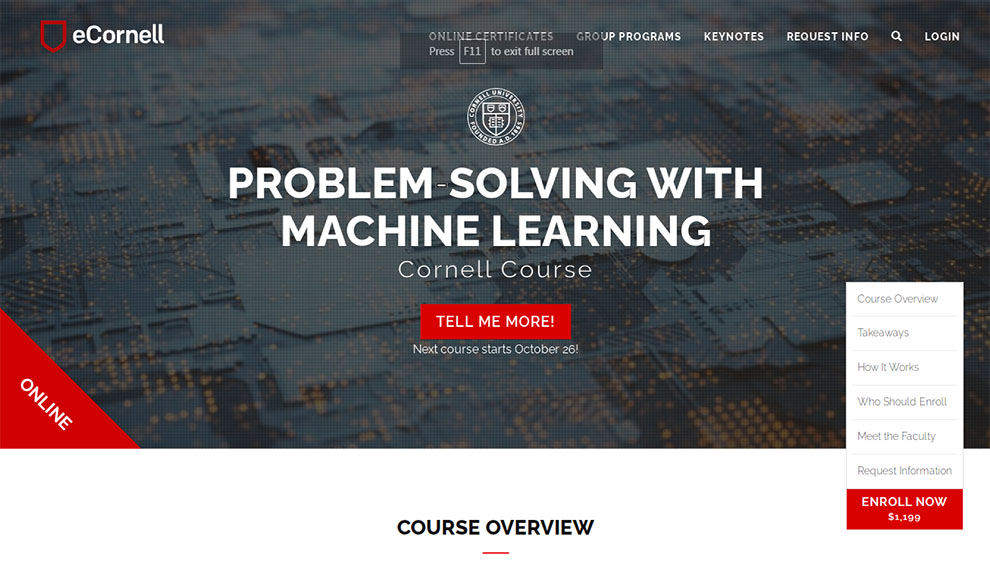 Why This Course
This course allows you to get professionally certified by Cornell through machine learning training online. This course is for professionals like data scientists, developers, programmers, software engineers, data analysts, and statisticians.
What's there to like?
You will be working on real-world problems.
You will study with a faculty expert from Cornell, Kilian Weinberger.
Instructor led classes
What Could Have Been Better
Since it is equivalent to a college-level certification, the price you pay is quite high.
As part of this machine learning course online, you will understand the machine learning ingredients and learn how to evaluate, implement, and improve the machine learning algorithms.
You will work with the -Nearest Neighbors (k-NN) algorithm and develop a face recognition system. Moving forward, you will work with tools like the NumPy Python library to help you better and simplify the Python code. Lastly, you will also learn to compute the algorithm's accuracy by implementing the loss functions.
How Did We Choose These Courses – Ranking Methodology
With that, we have come to the end of this guide. But, there may be a question hovering in your head. The internet has several machine learning courses, so how did we pick these from the rest? We chose the classes on the following parameters:
1. Practical learning – There is no use of learning theory without knowing how it employ it. So, we thought – Is it a hands-on class? Does it have ample real-world examples and exercises to give you industry experience and assess your learning ability? If the answers were yes, then only the machine learning class online made the cut.
 
2. Instructor's background – Another factor was whether the course author trained, qualified, and experienced enough to teach such an important subject and tend to the queries of learners.
 
3. Course platform credibility – Is the chosen course platform or MOOC authentic and credible, and will their support team assist you if something goes amiss?
 
4. Course depth– We think that at once you don't want to take up more than a maximum of two courses. That too in rare cases when one course does not offer you all that you were looking for. So, we tried our best to suggest the courses that were detailed and gave you a wholesome experience.
 
5. Flexibility– Lastly, all these courses with machine learning training online have flexible schedules. So, we were inclined to select the courses with self-paced flexible classes.
Is A Machine Learning Course Worth It?
Knowledge never goes waste, and understanding machine learning will always be worth it today and even years from now. Regardless of how saturated the job market is, there will always be a potential for creative machine learning experts. So whether you are thinking of a free machine learning course or a paid one, you can go for it.
 
Should You Go For A Full-Time College Program or Online Course For Machine Learning?
The choice here depends on various factors, but funds and accessibility are the two most imperative attributes. Typically, all machine learning engineering jobs require you to possess a bachelor's degree. Hence, a full-time college program is the most suitable option, but it will not come cheap, and you may not get access to the best university or a top educator near you. So, in that case, an online certification can also help supplement your career.
 
What Are The Advantages Of Taking A Machine Learning Course?
After finishing the machine learning course, you will have access to the following benefits:
Better growth and career prospects– Machine learning as a Service is predicted to boom from $1.07 billion in 2016 to $19.9 billion in 2025. It is a commendable growth rate. So, if you hope to take your career to another level, ML knowledge can be beneficial. 
Higher salaries– Top ML professionals get paid as much as professional sports stars, and there is no exaggeration there! 
Corporations need ML experts– Technology is advancing rapidly, and a corporation that fails to match pace with it is left behind. Sadly, there are not many machine learning experts in the market today. So, your ML knowledge makes you bankable and a valuable resource for the organization. 
How Long Does It Take To Learn Machine Learning?
On average, it can take any individual approximately six months to finish the curriculum for a machine learning course. But, if you do not have any former knowledge of statistics, computer programming, or data science, it may take you longer.
 
What Should You Learn After Machine Learning?
You can study Deep learning and data visualization after completing machine learning. You can also explore some sub-fields of machine learning to find a better-paying job.
 
What To Look Out For In A Machine Learning Course?
Here are some attributes you must consider before enrolling in a machine learning course online:
Teacher's experience– You should ensure that the professional offering the class is qualified or experienced to offer you the class. They should have studied the subject and must have experience training young aspirants like you in the past. 
Developer skills you will learn – It is essential to get an overview of the course's learning objectives and ensure that it matches your requirements and expectations from the class. 
Duration– Whether a working professional or a student, time is a valuable resource, and you will want to invest your time into something that rewards you well. So, pick a class with no fluff. Be it a two-hour session or a 27-hour class – the instructor should make it wholesome and valuable. You can know about it from reading the student testimonials associated with the course. 
Curriculum– You need to read through the class curriculum to ensure it matches the global one and provides you with an understanding of all ML aspects. 
Price is a vital consideration but should not be your primary basis for selection. If it is an experienced, well-trained instructor, they will not impart their knowledge for cheap, but do watch out for the discounts and sales to get your desired course within budget. The idea is to pick a class that gives you value for money. 
Certificate– It is a validation of your skills and can be instrumental in finding a job in the field. So, pick a class that comes with the accreditation. 
Frequently Asked Questions
Ques 1. What kind of math is needed for machine learning?
Ans. You need to be well-versed with linear algebra for machine learning. In addition, knowledge of calculus, probability theory, and statistics will help.
Ques 2. Where can I practice machine learning online?
Ans. You can use MachineHack, an online platform by Analytics India Magazine, to practice and test your machine learning skills online.
Ques 3. Where do I apply the teachings of a machine learning course online?
Ans. AI is typically everywhere, and one of the quintessential AI applications is Machine Learning, wherein the devices, software, and computers perform tasks via cognition like humans. Below are three significant applications of Machine learning:
Virtual Personal Assistants– Google Now, Alexa, and Siri are popular virtual assistants that help find the desired instructions by giving them voice commands. Machine learning is vital for virtual assistants as they accumulate all the information according to your previous engagement and employ the data to render results that match your preferences.  
GPS and cab navigation services – At some point in time, we have all used GPS navigation services. As you do that, your present velocity and location are employed at a server for traffic management, and AI uses the same data to develop a map of the current traffic. It performs congestion analysis and helps avoid traffic. However, the problem is not many cars are GPS-equipped. In such cases, with the help of machine learning training online, you prep the app with ML to estimate the regions of congestion following the daily experiences.  
At the same time, when you book a cab from an app like Uber, it sends you a price estimate for your ride. The ability to minimize the detours when sharing these services is accredited to Machine Learning.  
Video surveillance – A single person cannot keep a tab on all the video cameras. Hence, machines/computers simplify this task for humans. Powered by AI, the system detects a crime before they occur. The cameras also track unusual behavior, such as napping on benches and motionless standing for a long duration, and send alerts to human attendees, helping avoid mishaps. All of this is possible because of machine learning at the backend.  
Ques 4. What is the best language for machine learning?
Ans. Python is the best language for machine learning. Reports suggest approximately fifty-seven percent of machine learning developers and data scientists use it, and thirty-three percent give it more weight for development.
 
Ques 5. Can I learn machine learning without Python?
Ans. Yes, it is possible to take a machine learning class online without any Python knowledge. The Machine Learning algorithms are available in several languages. So, there is no compulsion to be well-versed with Python for machine learning. You can learn algorithms independent of the language.
Ques 6. How to become a Machine Learning Expert – any roadmap?
Ans. Here is a roadmap to being a machine learning expert:
Get well-versed with a scripting language like R or Python, but we recommend learning both. However, if you wish to stick to one, we will advise Python over R. Acquire an understanding of Python Syntax, in-built data structures, OOPS, and Libraries with Python.
Meet the prerequisites for Machine Learning. For example knowledge of statistics, such as continuous and discrete probability distributions, joint probability, conditional probability, marginal probability, dependent and independent events, mean, median, mode, standard deviation, standard error, and variance, can help.
Get well-acquainted with Exploratory Data Analysis. It involves several topics –
basic metrics analysis
identification of the data and variable types
bivariate analysis
graphical and non-graphical univariate analysis
missing value
outliner treatment
variable transformation
dimensionality reduction
correlation analysis
Familiarity with supervised (support vector machines, ensemble models like random forest and bagging, classification trees, logistic, polynomial, or linear regression) and unsupervised models ( association rule learning and clustering) can help.
An understanding of big data technologies and deep learning models will also help.
 
Parting Word
So, these are the best machine learning courses online suited for different individuals having a specific selection criteria in mind.
Until next time – keep learning!
 
Best Machine Learning Courses
Reviewed by Mark Jason with help of 15 Machine Learning Experts 4.6