DataCamp fairs out to be a better choice than Dataquest in almost all aspects. However, one feature worth mentioning for Dataquest is their industry-like projects that come with their courses.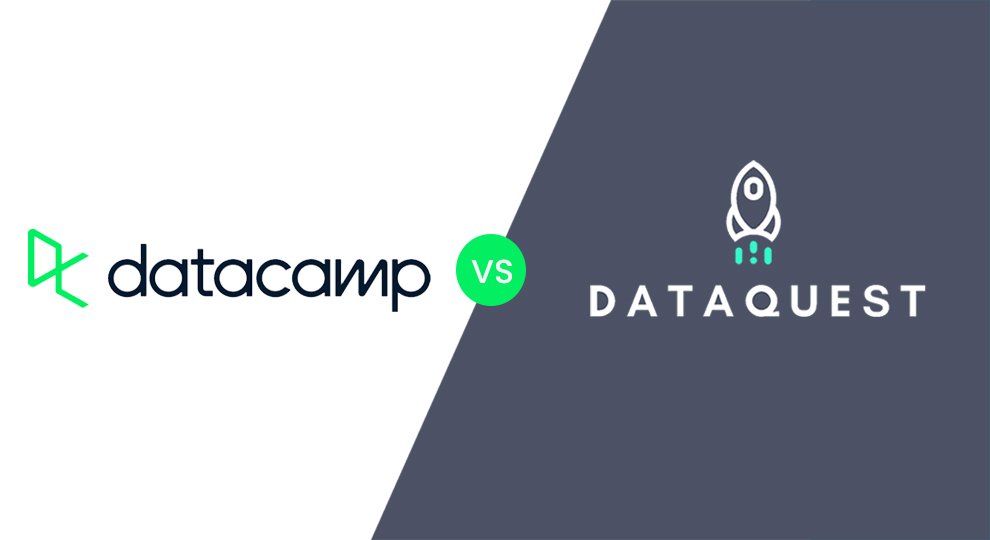 DataCamp and Dataquest are both online learning platforms that provide students who want to work with data with a hands-on learning experience. Both of these learning platforms have their individual plus points and shortcomings which will be discussed further in this article.
When comparing Dataquest vs. DataCamp, the first thing that readers need to know is that DataCamp has a more extensive course catalog and offers more career tracks to choose from in comparison to Dataquest.
DataCamp is comparatively easier to navigate and more user-friendly. The basic similarity between the two websites is that they both offer training in key programming languages as well as tools for data analysis and data science.
When it comes to payment, DataCamp has only one fixed payment plan, that is, an annual payment plan which needs to be paid upfront whereas, Dataquest has several types of payment plans which include, monthly, yearly, and lifetime subscription plans.
Let us now take a more detailed look at the attributes of each website to decide which one would be better suited to your career path.
Comparison of Dataquest vs. DataCamp Features
| | | |
| --- | --- | --- |
| | DataCamp | Dataquest |
| Cost | $300 paid annually or $15 per month (the platform offers discounts on certain courses) | $49 per month, $399 annually, $1,176 lifetime (the platform offers discounts on certain courses) |
| Free classes | The introductory courses are free of cost. | The introductory courses are free of cost. |
| Specializes in skills | SQL, Data Literacy, Machine Learning, Statistics, Marketing Analytics, NLP, Data Visualization, Applied Finance, and Big Data. | Azure, Cloud Data, Data Visualization, Data Analytics, Machine Learning, Probability, Statistics, SQL, and Excel. |
| Teaching style | Hands-on exercise-based teaching. | Project-based teaching. |
| Languages | Python, R, SQL | Python, R, SQL |
| Certificate | Certificates are shareable | Certificates are shareable |
| Instructor | Karolis Urbonas, Jill Rosok, Ben Teusch, Chelsea Yang and others. | A mix of former teachers and some working professionals. |
| Number of Courses available | 389 courses | 82 courses |
| Customer support | There is a support bot that is always readily available. Alternatively, DataCamp also has a 'contact us' option and they typically reply within a few days. | This website has an extensive section dedicated to commonly asked questions. You can also send in your queries to customer support. However, this website does not have a live chat feature. |
| Visit | DataCamp | Dataquest |
Which Is Better Dataquest or DataCamp?
This question can have no one definite answer because whether Dataquest is better than DataCamp or vice-versa depends solely on the learning requirements of the student. The courses on both platforms are very well-curated and taught by professionals.
While DataCamp might be the better option in most categories like course content, query handling, number of available career paths, and number of skills taught, Dataquest also has some major advantages over DataCamp in terms of flexible pricing plans and project-based learning paths.
A. What DataCamp and Dataquest Specialize In?
Both DataCamp and Dataquest focus on Data Science and related topics.
We can say that it's a tie between them in terms of focus topics. Both lay emphasis on data science and data analysis. However, DataCamp has more options to upskill yourself.
B. Pricing
Dataquest has better pricing and subscription plans.
The plans of Dataquest are more flexible in contrast to DataCamp which offers only a monthly and an annual payment plan but the annual plan of DataCamp is somewhat cheaper compared to that of Dataquest.
However, the entire cost needs to be paid upfront in the case of DataCamp. The pricing plans are very clearly listed on both websites.
C. Resources and materials you get
When it comes to resources and materials, DataCamp hands-down is the better option to consider.
The DataCamp website has a wide variety of resources and materials that are made available to learners once they enroll in a course.
DataCamp not only offers a greater number of resources and course materials but the quality of the materials is also significantly better than that of Dataquest which focuses on a more autonomous style of learning by making students scour for resources themselves like in the real world.
D. Dataquest Lifetime Plan vs. DataCamp
Dataquest's lifetime plan is much more hassle-free and comparatively cheaper for long-term learners who would not have to renew their membership every year.
DataCamp does not have any such lifetime plan. One would have to purchase an annual subscription every year to access the courses.
E. DataCamp vs. Dataquest Certifications
DataCamp certifications are a bit more recognized in the data industry in comparison to Dataquest because DataCamp is more popular and reputed.
However, learners need to understand that Dataquest's certifications are also almost at par with that DataCamp's and are much more challenging to achieve.
Note that it does not matter whether you have a certification from Dataquest or DataCamp if you are not proficient in your skills.
F. Course/class structure and delivery
When it comes to the course structure and content delivery the platforms are very different from each other and there can be no clear winner because both platforms cater to two different categories of learners.
With DataCamp, learners grasp the theoretical content better because this platform has video-based content delivery. The courses also have theoretical quizzes and assessments to test your knowledge.
Therefore, students who are keener on understanding the whys and hows of the topics for an academic purpose can opt for the courses on DataCamp.
DataCamp also encourages students to practically apply their skills by providing them with mini projects after each course, but the completion of the project is not mandatory to receive the certification.
In comparison, Dataquest offers a much more practical approach to learning by requiring the students to build projects as a part of the learning curriculum.
These courses are more catered to learners who are willing to develop industrial skills and are not much concerned with the theory of the topics.
However, Dataquest also does explain the theoretical concepts to some extent by providing reading materials. No video tutorials are available.
G. Who has better Instructors DataCamp or Dataquest?
The instructors of DataCamp are extremely well-recognized and are pioneers in the industry as compared to Dataquest.
DataCamp usually hires industry professionals as educators which makes them more experienced in delivering accurate and relevant content.
Not much is known about the educators of Dataquest apart from the fact that they are also brilliant at curating relevant projects and course materials but in comparison, the instructors of DataCamp are more credible.
H. DataCamp vs. Dataquest – Customer service and query handling
Both the platforms have a prompt query handling service but the live chat feature of DataCamp provides it with an edge over Dataquest.
In this case, you would not have to wait for the team to get back to you after receiving your query. Your queries usually get solved instantly and are sent to the customer support team only if Chabot is unable to resolve them.
Related: CreativeLive vs Skillshare | Alison vs Coursera | Udemy vs Pluralsight | Codecademy vs DataCamp | edX vs Udacity| Codecademy vs DataCamp | DataCamp vs Coursera
DataCamp Review – Is DataCamp Really Worth The Money?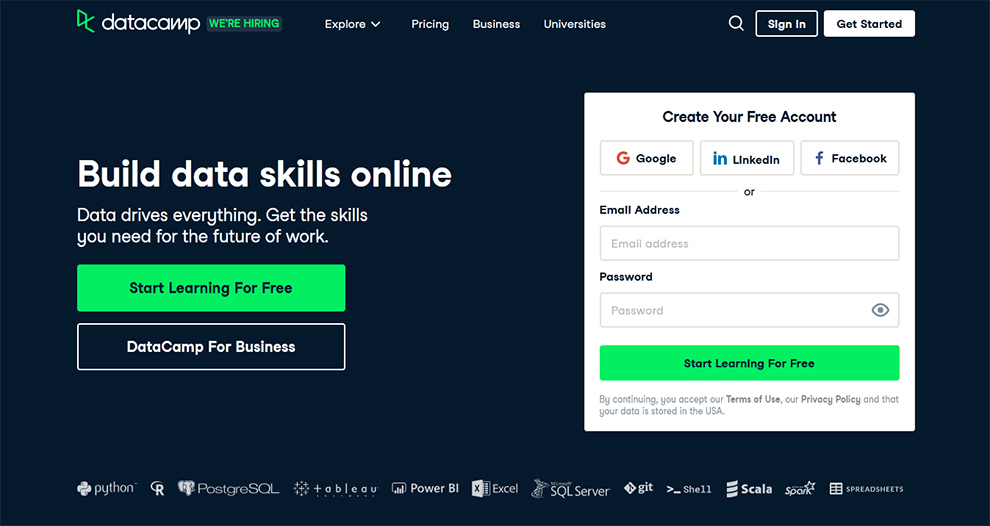 Yes. DataCamp is indeed worth it if you are keen on learning a new skill or technology related to data or data science.
It actually helps beginners a lot when they are trying to learn from scratch because the entire learning path is created in a way in which students are not left to wonder what to learn next.
Once a student enrolls in a particular learning path, they learn from the very basics and move on to advanced levels in that same path.
DataCamp has 14 career tracks that include topics like data analytics, data engineering, data science, and machine learning. A specific career track might take anywhere between 32 to 97 hours to complete.
The Machine Learning track, for example, comprises five courses with interactive activities and requires 16 hours plus one final assessment to complete. Check out the best machine learning courses by other platforms as well.
Depending on the curriculum, a DataCamp career track includes self-paced training in Excel, Oracle, Python, R, SQL, or Tableau.
Pros
Cons

This platform's content on SQL and R languages is far more robust than that of Dataquest.
DataCamp also has a mobile application that you can use to complete the courses and challenges.
DataCamp offers a wide range of Python courses
It has an extremely friendly user interface.
DataCamp has excellent educators from premier corporate companies.
You can access the first chapter of each course for free.
The annual pricing plan is cheaper than what Dataquest offers.

 

The assessments lack challenge because they are only 'fill in the blanks' based.
Completing projects isn't a prerequisite for course completion so many students might choose to skip it.
Pricing plans are not flexible.
The certifications do not add much value to your resume unless you can prove your skills.

 
Is the DataCamp certificate worth anything?
The DataCamp certificates definitely add some credibility to your resume but having a certificate alone will not help you land a job.
To land a job, you will need to prove that you are pro-efficient in whatever skills are mentioned in the certificate. The certifications you earn from this platform are a great way of demonstrating that you are committed to self-improvement.
Do companies recognize DataCamp?
DataCamp is a recognized name in the field of learning data science. Companies might often shortlist candidates based on the DataCamp certifications they hold.
However, since the platform does not provide accredited certificates, the companies more often than not will ask candidates to prove their proficiency in the skills through internal assessments and interviews.
Is DataCamp completely free?
No, DataCamp is not completely free. You can audit the first chapter of each learning track for free but to access the entire course and earn certifications, one needs to pay according to the payment plan they have chosen.
Visit DataCamp
Dataquest Review – Is Dataquest Actually Worth The Money?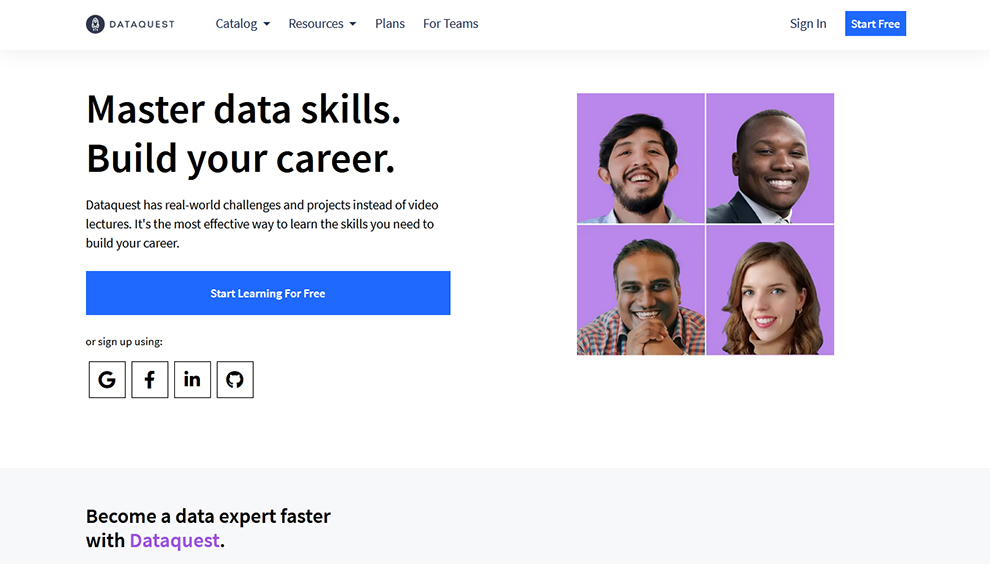 Yes, Dataquest subscriptions are worth your money. Dataquest encourages project-based learning from the outset with a focus on concepts and documentation to teach students autonomy.
Learners who have completed courses on Dataquest talk about how the projects are challenging and help them learn real-life, industry-relevant skills. Between DataCamp or Dataquest, these projects are one of the main things that make Dataquest special.
Dataquest offers around 6 career paths, 15 skill paths, and over 90 individual courses for learners. To confirm if the project-based teaching style of Dataquest is well suited to your learning abilities, start off with a small subscription plan and then move on to an annual plan if you require.
Pros
Cons

Flexible pricing plans for long-term and short-term learners.
Project-based learning model encourages students to practically apply the skills they have learned which in turn helps with better knowledge retention.
The coursework for Python is very well curated
The site does not spoon-feed the solutions and requires students to use other tools like GitHub and Stack Overflow like real-life developers.
You can audit the first chapter of each course for free.

 

The annual cost of a subscription is even more than that of DataCamp.
The number of courses and learning tracks DataCamp offers is significantly more.
The R and SQL learning tracks need some improvement.
The lack of videos and explanations often makes it difficult to understand concepts entirely before putting them to use.

 
Is a Dataquest lifetime subscription worth it?
Dataquest's lifetime subscription is quite expensive but is an extremely good deal for learners who wish to keep on learning and exploring various career tracks.
It subtracts the hassle of having to ever renew the subscription and gives you unlimited access to all course materials and certifications.
But if you just want to study one or two topics, the lifetime subscription is a waste.
Can you learn SQL with Dataquest?
Yes. You can learn SQL with Dataquest but between Dataquest vs. DataCamp, the curriculum that DataCamp has for SQL is more critically acclaimed.
However, Dataquest's SQL curriculum is not bad for beginners who have just started learning about databases.
Once you are done learning the SQL Fundamentals, the Dataquest platform offers a seamless transition to more complex applications of SQL in various tracks such as Data Engineering where PostgreSQL is taught along with some other advanced SQL concepts.
Will Dataquest get me a job?
No. Sorry to burst your bubble but Dataquest certifications alone will not get you a job. It will definitely assist you in getting a job. The projects you complete while learning will give your resume a boost and the certifications you achieve on the completion of each course will vouch for your commitment to learning.
How long does it take to finish Dataquest?
The Dataquest platform is self-paced so the time taken by various learners to finish courses is different. Usually, an individual skill path can be completed in one month at 10 hours per week and a career path can be completed in five months at 10 hours per week.
Dataquest keeps on adding new career paths and skill paths so completing all career tracks and skill tracks available on the platform is simply not possible.
Visit Dataquest
The Final Verdict – Which Is Better DataCamp vs. Dataquest?
Overall, DataCamp is better than Dataquest in the majority of aspects. It is more widely recognized and has a better curriculum along with extensive resources which makes it a value for money.
The annual subscription plan is also cheaper than that of Dataquest and the instructors are also highly accomplished in their own fields. Considering all of this, it is safe to say that DataCamp is better than Dataquest as a learning platform.
However, it is advised that readers do not discard Dataquest completely without looking at the specific course curriculum.
A huge plus point of Dataquest is that it requires you to build industry-level projects for course completion which can add considerable value to your resume as compared to DataCamp's certification while also helping in content retention.