Reading Time:
10
minutes
If you prefer quality over quantity, Magoosh should be your pick for GRE prep. Naturally, Manhattan has a number of practice questions, but if you like challenging questions, you must opt for Magoosh.
Are you confused about which GRE prep course you must take for clearing the exam on your first attempt. Upon deep analysis, you will find two names everywhere: Manhattan Prep and Magoosh. However, you don't want to take both! So, the biggest concern is, between Magoosh vs Manhattan GRE, which is better?
Basis Magoosh vs Manhattan comparison, we found that the latter offers both in-person and online classes for GRE, whereas the former provides just the online lessons. Still our vote goes to Magoosh for their quality questions, accurate scoring, and guaranteed score improvement.
With Manhattan, you get over 100,000 test prep questions, whereas the number is only 1200 with Magoosh. Manhattan offers the flexibility to choose between verbal only, math, or complete courses, but with Magoosh, you have to take the full session.
Magoosh GRE allows you to take three practice tests, but the number is six with Manhattan. Upon further Manhattan vs Magoosh GRE analysis, we found that Magoosh provides access to 250 video lessons, but Manhattan has only 77 video lessons.
Magoosh is also flexible with its score guarantee and assures a +5 increase, but you do not get any such guarantee with Manhattan. Further, Magoosh's score predictor offers a realistic performance assessment, but Manhattan GRE does not predict the test results accurately. Lastly, Manhattan GRE is non-refundable, but Magoosh has a money-back guarantee.
These two courses differ in almost every category, including the resources, availability of practice work, and pricing. We did all the hard work for you and deeply analyzed these two companies. So, below, we will review them both for you.
Which Is Better: Manhattan Prep Vs Magoosh GRE?
| | | |
| --- | --- | --- |
| Attribute | Manhattan GRE | Magoosh |
| Price | Costlier | Cheaper |
| Free trial | 7-days | 7-days |
| Live classes | 27 | None |
| Refund | No | 7-days |
| Video lessons | 66 | 100+ |
| Resources & materials | More | Less |
| Success rate/guarantee | None | +5 point |
| Books | Hardcopy | None |
| Practice tests | 6 | 3 |
| Practice questions | >100000 | >1200 |
| Subscription duration | Depends on plan | Depends on plan |
| Customer support | Better | Not as good as Manhattan |
| Dashboard | Calendar-like design | Day-by-day approach |
| Mobile app | Not as comprehensive | Comprehensive |
| Visit | Manhattan GRE | Magoosh |
Is Manhattan GRE Prep Worth It?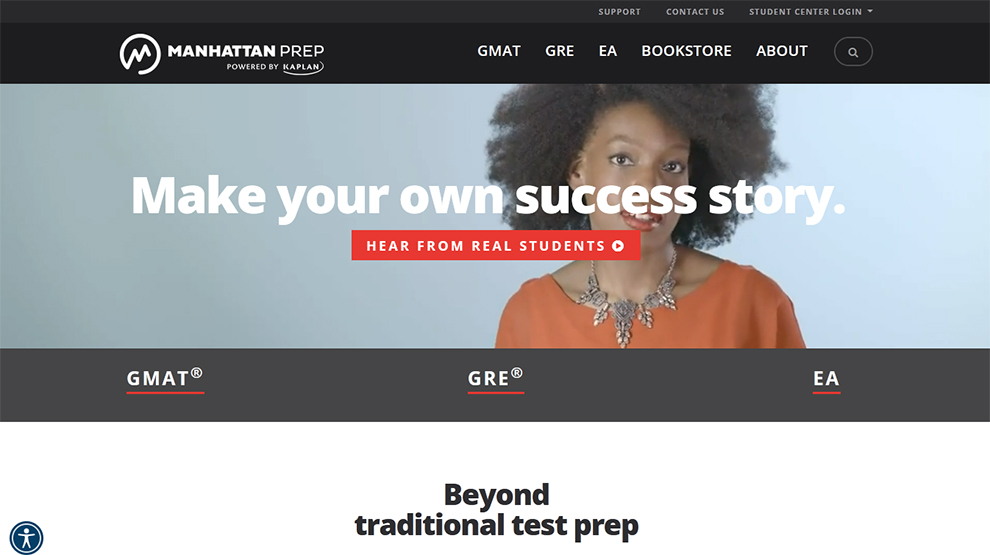 Of course, Manhattan GRE prep lessons are worth the time and effort you put into them. They have comprehensive lessons. Their instructors fall in the top one percent of the GRE takers. So, you know you will learn from the best.
They have an extensive selection of the choicest study material available online and offline. Their practice tests are precise and mimic the questions you will see in the exam. They provide likable and adaptable class options. You can choose from their one-on-one coaching packages to the self-paced ones.
Manhattan has the maximum number of practice questions (> 100,000). Beyond this, they also provide more printed study material than most of their contenders. So, you will never feel short on practice with the Manhattan courses.
Further, their practice tests are one of the most challenging in the GRE industry, crafted by the test-takers who ranked in the 99th percentile. Many students found their tests trickier than the actual exam.
Pros
Cons

Interactive video lessons with several in-built drills
Top-quality GRE prep books.
More problems in the question bank than competitors.
Realistic GRE practice tests.
Flashcards that allow studying on the go.
You can attend classes online or in person.
Excellent staff
It gives you the option to prepare for only the math section instead of the whole GRE.
Offline material is covered in the course price.
Free events and workshops
Up-to-date syllabus

 

No score guarantee.
Expensive
The mobile app demands in-app purchases.
Score prediction is inaccurate.

 
How accurate is the Manhattan GRE score?
It is not accurate and reliable. If you wish to pick one between Magoosh or Manhattan GRE, sadly, students did not quite like Manhattan's test score analysis metric.
Is Manhattan GRE test adaptive?
Yes, Manhattan GRE tests are adaptive.
Is Manhattan's verbal hard?
They are almost of the same difficulty level as the actual exam.
Are Manhattan GRE mock tests good?
Yes, they are good. It is so because Manhattan's tests can alter the difficulty level as per your performance.
Visit Manhattan GRE
Is Magoosh Better Than Manhattan?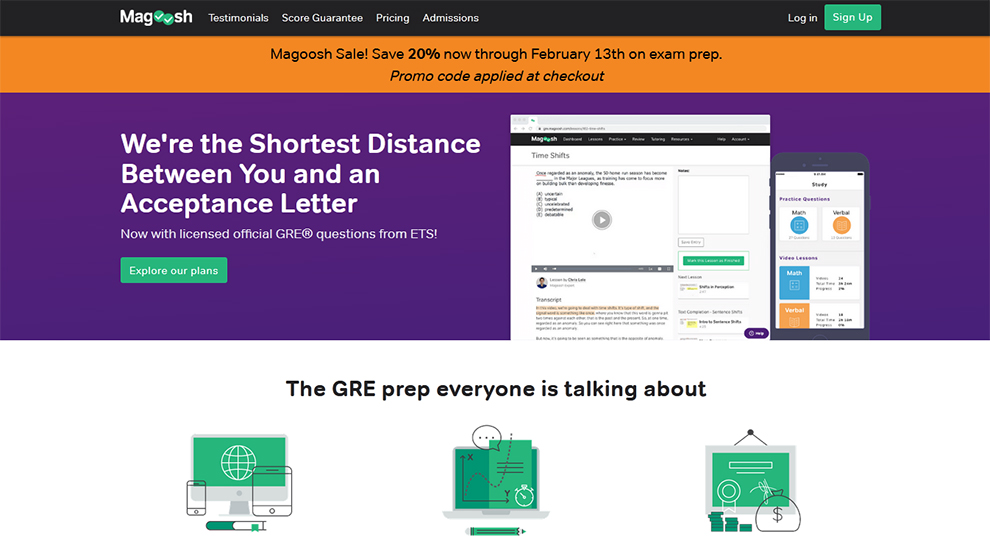 Definitely!
Magoosh is undoubtedly one of the fastest-growing American companies in the last couple of years for the right reasons. Their video sessions and the GRE test preparation courses are well-reviewed, easy to comprehend, and accessible. They also have more reasonable options than their contenders and are a reliable pick for budget-conscious GRE aspirants.
After you pay for their prep course, you get access to their test prep portal. In addition, it also gives you admittance to their mobile app. So, you can enjoy learning on the go through your Android or iOS app on your phone or tablet.
Most of their quizzes, flashcards, and exercises are easily accessible on the app. However, their classes are 100% online, sans any software or books to carry around. It makes it easier to study on the go.
You can also check out their blog posts for added clarity if you do not find the text and video clarifications adequate. They also have an FAQ section where they address the common concerns of the students, which is helpful in many cases.
Beyond this, Magoosh also has live sessions for students demanding individual attention or extra accountability. GRE expert instructors take their live sessions and cover crucial topics like geometry, data interpretation, paragraph argument, statistics, and more.
However, these classes come with extra homework that reinforces learning in addition to what's offered in the self-study plans. They also have a seven-day money-back and a five-point score guarantee.
Now let us proceed to the Magoosh vs Manhattan GRE comparison to help you pick one over the other.
Pros
Cons

It gives a bang for your buck.
Video-based explanations for practice problems are praise-worthy.
24/7 email support for added help.
Vast selection of video lessons with practice content strategies and review.
One-week free trial
Inexpensive
It lets you keep a tab on your progress.
No in-app purchases in the mobile app.
+5 point improvement guarantee.
Modern dashboard.

 

It has a lesser number of resources than Manhattan.
No live lessons
No offline learning materials.
No workshops.
Lesser prep test questions and practice tests

 
Is Magoosh GRE score accurate?
Yes, Magoosh's GRE score is very accurate. It is almost as close to the actual score. Their estimated score is based on the performance in the practice session and accounts for the difficulty of the questions correctly/incorrectly answered.
Is Magoosh harder than the actual GRE?
Yes, Magoosh questions, especially in the math section, includes several topics in a single problem. So, they are often more challenging than the actual Magoosh test.
Is Magoosh GRE vocabulary builder good?
Yes, their vocabulary builder is the best in terms of information and quality.
Visit Magoosh
Magoosh vs Manhattan Prep GRE In-Depth Comparison
A. Video lessons and teaching style
Magoosh's teaching style is relatively better as the instructor writes the whole process on the board instead of flashing the steps on the screen.
Magoosh's video lessons are undoubtedly the best in the entire GRE prep scene industry. They are fluff-free and straightforward. Usually, most video lessons in online courses are comical, making it confusing for the students, but such is not the case with Magoosh.
In Magoosh's videos, you will find a white screen with a question on the board. You will hear an instructor's voice wherein he puts forth the step-by-step process of tackling the problem while simultaneously working on the solution on the board.
In Manhattan video lessons, the content is flashed onto the screen and not written by the instructor. Comparing Manhattan vs Magoosh GRE teaching style, the former has a somewhat different approach. The experts at Manhattan made their lessons slightly comical by adding entertainment value. In all honesty, we do not like this teaching style a lot. It can be a little distracting, but of course, to each his own.
B. Course options and pricing
Price is one of the most crucial factors when shopping for a prep course, and Magoosh is a clear winner on this front. 
Manhattan offers three different formats to select from. These include:
GRE Interact + Tutoring
GRE For MBA Course
GRE Interact Course
The GRE Interact + Tutoring is their most expensive option incorporating one-on-one tutoring sessions. The price starts at $2400. Its GRE for MBA package includes live classes and costs $1600. Finally, their interact package comprises a self-paced, ultra-basic course with only the essentials.
In the third package, you will find some practice tests, practice problems, and a series of video lessons. It is almost comparable to Magoosh's offering. However, despite the similarities, its price goes from $299 to $499, depending on the access window.
Manhattan's courses are indeed good, but comparing Manhattan prep vs Magoosh GRE, they still do not match Magoosh's value.
Magoosh provides only two-course formats. First is their one-month premium session, and the other is the six-month plan. Of course, the choice is not broad, but we like how Magoosh keeps it all simple. Both their lectures are the same. The only difference is in the price and the content access window.
In their one-month premium package, you get a month's access. It will cost you around $149, and the six-month plan that offers access for six months costs $179. Always opt for the six-month package. It costs only $30 more, but the access window is worth it.
Comparing Magoosh's six premium courses with Manhattan Prep, you will see that it is $120 cheaper than Manhattan's self-paced program and 1/8th of the complete course's cost with live instruction.
C. Practice tests and questions
Manhattan prep material is relatively more expensive, but it certainly offers more. However, Magoosh has quality over quantity.
Here is what you get with the prep self-guided course option:
Manhattan
More than 1,00,000 practice questions
Test score analysis
Six practice tests
Seventy-seven interactive video sessions
Video explanations to practice problems
Magoosh
1200 practice questions
Test score analysis
Three practice tests.
Two hundred and fifty video lessons
Video explanations to practice problems
AWA guidelines and tips
Typically, Magoosh's video sessions usually average around five minutes per video. You get 21 hours of the total video lesson. However, Manhattan has 77 videos with 27 hours of video content. We cannot ignore the Magoosh 1200 questions vs. Manhattan's 1,00,000 questions.
Students who tried both these companies say Magoosh's questions are usually trickier than the actual test. But it is better to face complex questions during practice than to get bowled over when you find such questions in the GRE.
In addition, students did not quite like Manhattan's test score analysis metric. The data interpretation seems unrealistic, and the graphics are not nicely laid out. On the contrary, Magoosh has an intuitive and nice design that is easy to read and analyze.
D. Mobile App – Ease of use and convenience
Comparing Magoosh vs Manhattan GRE, the former's mobile app is better.
You get a mobile app with Magoosh's GRE course. It lets you study on the go. You also get various vocabulary apps that help you prepare better for the Verbal section. You can practice the GRE questions, manufacture vocabulary, watch video tutorials, and view perused articles on the app.
The intuitive website makes studying on the go easy and enjoyable. It is easy to sign-up with your Magoosh account, which gives you complete app access for as long as your membership is valid.
Manhattan Prep also has a mobile app, but it is not as comprehensive. It merely lets you test yourself on the practice questions. So, you do not get any guides or tutorials with the app. The app is the practice problem book reformatted into the mobile app.
Hence, when you have the book, you do not necessarily need the app or vice versa. In addition, you will have to pay an annual or month-on-month fee worth $39.99 or $8.99 per month to get the subscription (in addition to the course price). Moreover, the Manhattan Prep app does not work well on the tablet.
E. Magoosh or Manhattan GRE success guarantee and moneyback
Magoosh provides a score guarantee, but the same is missing with Manhattan Prep. It implies that Magoosh has complete faith in its service. Thus, they incorporated a money-back guarantee. Per their guarantee, you will get your full money back when you complete their lessons and courses and still do not see a 5-point increase in your score.
Guarantee is a way to determine the assurance company offers with its courses. However, you can only employ this guarantee if you have taken the real GRE before enrolment with the platform.
So, if you do not see a change in your score the second time, you can mail them and get your money back. Sadly, Manhattan does not have any such guarantee.
F. Trial
You get a seven-day free trial with both Manhattan Prep and Magoosh. But Magoosh allows you to access the twenty video lessons and twenty practice questions in their trial window. However, Manhattan Prep offers the first fifteen lessons with practice questions and a full-length GRE test. 
Manhattan Prep offers a free GRE test that matches the questions you will otherwise see on their website. Hence, it can be a good deciding factor for assessing whether the class is ideal.
On the contrary, Magoosh provides a year-old diagnostic quiz comprising 20 questions. It can be beneficial, but not as much as a complete test.
G. Refund Policy
Beyond the trial period, Magoosh also has a no-questions-asked refund policy. Manhattan has no such policy.
If you do not like Magoosh's class or do not have the time to watch it, you can contact them within seven days and get your money back. When we compare the Magoosh vs Manhattan prep GRE refund policy, you must know the latter does not refund any payments made in their name.
H. Live course
Of the two, only Manhattan Prep provides a live GRE course. So, there is no debate here.
You get twenty-four hours of live instruction for eight sessions in Manhattan Prep's comprehensive package. In addition, you will also get full-length practice and complete access to their drills and video sessions.
What's further likable about Manhattan Prep is that they have smaller classes. It allows the instructors to focus on individual students' needs and work on their weaknesses.
They have a GRE for MBA package that offers intensive live instruction. Of course, it costs higher but is worth it. Sadly, Magoosh has no live classes.
I. Books
Only Manhattan offers hardcopy books for GRE.
After you enroll in their Just Math, Complete, or GRE for MBA packages, you get strategy books for the Quant and Verbal section. In addition, you will also receive a book for practice problems. Magoosh does not offer any hardcopy books.
J. Customer support
Manhattan Prep provides better support to the students.
During the preparation process, you might require support to resolve issues that might hinder your progress. With Manhattan, you get an extensive selection of frequently asked questions with answers to all the prevalent concerns you may encounter.
However, if you cannot find a solution to your query, you can contact their representatives via phone or email. You can also reach out to the teaching staff with any concerns you have with the course material.
On the contrary, the GRE courses you take with Magoosh are online. So, there is no option to consult the teacher. But you can get a resolution for your payment or technical issues by contacting the team through email or social media. Their response time is longer as they do not have a live chat option.
Related: Kaplan vs Princeton Review GRE | Magoosh vs Kaplan GRE| Magoosh vs Kaplan LSAT
Which Is Better – Manhattan Vs Magoosh GRE?
In all honesty, picking a winner in this comparison review can be tricky as they both cater to different markets.
So, if you are a student who enjoys learning at their pace, Magoosh should be your pick. But if you need a live instructor guiding you as you prepare for the GRE, Manhattan is a safer choice.
However, putting things into perspective, we feel Magoosh has a definite edge over Manhattan prep. Their quality of content gives you a complete value-for-money experience. However, it does not take away from the fact that Manhattan's quality instruction and effectiveness are also not subpar.
Thus, if you wish to put in more money for a higher number of practice tests, questions, and hardcopy books, you can go with Manhattan Prep. But for us, the overall winner is Magoosh.