Reading Time:
9
minutes
The primary distinguishing factor in Skillshare and Lynda (LinkedIn Learning), the two learning giants, is that the latter has a more extensive but standardized selection of courses. Skillshare is a better pick for creative hobby courses rather than tech and business topics.
Learning is precious – you can build on a skill you already know or acquire a new skill, and regardless of your reason, two platforms that almost always stand tall: Skillshare and LinkedIn. These are two of the most well-known industry players, and Lynda is recognized as the oldest learning platform that has been around since 1995.
Skillshare came much later. However, picking one from Skillshare vs LinkedIn Learning can be confusing. So, to help you make your pick, we present below a detailed review of these two digital learning platforms where we give an overview of them, understand their working, know their pricing plans, look at some of their top attributes, and see which is better suited for who.
For us, LinkedIn Learning (earlier known as Lynda) is a better learning platform. In course coverage, Skillshare covers creative topics more, whereby Lynda wins by providing credible professional level courses.
There is a difference in the instructor hiring strategies for both these platforms. Typically, anyone can become an instructor on Skillshare and start taking lessons, but Lynda only allows professionals adept in the subject to teach the classes.
So, if you lean towards a top-notch learning experience, Lynda is a clear winner, but if you want to educate yourself on some creative subject, Skillshare can be a good pick.
Which Is Better, Lynda or Skillshare In Terms of Features?
| | | |
| --- | --- | --- |
| Attribute | LinkedIn Learning | Skillshare |
| Free Trial | 1-month free trial | 1-month free trial |
| Cost | from $29.99/month | from $8.15/month |
| Subscription Options | Monthly and annual subscriptions | Monthly and annual subscriptions |
| Refund | No Refunds on Subscriptions | 7 days after paying for membership |
| Certification | Yes | No |
| Projects & Exercises | Included | Included |
| Video Content | Better quality | Not as good as Lynda |
| Course Range | Doesn't cover creative topics | Has diverse topics but not all of them are quality picks |
| Course Duration | Fixed duration (Few Hours to Weeks) | 10 minutes to a few hours |
| Customer Support | Excellent | Excellent |
| Credibility | High | Moderate |
| | Visit LinkedIn Learning | Visit Skillshare |
Is Skillshare A Good Way To Learn?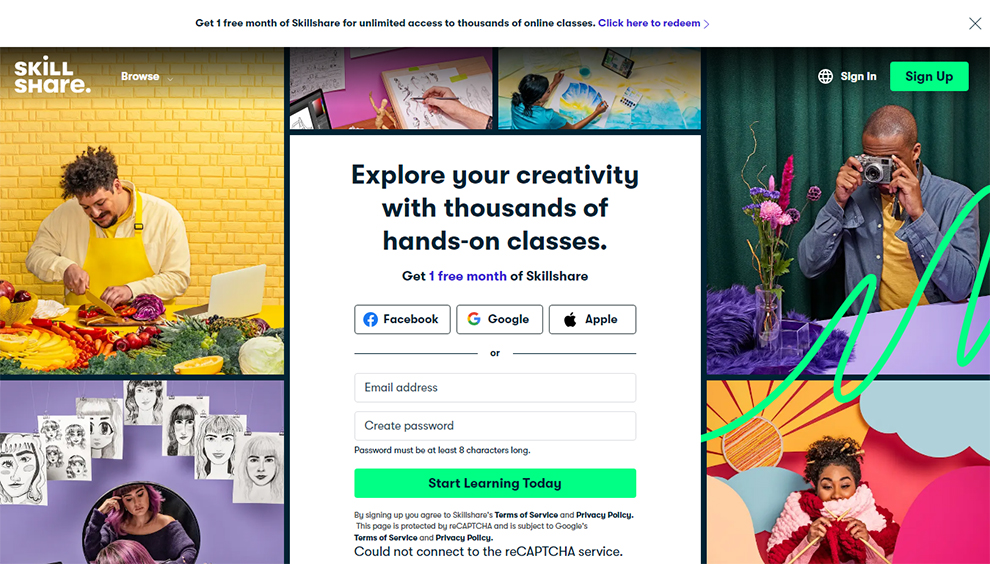 Skillshare is a prevalent digital learning platform to enhance your creative skills at best. It does offer more than creative topics but quality & comprehensiveness is not guaranteed.
On this platform, students can learn various skills they can employ in their careers or personal lives, as and when required. A standout feature of this medium is that there is no emphasis on a particular area. For instance, several digital platforms have plenty of courses, but they promote or recommend only a few, like business or IT.
On the contrary, Skillshare concentrates on a number of classes and not a particular discipline or area. Hence, it does not neglect any topics. It is an excellent concept as it promotes a vast domain of subjects for the users. You can find more than 29,000 creative but skill-focused options on the platform.
But there is a catch!
Anyone and everyone, regardless of their educational or professional background, can impart these courses. You can find sessions as brief as ten minutes but up to several hours. These classes are in video format.
What else?
Skillshare does not have any ads. So, your learning experience will be seamless. You can download the classes on your tablet or mobile and enjoy learning on your handset while on the go.
Before addressing the LinkedIn Learning vs Skillshare comparison, let us look at the pros and cons of Skillshare.
Can Skillshare Be Trusted?
Skillshare Pros
Skillshare Cons

There is a vast variety – over 29,000 courses available.
You can enjoy learning on the go with their offline access on your tablet or mobile device.
Premium membership is not very expensive.
The lessons do not have any ads. So, you can enjoy uninterrupted learning, regardless of how long or short the video is.

 

Skillshare is open to all. So, anyone can create courses on the platform without credible knowledge.
You do not earn any certification after completing the session. So, the course does not glorify your resume.
Because the Skillshare teachers come from varying expertise, the quality of the classes may vary immensely.
You do not get lifetime access to the course.

 
Here are some of the best Skillshare courses for different subject areas.
Ques 1. Is the Skillshare certificate valid?
Ans. Sadly, Skillshare does not offer certification.
Ques 2. Do employers recognize Skillshare?
Ans. Because you do not receive any accreditation from Skillshare, it is not the best fit for your resume. Of course, it is an excellent platform to learn new skills, but these skills though beneficial for your future, will not do any good for your CV.
Moreover, since anyone can upload a course on Skillshare, its credibility is always questionable.
Ques 3. Does Skillshare give you a degree?
Ans. No, Skillshare does not provide any degree.
Ques 4. Is Skillshare hard to cancel?
Ans. Skillshare is flexible and lets you cancel anytime at your convenience, and you can even renew your membership as you like. If you signed up for a free trial or commenced your membership on the website, you will have to visit the platform on mobile or desktop and cancel your subscription.
 
LinkedIn Learning – Is Lynda The Same As LinkedIn Learning?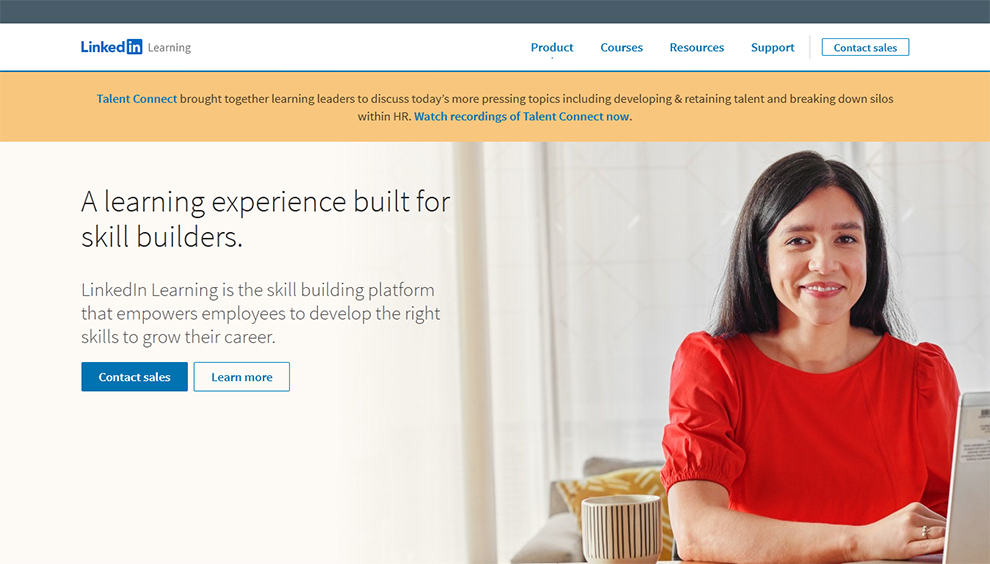 Yes, both are the same. In 2015 Lynda was acquired by LinkedIn and was christened LinkedIn Learning. Even though Lynda.com still exists, the platform is no longer accessible, and you are automatically redirected to LinkedIn Learning to make your course selection.
It has been around for almost three decades, and over 10000 organization benefits from its training system. They have a diverse user base comprising people from organizations based across the globe.
On Lynda, you can find courses that can help with technology and skill development covering domains like web development, web design, technology, business development, and software. But, they also have some creative classes (a smaller number than Skillshare), like logo design and photography.
Each course helps learners materialize their personal and professional goals at pocket-friendly prices. Lynda has sessions in five languages – Spanish, English, French, German, and Japanese. In addition, they have standardized content presented by some of the recognized industry experts. Some of Lynda's active members comprise individuals, academic institutions, and government agencies.
Below we will address Skillshare vs Lynda pros and cons and then help you ascertain which is a better pick.
What Are The Pros and Cons Of LinkedIn Learning?
Lynda Pros
Lynda Cons

The content on Lynda is well-produced and professional. So, all courses exceed in quality.
Instructors regularly update their lessons.
Since you earn a certificate with Lynda, it looks better on your resume.
It has several assessments that can help you monitor how well you are learning.
Lynda has iOS and Android apps that allow learning on the go.
You can enjoy offline learning by downloading the classes.
You will have access to the content as long as your subscription continues.

 

It is costlier than Skillshare.
It is not the best platform for creatives and entrepreneurs because the classes center around programming, business, or tech, with little focus on creativity.

 
These are some of the LinkedIn Learning courses that we recommend.
Ques 1. Are LinkedIn Learning certificates worth it?
Ans. One hundred percent! LinkedIn Learning certificates are definitely worth a shot.
LinkedIn Learning certificates matter and can help optimize your job search and help elevate your capabilities. Once you complete a class from LinkedIn, you will bag a shareable certificate. You can download and include it in your CV or add it to your LinkedIn profile.
Ques 2. Do LinkedIn Learning certificates expire?
Ans. No LinkedIn learning certificates do not expire.
Ques 3. Can you get a job with a LinkedIn Learning certificate on your resume?
Ans. If the certification is linked to the job, listing the same can improve your chances of getting the job.
Visit LinkedIn Learning
 
You might also like: Skillshare vs Domestika
 
Is LinkedIn Learning Better Than Skillshare – LinkedIn Learning vs Skillshare Detailed Comparison
Below, we will list some vital attributes and how these platforms fair out in each of them.
A. Cost – Skillshare or Lynda?
Skillshare is cheaper than LinkedIn learning.
Lynda provides a 30-day free trial. Once the trial window ceases, you can choose between the Premium or the Basic Membership. The basic plan starts at $19.99 per month, and the Premium one will cost you $29.99 per month.
Regardless of your pick, you will have unlimited access to their content, featuring assessments, notes, lectures, playlists, and videos. You can conveniently view their content on the go and offline. If you buy the subscription, you can access all their courses.
On the contrary, Skillshare also provides a 30-day free trial. You can opt for their month-on-month subscription, which costs around $15 per month, or the annual one, which costs only $8.25 per month, resulting in net savings of $80.
In addition, Skillshare offers scholarships for its learners to make their courses accessible to all. When you purchase their subscription, you can browse their vast catalog and view the sessions online or offline. Their learning format is interactive and mainly comprises videos.
 
Related: How much does Skillshare cost?
 
B. The Instructors – Skillshare vs Lynda?
Lynda has more qualified instructors than Skillshare.
The whole learning experience can be a flop show without a qualified instructor teaching you. Thus, the instructor's background, experience, and knowledge are vital considerations.
On LinkedIn Learning, you will only find instructors with an experience and background in the domain they teach. Thus, the quality and authenticity are certain. Moreover, Lynda has a detailed process for instructors interested in joining their platform, and every educator is verified before they can share their classes online.
On the contrary, Skillshare does not have a stringent screening process, and anyone excellent in their domain can share their learnings on this open platform.
C. Content Quality – Skillshare or LinkedIn Learning?
Lynda has a relatively superior content quality.
We cannot question Lynda on its video production quality. In every session, the length of every video is standardized. Thus, the viewers can plan their learning hours as they like.
However, the option is unavailable with Skillshare. You may not always be able to access their fixed-duration courses. Typically, the videos on Skillshare range between 10 minutes to a couple of hours. In addition, Skillshare's production quality is also not always guaranteed to be top-notch.
D. Type of Courses – Skillshare or Lynda?
Both Skillshare and Lynda have a diverse variety of courses. The only difference is that the former is more inclined toward creative classes while the latter focuses on tech courses.
Lynda and Skillshare have similar courses. However, Skillshare is more about creative classes. You can find excellent music production, piano, guitar, design, drawing, art, and photography courses. So, if you are an artist, you have a better chance of finding what you need on Skillshare.
On the contrary, Lynda primarily centers on job-ready skills like social media, marketing, SEO, coding, business admin, etc. But, both of them are superior in their field.
The choice depends on the type of class you wish to take.
E. Certification – Do they offer?
Lynda is superior because Skillshare does not offer any certificate.
If your primary goal is to earn accreditation, Lynda is an undisputed winner over Skillshare. However, if you aspire to learn something in the creative field, you may be forced to choose Skillshare even sans a certification.
Only Lynda provides a completion certificate. It is a shareable certification and can amplify your chances of landing a job.
F. Time commitment – which is more extensive Skillshare vs Lynda?
Lynda's courses are way more extensive as they go beyond the video lessons. You will find many assessments, projects, and notes.
You can invest between ten minutes to several hours on either Lynda or Skillshare because the platforms give you flexibility in learning. But courses from Lynda are more extensive. So, while some classes take hours to complete, others can be wrapped in a single afternoon.
Many Lynda classes give you a feel of formal university education. Moreover, when the content is more diverse, it is more likely to be inclusive, cover all the necessary topics, and give you well-rounded information.
G. Navigation and Interface – Skillshare vs LinkedIn Learning
Both are equally good.
Skillshare has an interactive and intuitive website. Its design is straightforward. Once you are on the homepage, you can seamlessly navigate through the multiple courses provided by the platform. The pages are not flashy, and it is easy to find what you seek.
Similarly, Lynda also has a very straightforward interface. So there is no chance of confusion. You can seamlessly locate what you need.
So, it's a tie. Both Lynda and Skillshare have equally intuitive and engaging platforms.
H. Language Support
Lynda supports seven languages, whereas Skillshare has courses only in English.
Most digital courses are in English because it is one of the most widely spoken languages globally. Though logical, millions of people do not understand or converse in the language and seek classes in their native language.
But, both Lynda and Skillshare offer their courses predominantly in English. Sadly, Skillshare has its captions in English only, but the platform is considering adding more languages over time.
On the contrary, Lynda supported five languages earlier, but now you can pick from the languages, which is impressive and makes their courses accessible to more students.
Lynda is more inclusive than Skillshare in language support.
Related: Codecademy Vs DataCamp | edX vs Udacity| Udemy vs Coursera| Udemy vs Pluralsight| Alison Vs Coursera| CreativeLive vs Skillshare| DataCamp vs Dataquest| DataCamp vs Coursera
 
Which Learning Platform Is Best – LinkedIn Learning or Skillshare?
We have discussed all the different aspects of these two platforms and can conclude that Lynda is superior in content quality and the choice of instructors offering the lessons. However, Lynda is also more expensive than Skillshare. But it gets you a certificate of completion, which can be a huge plus when you seek a job in the field.
You can improve your skills and knowledge on either of these platforms, but the choice entirely depends on your budget and learning objective. Since both these platforms have a free trial window, you can test the waters before paying for the subscription. It will help you make a more informed choice.
Happy learning!