Reading Time:
9
minutes
You will get the best professional level training in online teaching via the classes offered by University Of British Columbia brought to you by edX.
If you are an educator or someone who wants to understand more about designing an online class, you are at the perfect place. Making the most of educational technology – wholly or in blended contexts, is something you will learn via these online teaching courses.
Online education has seen a rapid evolution for a while now. COVID-19 has further accelerated this shift amplifying the online learning benefits such as scale, accessibility, and flexibility.
Despite that, administrators and instructors are still grappling with the switch. It can be challenging and daunting to navigate the online environment when catering to the needs of different students. Consequently, many potential educators feel ill-equipped and overwhelmed to plan and create a course that can maximize student engagement online.
The internet has several options to learn from, but we picked the below-listed five classes as the best in the category. Let's have a look!
Online Teaching Classes and Courses For Training
Why this course?
This session is based on the multi-award-winning open educational resource by Dr. Simon McIntyre and Karin Watson.
Things you will like
In this class, there is ample practical learning. So, you will learn by doing.
It comes with flexible deadlines. So you can start and finish at your time and schedule.
You will earn a certificate upon completion.
It is a beginner-friendly class, and you will dedicate 18 hours to finish.
Things you may not like
Some information in the class is dated.
The teaching structure could be better.
About the course
Integrating online technologies into teaching can be a tricky task. You will develop a working understanding of successful online teaching strategies with Learning to Teach Online (LTTO) MOOC in these online teaching classes.
Moreover, it might feel challenging to understand how to approach it ideally for the benefit of students and yourself. Nobody understands your content and teaching strengths better than you, and the one-size-fits-all phenomena do not work.
So, regardless of the kind of technology you are interested in exploring or your prior experience, this can be an excellent teaching course for you. It helps you draw on your teaching strengths and find the approach that works for you, your educational context, and your students.
The session will also guide you through the process of understanding how online technologies can affect your course structure and design.
Reviews By RR.
"
It was an awesome experience for me in improving, especially my teaching skills to a new paradigm, I learned and benefited immensely from the course, as the course design is meticulously well planned.
Rerated: Best TESOL Certification Courses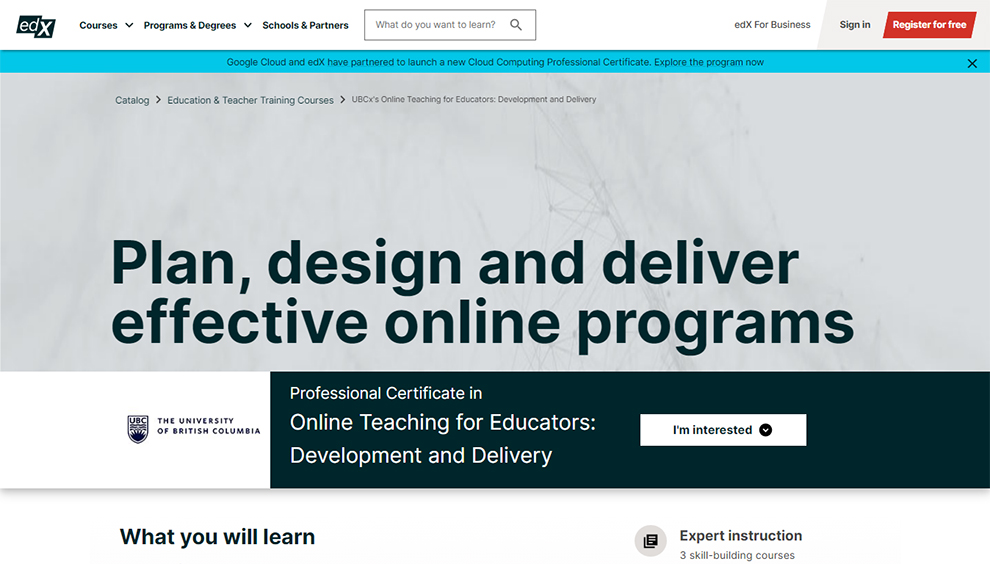 Why this course?
It is an excellent, hands-on online teaching course for administrators and educators to help you evaluate and harness technology and effectively develop, plan, implement, and deliver enduring and engaging online programs.
You will learn to implement and assess pedagogical technologies and contribute to strategic decisions around online course learning, teaching, and design.
Things you will like
You will study with Dr. Donna Bonassisa, an online education expert with international experience in primary, secondary, adult, and cultural education.
It has three short courses.
You get an exquisite intercultural perspective with this course.
The classes are tailored to include specific learning activities and resources for primary, secondary, and adult/higher education.
It is a self-paced class.
You will bag a certification.
An effort of five to six hours per week for two weeks shall suffice.
Things you may not like
It is a relatively expensive course.
About the course
In this online teaching course, you will learn to:
Determine the key course development considerations
Devise a strategic plan to launch an online program or class
Appraise, identify, and implement learning management tools and systems
Create engaging content and a workable course structure to offer an experience that aligns with online course development best practices.
Evaluating and adopting educational technologies
Applying instructional design methodology and principles
Comprehending to teach effectively in blended and online formats to help achieve student learning objectives.
Foster supportive and enriching visual learning and teaching environments.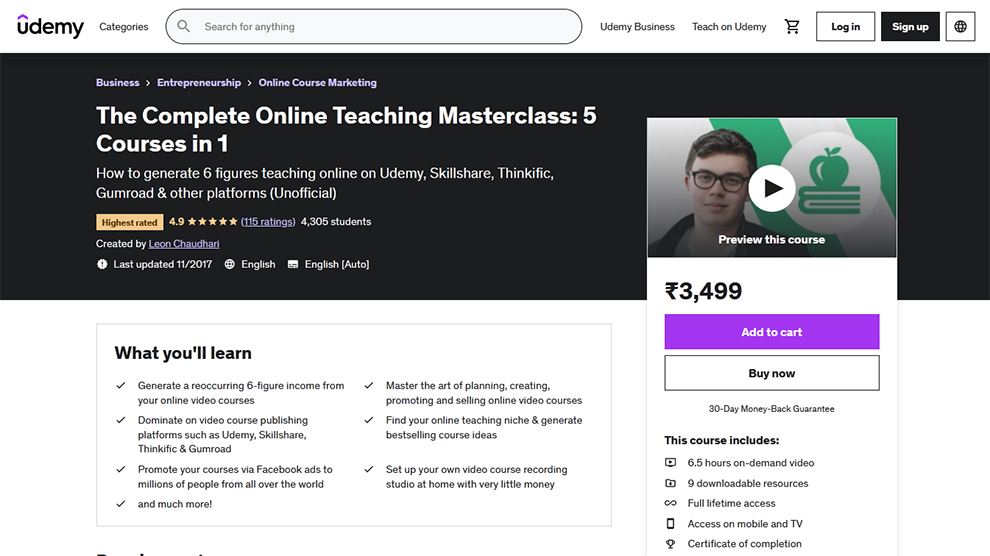 Why this course?
You will study with Leon Chaudhari, an instructor with experience in teaching over 23,000 students in twenty-seven courses on Udemy. He has published over twenty bestselling sessions on Udemy, and these are one of the top-selling online teaching classes with a high rating of 4.9.
As part of this course, you will learn to generate a reoccurring 6-figure income from your online video courses.
Things you will like
It comes with lifetime access.
You will earn a certification.
It comes with a 30-day money-back guarantee.
It is a self-paced class.
You can take this class if you have a computer, internet access, and a microphone.
Things you may not like
In many places, the instructor does not explain a concept in detail.
The instructor races through some crucial parts, such as setting up a course on Udemy.
About the course
As part of these online teaching classes, you will learn to:
Master creating, planning, promoting and selling online video courses.
Dominate the video course publishing platforms like Gumroad, Thinkific, Udemy, and Skillshare.
Find the online teaching niche.
Generate top-selling course ideas.
Promote your courses via Facebook ads to millions of people globally.
Set up your video course recording studio at home with little money.
Strategies to generate massive money.
Creating your membership site and subscription on Gumroad.
Generating leads with free products, creating course landing pages, and promoting your courses.
Hence, it can be a suitable class for anyone who wishes for a recurring six-figure income with an online video course. Upcoming entrepreneurs who want to become location-independent and learn to manage their businesses from anywhere in the world will also cherish the class.
Reviews By Pedro P.
"
Excellent course. A lot of content and value. Thank you for your time and dedication.
Why this course?
There are no hardcore prerequisites associated with the class. You can take this online teaching training if you have a cell phone with a camera and a computer. It is a beginner-friendly session exquisitely designed for teachers who wish to become more confident and comfortable with their teaching skills. You will study with TJ Walker, an experienced instructor with over two decades of experience.
Things you will like
It is a short course.
If you are already into teacher training, this class can help you fill the gaps.
It offers a certification on completion.
You get lifetime access to the resources.
There is a 30-day money-back guarantee.
Things you may not like
Since it is a crash course, it is not very comprehensive.
About the course
This online teaching course will teach you the following:
Educating students online
Being comfortable teaching on the camera
Basics of backdrops, camera, and lighting.
Learning online student engagement techniques
Building confidence while speaking
It is a good pick for stressed or busy teachers battling a crisis currently, not wanting to spend one to three days in teacher training. You can complete the session in less than an hour. Please remember, it is a crash course. So, you will not study the traditional teacher training techniques to confidently and effectively communicate in front of the video camera. The session only fills the gap in your understanding. However, you will learn all the fundamentals of maintaining poise and confidence while speaking on the camera to engage the students effectively.
Why this course?
It is a free class and yet bags you a certification.
Things you will like
It has a CPD accreditation.
The class is self-paced. You can learn at your time and pace.
You will study with one of the most reputed instructors.
You can complete the certification diploma in 10-15 hours.
Things you may not like
Including more practical exercises would be better.
About the course
Teaching is more than just gathering information and disseminating it. Here, Alison presents a free online teaching course (Diploma in Teaching Skills) for Educators that teaches them the skills needed to be a great teacher.
As part of this course, you will acquire different techniques to talk to your students and motivate them. It will also teach you how to implement instructional planning. Further, the course helps you grasp techniques to amplify your skills.
You will discover the following:
Verbal and non-verbal communication techniques and using the tools to stimulate a student's thinking
Clarity on the US National and State learning standards and knowing the difference between curriculum frameworks and curriculum guides
Difference between how a teacher uses communication vs. how a student uses it.
Formulating measurable, robust objectives with behavioral and cognitive approaches
The four main participation structures that guide communication with their pros and cons
Reviews By Jennifer G.
"
This course gives you tangible advice on exactly what you can do to better connect with a virtual audience without having to invest in a huge setup.
Course Selection Criteria
So, these are the five best online teacher training courses. In our view, they are all excellent picks, depending on what aspect you use for your selection. However, there are a few attributes that motivated us to pick these classes over the other options on the internet:
1. Course Content
You do not want to shuffle between multiple courses and try to establish a link between all of them. Hence, we have chosen the courses complete in themselves and cover important topics.
2. Flexibility
These are self-paced online teaching courses. So you can enjoy learning at your time and schedule.
3. Knowledgeable Instructor
You will have an experienced lecturer teaching you how to be a teacher. So you will receive the most authentic knowledge.
4. Learning by doing
While understanding theoretical concepts is crucial, one must also know their practical implication. So, we have picked classes with hands-on practical exercises and examples to give you well-rounded information.
5. Certification
All these classes come with a certification that amplifies your chances of landing a job in the field.
Frequently Asked Questions
Ques 1. Are online teaching degrees legitimate?
Ans. If the university offering the online teaching degree is accredited, and the program you are taking up is state-approved, you are good to go. Your degree is legitimate in that case.
Ques 2. What qualifications do you need for online teaching?
Ans. The teaching qualification varies depending on the kind of online teaching you intend to do and the country where the company hopes to operate. Most companies, typically China-based ones, will demand a degree and a TESOL or TEFL qualification.
Ques 3. How do I get teacher certification?
Ans. Teacher Certification Degree is a comprehensive certification guide for individuals who wish to learn to become a teacher or advance their teaching career by acquiring an advanced degree. The certification is pivotal in all fifty states and ensures that prospective teacher is well-versed in teaching the level and subject they wish to teach.
Education in America is a local and state responsibility, not a federal one. Thus, each state has its own requirements for prospective teachers.
 
Step 1 – Decide the subject or area you wish to teach in.
 
Step 2 – Understand the online teaching classes that best fits your needs.
 
Step 3 – Complete the requirements.
 
Typically, you will need at least
a bachelor's degree or higher
taking the state-approved teacher preparation program
acquiring the student teaching experience
passing a background check
clearing the skill and knowledge tests such as the Praxis series of exams
 
Step 4 – Take the coursework to get certified by your state.
 
Step 5 – Apply for the license to the state.
 
Step 6 – Once you have taught for at least three years, consider getting a National Board Certification.
 
Ques 4. Which degree is best for teaching?
Ans. Two of the best teaching degrees include:
Bachelor's degree
Master's degree
While a Bachelor's degree is mandatory for a teacher, if you have committed to becoming a teacher, you must pursue a degree in education. So, you can do a major in education or acquire a master's in the field.