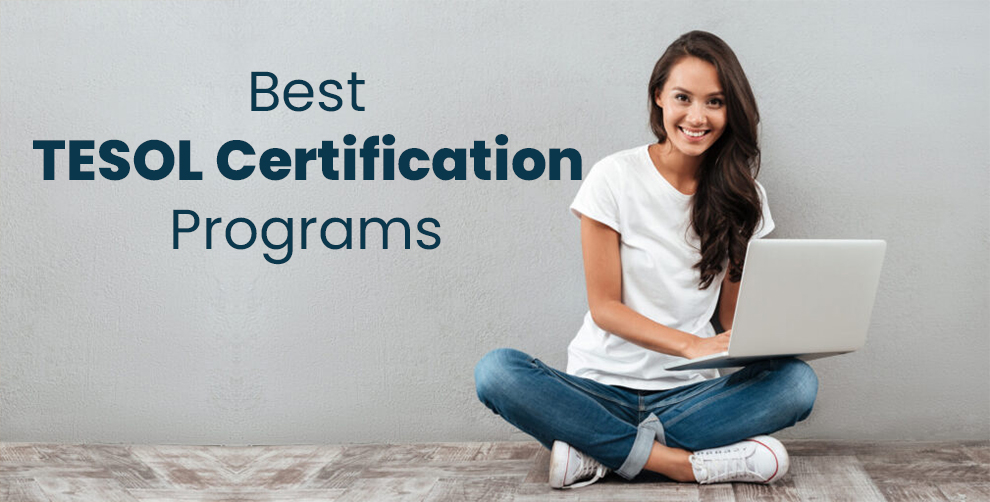 If you see yourself working as an English teacher, traveling, and making money, we've got something here just for you. You may or may not have heard of online TESOL certification. In any case, just keep reading!
What is TESOL (Teaching English to Speakers of Other Languages), is clear from its name, but note that it is not a mandatory prerequisite in most countries except China to teach English. However, a certification is a blessing for a thriving career in a foreign land.
It gives a jump to your career and makes it easier for you to start working as an English instructor. To get you accredited, we have listed the best TESOL online courses, that you could take up.
6 Best Courses for TESOL Certification
How Did We Select These Courses?
We searched the web for the best online TESOL certifications and found several options. We handpicked the top 30 listings and compared them on five parameters:
The ratings on the class.
Do you receive a certification?
Is it paid?
Their validity
What are the course offerings?
Is the instructor qualified for the job?
It helped us shortlist from 30 to the top 15 classes. Later we presented this list to the global TESOL experts. They deep-screened them and gave us the below-listed top six courses. Let us address them one by one.
6 Best TEFL TESOL Online Courses With Certification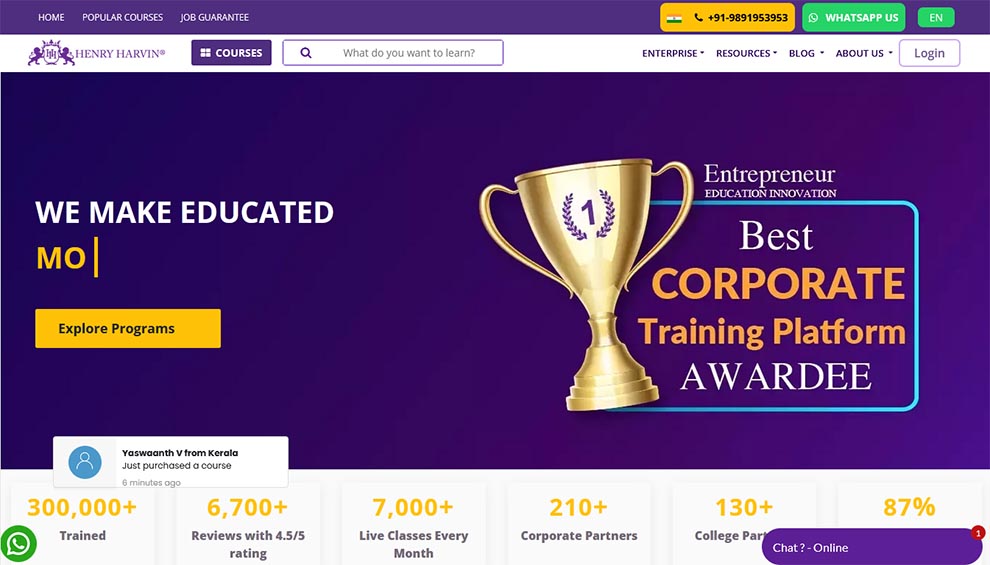 Henry Harvin was lauded as the number one Corporate Training Platform by Entrepreneur Education Innovation. It offers courses to make the educated more employable, skilled, and confident. In their time in the industry, they have trained over 300000 people and conducted more than 7000 live classes monthly.
Presently, it ranks among the top 500 Global EdTech Companies with 300,000+ Alumni, 900+ B2B Clients, 500+ Award Winning Trainers, and 400+ Courses. Their customer base is in over fifty-seven countries. It is also one of the Top 100 EdTech companies in India.
In addition, Henry Harvin has over 210 corporate partners and over 130 college partners to ensure you get access to the TESOL programs. Of all the people, who availed of training with them, eighty-seven percent received career benefits like a new job or a promotion.
You can choose between their master's or post-graduate classes. With every chosen program, there is a nine-in-one scheme. So, each of their best online TESOL certification programs offer you the following benefits:
Two-way live training wherein you learn various techniques and skills with 100% practical training.
You will receive a globally recognized certification with a Hallmark next to your name.
You will work on over ten projects. These will help you implement whatever you have learned via their capstone or simulated projects.
Whether you are a beginner, intermediate, or advanced level, you will get access to a guaranteed internship.
Across your association with them via any of their chosen courses, you will receive personalized job support. It will provide you with premium job access and weekly job support to help you find the best job in the domain that matches your skills.
You can also access Ask Henry Harvin hackathons.
Further, the classes also bring you unconditional access to over fifty-two Bootcamp sessions to ensure essential soft skill development.
Their online TESOL certification course provides you with a global renowned e-learning portal employed by over 2900 organizations.
Lastly, you will receive a one-year gold membership of the Henry Harvin Academy. It provides you with unlimited batch access and live sessions.
| | |
| --- | --- |
| Rating | 4.9 |
| Who should take this class? | Beginners, sans any background, can make the most of this class. |
| Duration | You require approximately six months to complete at a suggested pace of 4 hours/week. |
| Enrolled | 68,871 students |
| Certification | Yes |
| Paid | Yes |
| Instructor | Emilia Gracia, Dr. Justin Shewell, Dr. Shane Dixon, Andrea Mürau Haraway, and Jessica Cinco |
| Return or refund policy | 14-day return policy |
| Cons | It is one of the best online TESOL certification programs, but it is lengthy and takes a long while for students to receive the certification. |
It is the first of the two specializations, comprising one of the best online TEFL TESOL certification courses from Arizona State University.
Once you complete all the learning in this class, you will work on the Capstone project, offered in collaboration with Arizona State University's Global Launch.
It will help you apply your acquired skills by drawing a lesson plan comprising learning outcomes, assessments, materials, classroom management techniques, and learning activities. Once you finish this, you can proceed and complete the TESOL certificate experience!
There are four courses included in this:
Career outcomes
It is one of the best TESOL online courses because of the following learner career outcomes:
Nineteen percent of students started a new career once they finished this specialization
Twenty-three percent of students received a promotion or a pay hike.
What will you learn?
As part of this Coursera's best online TESOL certification, you will learn the following:
Elementary modes of language learning principles and techniques founded upon those principles
Recognize second or foreign language learning theories
Knowing how to craft lesson plans and learning activities
Fundamental studies in second language acquisition and their pedagogical implications
Designing and planning lessons to teach English as a second or foreign language effectively
Applying the best practices for teaching listening, speaking, and pronunciation
Avoiding teacher burnout
Maintaining control of a classroom
Avoiding teacher burnout
What do you need?
It is one of the best online TESOL programs for beginners. So, you need no prior certification to take this class. You can take this session at a suggested pace of four hours per week.
Review by MH.
"
I would like to appreciate Dr Shane's interactive teaching style and the comprehensive teaching style of Ms Andrea while summarizing lessons. Please keep it up with best wishes for future endeavours.
Rating
4.9
Who should take this class?
This class will benefit:

 

Students who completed specialization 1
Anyone who wishes to acquire a TESOL certificate

Duration
Approximately six months to complete at a suggested pace of 4 hours/week
Enrolled
26,128 students
Certification
Yes
Paid
Yes
Instructor
Dr. Justin Shewell, Dr. Shane Dixon, and Jessica Cinco
Return or refund policy
14-day return policy
Cons
Peer review is an exceptionally time-consuming process.
It is the part two in the two-part specialization from Arizona State University. It builds on the theories developed in the TESOL Certificate, Part 1: Teach English Now! Foundational Principles.
Once you finish this one of Coursera's best TESOL online courses, you will work on the final Capstone Project, developed by international TESOL specialists and educators at the ASU's Global Launch. You can apply these skills by showcasing your teaching ability via video recordings and by reflecting on your own and others' teaching.
Like Part 1, in Part 2 specialization, you will find a set of four  online TESOL certification courses. These included:
After you complete both the specializations, you can submit the work to the expert for review. It will bag you an ASU 150-hour TESOL Certificate. It is beyond your Coursera certificates. Together these validate your skills and amplify your chances of landing a job.
What will you learn?
It is one of Coursera's best online TESOL programs to learn the following:
Design and implementation of reading and writing, listening and speaking, and technology-enriched activities, as well as a teaching practicum.
What do you need?
It is a beginner-level class. But, please take Specializations 1 and 2 in sequence for best results.
Review by OS.
"
I am greatfully thankful for giving me the chance to dive into that amazing world of Reading, Writing and Grammar stratagies so that I could modify my teaching style for my students to benefit more!!!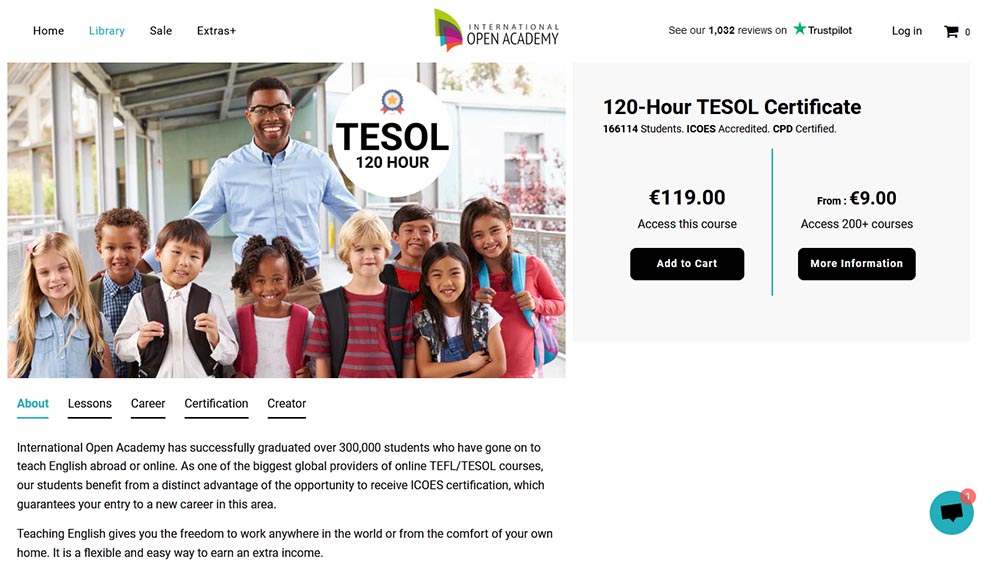 Next, we have a course by the International Open Academy. It is one of the global providers of online TEFL/TESOL courses and has successfully graduated more than 300,000 students who went ahead and started teaching online or abroad.
Since it has a vast scope, the students associated with it benefit from a distinct advantage and avail of the ICOES certification that streamlines your entry into a new career in the domain. You have the flexibility and freedom to work from the comfort of your home, regardless of geography. Thus, making it an easy and flexible session to make an extra buck.
Accredited by the ICOES, it is the best online TESOL certification recognized by employers globally. So, owning this certificate puts you on the fast track to securing your first job teaching English.
You will study with Matthew Kimmel. As part of this session, you will have to complete every lecture and answer exam questions at the end of the curse module. If your pass rate is over fifty-five percent, you will bag a certificate of completion. It will recognize your achievement. So, you can download it from IOA and improve your employable status.
International Council for Online Educational Standards accredited it. When you complete the session, you can purchase an ICOES certificate that recognizes the achievement of this third-party institution.
The class will also bag you a credit via Continuing Education (CE) / Continuing Professional Development (CPD). These are accepted and recognized by professional member bodies and academic institutions across the US and internationally.
Online TESOL Programs' Layout
Module 1: Introduction To Basic Pedagogy
Motivation
Understanding cultural backgrounds
The importance of first language
Getting started
Module 2: Classroom Management
Phonology
Lexicology
Morphology
Syntax
Phonetics
Semantics
Module 3: Introduction To English Grammar
Developing reading skills
Auditory and visual discrimination
Forming associations
Decoding
Reading for purpose
Module 4: Introduction To English Vocabulary
Sentence structure
Creating new knowledge
Informative and explanatory writing
Persuasive writing
Module 5: Teaching Reading Skills
Sounding out words
Reading out loud
Responding to questions
Presenting new ideas
Module 6: Teaching Listening Skills included in this online TESOL certification
Decoding sounds
Repeating what you hear or transcribing
Paraphrasing what you hear
Conversational English
Using what you hear to present new ideas
Module 7: Teaching Writing Skills
Understanding motivation
Exposition
Know where you're going
Constructive criticism
Modelling
Module 8: Teaching Speaking Skills
Standards and objectives
Following a curriculum
Varying instruction
Teaching strategies
Meaningful assessments
Module 9: Learning Aims And Lesson Planning
Setting expectations
Respect
Accountability
Choosing your battles
Unique strategies
Module 10: Next Steps
What do you need?
Building a resume
Possible destinations
Interview techniques: What are they looking for?
Preparing to join a different culture
What will you learn?
As part of this one of the best online TESOL certification program, you will learn the following:
Linguistics basics
Motivating students
Classroom management strategies
Different pedagogical techniques to kickstart your career
How to use a student's primary language to teach them English
Tips and help on how to land a job as a TESOL teacher
Teaching how to read, write, speak, and listen
What do you need?
These best online TESOL programs will benefit people interested in learning. Beyond that, you require:
No formal qualifications
Willingness to grasp new skills or start a new career
Who can take this class?
It is one of the best options for people already working in a particular industry, hoping to accentuate and upgrade their talents or boost their resume. In addition, the session will benefit:
Fluent English speakers who are interested in teaching
Anyone who wants a job that lets them travel and works anywhere in the world
People seeking formal qualifications to start teaching English as a second language
Do you hope to be a reputed English instructor online or abroad? If yes, consider enrolling in one of the best TEFL TESOL online courses like this one. The class has a ninety-nine percent pass rate, maximum TESOL teachers (210,000+) teaching worldwide, and is 100% approved by DEAC. Hence, graduating here will be a badge of honor.
I-to-I has a spectacular team of experts who will guide you throughout the learning process. It is the reason for their ninety-nine percent pass rate. Every instructor will be your best friend. So, they will be responsive and always there to guide you.
You can browse through their various available course options and make your selection. Some of the top alternatives available include are:
180-Hour Online TESOL Certificate
300-Hour Online TESOL Diploma
420 Hour Online TESOL Certificate
Depending upon your need and requirements, you can make your selection.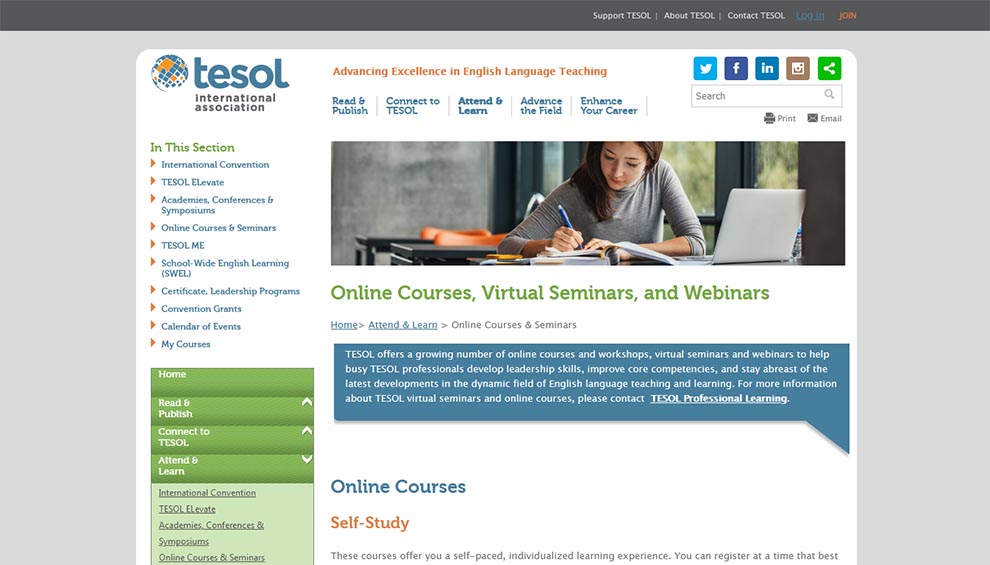 What better way to find the best TESOL online courses than by directly availing from TESOL? With TESOL, you can find an array of online workshops, classes, webinars, and virtual seminars.
These can help busy TESOL professionals improve core competencies, develop leadership skills, and stay ahead of the latest developments in the dynamic field of English language learning and teaching.
They have an array of online TESOL programs:
You can find self-study, self-paced sessions that offer an individualized learning experience. For these courses, you can register and start at the time that best fits your schedule.
The three options available are:
You can opt for their facilitated learning option that provides you with an online classroom environment with peer-to-peer exchange and instructor feedback. You will also bag Continuing Education Units (CEUs). After completing this online TESOL certification course, you will bag a certificate.
Your options include:
Separating Differences from Disability with Students Learning English as an Additional Language
TESOL: Training for Trainers
So, you can pick whatever suits your needs and budget and start learning.
Related: Accent Reduction Classes
 
Conclusion
So, these are the top six best online TEFL TESOL certification courses. We have tried to keep the explanations on these courses crisp and brief. But, if you want to know more about them, click on the annexed link, and read further. They are all top-rated classes. So, you will not regret opting for them. However, we do have a personal recommendation. These are the:
TESOL Certificate, Part 1: Teach English Now! Specialization – Offered by Arizona State University – [Coursera]
In this two-part specialization, you will acquire knowledge via eight courses and learn everything you need to know to make a progressive career in this field. Happy learning!