Reading Time:
12
minutes
It is equally important for parents to get accustomed to the Montessori style of schooling to provide the right kind of education to their children. Check these courses out if you are a parent or guardian.
The education and the parenting world are wising up. There is so much to learn that it often feels overwhelming at times. Thus, people globally acknowledge the many benefits associated with the Montessori practice.
Montessori parenting classes have enabled several families to choose Montessori style education for their children and simultaneously transfer their homes into beautiful Montessori spaces. Parents browse through Google or Instagram images, scrolling through the different Montessori playrooms, wanting the same for their children.
One challenge they may experience while doing so is putting all the theories into practice at home.
If this sounds like you, we have the perfect solution for you.
Why do you not consider enrolling in a Montessori course dedicated for parents? There are plenty of options on the internet, and we have handpicked the seven best classes based on different factors.
Online Montessori Courses, Classes for Training Parents and Guardians
Why this course?
Learning happens both inside and outside the class. So, these Montessori parenting classes help families interested in including the Montessori philosophy in their parenting approach and everyday lives. As an active participant, you will receive all the vital resources to accentuate your child's education, solidify their Montessori knowledge, and incorporate all the learned Montessori principles at your own house.
Things to like
You will study all about Montessori philosophy.
It is an affordable program.
It helps you understand your child better.
You will be well-acquainted with the stages of your child's development.
It makes you capable of being the parent you desire to be.
Things you may not like
Special discounts only applicable to AMS school members
About the course
There are six weeks of online and live sessions with self-guided study in this Montessori parenting course. You will need to dedicate one to two hours weekly, including an hour of live zoom sessions.
It benefits parents and guardians of children between 2 ½ – 6 years. So, as part of these classes, you will understand your expectations and role as a parent. In addition, you will unfold its impact on the relationship with your children.
You also learn about the vitality of relationships in the Montessori-prepared environment. This course also tells you what the Montessori work cycle looks like in a Montessori school, and incorporates the principles and philosophies at home. The faculty of this course also teaches you about positive discipline, the role of independence, and how rewards and punishments work to help your child grow.
Related: Advanced Montessori Diploma Course | International Montessori Courses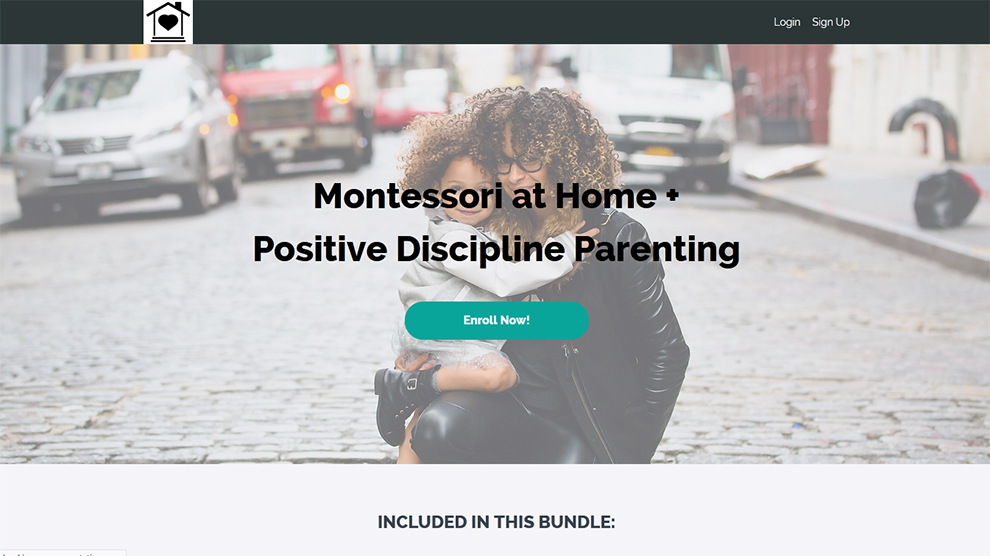 Why this course?
You get two courses for the price of one – Montessori at home (for 0 to 36 months) and Positive Discipline Parenting. In addition, the classes come with written material and multiple supporting paragraphs, including a full-length audio or podcast version of every lecture to learn on the go.
Things to like
It is a self-paced class.
You get lifetime access to these Montessori parenting classes. So you can go back and revise anytime.
They are both well-structured and comprehensive courses.
You get additional reading sheets, too, as bonus content.
It is an affordable bundle.
You can gift the bundle to new parents.
Things you may not like
It could have more activities.
About the course
a) Montessori At Home
Do you have a toddler or infant at home? Are you going to be a parent soon? If yes, Montessori at Home can be a suitable class for you. This course will teach you to use Montessori practices at home. The class covers everything a caregiver should know about the Montessori principles and their application at home, including:
An elementary understanding of Montessori practices
Designing every room of the home using Montessori principles
Supporting each of your child's milestone
Access to Montessori-inspired activity ideas
b) Positive Discipline Parenting
This is the second Montessori parenting course dedicated to getting your child disciplined. It will also benefit you if you wish to create more shared responsibility, harmony, joy, cooperation, mutual respect, and love at home with your child.
You will study the following:
How to be your child's guide.
Work with your child to find a solution
See opportunities as a learning experience
Have your child trust you
Assist your child own up to their mistakes
Why this course?
It is one of the newly updated classes. So, it has all the latest things you must learn. Moreover, the course has a rich language curriculum designed by Montessori teachers.
Things to like
There are too many activities that make the class fun and engaging.
It contains easy-to-watch lessons.
It is a self-paced class.
You will have lifetime access to the lessons.
It is a vast course comprising 96 easy-to-follow lessons – All short 5-10 minute sessions.
You get a Certificate of Completion.
There is a 30-day money-back guarantee.
Things you may not like
It is very new. So, not many students have taken this class before.
About the course
The session teaches you essential skills like vocabulary, sight words, penmanship skills, spelling, reading, and phonics. Thus, helping your pre-schooler learn to reach and acquire excellent penmanship. It is the perfect pick for parents who wish to supplement their child's education or home-schooling parents.
Reviews By Students::
"
Definitely recommended, will make you become a better parent.
Why this course?
It has three inspirational accredited online Montessori training for parents you can take. It helps parents and caregivers support children at home. Each of these courses is detailed and focuses on a particular stage of a child's development.
Things to like
The instructor is responsive and answers all your questions.
You can share your real-life dilemmas and experiences and get the required assistance.
Things you may not like
Even though the individual courses are compact but comprehensive, they are expensive.
About the course
In these Montessori parenting classes, you will discover the potential in every child and understand the ways to adopt Montessori principles at home. In addition, you will also see how incorporating the Montessori approach can help encourage the child's love for learning and independence.
You can choose between the following three courses:
1. Montessori in the home – 0-3 years
In this course, you will learn why life's early years help form a foundation that proves instrumental in lifelong learning. It is an online class comprising six sessions. You will study how to:
Prepare the home environment
Support language
Encourage independence
2. Montessori in the home – 3-6 years
In this session, you will explore the potential of children aged three to six years and nurture it at home. You will learn to support your child's independence, amongst several other issues. It is an online class comprising six sessions
3. Montessori in the home – Preparation for Parenthood
In this Montessori online course for parents, you will study the Montessori principles and ways to implement them in your role as a new parent. It is an online class comprising four sessions. You will also learn how to:
Prepare yourself for this new role
Support your child's independence, movement, and language in the first year of their life
Get your home ready for the baby
Reviews By Students::
"
I believe that almost every year of my tenure as Head of School, I have questioned and wondered whether Montessori is relevant in an ever changing world and now with the exponential nature of the change…can and does Montessori keep up? Charlotte reminded me in every way and every day that Montessori meets the child where they are and to prepare the environment, we must also prepare our personal perspective on that environment- I believe I will refer often to her words, sentiment and content…thank you for sharing your wisdom! – Liza Weekes Head of School
Why this course?
It can be a good course if you cannot decide how to skim through the vast information online. This Montessori parenting course is comprehensive and has a lot to learn.
Things to like
It is affordable.
The teacher breaks down all the Montessori jargon in the most straightforward manner.
You learn by doing.
Learnings are divided into bite-sized chunks for simpler grasping.
You get two live QnA sessions
You will have access to their community support.
Things you may not like
The next course does not start until June 20th.
It is a 10-week-long session.
About the course
It will benefit people who do not have the time and energy to read the whole book about Montessori philosophy and seek information that is quick and easy to digest. It can also be a pick for someone who does not have the money to send their child to Montessori school and want to home-school their kid sans any fancy toys or a big Montessori playroom.
You can also make the most of the learned principles if you have long been trying to involve your child in household activities, only to be let down by your child. Lastly, this class will benefit people who applied some Montessori techniques but are not working.
Reviews By Students::
"
It was wonderful. The online learning made it possible for me to juggle between my study and my family and my work. It is making learning accessible. The self-pace learning was wonderful, it allowed me to schedule the study time to fit our busy life. I got to learn so much. -Course Graduate
Why this course?
Are you annoyed and confused because your children do not listen? Are you frustrated that regardless of how many times you give consequences or explain, things do not see seem to change? If yes, this online Montessori training for parents is for you. It provides you with the techniques to get your child to listen.
Things to like
Easy but workable strategies to have your child listen.
You will study with Flora, a Licensed Clinical Professional Counselor & Parenting Coach with a decade-long experience.
Once you pay, you get instant course access.
Things you may not like
It only comes with three-month access.
About the course
It is a 12-hour online class spanning over two weeks that is ideal for administrators, parents, and teachers. Check out more Montessori teacher training courses here.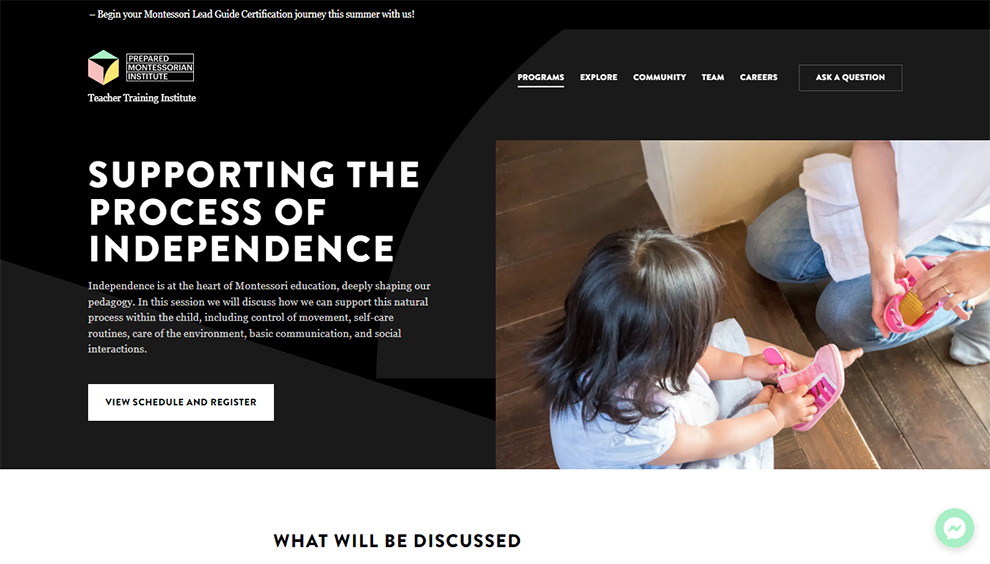 Why this course?
Independence is the most crucial aspect of Montessori education. So, this Montessori parenting course will discuss it all about making this natural process happen, concerning other things like caring for the environment, self-care routines, controlling movements, social interactions, and elementary communication.
Things to like
The instructors encourage learning by doing.
You acquire a holistic understanding of why independence is crucial for young toddlers.
The step-by-step guidance is appreciable.
There are multiple examples to solidify your learning.
If you take a live class, you get a Certificate of Attendance
It is an accredited class.
If you miss the live class, you will get access to the recordings.
Things you may not like
No attendance certification for recorded classes.
About the course
As part of this session, you will study what independence feels like for toddlers and the need for it. You will find several practical tips on supporting your toddler. This class will benefit caregivers, educators, and parents.
Reviews By Students::
"
We cannot begin to thank each of you enough for all that Forest Bluff has done for our family over the years. You have touched and influenced our lives in fundamental ways: encouraging a positive outlook on life, a belief in the goodness of individuals and mankind, a love and curiosity for lifelong learning, and that wonderful joy in productivity! These, and the respect and kindness for others, are the most important elements of what goes on in our classrooms and what we have found to benefit our children the most. We have the utmost appreciation for, and are the thankful recipients of, these attributes in our children. Their years at Forest Bluff have shaped our children and are at the core of how they conduct themselves and view the world–all of which has been demonstrably noticeable by their teachers, friends, coaches and friends' parents in middle school, high school, and college. Their deep, Montessori-sculpted self-awareness has provided an unshakable core on which they rely as they learn to make their own decisions. – Jodie Nedeau
Why this course?
In this class, you will study the Montessori principles and recommendations by Dr. Maria Montessori. She believes and understands that the child's personality along with motor and brain functions develop during the initial years of life up to age three.
Things to like
You will study Dr. Montessori's work and current research in these Montessori parenting classes.
There are several practical sessions for parents to do with their children across the year.
You will cover all the main aspects of Montessori theory, such as independence, coordinated movement, language acquisition, and organized thought.
Your instructor Lynn Lillard Jessen is responsive and will answer all your queries directly.
The majority of the class is free of charge.
Things you may not like
There are limited seats allotted on a first-come, first-serve basis. So, if you are interested, you may want to hurry.
About the course
You acquire a wholesome learning experience with this class, making it ideal for families with young children up to age three. Several lessons you study here are from the book 'Montessori from The Start: The Child at home from Birth to Age Three,' co-authored by Forest Bluff School co-founders Paula Polk Lillard and Lynn Lillard Jessen.
Course Selection Methodology
They are all top-notch Montessori online course for parents, one better than the other. So, your choice depends on which selection metric you employ. Below are the comparison metrics used by us:
1. Flexibility – In an online class, you deserve the flexibility to learn at your time and schedule. This is especially important for these courses as they are for parents, who could be working different shifts and hours. So, most of our selections are flexible.
2. Reviews – We considered the classes that have been lauded by students who took this course before you. Of course, there were both positive and negative reviews for the sessions. Evaluating those we have made our final selection.
3. Fee – Though it should not be the top selection criteria, it is a vital factor of consideration. Many listings are priced decently and even those on the expensive side give you your money's worth.
Frequently Asked Questions
Ques 1. What is the best age to start Montessori?
Ans. You can enroll your child into a Montessori school between 2.5 and 6 years.
Ques 2. What is the parent's role at Montessori?
Ans. As a parent, you must understand and learn how to observe your child at school and home. It will solidify your awareness of the Montessori tenets and simplify how you collaborate with your child's teacher in their education.
Ques 3. How do I become a good Montessori parent?
Ans. All Montessori parenting classes must teach you the following things to be an amazing Montessori parent:
Show your child they matter by speaking to them respectfully. Listen to what they say and always ask for their opinion.
Formulate consistent expectations and clear limits for behavior.
Make them feel secure, loved, and heard. Because how you interact with them will form a base for how they interact with anyone they meet.
Establish a routine for activities around the day, and do the same things in the same manner, every day.
Provide your child with a controlled choice of 'this' or 'that' for them to feel independent within limits at home to make them liberated and believe their input matters.
When teaching an activity, drop it down to their level and teach. You can use minimal words. So the focus is on your hands and not your mouth.
Watch your child with complete attention to understand their strengths, abilities, and interests.
When your child asks a question, use prompting skills to encourage them to answer it themselves.
When setting up a Montessori learning space, accessibility and order are the primary considerations. Always apply the mantra, 'Does it have a place and purpose?' anytime you organize your child's playing zone.
Pick low open shelves in trays or baskets and child-sized furniture that they can conveniently access.