Reading Time:
11
minutes
North American Montessori Center has some of the most well defined Montessori courses. You can also go for Udemy which have straightforward short courses.
Teaching is a growing industry, and Montessori and early childhood education are at the forefront. Globally, there is a surging demand for Montessori training. There are over six thousand Montessori schools in America and several thousand across the globe.
Charter, private, and public schools are now incorporating Montessori programs in the curriculum, given the parent demand and unprecedented outcome. With the growth in the programs, there is an equivalent growth in the requirement for Montessori courses online for teachers & parents. The training of parents is equally important as they have to create the right environment for children's training.
In several countries, the vacancies for Montessori teachers remain open around the year because there still are not enough teachers to fill them up. In America alone, around two-hundred Montessori teaching positions remain vacant yearly. People mostly shun themselves away from this career because it may feel a little too demanding. But is it so? If you are compassionate, intelligent, creative, and committed to accentuating people's lives, you can excel as a Montessori teacher.
However, you do have to enroll in the Montessori teacher training online to ace the profession. There is no dearth of such training classes, but the problem is choosing one amongst the many options. So, how do you make your selection? Fret not. We have done all the labor on your behalf and present the best seven picks according to different selection criteria.
Best Montessori Courses with Training & Certification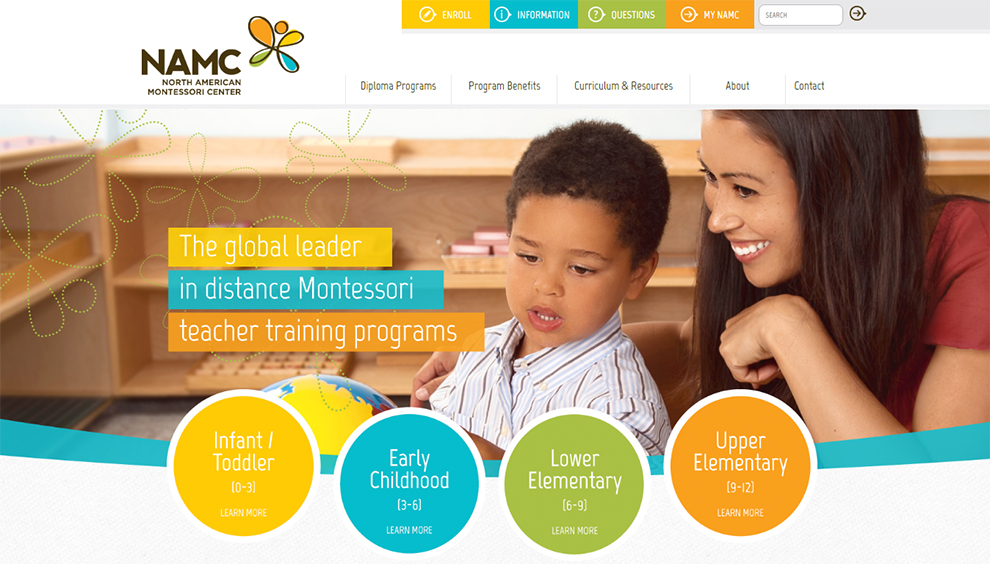 Why this course?
With the NAMC's Montessori teacher training programs, you can avail of distance learning programs anytime. NAMC has been offering Montessori courses online for over twenty-six years, and their teacher training programs have helped many busy students make a career in the field.
Things to like
They have four Montessori training programs. So you can select what works best for you.
All of their Montessori manuals are top-quality, comprehensive, and full of color for easy engagement.
It is easier for NAMC graduates to find a job in the Montessori environment, develop their Montessori environment, or revamp their existing Montessori programs.
They have lifetime access to all the resources.
They are responsive and quickly respond to feedback and queries via call or email.
Things you may not like
Content-wise, it is the best Montessori online course, but all four diploma programs are somewhat on the expensive side of the spectrum. The prices range between $2310 and $3300, shipping extra.
About the course
NAMC has crafted distance education programs that offer super quality, comprehensive, accessible, and flexible training for interested Montessori teachers. Since they have been around for almost three decades, their experience shows in their teaching method.
They have worked with schools and students and have solid relationships with Montessorians in different corners of the world. Their alumnus and students share their valuable feedback, and NAMC positively incorporates it into their teaching to update their content.
Why this course?
It can be a top choice to learn Montessori method online as there are no prerequisites associated with the course. You will study with a reputed early childhood Montessori professor and a doctor, Dr. Hart. She has taught at Gloria Dei Montessori School in Dayton for nine years. Later she became a faculty member at the University of Dayton's School of Education.
Things to like
It is very affordable compared to the NAMC classes.
You will earn a certificate of completion once you finish the session.
This Montessori teacher training course online comes with lifetime access to all the resources.
Every curriculum area has a separate lecture based on the interview with Anna Perry, the Executive Director of the Seton Montessori Institute in Chicago.
You will find a ton of examples of Montessori materials employed in classrooms.
This course will benefit homeschoolers, parents, and anyone interested in learning about Montessori education.
Things you may not like
It lacks in the practical aspect of things.
The presence of more questions and more lessons for toddlers and infants could be beneficial.
About the course
In this Montessori course online, you will study with Patricia M. Hart, Ph.D. She designed this session in partnership with Educational Video Publishing.
Hence, in the class, you will find some beautifully filmed scenes of children from Montessori classrooms performing activities from all five areas of the Montessori curriculum – Cultural, Math, Language, Sensorial, and Practical Life. Her teachings are an amalgam of expertise of all the leading Montessorians and personal Montessori school visits across the country.
Related: Best TESOL Certification | International Montessori Courses
Review Rachel Supalla
"
I would like to say how pleased I am with your program! I was certified through your training center and started my own thriving Montessori school. I refer all of my staff to become certified through you because of your beautiful manuals and convenient programs. I am a working mother of four children and it would have been impossible for me to become Montessori certified if it weren't for your program. Thank you for giving everyone a chance to pursue their dreams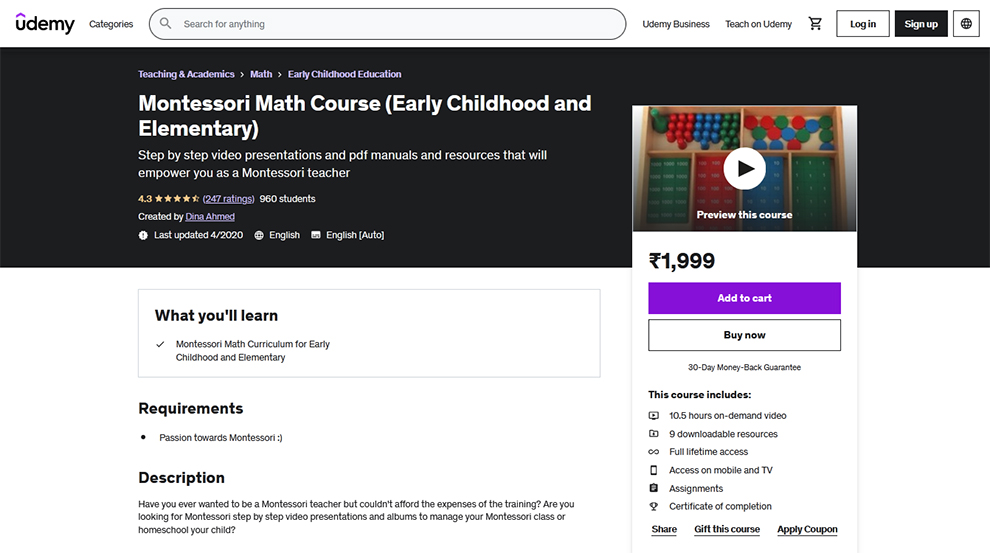 Why this course?
If you have always wanted to be a Montessori teacher, but its massive cost associated would make you think otherwise, then this is the best online Montessori teacher training. You will study with a MACTE-certified instructor who will guide you through the process.
Things to like
The course contains 120 step-by-step video presentations and albums to home-school your child or manage your Montessori class.
There are no prerequisites associated with the class. If you have a passion for learning and a love for teaching, you will find this course to be helpful.
It contains videos for all operations – division, multiplication, subtraction, and addition.
There are multiple videos for assignments to learn by doing.
You can print all the resources. They all come with lifetime access.
There is a 30-day money-back guarantee. So, if you do not like what you receive, you can seek a refund.
You will earn a certificate on completion in this course.
Things you may not like
Everything about the class is good, but the educator is not the most responsive.
The teaching aids employed may be challenging for some learners.
About the course
If you are interested in getting well-versed with the math curriculum for elementary and early childhood, you can opt for this Montessori online training course. It is a detailed, visual class containing videos for all operations that follow a step-by-step teaching method.
There are PDF manual lessons with a presentation for easy grasping to learn about equivalency, fractions, geometry, and more. It can be a beneficial class for parents and Montessori teachers who wish to grasp the philosophy of education to help students and children.
Review Saranya
"
Yes, it was a good match for me.
Why this course?
It is one of the highest-rated courses on Udemy that teaches you the principles of the Montessori educational approach and its application. As part of this class, you will get well-versed in how the Montessori method works. However, it may not be the Montessori course online free.
Things to like
There are no prerequisites associated with the course.
Anyone interested in learning about Montessori education will love this class.
It is a versatile course and benefits anyone who wishes to teach or educate more effectively.
You will earn a certification after the course completion.
All resources come with lifetime access.
There is a 30-day money-back guarantee.
Things you may not like
The instructor's language may be a little difficult for some learners.
There is some unnecessary chatter in the class that adds to the length.
About the course
The Montessori teacher training online provides you with a detailed understanding of the Montessori theory. It contains several lectures that help you understand how and why the Montessori method works. You will get well-versed with the Montessori vocabulary comprising phrases like Human Tendencies, The Absorbent Mind, Sensitive Periods, Polarisation of Attention, and more.
Your instructor will clarify why some methods work while others do not. In addition, you will also study the language you must use to be heard and understood by the kids or students. It can be a good pick for school principals, grandparents, assistant teachers, babysitters, teachers, parents, and anyone who works in and around students.
Review Sameeha S.
"
Really useful and understandable presentation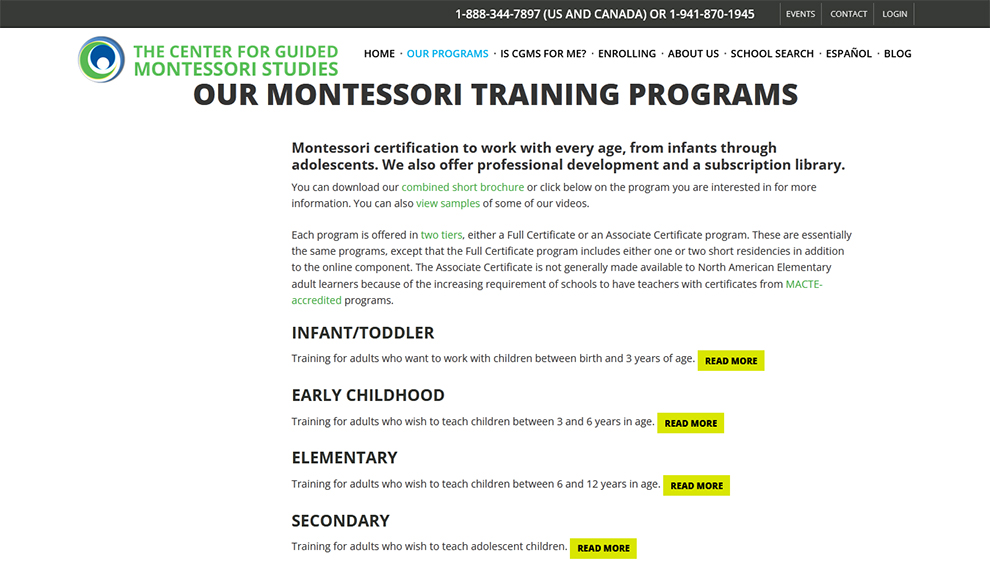 Why this course?
Centre for Guided Montessori Studies presents certification to work with every age, from infants through adolescents. They also offer a subscription library.
Things to like
There are eight Montessori course online options available. So, you can pick one or more of what intrigues you.
The programs are MACTE-accredited and affiliated with the International Montessori Council.
This course has the most visual and practical learning experience.
You will find several assignments that relate to the classroom experience.
There is a chance to interact with fellow adult learners and instructors weekly in chats and online discussion forums.
You will earn a certification.
Things you may not like
The courses are typically very long (duration-wise)
About the course
Every program has two tiers – either an Associate Certificate Program or a Full Certificate class. They are the same programs, but the latter comprises one or two short residencies beyond the online component. The former is typically available to North American Elementary adult learners because of the surging demand in schools to hire teachers with certificates from MACTE-accredited programs.
Amongst the eight programs, their CGMS Early Childhood Teacher Certification program is one of the top-selling. It has curriculum presentations and video lectures presenting a comprehensive and deep exploration of the Montessori approach for children between three and six years.
Review – Luwam A.
"
It has been quite nurturing for me and my career. I have missed the bits on "The prepared environment." Where can I get it?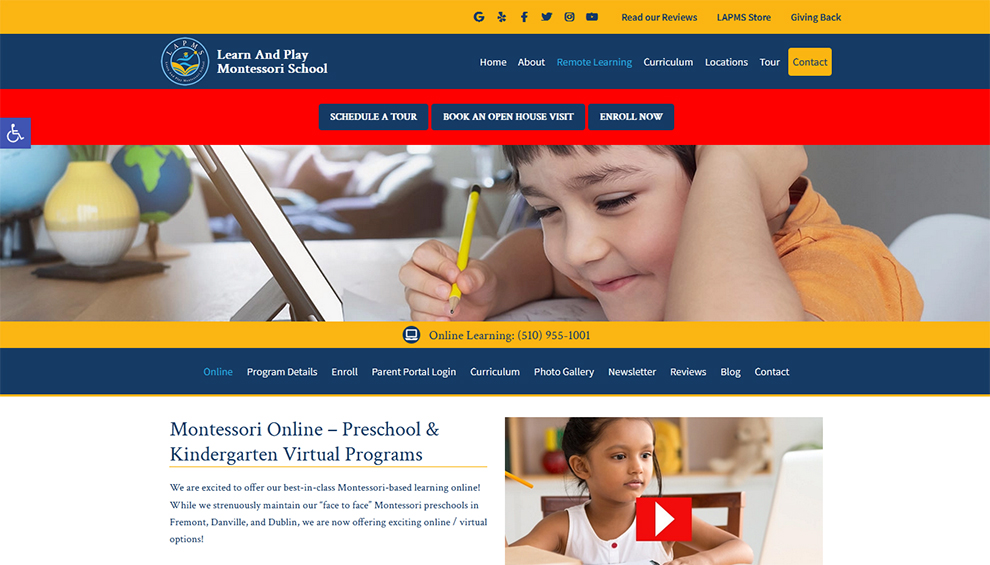 Why this course?
They have face-to-face Montessori preschools in Dublin, Danville, and Fremont and virtual or Montessori online training courses. So, you have the option to pick one that fits your needs.
Things to like
You will like how they have taken the traditional Montessori curriculum online for people who wish to acquire information virtually.
These programs can help your pre-schooler prepare for a life of success.
They have summer programs for kindergarten and preschool kids.
Their online childcare and daycare services with age-appropriate methodologies are top-notch and provide the child with a learning-friendly, fun environment.
You get weekly worksheets and assignments.
About the course
In this course, you will see how they present the best of Montessori with homes school or online alternatives to help your child learn critical thinking, science, math, English, and other skills. You can find programs for children from 2-6 years old.
Why this course?
 
It is a free class that helps establish your interest in Montessori education in a short while as it focuses on the observations and principles laid by Maria Montessori (the pioneer of Montessori teaching).
Things to like
In this Montessori-empowered environment, the child will love self-construction and have the freedom to learn be themselves in a structured setting.
It can be the best online Montessori teacher training for teachers who wish to make a career in the field.
It has transferable notes and study reminders for easy comprehension.
Things you may not like
Sadly, it does not detail every exercise and activity in the Montessori method and only offers an overview of the teaching approach.
About the course
This Montessori course online, free, can be a step forward toward becoming a Montessori teacher. In this course, you will study the historical background of early childhood education and elementary concepts. Beyond its usability for people who aspire to make a career in Montessori training, it can be a good Montessori course for parents who wish to create a similar environment for Montessori teaching at home.
So, when you enroll in these free online Montessori teacher training courses, you can amplify your skills and knowledge in the field.
Review Yanzhe Z.
"
My 5 year old daughter has been in this school for two years. She loves this school so much. She is very happy to go to school every morning. The teachers and staffs are very professional and friendly. The facility is safe and clean. I will definitely recommend this preschool to my friends.
What Is Our Course Selection Criteria?
So above, we have shared the different Montessori courses. They are all the best in their domain. Here are the selection criteria employed for picking these seven classes over the many available options:
1. Learning by Doing – You cannot learn by mugging up the contents. Hence, we have picked sessions that motivate a mix of practical and theoretical learning.
2. Course coverage – It is important to select a course that teaches you from the beginning and takes you all the way up to give complete information.
3. Value for money – Even though a few of our listings are relatively more expensive than others, their learning outcomes justify the cost you bear.
4. Reviews – We believe students who have availed the class before are the best judge of what others may expect. So, we read through the reviews before forming an opinion.
So, these are the best Montessori online courses. They are all great courses, one better than the other, but your choice depends on the selection criteria you employ. So, be wise, and make an informed decision.
Frequently Asked Questions
Ques 1. What are the different Montessori levels and certifications?
Ans. Montessori programs begin at the Early Childhood level (for children ages 2.5 – 6 years). But you can find some programs for secondary students (between 12 and 18 years), elementary children (between six and 12), and toddlers and infants (from birth to age 3). You can pick between an advanced Montessori diploma program, diploma program, or certificate program
Ques 2. What degree do you need to be a Montessori teacher?
Ans. You should hold a certificate to be a Montessori teacher.
Ques 3. Can I do a Montessori course online?
Ans. Yes, Montessori learning can take place online. Some of the good ones are listed above.
Ques 4. How do I start teaching Montessori at home?
Ans. Montessori learning does not curtail the classroom alone. So, if you can bring its necessary principles into the home, you can teach it at your house too.