Reading Time:
9
minutes
All these International Montessori Courses get you accredited from Association Montessori Internationale (AMI). Best is to go for 'AMI Teacher Training' offered by AMI Itself.
To be a Montessori guide, you must bear in mind multiple aspects. Firstly, you ought to be convinced that every child is different and deserves an individualized approach. Secondly, you should acquire knowledge such that you know how to offer age-apt independence together with setting logical limits. It can help you make the most of your child's potential.
To be well accustomed to the international Montessori standards, you can choose a good international Montessori course online.
There is no dearth of such courses. What matters is, is the crucial aspect of the Montessori guide's self-preparation. It involves unlearning the traditional teaching methods to create efficient and more successful teaching environments that help recognize the child's innate learning modes.
We have picked just the right classes for you that provide you with that. Below we will enlist them one by one:
International Montessori Teacher Training Online
Why this course?
The 'Association Montessori Internationale' offers this program which is globally recognized and respected for its top-quality, high standards, and authenticity.
Things you may like
In this Association Montessori Internationale online training, you receive a hands-on learning experience.
You can choose between the courses offered during summer vacations, over one academic year, or in study sessions in a defined format approved by the AMI Scientific Pedagogy Group.
You can learn in any language of your choice.
You can enroll for this coursefrom any corner of the world or opt for at-center training near you or abroad.
There are several learning modes – reading sessions, seminars, and lectures that cover child development and Montessori philosophy. There is also supervised practice with various resources.
There are several options – Diploma programs, certificate classes, etc.
It opens up many job opportunities for you.
Things you may not like
AMI does not have a Global School Accreditation.
There is no clarity on the fee on the website.
About the course
As part of this international course, the instructor shares tools and frameworks for successfully teaching what best works for your child, irrespective of socioeconomic status and stage of development. You can use your acquired education to foster a self-paced, hands-on, collaborative, and joyful classroom at any school, anywhere in the world.
This international Montessori teacher training offers sessions to prepare adults to work with children at the following levels:
Assistants to Infancy (0-3)
Primary / Casa Dei Bambini / Children's House (3-6)
First Plane (0-6)
Elementary (6-12)
Adolescent (12-18)
Related: Montessori Courses for Parents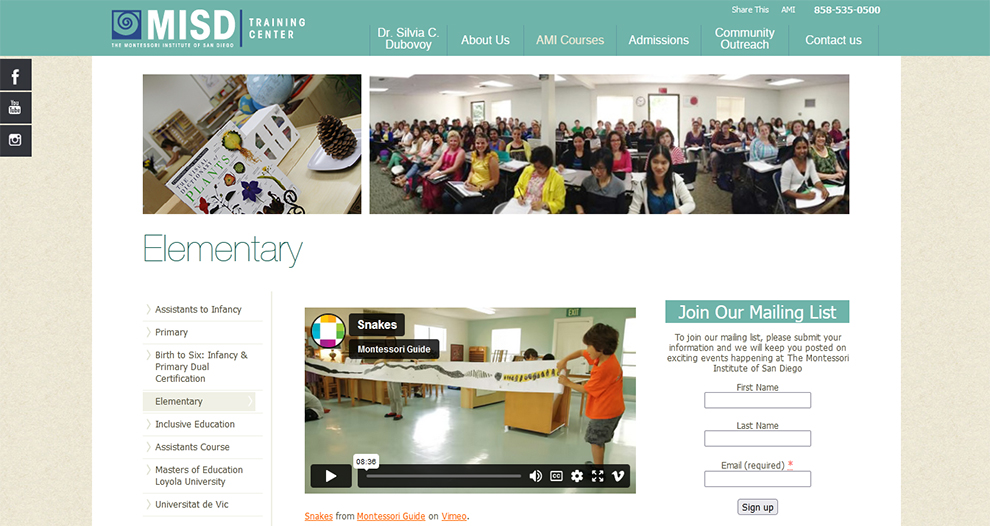 Why this course?
In this international Montessori course online, you will study with a world-renowned AMI elementary trainer, Greg MacDonald, Director of Elementary Training. He has over 19 years of broad experience as a public school elementary teacher, AMI elementary and primary teacher, and principal of both traditional and Montessori schools. Moreover, he also has an added two decades of teaching AMI elementary teachers.
Things you may like
They have a dynamic campus option, comprising onsite AMI school for ages 18 months to 12 years.
It is MACTE accredited.
It covers all the essentials leading you through Dr. Montessori's ground-breaking educational theory.
There is a wealth of practice sessions with manipulative materials under the guidance of qualified teachers
You have two recent alumni to answer all your questions before enrolling in the class.
You learn by role-playing typical and extreme classroom situations.
Things you may not like
They have limited seats available for this course. So, they review applications on a first-come, first-served basis. So, you must apply fast.
About the course
It is a nine-month course spread over one academic year or three summer sessions. Here, you will study:
Montessori philosophy, child psychology, and practices of education
Contents from the Advanced Montessori course curriculum
Practical use and exploration of the specially-designed manipulative materials introduced by Dr. Montessori
Dealing with Challenging Children (i.e., Discipline in a Montessori Elementary Environment)
Review By alumnus.
"
"Our training was not only awesome and innovative, but also very humane. Thanks again!"
Why this course?
You will study with the Montessori Institute of Atlanta, which has offered teacher-training courses since 1968. You can choose between their Primary (ages 2½–6+) international Montessori training or the Elementary (ages 6–12) level.
Things you may like
Their courses are accredited by Association Montessori Internationale (AMI) and Montessori Accreditation Council for Teacher Education (MACTE).
If you get accepted into Loyola University Maryland's Center for Montessori Education, students earn 27 credits upon completing their Elementary Diploma.
You also earn nine credits by completing the 4-week intensive experience in residence at Loyola University Maryland's Evergreen Campus in Baltimore.
Things you may not like
It is mandatory to hold the technical skills necessary to pursue graduate-level work. It includes comprehensive lecture notes by hand or on a laptop (taping lectures is not allowed by the AMI).
Non-language speakers should do a course in English before enrollment.
There is no clarity on fees on the website.
About the course
In this course, Loyola University Maryland's Center for Montessori Education partners with the Montessori Institute of Atlanta to provide the students an opportunity to take their M.Ed. degree together with the AMI diploma.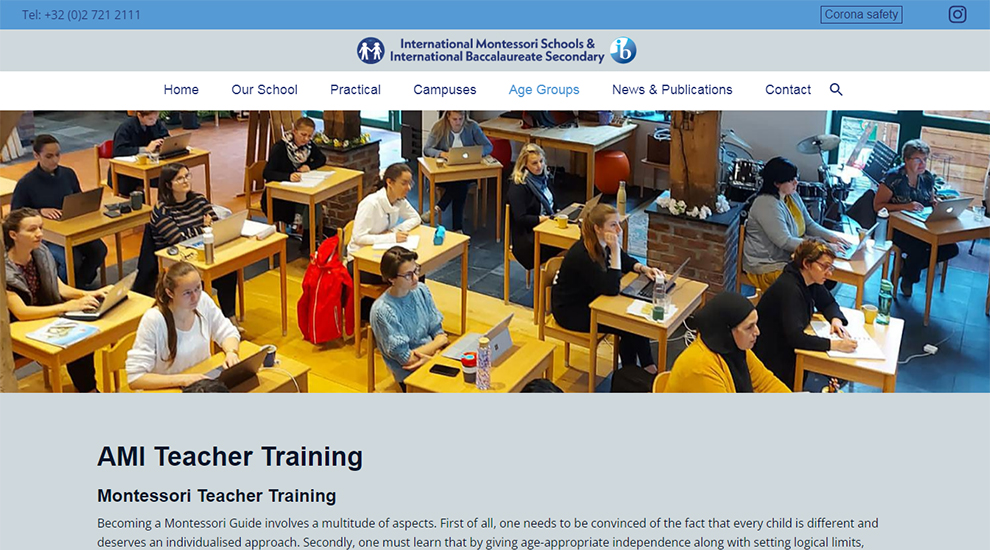 Why this course?
This training happens internationally. So, the trainee finds themselves in another culture. Hence, an opportunity to look at life from a completely different perspective. This open-mindedness helps see the world from the child's perspective.
Things you may like
Their training courses are adaptable and flexible to each child's developmental level.
Montessori Teacher Training is available at Training Centres around the world.
It is Association Montessori International accredited.
You can take the session in different formats – over one year (full-time) course; over two/three consecutive summers; or modular, taking place over multiple school holidays and occasionally including online classes.
Their teaching formats are diverse, comprising lectures, seminar discussions, theory study, material preparation and curriculum documents, and required hours of observations and guided practice teaching.
Child's every personality aspect is worked upon to help them gain trust in themselves and feel empowered and confident, both within their social group and the world at large.
Things you may not like
For enrolling in this Montessori Teacher Training Diploma Course, there is a prerequisite. Every candidate should have a bachelor's degree.
About the course
In this class, you will receive a fully integrated curriculum, which stimulates the development of all aspects of the child's personality. As part of this international Montessori teacher training, you learn to see the children for who they are. The program is full of practical information, and you slowly graduate to ingrained knowledge of the curriculum and strategies necessary to help the students acquire the skills required for the future.
Depending on the age range, you can find lectures covering different subject areas, such as Montessori Pedagogy and Philosophy, principles and practices applied to each age range.
Once you acquire the Diploma, you are on board with the global network of passionate and skilled professionals who work together to guide every child that joins their prepared environment. Every trainee works best to follow the child's specific needs and help them capitalize on their potential.
Why this course?
At IMI, you receive specialized international Montessori courses to become a Montessori Guide. Their sessions comprise 950 or 1500 hours of theoretical and practical training, and all the classes are 100% online. So, you can enjoy learning at your pace, reconciling your personal and work life with your educational goals.
Things you may like
You will train to offer the students a broad and unique view of Montessori Education.
IMI ensures that trainers follow up on the IMI online campus.
You can specialize in the age stage of your choice: 0-3 years, 3-6 years, or 6-12 years (for the double degree) to understand the children's evolutionary development and needs at every stage.
You learn to form a positive relationship with the child and evaluate them correctly.
The classes are available 24/7 on the online campus, and students also receive the didactic material at home.
Montessori Albums feature – A tailored tool developed during the practical module wherein students showcase the knowledge acquired from every activity and material.
You bag a five percent discount if you pay the entire fee upfront.
Things you may not like
The course is available in English only.
About the course
Get ready to become a certified Teacher through International Montessori Institute (IMI), an official Montessori training center. IMI works with a clear objective – to provide rigorous and classical Montessori training based on Dr. Maria Montessori's sources and adapted to today's educational needs.
IMI's international Montessori course comprises the best from Italian and Anglo-Saxon traditions. The whole learning method works on observation. Hence, the teachers capitalize on the child's full abilities and potential.
You can clear your doubts on the forum and have easy access to the trainers and the technical support team. IMI also lets you access the modules as you progress through the class. Every module has multiple video calls and webinars with the trainers for a personalized learning experience.
Course Selection Criteria
In our view, all the five listings above are the best in their respective categories as mentioned above. So, your best pick selection depends on your expectations from the class. However, a few shared things in all five courses helped us pick them over the umpteen options on the internet. These include:
1. Reviews – We take and test every course, but we also assess the opinion of students who took this class before. So, we read through the reviews and see how they liked it. It also gives us a bigger sample size.
2. Experience – The instructor should be well-versed in all aspects to provide well-rounded information. So, we ensure that the teacher has the training and knowledge to offer the requisite class.
3. Accreditation – Accreditation adds a certain level of trust in authenticity and credibility. So, four out of our five listings have fulfilled this requirement.
4. Job opportunities – Knowledge acquisition is ok, but most people want to become Montessori instructors in the future. So, we have picked the courses from globally-recognized institutes. So, when you mention them in your CV, your probability of landing your dream job automatically surges.
5. Learning Mode – You do not want to mug up all the theoretical instruction without knowing the practical application. So, we chose courses that offer a good blend of practical and theoretical training for a comprehensive and engaging learning experience.
Frequently Asked Questions
Ques 1. What is an international Montessori course?
Ans. If you choose to avail your Montessori education from a foreign institute, mainly at their campus or online, it is called an international course for Montessori.
Ques 2. Is Montessori internationally recognized?
Ans. Sadly, no certification in Montessori is recognized in all the countries in the world. But, it is still considered one of the most sought-after career choices among young educators.
Ques 3. What is the Difference Between AMS and AMI Montessori?
Ans. All Montessori schools follow the educational philosophies and methodologies formulated by Dr. Maria Montessori. The two organizations that give accreditation to Montessori schools are AMI (Association Montessori Internationale) and AMS (American Montessori Society).
Maria Montessori, with her son Mario, started AMI in 1929. It has its headquarters in Amsterdam. AMS came into existence much later in 1960, with its base in New York. It was a brainchild of an AMI-trained teacher, Nancy McCormick Rambusch because she thought Montessori methodology underwent a revolution. Hence, it should be revamped to adapt to the American Culture.
Maria put together the curriculum in AMI Montessori. But, the Montessori methodology's original purity is retained in the AMI Montessori. However, there is a slight difference in AMS Montessori from the original Montessori methodology. As per AMS, teachers can employ outside resources, ideas, and materials.
In AMI Montessori, a standardized teaching method is adopted in every teacher's learning. However, the training is different from one AMS Montessori to another.
In AMI Montessori, teaching uniformity is there from the first classrooms to the upper levels. So, even if the child changes schools, there will be consistency. But, the same is not the case in AMS Montessori because there is no uniformity in teaching.