Mondly is a better pick between the two with a modern approach. It also has the option of live classes, lessons by native speakers, and a greater number of languages to choose from.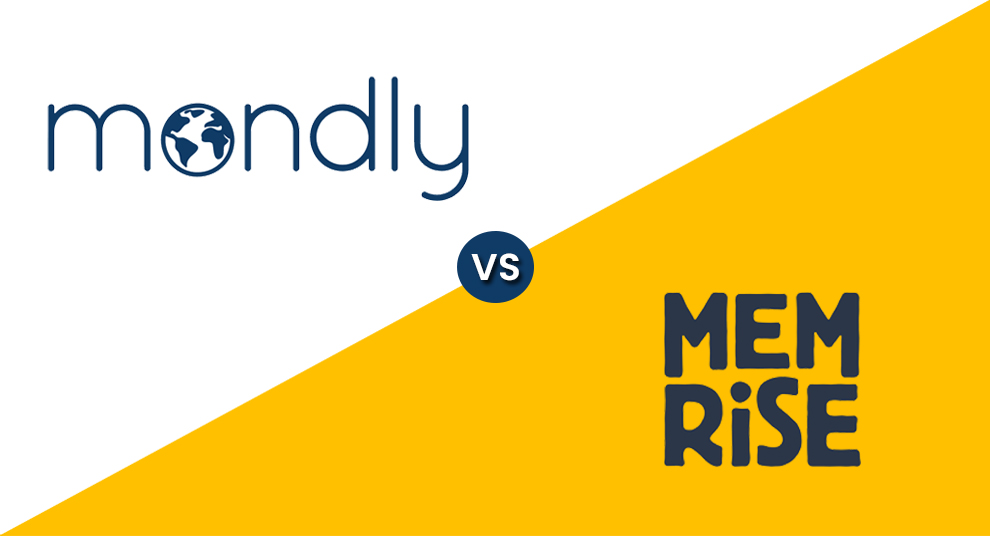 Language learning may sound like a piece of cake, but it is not usually so. Learning a new language demands persistent effort and practice without missing a beat.
But an authentic language-learning app can simplify the process. Two of the options among many in this regard are Memrise and Mondly, and today we will test Mondly vs Memrise against each other. From our analysis, Mondly employs a new approach by implementing augmented and virtual reality, making the courses interactive and engaging.
Students who prefer live sessions or wish to add fun to the language learning experience will find Mondly better because of their AR and VR app experience.
Read below as we compare the two platforms side-by-side to know what features do the two offer.
How Do Mondly and Memrise Compare To Each Other?
| | | |
| --- | --- | --- |
| Feature | Mondly | Memrise |
| Price | Starts at $9.99 per month | Starts at $8.99 per month |
| Trial period | 7-day | 7-day |
| Refund | 7-day moneyback guarantee | 30-day moneyback guarantee |
| Languages covered | 40+ | 20+ |
| Lesson type | Live + Video | Only pre-recorded video |
| Class length | 15-20 minutes | 5-20 minutes |
| Grammar focus | Average | Average |
| Mobile App | Not as good as Memrise | Top-quality and intuitive |
| Visit | Mondly | Memrise |
Is Mondly Better Than Memrise?
Mondly is better if you prefer hi-tech learning experience along with live sessions.
Let's compare the features of Mondly and Memrise against each other and see if Memrise also has any noteworthy features.
A. Pricing
Comparing Mondly vs Memrise pricing, it is apparent that both of their costs are very close. However, the lifetime plan from Mondly is more expensive than Memrise's annual package.
Both Memrise and Mondly have a free plan. But their free versions have definite drawbacks and are both very limited. Consequently, people usually upgrade to the paid plans for both these companies.
With Mondly, you get three premium plans. Their monthly plan costs $9.99 per month. You can get the annual package at $47.99 per year. They also have a lifetime, one-time payment plan that costs $149.99.
Each of these plans offers access to all of Mondly's features, such as chatbot conversations, a host of exercises and lessons, and chatbot conversations.
On the contrary, Memrise only has two premium packages. You can get their monthly pack at $8.99 per month and the annual subscription at $59.99 per year.
With their premium plan, you get added features, such as video learning, grammar lessons, and the option to learn multiple languages in a go.
B. Lesson type – video vs live
Mondly gives you the chance to listen to real-life dialogues between native speakers and a live session option.
Memrise's chatbot feature is also not bad to practice conversational skills in a simulated setting. But Mondly ranks ahead because of its live sessions.
With Mondly, you get a variety of pre-recorded video lessons that cover various language topics like conversation skills, vocabulary, and grammar. These videos are engaging and interactive, with exercises and quizzes built into the sessions.
In addition, Mondly also has a chatbot feature that lets the users practice their conversation skills in a simulated conversation using an AI-powered virtual tutor.
Beyond the video lessons, Mondly also provides live lectures with native language speakers. The one-on-one sessions are customized to cater to the user's specific needs and understanding.
You can schedule them at your convenience. For booking the live sessions, you can use the Mondly app. These lessons are conducted via video chat.
With Memrise, you get video lessons that cover a plethora of language topics, exercises, and interactive quizzes that enable the learners to practice what they have learned.
Memrise designs its lessons to keep them engaging and entertaining for the users. They primarily educate to get you comfortable in real-life conversations and situations.
Sadly, upon comparing Memrise vs Mondly, you will find that the former does not provide live sessions with native speakers. But you get a Chatbots feature that lets you practice your conversational skills via the AI-powered chatbot.
This chatbot simulates real-life conversations and offers feedback on grammar and pronunciation to the users instantly but it is nothing like a one-on-one human interaction.
C. Languages covered
Mondly has more language options than Memrise.
Mondly delivers over forty languages, including popular languages like English, Spanish, French, German, and Mandarin.
They also have less common languages, such as Finnish, Bengali, and Lithuanian. Each of their courses consists of exercises and lessons that can help the learners learn conversation, vocabulary, and grammar skills.
On the contrary, Memrise delivers twenty languages, including popular ones like Spanish, French, German, and Mandarin, and the less common ones, such as Swahili, Icelandic, and Hawaiian.
Beyond the language courses, Memrise also offers a plethora of courses in domains like culture, history, and science.
D. Class structure
As for the class structure, Mondly organizes the sessions by level, whereas Memrise organizes them by topic. We prefer Mondly's approach where the difficulty level escalates step wise.
In the Mondly vs Memrise class structure comparison, you will see a difference between them. Mondly divides its courses into different levels, from beginner to intermediate and advanced levels.
They have several lessons and topics covering conversation, vocabulary, and grammar skills at each level. Users can pick which sessions to focus on and keep a tab on the progress via their dashboard.
You also get live sessions with native-speaking tutors. These are one-on-one classes customized to meet individual's needs and preferences.
On the contrary, Memrise organizes its courses into modules, covering a different theme or topic related to the language studied. Every module has exercises and lessons covering conversation, vocabulary, and grammar skills.
Users can keep a tab on their progress via the dashboard and select which modules to focus on.
E. Grammar, vocab, pronunciation, & conversation focus
Mondly wins here leading in major categories.
Mondly centers its learning around real-life conversation skills, whereas Memrise centers its lessons on repetition and memorization.
However, vocabulary practice is more in Memrise, but conversational skills are better touched upon through Mondly. Grammar emphasis is not above average in either.
Mondly and Memrise both offer courses focussing on vocabulary, grammar, conversation skills, and pronunciation. However, they have different emphases and approaches.
F. App popularity
Mondly is more popular than Memrise.
As for popularity, both Memrise and Mondly have a significant user base. Going by the Google Play data, Mondly has been downloaded more than 50 million times since Sept 2021, whereas Memrise has more than 10 million downloads.
Similarly, Mondly had 1 million downloads on App Store, whereas Memrise has some five million downloads.
G. App quality
Though both apps have their shares of highs and lows, Memrise does a better job than Mondly.
As for the quality, when we compare Mondly vs Memrise, we find that both have their shares of highs and lows.
Mondly app employs various language learning tools, such as interactive chatbots and speech recognition technology, AR & VR for users to practice listening and speaking skills. But some users complain of glitches and bugs in the app.
Memrise utilizes gamification techniques that make language learning more engaging and fun. The app has multimedia resources, such as audio and video clips, to help the users learn grammar and vocabulary. But some users report that the app can be overwhelming, and its quality varies depending on the language chosen. However, it is still better than Mondly.
H. Native Speaking Skills
You can get courses from native speakers by both Mondly and Memrise. Upon comparing the Memrise vs Mondly recording quality, we found that in Memrise end result varies depending on the creator, whereas Mondly has professional native speakers for all its courses.
Both platforms employ recordings from native speakers to enable the learners to acquire intonation and pronunciation. Memrise provides courses created by their community of users, some of who are native language speakers.
But it means that the recordings' quality is not standardized and will vary depending on the creator's efficiency. In addition, Memrise also provides official courses crafted in partnership with native speakers and language experts. These have higher quality.
On the other hand, Mondly employs the recordings of professional native speakers for all of their language courses. You also get the option of live sessions with native speakers. The app utilizes the Avant Garde speech recognition to help learners accentuate their accent and pronunciation.
I. User interface & navigation
Mondly and Memrise have an intuitive and visually appealing interface and navigation system. Both are equally good.
Navigation and user interface are vital attributes and can significantly impact how enjoyable and easy it is for you to use the app. Memrise has a visually appealing and colorful interface with animations and graphics.
The app employs a gamification approach for learning a language with streaks, points, and rewards to motivate the users to study. Memrise utilizes an intuitive and simple navigation system with clear buttons and menus, making it easier to access and find the different sections of the app.
Mondly has a visually appealing interface with clean and bright graphics. The app employs a conversational approach to learning a language with voice recognition and chatbots that help students get better at listening and speaking the native language. Its navigation is simple, with easy-to-find menus and buttons.
J. User support
Mondly and Memrise both assist in their community forums and help centers. With Memrise, you get email support, whereas Mondly provides real-time chat assistance. Thus, the Mondly is naturally quicker and preferable.
User support is also a vital factor when picking a language learning app as it will dramatically affect how effectively and quickly the users can get assistance with any questions or queries that they may have.
With Memrise, you get a comprehensive help center on the website. They have several FAQs and articles that help you troubleshoot common issues. In addition, you get a community forum to ask your doubts and get advice from other learners.
Beyond this, Memrise also provides email support for complex issues. Sadly, the response times can be slow there.
You will find a help center on Mondly's website. They also have an FAQ section and articles to troubleshoot common problems. There is also a chat element to get immediate responses to your queries from support representatives, but the feature applies only to a paid subscription.
Related: Mondly vs Duolingo | Mondly vs Babbel | Memrise vs Duolingo
The Good and Bad of Mondly
Pros
Cons

They offer over 40 language options, including some less commonly studied languages.
They focus on conversational practice with their speech recognition and chatbot features to help learners develop speaking and listening skills.
The app has colorful animations, graphics, and exercises to make language fun and interactive.
Mondly adapts to the learner's progress by offering personalized exercises and lessons to match the proficiency level.
Mondly lets you download the exercises and lessons for easy offline access, making on-the-go learning easier.

 

The free content is limited.
Grammar explanations are not touched upon well.
Mondly provides exercises for listening and reading comprehension but lags in writing practice.
Users found multiple bugs and glitches in the app, which can hamper the learning experience.

 
What's To Like and Dislike About Memrise?
Pros
Cons

They have a vast number of language courses.
You will find gamification elements, such as leaderboards, streaks, and points, which make learning interactive.
Memrise employs multimedia elements like audio, video, and images to help learners associate phrases and words with their meanings.
The app follows a personalized learning pattern, bearing in mind your pace and performance.
You can use their offline mode to browse through the courses sans the internet.

 

The free version is limited.
Some courses are not well-structured, resulting in inconsistency in quality.
The app's focus on phrases and vocab is insufficient to develop syntax and grammar skills.
The speech recognition feature is inconsistent and does not always guarantee correct pronunciation.
Even though gamification elements make gaming fun, they can also be distracting.

 
Memrise and Mondly Reviews: FAQs
Ques 1. Can you become fluent with Mondly?
Ans. As Mondly predominantly focuses on conversation skill development, you can achieve some level of fluency with Mondly. With Mondly, you will interact with virtual scenarios that you may encounter in daily life.
But to gain fluency, you will need a sound knowledge of the language's vocab and grammar usage.
Ques 2. What is better than Memrise?
Ans. The choice depends on what you seek. You can find several options better than Memrise, such as Mondly, Babbel, and Duolingo. They may not be the best but are better than Memrise.
Ques 3. Can you get fluent with Memrise?
Ans. Even though Memrise can help you get acquainted with the phrases and vocabulary in the target language, it does not suffice to make you fluent.
A blend of writing, reading, listening, and speaking skills beyond solid syntax and grammar understanding is mandatory for fluency. Memrise works on your vocabulary and gives you an insight into basic phrases, but it is not enough.
You must supplement it with other resources like textbooks, language classes, immersive experiences, and conversation partners. So, give the target language the time and effort it demands to achieve fluency.
Ques 4. What are the disadvantages of Memrise?
Ans. Some of the lows associated with Memrise include:
Insufficient focus on grammar and syntax
Not recommended for advanced learners
A free subscription is limited. Hence, full access demands a paid subscription.
Several courses are poorly curated.
The speech recognition feature is inconsistent.
Final Verdict – Memrise Vs Mondly, Which Is Better?
We have analyzed Memrise and Mondly on various parameters, and basis this comparison, we feel both have their share of highs and lows. However, we believe Mondly is superior to Memrise. But if you still have doubts, enroll in their seven-day free trial, and see for yourself. Happy Learning!