Reading Time:
9
minutes
DAT Booster has better course structure, tutoring options and also gives a success guarantee. It has better chances of getting you through dental school.
DAT Booster and DAT Bootcamp are both similar in many aspects. But, upon comparing DAT Booster vs DAT Bootcamp at a deeper level, we prefer DAT booster.
DAT Booster has better PAT and Biology sections. They update their study material more frequently. They also offer study notes and cheat sheets. The written content across the class is also fantastic.
In addition, DAT Booster's practice tests mimic the real tests better with great structure and offer a success guarantee. They also have a self-paced learning option that allows you to learn at your own pace.
Is DAT Booster Better Than Bootcamp: Features Compared
Yes, in most aspects!
Attributes
DAT Booster
DAT Bootcamp
Price
Basic – $397

Advanced – $497

Basic – $397

Premium – $547

Refund
No
5-day Moneyback guarantee
Course delivery type
Self-paced and more flexible

With better structure

Self-paced but structured with direct interaction with the instructors.
Content access duration
90 days
90 days
Practice tests
12
10
Practice questions
8900+
13000+
Mobile app
No
Available
Score guarantee
Yes
No
Tutoring
Yes
No
Visit
DAT Booster
DAT Bootcamp
DAT Booster vs DAT Bootcamp – Detailed Comparison!
Below we will compare these two courses, breaking down their strengths and weaknesses to help you pick one over the other.
A. Study material
DAT Booster has a better structured, more organized, and updated study material with traditional outline lettering and numbering convention.
You will cherish DAT Booster's written content if you like comprehensive notes and highly succinct cheat sheets that condense this content. DAT Bootcamp also offers written material, including study notes and cheat sheets, but upon comparing DAT Booster vs Bootcamp, we like the former's material better.
They have graphics in the notes and are very well-organized and logically crafted. Booster's study material is an excellent balance between brevity and detail. They offer the right degree of information to let you learn without feeling overwhelmed.
B. Which has a better user interface & navigation – DAT Booster or DAT Bootcamp?
Both of them have an intuitive interface that allows easy navigation.
With DAT Bootcamp, you get an easy-to-use and intuitive interface that lets you access the entire study material comprising quizzes, practice exams, and video lessons in one head.
The platform also has a study planner for the student to build a personalized study schedule based on the time they have to study and their test date.
Similarly, DAT Booster also provides a user-friendly, intuitive interface that makes it easy for the students to browse through the entire study material, including study guides, video lessons, and practice questions under one head.
They also provide detailed progress tracking and analytical tools to track the progress and identify the areas that need improvement.
Overall, ranking the platform on its navigation and user-friendliness comes down to personal preference. So, make the most of the free trial to understand if it fits your needs.
C. Tutor support
DAT Booster has a commendable tutoring-like schedule. 
With DAT Booster, you get a tutoring-like schedule. It is not a live tutoring session but online coaching. Even though you do not get dozens of hours with a private tutor, you get enough to impact and boost your scores.
This live personalization is effective in helping you get assistance around your weak areas and fine-tune your study schedule. The same is absent with DAT Bootcamp.
D. Do both DAT Bootcamp & DAT Booster offer free trials?
Yes, both DAT Bootcamp and DAT Booster provide free trials. However, Booster's trial period is more generous with limited content access during the trial.
DAT Bootcamp has a brief 24-hour trial window that offers access to all the resources and features on the platform for a day. On the contrary, DAT Booster has a three-day trial window that provides access to limited resources, including exam and practice questions, study guides, and video lessons.
So, you may want to try them both to see which one works best for you based on their study materials, pricing, and features. It is good to make the most of these free trials to get a sense of the suitability and the quality of the study material before you commit to their paid packages.
E. DAT Booster price vs DAT Bootcamp
Comparing the DAT Booster vs Bootcamp, we find that both have similar pricing options in the basic and the advanced packages. But the latter's premium package has more features than the DAT Booster's Advanced package. Hence, it is a better pick for the added support and resources.
The DAT Bootcamp and DAT Booster cost can vary depending on your chosen packages. The latter's basic package costs $397 and comes with three-month access to the practice exams, platform, and video sessions.
Their advanced plan costs $497. It has everything included in the Basic package. In addition, it also provides one-on-one tutoring access as well as access to additional practice questions.
On the contrary, the DAT Bootcamp package costs $397. It offers 90 days of access to the platform, video lessons, and ten practice examinations. You can also buy their premium plan, which costs $547 and covers everything included in the Basic plan.
In addition, you also get a custom study schedule, three additional exams, and access to their proprietary study group.
F. Success guarantee
DAT Booster provides a higher score guarantee, but you do not get any such guarantee with Bootcamp. Though it is a simple difference, it can make a vital difference when selecting. 
If you need an insurance policy or are nervous about your exam, a success guarantee matters to you. Of course, the price point for both Booster and Bootcamp is on the lower end of the spectrum, but having this guarantee can still give you peace of mind, which is why we feel DAT Booster has an edge.
G. DAT Booster practice test vs DAT Bootcamp
As for the practice tests number, DAT Bootcamp has a clear edge over DAT Booster. 
Both these companies have realistic practice papers to what you will see on the test day with their Prometric-like interface.
But when analyzing the question's length, content, and difficulty level, we believe Bootcamp's problems mimic the real examination better than Booster's.
In addition, Bootcamp has relatively more problems. Overall, Bootcamp provides more than 13000 questions, whereas Booster offers around 8900 practice questions.
H. Mode of delivery
If you enjoy a more flexible and self-paced approach to the study schedule, opt for DAT Booster.
On the contrary, if you like a structured lesson plan with more direct interaction with professionals, go with DAT Bootcamp.
Both DAT Bootcamp and Booster vary in their course delivery methods. Comparing DAT Bootcamp vs DAT Booster, we found the latter is a self-paced, online class that you can access anytime, anywhere, provided you have an internet connection.
The program comprises practice tests, practice questions, and video lessons. You get access to the course material for up to six months, letting you study at your own schedule and pace.
On the other hand, DAT Bootcamp has a more intensive and well-structured approach. They also have an online program comprising a 10-week study schedule.
You get practice tests and assignments every week. You also get their practice questions, video lessons, and practice tests. Beyond this, they provide live online office hours where you can study with the experts and get help with your questions.
I. PAT Materials and Tools
It is a clear win for the DAT Booster.
Originally, Booster was known as the PAT Booster, as it was what they focussed on wholly. However, over time, they have expanded into a versatile DAT prep course. However, because of this preliminary focus, PAT is undoubtedly their proprietary expertise, and other attributes only make it better.
They have one of the best PAT generator tools and analyzers. You can use this tech to build as many PAT questions as desired, broken down as you like. The primary objective behind this PAT analyzer is to assess your shortcomings.
The tool provides comments on the areas that require work. Further, their 3D tool is also incredible. So, if you are struggling with PAT, DAT Booster should be an easy pick.
DAT Booster Pros and Cons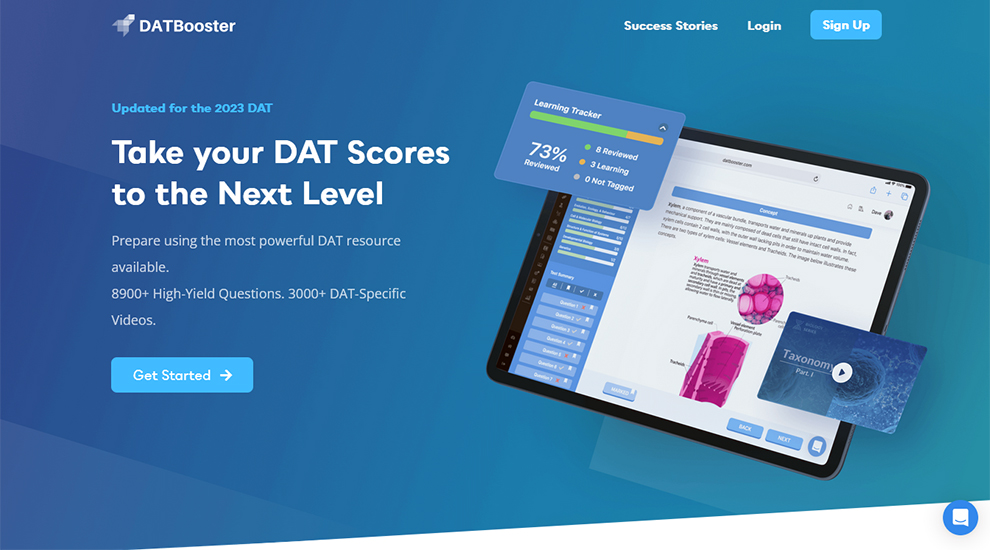 Pros
Cons

They offer practice tests that mimic the actual DAT exam to help students get well-acquainted with the test's content and format.
The practice tests have detailed explanations for every question to help students understand where they went wrong and better their performance.
You get a vast degree of study material comprising flashcards, quizzes, and videos to allow the students to reinforce key concepts and review the topics.
You can build a personalized study plan with their study planner tool to stay on track with the preparation.
The program is online and flexible.

 

It is a paid program, and the cost may be a barrier for those on a stringent budget.
Even though you get vast study material, some students like a more in-depth explanation or supplementary resources.
You do not get live tutoring or one-on-one support, which lowers the personalized touch in the preparation.

 
DAT Bootcamp Pros and Cons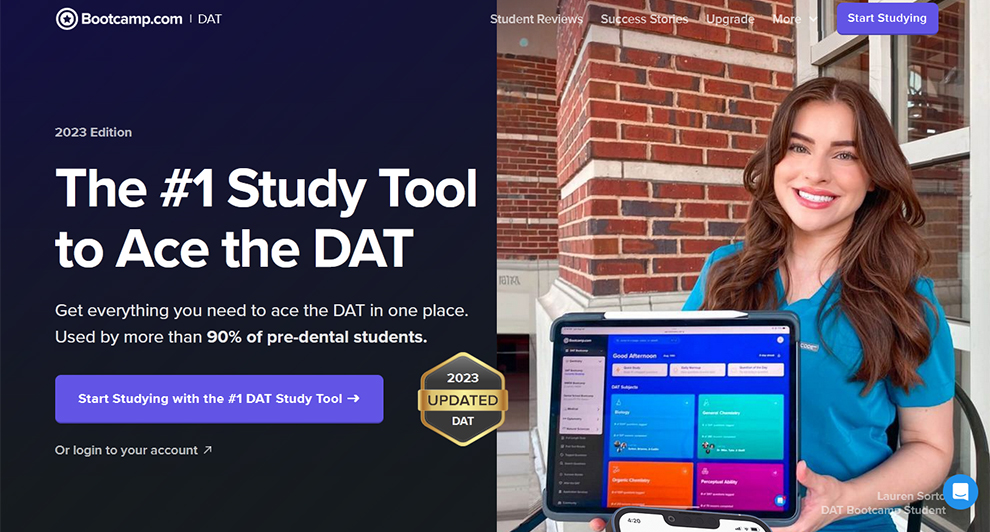 Pros
Cons

You get practice tests that simulate the actual DAT exam.
Each practice test offers detailed explanations to help assess and analyze where you went wrong to better your performance.
You get a vast number of resources.
Their tailored study schedule lets you build a structured plan for the preparation.
You get a vast question bank to build your own practice tests on specific difficulty levels and topics.
You received detailed performance analytics to track progress and identify weak areas.

 

You get no live classes or office hour sessions.
Relatively costlier than DAT Booster
No high score guarantee.

 
FAQs About DAT Courses (DAT Bootcamp vs DAT Booster)
Ques 1. Is DAT Booster harder than DAT?
Ans. Yes, DAT Booster is indeed somewhat trickier than the actual DAT exam. It is designed to give students additional practice questions and simulations of the DAT exam that are more complex and challenging than the actual exam. It is a way to prepare the students better and elevate their test-taking skills.
Ques 2. Is DAT harder than DAT Bootcamp?
Ans. Not Really!
In terms of realism, Bootcamp is as close to the actual DAT exam. DAT Bootcamp has realistic practice papers similar to what you will see on the test day with their Prometric-style interface. So, the questions are not necessarily tricky but rather mimic the real examination difficulty level.
Ques 3. What is the average score for DAT?
Ans. The Dental Admission Test (DAT) is scored on a scale of 1 to 30, with 30 being the highest score possible. The average score for the DAT varies from year to year and also depends on the specific section of the exam.
 
According to the American Dental Association (ADA), the national average DAT score for test-takers in 2020 was 17.1, with the average scores for each section as follows:
 
Biology: 16.7
General Chemistry: 17.2
Organic Chemistry: 16.5
Perceptual Ability: 17.9
Reading Comprehension: 18.1
Quantitative Reasoning: 17.2
It's important to note that dental schools consider a variety of factors in addition to DAT scores when evaluating applicants, such as academic performance, extracurricular activities, letters of recommendation, and personal statements.
Therefore, while a strong DAT score is crucial, it is not the only factor assessed in dental school admissions.
Ques 4. Is DAT Bootcamp worth the money?
Ans. It depends on multiple factors.
DAT Bootcamp is a leading online DAT test prep resource that equips students with resources to prepare for the Dental Admission Test. You receive vast study materials, including study guides, video lessons, and practice exams.
Beyond this, you also get guidance and support from experienced educators. Whether or not DAT Bootcamp is worth your money depends on multiple factors, such as your preparedness level, budget, and learning style.
Students typically find the resources and structure of Bootcamp helpful in prepping for the exam, while others prefer a different study method or like to prepare themselves.
Overall, DAT Bootcamp has been lauded with many positive reviews from the students and has an excellent success rate towards enabling students to achieve their target DAT score. But it is vital to consider the program cost and check if it fits into your budget.
Ultimately, the ideal way to evaluate whether DAT Bootcamp is worth your money is by carefully assessing your individual goals and needs for the DAT exam and considering Bootcamp's resources and support. You may also consider reading the reviews from other students who took this course to form a decision.
Ques 5. What is the best way to study for DAT?
Ans. Ideally, the best way to prepare for DAT depends on your preferences and learning style. However, some general strategies can make it fool-proof for the students:
1. Commence Early: Ideally, you must start prepping for the DAT well in advance. Starting three to six months before the exam can benefit.
 
2. Formulate a plan: Devise a study plan to cover the study material in advance, considering the available timeline and your success goal.
 
3. Employ multiple resources: Make the most of several study resources, such as online material, test prep material, and textbooks.
 
4. Take practice tests: Before the examination, get well-acquainted with what it looks like to take the exam by enrolling in practice tests and doing them in an exam-like setting. It will give you a feel of the exam format and help assess the areas that need improvement.
 
5. Focus on your weak areas: Spend time on the topics or sections you find challenging and help overcome this obstacle before the exam.
 
6. Get help: Seek guidance from instructors, test-takers, or professionals for valuable advice and insights.
 
7. Be constantly motivated: Set achievable goals and reward yourself for even little things to stay perennially motivated and positive across the studying process.
Overall, the key to success is staying focussed for months before the exam, combined with picking suitable study material, managing your time well, and familiarizing yourself with the exam content and format.
Related: Best Free Dental Certificate Courses
Final Verdict: Which One To Pick: DAT Booster Or DAT Bootcamp?
In our view, it can be a tough call. But, we would sum up by saying: If you need well-crafted study material like study notes and cheat sheets, opt for DAT Booster. The written material from the company is unprecedented.
In addition, if the perceptual ability is the area where you lag, DAT Booster should be a go-to, as it is their specialty, and their PAT tools are incredibly beneficial.
On the contrary, if on-demand problem solutions, video lectures, and realistic practice are what you seek, opt for DAT Bootcamp. They excel at these elements and provide an excellent self-guided prep experience.