Reading Time:
10
minutes
Mondly definitely is better than Duolingo's gamified learning experience. It offers better conversational practice in a traditional manner with effective pricing.
After deeply analyzing Duolingo and Mondly, we feel it is a close call between the two. Though Duolingo is more popular, we will tell you if you should pick Mondly or Duolingo.
The core program from both these platforms has many similarities, including a fun, game-like environment, short lessons, and an affordable price tag.
But, in our view, Mondly fares better in comparison. We love their VR and AR apps that make language learning fun and exciting. In addition, it is an exceptional tool for practicing conversational and pronunciation skills. 
Further, Mondly even does a better job with teaching and translations. So, for all these reasons, we believe Mondly ranks above Duolingo.
However, sadly neither of the two really provides enough in-depth practice that you probably need. Further, though the two may appear very similar, there are reasonable differences. What are these differences? Please read the guide as we discuss them below.
Is Mondly Better Than Duolingo?
| | | |
| --- | --- | --- |
| Attribute | Mondly | Duolingo |
| Price | $4 to $10 per month | $84 per year for the paid version |
| Learning style | Employs Gamification but has a contemporary learning style | Employs Gamification but has a traditional learning style |
| Languages covered | 41 | 40 |
| Grammar focus | Thin explanations | Light explanations |
| Voice recognition & pronunciation | Can be improved | Better than Mondly |
| Mobile app | Available | Available |
| User friendliness | Yes | Yes |
| Lesson length | 15 to 20 minutes | 5 to 10 minutes |
| User support | Excellent | Excellent |
| Visit | Mondly | Duolingo |
Is Mondly Worth Your Money?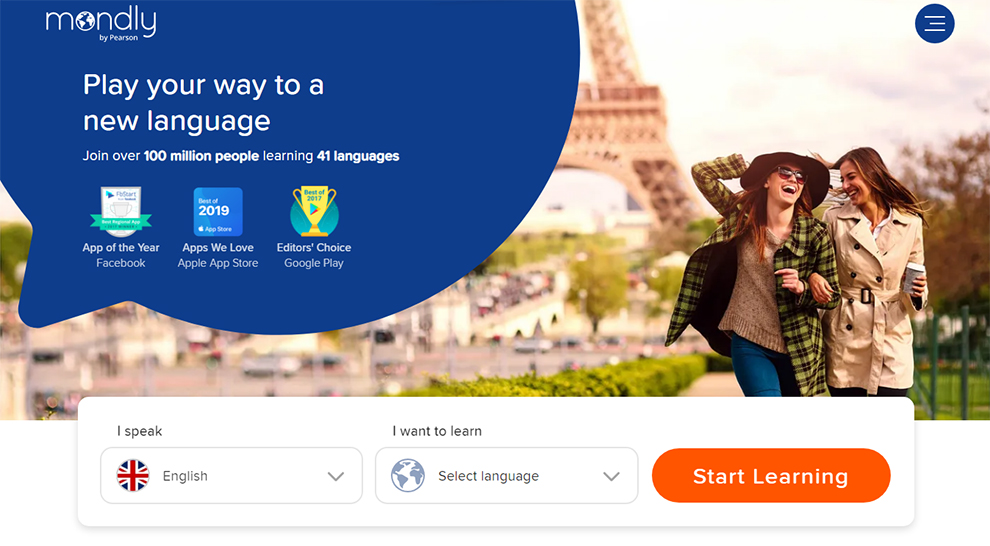 Yes, Mondly can be an excellent place to start if you are new to a target language. It has several helpful and useful phrases and vocabulary for beginner and lower intermediate students. They keep the lessons interesting, fun, and engaging.
Mondly is a popular language learning platform with a web-based interface and a mobile app for users interested in learning a language. They teach you 41 languages, and their courses are interactive and engaging, with various features to help you better your language skills.
The app employs a personalized approach that adapts to your progress and levels and delivers tailored lessons and feedback to improve your understanding.
They also have various drills to help you with different aspects of the language, like pronunciation, conversation, vocabulary, and grammar. Overall, it can be a good and affordable pick for students interested in learning a new language.
Pros
Cons

Lessons are short and go by fast.
You can opt for job-specific language courses.
Is better at correcting translations and employing natural sentences
Their unique AR and VR apps make learning engaging.

 

Not the best for advanced learners
Speech recognition can be better

 
Can you become fluent with Mondly?
Sadly, No!
Even though Mondly can be a beneficial learning tool, it is vital to understand you need more than just an app to attain language fluency.
While Mondly can give solid grammar knowledge and a vocabulary foundation, for fluency, you need to practice with native speakers, understand the context and culture in which the language is spoken, and practice it more.
Having said that, Mondly is a beneficial tool to improve your language skills, but you will have to put in more effort to attain language fluency.
For instance, you can take language classes, watch movies or TV shows in the target language, travel to the country where the language is spoken, and practice with native speakers.
Is Mondly free?
You can get both free and paid versions.
Mondly's free version is limited in features and lessons, whereas the paid version has more comprehensive features and content. In the free version, you cannot access over one class per day in your preferred language. These lessons will include interactive exercises, cover basic grammar and vocabulary, and help you practice speaking, listening, writing, and reading.
On the other hand, the premium version has a comprehensive learning experience with more lessons and advanced drills and exercises. You also get additional features like speech recognition, chatbox, and more.
 
What Is Duolingo?
Duolingo is a popular language learning platform. It provides free online language lessons in more than forty languages. It was launched in 2011 by Severin Hacker and Luis Von Ahn, and since then has gained millions of users globally.
The platform has designed its classes to be interactive, fun, and accessible to learners of all levels. They employ a gamified approach to help you learn a language, with features like achievements, points, and levels. These keep the learners interested for more.
They structure the sessions around different language skills and topics, such as speaking, writing, reading, grammar, and vocabulary. Each lesson has plenty of exercises like MCQs, matching activities, and fill-in-the-blanks that can help you practice various aspects of the language.
The company also provides bonus features like conversations with native speakers, stories, and podcasts. These allow the learners to better their language skills. Their adaptive learning approach custom designs the learning experience, tailoring it as per your performance to better your retention and keep you driven.
Overall, it is an excellent platform with multiple courses and features to attract learners of all levels. It is a good pick for beginner students interested in learning a new language in a fun and engaging manner before they can progress to more advanced courses.
 
Check out this detailed Duolingo review to understand Duolingo's offerings better.
 
">
Pros
Cons

You have a free plan to test the waters
Good variety of exercises and activities
Solid speech recognition
Regular review sessions to memorize what you learn.

 

A free version is limited and annoying with ads and mistakes
The mobile app can be better

 
Is there anything better than Duolingo?
Yes!
Even though Duolingo is one of the popular language learning platforms that has assisted and guided several students with their language skills, you can find better options in the market. Here are some popular alternatives that are a notch better than Duolingo or Mondly.
1. Babbel follows a simple gamified approach like Duolingo but focuses more on real-world conversations and grammar. They also offer personalized feedback and custom learning plans through real tutors.
2. Rosetta Stone employs a mix of immersive and visual techniques to streamline the learning experience. Their speech recognition technology can be beneficial to amplify speaking skills.
3. Busuu follows a community-based approach that lets users connect to native speakers and practice their writing and speaking skills. They also have plenty of vocabulary and grammar exercises.
4. Memrise uses mnemonics for a streamlined learning experience. They also have several memory games on various topics to make learning more enjoyable.
Ultimately, the choice depends on your learning capacities, preferences, and goals.
What are the disadvantages of Duolingo?
Some potential lows associated with Duolingo are:
They have exercises to practice speaking, listening, writing, and reading skills, but the focus on conversation practice is limited.
They do not have explicit grammar explanations.
Their vocabulary list is limited compared to the other platforms.
It is a 100% self-paced class without real human interaction, instructors, or native speakers. So, no personalized feedback.
Their difficulty level can be inconsistent. While some exercises are very easy, others are too difficult.
Detailed Comparison – Duolingo Vs Mondly: Which One To Pick?
Now let us compare Duolingo and Mondly on various parameters to help you pick one to match your needs.
A. Mondly languages vs Duolingo
Duolingo offers more languages than Mondly. Though the difference is not much, the choice depends on the language you wish to learn. If you want to learn a less prevalently studied language, opt for Duolingo, as they will have more options.
Duolingo offers around forty languages, including some of the more uncommonly studied languages, such as Swahili, Navajo, and Welsh. Beyond this, they also offer several popular languages like Chinese, German, French, and Spanish.
In addition, Duolingo also provides courses in some constructed languages like High Valyrian and Esperanto.
On the contrary, Mondly provides forty-one language courses, including some popular ones like Japanese, Chinese, German, French, and Spanish. However, they have relatively lesser uncommonly studied languages than Duolingo.
B. Mobile app
 Mondly has a better application than Duolingo.
Upon comparing the Duolingo vs Mondly mobile app, we found that Duolingo's most robust features are available on its desktop application, whereas its mobile app has some limitations.
On the contrary, there is not much difference between Mondly's desktop and mobile apps. Thus, you can enjoy a seamless on-the-go learning experience with Mondly, but the same is not possible with Duolingo.
C. Pricing
Mondly is a better pick if you choose the annual plan.
Affordability and pricing are vital factors for anyone finding it difficult to choose from Mondly or Duolingo. Both of them offer a free version, but there are limitations in their free plan.
In both companies, the content in the free version is limited. You will find several ads. Unless you are into some very cursory learning, they are useless. Consequently, people mostly decide to upgrade to paid plans.
In Mondly's premium plan, you get all their content and features across the available languages. You pay $10 per month or $48 per year if you take the annual subscription.
On the contrary, Duolingo has a Super plan that costs $7 per month or $89 per year. Overall, the prices are close in both these platforms, but Mondly has an edge if you sign up for the whole year.
D. Teaching style
Duolingo and Mondly employ gamification techniques to make the learning experience fun, engaging, and interactive. But you will find a difference in their language style and instruction.
However, comparing Mondly vs Duolingo's learning style, we found the former more interactive and immersive, whereas the latter's approach is more systematic and structured. 
Mondly focuses on teaching via various interactive, auditory, and visual elements. You can see chatbots, VR features, and speech recognition technology. All of this helps the students learn and practice speaking the language.
Broadly, Mondly offers a tailored learning experience wherein the app adapts to your learning style and teaches, bearing in mind your pace and progress.
On the contrary, Duolingo has a more traditional teaching style. They teach via listening, reading, writing, and speaking skills. Duolingo also employs space repetition, wherein the users get several targeted review exercises that help them memorize what they learned.
Both these approaches can be beneficial, but the choice depends on your learning style and preferences.
E. Grammar
Grammar is vital when you have to learn to speak a language. You will not be able to be fluent in a language if you do not know how a word is used. Currently, both Duolingo and Mondly are updating their apps.
But, sans the update, when we compare Duolingo vs Mondly, the former focuses on grammar more than Mondly.
Duolingo commences its session with a basic language introduction before taking you to complete statements and phrases. But the subsequent lessons cover verbs, adjectives, adverbs, and tenses.
On the contrary, Mondly starts with short phrases. They do not tell you how and where to use common words like une, et, un.
Further, a standout attribute about Duolingo is that if you incorrectly answer a question, Duolingo will repeat the same question after a while to help you improve your error.
Duolingo will also assess your speaking and listening abilities. Mondly does not check your speaking skills for the initial few lessons.
Overall, both apps focus more on conversational learning, and grammar building comes a close second. They teach grammar as a part of the language, and the focus on it is insufficient. But the forums from Duolingo can help you make up for this.
F. Speaking skills and pronunciation
Mondly and Duolingo provide features to help learners better their pronunciation and speaking skills. But Mondly does a better job than Duolingo in the variety and drills to improve pronunciation and speaking skills.
In Duolingo, the pronunciation practice is centered around employing speech recognition technology to help assess the learner's pronunciation accuracy. So, once you listen to a phrase or a word, you will read it aloud, and the app instantly provides feedback on this pronunciation.
In addition, Duolingo also has a listen-and-speak exercise. So, the learners will hear a sentence and then record themselves as they speak it aloud.
Mondly employs speech recognition technology to help learners better their speaking skills. Beyond the speaking and listening exercises, Mondly provides conversation simulations with the chatbots.
It allows the learners to gain ample practice in the target language. Such situations can enable the learners to acquire a realistic, real-world experience with the language.
But Duolingo or Mondly, which one is better? They are both beneficial platforms for improving your pronunciation and speaking skills, and their effectiveness depends on your expectations, needs, and preferences. However, we like Mondly's conversational approach better than Duolingo's.
G. SpecialFeatures
Mondly and Duolingo are popular language learning apps with several features to help learners better their language skills. However, comparing the Mondly vs Duolingo attributes, Mondly is richer in its offerings than Duolingo.
Mondly is a home to learn more than forty languages, and each focuses on improving your conversational skills by introducing you to several real-life scenarios. You receive daily language lessons on different topics, focussing on themes like work, travel, and food.
Their conversational simulations can help the learners practice real-life conversations with a virtual partner. It can help you improve your listening and pronunciation skills while elevating your fluency.
The chatbot feature by Mondly helps learners practice conversation skills with a virtual partner. It can improve confidence and fluency. Mondly's vocabulary builder helps learners boost their vocabulary skills with interactive quizzes and lessons.
Lastly, their speech recognition can help the learners improve their fluency and pronunciation by incorporating feedback from the AI on their speaking skills.
Duolingo is your go-to forum to learn forty languages. Their focus is on reading comprehension, vocabulary, and grammar. It has a gamified approach that makes learning fun and engaging for learners with multiple attributes like achievements, points, and levels.
Thanks to their adaptive learning technology, learners receive a custom learning experience that proceeds as per their progress and performance and helps better motivation and retention.
The platform offers various exercises, such as matching activities, fill-in-the-blacks, MCQs, etc., that allow the learners to practice the language better.
Duolingo ensures an immersive learning experience with stories and podcasts. It can help the learner improve comprehension and listening skills. Lastly, their social features, like forums and leaderboards, can help you connect with other learners and practice learning together.
Duolingo has more basic and traditional features, while Mondly takes a contemporary approach to excite learners.
H. Ease of use
Both have a clean and neat interface and allow seamless navigation.
Duolingo has a playful and colorful user interface that is easy to navigate. Their lessons are organized by difficulty level and topic, and users can view features like forums and leaderboards easily.
Mondly has a clean and intuitive interface and is easy to play around with. They organize the lessons by difficulty level and topics, and students can access the features like vocabulary builder and chatbot.
I. User support
Comparing the Mondly vs Duolingo support, we found that both companies provide excellent support via different channels, such as FAQs, emails, and community forums.
With Mondly, you get a comprehensive section of FAQ wherein you can find topics on everything from technical problems to payment issues and accounts. Users also have the option to contact the support team via email by filling out the contact form on the website.
In addition, Mondly has a responsive community where users can interact with other users who seek help from Mondly's team.
On the contrary, Duolingo also has a detailed FAQ section and a community forum that allows users to post their queries and get assistance from other users.
In addition, they also have a Help Center where they can get information on troubleshooting, account management, and other topics.
Overall, they both have a robust support system with plenty of options to contact the team.
Related: Babbel vs Duolingo |Memrise vs Duolingo | Rosetta Stone vs Duolingo| Mondly vs Babbel| Memrise vs Mondly
Final Verdict – Is Mondly Better Than Duolingo??
Even though Mondly is not the most comprehensive tool available, it is decent to start. If the choice has to be made between Mondly and Duolingo only, we will prefer the former.
Mondly ranks above for its top-quality audio recordings and better drills to improve your conversational language. But do not take our word. You can try both platforms.
They both offer a trial period for their paid versions. So, test the waters before committing to a course.