Even though Mondly has more languages covered, we choose Babbel over it for its quality lessons meant for serious learning.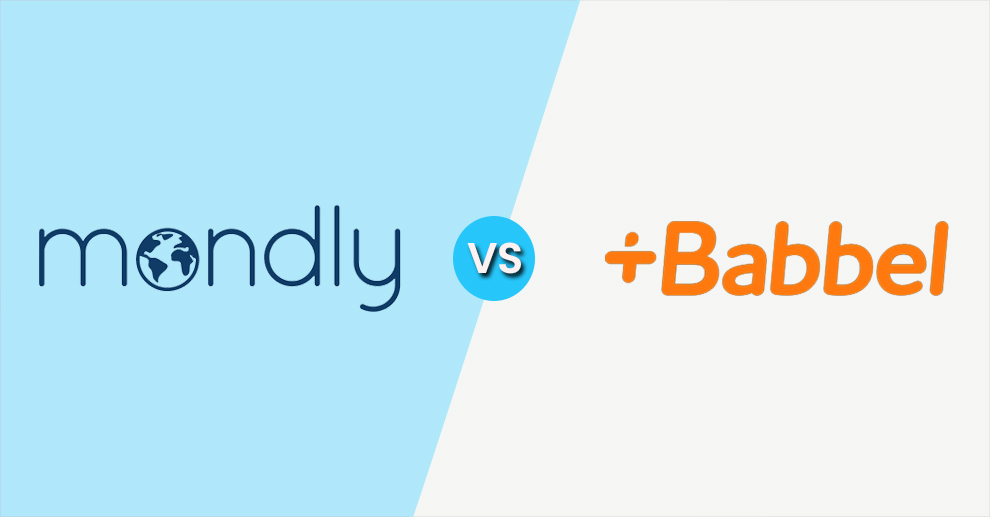 Learning a new language should not sound like a nightmare. To sail smooth through your learning journey you need to choose a platform that goes well with your learning style.
Today we will be reviewing two such common language learning platforms – Mondly and Babbel. With a closer look at the two, we will have to give our vote to Babbel.
Even though these two providers are similar in multiple aspects, between Mondly Vs Babbel, Babbel offers a more complete and better language learning experience.
We do not mean Mondly is bad. It has some notable features like AR and VR integrated lessons. In addition, their job-specific courses can help the learners greatly.
However, if you are serious about proficiency in the target language and wish to pick from Babbel and Mondly, Babbel is the clear winner.
Babbel makes grammar lessons their priority, and their classes go beyond the elementary level. Further, their live sessions are well-delivered and well-structured. Thus Babbel is the way to go.
Mondly and Babbel Comparative Overview
| | | |
| --- | --- | --- |
| Attribute | Mondly | Babbel |
| Price | Cheaper | Relatively more expensive |
| Refund | 7-days | 20-days |
| Languages covered | 41 | 14 |
| Grammar focus | Thin focus | Layered into the lessons |
| Lesson length | 5 to 20 minutes | 15 to 20 minutes |
| Voice recognition | Yes | Yes |
| Mobile App | Not as good | Excellent |
| Visit | Mondly | Babbel |
Which Is Better Between Mondly or Babbel?
Overall, even after being a little pricier, Babbel turns out to be better than Mondly. Let us look at its features in detail and understand why we choose it over Mondly.
A. Pricing
Babbel is relatively more expensive than Mondly.
Babbel and Mondly provide different pricing plans. Mondly has multiple pricing plans that start at $9.99 per month in case of a monthly subscription. However, if you go with the annual subscription, you will pay up to $47.99. Alternatively, you can also buy their lifetime plan, which involves a one-time payment of $199.99.
Babbel has a subscription-based pricing model. It starts at $12.95 per month if you buy the monthly plan. They have a yearly billing plan that costs $83.40. Alternatively, you can save further with their two-yearly plan costing $139.20.
Overall, comparing Mondly vs Babbel, it is clear that Mondly is more affordable than Babbel.
B. Refund
Babbel has a more generous refund policy, given its larger time frame.
With Mondly, you get a seven-day money-back guarantee on all subscription plans. So, if you do not like the experience or the features, you can contact the customer support team and request a refund within seven days of the subscription.
On the contrary, Babbel is more generous with its refund policy. You get a 20-day money-back guarantee on all their subscription plans. So, if you do not like the app features or experience, inform the support team, and you can get your money back within twenty days from the subscription.
C. Mondly vs Babbel – who offers more language options?
Mondly covers more languages than Babbel. So, if variety is what you are looking for, go for Mondly.
Babbel gives access to 14 languages, including Spanish, French, German, Italian, Portuguese, Swedish, Turkish, Dutch, Polish, Norwegian, Danish, Russian, Indonesian, and English.
On the contrary, Mondly offers forty-one languages, including Spanish, French, German, Italian, Portuguese, Swedish, Turkish, Dutch, Polish, Norwegian, Danish, Russian, Indonesian, and English.
In addition, you can also learn some less commonly taught languages, such as Arabic, Hebrew, Persian, Hindi, Japanese, Korean, Chinese, and many more.
D. Grammar focus
In Babbel vs Mondly grammar comparison, we feel Babbel does better than Mondly.
Babbel and Mondly both focus on grammar in their language courses. But, you will find differences in how each approaches the grammar instructions.
Babbel puts a solid emphasis on teaching grammar, such that it is easy to apply in real-life situations and is easy to understand. You get numerous interactive exercises covering different grammatical aspects, such as sentence structure, verb conjugation, and word order. Typically, the grammar lessons are integrated into the thematic courses, covering topics like everyday life, work, and travel.
Mondly also provides grammar instructions as a primary component of language courses. Typically, the lessons have topics like tenses, verb conjugation, noun, sentence structure, and declension.
You also get interactive features like speech technology and chatbots that makes grammar practice more immersive.
E. Lesson length
Both Babbel Mondly have short lesson durations.
Babbel focuses on enabling the learners to get well-acquainted with communication skills via interactive activities and exercises. They break down the lessons, where every session is 15-20 minutes. These lessons are bite-sized and easy to be accommodated into your busy schedules.
Mondly has interactive lessons, which help better your communication skills. They break the lectures into smaller units. The sessions usually range between 5 to 20 minutes.
F. Course structure
As for course structure, both Mondly and Babbel have a set of lesson-type formats. But Babbel has better structured and longer lessons, whereas Mondly's classes are shorter and focus on specific topics or skills. 
You will cherish Mondly's course structure for its gamification, use of augmented reality, and shorter lessons that focus on specific skills. But it lacks comprehensiveness.
On the other hand, each session of Babbel contains various interactive activities and exercises, such as dialogues, grammar practice, and vocabulary building. Babbel's courses are flexible, enabling learners to pick the areas and classes they wish to focus on.
Similar to Babbel, even Mondly breaks down the sessions into smaller lessons, but the exact length varies depending on the topic and language covered.
Their courses have interactive exercises with vocabulary practice, simulations, and grammar lessons. A standout feature of Mondly is the employment of Augmented Reality technology in the sessions to help the learners practice speaking via virtual characters.
G. Babbel vs Mondly levels
Mondly and Babbel have various language courses for learners in different levels, ranging from beginner to advanced levels.
Babbel has courses for beginners, intermediate, and advanced learners. For instance, if you begin with the first level, you work on grammar and vocabulary. As you progress to the more advanced levels, you will cover topics like colloquial expressions and idioms.
On the contrary, Mondly bifurcates its lessons into levels designed to help the learners develop skills in the specific area of the language.
However, Mondly follows a different approach from Babbel in their level progression. They do not have a linear progression from beginner to advanced level. Instead, they let the learners pick the areas and topics they wish to get acquainted with regardless of their current understanding.
H. Fluency
The choice here is clear between Babbel or Mondly. Babbel wins here as their lessons and content are ideal for people seeking to elevate their intermediate understanding of the target language.
Babbel follows a steady and gradual progression across its curriculum as it takes you to advanced topics. On the contrary, Mondly does not go beyond the basic level.
Even though Mondly claims to offer beginner, intermediate, and advanced levels, we do not see a clear difference between them, as the lessons in the advanced level are also quite elementary.
They predominantly focus on the past and present tense and do not progress to the more difficult past imperfect or future tenses.
On the contrary, Babbel advances beyond the basic stage. However, we do not think either will make you 100% fluent in the language, but we feel Babbel does a better job than Mondly. They can at least help you reach the intermediate level.
I. User interface
Babbel has a better user interface.
When we pit Mondly or Babbel against each other, we feel that the former's interface is a little clunky. So, if you like things more straightforwardly, you should opt for Babbel.
J. User support
Both have equally comprehensive support options.
Babbel provides different mediums to contact their support team. You can use the help center with FAQs and articles to find the resolutions of some frequent queries. They also offer email support and a community forum to help learners connect with the Babbel experts and each other.
Beyond this, Babbel provides personalized support via their Live feature that lets you book one-to-one sessions with professional tutors.
Mondly, too, provides various support options, such as email support, a community forum, and a help center. They also have personalized support via their Mondly Tutor feature, wherein you can book a one-on-one session with professional tutors.
As you can see, there is not much difference. So, if you wish to base your opinion on Mondly Babbel support, you can pick either, as they are both equally good.
K. Live classes
Mondly does not offer live sessions. You get live classes only with Babbel.
Please note that live classes from Babbel are not a part of their standard subscription models. They come at an extra charge, but they are worth the money and very good.
You get 100s of small group live sessions weekly across all the learning levels, covering different topics. Every session will have a maximum of six students, and the lesson lasts around 60 minutes. We love the diversity in these sessions.
For instance, if you are learning Spanish. The topics in the live lessons will go from Spanish holidays to local food in Guadalajara, weather, and the holidays.
This diversity can help you develop your language skills better. Thus, these live sessions are fantastic at helping you dive deeper into the language and get critical speaking practice. Verbal practice is beneficial for developing fluency, and there is no better way to do it than via live classes.
Mondly Review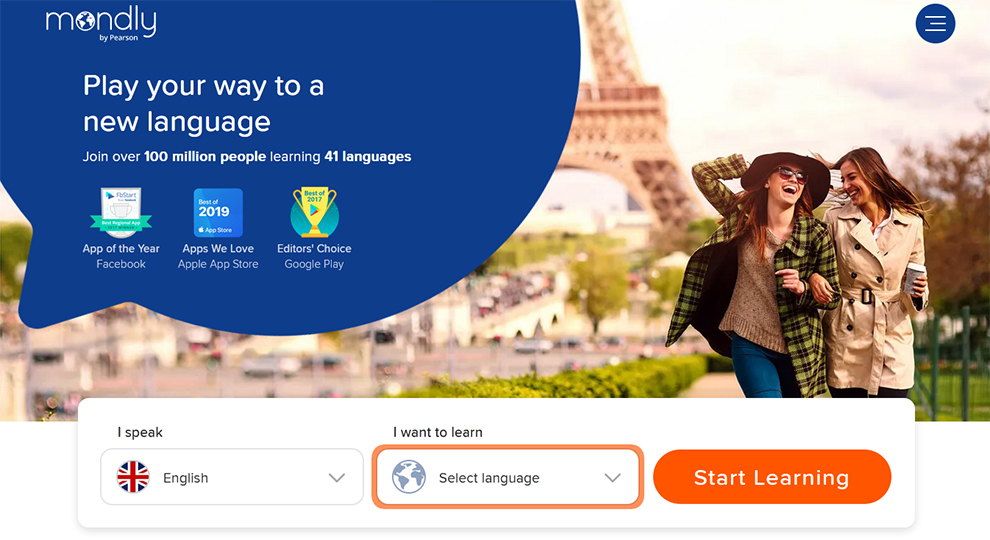 Mondly has been around since 2014. So, it has not been a long time, but via its efficient language learning programs, it is today considered a popular platform for learning a new language.
Their app is intuitive and easy to understand, but it sadly does not have that smooth feeling you will find in Babbel. Users get way too many options on what they can do.
Mondly believes it can help you learn a new language via its engaging teaching methods. They state they teach lessons that make sense in the real world, not abstracts you will never use.
One of the standout features of their app is that you can use it hands-free while you cook, job, or work out to enjoy learning as you multitask.
Pros
Cons

Short and engaging lessons.
Cheaper than Babbel.
Gamified and fun learning experience
VR and AR apps make language learning entertaining.

 

The user experience is not the best.
Lessons are basic and do not take you to the advanced level.
Not enough focus on grammar and speaking skills

 
Babbel Review
Babbel is one of the first language-learning apps. It has been around since 2007. Even though they were the first in the business, they did not rest on it and continued to work hard and get better with the changing times.
They claim they offer the shortest way to learn to communicate in a new language as quickly as possible. Babbel acknowledges that vocabulary is vital, but they focus more on your ability to converse over everything.
Seventy-three percent of their users state that they could meet their initial goals when they set up their account with Babbel, and the company takes immense pride in this achievement. They credit their success to the 10,000 hours of content they make available for learners in 14 languages.
Between Babbel or Mondly, Babbel is a solo language learning app that tailors as per your native language, helping you advance skills you are familiar with. It gives you an excellent headstart.
With more than one million active users, they are perennially growing. Sadly, they do not have a free plan and let you go through one lesson before paying for their subscription.
Pros
Cons

Speech recognition technology is fairly accurate.
Short review sessions can help boost retention.
The programs are well-organized and easy to follow.
Lessons are only 10-15 minutes long and go by fast.
You will find a variety of activities and exercises.

 

Relatively costlier than Mondly.
Lessons could offer a little more conversational practice.

 
Common Doubts You May Have About Babbel vs Mondly
Ques 1. Has anyone become fluent using Babbel?
Ans. Many Babbel users reported success in building language skills and optimizing their goals via Babbel. But gaining 100% fluency just with any app is not possible without practice.
But achieving fluency in a language needs higher proficiency and time. Also, it can vary greatly depending on various factors, such as the learner's dedication, practice, and prior experience with the language.
In addition, the language's inherent complexity will also make a significant difference. But Babbel can surely take you forward in the journey.
You can find many reviews and testimonials on their website from users who reported achieving language proficiency, employing new skills for travel or work, or passing an exam.
Ques 2. Can you learn a language with Mondly?
Ans. Yes, you can learn a language with Mondly. They have over 40 language options and employ various interactive techniques and features to help you build your language skills.
You will find various activities and exercises covering all aspects of language learning, including conversation practice, grammar, pronunciation, and vocabulary.
The platform also utilizes AI technology to customize your learning experience and adapt the lessons according to your progress and needs.
In a survey, Mondly reported that learners who completed only ten hours of their language courses saw an average improvement of thirty-three percent in their language skills.
But please note learning a new language is a complex, time-consuming process that demands persistent dedication, effort, and hard work. Be it any app Babbel Mondly or any other,  your success will depend on your commitment and dedication to the process.
Ques 3. Is it worth paying for Mondly?
Ans. Yes, as stated, Mondly gives a beneficial experience in learning a new language. Thus, it is worth your time, money, and effort.
Ques 4. What is the success rate of Babbel?
Ans. Ninety-two percent of the learners who enrolled in Babbel saw an improvement in their mastery of the language after just five hours of using the platform.
Babbel also boasts a high user retention rate, with many learners continuing to use the platform for months or even years to build their language skills.
Ques 5. Is Babbel hard to cancel?
Ans. Babbel has a straightforward cancelation process. You can easily do it via your account settings. However, please understand Babbel offers subscription plans with varying commitment periods.
So, if you signed up for the package that has a yearly commitment, you will have to wait until the period ends to cancel the subscription.
Follow these steps to cancel your subscription:
Log in to your Babbel account.
Click on your profile icon in the top right corner.
Select "Account" from the drop-down menu.
Under the "Membership" section, click "Cancel subscription".
Follow the on-screen instructions to confirm the cancellation.
Please note if you cancel the subscription before the current billing period, you will still have access to the Babbel till the end of the subscription window. Once that ends, your subscription stands canceled, and you won't pay a penny.
Related: Mondly vs Duolingo | Busuu vs Babbel | Bebbel vs Rosetta Stone | Pimsleur vs Babbel| Memrise vs Mondly| Fluenz vs Babbel
Final Verdict: Mondly or Babbel: Which is better?
We feel that Babbel is a significantly better option than Mondly. Even though it does not offer as many options as Mondly, its content is more advanced and can help you get better at a language than Mondly. Its grammar and vocabulary lessons are designed to help you amplify your skills faster.
Mondly can be for you if you are a beginner. Its lessons are engaging with its gamified interface, but it won't meet your needs if you aspire to use the language in real-world situations.
Hope this settles the Mondly Babbel debate for once and all.