Reading Time:
9
minutes
Music classes with video lessons
Knowledge of music theory makes it easier for musicians to communicate their ideas and create better tunes. Music theory not only covers rhythm and melody but also tells you why the music works the way it does.
Once you acquire the fundamental understanding, you will be familiar with every song movement and write music seamlessly. But it won't be easy and demands technical learning. To help you start, here are some online music theory courses that can help.
Why this course: We chose this course because it is presented to you directly by Berklee School of Music. It is one of the most prestigious institutes and the course is taught by several instructors who are the best in their field of work.
Moreover, once you finish this class, the instructors have it all figured out for you. You can get suggestions on the niche or programs you can pursue further. Hence, if you are interested in music, this online music theory course can be your entryway into the field.
What's there to like?
You have a choice between non-credit and three-credit tuition. Naturally, the former is cheaper.
You will have access to their interactive and responsive community comprising learners. You can collaborate with them, write, read, and hear the musical elements like never before.
It has a pre-assessment musical quiz to help you understand your current level.
Things you may not like
This is a premium course, so not too friendly for your pocket.
About the course
You will learn various aspects of musical theory, scales, pitch, chords, intervals, rhythm, and harmony. Hence, this session can help you familiarize yourself with all the foundational concepts required to understand and master. It is a twelve-week online music theory class comprising interactive and engaging lessons.
In this course, you will find several interactive tools and class discussions. Also, as you work on the projects and exercises and apply your learned concepts, you will receive personalized feedback that can help you improve daily.
Once you complete these online music theory lessons, you can write a melody, play notes on a piano keyboard, and read and write musical notations.
Prerequisites
Some requirements associated with this class are:
There are also some software and other requirements for this best online music theory course. These include:
Related: Online Free Music Production Classes| Music Marketing Courses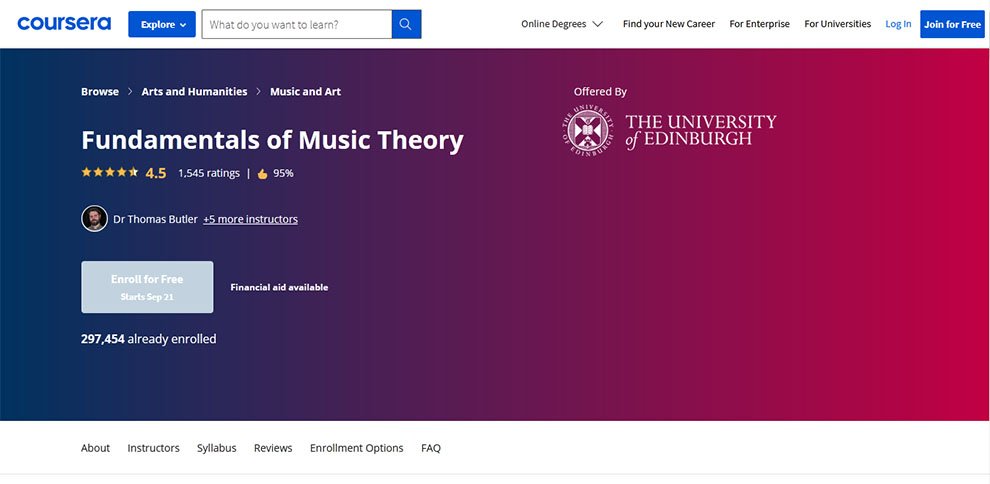 Why this course: Over 296,879 students have taken these music theory lessons online and reviewed them pretty well. Another noteworthy thing is that this course is up-to-date and has a high rating.
What's there to like?
It has been revised recently to include all the newest musical theory concepts.
It is a self-paced class with flexible deadlines.
You bag a shareable certificate after finishing the course.
You can start instantly at your time and schedule.
You can get financial aid if you need support.
Things you may not like
1. Some of the explanations in the class are complex for beginner learners.
About the course
In this online music theory course, you will acquire the skills to write and read Western music notation and analyze, understand, and listen to music. As part of this class, the instructor will cover the clefs, scales, intervals, meters, pitches, form, rhythm, cadences, phrases, fundamental harmony, and time signature.
It benefits both beginner and advanced learners because it takes you from the Western music theory fundamentals to the most advanced concepts.
Reviews by MM.
"
As a Buzzok player and a software engineer, this course encourages me to play my instrument differently and to think in a new web application for music discipline !!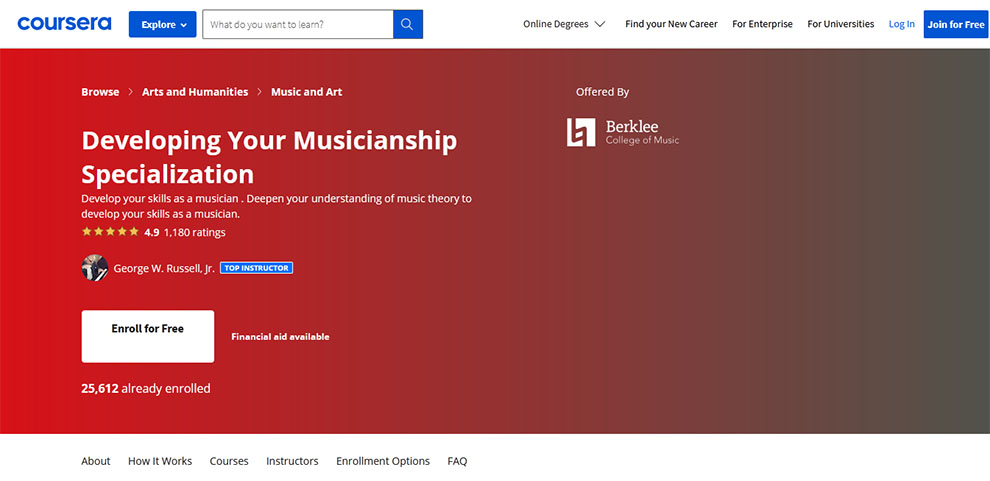 Why this course: This course is for beginners presented to you by the Berklee College of Music. So, you are in for a top-notch learning experience. Moreover, this class covers all the important topics to help you get started.
What's there to like?
It commences with the foundational music concepts and builds up your understanding of the more advanced topics, providing the knowledge to improve your musical skills.
You will bag a certification with this online music theory class.
It is a hands-on class wherein you put your learnings to practice.
Things you may not like
It is too long and takes five months to complete.
Some assignments are way too complicated.
About the course
You will learn to identify chord progressions, chords, and musical intervals. The instructor will ensure you write and practice all the minor and major scales in different keys. Once you finish the course, you will be in a position to compose a 12-bar blues with a melody and define the harmonic function and modal interchange.
There are four online music theory courses in this specialization. After finishing, you will work on a Capstone project wherein you will apply the acquired knowledge and perform a short musical composition.
Prerequisites
Though it is a beginner-friendly class, it will help to have familiarity with elementary music notation. In addition, you also need access to a piano or a keyboard.
Reviews by RG.
"
The course was fun to do, George is an excellent teacher. Liked the highly interactive nature of the course, and importantly I picked up some new things to expand my playing .
Why this course: It is an excellent online music theory class to learn about the basics of music. You can take this course as a standalone or a stepping stone before progressing to advanced classes.
What's there to like?
You will study with Bruce Taggart, Associate Professor of Music Theory at Michigan State University, in the College of Music, where he has trained graduate and undergraduate students since 1996.
It comes with flexible deadlines. So you can start and end at your pace and schedule.
You will earn a shareable certificate with this class.
Things you may not like
Some quizzes do not work, and getting help in a recorded session is hard.
The instructor's pace is pretty fast.
About the course
It is a brief class that introduces you to the music theory basics and is suitable for people with little to no music theory experience. In this online music theory course, you will study the meter, pitch, notation, rhythm, key signatures, keys, scales, seventh chords, meter signatures, elementary harmony, and triads. Anyone aspiring to listen to or play music by ear will enjoy this class.
Once you complete this session, you will be well-versed with all the minor/major keys and know how to write and read in treble & bass clef with rhythmic values and standard meters.
Reviews by DK.
"
I've found this course a very straightforward and helpful way to learn the basics of music theory. Prof. Taggart explains the material in a straightforward way.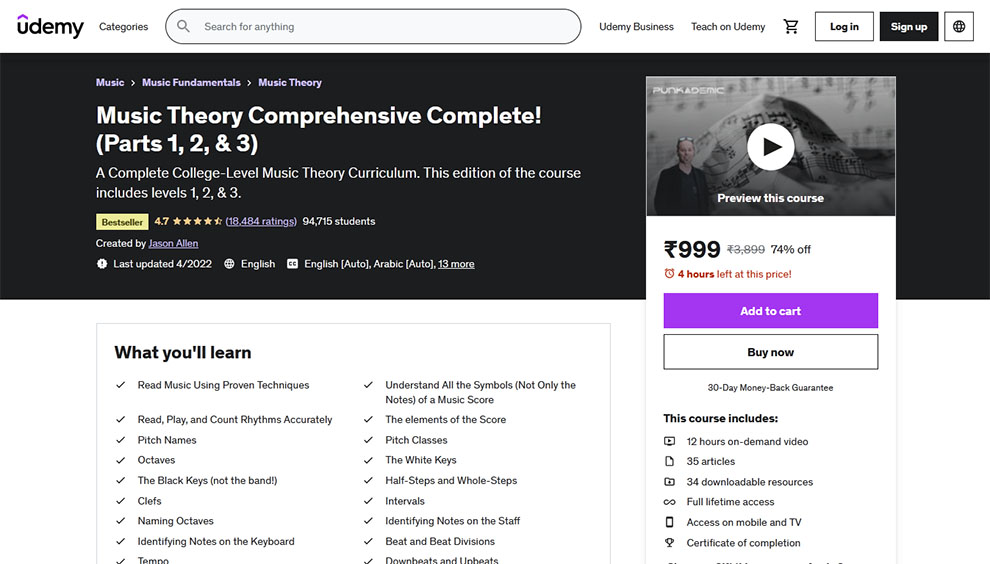 Why this course: There are no prerequisites to taking these online music theory lessons. Also, it has celebrated reviews and excellent ratings.
What's there to like?
The tools required to learn Music theory are covered in this class, and the whole session is based on real-life experiences.
It is a complete class with Levels 1, 2, and 3 covered in their entirety.
You will study with Dr. Allen, a professional musician, top-rated Udemy instructor, and university professor.
The instructor has a 100% answer rate. He will solve questions within 24 hours.
It is 5-Star Certified" by the International Association of Online Music Educators and Institutions (IAOMEI).
Things you may not like
The course lacks structure as compared to other courses.
The class progresses very slowly.
About the course
In this detailed class, you will study everything you need to know about musical theory. The session teaches you how to read music with proven techniques. You will also learn how to read the symbols of a music score, read, play, and count rhythms accurately, and understand the elements of the Score.
In addition, you will also be acquainted with the octaves, pitch classes, pitch names, the white keys, clefs, half-steps, whole steps, tempo, beat and beat divisions, and so much more.
This comprehensive online music theory class can help you prepare for the Praxis II Test (ETS Praxis Music), The ABRSM Music Theory Exam (up to Grade 8), AP Music Theory Exam, College Placement Exams (Music Theory), and other common secondary and post-secondary placement exams.
Reviews by Gaby V.
"
A good repetition of things I learned long ago. Very refreshing.
Why this course: Opt for these online music theory lessons because there are not many top-notch intermediate classes. So, this one stands out.
What's there to like?
The class has several examples and practice assignments to give you a hands-on learning experience.
You will bag a certificate after you finish this class.
You will study with Marc Lowenstein, a top instructor.
Things you may not like
1. The instructor uses slang language, which can be off-putting for learners.
About the course
You will learn about how music works in this online music theory class. You will study the relationship between aesthetic and technical details associated with music. It is also a class about developing soulful theoretical word knowledge to help you think and talk the musical way. By learning the vocab, you will appreciate the music better.
You will understand the pop, modern, classical, ancient, and jazz styles. It will benefit composers and musicians hoping to build a deeper understanding of musical theory to improvise, compose, and perform.
Prerequisites
Before commencing this class, you must know music notation basics.
Reviews by JS.
"
Lecturer is very skilled in his lecture delivery. Thank you sir for teaching such a nice course.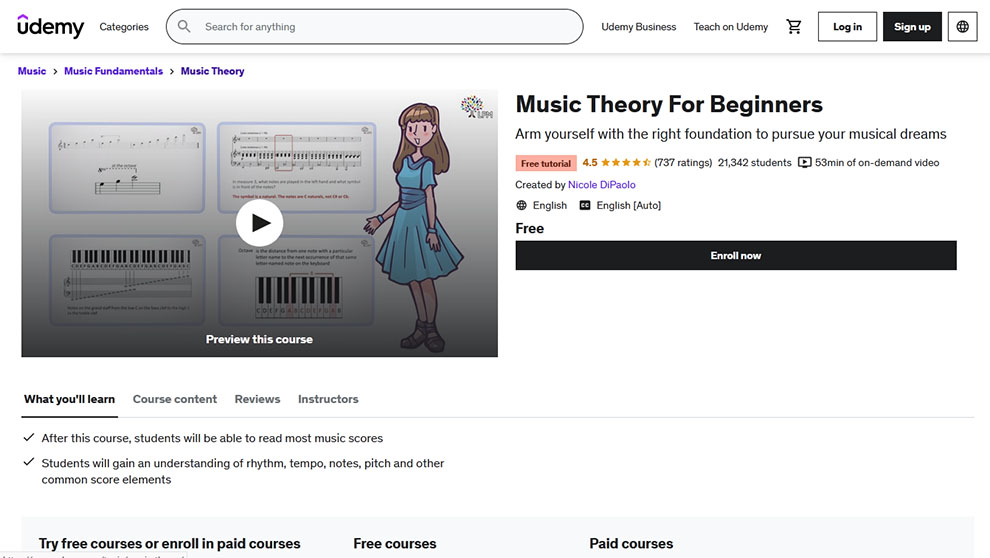 Why this course This is the best free online music theory course for beginners that provides you with all the required knowledge about musical theory. After this class, it will be easier to assess whether you must opt for a paid session or not.
What's there to like?
There are no prerequisites associated with this class.
It is a crisp and short class without any fluff.
Things you may not like
There is no certification.
It is a very fast-paced class.
About the course
Once you finish this class, you can read and understand music better. In this lecture, you will understand different elements of the music score. The instructor will guide you on all the fundamental theoretical topics step-by-step.
It has detailed video music theory lessons online with various practical examples to help you apply your theoretical knowledge. It is a week-long class. Once you finish it, you can translate the symbols on the music score into melodies on an instrument.
Reviews by Paunluck S.
"
Clearly explained and this is what I want to learn about fundamental music theory. Thank you a million for creating such a wonderful online lesson.
To Sum Up
So, these are our top choices for music theory classes. They are all excellent courses and will help different kinds of learners, depending on individual needs. You can browse through them and assess whether it satiates your needs and make your selection.
Frequently Asked Questions
Ques 1. Do all musicians need to learn music theory?
Ans. Yes, every musician needs to understand music theory in order to find his style and create music. It is evident in how they compile the songs together, especially if they are technicians or instrumentalists.
Ques 2. When should you start learning music theory?
Ans. There's no best age to learn music theory, but you can enroll your child in an online music theory course anytime between the age group of three to eight.