Reading Time:
12
minutes
Now that you're here looking for courses to learn to play the violin, let us start with something that will blow your mind – Well, have you ever thought that in reality, you somewhat already know how to play the violin.
How? See, every single movement needed to draw the bow on the strings or hold the violin is already known to you. These movements are utilized regularly in your daily life.
So, to pick on this incredible skill, all you need is the knowledge to connect these movements necessary to play the violin. For that, you must get assistance from violin experts.
To get that, you can enroll in a good training program online. The problem is if you go around looking for best violin classes online, you will find yourself in an overwhelming mess, full of options. Of the abundant options, how do you pick one best violin training online? Well, fret no more.
Our team at TangoLearn sat down with some of the proficient experts and scoured through 100s of violin courses. Then based on four parameters:
What the course brings to you – Certification, learnings, resources, risk-free guarantee, value for money
The price you pay for the course
Reviews and ratings on the course from students who have availed of the course in the past
Experience and the knowledge of the person taking the course
We hand-picked the 30 violin courses and further narrowing them down we bring you the 10 best violin courses addressed below.
So, now, let us get started and talk about them one by one.
Best Violin Courses Online
10 Best Online Violin Lessons That Train You In Days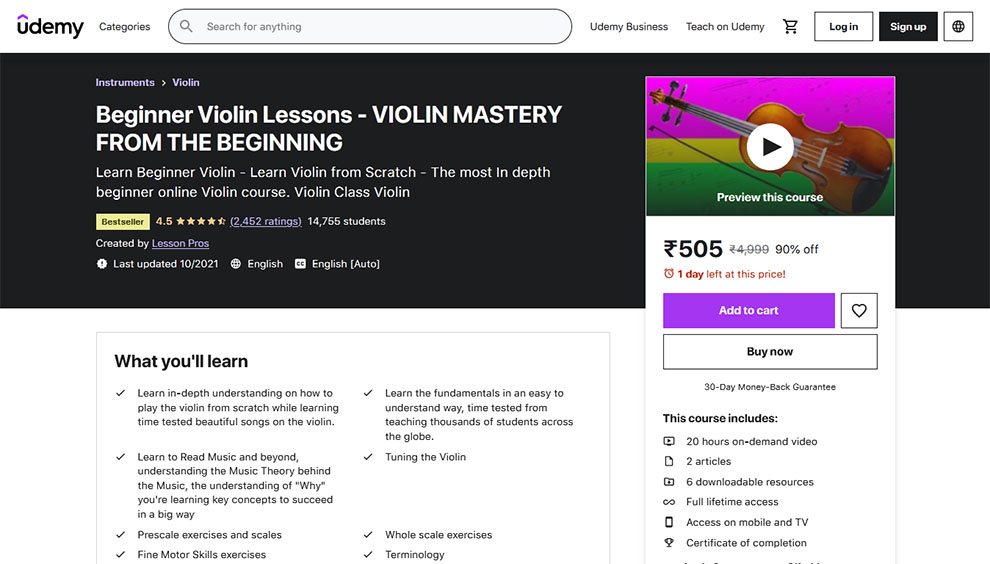 | | |
| --- | --- |
| Rating | 4.5 |
| Enrolled | 14,643 students |
| Duration | 20 hours on-demand video |
| Instructor | Lesson Pros |
| Certification | Yes |
| Paid | Yes |
| Return or refund policy | 30-Day Money-Back Guarantee |
| Cons | In several instances, the energy of the tutor seems out of sync. That can be off-putting for some students. |
This violin training online by Udemy is a bestseller course. It is also one of the most comprehensive beginner-friendly violin courses online. In addition, the course has been recognized by the Minnesota Music Hall of Fame, Recorded in Nashville with Grammy Award Winner.
Across the course, you will be explained everything in-depth. The instructor has made it easy for you to learn Violin faster with his brief and bite-sized lectures. Another great thing about the course is that the instructor is incredibly responsive. All your doubts and queries will be resolved immediately.
Learning Outcomes
In these violin classes online, a few things that you will learn are:
Having an in-depth understanding of playing a violin from scratch
Testing beautiful songs on Violin
Prescale exercises and scales
Reading Music
Whole scale exercises
Fine Motor Skills exercises
Studying music by yourself
Violin fundamentals in the easiest to comprehend manner
Knowing the right way to read music
Understanding the music theory
Understanding 'why' behind some violin concepts
Tuning the Violin
Whole scale exercises
Violin Terminology
Beginning Music Theory associated to the Violin
Learning Vibrato
Prerequisites
These best online violin lessons are beginner-friendly. So, no prior experience or skills are needed. All you need for this course is a bow and a violin.
However, Violin is a skill you perfect over time. Hence, practice is the key. The greater time you put into practice, the better you will be. Moreover, it would help if you were motivated to learn new things.
Who should take this course?
These violin classes online are meant for beginner players who wish to better their violin skills or improve them. In addition, people who wish to enjoy the instrument will also appreciate the course.
Finally, musicians and performers will also benefit from the course. Overall, this course is suitable for people from all age groups.
In addition, this is one of the best violin courses online for:
A violin player who wishes to relive their love for Violin
Anyone who has been making excuses like, 'I have fat fingers, I cannot learn violin.'
Anyone who trained in Violin before but is still not confident enough
Anyone who wishes to take up a new hobby
Anyone who likes to learn but feels they are not talented enough
Anyone who would love to meet new people
Review Silvia Mendes-Morriello:
"
I am really enjoying this course. The teacher goes in depth and give useful tips to ensure you learn the right way. I highly recommend.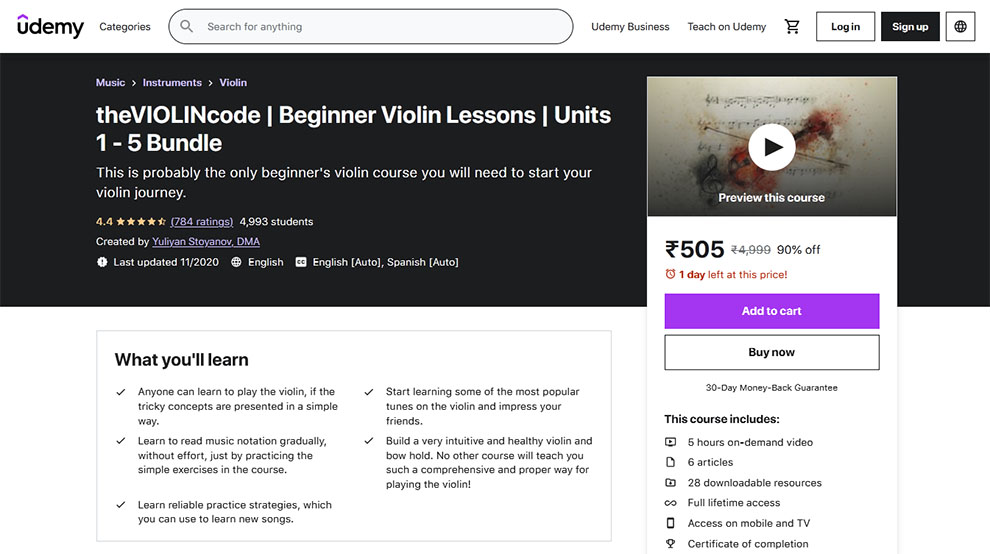 | | |
| --- | --- |
| Rating | 4.4 |
| Enrolled | 4,979 students |
| Duration | 5 hours on-demand video |
| Instructor | Yuliyan Stoyanov, DMA |
| Certification | Yes |
| Paid | Yes |
| Return or refund policy | 30-Day Money-Back Guarantee |
| Cons | The instructor should detail further on the G D A and E. |
This is one of the best online violin lessons, and the instructor claims that there is possibly no course on the internet that can teach you violin in such a detailed and comprehensive manner.
This course teaches you to be a pro violinist from the comfort of your home, irrespective of your physical capabilities, age, or innate talent. So, if it is your sincerest yearning to learn to play the violin, it can be fulfilled with this course.
Your expert for this violin training online will guide you through every step and help you become proficient at this skillful art. We find this course useful because, across the course, you will find brief lessons that are easy for you to focus on. There is a gradual introduction to every technique.
So, with these violin classes online you will go from basic to advanced, step-by-step. More so, it is a self-paced, 100% online course. Hence, only after you are certain that you are thorough with the previous lesson will you move to the next.
Every concept is explained insightfully. There are also exercises in the course, which will give you ample practice. The instructor has followed a structured learning pattern, which makes grasping concepts easier.
Learning Outcomes
A few things you will learn in these violin courses online are:
Tricky concepts related to violin
Playing popular tunes on the violin
Reading the musical notations
Developing an intuitive violin and bow hold
Reliable practice strategies to learn new songs
Prerequisites
It is the best online violin lessons that is beginner-friendly. So, you need no prior experience to take the course. There is also no need for you to possess note-reading skills to start the course. Everything will be taught in this course.
However, this is one of the best violin courses online and will require:
A bow and a violin
Willingness to practice at least half an hour every day
A positive mindset
Who should enroll in these violin classes online ?
This violin training online is suitable for:
Adult learners who appreciate logical and detailed explanations
Violin teachers who aspire to learn new techniques and tools for their knowledge application
Parents who wish to impart the knowledge of violin in a simplistic manner to their kids
Students who want to learn violin but do not want to commit to face-to-face and regular lessons
Review Gary Harper:
"
I've still got a LONG way to go, but this is a great beginner course that introduced me to playing the violin. Greatly recommended as a starting point. Great teacher.
| | |
| --- | --- |
| Rating | 4.5 |
| Enrolled | 2,495 students |
| Duration | 2.5 hours on-demand video |
| Instructor | Laurel Thomsen |
| Certification | Yes |
| Paid | Yes |
| Return or refund policy | 30-Day Money-Back Guarantee |
| Cons | A little more technical approach across the course should have been helpful. |
This is another one of the best violin classes online, which comprises 17 play-along tracks and 38 hands-on video lectures.
Across this class, you will be familiarized with the systematic vibrato method, which will take you from the viola, violin, or a fiddle student, sans any knowledge or experience, to a consistent, expressive vibrato in just three to six months.
On the other hand, the experienced players will acquire the new skills to better vibrato technique while learning to be consistent and produce variety.
Learning Outcomes
These best online violin lessons will teach you an array of things. These include:
Developing a beautiful and consistent vibrato
Historical and modern applications of vibrato
Fixing the vibrato issues, which might be holding you back in the past
Going from the basics to the advanced concepts in violin playing
Demystifying vibrato
Understanding and applying the apt vibrato for every musical situation, genre, and phrase
Learning the issues with the 1st or 4th fingers
Ideas for musical interpretation
Uncover the modern and historical application of vibrato along with vibrato warm-ups
Knowing which is the right vibrato to fiddle airs and waltzes
Including a dose of cool with a Blues and Rock vibrato technique
Troubleshoot and fix issues common with students trying to learn vibrato
Knowing what makes you sound out of tune
Fixing when the vibrato is too fast or too slow
Prerequisites needed for successfully learning vibrato
Eliminating the issues in form, cohesiveness, initiation, and continuous vibrato.
Knowledge of the different vibrato styles
Prerequisites
To undertake these violin classes online, you will need:
A viola or violin and a bow
Understanding of rhythm or timing
Good intonation, that is, the ability to play a tune
Metronome
Who should take this course?
This is one of the top violin courses online for:
Violin and viola students with some prior experience and knowledge to play tunes
String teachers who want to master and develop a systematic approach for vibrato and pass it along to their students
Bass or cello students who want to learn a method to learn vibrato to apply to the instruments
String players who want to add intensity, color, beauty, and passion to their music
Review Janpeace :
"
Yes it's very well paced and very underrated course. Thank you.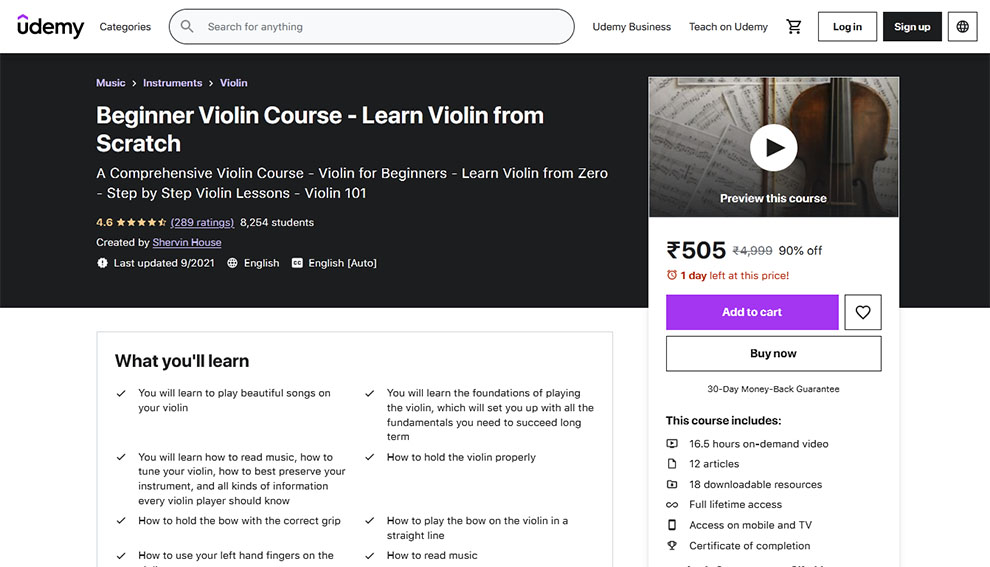 | | |
| --- | --- |
| Rating | 4.5 |
| Enrolled | 8,213 students |
| Duration | 16.5 hours on-demand video |
| Instructor | Shervin House |
| Certification | Yes |
| Paid | Yes |
| Return or refund policy | 30-Day Money-Back Guarantee |
| Cons | The instructor could make the voice recording slightly louder. |
Have you been struggling to learn violin by yourself? Are the private lessons feeling too pricey and time-consuming? Do you need an all-inclusive and one of the best violin classes online?
Well, this is the course for you. This Udemy course is truly one of the best courses for beginner violin players. This is an in-depth course that gives you a relatively similar experience to one in a private class.
An excellent thing about these classes is that there are exercises and training materials included in the course, making learning easier at every step. Across this course, you will work on 17 songs, which go from easy to complex level to ensure that you experience a new challenge with every course.
Learning Outcomes
There are a bunch of things you will learn in these violin classes online. A few of them include:
Learning to play beautiful songs on your violin
Understanding the foundations of violin playing
Playing Legato
Reading music
Tuning your violin
Preserving your instrument
Every detail necessary for a violin player
Understanding the correct technique for the bow
Knowing how to hold the violin properly
Playing the bow on the violin in the straight line
Playing open strings
Using your left-hand fingers on the violin
Playing Stacatto
Managing the bow
Playing simple songs
Changing the violin sound too soft or loud with the bow
Playing all beginner-level songs
Performing a pizzicato
Playing accents
Playing some complicated songs
Counting the rhythm
Playing an upbeat
Performing the dynamics in the song
Performing vibrato
Tuning the violin
Performing tempo and a rit.
Performing intermediate-level songs
Finding sheet music online
Using the metronome beats
Prerequisites
It is one of the top violin courses online for beginners. You do not need any prior experience for the course. Every material required for the course is already included in it.
Who should take this course?
This course is suitable for:
Beginners
Anyone who aspires to learn violin but has never played one
People from all age groups who want to learn this skill
Anyone seeking a comprehensive violin course on a budget
Anyone who has always believed that playing the violin is too hard
Anyone who believes they are not good enough for the skill
Review Alexia Edwards :
"
I like how clearly he explains everything. Super excited to learn!
Bonus Violin Classes Online 
The next one on our best violin courses online list is a masterclass by Itzhak Perlman. It is a comprehensive and well-rounded violin training online, which comprises 17 video lessons that span over 4 hrs 13 min. It is an excellent course for learners who need a complete course to familiarize themselves with violin training.
Skillshare, too, has a plethora of violin classes for you to choose from. From the abundant options, you can pick one course that fits your needs. For making a selection, you can segregate the classes based on level or class duration and then choose one that best appeals to you.
Some of the notable best violin classes online with Skillshare include: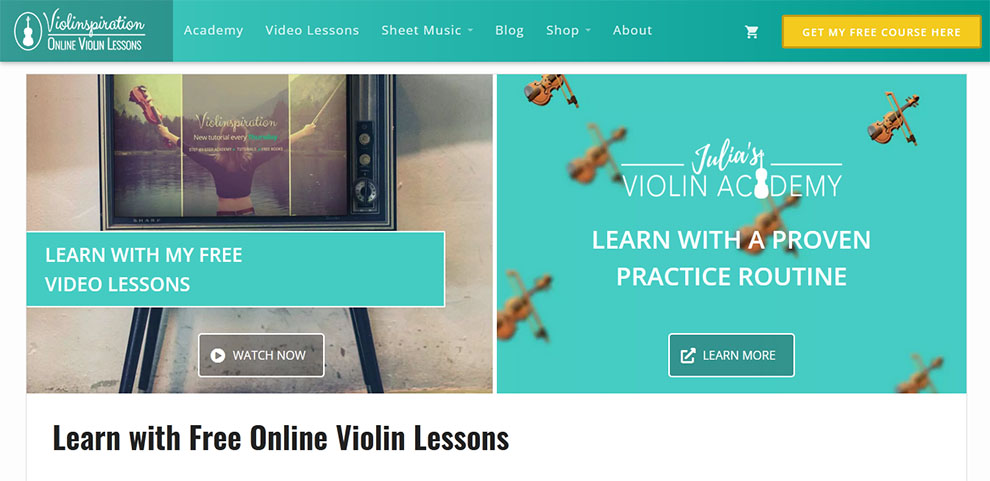 Need one of the best free violin classes? You have arrived at the right place. You can find an array of beginner-level, intermediate-level, and advanced-level best online violin lessons on this platform. This platform is an incredible way for you to develop a solid foundation of violin at zero cost.
Beginner Classes
Violin Inspiration has enough classes for beginners to practice for days without any stop. Here are some of the best lessons we found on their platform:
In addition to learning the tunes, you will also learn:
To have the proper bow hand grip
Perfectly placing your hands in the correct position
Playing songs in tune
Best Violin Classes Online for Intermediate-level
My Violin Inspiration also has an array of courses for intermediate-level learners. A few of their best courses include:
You qualify for the intermediate level best online violin lessons, if:
You now want to work on longer songs
Your wish is to learn some bowing techniques – such as playing different notes on one bow stroke
Complicated fingering with the bow and violin
Changing strings effortlessly
Advanced Violin Classes
Once you are through with the above levels, you can head to the advanced classes.A few of the best ones on the platform include:
You are never too old, and it is never too late to learn a new skill, and that is precisely the objective of these best online violin lessons. This platform has an array of classes that can help you understand the drill as a skillful adult learner.
Learning Outcomes
The violin courses online at the platform will teach you:
How to buy your first violin
Tuning your violin
Bowing properly
Playing scales
Familiarity with beginner-level tunes
Prerequisites
For these violin classes online, you need:
Willingness and motivation to learn
Violin
Chinrest
Shoulder rest
Violin bow
Violin case
Music stand
Rosin
A lot of time, dedication, and practice
Intermediate-level Classes
You can start with their intermediate-level violin courses online, when:
You are comfortable with the violin posturing
You know the proper bow hold
You can play a decent sound
You are fluent at bowing
You can tune in different finger frames and first position
You aspire to learn position play, vibrato, and advanced bowing techniques
Advanced-level Classes
You can take these classes when you are comfortable with:
Playing in different positions
Vibrato
Different bow techniques, such as staccato and spiccato
Overall, the platform has 1500 best online violin lessons. So, you can take a good look at their available lessons and find one that fits your needs.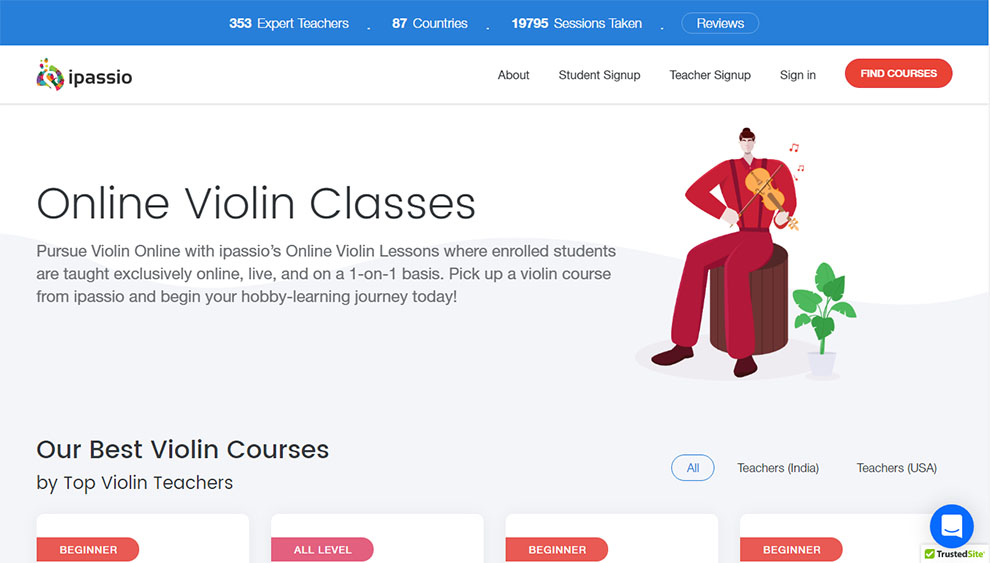 In Ipassio's best violin classes online, you will find several one-to-one online classes for students to aspire to learn violin. These classes are taken live. You can pick from their extensive selection of courses and start your proficient violin player journey.
A few of their top-recommended lessons with violin training online are:
Richard Amoroso has crafted an extensive selection of violin courses online, and students have unlimited access to their interactive sessions, including the play-along tracks and the sheet music. With these classes, you can learn to play classical violin from a virtuoso.
The course also comprises fundamentals of violin playing. You can also find an array of the cross and bowing string exercises and lessons on shifting Etudes & solo repertoire.
An excellent thing about the violin classes online on the platform is that you can submit your recording for review via their ArtistWorks Video Exchange Learning® platform.
Your instructor, Richard Amoroso, will personally review every submission and submit feedback in the video form. So, you will get tailored guidance and feedback on your submissions.
Students also have access to the Video Exchange library, wherein they can watch the interactions of other students with the trainer. They have a perennially expanding library, which will unfold many secrets to efficient violin playing.
Related: Best Saxophone Lessons, Online Singing Classes, Piano Training, Drumming Lessons Online, Guitar Lessons
 
Conclusion
So, these are the top ten violin classes online, according to us. We hope you were able to find the best online violin lessons for yourself from our above-listed violin courses online.
Happy Learning!

Best Violin Classes is rated 4.5 and reviewed by 12 Violin Experts & 25+ Violin Classes Students