Berkelee Music Marketing deserves all your attention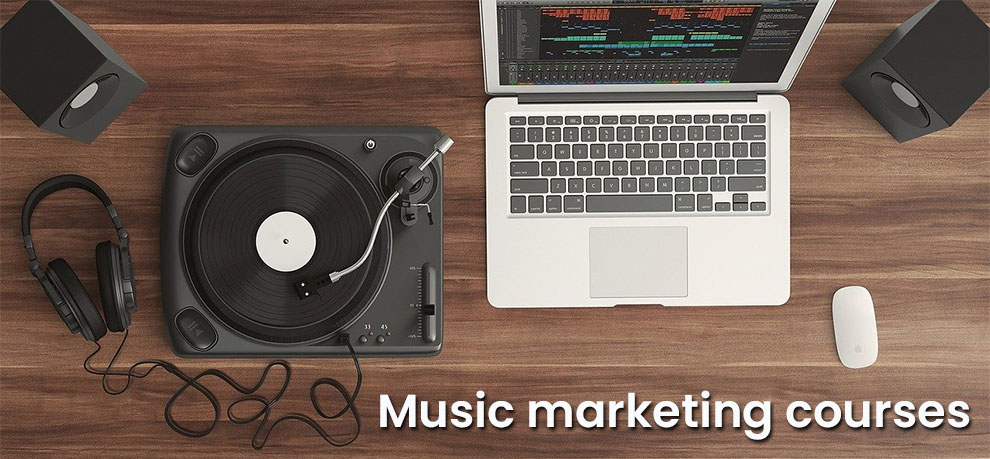 In the last couple of years, there has been a magnificent change in the music industry. It has opened the doors for many developing artists and bands. We have come past the time when the only way to have your music heard by the fans was to acquire support from the monopolistic gatekeepers.
If you understand music marketing, it is easier for business entrepreneurs, artists, and ad managers to thrive in this competitive industry. You can enroll in music marketing courses to kickstart your journey into this profession and mint millions. Below, we will address some training programs to help you kickstart your journey.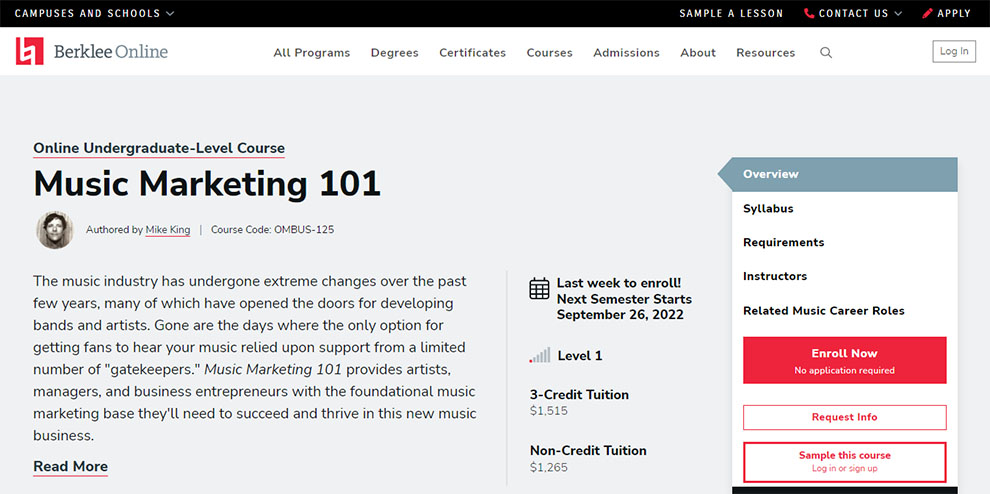 Why this course: In these music marketing classes, you study with the experts from Berklee, one of the most prestigious institutes.
What's there to like?
There are no prerequisites for this class.
You can choose from the credit and non-credit alternatives – the latter is cheaper.
They provide you with the next course of action after you finish this session.
Things you may not like
It is an expensive class.
There's no certification.
About the course
In this music marketing course, you will understand the basics and get an insight into the music marketing terms, principles, and practices that form the foundation for all your music marketing plans. After that, students will dig further into the key areas of opportunities for musicians, such as radio promotion, publicity, merchandising, distribution and retail, touring, and advertising.
As you progress further into this class, you will learn what partners and companies do to reach their fans, communicate with them, and the ways to leverage the new opportunities and changes that the internet presents to marketers.
Everything that this music marketing training covers can form a basis for a wholesome marketing campaign or help you with a new promotion and marketing campaign. There's so much to gain from this class that you would not regret investing.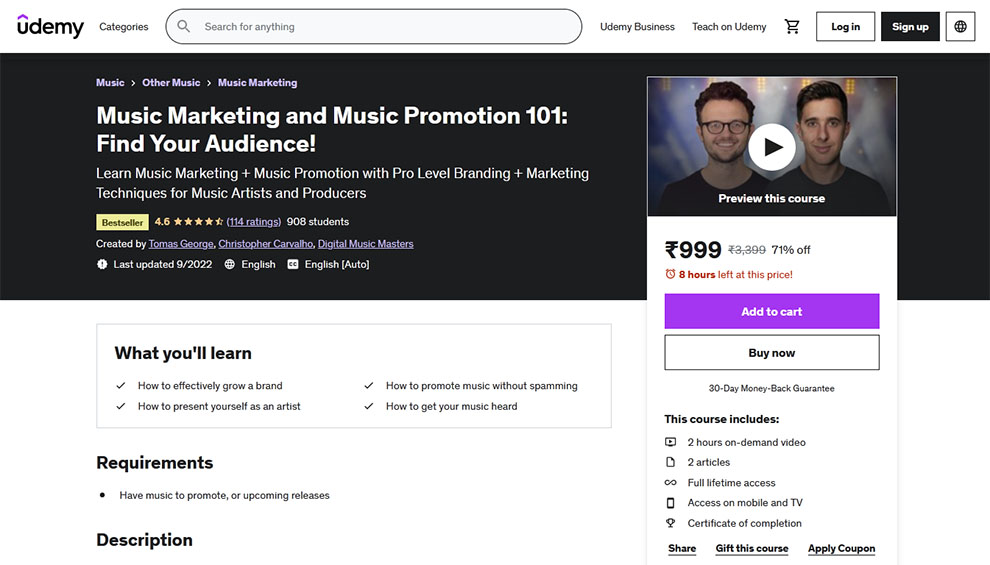 Why this course: It is the most well-structured and updated course that covers everything you need to showcase your talent and make the most of platforms like Reddit and LinkedIn by networking with people and fans.
What's there to like?
You will study with Tomas George, a full-time educator, instructor, and music producer, and Christopher Carvalho, who helps independent artists release their music.
You will bag a music marketing certificate after you complete the class.
It has case studies of a live music editing project for a real-world experience.
You receive lifetime access to this class.
It comes with a 30-day money-back guarantee.
Things you may not like
It is a good course but there is no discussion on vital topics like navigating Spotify and getting your music on playlists.
Often artists try to promote and popularize their music, but their efforts continually fall flat. It leaves them frustrated and gives them a feeling that no one cares. If that's what you have been experiencing, this class is for you. In this course, you will learn to grow your brand effectively, get your music heard, present yourself as an artist, and promote music without seeming spammy.
In addition, the instructor also helps you form a real social media following. The authors in this class offer you a music marketing certificate and will also help you format your Instagram page, build a professional Electronic Press Kit, and set up a fan club.
In the last part of the class, you will study how to make worthy and engaging social media posts, design custom T-shirts, sell music on Bandcamp, and more.
Prerequisites
This online music marketing course requires you to have the music you need for promotion.
Reviews by Karmelo W.
"
This course is right on point in the areas I want to target as an artist and marketing expert!
Why this course: We recommend this class by UCLA Extension as it takes you through the basics and gives you a roadmap to advance your journey in this field.
What's there to like?
Once you finish this course an earn a certificate, you will work on real-world marketing problems and present your innovative solutions to a small panel of guest judges.
It is a hybrid class. So, you can learn some parts online and clear your doubts offline.
Things you may not like
1. There are no university credits or certifications.
About the course
In these music marketing classes, you will learn the complex and exhausting process of DIY music sales and promotion. It covers everything from identifying your vision to developing your brand and promoting your music with a low-budget, customized marketing plan.
As you move forward, you will explore the basic fundamental concepts of marketing used by music giants. Further, the class also teaches you some out-of-the box ideas to bring solutions to real-world marketing problems.
In addition, you will also learn to build a fan base via guerilla marketing on the internet. This online music marketing course will benefit DIY musicians, startup record label personnel, managers, producers, musicians, and anyone who aspires to learn fundamental marketing concepts.
Prerequisites
You will need the following books by Bobby Borg for this class:
Music Marketing for the DIY Musician: Creating
Executing a Plan of Attack on a Low Budget (Music Pro Guides)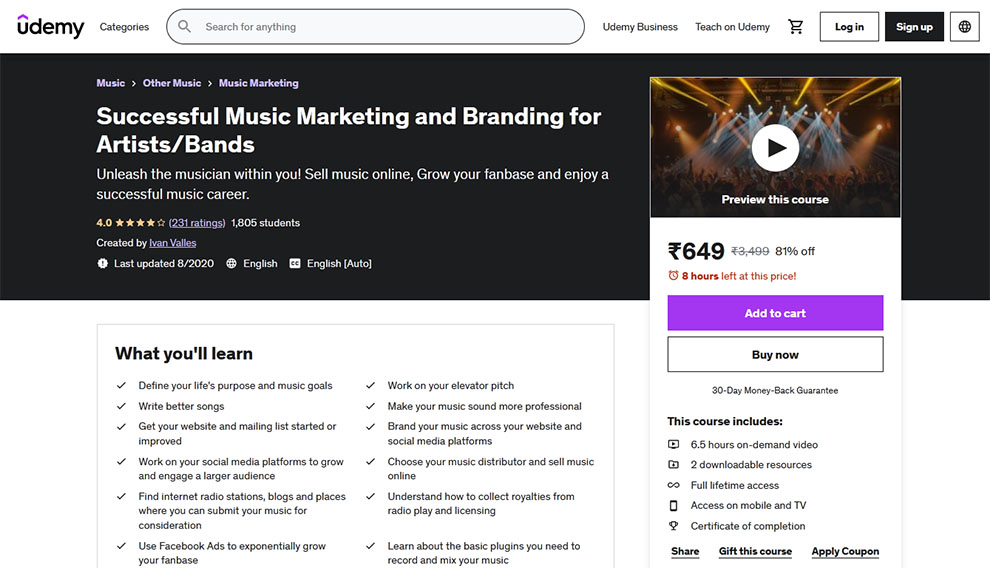 Why this course: It is one of the most affordable music marketing training you can get online with a vast selection of course contents that appeal to all levels of learners.
What's there to like?
The instructor gives you the perfect gear suggestions to build your home studio.
It comes with a 30-Day Money-Back Guarantee.
You receive lifetime access to all the content.
You will bag a music marketing certificateafter completing this class.
The instructor regularly updates the class. So you can access fresh content without any extra fee.
You will learn with an instructor who has sold $500,000 worth of his music catalog.
Things you may not like
It is an engaging class, but there is not enough detailed information about marketing your music to the audiences.
About the course
In this course, the instructor will help you define your life's music goals and purpose. You will also work on your elevator pitch and create better songs. Further, the instructor teaches you how to make the music sound more professional and get your website and mailing list improved or started.
In addition, you will also learn how to brand your music across various social media platforms and websites and work towards growing and engaging a larger audience.
In these music marketing classes, the author will also help you pick your music distributor to sell music online and find internet blogs, radio stations, and places where you can submit the music for consideration. You will also study how to find blogs, internet radio stations, and platforms to submit your music for feedback.
Also, the author teaches you how to collect royalties from radio plays. Next, you will discover how to employ Facebook Ads to grow your fanbase.
Prerequisites
For this online music marketing course, you need a fundamental knowledge of Twitter, Facebook, and YouTube.
Reviews by Frederick N.
"
This course has been a help to me in my music career. The presentation was very clear and sincere.
Why this course?
It is 100% free training, suitable for anyone who does not want to invest in an expensive class.
What's there to like?
It is a short and crisp class of 32 minutes.
You will study with Bob Baker, a successful author, teacher, and speaker.
It is a self-paced class.
You can download and view it offline and on the go.
Things you may not like
It does not offer a music marketing certificate.
It lacks examples, exercises, and practical training.
It appears like a sales pitch wherein the instructor tries to sell his book or nudge you into visiting his website.
About the course
It is a free online music marketing course wherein the instructor provides you with an overview of the foundational music marketing principles that every prospective musician should know. There are eleven videos in the class, wherein you learn internet strategies to market your music and grow your fanbase. You will also discover social media tactics – when, how, and what to post online.
Further, in this music marketing training, the instructor will also help you get comfortable with music sales and marketing and take your first steps into online music marketing. The instructor also shares personal advice to help you enjoy long-term success in the world of music.
Overall, this free class will benefit musicians, songwriters, singers, or anyone who aspires to make a difference with their music.
Prerequisites
You only need eagerness to learn new things and apply them to your career to get started with these music marketing classes.
Reviews by Gavin G.
"
A nice, quick little course that packs in a good amount of practical information!
Why this course: In this class, you will study with an instructor with over two decades of experience. In addition, you will have an opportunity to be a part of their supportive and active online community.
What's there to like?
In this online music marketing course, you will learn all the latest skills necessary to promote music and build your loyal fanbase.
Students who completed this class have gone ahead to release their music successfully, FastTrack their careers, or find employment within music PR firms, management companies, and record labels.
You will learn with a respected industry professional.
Once you finish, you will earn a certification.
Things you may not like
It is an expensive class.
About the course
In this session, bands, artists, and industry professionals learn the most Avante-Garde techniques to grow, find and monetize your audience. It is an immersive class wherein you will examine different modern marketing practices and embrace some newest digital strategies for promotion.
The instructor will teach you ways to employ the power of playlists, social media, online advertising, PR, press, live-streaming, radio, NFTs, and digital experiences.
Across the session, the instructor supports you in developing, defining, and amplifying an authentic and meaningful music brand. In these music marketing classes, you have a rare opportunity to work with an esteemed music business professional.
Reviews by Rebekah Ubuntu
"
I would recommend anyone trying to market themselves for a music career to take courses at SMB. After doing a lot of research on other courses and programs, I settled on SMB and I'm so glad I did. The learning I received has transformed my outlook on music marketing and branding, boosting my confidence and my ambition. I gained in-depth up-to-date music marketing knowledge based on present-day case studies and current industry practices. I learned more about SMB's music marketing program than in any other course, workshop, or conference I took previously. I attribute this to the teacher's transparency, clarity, and commitment to ethical practice. He equipped me with the information (including tips and tricks!) I need to create excellent marketing campaigns that stand out from the crowd.
Frequently Asked Questions
Ques 1. What degree do you need for music marketing?
Ans. Once you graduate high school, you need to enroll in a bachelor's degree. Of course, you have various major options like economics, business, and marketing, but it is best to opt for a related class to music marketing courses that gives you a base, solely focussing on the music business.
You can find a suitable training program from Berklee College of Music's online extension school or New York University's music business program on the Manhattan Campus. After your undergraduate degree, you can also opt for a master's program for advanced music marketing training. It is optional and varies from one to three years.
Ques 2. How can I promote my music with no money?
Ans. There are several ways to promote your music without spending even a single penny. These include the following resources:
Making your loved ones (friends and family) your loyal fans and using them to spread the word.
Posting your music on your social media
Starting blogs to capture people who will vibe with your music.
Creating playlists on platforms like Spotify and Soundcloud
Offering custom music to content creators
Making royalty-free tunes
Singing at events and get-togethers
Criteria for Selection of These Music Marketing Classes
Ans.We believe they are all excellent courses because every session targets an audience with different selection criteria. Here are the four parameters that helped us pick our above-listed courses.
 
1. Institution offering it: The instructor or the institution that designs, develops, and delivers the class can make a mountain of difference in the quality of the music marketing courses. So, we only picked those classes that had reputed and well-acclaimed names associated with them.
 
2. Relevance and freshness: Music is a continually evolving industry. Also, with the advent of social media, newer and better methods have cropped up to promote your business. So, we ensured that we picked only those music marketing training providers that covered the latest content.
 
3. Course coverage: Nobody wants to spend money taking course after course. So, we have tried to ensure that the listed classes are complete and comprehensive. You can bag the most comprehensive instruction by enrolling in one or a maximum of two (in some cases).
 
4. Reviews: It is vital to assess the feedback to know what the students who took this class before you have to say about it. So, we did consider the reviews before our selection.
 
To Sum Up…
So, these are the top online music marketing courses. You will not regret your decision regardless of what you pick from our listings. So, compare them on various parameters and select one that offers you the desired instruction and assures a true value for money. That's it from us…. Happy learning!
Best Online Music Theory Courses
Reviewed by 12 Music Marketer 4.8