Reading Time:
8
minutes
Among All The Advanced Montessori Programs, Barrie's School Stands Out For Imparting World Class Advanced Training In Montessori.
Montessori training is a transformative journey that solidifies your understanding of the child's potential and ability to change the world. It comprises the principles and analogies laid down by Dr. Maria Montessori, who believed that the if the child's formative psychic powers are well-rounded, it can help with their overall development in early childhood development.
Sadly, despite parents acknowledging the benefits of Montessori learning, there are still not enough teachers to offer the children a humble beginning, especially when moving to the advanced level. So, if you are one of those people looking for an advanced Montessori training, you are at the right place.
Consider checking out the advanced Montessori courses listed below. To help you select, we list below the top five options. Let us address them one by one.
International Montessori Teacher Training Online
Why this course?
Barrie has been a leader in Montessori education for teachers since the early 80s. The Barrie Institute for Advanced Montessori Studies provides an advanced diploma course every summer that comes with the American Montessori Society (AMS) teacher certification.
Things to like
Barrie Institute for Advanced Montessori Studies is a center of innovative curriculum development committed to offering exceptionally high intellectual excellence in Montessori teacher education.
They encourage students to explore new dimensions of Montessori education with their programs.
The institute is affiliated with the American Montessori Society (AMS), accredited by the Montessori Accreditation Council for Teacher Education Commission (MACTE), and approved by the Maryland Higher Education Commission.
Courtesy of its partnership with Trinity Washington Universityin Washington, DC, the graduates might receive credit in Trinity's Master of Arts in Teaching Program by paying an extra credit hour fee.
Things you may not like
There are multiple extra fees associated with the class that make it expensive.
About the course
In this advanced Montessori course, you will study the unique insights of two of Dr. Montessori's closest collaborators, Dr. Claude Claremont and his wife, Francesca. As part of this program, the instructors present an inspiring way to spend your summer by collaborating with them to undertake your Montessori training. You can choose to study any of their four programs:
Infant and Toddler Montessori teacher education program (birth – 3 years)
Early Childhood Montessori teacher education program (2.5-6 years)
Elementary Montessori teacher education program (6-12 years)
Administrator Course
Reviews By Institute Student.
"
I came to the Institute as a student for the Elementary training (6-12) after 17 years of teaching in a 3-6 environment. The Institute helped rekindle creativity in me: in making new and wonderful materials, in meeting each challenge in the classroom with fresh ideas. The support given by all staff members makes the Institute a warm and secure place for students to grow and develop.
Related: Montessori Courses for Parents | International Montessori Courses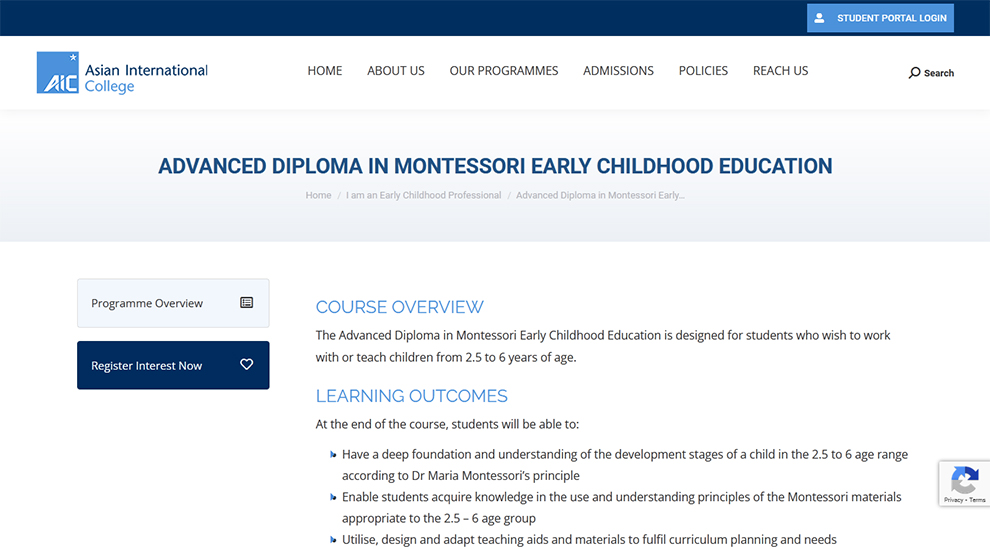 Why this course?
This advanced diploma benefits students who wish to work with or teach children between 2.5 and 6 years of age. It comprises 450 hours of study.
Things to like
You can choose between 16 months of part-time or eight months of full-time study to complete six core and one elective module.
Once you complete this course, you will earn an advanced diploma in Early Childhood Education from Asian International College.
It is imparted via several engaging, interactive, and hands-on modes, comprising face-to-face sessions, small group discussions, projects, role-play, and blended or e-learning.
Instructors examine you via various modes like the class test, individual/group work, or written assignments.
Things you may not like
There are intensive prerequisites associated with the course. You must possess a Professional Diploma, Early Childhood Education related Diploma, or an equivalent, including at least C6 in GCE 'O' Levels EL1 or English Language Acceptable Alternatives.
About the course
It is an advanced diploma in Montessori. Once the class concludes:
You will acquire the knowledge of a child's development stages between the age 2.5 to 6 range, following Dr. Maria Montessori's principle.
You will develop a fundamental understanding of the principles of the Montessori materials appropriate to the 2.5 – 6 age group.
You will know everything about designing, utilizing, and adapting the teaching material and the aids to cater to creating a curriculum.
You know how to craft a learning environment to accentuate the holistic overall development of young children in a Montessori setup.
You can engage in professional growth and development.
You will know how to utilize a teacher's role in Montessori setup.
You will learn to design and implement Montessori lesson plans for children following the curriculum guideline.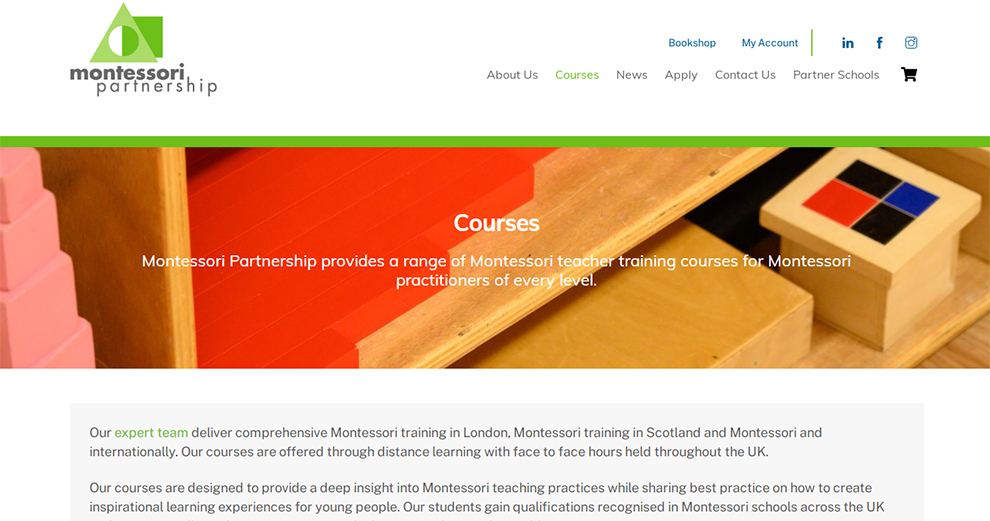 Why this course?
With Montessori Partnership, you can choose between several courses to meet the needs of Montessori practitioners of every level. You will study with an expert team that delivers comprehensive Montessori training in London, Montessori training in Scotland, and Montessori and internationally.
Things to like
You can choose from the face-to-face hours held throughout the UK or opt for distance learning.
The courses are flexible and accommodate different study options to fit your busy life.
There is no prior experience or prerequisite requirement for the class.
They have a straightforward application process.
Things you may not like
Diversity in courses can make the selection process challenging.
About the course
The advanced diploma course offers a detailed insight into the Montessori teaching practices while sharing best practices to create inspirational learning experiences for young people. You will acquire qualifications recognized in Montessori schools across the UK and even internationally teach anywhere in the world.
Why this course?
In this Montessori course, you will get well-versed with the complete Montessori philosophy in detail to educate children between two and six years.
Things to like
You will learn by doing via a variety of Montessori materials – Upskill rhymes, story narration, Creativity, origami art and music, culture, and science.
You can choose between Regular/ Online/Distance Learning.
It is an affordable course.
There are industry visits included that add to its uniqueness.
Things you may not like
It is a long eight-month course, demanding an effort of 4 days every week for 240 minutes.
About the course
It is a comprehensive program that schools you on all six areas of the Montessori classroom through extensive theory and practical modules. The class has a good blend of theoretical (7) and practical (4) modules with several assignments.
Reviews By Megha BN
"
Sam's Academy is an excellent place for developing academic skills. The trainers understand individual needs of the students and provide attention and direction to ensure overall personality development . Thank you for the opportunity Sams.
Why this course?
It is a comprehensive advanced Montessori course that equips the candidates with Dr. Maria Montessori's approaches to Montessori education and focuses on providing support to the developmental and natural needs of a child.
Things to like
They have an extremely detailed curriculum with 20 phases to bag success as a Montessori teacher.
You bag a globally recognized ACT certificate that amplifies the chances of success and job opportunities in your career.
It is accredited by the Accreditation Service for International Schools, Colleges, and Universities, recognized by UKVI and British Quality Foundation.
Asian College of Teachers is a center for conducting Cambridge Teaching Knowledge Tests (TKT) all over India. So, if you enroll in the Cambridge TKT to boost your Montessori teaching skills, you have a chance to get certified by Cambridge.
You can choose between distance and online modes.
It is affordable, with easy installment payment options.
Meticulous students can earn a scholarship.
Things you may not like
You cannot take the class without a Bachelor's degree.
About the course
It is an excellent course for experienced and aspiring Montessori teachers and other teachers looking for a bright career in Montessori Teaching. In addition, ambitious entrepreneurs commencing their pre-school or Montessori will also benefit from the course.
Completing this PG Diploma course helps you to opt for exquisite specializations like Classroom Management and Education Management. It is a 240-hour course, and the maximum course duration is 15 months. But you can complete it in fast-track mode or take the session online.
Reviews By Brati Jha
"
I am knowledgeable, experienced and confident after completion of the training. | am looking forward to more courses from ACT and further enhancement of life and learning. The trainers were nice and have got suggestions and information that were very helpful.
Course Selection Criteria
So, these were our best options for advanced Montessori courses. They are all excellent courses, one better than the other. Hence, we would not say that one is superior to the other. They are all good in their respective aspect. Broadly, we considered the following selection criteria before picking these courses:
1. Usability– Firstly, we ensured that the course sticks to the theme and trains you for the profession you are applying for, that is, Montessori learning and its relevance in the real world.
2. Job Opportunity– We have picked only recognized courses that are prevalent names among employers. Hence, when they see its mention in your CV, they see you as a prospective fit.
3. Accreditation– Certification adds a level of trust to the class. So, we tried to pick most courses that come with accreditation.
4. Coverage – Nobody wishes to enroll in multiple sessions. Thus, we ensured that you get access to the most comprehensive options available.
Frequently Asked Questions
Ques 1. How many levels are there in Montessori?
Ans. All Montessori programs start at the Early Childhood level, targeting students between 2.5 and 6 years. But you can also find programs for infants and toddlers from birth to three years and Secondary student programs for children between 12 and 18 years.
Ques 2. What is the difference between AMS and AMI Montessori?
Ans. All Montessori schools follow the educational philosophies and methodologies formulated by Dr. Maria Montessori. The two organizations that give accreditation to Montessori schools are AMI (Association Montessori Internationale) and AMS (American Montessori Society).
Maria Montessori, with her son Mario, set up AMI in 1929. It has its headquarters in Amsterdam. AMS came into existence much later in 1960, with its base in New York. It was a brainchild of an AMI-trained teacher, Nancy McCormick Rambusch because she thought Montessori methodology underwent a revolution. Hence, it should be revamped to adapt to the American Culture.
Maria put together the curriculum in AMI Montessori. But, the Montessori methodology's original purity is retained in the AMI Montessori. However, there is a deviation in AMS Montessori from the original Montessori methodology. As per AMS, teachers can employ outside resources, ideas, and materials.
In AMI Montessori, a standardized teaching method is adopted in every teacher's learning. However, the training is different from one AMS Montessori to another.
In AMI Montessori, teaching uniformity is there from the first classrooms to the upper levels. So, even if the child changes schools, there will be consistency. But, the same is not the case in AMS Montessori because there is no uniformity in teaching.
Ques 3. Are there any prerequisites for an Advanced Montessori course?
Ans. There are no prerequisites for the Advanced courses as such. In case you need anything specific, it is mentioned within the course.