Reading Time:
9
minutes
Data entry training + certification
To put it simply, data entry job involves converting one form of information to another.  Although you don't necessarily require special education or a degree to become a data entry professional, a data entry certification truly does help.
If you take up a data entry course online, you will learn about typing speed, accuracy, computer literacy, knowledge of certain software necessary to be successful in this line of work.
Whether you want to work as a freelancer to earn extra income or you are looking to become a full-time data entry professional, taking a data entry certificate program will certainly add to your proficiency and employability.
Whether you are planning to take a data entry certificate course online or go for in-person classes, you will have to dedicate a few hours each day to get proficient.
For your ease, we evaluated multiple data entry classes on the basis of their curriculum, skills taught, course duration, and whether or not they provide you a data entry certificate.
Based on our findings here's the right course for you to start –
This one is a bestselling up-to-date course that has helped thousands of students to get going with data entry. More on this course in detail mentioned below.
Here are the other data entry courses you can consider taking online!
Data Entry Courses Online with Free Certificates
Best Data Entry Certificate Course Online
The first thing you must have done when wanting to learn data entry is to search for 'data entry classes near me.' Here, we give you the options to get a data entry training without stepping out of your home.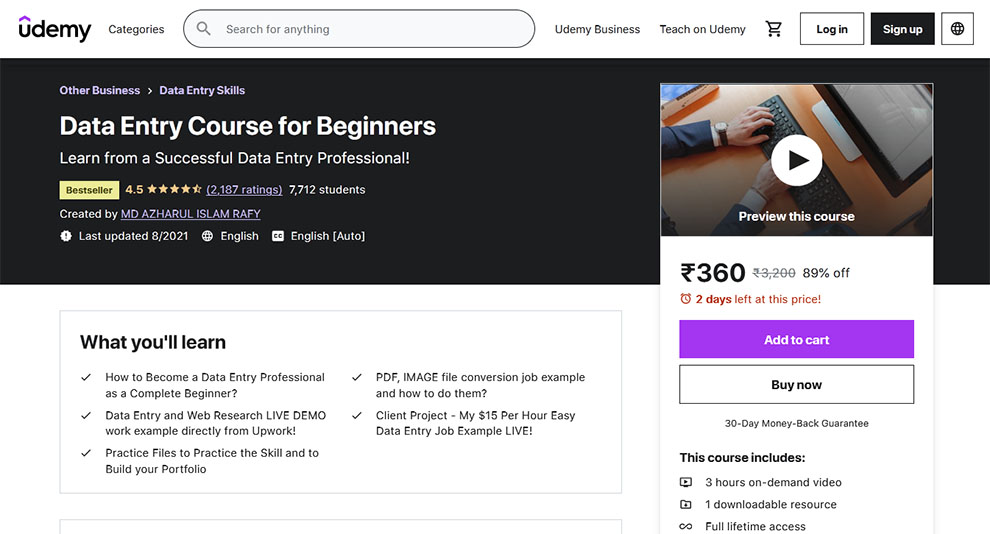 A perfect choice for beginners, this data entry course online is specially structured to help you learn about the various types of data entry projects that are available on Upwork, Fiverr and other freelance marketplaces. And what's better to learn all this from a top-rated data entry professional?
If you are planning to become a freelance/ remote data entry professional, then this live project example-based course is just for you! These on-demand data entry classes online will help you understand the kind of jobs available out there, how to understand the instructions given by clients, and how to start working on data entry projects.
The comprehensive lessons, along with demo project examples and practice projects will give you the confidence you need to start your journey as a professional data entry service provider.
In addition to all of that, this course comes with a shareable data entry certification online on completion.
Rating
4.5
Return or refund policy
30-day money-back guarantee
Certification
Yes
Paid
Yes
Duration
3 hours on-demand video
Enrolled
7,590+ students
Instructor
Md. Azharul Islam Rafy

 

Cons
The course is too short. Also, the AV quality could have been better.
Learning Outcomes
Once this data entry training online is complete, you will learn:
How to start your journey towards becoming a data entry professional.
Examples of PDF, image file conversion jobs and how to go about doing them.
Live demo work example of data entry and web research from Upwork.
Client project-live example of the instructor's $ 15 per hour easy data entry job.
The course includes practice file for you to get more practice and build your portfolio.
Prerequisites
The only thing you need to enroll in this data entry course is a computer/laptop with a stable internet connection.
Who should take this course?
This is one of the best data entry certificate course online for:
Those interested in knowing more about data entry.
Those interested in becoming a data entry professional.
Review Abhijeet Sakhare:
"
It was a really great learning experience while doing this course. Now I feel confident to enter Freelance data entry field. I appreciate you for it. Thank you very much.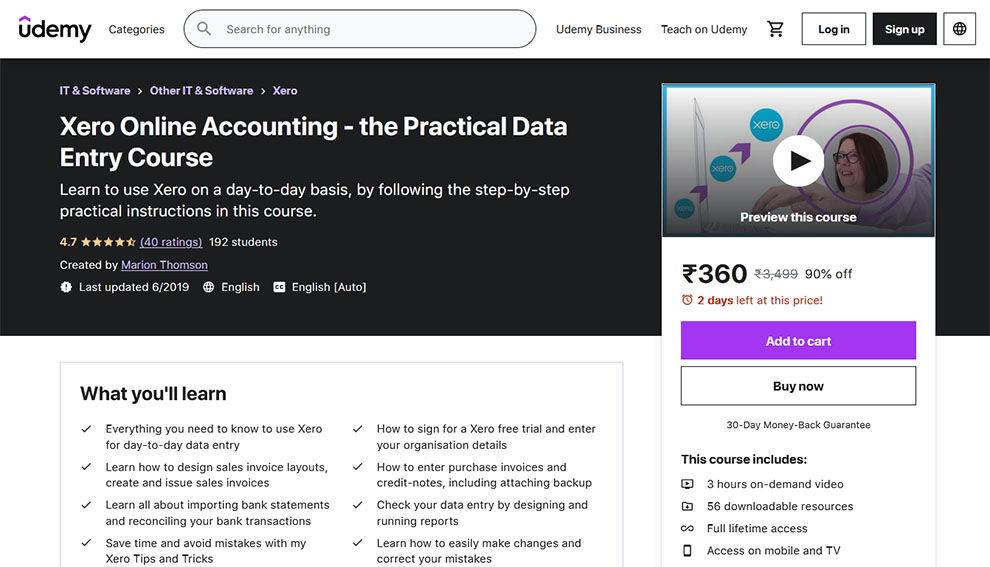 This is the second best data entry training online specially designed to teach you how to use Xero for day-to-day data entry purposes. It is perfectly suitable for beginners who are willing to learn more about this accounting software.
This program takes a practical approach to teach the students about the various functions of the software. At the end of each lesson, they get a practical assignment to practice what they've learnt. The data entry course online is so well taught that it is no less than joining a data entry school online.
The instructor has used years of experience and expertise to create the course that covers all the important topics in a step-by-step approach. You can also reach her with your queries during or after the course.
Once you finish the course, you will be awarded with a shareable data entry certification online.
Rating
4.7
Return or refund policy
30-day money-back guarantee
Certification
Yes
Paid
Yes
Duration
3 hours on-demand video
Enrolled
190 students
Instructor
Marion Thomson

 

Cons
This course is for beginners and does not cover advanced topics like fixed assets, VAT and Payroll.
Learning Outcomes
After completing these data entry classes online, you will:
Understand how to use Xero for daily data entry.
Know how to sign up for the free trial offered by Xero and how to enter the details of your organization.
Know more about designing sales invoice layouts.
Know more about creating and issuing sales invoices.
Know more about entering purchase invoices and credit notes, along with attaching backup.
Know more about importing bank statements as well as reconciling the bank transactions.
Know how to design and run reports to check your data entry.
Save precious time and minimize errors with the help of the instructor's Xero tips and tricks.
Learn easy ways to make changes and correct errors.
Prerequisites
For enrolling in this data entry course, you need
A willingness to learn.
Computer/laptop with internet access.
The willingness to complete the given assignments to make the most out of this course.
Who should take this course?
This is the best data entry training online for those who are new to Xero and are willing to learn the step-by-step process of data entry through Xero.
Review Michelle Gillett:
"
Really enjoying watching, following along and then practically entering the data into Xero as way of solidifying the learning process.
Offered by Macquarie University, this data entry certificate course online is the first one in Coursera's Excel Skills for Business Specialization and deals with the essentials of Microsoft Excel.
Having expertise in operating this ubiquitous spreadsheet software will add to your employability portfolio.
In these data entry classes online, you will find downloadable workbooks and full data sets along with practical challenge exercises and applied examples.
| | |
| --- | --- |
| Rating | 4.9 |
| Certification | Yes |
| Paid | Enroll for free |
| Duration | Approx. 6 weeks |
| Enrolled | 6,30,000 students |
| Instructor | Nicky Bull, Dr Prashan S. M. Karunaratne, Professor Yvonne Breyer |
| Cons | Challenging to take this course on a Mac. |
Learning Outcomes
Have a better understanding of the Excel user interface.
Learn how to professionally format spreadsheets, perform calculations with formulas and functions, and use graphs and charts to create visualizations of data.
Use Excel skills and techniques to solve a range of business problems.
These data entry classes online give you a solid foundation so that it is easier for you to develop more advanced skills when you take up more advanced courses.
Gain confidence by practicing your Excel skills.
Learn new and efficient productivity features of Excel that will come in handy in various business contexts.
Learn more about Excel terminology, essential navigational controls, how to use Excel spreadsheets to perform basic data entry and other foundational Excel features.
Who is this course for?
This is one of the best data entry course online for:
Self-taught Excel users who would like some guidance to fill the gaps in their knowledge.
Beginners who want to become confident excel users.
Those who want to add to their skill set by gaining expertise in operating this software.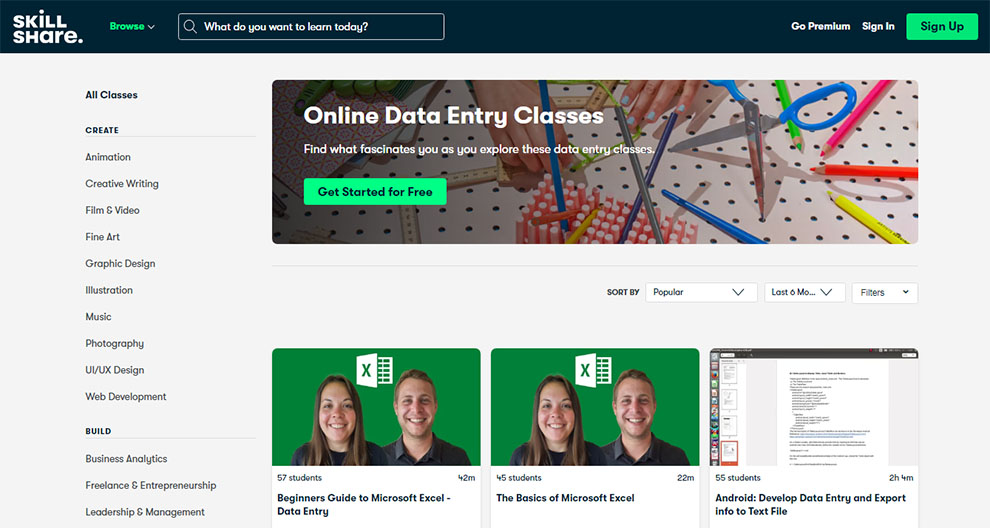 Another excellent resource to help you become an expert data entry professional is Skillshare. Based on your level of expertise and your learning expectations, there are several courses you can choose from to learn data entry online.
We have selected the following, data entry classes that you may consider opting for on Skillshare:
Suitable for beginners, this 42-minute-long class contains 7 lessons covering topics like introduction to data entry, Flashfill, Autofill along with custom autofill list, sort and filter, cut, copy paste and drag among others.
Improve your Microsoft Excel skill with the help of this amazing course offered by Codi and Marie. Learn how to use various Excel tools to input data efficiently and gain confidence by practicing through the given worksheets.
Another best data entry course online for beginners is this class offered by instructors Codi and Marie. This course is for people who would like to strengthen their foundation by learning the basics of Microsoft Excel.
Things covered in this 22-minute course include Excel terminologies, location in Excel, how to move around the spreadsheet, how to input data, how to inset cells, and rows and columns.
Downside to skillshare courses is that they do not provide a data entry certification online or offline.
This 2 hours 4 minutes long course is offered by instructor Fernando Roque. A few of the lessons covered in this intermediate-level course are:
Data Capturing and storing information in local Android Database Expo
Introduction to Android Data Entry
Android User Form layout
Allocating buttons in Table and Rows.
Creating database and tables
Generating CSV-text file from Android database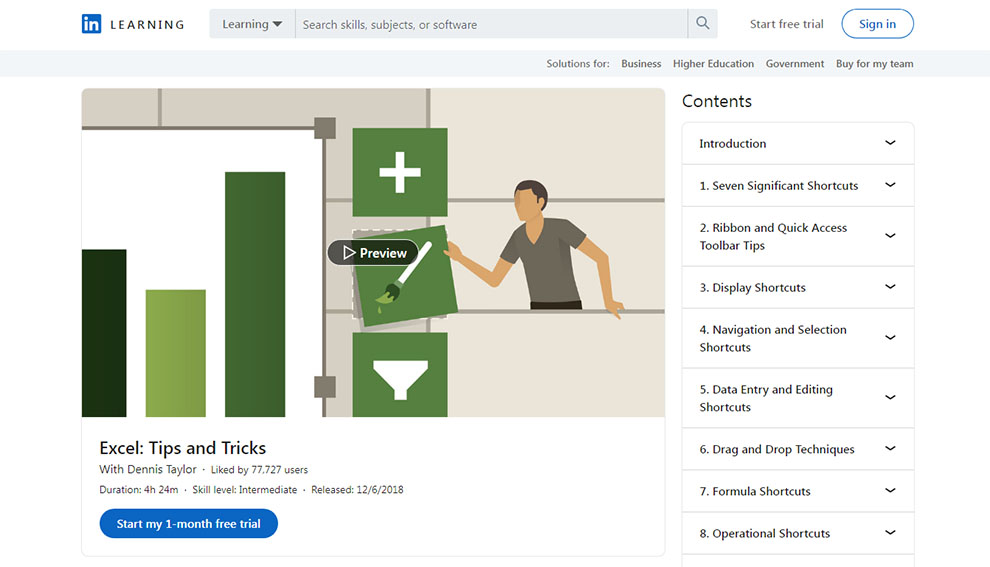 LinkedIn is another great platform to enroll yourself in a data entry certificate course online.
Imagine how easy and efficient working on Excel would become if you are aware of important shortcuts, keystrokes and techniques that you can use!
Splitting data into columns, creating formulas and charts quickly, applying numeric formats, accelerating data entry chores, this course covers all this and much more. All of this is covered in these data entry classes online.
This course allows you to practice what you learn by downloading the exercise files used by the course instructor during the lessons. You can even download the lessons on your phone via LinkedIn Learning app to learn on the go!
| | |
| --- | --- |
| Learners | 77627 |
| Certification | Yes |
| Paid | Free trial available |
| Duration | Approx. 4 hours 24 minutes |
| Instructor | Dennis Taylor |
| Cons | This course is for intermediate-level learners and may require basic knowledge or some expertise in Excel. |
Learning Outcomes
Here, you learn data entry online by mastering the following topics with the help of this course:
How to save time while using Excel along with effective shortcuts.
Effective ribbon and Quick Access toolbar tips.
Handy display shortcuts.
Efficient navigation and selection shortcuts.
Editing and data entry shortcuts.
Drag and drop techniques and formula shortcuts.
Operational and formatting shortcuts.
Data management techniques and PivotTable tips.
Charting and visual tips.
Next steps for when you have completed the course.
Who is this course for?
This course is for those who need a data entry certification online to increase their job prospects. Also, those who are willing to increase their efficiency and productivity while using Excel.
 
Note* This data entry course is no longer accepting new students.
Living up to its name, this 'comprehensive' data entry course online was aimed to give you a complete overview of data processing and maintenance. The course covers the basics of data entry administration-theoretical grasp of data entry, data analysis insights, data management and more.
This was another course that provided data entry training online that was suitable for those who don't have any prior training or experience in data entry administration.
Topics that were covered in the data entry certificate program included an introduction to data entry, standard data entry guidelines, different tools for data entry, data management for information security, worksheet formulas and tips and tricks.
The course provided the knowledge, techniques, suggestions and guidelines to become a successful data entry administrator.
Related read: Data Vs. Information Comparison

Best Data Entry Certificate Course is rated 4.6 and reviewed by 12 Data Entry Experts & 30+ Data Entry Classes Students