Duolingo comes with better variety of languages but Babbel is a better language learning app since it gives you a structured learning program. It is much more than just fun and games.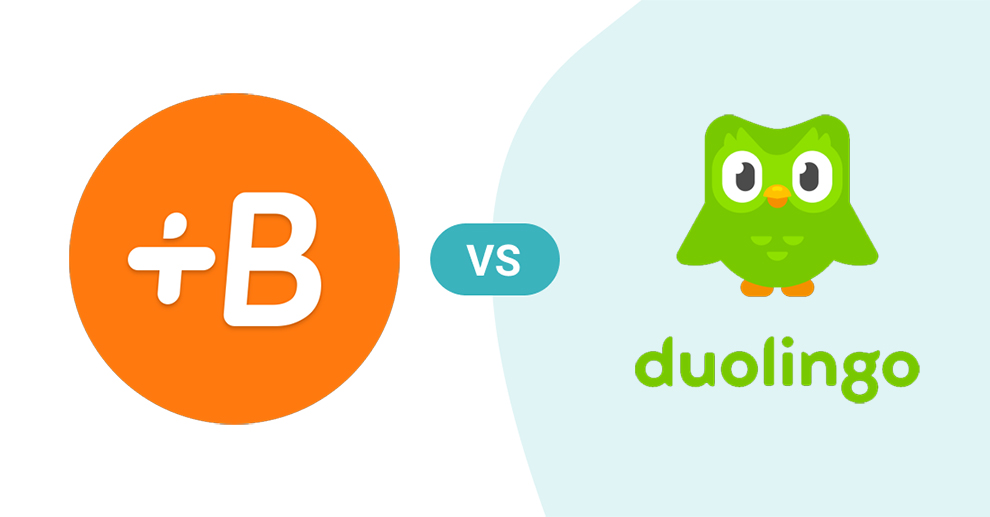 Duolingo and Babbel are two revolutionary language learning apps and a prominent part of the emerging trend – Learning multiple languages via online platforms that are relatively more accessible than classroom classes.
There is no easy choice between Babbel vs Duolingo because of the many similarities between the two. But Duolingo is a free learning platform, and you pay $12.95 per month for learning via Babbel.
In our view, Duolingo is the app best for casual learners who like to dabble in a couple of different languages, do not want to spend money, and are self-motivated.
On the contrary, Babbel is ideal for invested learners who wish to learn one language at a time, seek clear explanations, and aspire to learn content they will use in day-to-day conversations.
So, which one to go for, Babbel or Duolingo? For most people, Babbel is a superior pick.
But before choosing any learning app, you must consider your budget, ability, schedule, and learning style to make the correct decision from Babbel and Duolingo.
Both these apps have their similarities, pros, cons, and differences. Knowing about them may not only help assess which is superior but simplify how you choose an app that closely matches your needs.
Continue reading as we discuss these platforms in detail and help determine – how is Babbel better than Duolingo.
Does Babbel Work Better Than Duolingo?
| | | |
| --- | --- | --- |
| Attributes | Babbel | Duolingo |
| Price | 7 to 14 USD per month | 84 USD per year (if you choose their paid version) |
| Refund | 20-days | 14-days |
| Speaking skill practice | Better than Duolingo | Babbel is better |
| Speech recognition | Yes | Yes |
| Live classes | Babbel's live classes are better, but they do not come for free. You will have to bear an added cost for the same. | No, formal live classes. They have live events, which are not as organized as Babbel's classes. |
| Podcasts & other add-ons | Yes | Yes |
| Languages | 14 | 40+ |
| Grammar lessons | Layered into lessons | Lighter on detail |
| Teaching style | More explicit with greater emphasis on conversational language | Less explicit |
| Level | Beginner to Advanced levels | Mostly suitable for beginners |
| Mobile App | iOS and Android | iOS and Android |
| | Visit Babbel | Visit Duolingo |
Babbel Vs Duolingo – Which One Is Better In Each Aspect?
Babbel and Duolingo are language-learning apps that help you learn your preferred language from scratch. These online learning platforms make learning more accessible and preferable to in-classroom sessions.
They both have their share of pros and cons. So, let us compare the two platforms to help you decide which is better, Babbel or Duolingo.
A. Cost
Duolingo has a free version, but the paid version for both Babbel and Duolingo costs the same. While Babbel has a twenty-day money-back guarantee, Duolingo has a refund policy of 14 days for their Plus subscription.
Babbel offers a free version that lets you listen to around thirty to eighty lessons at zero cost. They also have four monthly subscription plants. Depending on what works well for you, you can make your pick.
Their plans include:
One month subscription for 13.93 USD
Three months subscription for 9.95 USD per month
Six months subscription for 8.45 USD per month
Twelve months subscriptions for 6.95 USD per month
On the contrary, Duolingo is 100 percent free. Of course, they have a paid version called Duolingo Plus, but that costs $6.99. You get a three-day free trial too. In Duolingo Plus, you get all the same lessons as in the free version, along with some added benefits like unlimited hearts.
B. Device access and compatibility – how does Babbel compare to Duolingo?
Actually, both Duolingo and Babbel are compatible with multiple devices. So, it's a tie here.
Babbel works on smartphones, tablets, laptops, and desktops. You can use their app on iOS and Android. But rooted devices and ones with custom ROM do not support the app. You can find Duolingo for Android and iOS platforms. Both their websites have a responsive design, and you can access them via a mobile browser.
C. Difficulty level – Is Babbel harder than Duolingo?
Language experts say Babbel may be somewhat more challenging than Duolingo. So, if you are a beginner, you must consider starting with Duolingo.
With Duolingo, the focus is more on basic vocabulary and less on grammar lessons. On the other hand, Babbel stresses grammar rules and writing exercises and encourages you to practice speaking.
D. Structure and teaching style – Is Babbel better than Duolingo?
Yes, it is. Babbel's progression and topics are more suitable for daily life. For instance, it will teach you everything about confidently shopping in a foreign land and conversing with a shop assistant or a cashier if you learn about shopping.
On the contrary, Duolingo does not go into detail and won't prepare you for real-life situations. Of course, they have plenty of conversational phrases like Babbel, but they do not drill into your speaking skills.
Babbel is every overly organized person's dream, as they have well-organized and well-structured lessons that flow in the most orderly manner.
The platform adapts to your learning pace, and you will get conversational phrases you have not heard in the following chapters. They have beautifully linked and interlinked the lessons by grouping them logically.
On the contrary, Duolingo focuses more on gamification and less on order. It keeps you engaged with its interactive features. The teacher's teaching style is incredibly entertaining to help the learners stay focussed. But, they do not get into detail and do not prepare you for a real-life conversation.
In all honesty, Babbel does win by a good margin because they teach you what you must know to fare through a real-life conversation, something missing in Duolingo.
E. Babbel vs Duolingo with regards to ease of use
Duolingo has more seamless navigation than Babbel, so in terms of ease of use, Duolingo is better.
Babbel offers paid subscriptions. So, it does not have advertisements. But, its navigation and layout lack clarity. It can be tricky for newcomers to get to their desired lesson. Moreover, the app's look and feel are bland because of its unappealing color scheme and visuals.
You expect the app to motivate you to learn when you pay a substantial sum but Babbel lacks in the style quotient.
On the other hand, Duolingo is very effortless to navigate. You can move around and operate the website or app. For solving the lesson activities, you do not have to do anything more than touch or type the answers.
Similarly, when you wish to learn a language with a different set of alphabets, you only have to activate the alphabet system on your phone's keyboard, and you are good to go.
But, it can be irksome when you cannot reorder the tapped words while performing translation activities. So, if you place a word in the wrong area or miss it, you will have to tap them from the start.
F. Babbel or Duolingo – Which has more languages covered?
Duolingo covers more languages than Babbel.
Duolingo hosts 40+ languages, but Babbel has only fourteen language options. Duolingo is a clear winner here. They offer the fourteen languages covered by Babbel and many more. Moreover, they are also working on including more languages in the future.
G. Class lesson delivery
They are similar in how they deliver the lessons as both have short, fast-paced lessons with interactive exercises that target your listening, speaking, writing, and reading skills.
In Babbel, the lessons usually take 10 to 15 minutes, and the teacher follows a quick pace. Every class is composed of interactive drills and quick-hit exercises. So, in the beginning, few minutes, you will have to listen to some new phrases or words and repeat them.
Then you will perform a flashcard drill for a few minutes before again studying the conjugation or grammatical lesson. Finally, you will have to type the phrases or the words on the keyboard or work on an exercise in a mock conversation.
Like Babbel, Duolingo lectures are also short and move even faster. Typically, their lessons are five to ten minutes and comprise several interactive, quick-hit drills and exercises like fill-in-the-blank exercises, verbal practice, listening drills, completing mock conversations, and writing complete sentences.
It is a tie. Both these platforms deliver the same type of content differently but in short and crisp lessons.
H. Babbel vs Duolingo speaking skills practice
Babbel does a relatively better job than Duolingo in helping the students work on their speaking skills because their verbal exercises are more robust than what you will find in Duolingo lessons.
Duolingo makes you repeat the phrases and words in a vacuum sans any real context. Moreover, their voice recognition technology is nothing extraordinary. On the contrary, Babbel makes you practice your conversational skills and uses their tech better than Duolingo.
So, if you have to choose between Babbel or Duolingo, Babbel gives you better speaking practice.
I. Grammar focus
In this aspect, most people find Babbel better than Duolingo as it incorporates the exercises within the lessons. On the contrary, Duolingo gives less priority to the assignments.
Despite emphasizing activities and learning by doing, Babbel does not overwhelm you with its dense assignments. To compete, Duolingo must also try to subtly incorporate exercises within the lessons to etch what's learned into students' memory.
J. Feedback mechanism & customer support
Both Babbel and Duolingo offer adaptive feedback. However, the latter is more personalized.
Whenever you learn something new, it is vital to have someone review it and give you feedback to improve and work on your flaws. In Duolingo, there is an instant grading system for all the lessons. In addition, they also have incentives, which unlock as you get better at the language.
On the contrary, it is not clear how frequently you receive feedback from Babbel, but typically your feedback is handled via a general tracker. Thus, we appreciate Duolingo's clarity a little more here. But, consider a few other factors, too, because feedback is not only grading.
In Babbel and Duolingo, the lessons are personalized depending on how you interact with the learning material. So, they are immersive and dynamic, guaranteeing a helpful learning experience.
Moreover, Duolingo offers adaptive learning. Thus, lessons will be planned according to your learning style and focus on bettering the vocabulary that you are possibly struggling with. However, Babbel follows an adapted review centered on the vocab terms.
Is Paying For Babbel Worth It – Babbel Overview
Yes, Babbel does justify its cost. We just wish there could have been more language options. Babbel started its operations earlier than Duolingo. It has been around since 2008, while Duolingo came only in 2011.
In Babbel, you bear a subscription cost. You can choose from their different subscription models depending on how long you need the subscription.
As for the format, comparing Babbel vs Duolingo, we see that both have an almost similar structure. You will learn the language with several short exercises spread across different lessons.
They offer 14 languages, less than fifty percent of Duolingo's offerings. Nonetheless Babbel is one of the top learning platforms with thousands of active users.
Babbel
Pros

 

Babbel's instruction method is more involved than Duolingo's. It offers more tips and explanations.
They have several exercises that help you learn how to converse in the language.
Babbel follows a structure and consistency in its lessons. So classes do not feel scattered or unorganized.

 

Cons

 

Though excellent for newcomers, advanced learners might struggle with the app.
The software can do a better job of motivating active language production.
Exercise can feel bland.

 
Are Duolingo Courses Worth It?
Yes, they are for beginner learners especially. Almost every interested language learner knows about Duolingo, such as its popularity.
The platform functions on a freemium model. It implies that anyone can download and start learning a language without paying a cent. The platform has several quick mini-exercises that help you comprehend the vocabulary better.
You can upgrade to Super Duolingo at less than $7 per month. Their paid version has several perks, like unlimited retries, the ability to practice mistakes, zero advertisements, and quizzes.
Duolingo
Pros

 

Duolingo's game-like format makes it fun and engaging.
Learning with Duolingo does not feel like a chore.
It has several colorful presentations that motivate the learner.
It has a simple interface and is very easy to navigate.
If you are ok with the ads and the absence of some features, you can enjoy learning for free.

 

Cons

Its scope is limited. You will find little context or explanations.
Some of their exercises and lessons seem out of place.
Their exercises can feel repetitive because you have to repeat the words over and over.
Their choice of sentences and translations can be iffy.
It is more appropriate for beginners than advanced learners.

 
Verdict – Which Is Better Babbel or Duolingo?
Duolingo is ideal for hobbyist learners, the language-dabbler who likes to learn a new language but does not go in-depth with it. They have a casual and minimalist approach, but as they are free, they make learning a foreign language more accessible.
On the contrary, Babbel is for avid learners who wish to use the new language in their education. Even though they do not use gamification like Duolingo, they are better organized with more instruction to grasp.
Even though the choice depends on what you expect from the platform, Babbel ranks ahead for us for the following reasons:
It is more organized.
It is more inclusive.
They focus on grammar more.
Babbel is more accurate and consistent.
It helps you practice your conversational skills, something you will need in real-life.
Related: Pimsleur Vs Babbel | Busuu Vs Babbel| Pimsleur Vs Rosetta Stone| Memrise Vs Duolingo| Rosetta Stone Vs Babbel| Duolingo vs Rosetta Stone| Mondly vs Duolingo
Is Babbel Harder Than Duolingo?
Babbel is a bit more intense than Duolingo but not harder per se. Here, some common queries about Babbel vs Duolingo, that will further clear your doubts about the two apps.
Ques 1. What age is Babbel for?
Ans. Anyone who can read and write will benefit from Babbel (regardless of age). However, their live classes are only open for people 16 or older.
Ques 2. How many Babbel lessons should you do a day?
Ans. You can create a schedule as per your other commitments, but taking three to four classes every day can be good.
Ques 3. Can you become fluent with Babbel?
Ans. Babbel will only take you through the beginner and intermediate levels of the language but does not cover advanced topics. So, even though you will learn the language, you will need a more upgraded course to acquire full proficiency and fluency.
Ques 4. Can you become fluent with Duolingo?
Ans. Even though Duolingo does an excellent job at helping you learn your chosen language at the basic level, it cannot make you fluent in a language.
The truth is no single class, app, or method can help you attain all your language goals. Fluency comes with practice, both verbal and written.
Ques 5. Which languages are the hardest to learn through these apps?
Ans. Some of the most challenging languages to learn via apps are:
Mandarin
Hungarian
Korean
Finnish
Basque
Navajo