Rosetta stone is a better pick for a comprehensive learning experience as compared to Duolingo.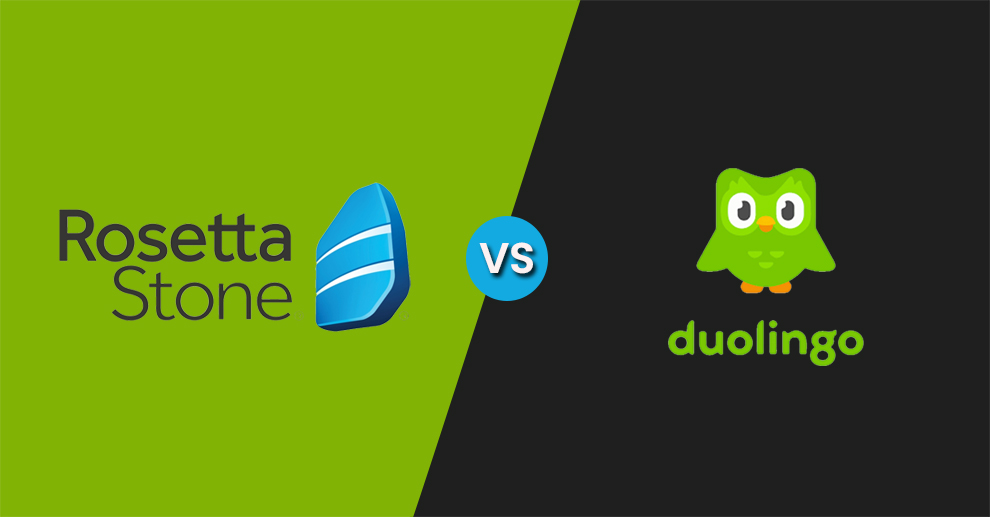 In this head-to-head comparison, we will pit the classic Rosetta Stone against the new kid on the block, Duolingo. So, Rosetta Stone vs Duolingo, which one must you choose? Both are hugely popular language learning apps, but with different approaches.
We love Rosetta Stone for the intensity and immersion it provides. However, Duolingo is perfect for the casual learner, courtesy of its intensely enjoyable, fun, and gamified way of acquiring knowledge. However, if you ask us to pick between Rosetta Stone and Duolingo, the answer is pretty straightforward.
Rosetta Stone provides a more lucrative overall package and is usually the program you will revisit to learn your desired language.
We do not mean Duolingo is any bad because, in some cases, it shines brighter than Rosetta Stone. For instance, if you need a free resource to brush up on a language you studied in high school, say Spanish, or get a basic familiarity with a new language, Duolingo can be a good pick.
Also if you are a visual learner, is Duolingo better than Rosetta Stone? Yes it is. But Rosetta Stone has more robust courses. Their lessons are more comprehensive and longer. In addition, you will appreciate their TruAccent voice recognition tech, which is hugely beneficial.
They also come with a bunch of bonus resources. Moreover, their programs offer more flexibility than Duolingo. So, the choice between Rosetta Stone and Duolingo is straightforward, and the former has an edge.
Even though both these platforms help you materialize your language learning goals, they work differently. So, is Duolingo as good as Rosetta Stone or one is better than the other? Read below as we unveil.
 
Is Rosetta Stone More Effective Than Duolingo?
Attribute
Rosetta Stone
Duolingo
Price
$12 per month
$84 per year (in the paid version)
Refund
Yes
No
Languages
More than 20
More than 30
Lesson Type
Comprehensive
Casual and game-style
Useful for

Auditory and visual learners
Beginners
Travelers
Those who are ok with costlier alternatives.
Intermediate British or American English, French, Italian, or Spanish learners

 

Those on a budget
People who need extra motivation for learning.
Beginner or intermediate learners
Travelers
Kids

Grammar focus
Minimal
Light explanations
Lesson length
45 to 60 mins
5 to 10 mins
Exercises
More comprehensive
Short game-like
Podcasts
Yes
Yes
Speech recognition
Yes
Yes
Interface
Interactive
Interactive
Visit
Rosetta Stone
Duolingo
Is Duolingo or Rosetta Stone better? – Detailed Comparison
Let us compare Duolingo and Rosetta Stone on various parameters to assess which of the two should be your go-to choice.
A. Languages covered
Duolingo has more language options than Rosetta Stone.
With Rosetta Stone, you get twenty-five languages to pick from. Some of the popular languages you can learn with them are:
Italian
Greek
Korean
Chinese or Mandarin
Spanish
German
Russian
Latin (accessible only via the browser app, not on mobile)
Vietnamese
On the contrary, Duolingo presents its available languages depending on your native language. For instance, if your native language is French, you can choose from six languages, whereas if you are a native English speaker, you have the maximum number of options (38).
Some languages available for English speakers are:
Spanish
Italian
Korean
French
German
Beyond this, they also provide English users with niche fictional languages for fun, such as High Valyrian and Klingon.
B. Rosetta Stone or Duolingo – Who Has Better Pricing, Trial Period, & Refund Options
The paid version of Duolingo and Rosetta Stone will cost almost the same.
Rosetta Stone offers you an option to choose between a lifetime, twelve-month, and three-month subscriptions. If you opt for the monthly options, you will have access to a single language, but if you go with their lifetime plan, you will have access to all their languages. Their lifetime plan costs $180, the 12-month is $8 per month, and the monthly plan is only $12.
Comparing Rosetta Stone vs Duolingo pricing, you must know that Duolingo offers a free plan. We all love free stuff, but this plan has some serious drawbacks. Hence, we do not think it will suffice if you are interested in more than casual learning.
So, you can opt for their Super plan, a paid subscription that costs $7 per month or $84 annually. By upgrading to the Super plan, you can eliminate all the ads. In addition, it will offer unlimited test-out attempts and unlimited hearts. They also have tailored lessons to help you improve your mistakes.
Between Duolingo and Rosetta Stone, which is cheaper? As you can see, the pricing by both the platforms is very close for us to declare one better than the other. However, we advise you to test the waters before you pay for the class.
For this, you can make use of their free trial period. With Rosetta Stone, you get a three-day trial period and a thirty-day money-back guarantee if you do not like the end product. Duolingo offers a 14-day trial window on their paid version.
C. Layout and Style of Teaching
Rosetta Stone's lessons are more formal and traditional, and Duolingo has a more casual, game-like teaching style. So, what you choose from Rosetta Stone vs Duolingo depends on how you like to learn.
Rosetta Stone's lessons are more comprehensive and informative than Duolingo's and would have been perfect if they did not ignore grammar. So, we find it a sweeter deal.
Rosetta Stone provides the users with various picture and word associations, the primary way the app employs to get you well-versed with the language. Every course has a couple of units, and you will find core lessons followed by grammar, vocabulary, and pronunciation exercises.
Even though you will find various lessons, they are almost the same, simply with new picture and word combinations. You will also find examples where you listen to someone speak a phrase and simultaneously see a picture that goes with it. They also have instances to help you learn to pronounce the word shown on the screen.
Rosetta Stone has various neat tabs that let you learn about the culture behind the language and work on your conversational skills. Their on-demand unit offers related blog posts on cultural insights and conversational tips.
Further, on the extended learning tab, you will also find three sections for exploration – Phrasebook (native speaker pronounces the common phrases to help you learn), Stories (scripted stores to assess your comprehension), and Audio Companion.
While Rosetta Stone focuses on your pronunciation and gives you more exposure to conversational language, there is not enough focus on grammar. On the contrary, Duolingo has a more inclusive approach, even when they do not teach everything you must know to get adept at the language.
They will lay out the whole course as soon as you enroll in a new language. So, even if you do not take some lessons in the learning tree, you can see the entire course. With Duolingo, you will find a focus on grammar and vocabulary, along with some viable tips.
Though there are different units per module, each will have five levels to acquire mastery. Each level can have four to six lessons. So, there is ample material to learn. They follow a repetition technique. So, you will hear the sentences and words and repeat them to ensure you pronounce them correctly.
Duolingo's gamification is likable. So, the whole learning experience progresses like a game. It is a great strategy to have users coming back again and again.
D. Which is better, Duolingo or Rosetta Stone in Terms of Interface
Both are equally good in their intuitiveness and ease of navigation.
As Rosetta Stone has been around for several decades, it had enough and more time to perfect its interface and platform. Hence, they have designed a simple and sleek website.
So, when joining the platform, you will be prompted to choose your preferred language, followed by the goal for the language – Basic and Beyond, Family, Career, and Travel.
It does not have a placement test. So, you will have to choose your level as per your understanding. However, the good news is, it lets you shift from one lesson to another, unlike Duolingo.
Overall, the interface is engaging and intuitive. So you will not experience any trouble getting your way around. You can seamlessly access your scores and progress for every lesson by browsing through the dashboard. Their simple organization keeps you constantly updated about your progress.
Moreover, their app and desktop are in sync. So, where you stop on the desktop is where you can begin on the app. Their activities follow the same consistent format, which becomes muscle memory in no time.
Is Rosetta Stone better than Duolingo in the interface? Learners point out that Duolingo looks and feels like a gaming app. You can download the app and use it on your desktop or phone. They have an easy-to-navigate and colorful interface. Hence, getting around is easy.
Before starting, make a profile and select your target language and weekly goals. The app also has a placement test to understand your current language understanding and help you pick decide where you must begin.
Once you commence your lesson, you have to press on the green owl icon that directs you to the skill tree. Every skill is showcased by an image and circle. The lessons follow a consistent format, which is a good plus.
E. Exercises and activities
Rosetta Stone has a more extensive content and activity library than Duolingo.
With Rosetta Stone, you get a variety of basics, but there is also a lot of repetition. But where Duolingo makes you translate an odd sentence, Rosetta Stone has put a lot of effort into its speaking and reading exercises.
You get an array of activities with audio read by a native speaker. They read at a decent pace, which is the quintessential part of language learning where your progress becomes most apparent since vocabulary, grammar, and reading, all combine here.
Their pronunciation activities are their highlight as they are engineered with TruAccent Speech recognition. Hence, you can compare the recorded speech with that of the native speakers. They also offer conversation practice via live tutoring.
Further, upon comparing Rosetta Stone vs Duolingo activities, we found that Rosetta Stone makes you write a little more than Duolingo, even when you do not work with the translations. Even though their writing test is very elementary, it is still better than what Duolingo offers with its short tests and lessons.
Unlike Rosetta Stone, Duolingo has game-like exercises, sadly not as diverse as Rosetta Stone. But their game-like presentation takes the monotony out of the window. You will find MCQs, fill in the banks, and sentence-reordering activities.
Several speaking activities are also present. Thus, Duolingo offers a fun way to better your vocabulary before you commit to a more rigorous language learning program.
But which is better, Rosetta Stone or Duolingo? Rosetta Stone is a clear winner, given the effort they put into their exercises.
F. Grammar & vocab
Though we find both inefficient in vocabulary and grammar, Duolingo does a better job than Rosetta Stone.
In Rosetta Stone, the primary focus is on conversational skills. Thus, there is not ample practice material for grammar and reading comprehension. Even though grammar is not imperative for fluency, it is vital to have a solid grip on the language.
Comparing Rosetta Stone vs Duolingo grammar and vocabulary emphasis, we found the latter has gamified grammar exercises, MCQs, and fill-in-the-blanks that help you improve your grammar and vocabulary.
In every skill unit, you will find five levels that have a decent blend of grammar and vocabulary in every section. They also provide helpful tips to better your grammar before every lesson. But their classes do not have a structure, and there is a lot of freedom in picking the skill you wish to do in every section.
Jumping around can be a roadblock in building your grammar. But if we have to choose from Rosetta Stone and Duolingo, we like the latter better.
G. Bonus resources
Rosetta Stone offers more bonus resources for customers than Duolingo.
Rosetta Stone has various additional resources in their subscription, such as on-demand videos that help you get well-acquainted with the local culture. They also have many short stories that elevate your listening and speaking skills.
You get phrasebooks where you can improve your pronunciation with their voice recognition technology. In addition, they also have an alphabet tool that makes you more fluent as a writer and comprehend the target language better.
H. Live sessions
It is impossible to compare Rosetta Stone vs Duolingo live classes because the latter does not have this option.
If you are serious about getting well-acquainted with a language, you will love the live sessions from Rosetta Stone. Sadly, Duolingo does not have this feature.
However, please know it is not part of their subscription, and you will have to bear an additional cost. Coaching is not a part of their base subscription. Regardless, it is an excellent way to learn the language as you will enjoy one-on-one learning with the tutor.
These will be tailored sessions where the coach will help you get more clarity on grammar rules, pronounce the words better, and be consistent with the language.
I. Flexibility
No point in guessing: Rosetta Stone's programs offer more flexibility than Duolingo. 
If you seek flexibility, what should be your choice from Duolingo or Rosetta Stone? In our view, Rosetta Stone is a clear winner because they let you switch from one class to another or one course to another.
Thus, you are not bound to follow a strict schedule. On the contrary, Duolingo lays out an order you must follow to complete the module. You can only progress to the newer Duolingo model after you complete the previous ones.
Further, Rosetta Stone also gives more flexibility in their supplemental drills. So, if you lag in any area, they allow you to focus on that area to perfect it. You do not get that flexibility with Duolingo.
Related: Babbel vs Duolingo | Memrise vs Duolingo | Babbel vs Rosetta Stone | Pimsleur vs Rosetta Stone|Babbel vs Duolingo |Rocket Languages vs Rosetta Stone |Mondly vs Duolingo
Is Rosetta Stone Worth It?
Rosetta Stone is indeed worth your time and money.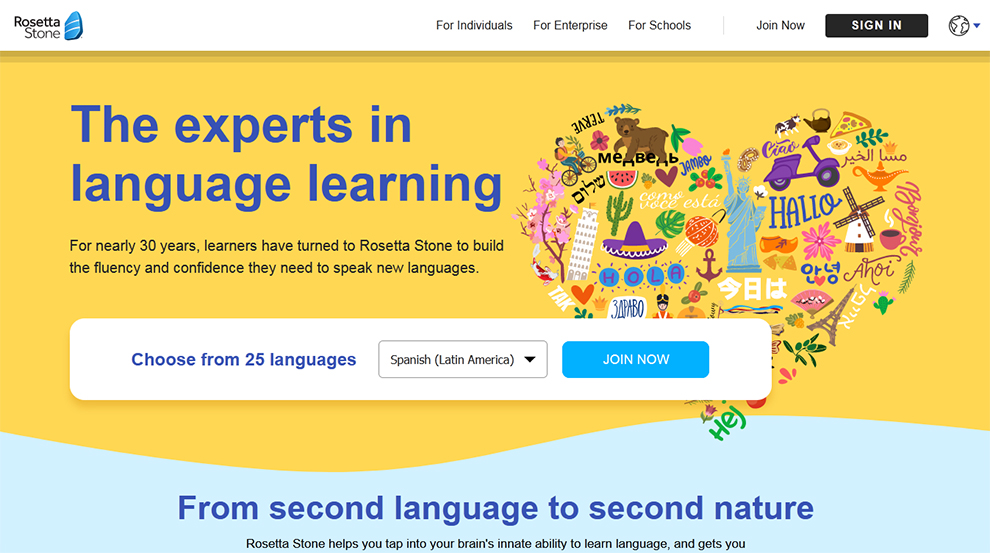 Rosetta Stone is one of the most recognized brands and is a stalwart in language learning. They have been around since 1992 and were christened after the Egyptian hieroglyphics. Their earlier version came in big CD-ROM boxes, but today you can download their teachings via an app.
You can access Rosetta Stone on the web browser or their Android or iOS app. However, their lessons might take time to process on the smartphone. Fortunately, Rosetta Stone is very interactive and focuses on audio-visual learning using your target language.
Their lessons comprise spoken words with matching images on the screen. Once you complete the session, you will receive a percentage score that determines whether you passed or failed a class. However, you can redo the failed test or move on.
They also offer a breakdown of your performance in the different skills – listening, writing, grammar, vocabulary, and pronunciation. They teach you without translations, and you can find over twenty-five languages to learn from.
Pros
Cons

Immense focus on verbal practice through the exercises.
Excellent choice for visual learners
Plethora of supplemental resources – stories, on-demand videos, phrasebooks
Subtle integration of grammar through lessons and drills
Voice recognition technology is better than Duolingo

 

Less English since everything is taught in the native language, which can be frustrating for many
Matching phrases to pictures can feel amateur and repetitive

 
Is Rosetta Stone free?
No Rosetta Stone is not free.
Can you get fluent with Rosetta Stone?
You can get conversational fluency with Rosetta Stone by enrolling in their tutoring sessions.
Broadly, Rosetta Stone only helps build a solid foundation in your chosen language. However, it does not make you fluent. So, for fluency, you can either join their tutoring sessions or push yourself to a situation where you actively use the language.
How long does it take to become fluent with Rosetta Stone?
Typically, fifty hours will suffice to finish a language on Rosetta Stone. So, if you dedicate only thirty minutes per week, you can finish your learning in twenty weeks.
Is Duolingo A Good Language App?
Of course, Duolingo is an excellent language-learning application. 
Duolingo is one of the most popular language-learning apps. It is primarily free and follows a video-game-like structure. When you start a lesson, you will find small chunks of new information where you have to fill in the answers.
You read or hear a word or phrase, then type something or say something that matches it as a response. They have animated characters that show up when you answer the question to motivate you for nudge you into trying again in case of a wrong answer.
As you learn, you graduate to different levels, earn rewards, set challenges, and earn badges. You can also enter into a race with other learners to assess how well you learn. Duolingo targets your speaking, listening, writing, and reading skills.
However, they do not have enough depth in any section. So, even though you will catch a new vocabulary, it wouldn't be sufficient to get well-acquainted with the language.
Pros
Cons

They gamify the learning experience, which makes it fun.
They have a free version.
Regular review sessions help you understand and learn better
They offer various exercises and drills.

 

It is not as comprehensive as Rosetta Stone
Focus on grammar is less.
The free version has limitations.

 
Can you become fluent from Duolingo?
Duolingo will give you the language's foundational understanding but not make you fluent.
How long does it take to be fluent on Duolingo?
It can take around three months to get some solid clarity about a language with Duolingo.
Do you earn a certification with Duolingo?
Duolingo offers a certification that is valid for two years. After completing the course and taking the test, it takes two days to generate the certificate, and it will display your score.
What are the disadvantages of Duolingo?
Duolingo is not comprehensive and lacks many features. These two things work against it the most.
 Is Rosetta Stone Better Than Duolingo – Final Word
After our detailed comparison above, we feel Rosetta Stone is a better pick than Duolingo. It is an excellent choice for motivated and committed learners who wish to develop true fluency and acquire a deeper understanding of the language.
Their supplementary resources and immersive methods work well for an interested learner. Thus, it is a clear win for Rosetta Stone. However, if you wish to learn a language without paying a cent, give Duolingo a try. It is a good selection for casual learners who want to get acquainted with the language's fundamentals.
Regardless, if you are still unsure about which one to choose from, Duolingo or Rosetta Stone, you can enroll in their free trial, test the waters, and then decide.