Don't miss the class by Aaron Baggenstos
Wildlife photography holds both artistic and scientific value. But, to capture excellent and powerful pictures, it is essential to learn the drill.
A wildlife photography course that leads the pathway to get into this profession is not complex. It starts with acquiring a sound qualification from a photography school. It will take two to four years to complete a degree program that teaches you basic to advanced photography techniques necessary for a successful career.
If it has to be your profession, you need comprehensive knowledge right from the nitty-gritties of the topic. But if you are already in it and wish to work on the rough skills, acquire any specific technique, or want to know whether the profession is for you or not, an online class can help.
So, here we present the best options for that.
Best Wildlife Photography Classes for You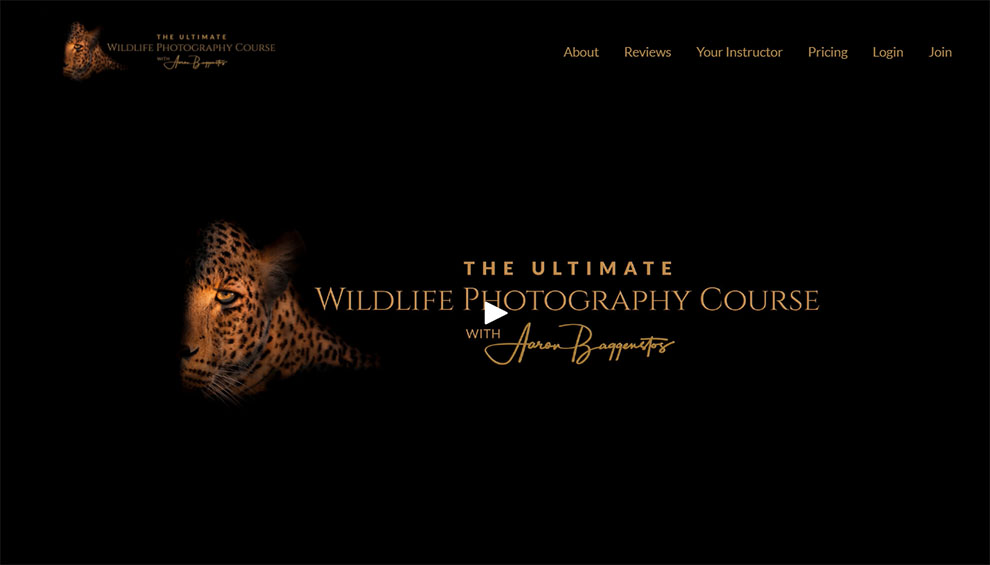 Why This Course: First of all, you will study with Aaron Baggenstos, a supremely talented and internationally acclaimed instructor.
Secondly, it is a comprehensive wildlife photography course for beginners to get to the expert level. The instructor starts from the basics, covering everything from location settings to macros, clicking portraits, and printing them.
What's There To Like?
Irrespective of your geographical location or existing skill set, this class will offer you the necessary strategies and tools to help elevate your portfolio.
When you enroll in the class, you become a member of the inner circle and get access to exclusive discounts/offers on the latest software and gear from their sponsors that includes top gear manufacturers from the industry.
It is a self-paced class. You can watch at your time and schedule.
You receive unlimited access to the class.
It comes with a 30-day money-back guarantee.
Things You May Not Like
There is no certification.
In a recorded class, it often gets challenging to clarify your doubts.
About The Course
In this class, the instructor attempts to teach you how to take beautiful, award-winning sharp pictures sans an investment in expensive equipment. You will learn all the skills you require to become successful in your career as a wildlife photographer.
In this eight-module comprehensive wildlife photography training, you will understand the top photographic strategies and the post-processing techniques necessary to take on this remarkable journey of capturing animals.
As you proceed with the class, you will learn to capture images in magical light, process the pictures shot in magical light, make a wildlife panorama, remove distracting elements from your photos, secrets to stunning image quality, and more.
Reviews by Janet O.
"
"Not only is Aaron an incredible wildlife photographer, he excels at revealing his skills to others. This course has helped me get out of the Covid blues and motivated me to try new things which have improved my wildlife photography."
Related: Best Canon Photography Courses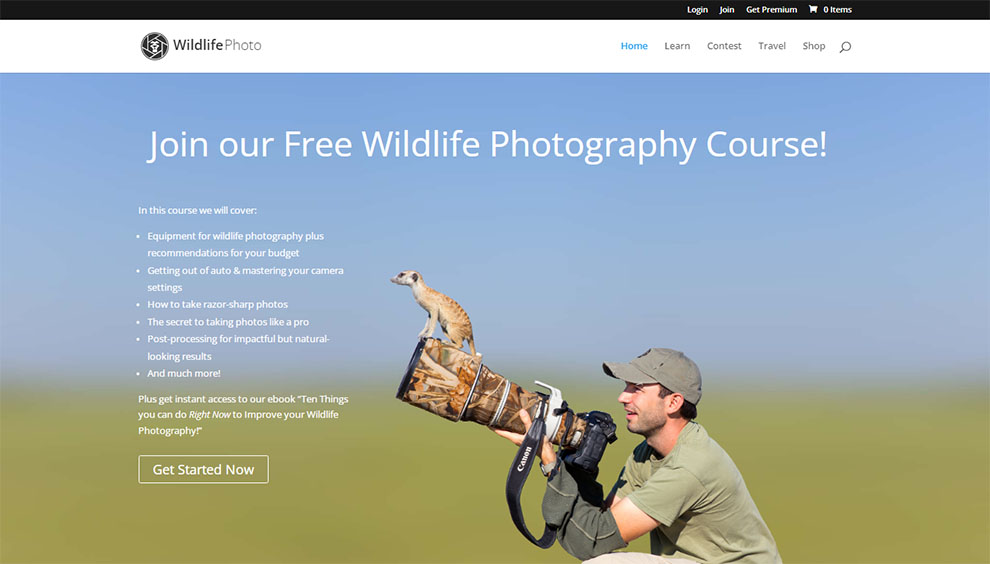 Why This Course: It is a free course that offers you diverse knowledge. There is also a complementary eBook included.
What's There To Like?
You get equipment suggestions
Apart from the knowledge you gain, Wildlife Photo organizes a photography competition that allows you to bag incredible prizes like a $12000 luxury safari for two, a lens and camera combination ideal for your wildlife photography journey.
Things You May Not Like
You do not earn a certification.
About The Course
In these wildlife photography classes, you will learn about the equipment you need for wildlife photography and recommendations for your budget. You will also know how to get over the comfort of using auto settings in the camera and mastering the camera settings.
Further, the session also teaches you how to click razor-sharp pictures. You will learn all the instructor's tips and tricks to take beautiful photographs like a pro.

 
Why This Course: It is one of Udemy's top online wildlife photography courses for beginners. It starts from the basics and takes you through the most advanced learning level.
What's There To Like?
It is a bestselling class with a high rating of 4.8.
Whenever the instructor updates the class, and you get access to all the fresh content without paying a penny extra.
These wildlife photography classes have various smaller sections, each comprising several concise lectures, typically 4-8 minutes long for a streamlined understanding.
You do not have to follow a specific order to watch this course. You can pick/avoid any topic you like.
There is a 30-day no-questions-asked full money-back guarantee.
Things You May Not Like
A significant chunk of the class focuses on expensive gear, which may not appeal to the average amateur learner.
About The Course
In this course, you will learn which lenses and cameras are suitable for wildlife photography and ways to support your equipment in the field. Further, Villiers Steyn also teaches you how to take beautiful wildlife pictures with blurry backgrounds.
As you progress further in your wildlife photography training, you will learn to freeze the action and curtail your focus, even when the objects are in motion.
With this course, the author aims to help you take beautiful and creative wildlife pictures. You will also discover the impact of human-made and natural light sources on your photographs. The instructor will also teach you ways to anticipate animal behavior and adjust your camera accordingly.
Prerequisites
It is a wildlife photography course for beginners, but it is good to have a fundamental knowledge of settings like ISO, shutter speed, and aperture.
In addition, you also need equipment to work with in this hands-on session. Having a digital camera – mirrorless or DSLR camera will help.
Reviews by Sunny K.
"
Best course for beginners..sir taught each and everything in a easy and nice way..thanks.
Why This Course: In these wildlife photography classes, you will study with one of the most legendary and prolific wildlife photographers with an experience of over four decades, Tom Mangelsen.
What's There To Like?
The class is available as a fast class for students with a time crunch. However, this option is available only for Creative Live subscribers.
You get lifetime access to the class.
You can sync the class offline with your iPhone and iPad apps.
Things You May Not Like
It can be somewhat expensive for an average learner.
About The Course
It is one of the most fulfilling online wildlife photography courses, wherein you will study with Tom. He will take you through his 40 years of experience. He will help you observe the insights behind the Earth's last greatest wild places.
Tom also discusses the complex process behind every spectacular wildlife photograph. As an outcome of this class, you will learn everything you need to be a good wildlife photographer.
Further in this course, the instructor also discusses how to capture wildlife in their natural environment and the best places to find animals without compromising on wilderness ethics and respecting the wild. You will also discover ways to amplify the visibility of your work.
In the last part of this class, you will understand the basics of gear, how to find the right equipment, lighting needed for capturing good pictures.
Reviews by James Potvin
"
Great wildlife and nature photography class! Tom taking us out in the field with him to see how and what he thinks was amazing. Thank you!
Why This Course: It is the best pick if you need wildlife photography training without investing much time and effort. It is a short course with excellent learning objectives for intermediate learners.
What's There To Like?
It is a hands-on class with a project to practice what you learn.
You will find several assignments and exercises to fetch your real-world experience.
Things You May Not Like
There's no certification included in the class.
About The Class
In this half-hour wildlife photography course, you will learn Konsta's tried-and-true techniques and discover how to capture beautiful animal portraits. You will also discover tips for finding the perfect shoot location in your surroundings and gaining the trust of foxes, hummingbirds, and squirrels before you click them.
Next, you will learn how to whisper to get the animals closer to your lens and pick the correct settings and camera equipment to capture animal emotions. The class unfolds insights for every level of equipment and experience, from DSLR to iPhone. So, you will walk away with the knowledge and skills to shoot like a pro.
Reviews by Kaley Della Sala
"
Great! Thank you! I love how you interact with animals. Can't wait to take my camera out now too!
Why This Course: It is one of the rare wildlife photography classes that benefit students of all skill-level and experiences.
What's There To Like?
There are no prerequisites to take this class.
You will bag a certificate of completion.
There is a 30-day safety net.
You will study with a knowledgeable instructor holding over two decades of experience.
Things You May Not Like
Some topics have been kept deliberately short. It can be off-putting for learners.
The captions are not accurate.
About The Course
It is a vast course for wildlife photography that covers everything you possibly need to know. The instructor discusses the lowdown on the ideal equipment selection, picking the right lenses and camera to suit your shooting needs and budget. He will also enlighten you on how composition can break or make any image.
Further, in the class, you will also discover how light lies in the heart of photography and all the wildlife photography tactics to win any competition.
Moreover, the mentor will also share some top wildlife destinations to visit for the best pictures. You will also discover different shooting techniques, various accessories to simplify the experience, and workarounds during safaris.
What's More in Photography: Real Estate Photography Courses| Newborn Baby Photography | Food Photography
Reviews by Tapan C.
"
Very interesting & detailed information. Interested in photography tour with the author.
Course Selection Criteria
Above, we have discussed various online wildlife photography courses. Though they teach you different aspects of wildlife photography, they are all the best in their domain. Below, we will discuss the selection criteria we opted for them:
 
1. Instructor's experience and background: Anyone can capture good pictures by fluke, but to click masterpieces consistently, understand animal psychology, and know when to click for the million-dollar shot requires experience. So, the first prerequisite was the instructor's experience and knowledge of the subject.
 
2. Gear and equipment: Some instructors push on using the latest and the costliest equipment available, but not everyone finds it accessible. So, we have picked classes where the instructor gives you the freedom to choose a gear that fits your budget.
 
3. Course delivery: You cannot capture beautiful shots merely with theoretical knowledge. So, we have opted for the classes that are a right amalgam of theoretical and practical aspects.
 
4. Value for money: Some of our listings lie on the costlier end of the spectrum, but their learning outcomes justify the price you pay.
To Sum Up..
So that is all from us on the top wildlife photography courses. They are all good classes, but your choice will depend on the selection criteria you use for picking them.
Let's now quickly hop on to some FAQs.
Frequently Asked Questions
Ques 1. How much does a wildlife photographer earn?
Ans. Wildlife photographers can bag an average annual compensation of $40,676. If working hourly, they earn $19.56 per hour.
Ques 2. Is there any degree in wildlife photography?
Ans. Yes, there are. You can take up a photography degree and specialize in Wildlife Photography. Although it will sound weird, but basic high-school-level zoology knowledge will help you a lot in this field. You would be better equipped to know the nature of each animal and its instincts.
[xyz-ihs snippet="schema-best-wildlife-photography-courses"]