Reading Time:
8
minutes
Know the difference between food photography and food styling with me. Further get your hands on these kickass courses from expert instructors to get clicking yummylicious food.
Have you ever marveled at the stunning food photographs that grace your Instagram feed? Well, I have! I was deeply intrigued by the skill and artistry behind these mouthwatering images.
So, I embarked on a personal quest to unveil the secrets of food photography. After thorough research and personal experience, I handpicked a selection of the best food photography classes that helped me master the skill of capturing delightful dishes.
With this article, I will share some such courses to help you elevate your food photography skills and produce attractive visuals that leave viewers hungry for more. These classes can be an excellent investment for budding photographers and food bloggers.
Let's get to it right away.
What Are The First Few Things I Notice When Selecting A Course?
While picking the best food photography course, I considered some vital factors. Here are a few of them:
I first analyze the course content and assess if it covers the techniques and topics you hope to learn.
Further, I check if the class needs special equipment, such as a camera, or if it caters to smartphone photography. It is crucial because many might not want to spend on a camera.
What are the course content of the article. What it entails and teaches.
You can also employ these factors to find the course combined with a food photography workshop that best matches your resources and goals.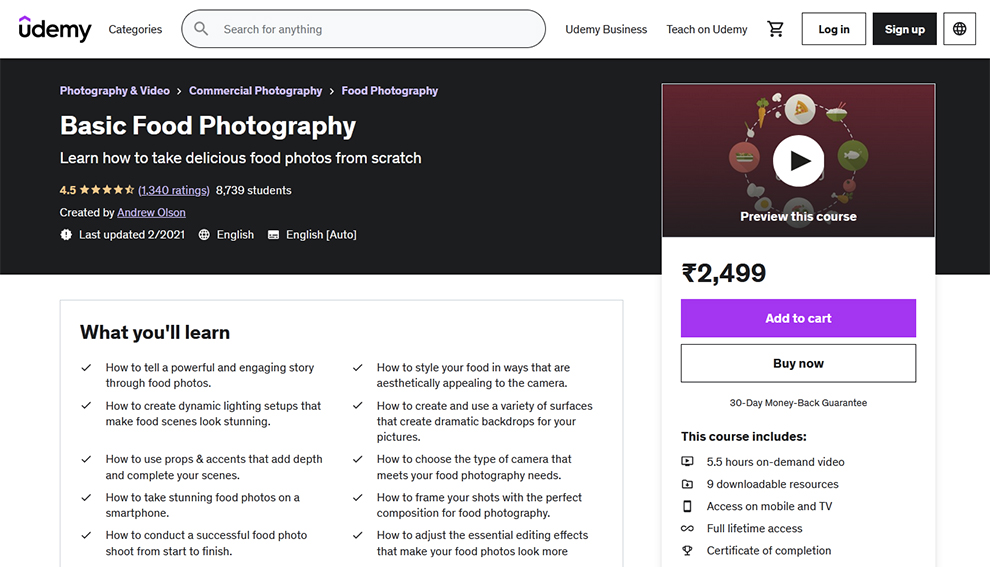 Students Enrolled:  8,736 students
Rating: 4.5
Certificate: Yes
Accredited: No
Key Highlights:
This class will help you take beautiful food pictures even if you haven't picked a camera or styled a plate of food. It comprises 30 lectures and seven sections. The total duration is 5h 58m, and the class puts together the technology and the art behind food photography in a manner that is easier for you to bring into practice.
The skills learned will help you take magnificent pictures from start to finish, anytime, anywhere, and with any camera.
The food photography online course will teach you a bunch of expertise, such as:
Food storytelling
Food styling
Scene composition
Photo shooting
Image processing
Sharing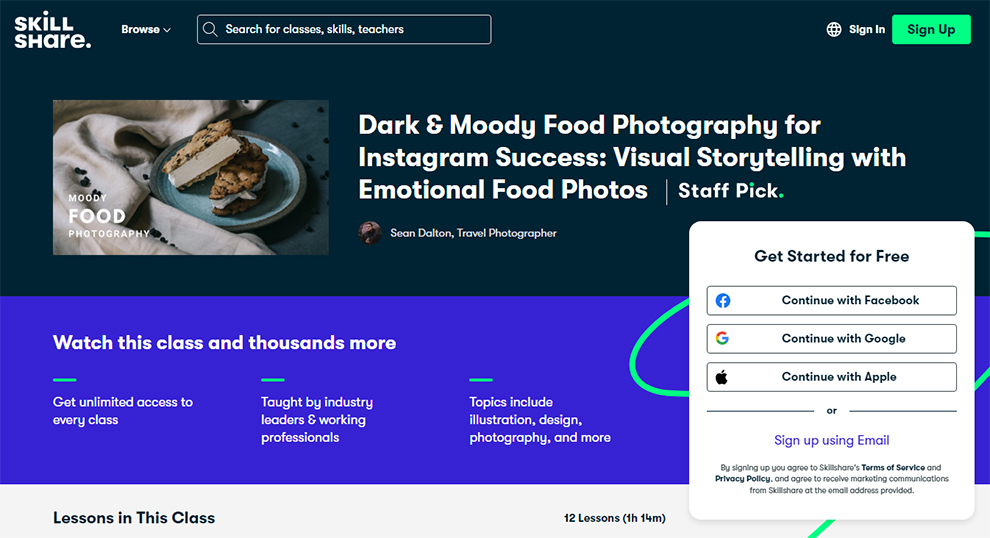 Certificate: No
Accredited: No
Key Highlights
Get ready to unveil the secrets of moody and dark food photography with lifestyle photographer Sean Dalton. These are intermediate-level food photography online classes.
Over 13,000 students (including me) took this course, and I have personally cherished every bit of it. It has 110 projects that give you practical exposure. Across the session, Sean puts across his expertise in capturing visual stories that evoke emotions.
As part of this class, you will learn about finding the perfect lighting, boosting the story via styling, vital gear including smartphone photography, three simple compositions to follow, and editing techniques on both computer and smartphone.
This class is ideal for professionals and beginners alike and combines technical knowledge with foundational photography skills, allowing you to elevate your visual storytelling abilities.
Students Enrolled: 41.9 K students
Rating: 4.2
Certificate: No
Accredited: No
Key Highlights
It is one of Creative Live's most popular food photography courses that helps you photograph your food artfully.
The instructor teaches you how to share a story about aesthetics, seasons, and tastes. You will discover how to capture aesthetically and share your work with potential collaborators and clients.
It will be helpful for anyone who's looking to explore a new career in food photography. It would also help anyone wishing to improve and accentuate existing food styling skills. The course will provide you with industry knowledge and technical skills needed to succeed.
You'll learn to craft a food story with meaningful, unique, and intimate images. The course has been put together by noted photographers Todd Porter and Diane Cu. So, they will show you a useful way to utilize natural light, whether shooting in a restaurant or at a table.
The food photography online course comprises 43 video lessons in HD and 15h 55m of class content. Along with it, you'll also get exclusive bonus content. Moreover, you get lifetime access to this class. Creative Live allows both online and offline access to the course.
You can also sync and view offline with the iPad and iPhone applications. With this course, you'll get a 100% satisfaction guarantee.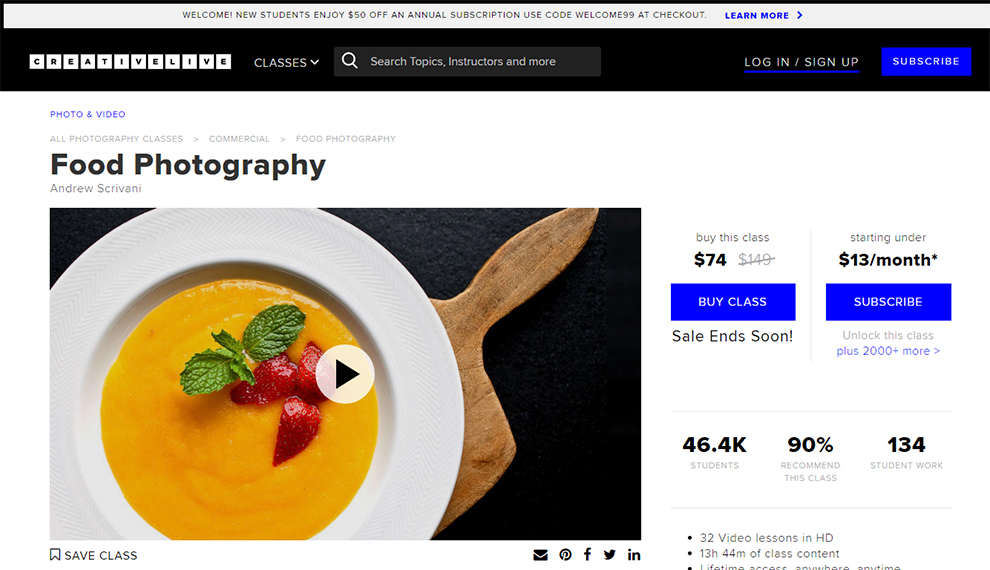 Students Enrolled: 46.4 K students
Rating: 4.5
Certificate: No
Accredited: No
Key Highlights:
In these food photography classes, you'll learn from a world-renowned and commercial food stylist, photographer, and New York Times columnist Andrew Scrivani.
He will teach you the essentials of preparing your food before the shoot and help you understand the differences between the lighting gear and the camera and doing the right touch-ups and editing post-production.
The tutor will also offer adequate business strategies to turn this hobby into a dream job. You'll also hear the special guest Shauna Ahern of the Gluten-Free Girl blog and book fame talk about food blogging, recipe writing, and growing your online audience.
It is a detailed course of 32 Video lessons in HD that comprises 13h 44m of class content. This course is suitable for seasoned photographers looking to expand their food photography skills and novice photographers relying on smartphones.
Some highlights of this course are:
Gain insights into the business aspects of photography, including selection, styling, pricing, negotiation, preparation, marketing, and copyrights.
Capture compelling images on a tight budget using a smartphone or point-and-shoot camera.
Adjust camera settings to optimize lighting conditions for your shots.
Effectively prepare for photo shoots and organize necessary materials.
Explore food styling techniques for various types of dishes, from soups to pastries.
Develop a captivating food blog with engaging written content.
Establish an efficient workflow and post-production process.
Overcome challenges of low indoor lighting with affordable lighting equipment solutions.
If you are a Canon camera user, here is a little something you will like – Online Canon Camera Courses.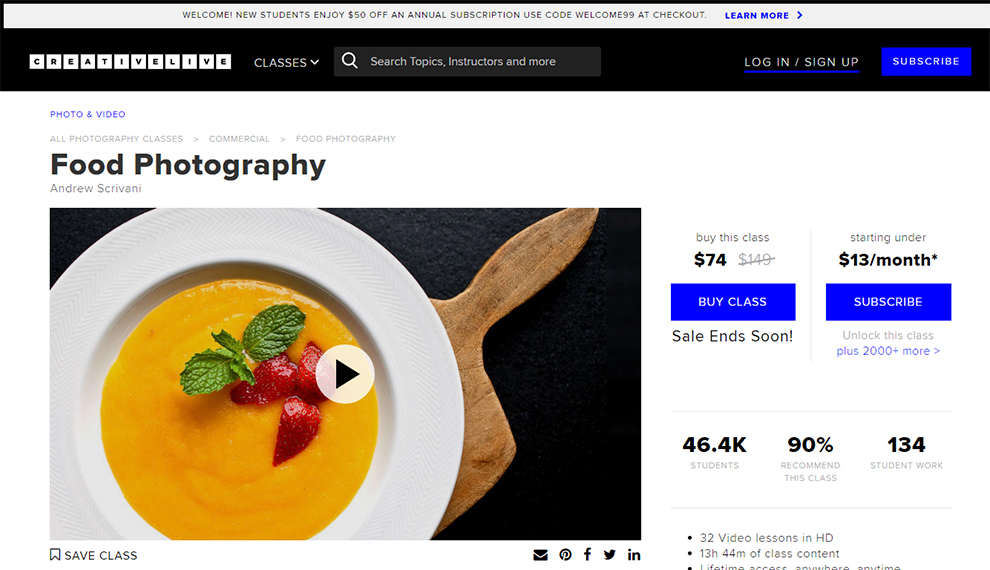 Students Enrolled: 27.1 K students
Rating: 3.9
Certificate: No
Accredited: No
Key Highlights:
With this course, you'll work with your tutor, Penny De Los Santos, who will help you to perform food photography by viewing more than just what's on the plate. She will help you see the details, the culture, the scenes, the history, the geography, and all the moments related to food.
With this food photography online course, you'll get access to 19 video lessons in HD and 14h 1m of class content.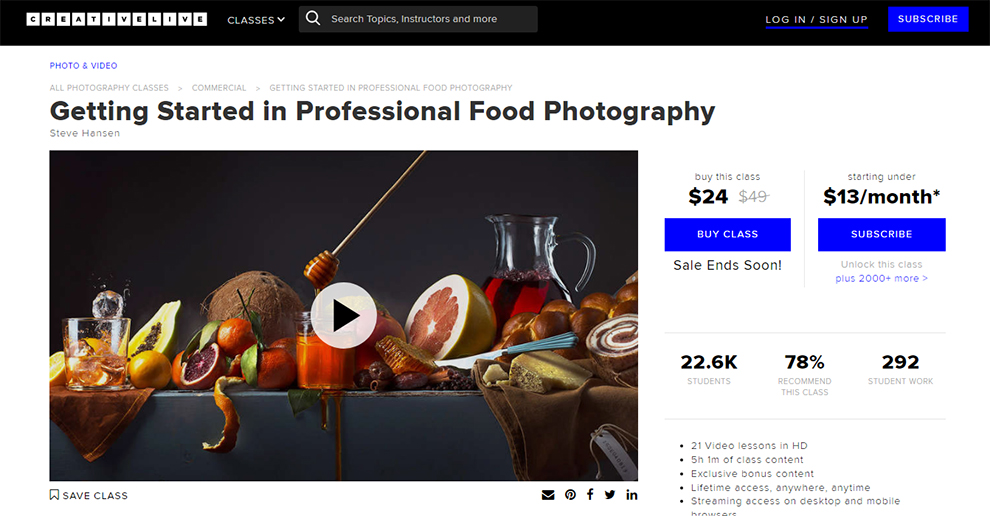 Students Enrolled: 22.6 K students
Rating: 3.9
Certificate: No
Accredited: No
Key Highlights:
This class includes 21 Video lessons in HD, 5h 1m of class content, and some exclusive bonus content for advanced learning. All resources come with lifetime access. You will learn food photography basics with the class. Some crucial learning outcomes include:
Boost your food photography skills
Learn to capture beverage, main course, and dessert shots effectively
Master the art of lighting and styling to create captivating images.
Develop your essential studio gear to optimize food styling and photography.
Students Enrolled: 92,669 students
Rating: 4.4
Certificate: Yes
Accredited: No
Key Highlights:
It is a self-paced food photography course and helps you capture beautiful pictures in just one hour of learning. With guidance from tutors and hands-on learning, you will learn to employ your resources effectively and build mouth-watering images.
The class covers selecting an ideal location, styling and preparing food, lighting techniques using inexpensive tools, camera settings, composition strategies, and photo editing.
In this course, you get a one-hour on-demand video and many downloadable resources that come with lifetime access. The class is suitable for beginners and covers the essentials for telling food stories through photography.
It will benefit foodies, bloggers, home chefs, and photographers interested in shooting food pictures. Once you finish, you bag a certificate.
 

 
Certificate: No
Accredited: No
Key Highlights:
It is one of the most in-depth and stylish food photography courses. In this class, you get seven lessons, and they cover a total of 29 modules. There are eight hours of permanently recorded video tutorials with hands-on demonstrations and live discussions every two weeks for the first 12 weeks of the course.
It will help you get clarity, and you can have all your questions answered. You can also connect with the people in the community for better clarity. The course comes with written transcripts of every video. It is excellent for people with hearing impaired or English as their second language.
You also get seven hands-on assignments, corresponding to every lesson, to help you assess your newfound skills. The course has a 150-page guidebook with richly-detailed information plus example images that can help you guide you through the class.
There are also audio files for every tutorial video. So, you can go through them in whichever method works well for you.
Some things you learn in these food photography classes are:
Attract a larger customer base with stunning, captivating photos.
Transform your envisioned image into reality through your camera lens.
Develop confidence and proficiency in styling, shooting, and editing.
Achieve a consistent visual aesthetic.
Overcome pre-shoot anxiety and confidently create beautiful imagery with your newfound skills.
Related: Real Estate Photography Courses | Newborn Photography Courses | Wildlife Photography Classes
Are There Any Food Photography Workshops Online or Free Courses?
Yes.
You can find workshops or free courses online to supplement your learning experience. A few of the free courses for food photography include:
Food Photography, Lighting, and Styling (workshops Included) [Visual Education]
Free Food Photography Lesson [My Vegan Minimalist]
Advanced Food Photography: Art of Food Stories Workshop [Two Loves Studio Workshop]
Is Food Styling Class the Same As Food Photography?

 
Food photography and styling are closely related but distinct disciplines. Food styling relates to arranging and presenting food in an aesthetically pleasing manner. On the contrary, food photography relates to creating and capturing visually appealing food images.
How Do I Start A Career In Food Photography?
You can start your career in food photography by practicing and refining your photography skills. Further, network with professionals from the industry, collect certificates from food photography online classes and build a portfolio.
You can also consider working with established photographers to gather exposure and experience.
How Can I Sell My Food Photos?
You can approach stock photography websites, collaborate with businesses in the food industry, such as restaurants or food publications, or contact marketplaces seeking food-related content and sell your food photos to them.
Once you learn food photography, employing your social media platforms or building a professional website can also be an excellent way to present your work.
What Are The Cons of Being A Food Photographer?
Some cons of being a food photographer include the challenges of working with perishable subjects, the industry's competitive nature, potential demands for long hours, and the constant need for innovation and creativity to stand out.
Further, the physical demands of food styling and photography, such as working with hot or messy ingredients and sometimes food items out of your current palette can be frustrating.