Reading Time:
11
minutes
Given the vast availability of data online, the risk and susceptibility of data to hacks are also ever-increasing. Regardless of how much we run from them, cyber warfare, data breaches, and cyber-attacks are all very real.
Thus, it is quintessential to seek ways to fight back. You can only do it if you know how the trespassers usually act. To be honest, cryptography has a mega role to play in cybersecurity. With a cryptography course online, you can learn about it all, like how to enable data to be transferred securely.
Well, you could be an IT professional or a newbie just starting up, there are cryptography courses for all sorts of learners.
9 Courses To Learn About Cryptography
Why These Cryptography Classes?
We searched the web for the best cryptography lessons online and found 100s of options. From them, we picked the top 30 listings and compared them on five parameters:
What are the course offerings?
Are the reviews good?
Is it paid?
Do you get a certification?
Is the instructor qualified?
It helped us narrow down the list to the top 20 programs, and then we presented this list to cryptography pros globally, and they helped us pick the below-listed nine courses. Let us discuss them one by one.
9 Best Cryptography Classes and Courses Online
| | |
| --- | --- |
| Rating | 4.8 |
| Enrolled | 384,454 students |
| Who should take this course? | This course will benefit beginners with no background in Cryptography. |
| Duration | Approx. 23 hours to complete |
| Instructor | Dan Boneh |
| Paid | Yes |
| Certification | Yes |
| Return or refund policy | 14-day moneyback guarantee |
| Cons | Though the professor is pretty knowledgeable, his pace is pretty fast. It can be challenging for new learners. |
Cryptography helps shield computer systems and understanding it is the purpose of this Coursera's best cryptography course online. Across the class, you will find several open problems in cryptography. Hence, it is a hands-on class, and you will work on several programming projects.
After you finish this class, you can take Part 2 of the course, which covers more advanced cryptographic tasks like privacy mechanisms, zero-knowledge, and other encryption forms.
What will you learn?
In these cryptography classes, you will learn the following:
Inner workings of cryptographic techniques
Using the cryptographic systems in the real-world applications
How two entities with a shared secret key communicate securely
What happens when a powerful attacker eavesdrops and meddles with traffic
Deployed protocols
Understand the mistakes in existing systems
Public-key techniques that let two parties generate a shared secret key
Review BH.
"
Provides a comprehensive introduction to cryptographic history, current technology, best practices and known attacker techniques. A great deal of material is covered in a relatively compact program.
Rating
4.7
Enrolled
4,812 students
Who should take this course?
The class can be beneficial for:
 

People who took the instructor's CompTIA Security+ (SY0-501): The Total Course or any other cyber security class 
Those curious about cryptography
Beginner-level Cyber or IT Security Technicians who wish to know how crucial cryptography is to their job
PC and Network technicians wanting to expand their knowledge of cryptography in IT security
Those interested in learning how to keep our data safe from hackers as it travels across networks

Duration
2.5 hours of on-demand video
Instructor
Mike Meyers and Total Seminars
Paid
Yes
Certification
Yes
Return or refund policy
30-Day Money-Back Guarantee
Cons
In these cryptography classes, there is a lack of coordination between the two instructors.
In this class, you will study with Mike Meyers and Bill Saichek. They take you through this Udemy lesson in the most casual, fun, and informative manner. Across the session, Mike and Bill break down the complex topics to help you get well-versed with cryptography.
What will you learn?
It is the best cryptography course online from Udemy. Some things you will learn in this class are:
Caesar and Vigenere ciphers
Understanding cryptography and the key role it plays in shielding our digital data
Knowing how hashing can help us be sure that the data received or downloaded is legitimate
How to translate ciphers into the binary language of computers (1s and 0s).
Finding how the top sites employ the certification to ensure that your usernames, passwords, credit card numbers, and other personal data stay secure
Learning hashing, ciphers, asymmetric and symmetric cryptosystems, binary, public key infrastructure, and digital signatures and certificates
Preparing for the CompTIA Security+ exam by getting well-versed with PKI and cryptography, one of the top six exams in this domain. Here's a prep course guide for CompTIA IT Fundamentals.
Prerequisites
Some prerequisites associated with this cryptography course online are:
Basic familiarity with networks and PCs
Curiosity and interest in cryptography
Interest in the science of encryption and decryption and learning how it keeps our data safe across networks
Beyond this, there are no specific prerequisites associated with this class.
Review Zorana.
"
I loved how these guys broke down complex technical ideas into simpler easy to understand metaphors.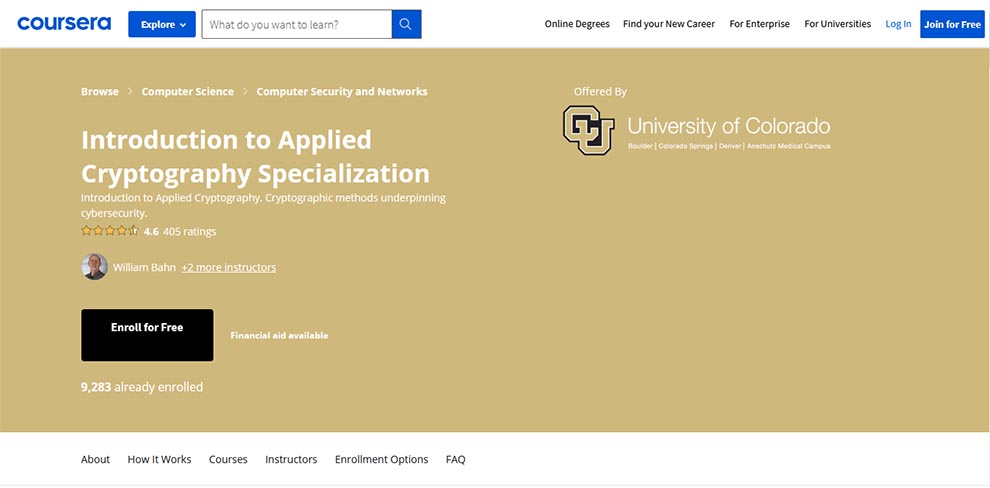 Rating
4.6
Enrolled
9,249 students have already enrolled in these cryptography classes

 

Who should take this course?
It is one of the top picks on Coursera for:

 

People new to cybersecurity
Those with some background in cybersecurity

Duration
Approximately four months to complete at a suggested pace of 3 hours/week
Instructor
Sang-Yoon Chang, Richard White, and William Bahn
Paid
Yes
Certification
Yes
Return or refund policy
14-day moneyback guarantee
Cons
Multiple things included in the quizzes are not covered in this course.
It is a detailed Coursera specialization. There are four cryptography classes in this specialization. These include:
Every class in this specialization has one related project. The projects help the learners objectively evaluate different cryptographic methods applicable to cybersecurity. Across the session, all the project assignments are graded.
So, to finish the specialization, you should avail yourself of 100% of the projects.
What will you learn?
In these cryptography courses online the chapters taught are:
Fundamental security issues in computer communications
Classical cryptographic algorithms
Symmetric-key cryptography
Authentication
Public-key cryptography
Digital signatures
Prerequisites
It is a beginner-friendly class, and you need no prior experience for this course.
Review FF.
"
Honestly did not expect to enjoy the class as well as I did. Such a wealth of information. Truly worth it.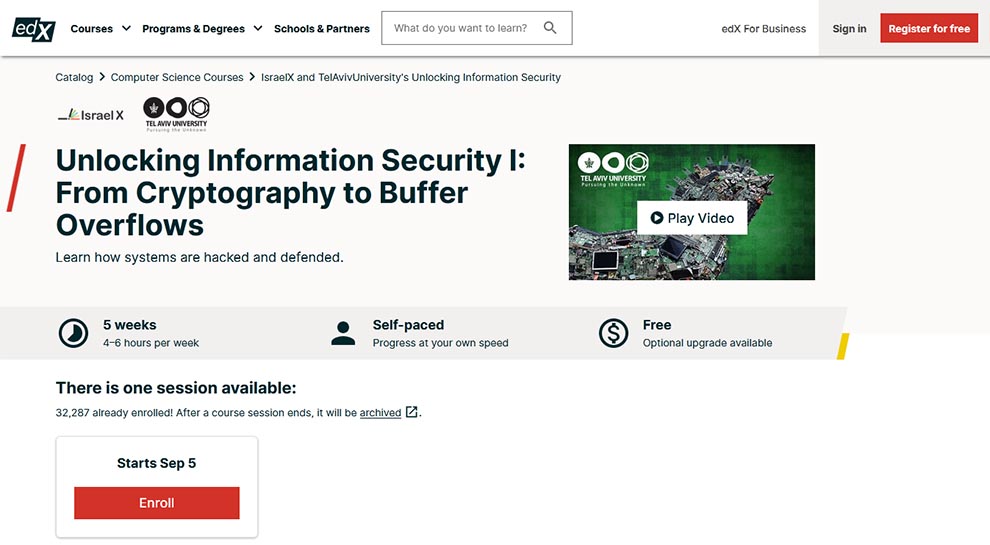 | | |
| --- | --- |
| Who should take this class? | These cryptography classes are not for learners residing in Iran, Cuba, and the Crimea region of Ukraine. But, rest everyone else can take this class. |
| Duration | Five weeks at a suggested pace of 4–6 hours per week |
| Pace | Self-paced |
| Paid or Free | Both options available |
| Certification | Only in a paid class |
| Enrolled | 32,202 students |
| Instructor | Avishai Wool and Dan Gittik |
| Cons | The free version does not have a certificate |
This can be your pick if you are looking for a free cryptography course online. Though you will have to pay for the certificate and you won't get instructor access, you can read the course material for free.
 
Its associated program includes a professional certificate in Unlocking Information Security.
What will you learn?
In the first part of these cryptography classes you will discover the following:
Basic terminology and concepts in the field of information security
Vulnerabilities, exploits, and an in-depth look at a real case study (Meltdown).
Some of the prevalent examples of design flaws
Implementation bugs and social engineering
Understanding of cryptography with focus on symmetric ciphers
High-level examination of hash functions
In addition, this cryptography course online also covers the evolution of cryptography
Overview of standard hash algorithms
Knowledge of famous ciphers and how to crack them
Rising cyber-attacks and how to counter them
Authentication schemes, including passwords, challenge-response, and biometrics
Clarity on hash functions – what they are, how to use, and how they get attacked
A critical view of different authentication schemes: passwords, challenge-response systems, and biometrics
Buffer Overflow, including common variants like Variable and Stack Overflow and simple yet effective mitigation techniques like canaries and DEP
Prerequisites
These are intermediate-level cryptography classes. Hence, there are some prerequisites associated with them. These include:
Mathematical maturity, including algebra knowledge, elementary combinatorics, and probability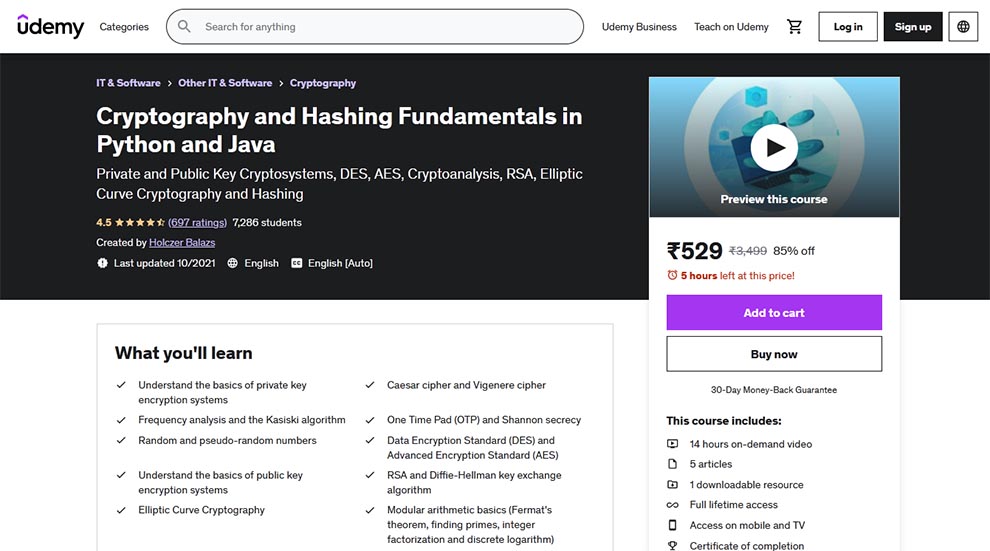 | | |
| --- | --- |
| Rating | 4.5 |
| Enrolled | 7,229 students |
| Who should take this course? | This class will benefit Java or Python developers interested in cryptography. |
| Duration | 14 hours of on-demand video |
| Instructor | Holczer Balazs |
| Paid | Yes |
| Certification | Yes |
| Return or refund policy | 30-Day Money-Back Guarantee |
| Cons | It is an excellent class, but the instructor could work a little on spoken English. |
 
This Udemy class takes you through hashing and cryptography in Java and Python. The course takes you through the theory and the implementation of every grasped cryptographic algorithm and ways to crack these systems.
What will you learn?
Some things you will learn in this cryptography course online are:
What is the aim of cryptography?
Basics of private key encryption systems
Understand the basics of public key encryption systems
Caesar cipher theory and implementation
How to crack Caesar's cipher
Frequency analysis and language detection
Vigenere cipher theory and implementation
How to decode Vigenere cipher with Kasiski-algorithm
One of the sections from these cryptography classes talks about random and pseudo-random numbers
One Time Pad (OTP) and Shannon's secrecy
The XOR logical operator
Why is it impossible to crack the Vernam cipher?
Shannon's secrecy, confusion, and diffusion
Data encryption standard (DES) theory and implementation
Cryptoanalysis techniques
Linear cryptoanalysis and differential cryptoanalysis
Advanced encryption standard (AES) theory and implementation
A few other things covered in this cryptography course online are:
RSA and Diffie-Hellman key exchange algorithm
Modular arithmetic basics
Elliptic Curve Cryptography
Understand hashing
Problems with private key cryptosystems
Modular arithmetic fundamentals
Finding prime numbers – naive approach and advanced algorithms
Prime numbers and primitive roots
Diffie-Hellman key exchange algorithm theory and implementation
Man-in-the-middle attack
Why does Bitcoin use elliptic curve cryptography?
More topics included in these cryptography classes are Euclidean algorithm; Euclidean and the greatest common divisor (GCD) problem
Discrete logarithm problem
Random numbers and prime numbers in cryptography
Integer factorization problem
RSA algorithm theory and implementation
The problem of factorization
Birthday paradox
Elliptic curve cryptography theory and implementation
What is hashing in cryptography?
Properties of hashing
MD5 and SHA algorithms
Extended Euclidean algorithm (EGCD)
Modular inverse problem
Prerequisites
You must have an interest in cryptography for this cryptography course online. Some prior experience in a programming language, especially Java or Python, can help.
Review jb J.
"
The course is well-organized, the graphical presentation and sound quality are very good, and it covers a lot of content. I am very satisfied.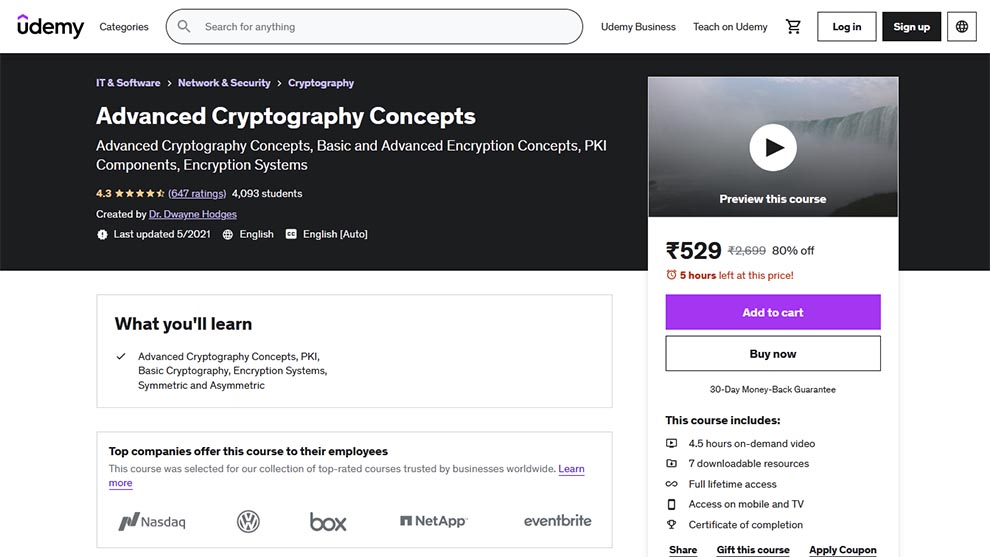 Rating
4.3
Enrolled
4,014 students
Who should take this course?
These cryptography classes are for:

 

Cybersecurity students, CISSP prep students, CCISO prep students, CEH prep, CNDA prep students, ECES students, SEC+ prep students, beginner, and advanced cryptography students
Information Security Engineers and Managers
Cloud Security Engineers and Specialists, CISO, CISO, and other Security Management

Duration
4.5 hours of on-demand video
Instructor
Dr. Dwayne Hodges
Paid
Yes
Certification
Yes
Return or refund policy
30-Day Money-Back Guarantee
Cons
The class could have a better structure.
Next, we have another excellent Udemy class.
What will you learn?
In this cryptography course online, you will learn the following:
Advanced Cryptography Concepts, PKI, Basic Cryptography, Encryption Systems, Symmetric, and Asymmetric
Applications of Cryptography
Private and public key pairs
Binary math
Symmetric and asymmetric algorithms with practical use cases
WEP and DES
Cryptographic Secure Channels and cybersecurity defense countermeasures
VPS, IPSEC, AH, ESP, and significant attacks against cryptosystems
How Blockchain works as a security solution. Check out these Blockchain certifications
Prerequisites
For this class, you need knowledge of network fundamentals.
Review Edward O.
"
Hodges is an amazing instructor. He explains cryptology in a way that is easy to understand and does a deep dive in all areas. I am looking forward to learning more from Dr. Hodges as I pursue my CISSP next!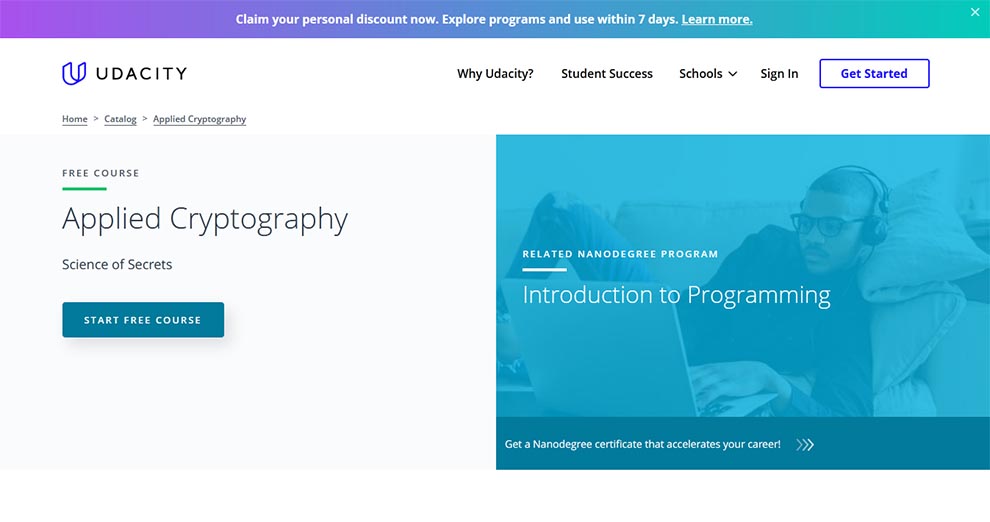 | | |
| --- | --- |
| Paid/Free | Free |
| Duration | Approx. 2 Months |
| Pace | Self-paced |
| Level | Advanced |
| Instructor | Dave Evans |
It is a free cryptography course online comprising rich learning content and multiple interactive resources. You will learn with top industry pros in the self-paced learning method.
In this class, you will see how to write and share secrets and what can go wrong when cryptography is misused or poorly implemented. It is a hands-on class. So, across the session, you will learn by doing.
What will you learn?
Some things you will learn in these cryptography classes are:
What makes certain ciphers perfect?
How to break Lorenz Cipher?
Sending messages when two people share a secret.
Symmetric Encryption
Key Exchange
Techniques to establish a shared secret
Asymmetric Encryption
Exchanging information using public key cryptosystems.
Public Key Protocols
Encrypted key exchange, certificates, secure commerce.
Using Cryptographic Primitives
Role of cryptography in anonymizing communication, voting, and digital cash.
Secure Computation
Computing without exposing data.
Prerequisites
It is Udacity's best cryptography course online. The class is free. So, you need no money to take this class. But, this session assumes prior previous programming experience and some familiarity with and theory of computation and algorithm analysis.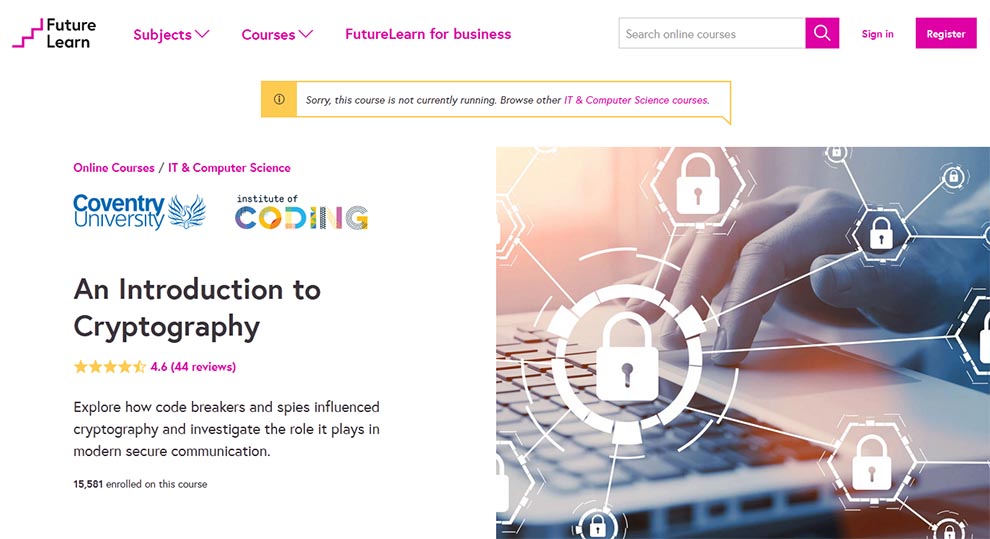 | | |
| --- | --- |
| Rating | 4.6 |
| Who should take this class? | This class will benefit industry representatives from the healthcare, manufacturing, and those learning about the automotive industry. In addition, the course will also help people who wish to know more about how cryptography keeps our communications safe. |
| Enrolled | 15,581 students |
| Duration | Two weeks at a weekly study of six hours |
| Instructor | James Shuttleworth, Antal Goldschmidt, Derrick Newton, and Christo Panchev |
Next, we have cryptography classes by FutureLearn. You will collaborate and meet with other learners, partake in active discussions, and share ideas at every step across the course.
What will you learn?
In this class, you will learn the following:
Random number generation
Introduction to cryptography and cryptanalysis
Explain the concepts used in early substitution and translation ciphers
Apply cryptanalysis methods to simple ciphers
Foundations of data security
The mathematical concepts underpinning cryptography
Encrypting data yourself by completing a cryptography and cryptanalysis challenge
Assess simple cryptographic techniques from a practical and theoretical viewpoint
Demonstrate the use of hashing, salt, and nonces in a variety of applications
Describe the concepts of entropy, pseudorandomness, and unicity
Classical cryptography and historical ciphers
Review Suman S.
"
yes, the beginner level was right for me the content was purely made for the beginner.
LinkedIn is a hub for some of the best cryptography courses online. On the platform, you will see classes by top experts and institutions. You can find sessions for beginner, intermediate, or advanced levels. There are both paid and free sessions on the platform.
There are both self-paced and instructor-led classes. With the paid sessions, you will bag a certification. It will be a shareable certificate. So, you can download, print, and include it in your CV or share it on your social media to amplify your chances of bagging a job.
Of the many options, the three best LinkedIn Learning offerings include:
Related: Ethical Hacking Courses
 
Conclusion
So, these are the top nine best cryptography classes online. We have tried to include all details about these courses. Regardless, these are all top-notch lectures, one better than the other. But, we have a personal recommendation for our readers. It is the Cryptography I – Offered by Stanford – [Coursera]. You can back it with part 2 of the class for a wholesome learning experience.