Reading Time:
10
minutes
'A good writer can never be made, you're born with it.' Well, whoever says that has NEVER attended a good content writing class. Forget that saying and focus on these courses to take your writing to the next level.
Are you a budding writer hoping to boost your skills and transform your writing into a long-term profession? If yes, then investing in learning the right skills is imperative for your growth.
From a naïve young 16-year-old freelancer to a professional whose writings grace many blogs, magazines, and publications, I can confidently attest that continuous learning is the key to success in the field (that is what worked for me).
I took many seminars, webinars, online content writing courses, and workshops, and a few stood out for me and helped me be the accomplished content writer that people see me as today.
I will provide you with a list of such courses in this guide. These are the courses that helped amplify my content quality and provided me with invaluable techniques, insights, and strategies to excel in this competitive world.
So without any further ado, let me take you through my top recommendations that can 100% metamorphose your writing career.
How Did I Select These Courses?
I have been cautious while picking the courses because for some of you getting a content writing certification must be a priority as you must be possibly new in this journey.
So, I took into consideration many factors. These include:
While I gained a lot from many Internet courses, some learners did not find them as valuable. So, I always skip such alternatives from my recommendation list. I always browse the ratings and reviews to see that students who took the class also cherished them equally.
Further, the content is very pivotal in my selection. As a working professional, I now know what you must learn to find success in content writing. So, I have picked the best content writing courses online that mostly offer a certification and have the most comprehensive, detailed, and updated content.
I also considered the instructor's credibility and the institutions offering the courses.
Moreover, the course format and accessibility also hold value for me to ensure you guys enjoy a seamless learning experience.
Of the six content writing courses I will list below, one is my personal favorite – Content Writing Cornell Certificate Program. It is so because:
 

You study with Senior Lecturer Lauren Chambliss from Cornell.
After you complete this three-month class, you bag a certification. Cornell University is renowned for its academic excellence, making the certificate a valuable addition to any resume.
Upon completion, you receive 50 Professional Development Hours, equivalent to 5 Continuing Education Units (CEUs), demonstrating your commitment to ongoing learning and growth in the field.
Moreover, the instructor-led nature of the course fosters a high level of engagement and interaction.
It has a class size of 35 students and offers a conducive environment for collaboration and networking with fellow learners. This aspect adds immense value to the learning experience, as you can exchange ideas, receive feedback, and build connections with like-minded individuals.
Free Content Writing Classes Online That I Found Worth A Try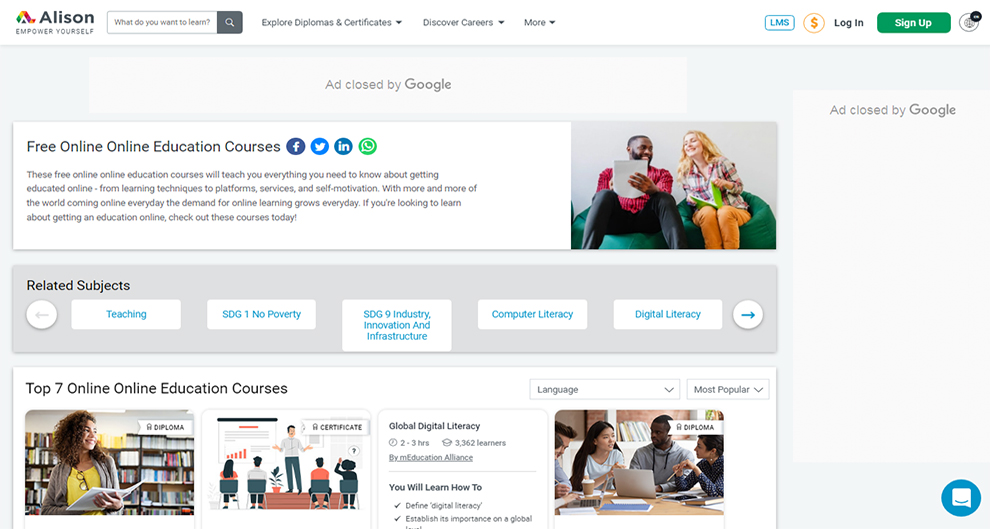 Some free courses that caught my eye are mentioned below. However, please note platforms like Alison offer free alternatives that boost your skills and offer a completion certificate.
On the contrary, the free options on platforms like Udemy do not give certification. However, they serve the purpose of sharing valuable insights and knowledge that amplify your writing abilities.
Hence, the choice depends on whether you want a free class with or without certification. Here are three best free picks you can explore:
Best Content Writing Courses Online
Below I will take you three of the six courses that I still look back upon on and off to brush up my skills and stay updated with the industry trends.
Best for: Communication professionals
Course Length: 2 weeks (program duration is three months)
Certification: Content Writing Certificate from Cornell University
Why this course:

 
I joined this class as it offers a comprehensive program to strengthen content writing and copywriting skills. It covers different kinds of writing, including web copy, persuasive writing, media stories, and social media content.
Lauren Chambliss, the instructor, is a senior lecturer at Cornell College of Agriculture and Life Sciences, ensuring high-quality instruction.
It is my top choice for online content writing courses as it offers access to Symposium sessions, providing opportunities for real-time discussions and industry insights.
What's to like?
The class shares techniques and insights into writing persuasive and concise content. It offers guidance to target and engage specific audiences from different platforms.
The presence of Symposium sessions boosts the learning experience by facilitating discussions and networking opportunities. The certification from Cornell University adds value and credibility to the program.
What can improve in this course?
While the class is of three months, its content length is two weeks, which may feel short to grasp and apply the concepts.
Bottom line
It is an excellent certificate program from Cornell University and is a top choice for communication professionals hoping to boost their content writing and copywriting experience.
It focuses on concise and persuasive writing for various platforms and provides valuable insights and practical techniques. However, learners should be prepared to invest additional time and practice beyond the 2-week to benefit from the program.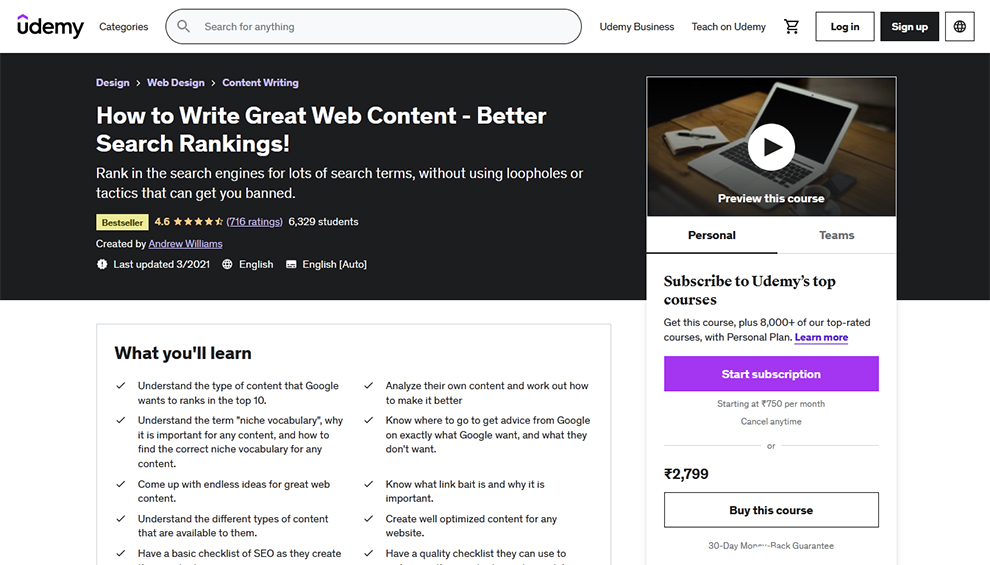 Best For – Individuals with websites hoping to boost search engine rankings:
Course Length: 4 hours and 23 minutes, divided into 51 lectures
Certification: Yes
Why this course:
I like this Udemy content writing course as it offers up-to-date strategies and practical techniques for ranking content in search engines sans relying on tactics or loopholes that may result in penalties. The instructor's experience in SEO adds credibility to the content.
What's to like?
In this class, you acquire valuable insights into understanding the type of content that Google prioritizes for top rankings.
It offers guidance on analyzing and boosting your content, building clickbait, finding a niche vocabulary, and employing different content types effectively. I also loved the checklist and the practical exercises that amplify the learning experience.
What can improve in this course?
While this Udemy content writing class covers several topics, I would have appreciated it better if it had more in-depth discussions on some aspects, such as technical SEO or content promotion strategies.
Bottom line
With this class, you will develop a solid foundation in content writing for search engine rankings, adhering to the guidelines stated by Google.
With expert instruction and practical exercises, you will learn strategies that help create optimized, compelling content to attract visitors and amplify the site's success and visibility.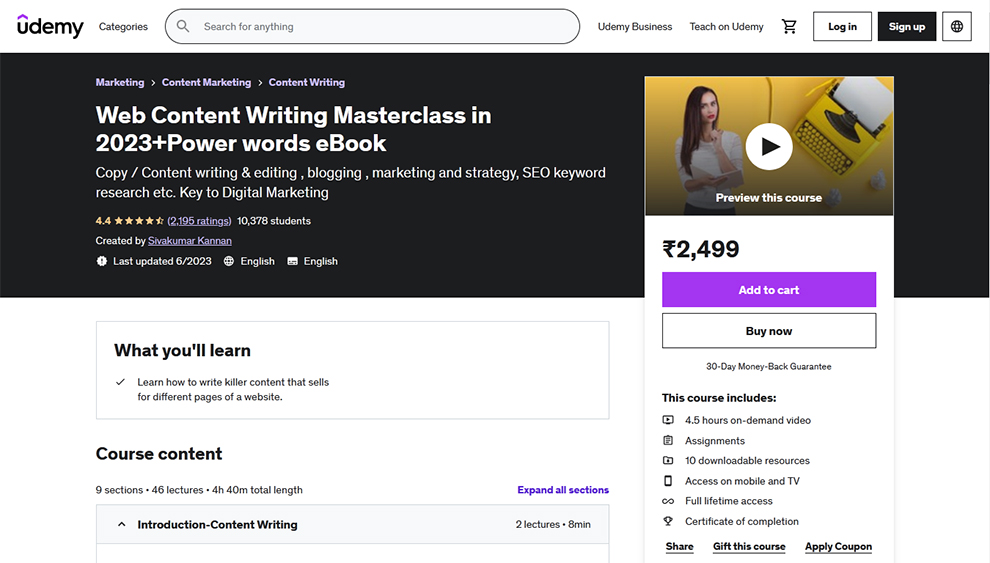 Best for: Website Owners, Online Entrepreneurs, Digital Marketers, Marketing Students, Freelance Content Writers
Course Length: 4 hours and 40 minutes, consisting of 46 lectures
Certification: Yes.
Why this course:
I opted for this content writing certification class as it offers comprehensive training on different digital marketing aspects, such as content writing, proofreading and editing, blogging, and SEO keyword research.
You will study with Sivakumar Kannan, who offers the best practices and practical insights to create compelling content that sells.
What's to like?
The instructor takes you through several topics, from writing killer content for different website pages to outsourcing content writing.
You will find step-by-step instructions and practices to create engaging blog posts, persuasive categories, and product pages. There are downloadable resources for practicing that amplify the learning experience.
What can improve in this course?
Though this covers all the vital content writing and digital marketing aspects, it could benefit from including some real-life case studies or examples that boost the practical application and industry understanding.
Bottom line
With their comprehensive coverage and practical approach, these content writing classes online offer valuable insights and techniques to produce compelling content that drives online success, conversions, and engagement.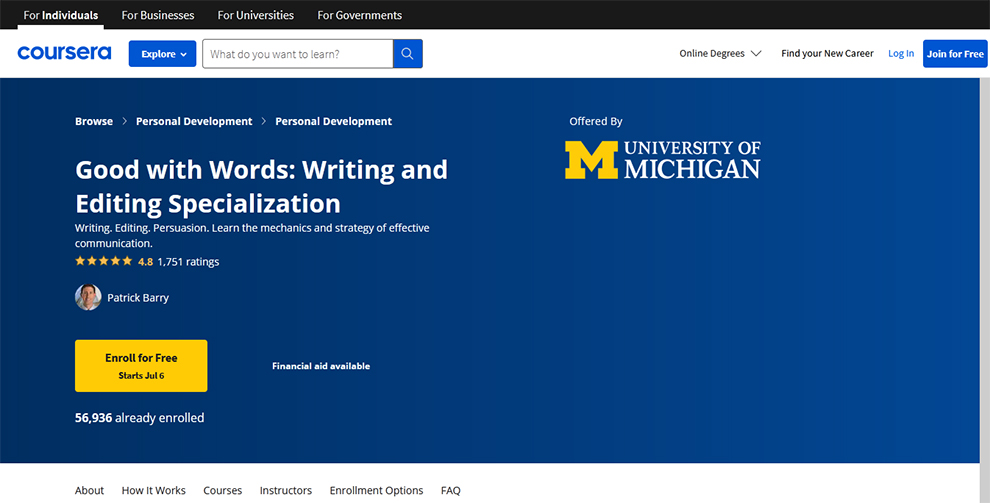 Best for Professionals and Students
Course Length: You can expect to dedicate four months with a suggested pace of four hours per week.
Certification: Yes
Why this course:
I picked this Coursera content writing as it offers practical skills and valuable insights for learners to become proficient in editing and writing.
 
Editing is something that often gets ignored. The specialization takes you through different aspects, such as syntax usage, sentence nuance, punctuation, paragraphing, and effective feedback.
Further, your tutor, Professor Barry, is perennially committed to social impact with proceeds from certificate purchases supporting the COVID-19 relief efforts of Ozone House, a shelter for homeless youth in South-eastern Michigan.
What's to like?
You will find a comprehensive approach to boosting writing skills. It focuses on delivering quality feedback and consistently meeting deadlines.
The presence of real-world applications via job-training workshops and the option to audit the courses for free make them impactful and accessible.
What can improve in this course?
Even though this course teaches different editing and writing skills, it is too long and often gets boring. Also, some videos do not work. It may be a technical glitch, but regardless are irksome.
Bottom line
This Coursera content writing is an excellent selection for professionals and students hoping to amplify their writing and editing effectiveness. It is flexible, and the opportunity to contribute to a meaningful cause makes it a valuable investment.
Lastly, it will leave you proficient in persuasive writing, creativity, and time management.
Best For: Beginners
Course Length: One hour and forty-one minutes, divided into 18 lessons
Certification: No
Why this course:
I picked this online content writing course as it offers a solid foundation in content writing and differentiate it from copywriting. You will study with Sivakumar Kannan, an experienced digital marketing consultant who shares valuable tips, examples, and insights for web content writing.
The class has many practical exercises, guidance on creating homepage content, and samples from top websites.
What's to like?
It is easy to follow and offers expansive coverage of web content writing. The instructor delivers the content professionally and clearly, making it accessible to learners. You will find many examples, practical ideas, and resources to boost learning.
I also recommend it for its concise delivery and quality content.
What can improve in this course?
I found issues with subtitle synchronization. It may be an issue with a particular section, as I didn't continue with subtitles because of the distraction they created. The creators should try improving them for a seamless experience.
Also, this isn't the best content writing course online for experts. Hence, advanced or even intermediate learners may find them too basic.
Bottom line
It is an excellent choice for beginner-level learners seeking to develop their web content writing skills. With a knowledgeable instructor, practical examples, and clear communication, this course provides valuable insights and tips for writing effective web content.
However, individuals with more advanced writing experience may find the content less challenging.
Best for Start-up founders, freshers, aspiring content creators
 
Course Length: 48 minutes
Certification: Yes
Why this course:
I like this class as it covers crucial topics, such as content preparation, SEO and SMO optimization, content designing, adaptation, and content writing as a career. You also gather valuable insights if you visit to pursue a career in content creation.
What's to like?
It includes informative content and valuable tips for writing quality, SEO, and SMO-friendly content. The instructor shares personal experience, which is a great help, and adds credibility to this content writing certification class.
Its video format makes the course easy to understand and follow along. The class takes you through different aspects of content writing, including mobile device optimization and content adaptation.
What can improve in this course?
I found the fast speaking pace challenging because it was one of my earlier classes. The course can include visual aids or examples to amplify understanding and retention of teachings. Further, elaboration on some topics, like content adaptation for mobile devices, would be beneficial.
Bottom line
It is a good introductory class for beginners with vital aspects and insights to better content writing skills. However, learners must be prepared for limited elaboration on some topics and the instructor's fast speaking pace. But it is valuable information for those hoping to pursue a career in content creation.
Why Is Content Writing Important In Today's World?
Content writing has a crucial role in effective communication and marketing strategies. In the digital age, individuals and businesses depend on content to engage audiences, build brand presence, and drive conversions.
Well-crafted content helps retain existing readers and attract new ones. Further, good content also helps convey information clearly and establish credibility.
Online content writing courses can help aspiring content writers as it offers the necessary skills and knowledge to create optimized and engaging content, understand SEO writing techniques, adapt to different platforms, and stand out in the competitive job market.
Related: Best Business Writing Courses
How Do You Get Certified In Content Writing?
You can enroll in a specialized course or program by professional organizations, educational institutions, or any reputed online learning platform for certification.
These classes mainly involve assignments, completing coursework, and assessments. After you complete the content writing course, you will acquire a certification for the same, which validates your skills and knowledge in the field.
Should You Take a University Program or Take an Online Course for this Content Writing?
The choice depends on individual circumstances and preferences.
A university program may offer a more structured and comprehensive curriculum and an opportunity for in-person interaction and networking.
On the contrary, online courses are affordable, flexible, and offer access to industry experts across borders. Consider your learning style, budget, time availability, and career goals to make an informed decision.
Buyers Guide To Choose The Best Content Writing Classes Online
Here are some tips to pick the right course:
Identify the type of content you plan on writing (e.g., web content, marketing copy, technical writing) to find a course that aligns with your specific needs.
Assess your current English knowledge and choose a course that caters to your skill level, whether you are a beginner or more advanced.
Consider the time you have available for the course, as some programs may require more extensive commitments.
Evaluate the certification provided by the course, ensuring it is recognized and valued in the industry.
Please read reviews, compare course content, and consider the instructor's expertise to select a course that offers comprehensive and practical learning experiences.