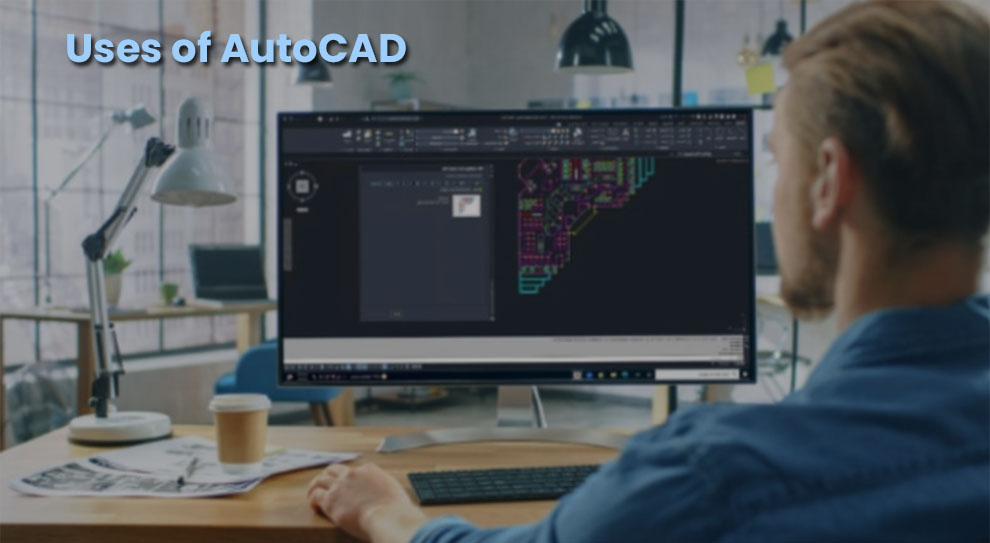 If you are an aspiring or established engineer, product designer, or architect, you must probably heard of AutoCAD by default. So we won't get into the details of it.
Just for those who are new, all you need to know is that AutoCAD is a Computer Aided Designing software. The uses of AutoCAD are manyfold. We will discuss it at length in the later sections.
The AutoCAD software can be installed in all Windows as well as Mac Operating Systems. The latest version of AutoCAD known as AutoCAD 360 can also be installed on mobile devices which run on android or iOS.
In this article, we will discuss in detail the applications of AutoCAD in various industries and why it is imperative for students as well as professionals to learn AutoCAD if they want to prosper in the design field.
Jump To
What Is The Purpose of AutoCAD Software?
The most basic purpose of AutoCAD is drafting programs. Several industries that develop or design products use different computer-aided designing software and the most commonly used computer-aided designing software is AutoCAD.
AutoCAD creates realistic 2D and 3D sketches of numerous things like buildings, automobiles, products, bridges, clothes, landscapes, and furniture. It assists engineers and designers by:
Saving time taken to create things manually.
Reducing the cost of material in trial phases.
Creating precise and accurate yet detailed sketches.
Helping in detecting errors in designs and drafts.
Allowing for testing the durability of products through life-like simulations rather than theoretical calculation.
Providing several analysis tools that help optimize efficiency.
What Are Some Reasons To Choose AutoCAD Over Other CAD Softwares?
Some of the primary reasons to pick AutoCAD over any other CAD software are:
Friendly Interface: AutoCAD has a very beginner-friendly user interface, that is, people who are using AutoCAD for the very first time will not have a problem finding their way around the tools.
Multipurpose: AutoCAD is one of the first CAD software and has gained massive popularity. It is the most commonly used CAD software and the uses of AutoCAD are infinite. Therefore, every industry requires people who know how to operate AutoCAD. Certain industries practically rely on AutoCAD to fulfill their component design requirements.
Saves Time: AutoCAD saves you a lot of design time because it has built-in workflows, several pre-designed parts and features. AutoCAD's robust library of APIs, LISP functionality, and specialized toolsets also allow users to automate tasks and save time.
Easy collaboration: You can share your designs and collaborate with other designers/engineers/architects using the share feature in AutoCAD. This feature enables many people to work on the same project at a time.
Secure & safe: AutoCAD Web App uses cloud storage to store your designs and therefore you do not run the risk of losing your files or filling up your PC's memory.
Functionality: AutoCAD has an array of features and tools and can almost do everything other software can. If you learn the features and uses of AutoCAD first, you will be able to make a shift to any domain-specific software later.
Where is AutoCAD Used?
Well, let us learn about the different fields of studies where AutoCAD is used.
 
Uses of AutoCAD in civil engineering
AutoCAD know-how is a must-have skill for civil engineers. Almost all the work of civil engineers like designing, drafting, and editing the blueprints of a bridge or building is done with the help of AutoCAD.
 
Other significant applications of AutoCAD in civil engineering are:
A graphic design tool to plan and map extra space in designs
3D Max for representing available space in floor plans
3D printing feature to have proffered file compatibility with the diversified format in civil engineering study.
Easy editing features like copy, stretching, scale, rotate, mirror, etc.
Uses of AutoCAD in mechanical engineering
Mechanical engineers use AutoCAD in several aspects of machinery design. They primarily use it for drawing, drafting, editing ideas, and then analyzing the drawings to make changes or optimize the drawing at the preliminary stages of a project.
This is done to remove any inadequacies or flaws in the design before it goes into production.
 
Following are the applications of AutoCAD in the field of mechanical engineering:
Helping reduce the cost of physical materials by creating life-like digital simulations.
Providing the digital prototyping feature that enables engineers to make changes as and when required without having to redo the entire design.
Providing high speed and flexibility in delivering outputs saves time and provides corporations with a competitive advantage.
A vital area where AutoCAD software plays a key role in mechanical engineering is by allowing users to simulate a variety of conditions (e.g.: stress, temperature, repetitiveness) to examine the durability of a product, building or system over time, thus aiding in defining structural and functional specifications.
Uses of AutoCAD in electrical engineering
Electrical engineers, too, use AutoCAD to design flawless circuits and simulate such circuits before they go into production.
Drawing single power line diagrams and motor-controlled circuit schematics
Figuring out general switchboard arrangements
Communicating with mechanical engineers regarding electrical design plans and where to embed them.
Detecting and eradicating errors from circuits
Some of the more specific applications of AutoCAD by electrical engineers are optimizing and analyzing the circuits without having to change the entire configuration each time.
Significantly reduces overhead costs by removing the need to purchase primary testing components.
Using AutoCAD for landscape design and interior design
Professional landscaping artists or interior decorators widely use AutoCAD these days because of the several features of AutoCAD which helps them visualize and pitch their designs to their clients much better than on conventional pen and paper.
Specific applications of AutoCAD in the landscaping and interior designing industries are:
It helps in streamlining workflow
Makes designs and landscapes look realistic with gradient features and gives the customers as well as the designers a clear idea of what to expect
Saves a lot of time for designers as basic components like doors and windows are already in-built in the software and need not be created from scratch.
Uses of AutoCAD in the automobile and aerospace engineering industry
Automobile and aerospace engineers over the globe widely use AutoCAD to create designs for cars and aircraft and test their efficiencies via simulation.
Some of the specific applications of AutoCAD in automobile and aerospace engineering are:
AutoCAD designs are self-explanatory to production engineers.
Saves a lot of time and money by reducing the cost of materials.
High precision upholstery, engine and wheels are designed using AutoCAD
The 3D design of models made using AutoCAD also helps in detecting and correcting errors easily.
If you are a beginner who wants to learn Computer Aided Designing (specifically AutoCAD) then you can check out AutoCAD online courses we recommend. For other learning resources, here is a complete guide on how to learn AutoCAD.
Do Architects Use AutoCAD?
CAD for architecture has replaced manual drafting worldwide for both 2D as well as 3D designing. Several architects all across the world use AutoCAD software for floor planning and creating designs. They do not have much use for the 3D design features that AutoCAD offers but mainly focus their knowledge of AutoCAD as a 2D drawing tool.
One of the major reasons why architects use AutoCAD to get their job done is because there are several pre-drawn objects like windows, doors, walls and so on that help the architects speed up the design process.
In a way, we can safely say that the purpose of AutoCAD software is to make the job of architects easier. Another reason why architects over the world have shifted to using AutoCAD from manual drafting is because, it is a lot simpler to edit and include changes in the design without having to redo the whole design each time, as a particular project develops, which was not the case for manual drafting/designing.
It is therefore extremely convenient for architects to use and design and draft industry-specific buildings with the help of the AutoCAD software.
Related: AutoCAD interview questions and answers|Inserting images in AutoCAD
Does AutoCAD Have A Monopoly In The Industry?
Although AutoCAD remains the most widely used tool for Computer Aided Designing because the uses of AutoCAD are plenty, it has been noticed that certain spheres of the industry are switching to more domain-specific software.
For example, considerable numbers of architects have switched to CAD for architecture specific software named Revit which is catered specifically to the requirements of architecture.
Similarly, product designers have taken to the SOLIDWORKS software, so that they can work on a small scale and be more detail-oriented with their designs and aerospace engineers are using CAVIT due to its feature of providing more surface details.
Others who want to learn CAD designing and are searching for cheaper alternatives have picked FreeCAD (an open-source and highly extensible software) as their go-to design software.
Substitutes of AutoCAD include:
MicroStation
Sketch Up
DataCAD
ArchiCAD
DraftSight
Vectorworks Architect
BricsCAD
SolidFace
NanoCAD
QCAD and so on.
Despite so much competition in the industry, all the places where is AutoCAD used outnumber others. AutoCAD remains a favorite because it is interactive and very easy to use and you can pretty much create everything using it.
 
To Sum Up…
It is not wrong to say that there are varied ways in which the AutoCAD software is used. The purpose of AutoCAD software is more or less similar in each field. We have also realized why AutoCAD is an extremely popular CAD software among designers, architects and engineers.
Any aspiring mechanical or civil engineer should take AutoCAD lessons if they wish to master Computer Aided Designing and explore the endless possibilities that AutoCAD has to offer. Take the help of AutoCAD books if you want.
AutoCAD is not a free software, but it is available to students enrolled in accredited higher educational institutions for free up to one year.