Reading Time:
6
minutes
Since the 2008 financial crisis, banks globally have been under constant scrutiny. It is becoming increasingly important for employees to be familiar with the Dodd-Frank Act implications and similar legislation.
It requires trained employees who can ethically and legally operate, sans any compromise on the level of service available for the customers. Today, banks offer several continuing education programs for their staff to cater to this.
Some ambitious professionals also try to keep pace with the skills. They stay constantly updated via the online bank training modules and some of the best online banking courses. If you are interested in banking-related knowledge, you, too, can enroll in one of the best online banking classes.
The Internet has no shortage of such courses. To help you make a wise selection, we handpicked a few of the best choices. Let us get started and address them one by one.
7 Banking Courses, Classes and Certifications for You
7 Best Places to Learn About Banking Online
Why Coursera?
Coursera is one of the most prestigious platforms for online learning. Numerous recognized universities and college professors offer top banking certification courses via this platform.
At Coursera, you can find the best online banking classes for every expertise and skill level. So, to find the most suitable online banking courses for you, you can filter the results by level – beginner, advanced, and intermediate.
There are also classes of different duration levels, language, and learning programs. Browse through the available courses, and you can indeed pick the one that best fits your needs.
Some of the top banking courses you can enroll in are listed below. All these courses have flexible deadlines and also award a shareable certificate of completion.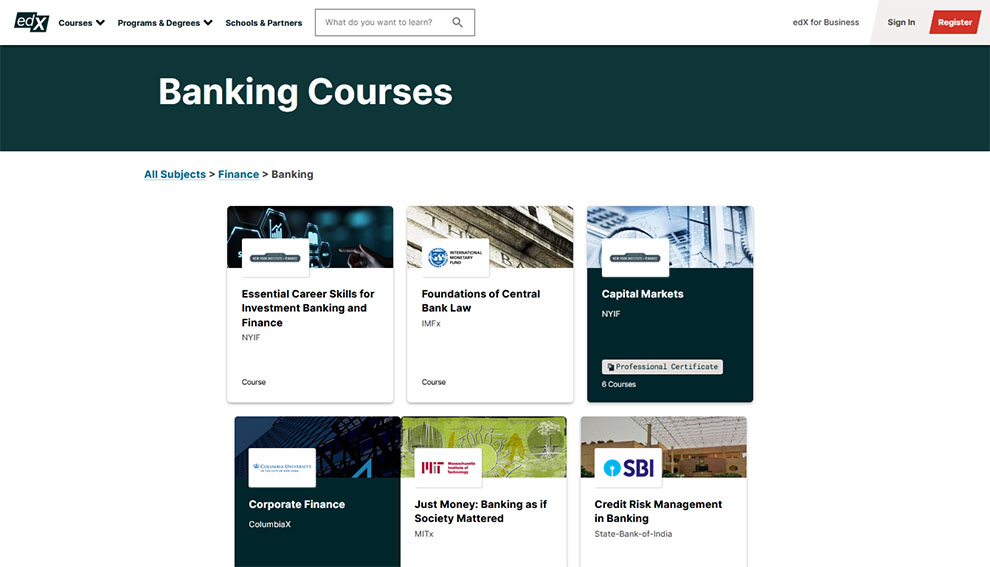 Why edX?
edX is one of the top platforms that has a variety of best online banking courses. These top online banking classes are presented to you by recognized universities globally.
Most classes on the platform are paid, while there are also some free courses where you get the access to course contents for free. But, if you need the certificate, you need to bear a small fee.
These are shareable certificates. You can include the certificates in the CV or share them on your LinkedIn to heighten your chances of landing a job.
Some of the banking classes you can enroll in are:
Why Udemy?
Udemy is one of the best platforms to find the best online banking courses. Here too, you can find both paid and free courses. These top banking certification courses come with a 30-day moneyback guarantee, certificate of completion, and lifetime access to course material and updates.
Some of the banking classes you can enroll in are:
Why ABA?
American Bankers Association also has several banking courses that you can consider. These are flexible, interactive, and self-paced courses that can help you advance your career and keep pace with the evolving industry needs. You can filter the top online banking classes by topic and type to find the best course that satiates your needs.
You can make your selection on the basis of learning type:
Top banking certification courses
Self-paced training programs
Webinars
Facilitated training
Training shorts
Licensed Training
ABA Frontline Training
OR
You may decide upon a training course on the basis of a topic: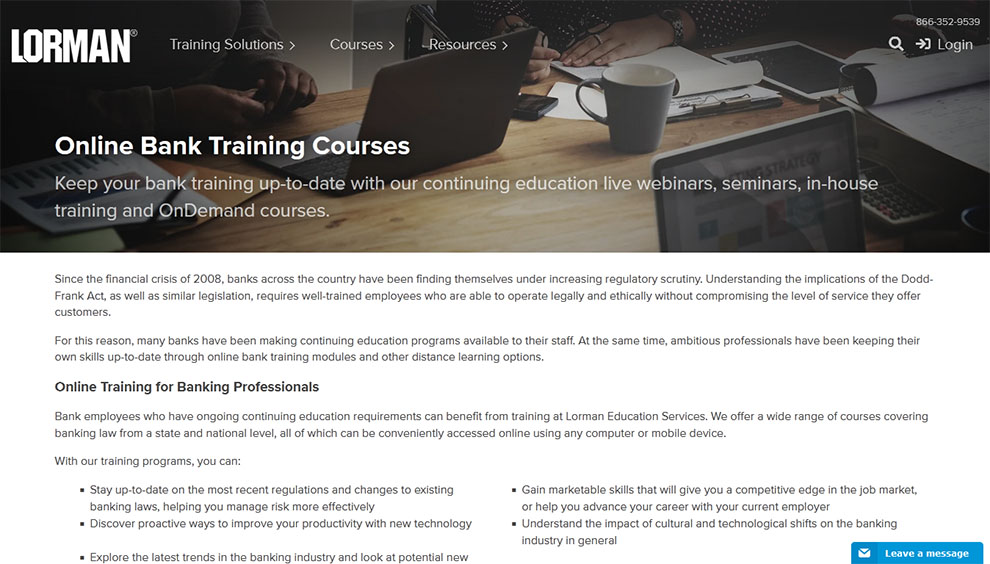 Why Lorman?
As a bank employee, if you have an ongoing education requirement, you can cater to it via an e-course in banking offered by Lorman Education Services.
Lorman has many online banking courses that cover everything from banking law at a state and national level. You can conveniently access them anytime, anywhere, and from any device.
What will you learn in these top online banking classes?
When you enroll in one of their course, you will learn the following:
Familiarity with the recent regulations and changes
Better and more effective risk management
Acquiring marketable skills to receive a competitive edge in the job market
Knowledge to advance in your banking career
Proactive ways to better your productivity with new technology
Learning the impact of technological and cultural shifts in the banking industry
Exploring the latest trends in the banking industry
Finding the new directions to take your career
Why New York Institute?
NYIF also has a plethora of best online banking classes. You can find several of the best online banking courses that cater to all learning styles, such as on-demand, classroom, and virtual classroom learning.
You can browse through the range of available classes to find one that best fits your needs. Most of them are top banking certification courses. You can find choices that match all skill levels and expertise.
Some courses you can check out are:
Why CFT?
Banking courses can assist credit unions and bank employees. The trend has been continuing for over a century now. On CFT, you can find some of the best online banking classes that help you learn the Principles of Banking.
Further, you can also find comprehensive courses covering the whole banking spectrum and various online economic courses in multiple formats. There are both diploma and certification nationally-recognized courses that put students on a world map and prepare them for a rewarding career in the financial service industry.
There are self-paced, online, on-demand, self-study online courses available along with webinars. You can browse through the available courses to make your selection.
A few of the top courses you can try out are:
 
Conclusion
So, these are some of the best online banking courses. We have tried to keep this guide brief, crisp, and to the point. So, if you wish to know more about any particular course, or if you want to find more classes from the platform, you can click on the annexed link and find related information.
These are all notable platforms. So, you cannot go wrong with your selection. So, go ahead, browse further, and make your choice.
Related: Best FinTech Courses, Top Accounting Classes Online, Personal Finance Lessons