If we had to pick between Rosetta Stone and Rocket Languages, we feel the latter is the better pick to develop an intermediate understanding of your preferred language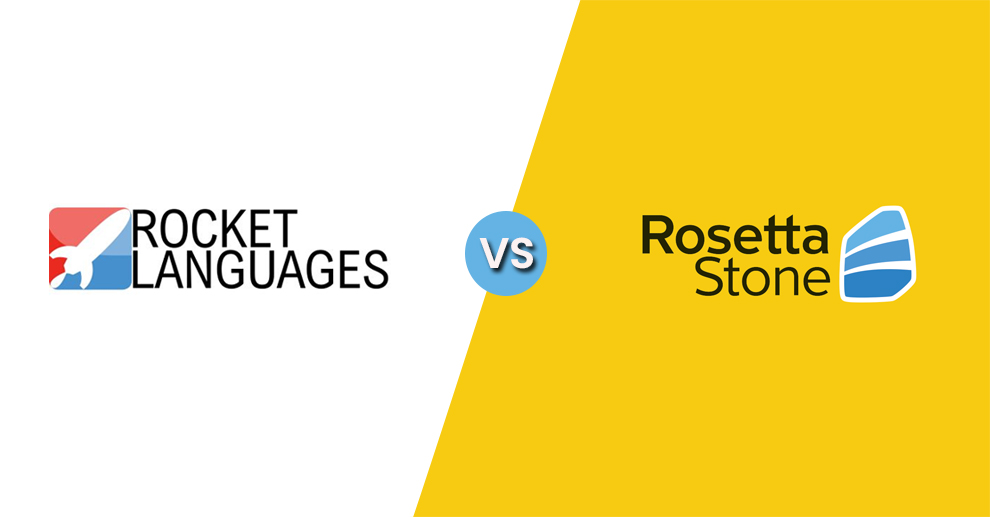 Upon detailed analysis, we believe the winner for Rocket Languages vs Rosetta Stone comparison, is not so simple. However, the former has a little edge over the latter in some categories.
We do not deny that it (Rocket languages) is a pricier option, and their mobile app and website would also enjoy an update but we still feel that it should be on your radar. Their lessons are diverse and robust. Their audio sessions within the context of actual native conversations are one of their best attribute over Rosetta Stone. 
Further, by Rosetta Stone vs Rocket comparison, we feel the former can be bland and repetitive. In addition, Rocket languages is relatively better in their cultural insights and grammar instructions.
Moreover, their inclusion of English translations, explanations, and directions to keep the lessons moving and avoid confusion makes them even better.
Rocket Languages vs Rosetta Stone – Which Is Better?
| | | |
| --- | --- | --- |
| Attribute | Rocket Languages | Rosetta Stone |
| Price | $149+ | $12 per month |
| Language | 14 | More than twenty |
| Refund | 60-days | 30-days |
| Trial period | Available | Available |
| Teaching style | Includes English translation | No English translation |
| Grammar focus | More | Less |
| Lesson duration | 45 to 60 minutes | 45 to 60 minutes |
| Certification | Available | Available |
| Progress tracker | Available | No |
| Voice recognition | Available | Available |
| Customer support | Tech support is not as reliable | Support representatives are responsive |
| Mobile App | Available | Available |
| Live coaching | No | Yes |
| Visit | Rocket Languages | Rosetta Stone |
Rocket Languages Review
Rocket Languages has a straightforward mission statement – to offer the most effective digital online classes. It might seem simple to you but indeed is a tall claim. The platform has an interesting backstory.
Launched in 2004 by two friends who wished to make learning languages easier, Rocket Languages is today one of the popular language learning platforms. They have everything you probably expect from an online language learning program.
Their interactive course comprises audio lessons with some textbook-style grammar lessons. They keep the language of instruction as English – a noted difference in the Rocket vs Rosetta Stone learning strategy.
One likable quality of Rocket Languages is that they released their courses in the market only after taking viable steps like hiring linguistic experts, surveying polyglots, getting graphic artists and web designers on board, and researching some effective learning strategies. Their preparation well reflects in their course delivery.
So, what started as a start-up blossomed into an effective platform with tons of vocabulary, grammar, and listening activities. They have more than one million users and offer fifteen different languages. In addition, they also have ESL for native Japanese and Spanish speakers.
Pros
Cons

Cultural insight is a clear highlight.
The employment of Google's voice recognition tech is commendable
Quick-hit reinforcement activities help with memorization.
More comprehensive curriculum than Rosetta Stone.
Audio-heavy lessons are excellent for bettering speaking skills.

 

Lesser course options than Rosetta.
Not as many images as in Rosetta.
The digital platform could be better.

 
How much does Rocket Languages cost?
You can expect to pay between $99.95 to $449.85, depending on the language and level until which you aspire to learn.
Can you become fluent in Rocket Languages?
Even though Rocket Languages offers teachings for all levels, we do not think it can make you fluent in any language. It will help you with the basics, but then you will have to work your way to develop fluency.
Rosetta Stone Review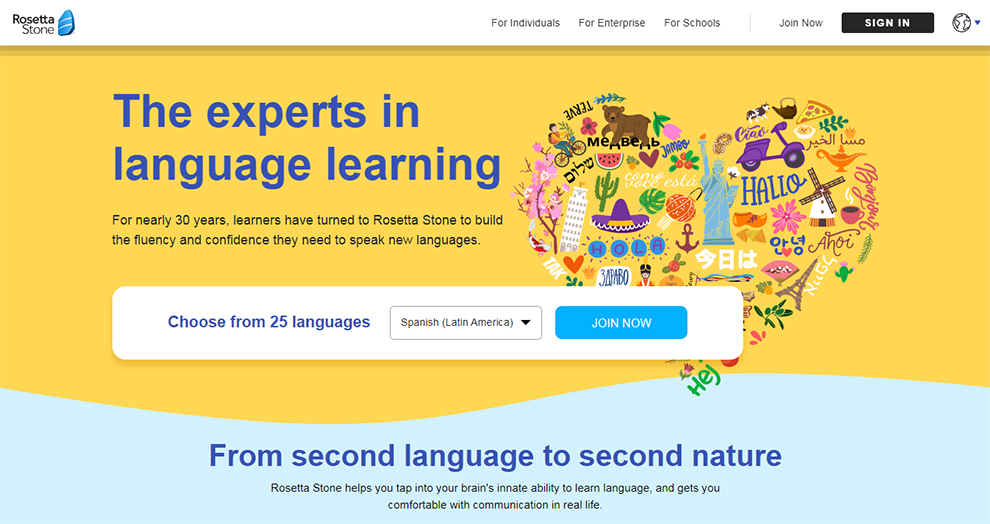 Rosetta Stone is a tech-based platform that does a fantastic job of meeting your language-learning requirements. It is one of the oldest platforms in the market today and has been christened as one of the best language-learning solutions over the years.
They did not commence as a start-up but have a more traditional background. Founded in 1992, Rosetta Stone offers thirty languages, and their mission statement is a little broader than Rocket Languages': a perennial dedication to promoting positive learning outcomes.
They also claim to be the leader in literacy. From 2013 onwards, the company has become 100% cloud-based. Regardless, all their courses are backed by independent evaluation and research.
Instead of teaching the languages in your mother tongue or English, Rosetta Stone curtails itself to the target language via word-picture association, sounds, and sights. Thus, it takes away the element of translation and helps you learn like you learned your native language as a kid.
Their theory behind this is: As acquisition came to us easily back then, it should not be challenging as you learn a new language with the same technique.
Pros
Cons

The use of a lot of images makes it ideal for visual learners.
Their voice recognition technology is excellent.
The supplemental resources – Stories, On-demand Videos, and Phrasebooks are likable.
They have shorter lessons than Rocket Languages.

 

Lessons feel bland and repetitive.
They do not have a substantial conversational practice like Rocket Languages
Not incorporating English can be frustrating for many learners

 
What is the success rate of Rosetta Stone?
Rosetta Stone has a success rate of 55 percent.
Is Rosetta Stone better than Duolingo?
Yes, Rosetta Stone is relatively better than Duolingo in various respects. We like Duolingo's gamification in lessons, but Rosetta Stone is more effective and comprehensive.
How long does it take to complete five levels of Rosetta Stone?
An average learner takes around twenty weeks to master a level. So, you can complete all levels in around two years.
Rosetta Stone or Rocket Languages – Detailed Comparison
Now, let us begin the detailed review of these two language learning platforms.
A. Pricing
The mode of pricing is different in the two companies. So, if you tend to complete your courses faster, Rosetta Stone will be cheaper.
Fortunately, the best thing about Rocket Languages is that they keep their prices transparent. While companies mostly charge the prices as per the language, Rocket Languages base their prices on the language difficulty level.
But you will find differences in deals and promotions available, and not every language will have multiple learning levels.
Level 1 –$150
Levels 1 and 2 – $299
All Levels (1, 2, and 3) – $450
As is apparent, buying a class with Rocket Languages is an investment, but it is more affordable than many traditional companies. Their different packages (classified into levels) is a good option, but we would want them to include custom packages for students already familiar with the elementary levels.
Please note their listed prices do not include applicable taxes. You can shop for the courses via all major payment options like PayPal and major credit cards. They also have some alternative payment options.
Between Rocket vs Rosetta Stone both are transparent with their prices. With Rosetta too, you will find a price point variation very minimum in their different languages. However, the difference lies in how you pay. Since everything is priced per month, it can be challenging to compare.
However, Rosetta Stone does seem cheaper at face value, but it might not be necessary. It can be more affordable if you tend to complete your courses quickly, but it can be expensive if you take more time to complete your sessions.
Their average pricing is:
$5.99 per month if you buy the two-year combo.
$7.99 per month if you buy the twelve-month package.
$19.84 per month if you shop their six-month plan.
$26.34 for the three-month option.
$12 per month
Prices are exclusive of tax. Their payment option is similar to Rocket Languages. But since they have plans for different durations, you can choose as per your budget.
B. Refund Policies
Rocket Languages has a more generous refund policy.
With Rocket Languages, you get a 60-day refund policy. So, you can contact their support team during this time and get your money back. There are zero stipulations, and it is as generous as it gets.
On the contrary, Rosetta Stone has relatively less generous refund policies than Rocket Languages, but they are still reasonable. You get a 30-day refund window, but only on products that have an original purchase receipt.
In addition, you will also have to prove that you have deactivated and removed the product from your mobile device or computer.
C. Rocket Languages vs Rosetta Stone's Different Language Levels
We love Rosetta Stone's variety, but they have crafted their courses with beginners in mind.  Whereas Rocket Languages puts more focus on language fluency.
However, some of their courses only go up to level 2, but their distinction in beginner, intermediate, and advanced signifies that they are willing to accommodate learners at various stages.
Lastly, we like how they include ASL in their offerings. In our view, more companies should be inclusive of sign language.
With Rosetta Stone, you get an option to learn twenty-five languages. These include:
English (American)
Spanish (Spain)
Latin (web only)
Filipino
English (British)
Italian
Arabic
Spanish (Latin America)
Portuguese (Brazil)
Vietnamese
Korean
Dutch
Greek
French
Swedish
Persian
Hebrew
German
Turkish
Irish
Hindi
Every language has five levels. The first and second levels cover the basics and connection, the third and fourth levels are for exploration and clarity, and the final level is for conversation.
However, some languages only go up to level 3. Each level has four units, and every course will have 12 to 20 units.
Rocket Languages lets you learn 14 languages. These include:
Inglés (Spanish learning English)
English (American),
Russian
Chinese
Spanish
ASL
Italian
Portuguese
Korean
Japanese
German
Their levels are as straightforward as they can get. Level one is for beginners, two is for intermediate learners, and three is for advanced learners.
However, the number of levels may not be equal in every language, and only 50 percent of the listed providers offer all three levels. But every learner will have access to the intermediate level for every language.
D. For Visual Learning, Which is Better Rosetta Stone or Rocket Languages?
Rosetta Stone's lessons are image-heavy. Thus, they are a better pick if you are a visual learner.
Rosetta Stone employs various images across the lessons, but Rocket Languages uses only a smaller number of pictures in their culture and language lessons. Hence, they might not appeal the visual learners. So, if you are a visual learner, you must opt for Rosetta Stone.
E. Grammar Focus
Rocket Languages has more grammar-oriented exercises than Rosetta Stone.
In Rosetta Stone, the focus is predominantly on building your conversational skills. Thus, grammar usually takes a backseat and is worked upon solely in the grammar exercises.
On the contrary, Rocket Languages has more grammar-oriented lessons. Hence, it is a clear steal for them.
F. Rosetta Stone vs Rocket Lesson Type and Teaching Style
Rocket Language has interactive audio lessons, allows flexible learning, and focuses more on grammar and culture. They also have more exercise options. English explanations, translations, and directions are another point in their favor.
Further, their gamified learning can make the lessons more fun. However, if the hosts can work their way to make the classes more engaging, they can be unbeatable.
As stated, Rocket Languages divides its courses into three levels that aim to bring your skills up to an intermediate level. Broadly, their levels have six to eight modules with three types of lessons – Survival Kit, Culture and Language, and Audio. So, the number comes to around twenty classes.
Firstly, you will work through their interactive audio classes that take twenty to thirty minutes to complete. They start by reviewing the previous lesson before giving an overview to give a gist of what will be included in the current class.
You will hear an audio conversation between the two native speakers that will be discussed across the audio session. During this session, you have to speak out loud.
In level 1, there are two hosts, one who speaks English and the other who speaks the target language. Levels 2 and 3 have three hosts who speak entirely in the target language.
Their lessons are ok but bland. The light-hearted learning feels cheesy, but the native-speaking hosts do a fantastic job. You will also find several cultural and grammar comments across the audio lessons.
Once you finish the class, you get a Rocket Reinforcement. It includes various activities – flashcards, exercises, and quizzes. After completing them all, you will have memorized what you have learned.
In their second type of lesson, the focus is on culture and language. Here, you will find everything written in the textbook style on the screen, and the focus is more on grammatical information. It is a valuable section that is easy to understand and very vast. Once you complete these classes, you will receive Rocket Reinforcement activity, as in the first category. The Culture section is short and not the best.
Lastly, their survival kit takes you through useful phrases and vocabulary sans any context. It employs the same features as the word recordings. You can also record yourself as you speak. Even though their lessons are highly beneficial, they are not very exciting.
On the contrary, Rosetta Stone's courses offer more material. For instance, in their Spanish class, you get twenty units, and each builds on the next one, providing various opportunities to practice your language skills. Their unit starts with the core lesson that takes 30 minutes to complete.
In the first unit's core lessons, you pair the basic phrases and words with pictures. You read the words out loud for more clarity. The core lessons mostly center around teaching new vocabulary. They incorporate different exercises to ensure that you pay attention. Once a section ends, you will see a popup on the screen depicting how well you performed.
Once the core section ends, you will progress to the pronunciation practice, where the words are broken into syllables, and you have to repeat them. Assessment is on how you repeat. Sadly, Rosetta Stone's voice recognition technology that works here is far from perfect, but it works well.
Their grammar practice is also beneficial. Each exercise prompts you to pick the correct indefinite article and select the right sentence to match the photo. You will learn the plurals of the phrases and match them with the right images. The subsequent section is on reading.
So, a phrase is read to you, and you repeat it. It tests your pronunciation. Lastly, you will find the writing lessons where you write what you hear and see.
Even though Rosetta Stone has well-planned lessons, they can feel boring. Moreover, even though they advance in difficulty, the material remains the same. Their classes predominantly depend on the photos, and endlessly having to match pictures get irritating after a point.
G. Mobile App
Rosetta Stone has a better digital presence than Rocket Languages.
Rosetta Stone has a better mobile app and digital platform than Rocket Languages. Of course, both companies are web-based, and their apps work well, but Rosetta Stone's digital presence is better laid out, fast, and easier to navigate.
However, upon comparing Rocket vs Rosetta Stone's digital presence, we found Rocket Languages does not quite match up because their platform is not as sharp and smooth.
H. Progress Tracker
Rosetta Stone does not have a progress tracker.
Rocket Languages has a progress tracking feature that lets you see how well you are doing and areas where you need improvement. There is no such feature with Rosetta Stone.
I. Live Coaching
Only Rosetta Stone has a live coaching option.
Rosetta Stone has live coaching, but you will pay a little extra for the same as it does not come with its subscription package. But sometimes, live tutoring can be a better inclusion for language learning.
Fortunately, Rosetta Stone's experts work in tandem with the core lessons and students' skill levels. Hence, it is a personalized learning experience where professionals help you improve your grammar and pronunciation. They also motivate you.
Related: Pimsleur Vs Rosetta Stone | Babbel Vs Rosetta Stone | Rosetta Stone Vs Duolingo | Rocket Languages Vs Pimsleur
Final Verdict – Rosetta Stone Vs Rocket, Which One Should You Choose?
For us, the winner is Rocket Languages which pushes you beyond the basics with better grammatical instructions and more well-rounded lessons.