Reading Time:
9
minutes
With better lesson structure and learning experience, Rocket language is a better choice to begin with.
After a thorough head-to-head comparison of the two and comparing them from every angle, we can tell it is a close call when it comes to Rocket Languages vs Pimsleur.
But if we still have to pick one, we will opt for Rocket Languages. They have an edge over Pimsleur by a slight margin as they offer more comprehensive language courses than Pimsleur. The structure and method of instruction by Rocket Languages are effective. 
Moreover, their curriculum is also well-drafted. Further, compared to Pimsleur, Rocket Languages packs more bonus features in their audio lessons.
In addition, their speech recognition feature is better. They also have more comprehensive grammar instruction. On the contrary, Pimsleur predominantly focuses on building your speech and is more expensive than Rocket Languages. Hence, for us, Rocket Languages has an advantage over Pimsleur.
Pimsleur Vs Rocket Languages – What Features Do Each Of Them Have?
Attributes
Rocket Languages
Pimsleur
Pricing
$149+
$20 per month
Trial
Available
Available
Refund
More generous
Less generous
Lesson length
45-60 minutes
45-60 minutes
Lesson structure

Well-organized and easy to navigate that focus on conversational and speaking skills
Combination of culture lessons, audio lessons, quizzes, and exercises
Gamified elements and useful features, such as Leaderboard
Focused on developing your listening, reading, writing, and speaking skills.
Prepares you for real-world situations
Involves active participation
Employs voice recognition technology for pronunciation practice
Clear and detailed grammar instructions and explanations
Culture lessons to introduce you to traditions, cultures, and customs
Good mix of exercises, grammar, and culture

Heavily based on exercises and audio lessons with quizzes, flashcards, reading drills, and speed games.
Graduated interval recalls or spaced repetition to memorize what you learned
Anticipation principle, where it pauses for your response to assess how well you grasp
Focusses on core vocabulary and organic learning
Does not deliver too much information at once
User-friendly, a simple program with an engaging learning experience
Saved Vocab for future reference
Clear course descriptions

 

Languages covered
14
50+
Grammar focus
Dedicated lessons
Thorough coverage
Vocabulary focus
Relatively lesser
More
Interface
Not as intuitive as Pimsleur
Very easy to navigate
Visit
Rocket Languages
Pimsleur
Rocket Languages Review – Is it good?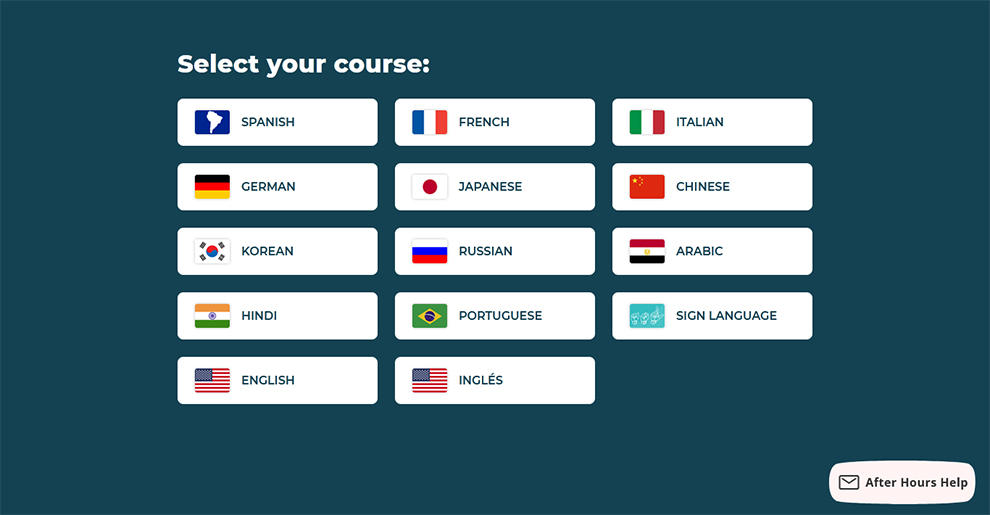 Yes, Rocket Languages is an excellent platform for anyone who wishes to be proficient in a new language. The platform offers culture and audio lessons, flashcards, and pronunciation practice as the foundational attributes of the program.
Created by Mark Ling and Jason Oxenham, Rocket Languages has been around since 2004. Presently, it offers 14 languages and three programs for English speakers. They have 1.2 million users associated with them. It does everything right to simplify the process of learning a language.
They have a community forum wherein learners can communicate with others learning the language. You also get a progress tracker and a mobile app for on-the-go learning.
One of the standout attributes is lifetime access to all the lessons. You also get a free trial for every language, making it easy to test the waters before committing to any method.
They aspire to help you learn via authentic conversations in the target language. You also grasp better their topical and applicability to real-world conversations.
In addition, Rocket Languages also claims to offer the most comprehensive language courses. So, you will get ample activities and variations in speaking, listening, writing, and reading practice.
They have content for all learners from beginner to advanced levels. In addition, they also offer a variation in grammar and vocabulary learning methods.
Pros
Cons

Ability to complete certification tests within the Rocket platform
Employs Google's voice recognition technology
Quick-hit reinforcement exercises to help with retention
Comprehensive curriculum that covers it all, from grammar to culture
Audio-centric lessons that help develop speaking skills

 

Courses are expensive
Not as many graphics and images as in Pimsleur
Dated digital platform compared to PImsleur

 
Can you become fluent with Rocket Languages?
You can only become fluent with Rocket Languages or any other app for that matter through a lot of hard work and consistent practice. You will also need dedication and exposure to the language outside of what's taught on the Rocket Languages platform for all-around fluency.
In addition, you must also consistently look for opportunities to employ the language in real-life situations. You can also supplement the lessons at Rocket Languages with other language resources, such as movies, podcasts, and exchange programs.
Is Rocket Languages better than Duolingo?
The choice between Duolingo and Rocket Languages depends on your needs and preferences. Rocket Languages offers a comprehensive learning platform, ideal for learners who wish to achieve greater proficiency levels.
They have a more structured learning approach. On the contrary, Duolingo offers a more gamified learning experience, ideal for lower intermediate or beginner learners who wish to grasp the basics of the language.
Is Rocket Languages better than Babbel?
Again, the choice between Babbel and Rocket Languages will depend on your personal needs and preferences. Rocket Languages has a comprehensive learning mechanism for students who wish to acquire higher proficiency levels. They have a structured approach.
On the contrary, Babbel is better suited for intermediate and beginner learners who want to understand the language basics with a focus on vocabulary and grammar.
Is Pimsleur Worth Your Time And Money?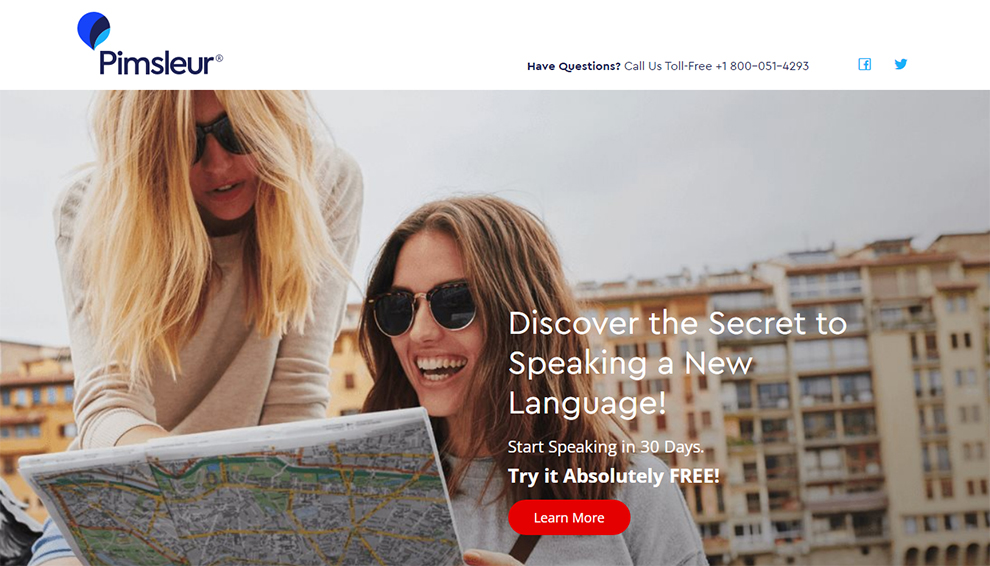 Yes, Pimsleur is worth your time and money.
Pimsleur is based on the learning technology drafted by scholar Paul Pimsleur. The company has been around for a long time and hasn't changed much, but people love them. It may be because Pimsleur earned a firm ground for itself when there was not enough competition in the language learning market.
Since then, it has not faded in glory. Beyond its name recognition, Pimsleur has continued to attract people who enjoy a straightforward learning experience. They are one of the pricier options in the market, but offer deals and discounts on the website, making them affordable.
Pros
Cons

Sleek and modern interface that is better than Rocket's
A flexible program that lets you learn while exercising or driving
Supplemental drills that follow audio lessons are excellent for retention
More affordable subscription plans
Effective teaching model for learning a new language

 

A voice coach is not as effective as Rocket's speech tech
Audio lessons move somewhat slow

 
Can you become fluent using Pimsleur?
Sadly, No! Pimsleur helps develop your listening and speaking skills via interactive audio lessons. Even though it is a beneficial tool for learners, it is unlikely to achieve fluency with Pimsleur.
Analysing Rocket Languages vs Pimsleur Features
Now, let us compare these two language learning platforms on various metrics to help you find a company that can be your preferred pick.
A. Pricing
Generally speaking, Pimsleur is relatively more expensive than Rocket Languages, particularly if you shop for the complete course. 
In both Pimsleur and Rocket Languages, the price typically depends on the language you wish to learn, the platform chosen, and the course length. Here is a brief overview of the cost you can expect to pay for both programs:
Rocket Languages:
A one-time fee costs $149.95 for lifetime access to a single language course.
Some languages come with additional levels for purchase.
Pimsleur
Price typically ranges between $119 to $575 for a complete course.
B. Pimsleur Vs Rocket App Trial Window and Refund
Rocket Languages and Pimsleur both provide a refund window and a trial period. However, the refund window is longer in Rocket Languages, which gives you a reasonable time to test the class before paying.
Pimsleur and Rocket Languages have a seven-day trial window to test the language courses. You can run the program in this period to see if it is a good fit. If you like it, you can buy a subscription. However, in Rocket Languages, you get a 60-day money-back guarantee on all the language courses.
Hence after paying, if you are unsatisfied during this period, you can request a free full refund. On the contrary, the refund window is only 30 days for Pimsleur, which though standard, is not as generous as Rocket Languages.
C. Languages – Pimsleur vs Rocket App, Who Has More Options?
Pimsleur offers more languages than Rocket Languages.
Pimsleur offers courses in more than fifty languages, including popular ones like Spanish, French, German, Italian, Japanese, and Mandarin Chinese, as well as less commonly taught languages like Icelandic, Swahili, and Tagalog.
On the contrary, Rocket Languages only offers fourteen different language courses. They cover various languages, including Spanish, French, German, Italian, Japanese, and Mandarin Chinese, as well as Arabic, Hindi, Korean, Russian, and Portuguese.
D. Focus
Rocket Languages can be a suitable pick if you desire a comprehensive program to learn a language that covers vocabulary and grammar. But, if you wish to improve your conversational and pronunciation skills, Pimsleur can be a good fit.
When it comes to Rocket Languages and Pimsleur language focus, both Rocket Languages and Pimsleur follow a completely different approach.
In Rocket Languages, there is a greater focus on vocabulary and grammar. The company has designed the courses to help learners acquire a well-rounded understanding of the language they pick.
Beyond the interactive audio lessons, Rocket Languages also has exercises and written lessons covering vocabulary and grammar topics. You will also find tools like quizzes and flashcards.
On the contrary, the focus is mainly on pronunciation and overall conversational skills in Pimsleur, with little to no formal emphasis on grammar instructions. Of course, you will study the basic grammatical concepts in the process. However, this program works by helping the learners develop their skills via repeated exposure to the spoken language and listening as they speak.
E. Design and Ease Of Use
In aesthetics, design, and ease of use, between Pimsleur and Rocket, Pimsleur stands out. It is more attractive than Rocket Languages.
Pimsleur has a simple and cool interface that looks appealing to visual learners. They keep updating and bettering the overall experience they offer to the users. Rocket Languages also has a straightforward design, but it is not the most eye-catching or unique, yet it works ok.
As for the functionality, both of them are good. They are practical, and you can easily use them on different devices. Pimsleur and Rocket Languages attempt to make learning easier and more enjoyable. But, still, Pimsleur takes the cake in design and aesthetics.
F. Audio Lessons
It is undoubtedly one of the main similarities between the two companies. Both their audio lessons are very similar. But upon comparing Rocket Languages vs Pimsleur audio sessions, we feel Rocket Languages wins because of some of its complementary features.
Pimsleur and Rocket Languages have drafted guided audio lessons, which are the main element of these courses. They focus on your speaking and listening abilities. Both these platforms are effective and do a better job than most other companies.
The audio lessons prompt you to employ vocabulary and reply to the native language speaker to engage in simulated conversations. You actively monitor the conversation, and the moderators keep you active to ensure you understand what is happening in the given situation and trigger you to reply when called upon.
Such simulation can do wonders in helping you memorize and use the language better, even under pressure (like in most real-life situations). Even though they do a good job offering a simulated conversation format, Rocket Languages stands out because of its few bonus features.
For instance, they roll a transcript of the mock conversation you are listening to. It helps you to read and follow along as you listen and interact with native language speakers.
Further, after the session finishes, you can replay the whole conversation and enact it as one of the native actors to get more practice. It is something you do not find in Pimsleur.
G. Flashcards and Other Study Materials
Both Pimsleur and Rocket Languages offer a good variety of study materials to allow the learners to reinforce their language skills beyond the audio lessons. However, Rocket Languages' materials are more detailed and comprehensive. 
When we compare Pimsleur vs Rocket Languages bonus material, we found Rocket Languages provides a variety of quizzes, flashcards, and written matter. Their flashcards allow learners to memorize the vocabulary words, whereas the quizzes can assess grammar and other concepts. The program also comprises written vocabulary, grammar, and culture lessons.
With Pimsleur, you get vast study materials. However, they are somewhat limited in scope. They have a flashcard feature that lets you review the vocabulary words from the audio lessons.
In addition, the mobile app also has some short reading lessons, which facilitate learning on the go. But Pimsleur predominantly focuses on conversational skills via spoken practice. Overall, Rocket Languages has a broader range of study materials, a factor that can be appealing to learners.
In this Pimsleur and rocket languages comparison, speech recognition technology is another factor in Rocket Languages' favor. 
Pimsleur has recently launched its speech recognition technology and is working towards improving it. Rocket Languages employs Google's Web Speech API. Experts typically regard Google's tech as one of the most advanced speech tools in the world.
So, as you progress through the reinforcement drills and audio lessons, the Rocket Languages records your voice, employs Google to assess your pronunciation accuracy, and grades you from 1 to 100 on pronunciation to check how well you perform.
Related: Pimsleur vs Babbel| Pimsleur vs Rosetta Stone | Rocket languages vs Rosetta Stone
Final Verdict: Pimsleur Vs Rocket – Which Is Better?
Overall, they are both good language companies, but as you can see, Rocket Languages fares better in most attributes, so it is a clear win for them. But since both come with a free trial, we recommend testing both of them to get a gist of how they are. Happy Learning!