Quimbee and Barbri are both popular online legal study aids, but they have different focuses and cater to different needs. While Quimbee is meant for quick learners with engaging video lessons at affordable fee, its main focus is not on the bar exam. On the contrary, Barbri is comprehensive & structured bar prep course but isn't able to justify its high price.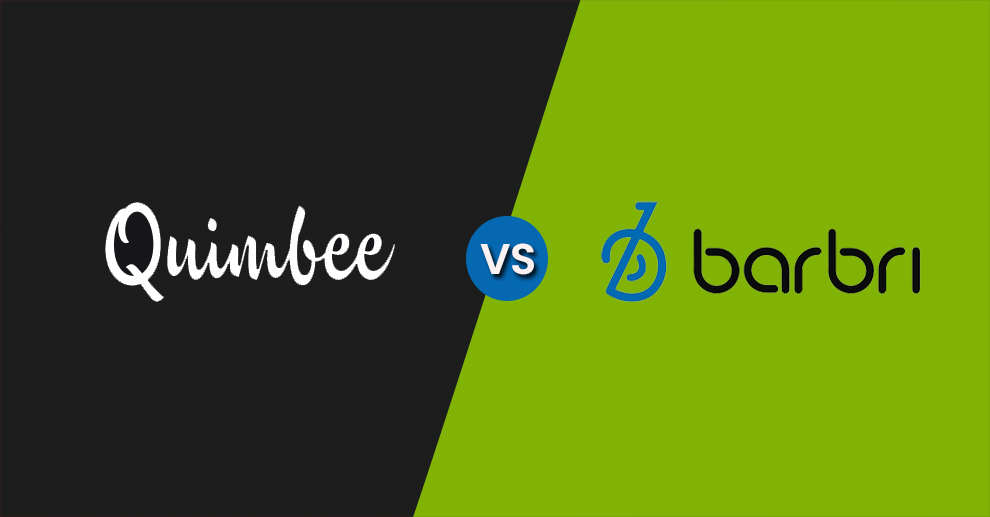 Prepping for the bar exam but confused between Barbri and Quimbee? Well, the two are somewhat similar in a few aspects but quite the opposite in a few others. We will pit the two against each other and compare them on multiple parameters to help you choose better.
Barbri is known for its comprehensive study material and coursework. Sadly, Quimbee's resources might not be as robust as Barbri, but comparing Quimbee vs Barbri, we still like the former better.
See, with a long-standing history and abundant resources on offer, it should be an easy win for Barbri, but it is not so.
Why?
Students today look for true value for money in their preparation courses, which is what you get with Quimbee. At $999, it truly gives you a bang for your buck. Their lessons are their USP. They have cartoon-style, engaging video lessons, and case briefs. The black letter law outlines are ideal for ensuring brevity and detail.
Though Quimbee is not just a traditional bar prep review course, their practice material is almost similar to Barbri. Weighing both options, our vote goes for Quimbee because they justify the cost of their course.
Quimbee vs Barbri Features
| | | |
| --- | --- | --- |
| Attributes | Quimbee | Barbri |
| Pricing | $999 | $3000 |
| Refund | Yes | No |
| Lesson type | Video lessons | Both in-person & online |
| Lesson length | Mostly shorter, 5-20 minutes, but some lessons are longer, between 20-45 minutes | 30-90 minutes |
| Practice questions | 2500+ MBE | 2500+ MBE |
| Course material | Precise and compact | Comprehensive |
| Access duration | Lifetime | 3 months |
| Books/eBooks | Brief and to the point | Detailed and in-depth |
| Pass rate | N/A | 90 percent |
| Mobile app | More responsive | Not as good |
| Visit | Quimbee | Barbri |
Is Quimbee or Barbri better?
The answer is not that simple. So, if you are looking for a more flexible and affordable online learning platform to improve your legal skills, Quimbee may be a better option for you.
However, if you are preparing for the bar exam and want a more comprehensive and structured program with personalized support, Barbri may be a better choice.
Let's take a closer look at their different attributes.
A. Cost
Quimbee is more affordable than Barbri.
Their plans range between $15 and $99 monthly, but a complete bar review course costs $999. On the other hand, the Barbri packages are between $2495 and $3995, depending on your geography and the class you chose. But you can bag the standard plan (usually the most popular) at $3000.
B. Refund policy
Quimbee has a better refund policy than Barbri, as it is nonconditional.
There is a clear distinction between Barbri vs Quimbee refund policy. Quimbee has a generous seven-day money-back guarantee for their lifetime, annual, or monthly plans. So, if you do not like their services, you can contact the support team for a refund.
On the contrary, Barbri's refund policy depends on the kind of program or course you enroll in. You get a Pass or Pay Nothing guarantee if you enroll in the bar review course.
So, if you do not clear your bar exam after taking the Barbri program, you will be eligible for a complete refund of the tuition fee. But if you enrolled in any other course, Barbri's refund policy might vary. So, read through the terms carefully.
C. Course material
It is almost impossible to beat Barbri in its coursework quality.
The prep books are top-notch and very comprehensive. But Quimbee is not very far behind. As a matter of fact, given the massive price gap, we find the quality difference not so huge, and Quimbee also gives you a better value for money.
But purely in terms of course material, we have to give credit to Barbri which comes at a higher cost as well.
Barbri and Quimbee have different course materials, depending on the program or course you enroll in. With Quimbee, professionals, bar exam takers, and law students get video lessons and online study aids for legal.
Broadly, the course material comprises outlines and case briefs for major law school subjects, such as property, torts, contracts, civil procedures, and criminal law. It also has flashcards that help summarize main legal concepts.
There are several practice questions to help you assess your understanding. These come with detailed analyses and explanations. Finally, you will find legal ethics courses to satiate the CLE requirements in some states.
Barbri course materials include classes covering all major areas covered in the bar exam and practice questions, flashcards, and outlines corresponding to every lecture.
In addition, you receive one-on-one coaching sessions, essay writing workshops, personalized study plans, and feedback from pro bar exam instructors. Lastly, you get simulated exams that mimic the content and format of the actual bar test.
Beyond the review course, Barbri provides programs and classes for legal professionals and law students with diverse course material. You do not get such comprehensiveness and diversity with Quimbee.
D. Teaching methodology
Comparing the Quimbee vs Barbri teaching methodology, we find the former's cartoon style to be better.
Barbri follows the traditional approach in a video session, where an onscreen instructor stands behind the lectern and delivers the lectures on the topic covered. Of course, it is not a wrong approach.
In several cases, it is incredibly effective, but that often makes the lectures bland. We like how Barbri introduces some legal scholars and big-name attorneys to deliver their videos, but they can still be snoozers.
In contrast, Quimbee incorporates engaging and fun cartoon-style skit-based videos, which appeal the modern students. These short videos do a fantastic job of breaking down complex issues by showing judges, cartoon attorneys, and litigants acting out the legal principles and cases.
For visual learners, this approach is incredibly, and they can help tie the concept better. It aids in better recall value.
E. Books/eBooks
The quality of the books is better in Barbri.
Barbri has five decade worth of experience in crafting these superior-quality books that are continually revised and updated by some of the leading scholars in America.
They are as comprehensive and detailed as they should be to assure your excellence in the bar exam space. Having said that, it will not be a light read. But these books are excellent for students who enjoy reading via books.
But if you do not enjoy reading detailed text, Quimbee's concise black letter outlines can be your preferred pick. These crisp outlines are well-written and easy to digest. But we will pick Barbri's comprehensiveness any day.
F. Access duration
Comparing the Quimbee vs Barbri access duration, we like the former better as it offers unlimited retakes.
Both courses have standard access duration. They let you use the content till the date of your exam. But, Quimbee provides unlimited retakes, meaning lifetime access.
On the contrary, Barbri allows a single retake. Hence, Quimbee has a longer access window than Barbri, which is favorable for learners.
G. Mobile app
Quimbee's app is better and more responsive than Barbri's.
You get a mobile app with Quimbee and Barbri that lets you access the study material and the resources while on the go. They both have independent apps for Android and iOS devices.
Quimbee offers access to study aids, outlines, videos, and case briefs. Barbri offers access to their study material, practice questions, and access lectures via the app. The app also has extra study reminders and progress-tracking attributes, helping users monitor their preparation.
Both these apps have their strengths and weaknesses, but comparing Quimbee vs Barbri, we found Barbri's app dated and clunky. On the other hand, Barbri's tech is responsive, snappy, and easy to navigate, offering access to all the material with a simple click.
H. Popularity
Barbri is more popular than Quimbee.
Barbri is generally more popular than Quimbee, especially among law students preparing to take the bar exam. Barbri has a long history of success in helping students pass the bar exam and is considered one of the most helpful bar exam review providers.
It has a more established presence in the legal education community. Many law schools have partnered with Barbri to offer their students discounted access to their bar exam review courses.
Moreover, Barbri is recommended by law professors and advisors as a highly effective resource for bar exam preparation.
Quimbee also has a large and active user base and is well-regarded among law students and legal professionals as a helpful study resource. While it may not have the same level of name recognition as Barbri, it is still a popular and respected resource in the legal education community.
I. Moneyback guarantee
There is no debate here, and the clear winner is Quimbee, as Barbri does not have a money-back guarantee.
Students who finish seventy-five percent of the Quimbee coursework and still fail the exam can get their money back. Sadly, you do not have any such guarantee with Barbri.
J. Quimbee vs Barbri passage rates
We cannot say anything about Quimbee as they have not declared their pass rate, but for Barbri, the pass percentage is ninety percent.
Sadly, you do not get structured bar exam review courses with Quimbee, and they also do not publish their pass rate for the bar exams. On the contrary, Barbri is a renowned provider of bar exam review courses. They keep a tab on the track record of assisting the students in clearing their bar exams.
K. Supplementary resources
Barbri offers a bunch of extra resources.
Barbri does not shy away from lauding you with the extras. Their hefty price includes several bonus resources, such as early start access, attorney support, and immersion workshops. But whether these bonus resources justify their price tag is a debate for another day.
On the contrary, besides their practice problems, video lessons, other prep course staples, and outlines, you do not get anything extra with Quimbee.
Related: Barbri vs Kaplan | Best Free Online Law Courses
Quimbee: Are Quimbee Reviews Good?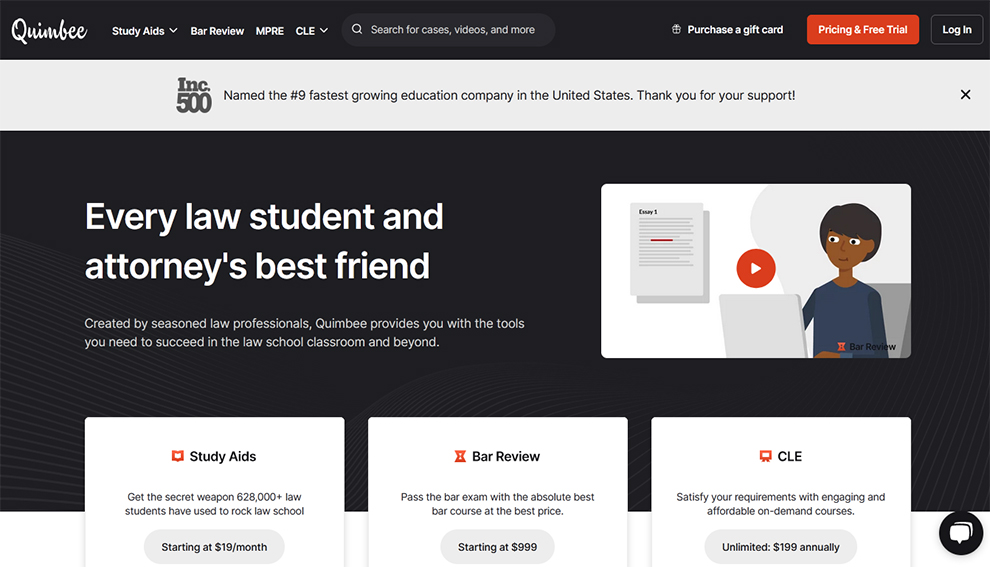 Quimbee has generally positive reviews from its users. It has a rating of 4.4 out of 5 stars based on over 2,500 reviews on Trustpilot.
Being one of the leading online platforms that provide resources and study aids for legal professionals and law students, it has been around since 2007. It was the brainchild of Matthew Sellers, a former law student.
Quimbee focuses on providing law students with resources to help them improve their legal skills and understanding.
It provides practice exams and courses for the UBE or Uniform Bar Exam and MBE or Multistate Bar Exam. These resources help students prepare for the bar exam and better their chances of success in the first go.
Its resources are well-received and highly appreciated in the legal education community. They are praised for their user-friendly format and ease of use. You can access their material via a mobile app, simplifying learning on the go.
Quimbee Pros and Cons
Pros
Cons

It is very affordable and gives you a value-for-money experience.
The mobile app is top-notch for on-the-go learning.
100% money-back guarantee.
7-day refund policy.
Short and engaging cartoon-style teaching
Well-crafted outlines to help you speed up learning.

 

No pass guarantee
They do not have as many practice exams or simulated test-taking environments as the others.
No live instruction or access to experienced instructors.
They have a self-directed technique, which is not suitable for students seeking a guided approach.
The course material lacks depth.

 
Is Quimbee worth it for bar prep?
Quimbee can be a good additional resource for bar prep, but it might not be sufficient.
Quimbee provides various resources and study aids, such as flashcards, videos, practice exams, and outlines that cover all the material tested on the exam.
Hence, it can be a beneficial supplement to your bar exam preparation, but it might not be fit as a sole preparation source. Moreover, their bar exam prep is available for some jurisdictions. Hence, students must ensure that the material is relevant to the jurisdiction for which they take the exam.
Does Quimbee use real MBE questions?
No! Quimbee does not use the real Multistate Bar Examination questions in its preparation resources. The National Conference of Bar Examiners administers MBE, and they do not release actual exam questions to the public or commercial bar exam prep providers.
However, Quimbee's practice questions have a similar format in content and difficulty to the MBE questions.
Are Quimbee outlines worth it?
Comparing Barbri vs Quimbee, we found that only Quimbee provides these outlines. Some individuals might find Quimbee outlines helpful and some may not find them worth it depending on their specific learning styles and needs. However, these outlines should not be substituted for books that give you a thorough information.
These outlines offer an overview of the cases and the legal concepts and help the students and professionals understand complex legal issues and prepare for the exams.
Do law schools pay for Quimbee?
Some law schools might have partnerships or agreements with Quimbee to offer access to their resources and study aids for the students.
But it will vary from school to school, and not every school may have such an arrangement.
Is Quimbee MPRE good?
Multistate Professional Responsibility Exam, or MPRE by Quimbee, is a beneficial and well-regarded resource for legal professionals and law students hoping to excel. The course covers all the material tested on the exam, including the rules and regulations of the American Bar Association's Model Rules of Professional Conduct.
You will find practice questions, case briefs, video lectures, and full-length practice exams to help students master the material. They also have a pass guarantee for the MPRE course. So, if a student fails the exam after completing the course, they will receive a full refund.
Barbri: Are Barbri Reviews Positive?
Barbri is a renowned company and a provider of bar exam preparation courses, and their reviews are generally considered to be quite good.
It offers comprehensive bar exam review courses for law students prepping to appear for the bar exams in the US. The company has been around since 1967 and has helped more than 1.3 million students excel in the bar exams. Their courses offer students everything they require to excel in the bar exam, such as one-on-one tutoring, study material, practice exams, and lectures.
With a high pass rate and a long-standing history of success, Barbri has partnerships with several law schools and is recommended by advisors and law professors worldwide.
Barbri Pros and Cons
Pros
Cons

A wide range of study material, such as practice questions, outlines, lecture videos, and simulated exams, help you prepare better
Experienced experts, mainly lawyers, who have passed the exam themselves
Personalized study plans that consider your strengths and weaknesses and customize the material schedule accordingly.
Flexible course formats, such as online, on-demand, in-person, to fit your preferences.
Pass Guarantee for some courses, provided you meet the requirements.

 

Very expensive
It can be very demanding and intense and require significant time and effort for completion.
Flexibility within the course formats is limited, and students might find it tricky to balance the course requirements with other obligations.
The teaching style might not be suitable for a visual learner.
Given their vastness, some students become overly reliant on their resources, which might pose challenges in the bar exam. So, it is crucial to supplement your preparation with additional preparation.

 
What is the passing rate for Barbri?
The pass rate for Barbri is as high as ninety percent.
Is Barbri harder than the actual bar exam?
Yes, the Barbri bar course is designed to be rigorous and challenging. It helps ensure students are better prepared for the actual exam.
You will find a simulated test-taking environment, practice exams, and personalized feedback that helps the students identify and address the weak areas before taking the actual exam. Its intensity gives the students more confidence when they appear for the exam.
How much does the Barbri law cost?
Students can expect to pay as much as $3895 for the law course, making Barbri one of the more expensive options.
Barbri Vs Quimbee – Which One To Go For?
We would sum up by saying that we love the variety and density available with Barbri, but it still does not justify its hefty price tag compared to Quimbee. Quimbee, though not as comprehensive, is still an excellent platform to help you prepare better. So, we will end this debate by putting our vote in Quimbee's favor.