An Adobe Photoshop challenge is a game wherein a user is given one or more original pictures and is asked to manipulate, edit or merge the said pictures in a certain way using the Adobe Photoshop software.
These challenges take place on various platforms and websites. People who wish to strengthen their Photoshop skills and expand their creativity can do so by taking up these fun challenges that are personally very rewarding.
Examples of some common Photoshop challenges that are available online are: coloring a black and white image, adding a person from one picture onto the background of another picture, adding special effects and so on.
Jump To
How Does A Photoshop Challenge Help You Learn?
Adobe Photoshop challenges help you learn by encouraging you to do new things. All the challenges are unique and tend to test your knowledge of Photoshop.
You will be required to perform certain specific tasks which you might not have known if it were not for the challenge. It also helps you practice your Photoshop skills by practically applying those skills in real life to the given challenges.
Besides learning new things, these Photoshop challenges for beginners also introduce you to a community where like-minded Photoshop professionals compete in these challenges.
They have several tricks up their sleeves and can tell you about shortcuts and how to detail your work better. This is only possible through participating in these challenges. This is how Photoshop challenges help you learn more about Photoshop in more ways than one.
5 Best Websites for Photoshop Challenges
About this website: This website is one of a kind and provides you with contemporary and unique Photoshop challenge ideas. When you land on this website, you are made to spin a cube wherein you are given 3 random words.
For the photoshop daily creative challenge, it is now your task to co-relate those 3 words to create a unique piece of art in Photoshop.
For example, let us suppose that the three random words are 'Punk', 'Alien' and 'Magazine Cover'. You have to now use your imagination to bring out those words through your art.
You can choose to create a punk background, incorporate a UFO landing and put them together on a magazine cover. This is just an example; you can use your imagination and use your creativity to go wild.
This website also has easily accessible resources and unique Photoshop challenges for beginners which can help you upskill and out of the box Photoshop challenge ideas that can inspire your work.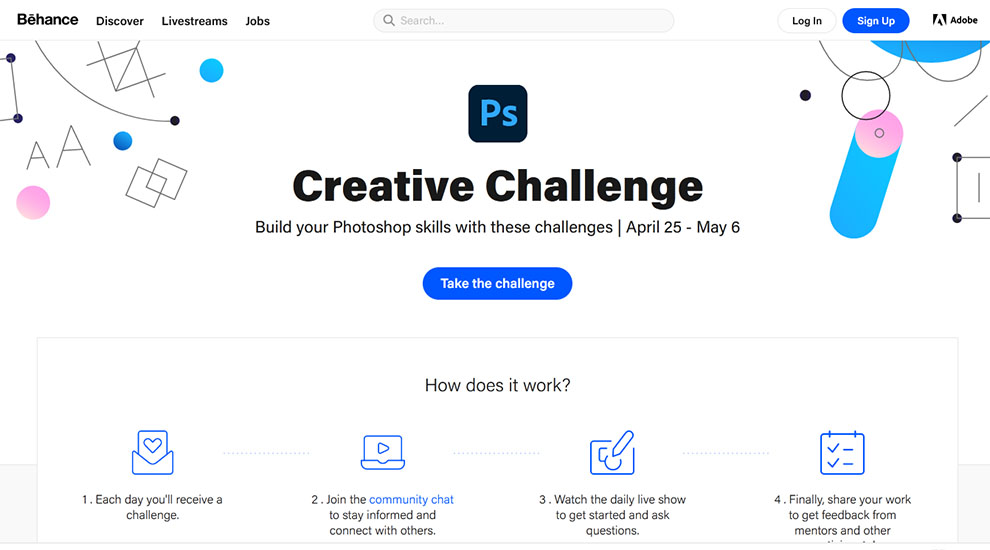 About this website: This website not only supplies its users with the latest challenge ideas but also has short tutorial videos to help you solve the challenges.
You can either directly get started with the Photoshop daily creative challenge or watch the tutorial video first if you are unsure how to go about that particular task.
By participating in this challenge, you will receive tasks daily and you can share them with mentors and others within the community to gain constructive feedback.
This website also has daily live shows which you can stream and utilize these live sessions to make queries and ask relevant questions.
Examples of some of the challenges are: Creating a kaleidoscope, Merging images, designing a custom icon, learning how to use gradient and shadowing and so on.
If you are a professional Photoshop artist, you can even apply for a job through the 'Job Portal' on this website.

 
About this website: Once you sign up for the Photoshop course offered by this website, you receive daily Adobe Photoshop challenges in your email. They also provide training videos to help you learn the latest and most advanced Photoshop techniques. This website pushes you to be creative and enthusiastic about learning Photoshop.
However, the courses on this website assume that you have prior knowledge of Photoshop and they do not go over the basics of Photoshop in their training videos. This Photoshop Challenge is absolutely free of cost and helps you spark your creativity.
There are numerous Photoshop courses available on this website that like:
And a lot more! These courses come at a nominal cost and are one of the best ways for you to learn Photoshop in-depth before taking up the Photoshop daily creative challenge on this website. Taking up these courses will automatically spark exclusive Photoshop challenge ideas in your mind.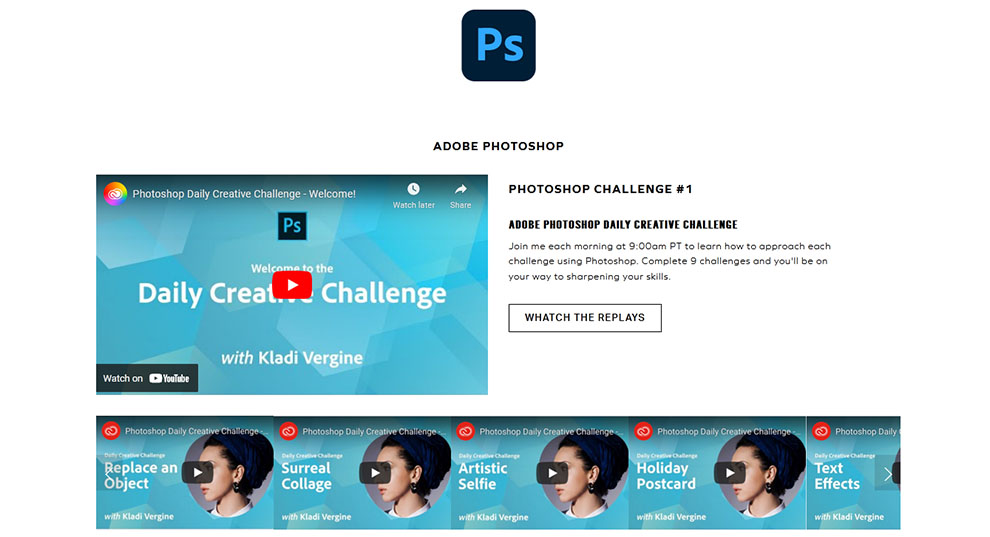 About the website: This is one of the best websites that offer innovative Photoshop challenges for beginners. This website offers Photoshop challenges that are unique and tend to test your expertise in Photoshop.
This particular website also performs live streams and has a YouTube channel where you can check out all the training videos that you might have previously missed.
You can find a variety of courses on the different topics of Photoshop on this website that are educative and informational. Taking up the courses will help you sharpen your Photoshop skills and prepare you to take up the Photoshop challenges confidently.
The website also has several resources, events and video lectures from which you can learn a lot.
Some of the most popular courses offered by this website are:
Adobe Illustrator Bootcamp
Illustrator Quickstart (Powered by LinkedIn Learning and Lynda.com)
Indesign Quickstart (Powered by LinkedIn Learning and Lynda.com)
This website also comprises an 'Adobe Max 2021' section wherein learners can download Photoshop sessions, get inspired by unique Photoshop challenge ideas and gain useful insight on subjects like Indesign, stock, cc libraries, Lightroom and so on to help them learn Adobe Photoshop better.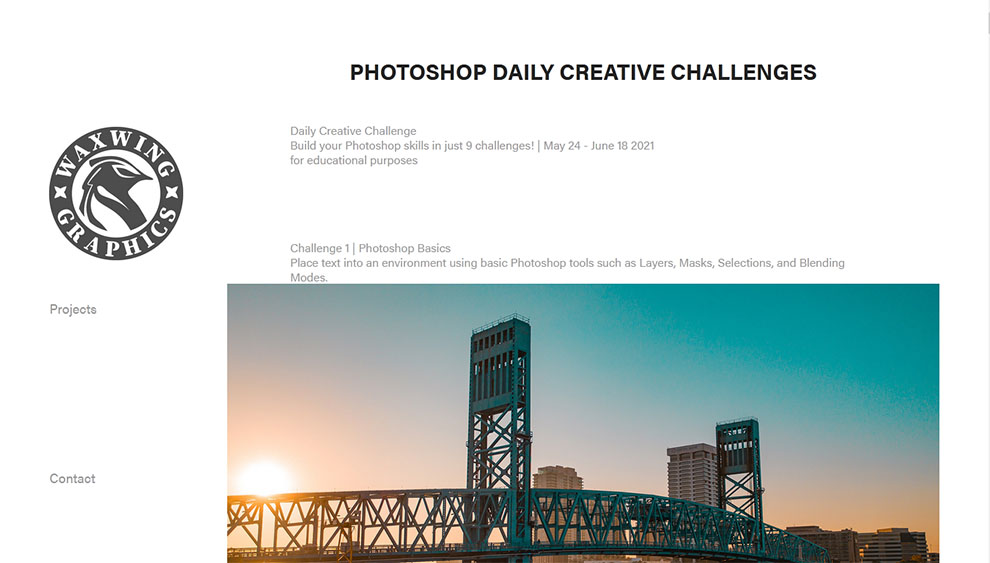 About the website: The best thing about this website is that it has a very friendly and easily comprehendible user interface. The Adobe Photoshop challenges offered by this platform are directly displayed on the website and you can attempt any or all of them.
All of the challenges can be completed within a period of 9 days if you are regular and sincere with your work.
Some of the Photoshop challenge ideas available on this website are:
Challenge 1 | Photoshop Basics
Place text into an environment using basic Photoshop tools such as Layers, Masks, Selections, and Blending Modes.
Challenge 2 | Hybrid Animals
Mix and match animals to create a fantasy creature. Use selections, Masks and Refine Edge to quickly and accurately grab sections of each animal.
Challenge 3 | Photo Manipulation
Remove an object from its background, then place it into a new environment using Masks, Color Balance and Perspective tools to make it look realistic.
Problems Beginners Face While Learning Photoshop
Now that we have learned about Photoshop challenge ideas, let us look at some common problems you might come across while learning Photoshop:
As a beginner in Photoshop, you might find yourself using inches as a unit of measurement instead of pixels. This can be very challenging when you're dealing with web based design rather than for the print.
The Photoshop interface can seem to be quite confusing when you are first starting off with Photoshop and it can take a considerable amount of time to figure your way around it.
Most people have difficulty using the Pen tool in Photoshop which is one of the most important tools Photoshop offers and it really helps with the detailing.
Photoshop beginners also face hardships while learning the process of layering. Some layers often turn out to be not as good as you had expected. Mastering layering takes a lot of time and effort.
Beginners often rotate the entire image immediately with the Imageadjustment page. This leads to the rotation of the entire artboard. To rotate, move, or tilt the image, one needs to learn to use the Transform tool.
Conclusion
Listed in this article are some of the most popular websites that offer Photoshop challenges for beginners. Almost all of these websites have courses that provide certifications.
All important details that you might require to choose an appropriate website or take up a Photoshop daily creative challenge have been provided in this article in a comprehensive manner.
However, if you wish to know more about the website you can do so by clicking on the annexed link of the website in the headings. These educative Photoshop challenges will be vastly useful to you as a learner or even a professional who is looking to up-skill and keep up with the newest technologies in Adobe Photoshop.
We understand searching for and filtering through the best Photoshop challenges available online can be exhausting and we hope this article helps!
Related: How to make money with photoshop? Adobe Premiere Pro CC Classes, Best Photoshop Books
If you are an instructor who wants to teach how to use Adobe Photoshop to enthusiastic students, then you might consider getting in touch with websites' hiring committees through their career portals.
They are always looking to hire new talents to provide their students with a better and more distinguished learning experience along with new Photoshop challenge ideas.