Reading Time:
11
minutes
Magoosh is the budget-friendly option but otherwise, Kaplan is better in terms of practice tests, questions, and live learning sessions. It is, even more, user-friendly with better quality delivery of lessons.
 
When you need assistance with GRE, you will shop around for a GRE prep class to better your chances of excelling in the real test. Kaplan and Magoosh both offer fantastic courses to help you ace GRE.
But between Magoosh vs Kaplan GRE, which is better?
Though there exist many similarities between Kaplan and Magoosh, there are also a few characteristic differences.
In Magoosh, you get only 1200 practice questions, while the number is over 5000 with Kaplan. Magoosh allows you to take around three practice tests, but Kaplan provides seven computer-based practice tests.
In Magoosh, you cannot take live lessons, but Kaplan gives you that opportunity. Also, Magoosh courses do not get the Official Test Day Experience, but Kaplan lets you take the practice test at the testing center.
 
Magoosh offers a money-back guarantee, but Kaplan does not have a trial window. Magoosh is equipped with a score predictor, but such an option is absent in Kaplan. Lastly, with Magoosh, you get a +5 point score increase guarantee, but the same is only a +1 with Kaplan.
A good GRE class can offer a more comprehensive and a versatile experience than any other book. Hence, students consider availing of one of the courses to cherish a more customized learning experience.
Magoosh and Kaplan are two of the most popular companies helping you prep for the GRE. They are the most sought-after choices amongst test takers because of their appreciable quality content.
There are quite a few differences between these platforms. In this guide, we will take you through the pros and cons of both to help you make an informed decision.
Kaplan Vs Magoosh GRE, Which Is Better?
| | | |
| --- | --- | --- |
| Attribute | Magoosh | Kaplan |
| Price | $179 | $449 |
| Refund | 7 days | 3 days |
| Practice test | 3 | 7 |
| Practice questions | 1200+ | 5000+ |
| Video lessons | 100+ hours | 40+ hours |
| Books included | None | Hardcopy |
| Mobile app | Yes, good quality app | Yes, low quality app |
|   | Visit Magoosh | Visit Kaplan |
Is Magoosh for GRE Worth it?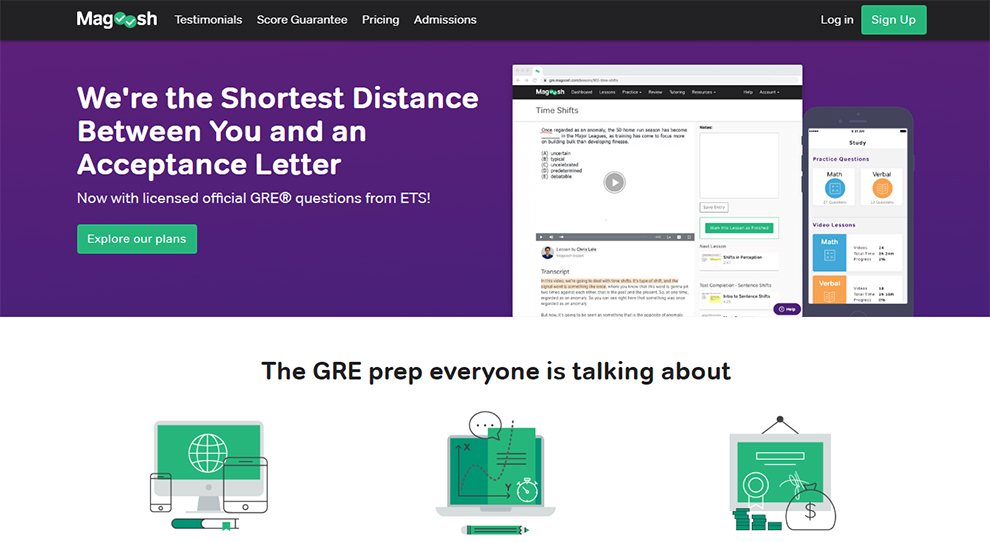 100% percent! Magoosh is one of the best options for students preparing for the GRE test. They offer a plus five-point score increase guarantee.
You can watch each of their prep course online on your smartphone, tablet, and computer. Here you have no deadlines, DVDs, or textbooks. So, open Magoosh on your desired platform and commence your journey instantly.
Magoosh delivers lessons to match your progress and compares you to other students. It offers dependable learning resources to help you assess your abilities, skills, and potential.
In addition, Magoosh also has multiple study plans that go from one week to six months, depending on how much time you have for preparation. One of the standout features of the Magoosh plans is that you can find them on the test blogs and the website.
But you can access the premium study material only after making the purchase. With Magoosh, you can expect a more optimized study environment than a classroom. It lets you access the material and watch the videos as and when you like it.
Upon enrolling with the Magoosh course, you start their test prep series. Between Magoosh vs Kaplan GRE, Magoosh has a top-quality mobile app that can be accessed on Android, iPad, and iPhone. The application has several tests, problem sheets, and exercises.
On Magoosh, you get GRE courses, which are 100% online without any software or books. Thus, you have the flexibility to learn.
In addition, you also get dependable learning resources and several practice tests. When you shop for GRE courses, one of the most vital abilities to understand is when to employ reasoning and simple math. You will see a math-based arrangement in your regular test prep clarification.
Pros
Cons

Excellent value at their price point.
The practice problem answer explanation in video and text format is good.
A library of videos with insightful test-taking strategies.
Seven-day free trial.
Comes with a unique score prediction feature
Intuitively designed interface.
It lets you choose between 1-month and 6-month courses.
Guarantees a five-point score increase
You get answers to all the test questions.
Android and iOS apps are free.
Time-bound quizzes give you an exam-like feel.
Good interface design
Professionally-trained instructors
Prep books available on Amazon
24/7 user-friendly mobile app support

 

Their video lesson delivery format is not the best.
Lesser number of practice tests.
No live-streaming or tutoring options.
They can make support better.
No essay evaluation.
It has fewer course content than Kaplan.

 
Is Magoosh Harder Than The Actual GRE?
Yes, Magoosh can be a little trickier than the actual GRE. The math questions and videos are relatively more complex than the actual test. However, if you solve questions like that, your chances of scoring a better grade on the GRE will improve.
What Is A Good GRE Score In Magoosh?
Ideally, for most programs, scoring 75th percentile or more is ideal. So, you must aim for 162 plus in Quant Reasoning and 157 plus in verbal reasoning. In the top programs, a 90th percentile score or higher is recommended. It implies 168 plus in Quant Reasoning and 162 plus in verbal reasoning.
Is Kaplan Good For GRE Prep?

 
Yes, it is! Kaplan is not second to Magoosh and gives it a head-to-head competition. It offers live courses across the country in over forty American states.
They follow a classroom structure, and their test prep lets you learn wholly on your own or with support from the instructor. They offer several day options and times, meaning you can pick any time from the listed options.
Everything you need to explore is available on their mobile app. Kaplan gives you a good blend of quality and quantity in the study materials. They have vast practice and test materials that gives you ample training required for GRE.
Their classes are accessible to anyone and everyone. Kaplan is the perfect pick for someone who prefers studying from home but also needs live sessions. Their quiz banks are comprehensive and contain over 5000 questions. Presently, their number of questions is the highest in the industry.
Between Magoosh vs Kaplan GRE, Kaplan gives you the option to choose the study plan – based on your abilities, difficulty level, and the types of questions.
You do not get many offline resources in most online courses, but Kaplan is not the usual. You can enjoy Kaplan's in-person test preparation classes in forty-six American states.
So, if you like that option, Kaplan can be your preferred pick. Kaplan has the maximum timing options and areas available for any test preparation course, making it one of the most prevalent test prep companies.
You can get more full-length practice tests than competitors in the market, and they also offer more offline resources and practice questions than others. You get system recommendations, live aptitudes, and several exercises. Lastly, their score increase guarantee also works, and you can avail of it to better your test score.
Pros
Cons

They have more course choices.
Their prep courses are more comprehensive than Magoosh.
Their live classes are excellent. They have twenty-one hours of instruction.
They offer top-quality content with engaging video lessons.
You receive top-quality prep books that benefit traditional learners.
Their simulated test day experience gives you good preparation for the real exam.
You get over 5000 questions.
You can watch the video lessons in a live stream or on-demand.
Their offline learning resources are excellent.
Free 4-hour practice test.
Smart resources can help the student understand their knowledge level.
Customer support is good.
They have a team of accomplished and experienced instructors.
They have their proprietary tutoring program.
You can select the lectures or topics you want to follow on the GRE channel.
Offers prep for the essay portion

 

They are more expensive than Magoosh.
User experience is not the best when you open too many tabs during the study session.
The free app version for iOS has only fifty flashcards.
You get no free trial.
No score prediction features

 
Will Kaplan Preparation Tests Be Harder Than GRE?
In Kaplan, the practice questions you find will mimic the actual GRE, but some questions can be a little more complex than the actual GRE test.
Is Kaplan GRE Free?
Unfortunately, using Kaplan GRE for free is not an option, and you must opt for one of their available paid programs to prep for the GRE test on the platform.
Kaplan vs Magoosh GRE Prep Detailed Comparison
A. Pricing
Magoosh is more pocket friendly.
Magoosh is known for its competitive prices. After paying $199, you can access their extensive library of videos, course materials, and practice tests for six months. You can access the same content for one month at $169. Beyond the differences in the access window, the packages are the same.
Kaplan has several different options. You can opt for GRE prep in person or study at your pace with their available study material. Their self-paced option is at par with Magoosh's prep course, but it is almost four times as pricey.
They also have a premium Plus for an extra $200. The live and in-person sessions are relatively more expensive and can go around $1449 for the in-person Plus option.
B. Refund
In both companies, you get a refund policy but Magoosh has a longer window.
Magoosh has a seven-day trial window. So, you can try the course, and if you do not like it, you can get your 100% money back. On the contrary, Kaplan only gives you three days to test the sessions and request a refund.
C. Score Guarantee
If the prep course does not help you score better on GRE, both Magoosh and Kaplan offer customer satisfaction with their money-back guarantee. However, Magoosh's guarantee is better, but Kaplan has an option of retaking.
With Magoosh, you get a five-point score guarantee. So, if you take the complete program – practice questions, lesson videos, and video explanations, and still do not get a five-point increase in your exam, Magoosh will issue a full refund. To be eligible for this guarantee, you must meet three requirements:
You should have taken the GRE test before. It should be lesser than five years old.
You must have a PayPal account
You must share a copy of your report at the time of sign-up.
On the contrary, Kaplan's guarantee is merely for the higher score. So, if your score even increases by a point, you will not be eligible for the guarantee.
Like Magoosh, it is imperative to complete the practice tests, take their lesson plans, and do the practice questions for eligibility. So you are not eligible for refund if you do not finish the resources.
Even though Kaplan demands having a baseline score for the guarantee before enrolling in the GRE prep course, you can also take their proctored Kaplan diagnostic test as a substitute for the actual sore.
Kaplan lets you retake the course if you deny the refund. All their sessions barring the tutoring option, have this perk. So, if you choose to retake, Kaplan will register you for the same program for the next three months. You are not eligible for a refund once you retake the course.
D. Lesson structure and deliver
Kaplan has a more engaging and interactive delivery.
Magoosh has a more traditional approach to delivering video lessons. They do not offer any live classes. Instead, they teach it all via pre-recorded videos. The instructor employs the marker on the whiteboard approach to explain every problem. So, there is zero screen interaction. All you will see across the course is the whiteboard.
On the other hand, Kaplan works in a completely different manner. They have better production quality, courtesy of their HD and interactive videos. You will not find the typical mundane PowerPoint feeling like Magoosh. Kaplan's instructor explains everything in detail with a luminous marker.
E. Essay writing help in Kaplan vs Magoosh GRE
Kaplan has this feature, but it is missing in Magoosh.
Most platforms focus on the quantitative and verbal sections. However, the writing section in GRE also needs guidance and review. So, Kaplan is a clear winner as it lets you submit up to two essays simultaneously.
Kaplan's qualified instructors will review and grade it within a few days. In addition, the instructors will provide individualized feedback for the essays using the same rubric that GRE graders use.
Sadly, Magoosh does not have this feature. But, they provide blog posts, articles, and videos with tips for better analytical writing.
F. Practice tests and questions
Kaplan is relatively costlier than Magoosh, but it is for a good reason. It has more material than Magoosh. 
All of Kaplan's course options comprise seven practice tests, >5000 practice questions, 4 GRE workbooks or textbooks, and 180 hours of lessons in their video library.
You get an additional eighteen hours of course time in their self-paced class besides the standard inclusion for a six-month period. With their self-paced plus option, you receive supplemental advanced math and math material, thirty-five hours of live instruction, more than seven hours of lessons, and over 200 practice questions.
But if you opt for other options, you can get added coaching sessions or tutors for an extra fee. Kaplan also has a score predictor that tailors your practice questions to ensure maximum practice for the areas where you need more assistance.
For instance, if you score higher in the Quant questions over the verbal questions, you will study more Verbal questions across the program.
With Magoosh, you do not get several options. So, you will receive the same content in their six-month and one-month plan. The plan comprises three practice tests, 1200 practice questions, and over 250 video lessons.
Each of their videos is about five minutes long. So, you will spend 21 hours in the whole library. According to Magoosh, their practice tests contain unused practice questions.
So, please remember that you get lesser questions than that. Also, Magoosh's practice questions are graded on a scale of Easy to Very hard. So, their GRE score predictors are relatively accurate, weighing each question as per their difficulty.
G. Ease of use
Both are intuitive and easy to navigate and use.
They both have a simple interface, making it easy to find what you need.
H. Magoosh vs Kaplan GRE Mobile app
Kaplan has a relatively poorer quality app.
Both platforms offer the opportunity to prepare for the GRE tests, irrespective of where you are currently. Kaplan has the GRE® Flashcards by Kaplan app for iOS. You can install it for free on your iPhone.
But you employ your Kaplan account to access all the 500 flashcards this app provides. This app only has fifty cards. If you are not a Kaplan GRE student, you can opt for in-app purchases if you wish to use the app's full version.
The app's flashcards can help you amplify your vocabulary as they comprise synonyms, words from the dictionary, sample sentences, and definitions of words.
In addition, the app lets you track your progress and monitor your statistics, so you know how much you must improve over time. However, users have criticized its apps because saving a deck of flashcards can be challenging because it does not have a pronunciation function.
Unlike the Kaplan app, you can download the Magoosh app on Android and iOS. The app is free, and there are no in-app purchases. So, you do not have to spend anything extra on the features.
The app's collection of over 1000s questions lets you prepare for the verbal and math sections of the GRE. The questions have video and textual explanations that offer all the necessary information to amplify your subject's understanding.
In addition, the Magoosh GRE prep application has over 250 analytical writing, verbal video, and math tutorials to help you study on the go.
I. Customer support
Kaplan has more options for you to contact the support team.
You can contact the Kaplan support team via email, live chat, or phone. They are also accessible via social media platforms like Twitter, Facebook, or Instagram.
Magoosh does not have the option to contact the support team via live chat or telephone, but you can email them with your queries. Alternatively, social media platforms also connect you to the support team.
Related: Kaplan Vs Princeton Review for GRE | Kaplan Vs Barbri| Kaplan Vs Princeton Review MCAT| Magoosh vs Manhattan GRE| Magoosh vs Kaplan LSAT| Magoosh vs Kaplan MCAT
 
About Your Study Schedule & GRE Prep Information
Ques 1. Are two months enough to prepare GRE?
Ans. Preparing for GREs in two months should not be a problem if you are ready to pull long hours and dedicate ample time to studying the content.
Ques 2. How many hours should I study for GRE a day?
Ans. Dedicating five to six hours per week or two to three hours every day can help you prepare well.
Ques 3. Is the actual GRE harder or easier than practice tests?
Ans. Usually, the practice test's difficulty level is at par with the actual GRE.
Ques 4. Is it better to guess on the GRE or leave it blank?
Ans. Since there is no negative marking, you must answer every question.
Final Verdict – Is Kaplan or Magoosh Better for GRE?
We would sum up this Kaplan vs Magoosh GRE review by saying that Kaplan does a better job in the number of services and materials offered. So, if guarantee promises and money is no concern, Kaplan can be the best pick. It will provide you with several examples to study and practice.
On the contrary, Magoosh is an economically reasonable course platform with a seven-day refund policy and a better score guarantee. But their practice questions are lesser. You get 1000 practice questions with guided explanations and several free resources to supplement your knowledge.