Reading Time:
10
minutes
Though Princeton Review is expensive, it still has an edge over Kaplan because of its GRE-like practice text experience, video instruction, and availability of multiple books.
 
Kaplan is a robust GRE preparation class that provides excellent test-taking strategies and handy references to ensure you do not miss out on on-the-go learning.
On the contrary, Princeton Review has a good mix of study materials and curriculum. It also comes with personalized teaching.
So, who wins when it comes to Kaplan vs Princeton Review GRE?
The benefits you get at Princeton Review are a little better than what you get at Kaplan. Despite that, Kaplan ranks ahead in terms of practice questions. You get over 5000 questions to get well-acquainted with the subject.
But overall Princeton Review holds a higher spot in aspects like practice tests, video instructions, live class hours, and access period. Early enrolled Princeton Review students get additional 120 days. But if you are looking for a pocket-friendly option, Kaplan will be a better choice.
GRE preparation is not rocket science, but it is not a cakewalk. So, you must invest in preparation courses like Princeton Review and Kaplan to guide you. In all honesty, you cannot take both or invest half in either. Thus, it is vital to know which one is a better choice between Kaplan and Princeton Review.
Kaplan has a reputation for helping students prep for US college tests like GMAT, SAT, and GRE. They have assisted over 1000s of students to get into their desired college, and are the top course providers in many domains.
One standout feature about Kaplan is its real GRE-like test experience and the extensive Qbank collection. On the contrary, app support and DrillSmart technology from Princeton Review make it better.
Is Kaplan or Princeton Review Better For GRE – Key Comparison Factors
| | | |
| --- | --- | --- |
| Attributes | The Princeton Review | Kaplan |
| Cost | Expensive | More budget friendly |
| Refund | Full refund if the score does not improve after the course. | Full refund if the score does not improve after the course. |
| Practice questions | >3500 | >2500 |
| Live classes | 24 hours | 21 hours |
| Video lessons | > 50 hours | > 40 hours |
| Hardcover books | >20 | 2 |
| Access | 120 days | 6 months |
| Guarantee/success rate | Available | Available |
| Mobile app | No | Yes |
| | Visit Princeton Review | Visit Kaplan |
So, Is Princeton Review Good For GRE?

 
Yes, it is, but keep in mind that Princeton Review is not affiliated with Princeton University. The company ventured into the test prep market in the early 1980s, and ever since then, it has consistently grown to become one of the top names in test preparation services.
It has been lauded with continuous positive web commentary from users in different parts of the world. They are flexible in their pricing schemes and have four prep packages. So, you can choose one as per your needs.
In their basic or the self-paced option, you get eight practice tests, more than 2500 practice questions, and over sixty interactive lessons and online drills. If you opt for the self-paced class, you get access to live online instruction for the math section and the on-demand lessons. It is highly beneficial for learners.
If you avail of their pricier GRE 162+ score guaranteed class, you get self-paced instruction with 45 hours of live instruction from a professional GRE expert. In addition, you also get over 20 hours of supplemental verbal and quantitative material, one-on-one study manager, and more than 4000 drills.
But some students feel the most lucrative aspect of this course is the 162-minimum score guarantee. The feedback on their classes is usually positive, making us believe they can be a good pick for GRE preparation.
Pros
Cons

Comprehensive GRE course curriculum based on dynamic learning modules
Excellent and engaging sessions that grab your attention
Adaptive practice tests that replicate the real GRE difficulty and interface
Superior quality prep books integrated into the coursework
Interactive score reports that help better performance
Live instructors
Minimum score guarantee
More practice tests
Personalized feedback on the analytical writing assessment (AWA) section
Proprietary DrillSmart technology tailors the practice questions as per the individual's learning pattern
Refund available if your score does not improve

 

Kaplan's digital interface and platform more superior
The number of students in live classes is more than Kaplan's
More expensive than Kaplan
Lesser course options
Fewer practice questions
T n C apply when applying for a refund

 
How can you decide Is Kaplan or Princeton Review better for GRE without knowing both sides of the coin. So, let's check out Kaplan and its features.
Is Kaplan The Best GRE Prep?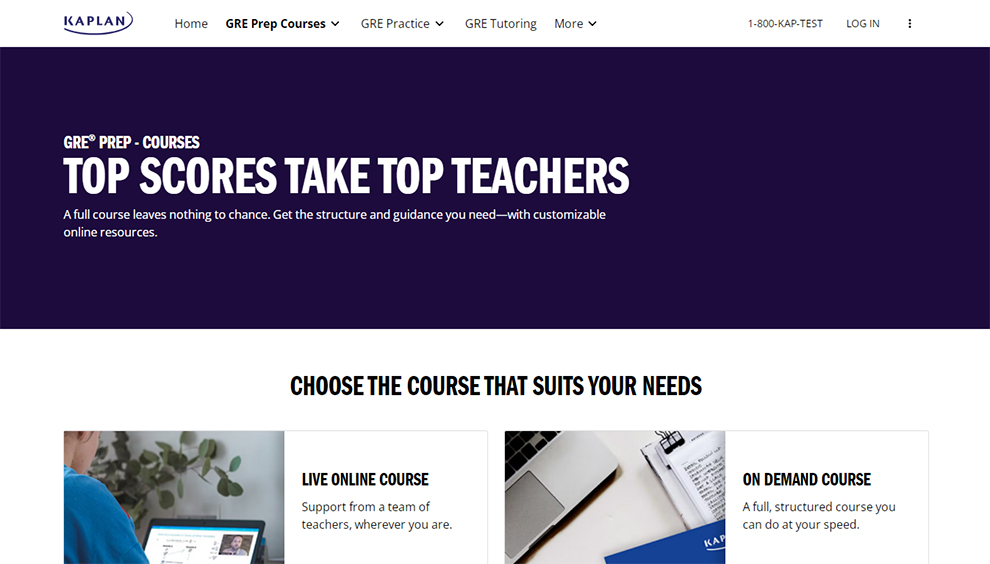 Founded in 1938, Kaplan has been around a lot longer than Princeton Review. More than two million higher education aspirants employ their test prep services annually, making Kaplan a leader in test prep.
Kaplan has more options for the test-takers than the Princeton Review. Presently, the company has five options, starting from the self-guided course costing $449 to the online session plus amounting to $1299.
Each of their courses comprises computer-based, seven full-length practice exams, twenty-one course classroom hours with the expert instructor, and more than 5000 Obank practice questions.
In addition, you get over forty hours of exclusive recorded and live lessons on the GRE channel and more than 180 hours of online practice and instruction.
In the plus variant, you get two added math resources – GRE advanced math and GRE Math Foundation, beyond the extra three hours of personalized tutoring. Kaplan has garnered a good reputation in the industry, proven by its many positive reviews.
Pros
Cons

Structured lessons
Pre-recorded
Engaging video lessons with visuals that amplify retention
Teaching in small groups
Q n A feature during live sessions
More affordable
Extra content along with online tutoring
Official test day experience to give a real exam feel
Excellent mobile app
Large vault of practice questions
Easy to analyze performance via report cards
Longer access period – 6 months over Princeton Review's four months

 

They do not have a free trial.
Even though the content quality is good, Princeton's is better
The content access period should have been longer
Lesser practice tests
The platform is not as user-friendly

 
Is Kaplan Better Than Princeton Review For GRE or Vice Versa?
Above, we have given a brief overview of these two companies and their positives and negatives. Now, it is time we pit them against each other and help you make an informed choice from Kaplan vs Princeton Review GRE.
A. Price plans
Princeton Review is more expensive than Kaplan.
We examined the live online and self-paced test prep options by both The Princeton Review and Kaplan. Please know that both these platforms have their specialty packages and unique add-ons.
The self-paced package from Princeton Review costs $499, which is a little more expensive than Kaplan's self-paced test prep, but you can spot frequent sales on Princeton Review's platforms for their products.
As for the online live test preparation, Kaplan is more affordable than Princeton Review. But again their offers and sales can make it cheaper.
B. Princeton Review GRE practice test
Princeton Review offers more practice tests.
In terms of practice tests, it is always quantity over anything else. So, Princeton provides the students with one more practice test than Kaplan. Hence, you can get eight full-length practice exams for review.
C. Books
Princeton Review has a vaster range.
In Kaplan vs Princeton Review GRE books comparison, we would like to say that different platforms appeal to different students. Even though some students are moving further online, many find comfort in physical resources. So, it is a matter of personal choice.
In Kaplan, you get two primary book options. You can buy from their website or shop from Amazon. Their books GRE Prep Plus ($28) and GRE Prep ($15), provide test-taking strategies, an online practice test, and a physical test.
In addition, it also offers access to Kaplan faculty for a Q&A session on their FB page. You get an additional online test, a mobile-friendly prep platform, and the Qbank tool in the plus option.
On the contrary, Princeton Review has GRE books priced between $10 and 40. Their books are versatile, and you can choose from the twenty available options.
D. Flashcards
Both offer flashcards comprising 500 cards.
Students like to study on the go. So, for such students, flashcards can be one of the best learning mechanisms.
With Princeton Review, you get customizable flashcards that you can access within the online course material. They do not have a dedicated GRE mobile app, but similar to their practice question sets, you can also buy the flashcards sets.
In their 500-card pack, the focus is on sentence structure and vocabulary. It is available on Amazon at $13.
Kaplan's GRE course offers online materials for free with mobile access. So, you can browse through the practice flashcards at no added cost.
They have 500 cards in the flashcard library that take you through language synonyms, context clues, and vocabulary. You can also customize your card stack and monitor your performance.
E. Quiz: Qbank vs DrillSmart program
Both Kaplan and Princeton Review have practice questions, but the latter will give you a more GRE-like feeling.
Kaplan's Qbank is one of their biggest strengths. It is their custom quiz creation platform. It lets you choose the difficulty level and subjects you want to train yourself. You can also decide how long you want the quiz to last.
Based on your selections, Kaplan formulates a quiz by pulling questions from the 1000s of practice questions. Their unique personalization allows you to test the stuff you must work on. Kaplan also lets you decide how you want to attempt the quiz.
On the contrary, Princeton Review does not have this personalized question bank. However, they have DrillSmart technology, which is their solid attribute. It is an adaptive quiz feature that customizes the questions to match the difficulty level required for you to get better.
However, their customization does not work like Kaplan but mimics the computer-adaptive sections from GRE. So, you will get an insight into what an actual test will be like.
Both are fantastic for taking quizzes and practicing, but Princeton Review's setup and tests closely match the actual GRE.
F. Kaplan vs Princeton Review GRE – Teaching methodology
They are both comparable. So, it's a tie.
The content and the quality of the recorded lectures are almost comparable. Both platforms have instructors with extensive knowledge of the GRE strategies and vast teaching experience. They combine the one-on-one style lectures with various mock exercises and classroom demonstrations. It makes you feel like you are in the room with an instructor and learning in the classroom.
G. Live classes
If you seek live sessions to add structure and depth to your studies, you will prefer Princeton's live sessions over Kaplan's.
In both platforms, the number of class hours is almost the same. You get 24 hours for Princeton Review and 21 for Kaplan. So, it all boils down to quality. In this regard, Princeton ranks better as its lessons are more streamlined. Moreover, you will establish a better connection with the mentors in the Princeton Review class.
Though there is not much difference between the two, Princeton Review has a slight edge.
H. Self-paced course access
Kaplan has more practice questions and a longer access duration.
Princeton Review and Kaplan have top-grade self-paced courses. So, the primary difference between the two leans more towards the number of practice questions and the duration of access.
Kaplan's class comprises over 5000 practice questions. Beyond this, they have Qbank, containing several practice questions. Further, with Kaplan's session, you get over 180 hours of instruction and practice. Kaplan also provides you with the official test day experience. You can access their class for six months.
On the contrary, Princeton Review's self-paced course comprises around 2500 practice questions, only 50 percent of Kaplan's questions. Also, you will get access for only four months, two months lesser than Kaplan.
I. Guarantees
Sadly at times, the test-taking drill might not go as planned. So, if you sense that your review course does not meet your standards or you do not feel that you reached the level of personal improvement you yearned for, you are in for some luck. Both platforms let you redo the entire session or get your money back.
If you do not see an improvement in the score with Kaplan, you can bag a full refund. However, if you are unhappy with the course or the score, you can retake the class at no added cost. But if you choose to repeat, you cannot claim a refund.
Their refund policy has some other stipulations and requirements. So, please read through the policy details on Kaplan's website.
Princeton Review's guarantees offer everything Kaplan provides and more. So, if you are not happy with the result (regardless of your score), you can continue to work on the class for an added year.
In addition, Princeton Review also has a higher score guarantee like Kaplan, but that is where their similarities cease. They have stronger guarantees.
J. User-friendliness
Both websites are intuitive and engaging, but Princeton has a relatively more user-friendly platform.
Princeton Review does not have too many bells and whistles, which makes it easier to find what you need.
Is Kaplan or Princeton Review Better for GRE?
Princeton Review and Kaplan's courses do an excellent job of delivering goods and instruction quality in the form of top grades on exam day. But Princeton Review does have some extraordinary offerings that make it a better option to study.
Opt for Kaplan GRE if:
You want a broader course selection.
You prioritize value
You like to study on the go
You want more access time.
You want several practice questions.
Opt for Princeton Review GRE if:
You want a user-friendly and intuitive learning experience.
You desire a specific score guarantee.
You want more practical questions.
You struggle with the analytical writing assessment (AWA) portion.
Related: Barrons Vs Princeton Review | Kaplan Vs Magoosh GRE| Kaplan Vs Princeton Review MCAT| Magoosh vs Manhattan GRE
Frequently Asked Question About Kaplan vs Princeton Review GRE
Ques 1. Do Kaplan and Princeton Review offer free trials for their GRE courses?
Ans. Both Princeton Review and Kaplan offer a free trial for their GRE classes.
Ques 2. How is the GRE Scored?
Ans. Your total GRE score is calculated on a scale of 260-340. Quantitative reasoning and verbal reasoning sections are measured out of 130-170 each. So, if your score is 150 in Quant and 145 in Verbal Reasoning, the raw score is 295.
Ques 3. Are Princeton Review tests accurate?
Ans. Yes, Princeton Review tests are accurate and give you an insight into what the actual exam day will look like.
Ques 4. Are Kaplan GRE questions harder?
Ans. Students do say that Kaplan's GRE questions are trickier than the actual exam but it all boils down to personal experience and the level of knowledge the learner has.
Ques 5. How accurate is the Kaplan GRE test?
Ans. Kaplan also gives you good practice for the exam day. So, their tests are also accurate.