Reading Time:
13
minutes
Kajabi is a great choice, especially for course creators who wish to sell their digital products. On the other hand, Kartra leads with more customization options and advanced marketing automation features.
Are you an entrepreneur seeking a platform with superior sales and marketing abilities to commence and manage your business online? If yes, you have probably heard of Kajabi or Kartra.
Kartra offers many marketing tools like product selling, email marketing, and funnel building, among other things. It lets the users sell physical and digital products. Hence, it is the perfect pick for anyone hoping to start an online store.
On the contrary, Kajabi is a better pick for educators hoping to sell and create online or digital courses. You can use it to sell and build online courses or digital content. Kajabi lets the users make a course website and deliver and host all kinds of content and classes.
So between Kajabi vs Kartra, we cannot give you a straightforward answer which is suited for everyone but we can surely tell you the differences between the two, so that you may choose the one that better serves your needs.
It is not justified to pick one over the other. Both of them excel in different areas. So, depending on your priorities, you can find one that best works for you.
Now, let us compare them on different attributes to help you know what to choose when.
Kajabi or Kartra, Which one is for you?
If you are a course creator – go for Kajabi, otherwise Kartra is amazingly good.
| | | |
| --- | --- | --- |
| Attribute | Kartra | Kajabi |
| Pricing | Cheaper | Relatively more expensive |
| For beginners | Steep learning curve – Can be challenging for beginners | Easy for beginners to start |
| Online course creation | Less to offer | More to offer |
| Sell digital or physical products | Both | Only digital products |
| Interface | Too many features make it seem cluttered and challenging | Minimal and neat |
| Website development | Yes | Yes |
| Payments | Stripe, PayPal, Authorize.net, and Braintree | Stripe and PayPal |
| Chat support | Not 24/7 | 24/7 support |
| Better customization | Yes | Not as good as Kartra |
What Should You Know About Kartra?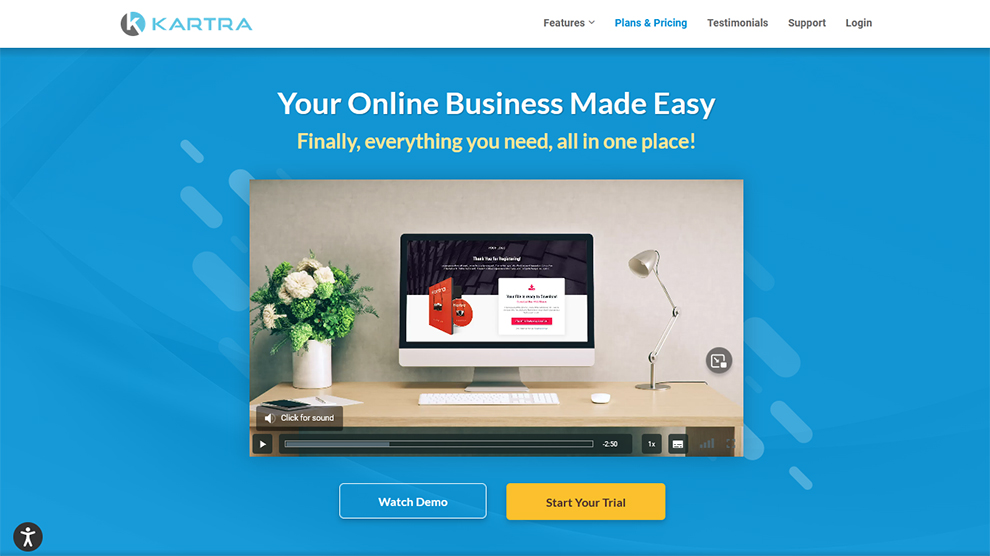 Kartra is an online platform. It combines different digital marketing tools to provide a comprehensive solution for your online business. You can use it as a digital course medium, but it is predominantly beneficial in creating and selling all physical and digital products.
This tool helps all users, irrespective of their expertise or knowledge. You can use it to email marketing campaigns, build landing pages or websites, or sell courses even without programming skills or coding knowledge.
Some of the standout attributes associated with Kartra are:
Membership sites
Opt-in forms
Drag and drop page builder for landing pages and website
Sales and marketing funnel
A comprehensive helpdesk solution
Interactive videos with high-end attributes
Email marketing and automation
Marketplace to sell your sales funnel templates
Affiliate management
As is apparent, Kartra is heavy on sales and marketing features and contains all the tools to sell and market your courses online. But it lacks course management and creation features standard in other platforms.
Who is Kartra best for?
Kartra is an excellent platform meant for individuals and businesses like:
Online entrepreneurs who wish to manage and create their digital products, market them via digital channels or email marketing or create a sales funnel.
Consultants and coaches who wish to manage their courses, appointments, and clients in one place
E-commerce businesses who want to manage or set up their online store
Affiliate marketers who want to track sales and manage their affiliate program
People who want to manage or create their membership sites.
Can I make a website with Kartra?
Yes, you can build your websites with Kartra. It has a simple drag-and-drop functionality to create a tailored website sans any coding experience. You can pick from the various themes and customize them to suit your style and brand.
Is Kartra good for online courses?
Yes, Kartra is a great platform to market your online courses. However, to create your courses you have better options than Kartra.
Kartra: Pros and Cons
Pros
Cons

Kartra has an in-built helpdesk that supports a ticketing system and live chat. It empowers you and helps deliver superior customer service.
It has cheaper pricing.
You get access to advanced affiliate marketing and email marketing tools and features.
The scheduling tools make time management easier.
It has a powerful web builder with multiple design options.

 

They do not have a blogging tool.
There is no visual sales pipeline attribute.
You get different configuration steps for every feature. Hence, the learning curve is steep, which can be overwhelming for many.
There is a limit on the video bandwidth, which is not ideal for those hosting video content-dominant courses on the website.
Their student engagement and course-building tools are limited. You do not get community features, quizzes, or assessment features.

 
About Kajabi
Kajabi is an all-in-one digital platform designed exquisitely for online course creators and digital product sellers. It lets you build a phenomenal classroom experience for the students to consume your text lessons, audio, or video.
You can also employ it to deliver quizzes, assignments, and surveys to evaluate your students. Like Kartra, even Kajabi needs no coding skills, technical knowledge, or prior experience with web designing.
You can employ its drag-and-drop builder and build landing pages and websites for your courses. Kajabi has robust automation and email marketing features that let you set up behavioral subscriber segmentation and condition-based email campaigns.
Some of the standout attributes associated with Kajabi are:
Several website themes
Blogging platform
Assignments and Quizzes
Drag and Drop landing page and website builder.
Email marketing and automation
Classroom environment
Sales and marketing funnel with templates
As is apparent, Kajabi provides several sales and marketing features personalized for online course creators, making it a popular choice for digital learning professionals.
Kajabi: Pros and Cons
Pros
Cons

Kajabi has blogging features.
Better course creation options.
You can access their potent course builder with several learning tools (quizzes, surveys, and assessments) and design options.
There is no capping on bandwidth or video hosting.
You get a visual sales pipeline editor, simplifying the process of creating complex campaigns with a single editor.

 

The website builder is limited and has less flexible design options and themes.
You cannot sell physical products.
They have limited helpdesk tools. So, for a smoother customer service experience, you will have to invest in third-party options.

 
Is Kajabi free to use?
No, Kajabi is not a free platform. You get a 14-day free trial to test the platform and its features. Once the trial window ends, you can pick from any of their paid plans to continue using the platform.
Can you make money on Kajabi?
Yes, you can make good money with Kajabi by creating, marketing, and selling online courses, digital downloads, and membership on the platform. Some of the best ways to make money on Kajabi are:
Selling online courses
Selling digital products
Selling coaching services
Providing memberships
How much does it cost to put a course on Kajabi?
Kajabi provides different pricing plans with various features and capabilities. The cost to put up a course there depends on your chosen package.
Basic plan – $149 monthly if paid annually or $169 monthly.
Growth plan – $199 monthly if paid annually or $219 monthly.
Pro Plan – $399 monthly if paid annually or $449 monthly.
You do not have to pay any transaction fee or take a percentage of your course, meaning you keep 100% of the revenue generated.
Kartra Vs Kajabi Comparision: Similarities and Differences
Now time to look at some of the features and offerings of both Kajabi and Kartra. We will find out which one of them is better in which department.
A. Pricing Plans
Kartra is cheaper but to scale your business, you must consider Kajabi's Pro plan.
With Kartra, you get four subscription plans and no free trial. However, you can start for $1 (limited period offer).
Their Starter plan costs $99 per month and bags you the following:
20 products
Upto 2500 leads
50GB video bandwidth
One helpdesk
One custom domain
Build 2 membership sites
Host 100 pages
Add 1 team member
Send 15,000 emails per month
Their Silver plan costs $199 per month and bags you the following:
Three custom domains
Up to 12,500 leads
Create unlimited pages
Unlimited helpdesks
Unlimited products
Unlimited emails
Kartra agency
Unlimited membership sites
Unlimited team members
Unlimited bandwidth
Their Gold plan costs $299 per month and bags you everything from the Silver plan except:
Five custom domains
Up to 25,000 leads
Their Platinum plan costs $499 per month and bags you everything from the Silver plan except:
Ten custom domains
Up to 50,000 leads
You can get up to twenty-five percent off by opting for their annual billing cycle.
On the other hand comparing Kartra vs Kajabi, Kajabi has three subscription plans, and all plans come with a 14-day trial, unlimited emails, and landing pages. In addition, Kajabi also offers a 30-day money-back guarantee if you do not like it and want a refund.
Their basic plan starts at $149 and bags you the following:
10,000 contacts
One admin user
1,000 students/members
Create and sell three products
One website
Three pipelines
Their Growth plan starts at $199 and bags you the following:
10,000 members
25,000 contacts
Eliminate Kajabi branding from webpages
Access to automation
Five products and pipelines
Ten admin users
24/7 Chat Support
One website
Affiliate management
Their Pro plan starts at $399 and bags you the following:
100 pipelines
25 admin users
24/7 Chat Support
100 products
Eliminate Kajabi branding from webpages
Affiliate program management
100,000 contacts
Three websites
Access to Experts Academy
20,000 members
Theme Editor
Access to automation
You can get up to twenty percent off by opting for their annual billing cycle.
B. Page Builder or Editor
Upon comparing Kartra vs Kajabi on this attribute, we found Kartra is better at building webpages.
Both have a simple drag-and-drop style builder. So, you do not need to be a developer or require coding experience. With Kartra, you get 500 section templates and pages to select from, including checkout, sales, and lead capture pages.
They are customizable and responsive. These come integrated with Kartra's other tools like split testing and analytics.
In contrast, Kajabi lets you create standalone Pipelines or pages. They have several templates like sales, leadership, and home pages. Building a webpage is easy with Kajabi. It has two pages – Theme Editor and Page Builder.
You pick a template and edit the SEO settings, visibility, URL, and title in the latter. You can also edit the code if you have the Pro plan and the necessary skills. The theme editor lets you personalize your page completely – add sections, change font color and size, add social media links, check responsiveness, etc.
C. Email Marketing
Kajabi and Kartra both help you build and manage the email list. You can send automatic responses, broadcast emails, and automate the email marketing process. Even though their features are somewhat similar, Kartra's split testing gives it a clear edge.
Using Kajabi's tagging features, you can easily segment your audience. It works well for sectioning the list into specific groups of people so you can send them tailored content to meet your needs.
You can schedule the email delivery time via Marketing Settings. Via email sequences, you can also control the minutes, hours, and days when your messages are sent before or after the event.
In addition, Kajabi offers eighteen templates to pick from. Alternatively, you can begin from scratch and create something that matches your brand.
Comparing Kajabi vs Kartra, we found that Kartra also works like Kajabi in many ways, but it offers a couple of additional features and more flexibility than the competitors. Beyond this, the split testing from Kartra is also good. They let you send emails based on different conditions to see which yields the maximum click-throughs, sales, open rates, etc.
On the contrary, Kajabi does not have a split testing tool. So, to keep a tab on your campaign performance, you employ their Analytics tool, which is not the most intuitive.
Lastly, Kartra also has fantastic email templates that lay the foundation for professional-looking emails. You can also customize them to match your brand's aesthetic.
D. Physical vs Digital Products and Checkout Options
Kartra has a more flexible checkout process and lets you sell both physical and digital products.
Firstly, one thing that can be crucial for some creators is that Kajabi only lets you sell digital products. So, you can only sell the classes you build on their platform.
Hence, you cannot sell one-off downloadable or physical products via Kajabi. So, anyone who sells physical products or downloads might not find Kajabi suitable.
Further, whenever someone wishes to buy something with Kajabi, they need to make an account. It does not make sense for people who want to buy a coaching service or physical products.
On the contrary, Kartra lets you sell physical and digital products and other services or products. It also comprises the ability to collect sales tax and add shipping costs.
E. Online Course Creation
In this Kajabi or Kartra comparison parameter, Kajabi wins as it offers more course creation attributes than Kartra. 
Excellent course creation features are quintessential for your online business. Kartra lets you develop membership portals, membership sites, and access levels. They have a drag-and-drop builder that is easy to use, even for beginners, and can help you build custom-branded, beautiful membership portals and courses in minutes.
Several templates can help you. Hence, you never have to design websites and course pages from scratch. These themes are mobile-optimized and aligned with top industry practices for effective course building.
Kartra also has several membership tiers that help you upload videos and files and embed videos and other media to deliver full courses. You have the option to drip content to the students and run automation to make the process simpler.
On the contrary, Kajabi centers strictly on course creation. It implies they have robust attributes to help develop top-notch membership websites and online courses.
Beyond the regular features, Kajabi also has unique automation attributes like lecture-specific automation. So, once the student completes the post or lesson, you can send them an email, add a tag, register for an event, etc.
It is a powerful automation absent in Kartra. Lastly, Kajabi lets you build your community, and you can employ features like email notifications, unlimited views, custom domain, real-time notifications, private conversations, and embed-in memberships.
F. Product Delivery
Product delivery refers to the actual course experience and design. It includes everything from uploading the content to designing the member's area for the platform and delivering the lessons. In this Kajabi vs Kartra attribute, it is a clear win for Kajabi. 
Kajabi supports various layouts and templates inside the course. All you have to do is upload and organize the content in the backend.
In contrast, Kartra's membership builder is not the most good-looking. Their drag-and-drop builder is where you add and upload the content and organize it with the single layout option. The poor design capabilities and user experience might leave several Kartra users with a bitter taste.
Their only saving grace is the video creator's flexibility. Once you upload the video, you can add in-video automation or call. It makes the learning experience better.
G. Video Hosting
Kajabi is better as it has no upper limit.
Kartra employs in-built video hosting but has a cap that curtails the amount of content you can host to get a higher threshold you will require to upgrade your content. In contrast, Kajabi employs Wistia to host the videos and has no capping.
H. Kajabi vs Kartra User Interface and Ease of Use
Kajabi has a minimal and neat interface and is easier to use.
You can access Kartra's tools via the right sidebar. But under every tool, it has split the attributes, making the navigation slightly complicated. On the contrary, Kajabi has a minimal and neat interface. You can access all the features in three simple clicks. In addition, Kajabi is also easy to use.
I. Analytics
If you need a dedicated course feature, Kajabi does a better job.
Kajabi will offer progress reports of students with detailed video analytics. In the course or product report, you can see all the metrics like the number of times logged in, student course progress, last login date, and start date.
Kartra's video analytics are fantastic, with colorful graphs. They are easy to understand, but you get retention graphs as in Kajabi. Kajabi's retention graph displays where students drop. It can help connect with students and assist them in completing the course.
J. Behavioral Adaptive Marketing (BAM)
It is a clear win for Kartra, as Kajabi does not have this feature.
Kartra employs this technology to personalize the user experience depending on who the user is and learn their personal preferences. Kajabi does not have this attribute.
K. Third-party Integration
Kartra has more integration options. Integration helps users make the most of any software they sign up for.
Whether you pick Kartra or Kajabi, they provide several third-party integrations that help you work seamlessly and grow your business. Kajabi and Kartra provide integrations with payment gateways to allow your customers to pay seamlessly.
Kartra has integrations with
Braintree
PayPal
Authorize.net
Stripe
Kajabi also has integrations with PayPal and Stripe. Both let you integrate with email marketing tools to manage your inbox and ensure that emails are easy to deal with. Kajabi has integration with mail clients like:
Drip
Mailchimp
Aweber
ActiveCampaign
ConvertKit
Kartra also integrates with
MailGun
Postmark
SendGrid
Elastic Mail
L. Automation
In automation, picking from Kartra or Kajabi is tricky as they have a lot in common, but Kartra's BAM abilities make it a winner.
Automation lets you design marketing campaigns that work for you. Both of them have powerful automation features.
Kartra lets you set automation on most of the attributes in the software. You can use the if and then logic to build a tailored response for an action made within the platform.
You can use automation to send follow-up emails, and automatic reminders, build anticipation for a future product launch, develop a customer retention sequence, etc. Further, Kartra has Behavioral Adaptive Marketing (BAM) integrated, making automation better.
Kajabi has similar automation options. You can make automation within email campaigns and Pipelines to send out event reminders and broadcasts, set up multiple-stage follow-up communications, and reply to form submissions, amongst other options.
M. Customer Support
Kajabi is better here courtesy of its 24/7 live chat support.
With Kartra, you get various options to get in touch with customers. But this can vary depending on when you try reaching them. They have email support that is open 24/7, but reviews say it usually takes a day to get a response over email.
They also have a live chat option available during set times in the day. The FAQ section can come in handy to solve routine queries. In addition, Kartra also has a learning center, Kartranaut, wherein you can find the documentation and courses on every aspect of using Kartra. It can be beneficial for beginners.
Comparing Kartra vs Kajabi, we feel the latter simplifies how you reach the support team. They have a help tab on the bottom page of the website. There is a 24/7 live chat option for all subscribers except the basic plan users, who can employ the feature at set times during the day.
You can also submit an online request or use the Facebook community to ask questions from other users. Lastly, there is a detailed FAQ with the most common queries and their solution.
Kajabi has a Kajabi university for its users and more than 350 training videos to help you find a quick resolution.
 
Related: Thinkific vs Teachable | Kajabi Vs ClickFunnels | Springboard Vs Designlab
 
Kartra or Kajabi – Which One Should Be Your Choice?
We have discussed several areas where Kajabi and Kartra share features but vary at their core. But it is hard to conclude which of the two offers better attributes, as both excel in different areas.
Kartra has a better website developer. In addition, Kartra is a beautiful platform with excellent email marketing and affiliate marketing features. If creating courses is not your top priority, Kartra should be your choice.
It lets you sell digital or physical products and market them via its impressive marketing and sales tools. In addition, Kartra also has a scheduling and helpdesk tool that is particularly beneficial if you are selling one-to-one consultancies or services.
But comparing Kartra vs Kajabi, when it comes to building courses, memberships, or sales funnel, Kajabi is a clear winner. Further, if you are an online course provider offering educational video content, then, too, Kajabi is a preferable option.
It is designed with course creation in mind, reflected through its potent course builder. It is an excellent choice for managing your website using a single platform.