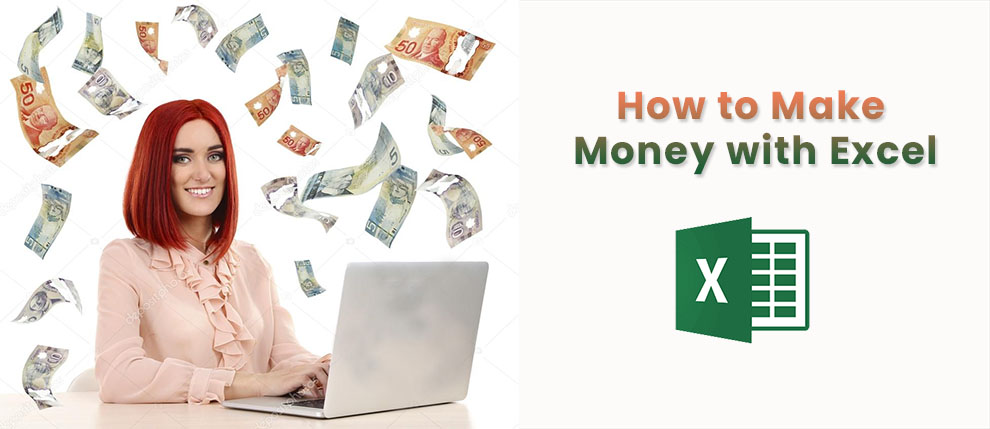 Microsoft Excel is a hugely powerful tool. If you have the knack for tinkering with formulas and crunching data, why not use this skill to make money with Excel spreadsheets? There are more than a few ways to make money from home with Ms. Excel.
Ms. Excel has over thirty-million users, making it one of the most popular spreadsheet programs. Excel's robust functionality and intuitive design make it a corporate delight. Consequently, its fame is no surprise.
Studies suggest:
Eighty-two percent of jobs need experience or skills in productivity software and Ms. Excel.
With certified Excel skills, your earning potential increases by twelve percent.
You may not hold a degree in Excel, but your Excel skills can be a pathway to more rewarding careers and jobs.
Intrigued, are you? Let us now tell you how to earn money with Excel – the powerful spreadsheet software.
Ways To Make Money Using Excel
How To Make Money Using Excel?
Here are the ten most top-notch ways to earn money with this tool.
1. Create & sell Excel templates
We live in a fast-paced world where everyone seeks shortcuts to get tasks done faster. With this paradigm shift in the work environment, there has been a stipulated demand for keeping and building purpose-built templates that will quicken the work process and aid amateur or intermediate-level users in performing advanced functions.
Are you confused about whether you will make money with Excel through templates? Let us understand this with an example.
A finance analyst is not supposed to create a financial model from scratch. They can shop for an off-the-shelf financial model template and employ it to showcase the company's financial statements. Likewise, a web developer can buy an off-the-shelf template, customizable to build a client's website.
In the same manner, there are multiple MS Excel Templates that people buy. You can create and promote the templates to earn substantial online income. Some popular templates that users need are:
Financial projections
Loan amortization
Project timeline
Inventory management
Staff payroll
Event budgeting and planning
Project management
Personal budget
Gantt charts
Sales invoice
Travel budget
Money management
Business budget
And others
So, where do you sell these templates, and make money with Excel? As such, there are no marketplaces for selling Excel templates. But, you can always create your website for promoting and selling purpose-driven themes. You can earn as much as $2,500 to $10,000 per annum.
2. Create spreadsheets for others and charge for it (probably a small business)
Creating Excel spreadsheets is one of the best ways how to earn money using Excel spreadsheets. In today's time, there is massive popularity for Ms. Excel. It has revamped the way we do business. So, for us, too, it is time to embrace this change.
Millennials are switching away from paper-based systems toward digitalization. However, some people are still old school or probably do not know what difference technology can make.
But, you may like it or not, Excel is the need of the hour. So, if a business cannot make their spreadsheets themselves, they will likely hire someone to do it. Hence, it is your chance to make some money with it.
3. How to earn money from Excel as a freelancer?
Freelancing is a lifestyle method that saw vast popularity in the last few years and is today a popular alternative to full-time work.
In this, you make money as an independent professional. In this work culture, you decide your terms and schedule, making it convenient and flexible for you to find freelance work per your requirements.
As a freelancer, you can earn better by offering your Excel skills for compensation. Now, the question is how to make money with Excel freelancing? You can enroll on websites like:
Toptal.com
Excelforfreelancer.com
Freelancer.com
Upwork.com
Fiverr.com
With these websites, it is easier for freelancers to connect with potential clients.
4. Provide your service to a rental agency
Let us understand this with an example.
The real estate market has undergone significant expansion in the last few years. There have been equal fluctuations in the prices too. The prices fall and rise with the changes in the stock market or the economy.
Amidst all this, there is an everlasting requirement for property cost analyses, resident lists, new marketing materials, and other data sets. So, through all this, Excel can be one of the best ways for data handling across all aspects for seamless operational handling.
Here are some spreadsheet ideas you can sell to a rental agency:
Payment due dates
Tenant lists
Work order and maintenance spreadsheets
Proper photos and presentations
5. Start your own blog about Excel tips
How to earn money using Excel without working under someone? Of course, Freelancing is one method, but under that, too, you will have clients to answer to. So, if you do not want to be answerable to anyone, you can consider starting a blog on Excel tips.
However, before you start blogging, assess your expertise in Excel. If you are well-adept at it and have advanced-level Excel knowledge, you can consider pursuing a blogging career.
With blogging, you can build a circle of influence online. The idea is to teach people what you know. You can offer tips, shortcuts, tricks, and even educate people on how to make money from Excel.
Further, as the audience and reach of your blog increase, you can start monetizing it and earn a recurring and stable income from it to bear your operating costs and sustain your livelihood.
6. Teach an Excel course
Do you think you are well-versed with Excel? If yes, you can educate other people and make money with Excel. You can teach your skills to individuals and businesses or offer a consultancy service. Given Excel's robust features, students often find it challenging to study Excel on their own. So, as an expert trainer, you can prepare crash courses on everything you know about Excel and train people.
 
There are several mediums to sell these courses to people:
Sell your sessions on Udemy, LinkedIn, Coursera, Skillshare or other Massive Open Online Courses Platforms.
You can create your own website and publish your courses there. You can market these courses for interested students to buy.
Directly target individuals or businesses for private lessons.
7. Create a YouTube channel and earn from it
Not everyone is comfortable with paying for a course. Some consider learning from YouTube. Even though it is free for them, you can still learn how to make money with Excel by selling your knowledge on your YouTube channel and monetizing it. In addition, you will also earn with referrals, sponsorships, advertisements, and affiliate income.
These days YouTube influencers earn millions of views by promoting and producing original content. Of course, the type of content may vary. So, as an Excel expert, you, too, can create YouTube content and earn well.
Make several informative YouTube videos and frequently upload them. As you add more and more videos on YouTube videos, stack the related videos together in a playlist. You can have dedicated playlists for VBA, dashboards, charts, pivot tables, functions, formulas, etc.
Merely uploading content does not suffice. You also have to promote this content and build a dedicated audience. So, use popular keywords in the video description and the channel profile.
Also, add catchy thumbnails and titles, write precise video descriptions, interact with users in the comment section, conduct live QnA, maintain an active social media presence, and possess excellent communication skills.
8. Sell Excel add-in to the app store
Not all methods to make money with Excel are straightforward. There may also be some challenging ways to earn money, and one such complex way is selling your Excel add-in on the app store. This method is complicated but rewarding.
Are you an Excel expert thorough with programming knowledge? If yes, it is an excellent way to make money. Excel add-ins are much like smartphone applications and graphic plugins. These add-ins are apps developed by Excel programmers to accentuate MS Excel capabilities.
Even though diverse, you can find add-ins for formulas and functions, data analysis, reference, marketing, charts & graphics, education, reports and templates, utilities, and financial accounting.
Once you create your add-in, you submit it to the Partner Center to ensure that it is virus-free, functional, stable, and provides necessary information. They review your add-in, and then it goes through several automated checks for certification.
You will receive your certification message if it aligns with the stipulated policies. If there are some issues, you may even receive an intimation for amends. So, you can make the necessary changes and resubmit your request.
After the certification, you can decide how to monetize this add-in. Some options include:
One-time purchase
Freemium with grated features
Full freemium
Free trial
Subscription-based
Advertising within the app
9. Host Webinars
Webinars are live training and a digital substitute for a seminar, wherein several people from different locations watch you, submit their queries, and give feedback at the end. It can be an excellent method where you learn how to make money with Excel.
 
They are way more effective than the pre-recorded sessions because you will directly communicate with the attendees. Typically, you can offer two kinds of Excel webinars.
Product Demo webinars wherein you can educate people on the new features, functions, or attributes in Excel. They are mainly free-of-cost webinars. These are offered to potential customers or existing users.
Coaching webinars wherein you train your participants about honing or developing new skills. You can teach them both hard skills and soft skills in Excel. Such webinars target beginner and intermediate-level learners.
Now, the question is how to earn money with Excel webinars. Simple – you can have a small entry fee. But, if it is a paid session, the attendees will already bear some cost for communicating with you.
10. Publish your e-book
Lastly, people still read from a book. So, instead of watching a video, they will read a book to learn Excel. If they are your target audience, you can publish an e-book and make money with it.
You must have a knack for writing with technical and creative knowledge. Writing a book is cost-effective, and it is also easier to promote an e-book. You can sell your book via marketplaces like Apple Books, Kobo, Amazon, or your website.
 
Related: Best Excel Books
How Much Do Excel Experts Earn?
Most top Excel earners make $62,500 annually and $5208 per month. However, on average, the Excel experts make $46,759 per year and $3896 per month.
Approximately seventy-five percent of the top advanced Excel earners earn about $51000 yearly, with a monthly payout of $4250. Twenty-five percent of the least paid ones also make money with Excel that's around $35,000 annually and $2,916 monthly.
Although, the hourly rate you charge depends on your expertise and the level of commitment the project requires.
Related: Ms Access Courses | Microsoft Word Training
Frequently Asked Questions
Ques 1. Can I sell my Excel spreadsheet?
Ans. You can and should make money by selling your Excel spreadsheets to small businesses and other interested takers.
Ques 2. How do I become a freelancer in Excel?
Ans. To be an Excel freelancer, you should possess extensive knowledge of the software and its related tools. A bachelor's degree in statistics, computer science, or any related field can prove beneficial (not mandatory though), but it all depends on the type of work you wish to take.
Next would be to register yourself on freelancing sites such as Upwork or Ziprecruiter and start posting your bids to jobs. It is that simple how to make money using excel via freelance work.
Ques 3. What jobs can I get with Excel?
Ans. There is no specific job where the requirement is just Excel except for some entry-level data entry jobs. However, a decent degree and your knowledge of Excel will make you eligible for the following roles:
Business Analysts
Financial Analysts
Project Managers
Accountants
Data Journalists
Retail Store Managers
Administrative Assistants
 
To Sum Up…
Despite the widespread application of Excel, the majority of people know only a fraction of Excel functions. If you wanted to know how to make money from excel, we think we have given you many options that you choose from, to make a good side hustle with Excel.
You can earn by teaching people how to use the program or creating spreadsheets for others. People earn as much as $300-500 merely by maintaining and updating eight to ten spreadsheets or assisting people with minor computer concerns.
So, train yourself and get going!