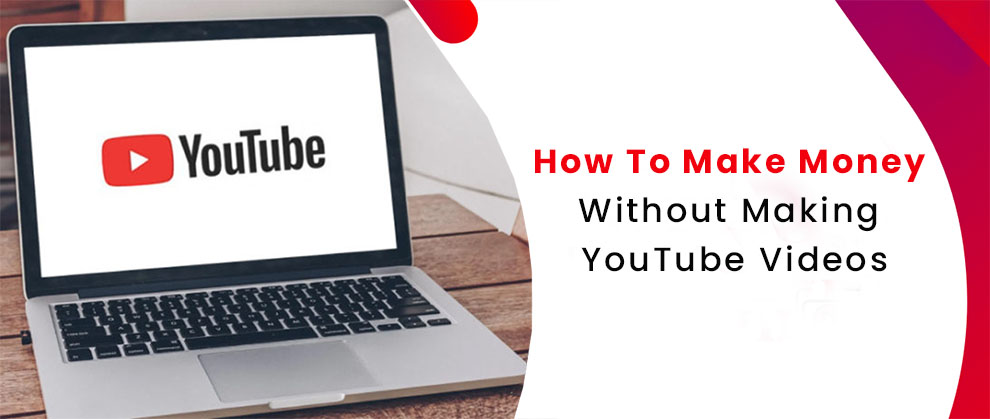 YouTube has immense earning potential. Is creating videos the only way to make money on YouTube?
Definitely not! While some of us are great with content creation, some might shy away from showing their face on videos or some may not have the resources to shoot & upload the videos from start to end.
So, how to earn money on YouTube without making videos? How much can you earn? Your mind must be brimming with these questions now.
We will tell you how to make money on YouTube without making videos, but before that, just for some inspiration, let us tell you about the top two YouTubers and how much they make annually.
According to Forbes magazine the richest YouTuber – Mr. Beast earned more than $52 million in the year 2021. This 23-year-old YouTuber has more than 96.5 million subscribers.
Jake Paul comes second with a whopping $45 million income in 2021.
Someday, with the right plan & strategies given below you could be on this list too!
Steps To Make Money With YouTube Without Making Videos
Do You Get Paid For YouTube Videos?
If you are about to start your YouTube channel, you must thinking of ways to how to get instantly famous and make money. The most important point to keep in mind is that you do get paid for uploading videos, but the videos which you upload are not monetized on their own.
If you are willing to earn from YouTube, you need to activate the monetization option from the settings. Then only your video will feature ads in-between and generate revenue from it.
How To Make Money Without Making YouTube Videos?
Is uploading videos the only way to earn on YouTube – definitely not! You can make money on YouTube without making videos. Keep reading to know how to earn money from YouTube without uploading any fresh videos.
1. Select Your Niche and Open Your Channel
This question might get stuck in your mind how to make money from YouTube without making videos.
Begin with selecting your area of interest and opening your channel. It could be anything from a cooking YouTube channel to art and craft. These will be a good start as you do not need to show your face in the video. You may also upload a slideshow of recipes & procedures with end results.
There are many other options as well such as uploading videos of your pet, traveling videos, live gaming, and even podcast.
In these channels, you don't need to show your face and at the same time, you are creating content for the audience. This is a perfect solution for how to earn money without making videos on YouTube and revealing your identity.
Selecting your niche is the first step and the rest comes later. Be as creative as possible because people are attracted to new and creative content. The knowledge of how to make money off YouTube without making videos will not come overnight.
Related: Online YouTube Courses
2. Use Videos Under Creative Commons License
There is a whole library of videos on YouTube under the Creative Commons license. These videos can be reused by anyone adhering to the license terms without any copyright issues. Randomly googling make $100 per day on YouTube without making any videos or how to earn money from YouTube without making videos won't help you earn well on YouTube.
YouTube is a platform that makes use of CC licenses in its content. A CC is used when a creator is making use of other creators' content on YouTube. So, these videos are the most important part of how to make money in YouTube without making videos.
If you are using someone's traveling video and you need to add music to your video, you need to give CC as a credit to the original creator. As a result, the one who created that particular content reserves the copyright of their content. CC allows the creators to use other people's content along with giving them credits.
3. Optimize These Videos With Keywords & Captions and Republish
YouTube also uses an algorithm where it uses video descriptions, titles, and keywords to display your video to the target audience. There are several ways how you can optimize your chosen niche videos with keywords and appropriate captions to gain more visitors.
Optimizing the videos listed under common creative licenses is an easy way to make money from YouTube without making videos.
Subtitles can be added to the video this will help the video to reach a greater audience. For this, you must have proper knowledge of how do you want your content to be searched for? Which tags or keywords describe your content most appropriately?
A proper caption is also necessary to provide information and grab the attention of the audience. More than 4.5 billion YouTube videos are watched every day on YouTube. YouTube is a very big creator platform indeed.
You can also search for how to earn money on YouTube without making videos and get an idea about how optimization works on YouTube.
4. Monetize Your Videos Through YouTube's Partner Programme
Firstly, for monetizing the videos on YouTube you will need to be a part of the YouTube partner program. YouTube Partner Programme which is also known as YPP enables the YouTube creators to earn money through the platform.
For becoming eligible and enjoying the benefits of YPP the creator will need to have at least 4000 hours of watch time in 1 year. Along with the watch time, the creator must also have more than 1000 or at least 1000 subscribers.
The creator also needs to keep up with the monetization policies of YouTube. Once the creator comes under the YouTube program they will start earning money.
The simplest way to earn is through the ads which will pop up in between your videos. If you are looking for more ways to earn through the platform you can take the channel membership or trendy super chat.
5. Join An Affiliate Program and Add Links To Your Description
Affiliate marketing is also a way to earn from YouTube. Till now you have known the basic idea of how to make money on YouTube without making video, but many of you might be still unaware of affiliate marketing which can be done through YouTube.
We will take an example of a company that sells backpacks. So, if you are an affiliate of that backpack company, you will be provided with the link to the product. You will need to add that link in the description of the video.
You will reach nearer to your dream which is to make $100 per day on YouTube without making any videos.
If a person who watches your video checks your description box and clicks on the link and purchases the backpack you will get a commission amount for it. The amount which you will be receiving will depend on a particular brand. You can make have some dollars or cents, but there is no maximum limit, you might also earn a hundred dollars or more.
6. With YouTube Ads Making Money From YouTube Without Making Videos Is Easy
This can be true if you study how YouTube ad works. YouTube ads can be the easiest way to earn from YouTube. This is the most common way how millions of people make money from YouTube.
Once you achieve the minimum number of subscribers and watching hours you get access to link your account to your AdSense account. To get paid with the help of the ads, the user should watch all the ads that come throughout the video.
The audience is expected to watch at least 30 seconds of the video ad so that the YouTuber earns money through it.
The money which will sum up after the audience watches the ad will get divided half of which will be given to YouTube and the remaining will be given to the YouTuber.
7. Sell Merchandise Online
We are quite sure you want to know of more ways how to make money off YouTube without making videos? As you can make money with affiliate marketing and ads, in the same way, you can sell your unique merchandise on YouTube and generate revenue out of it.
After the channel is officially eligible for monetization the owner of that YouTube channel can sell their merchandise if they adhere to the YouTube terms and conditions and make money from YouTube without making videos.
Not following the YouTube policies will lead to serious actions upon your YouTube channel. You can sell your t-shirts, keychains, coffee mugs, and much more as your official merchandise.
There are many retailers listed for merch on YouTube Help where you can connect with them and gather information about the merch.
Related: How to Record Audio From YouTube
8. Super Chat & Super Stickers
We have read so many ways how to earn money without making videos on YouTube, is there anything else left? Sure, there is!
Other possible ways include streaming live on YouTube. The people who will join your live stream will purchase a special chat feature called Super Chat during your stream. The people who buy the Super Chat will get the privilege of highlighting comments in the live stream.
The purchaser will also have an option to donate money to the YouTuber. If the amount of the donated money is more the comment will also stay highlighted for a greater time. The viewers are expected to donate anything between $1 to $500 as per the YouTube guidelines.
The basic thing which you need to keep in mind for this is to enable monetization in the YouTube settings and you are good to make money from YouTube without making videos.
In the same way, there are Super Stickers which can be used by the viewers to show love and support to their favorite YouTubers.
9. YouTube Premium
YouTube Premium allows the users to enjoy the videos ad-free, download songs & videos and watch them when they are offline, and also background play.
So, the question is – if the audience will not watch the ads and the YouTube videos will be displayed ad free, how will you earn money? The answer to this is, that YouTube will share the revenue which is generated from the premium membership holders.
With a large premium user base, it will turn your dream into reality to make $100 per day on YouTube without making any videos. The creators will get their share of the money which will be generated from your audience that uses YouTube premium. This will be helpful for the creators to earn more and enjoy the benefits.
It's that simple how to make money from YouTube without making videos with premium subscribers?
10. Get Your Fans To Fund Your Channel
Another way to make money as a YouTuber without making videos is by getting funding from your fans. Now you may be wondering how to get funding and whether YouTube is going to fund your channel.
YouTube does not fund your channel directly. The funding that you will be receiving is from your subscribers and not from the YouTube platform directly. This benefit can be enjoyed when you have built some loyal subscribers or fans over time.
You need to be patient to get your fans to fund your channel. You will get to know that you have created a good connection with your subscribers when they engage in the comment section or your live stream.
The audience or the viewers can help their favorite YouTubers by going to their page. It has certain limitations one of which is channels designated for kids are not eligible for getting funding.
This is how to make money with YouTube without making videos with the help of your loyal fan base.
Related: How to promote your YouTube channel for free?
FAQs
Q. How many views do you need to get paid off  YouTube?
A. Great content with greater delivery is the mantra for YouTube's success. To get started with the earning potential of YouTube you must have at least 1000 subscribers.
Other than that YouTube does not pay you based on the number of videos. According to YouTube's policies, you also need to have a minimum of 4000 hours of watch time, and around 10,000 views, to potentially get paid.
Now that you know how to make money from YouTube without making videos, pick a video from the CC library, make it your own and post it today.
Q. Do YouTubers get paid for Shorts?
A. Not everyone who uploads Shorts on YouTube makes money. If you endorse a brand or something that is different, but to earn via YouTube's money making channel there are two ways. First is through YouTube Partner Program (monetization) and the second is YouTube's Shorts Fund (there's an eligibility criteria for this).
Q. How To Earn Money On YouTube Without 1000 Subscribers – Are 1000 subscribers necessary to get paid?
A. The answer would be a yes and no. With less than 1000 subscribers how to make money on YouTube without making videos?
In this case you can always work with brands and promote their products on your channel. Here, you will be dealing with the brand directly.
Another way would be through affiliate marketing, wherein you will add the links of the products in your description and earn money if anyone clicks on that link and purchases that product. The commission which you will be receiving if someone buys the product from that link may vary from 1%, 6%, or 45% out of the total amount of the purchased item.
Affiliate marketing is gaining popularity by the day because people now-a-days are searching for more and more ways how to earn money from YouTube without making videos.
Likewise, paid sponsorships are also a way to start earning without a minimum number of subscribers. In the paid sponsorships the brand will give you a certain promised amount for advertising their products in your videos.
Q. Why my YouTube channel is not growing – common problems to avoid?
A. Your channel may be facing issues because the audience is not able to connect with your content.
Your video is not adding any real value for the users. You must also take care of audio/video quality, lighting, editing, and video length. If it is a brand post it shouldn't be too pushy.
Q. How much money do you make on YouTube with 1,000 subscribers?
A. Some people tend to be sceptical and believe that it is not possible to make money on the internet, or the online world is a scam – which isn't true btw…
Google itself pays 68% of the revenue generated by the ads to the account holder. So, this means if the ad revenue generated is, for example, $1000 YouTube will pay $68 by default to the creator.
If we talk about the average amount YouTube creators can earn, it lies around $18 if there are 1000 ad views on the channel.
So, if we have a look at daily video views, if the watch time of that particular YouTube channel is 20000 views per day with an average engagement rate of 15% the daily earnings of the creator will be $5.5 to $9.2 with the monthly earning of $164 to $273.
But this does not mean that you will earn the same amount of money always. It differs from person to person. So, that's how much you can make money from YouTube without making videos.
Q. How to make money on YouTube without making videos showing your face?
A. For this you need to choose a topic or niche which does not rely on your face. If you are thinking about how to make money with YouTube without making videos then you might go for travel videos where you will show the place and specialty of that particular place with some amazing music in the background.
Also, if you don't wish to show your face you can make an unboxing video where you will open the packaging of an online shopped item.
You will show any or every item that you purchased. There are many more options like pet videos, gaming, podcast, animated videos, nail art videos, drawing, painting, carving, singing, and cooking videos.
One topic or niche might not work for another. There is a need for you to figure out which best suits you and what is your interest and then work on how to make money off YouTube without making videos. For example, if you love art and craft, you can simply record art and craft videos and upload them, this is a personal choice.
Q. How to make money on YouTube by watching videos?
A. If you are interested in how to make money on YouTube without making videos by merely watching content – you should keep reading. There are market research companies/ shopping sites that pay you for watching videos. Some such sites include Nielsen, MyPoints, etc.
After signing up there will be some easy tasks given to you. This sounds unrealistic, right? But this is true. You will need to have an account on that website or signing up with gmail will also do.
After logging in to that account, you will be seeing the YouTube page interface. Some videos will also be worth $1 for watching. To withdraw the money, you must have a minimum withdrawal amount as per the website policies.
Q. Does YouTube pay monthly?
A. Since you have many ideas on how to earn money on YouTube without making videos, you must be thinking how will I get the money in hand and whether will you get paid monthly.
This question is common when you are starting your YouTube career. The answer to which is quite simple – Yes, YouTube does pay you monthly.
The previous month's earnings are added to your AdSense account between the 7th to 12th of this month i.e., the current month. You will receive your earnings from 21st to the 26th of the current month as long as you have reached the minimum balance of withdrawal.
In case you haven't achieved the minimum withdrawal amount you will not be able to withdraw your money. Hope this clears all your doubts and helps you get a clearer idea of payment days and withdrawal.
Q. Should you use your real name for your YouTube channel?
A. It is actually a personal choice. If you want people to know your story, who you really are, then there is no harm in using your real name. In fact, it creates trust and increases credibility. However, if you wish to create a mysterious identity and leave the viewers curious, having a nick name works fine as well. At the end of the day, it is your content that rules.
Now that you have so many ideas on how to make money in YouTube without making videos, login to YouTube and start your channel today! You may find other ways on the internet on how to make money with YouTube without making videos, but we have listed only the doable ones, so, go get started!