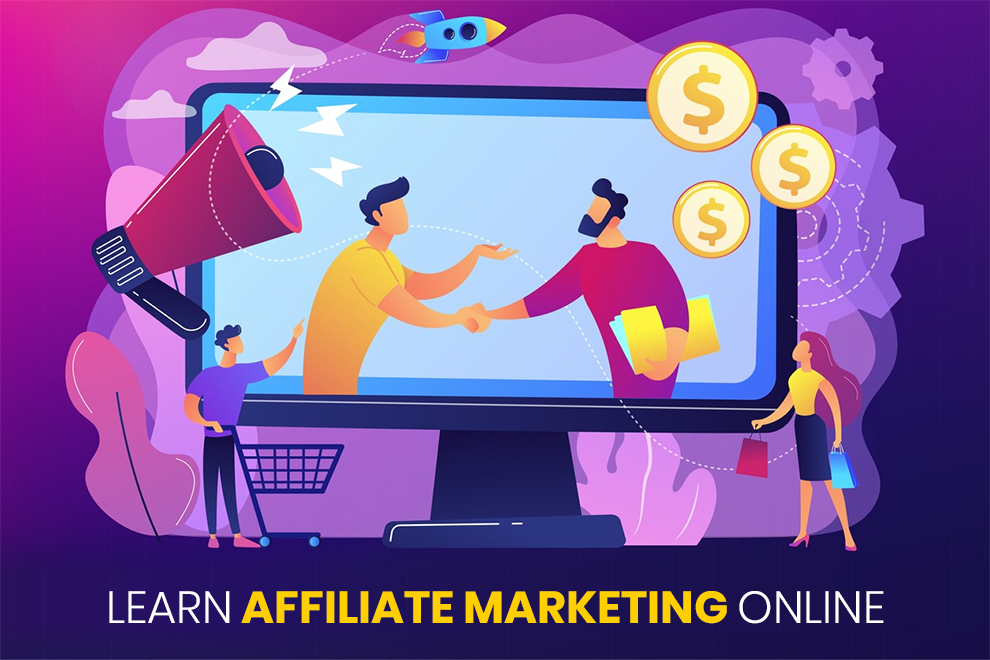 If you are a newbie marketer, your mind must be boiling with questions like – What is affiliate marketing, how to learn affiliate marketing, and does it really work or is it just another fad money making policy?
We answer this and much more, just keep reading to find out!
In This Article:
What Is Affiliate Marketing and How Does It Work?
Well, affiliate marketing is a sales tactic, which allows the product owner to boost their sales by letting other people help them target their audience and potential customers.
In this, there is a mutual benefit for the product owner or service provider and the affiliate (the person marketing or promoting the product). The affiliate will earn a certain amount as commission for every product they recommend.
So, as part of this, the affiliates can make money from the product market without ever having their products.
Do you want to learn how to do affiliate marketing? Well, the simplest way to get out and about with it is by referring to a product or service by sharing it on your website, blog, or social media platforms.
So, anytime a purchase is completed via the unique link recommended by the marketer, you will be eligible for some commission. If executed rightly, affiliate marketing can open up multiple income sources for your business.
What Are The Basic Components Of Affiliate Marketing?
There's absolutely no way anyone could tell you how to learn affiliate marketing without knowing some of the key terms associated with it:
Affiliate: An affiliate is an organization or person promoting a product/service. These are mainly publishers (the owners of mobile apps or websites), ad networks, and media buyers. At times, the affiliates are referred to as the partners, external marketers, or publishers.
Affiliate marketplace: Also known as the affiliate network, the affiliate marketplace works as an intermediary between advertisers and affiliates. They enable the affiliates to locate and participate in the affiliate programs that are ideal for their inventory.
As a result, affiliates working with affiliate networks can reach a wider audience. The marketplace will earn its commission as the difference in the cost borne towards the affiliates and the revenue from the advertisers.
Affiliate Software: Affiliate software is the tool to help you track, analyze, or optimize your campaigns. This is incredibly useful when you are just starting and wish to know what works well for you.
Affiliate link: Also known as the tracking link or the click tracking link, it is a unique URL on which the affiliate sends clicks for a certain offer. It is the advertised link or the link put on the banner. So, when the users click on the banner, they reach the marketer's link.
Affiliate ID: Also known as the account nickname, it is a unique ID via which the publisher or the advertiser can be identified.
Payment model: When you decide on an affiliate offer for promotion, you will see different payment models applicable. Different marketplaces will assign different names to it, such as the payout model, price format, conversion type, and alike. Knowing the payment models, you can understand what the goal is and what you will be paid for.
Commission: The commission is the amount you earn from promoting someone's product or services.
Why Should You Learn How To Do Affiliate Marketing?
Today, people around the world are interested to learn how to be an affiliate marketer, majorly for the two reasons:
It involves low-risk and low-cost.
When you start a new business, you incur considerable costs in the name of upfront costs for employees, products, rent, equipment, and alike. This makes the whole process expensive and risky.
On the contrary, if you learn affiliate marketing step by step, you can market the products and earn money by merely having a website. If the worst happens and it does not work for you, you lose nothing beyond a bit of money and some time.
Scaling is easy
As a professional marketer, you will sell and market products from one company. However, if you are an affiliate marketer, you can sell products from different companies and earn a commission for the same. Hence, you can scale up your work quite easily getting associated with multiple brands.
How To Learn Affiliate Marketing Online and Get Started With It?
Now that you know the subject basics and their importance let's move on to the most vital question, i.e., where can I learn how to be an affiliate marketer?
1. Take a Good Online Course or Self Study with a Good Book
We can give you as many tips as you want to start with affiliate marketing, but the wonders a structured course can do for you are unparalleled. So, go enroll in a good course now!
So if you ask us, 'Can I learn affiliate marketing free?' Of course, you can! There are multiple free and paid courses available over the internet.
Here is a compilation of online courses to learn affiliate marketing step by step, wherein you will gather complete knowledge in the simplest manner.
The instructor will help you understand the ins and outs of the process and make you aware of some unique tactics to grow as an affiliate marketer.
Once you have taken the course on affiliate marketing, you may have a brief idea of the working of the whole setup, but the right way to learn how to do affiliate marketing is by actually doing it.
If you want additional resources to learn more, here are some of the best books for affiliate marketing to get you started.
2. Decide Upon A Platform (YouTube, Instagram, Blog, etc)
If you read any prevalent blog online on 'how to learn affiliate marketing,' one of the most important things they will nudge you towards is selecting a platform. Broadly speaking, you can do it on any and every platform. However, it is easier to do it on your YouTube channel or a blog.
Today, starting a blog with WordPress is something that anyone can do. It is cheap and easy. You can even find online videos and tutorials to do it. After you have set up the blog, you need to optimize it for search engines.
So, when you learn how to do affiliate marketing, you must also learn SEO best practices because it will better your chances of ranking high on search engines. Once that is done, you can include affiliate links to the content.
YouTube is another platform for affiliate marketing. It is free to create and upload content on YouTube. So, in addition to equipping yourself with the knowledge of affiliate marketing, you must also learn to optimize your videos on the YouTube channel and include affiliate links in it.
3. Select Your Niche
As you enter on a search engine, 'how to learn affiliate marketing online,' there are hundreds and thousands of other equally interested people. This is why there is massive competition in this sector.
So, to heighten your chances of success for your blog, you need to pick a niche. So, go ahead, and select a product/service, focusing on a specific category. When you are niche-specific, it is easier to attract a more focused audience. It also improves your chances of a better search engine ranking.
An important tip here is that the niche you pick should really interest you. A lot of content creators lose in the game because they get bored. Hence, if you wish to last longer in the market, consistency is the key.
Also, if you are outsourcing your content, you can work with some seasoned experts in your niche. They can help you create some top-notch content to keep your audience engaged and bring more traffic to your blog or channel.
4. Create a Website
Next, if you want to learn how to do affiliate marketing, you need to create a website to channel your affiliate marketing campaign. It is one of the best ways to promote your links. After you have completed the website, sign up for the affiliate program.
5. What To Look For In The Affiliate Programs To Join?
An essential lesson in the quest of 'how to learn affiliate marketing is finding the right affiliate programs to join.
Broadly, there are three kinds of affiliate programs that you can pick from:
Low-volume, high-paying program: These affiliate programs are dedicated to products with a high payout. In most cases, the number of buyers will be limited.Hence finding the right buyer is where the trick lies. Alternatively, there will be programs, which have more significant competition. So, if you stand out, you are rewarded with a higher commission.

 

High-volume, low-paying affiliate program: These affiliate programs are meant for high appeal but low payout products. A good thing about such programs is that they have a myriad of offerings—for instance, Amazon.Moreover, you will get commissions on the full purchase value, not just the recommended product. However, for such programs to prove rewarding, you must have a good amount of traffic.

 

High-volume, high-paying programs: These comprise affiliate programs with high appeal, which fetch you a high commission. A prime example of this is credit cards, as almost everyone today has or rather needs a credit card.However, the downside here is that there are many affiliate marketers with greater expertise and money already doing this. Some people even use spammy techniques to make more money here. Thus, finding a place for yourself in the overcrowded market can be a bit hard.
So, which program must you join? This is subjective and will depend on your expertise level and niche. You will opt for the second model if you intend to target consumers. On the other hand, if your target is the business audience, you will pick the first model.
6. Understand Competition
Next, you need to understand how many people are in the same sector as you and how you will stand out from them. Also, find out what techniques your competitors use and what works well for them. This can also help you plan your affiliate marketing strategy.
7. How to Promote the Products?
There is an array of ways to promote your chosen affiliate products. You can experiment with the following:
Run a social media campaign
Offer coupons, promos, incentives, loyalty rewards
Add buttons and banners
Send newsletters and monthly emails as recommendations
Use your social accounts or pages to create micro-content
Utilize blogging to educate your audience
8. Which Products Must You Choose?
Even with the right idea on how to learn affiliate marketing & execute it, you can fall big time if your product selection is not correct. Pick up the products, which the people are actively looking for or buying at the moment. Some of the prevalent products are:
Wellness and healthcare products
Apparel and fashion goods
Insurance
Fitness equipment
Academic services
Holistic products
Organic items
9. Create Top-Notch Content
Your affiliate site will only make money and excel if there is good content on it, wherein you can organically fit exemplary content. Now, to attract more and more traffic to your website, there are three techniques that you can employ.
A: Paid traffic
Under this method, you will be paying for the traffic on your website. To grab more traffic to your website, you can use PPC ads. This will help you attract traffic, but there are some limitations.
You will have to attribute a chunk of your profit towards the ads when you run them. In this manner, you may even lose money before you even make it. However, before you do this, you have to be quite realistic about how long it takes to optimize this paid traffic.
Also, there is a chance that once you stop paying for the ads, the traffic may stop. However, ads are indeed an excellent strategy to make more affiliate money. However, this may not be the best idea if you are new to the sector and have no marketing budget.
B: SEO$
It involves optimizing the website to ensure that your site ranks high on Google. If your ranking is good, you are bound to receive good traffic on your website.
C: Create an email list
Having an email list makes it easy for you to collaborate and communicate with your readers, anytime as required. You can update them about the new services and products and keep them excited to return over and over again.
10. Be Honest With Your Product Reviews
To ensure that you suggest the right products to your audience, you must actually invest in them, buy them, try them, and then recommend only the products that really appeal to you.
If you are dishonest in your reviews, they are not going to help your readers and you'll lose your audience. This will also damage your credibility permanently.
11. Keep an Eye on Google's Updates.
Affiliate marketing is an evolving sector. So, time and again, newer updates will surface. You must check these updates to ensure that you follow things that are in trend.
12. Promote Your Links
Promoting your links is mandatory to get clicks on them. Merely having excellent content will not suffice to motivate people to click on your links. So, to get more clicks, here are some strategies you can follow:
A: Be careful with the link placement
See, if every second word right in the intro is linked to an affiliate, it will look forced and spammy. On the other hand, not many people will click through if links are right at the bottom of the content.
It would be best to balance link placement with the other factors below. So, strike a balance, and be reasonable.
B: Links should match the context
To give the links an organic appeal, they must sync with the context.
C: Callout
Utilizing callouts, such as boxes, tables, and buttons, can work well to grab the visitors' attention and make your products more skimmable.
Broadly, for you to make money, two conversions are to happen.
Firstly, there has to be a click on the product page – This is a controllable act. You can use the tricks above and better the probability of making this click happen.
Secondly, the visitor has to make a final click to buy the product. So, look for the programs, which give you a more incredible opportunity to convert.
13. Be Consistent and Keep Improvising
Lastly, as stated above, if newer things are entering the market, you, too, must be flexible to adapt to them. So, keep with the trend, and update and improve as needed.
Final Word
So, to sum up, and answer your questions, 'Can I learn affiliate marketing on my own?' We are very sure that yes you can! All you need is to follow the correct methodology to learn affiliate marketing step by step, practice, and make consistent efforts.
We hope you now know how to learn affiliate marketing online and are ready to begin with your affiliate journey!