2 Legit Ways to Do So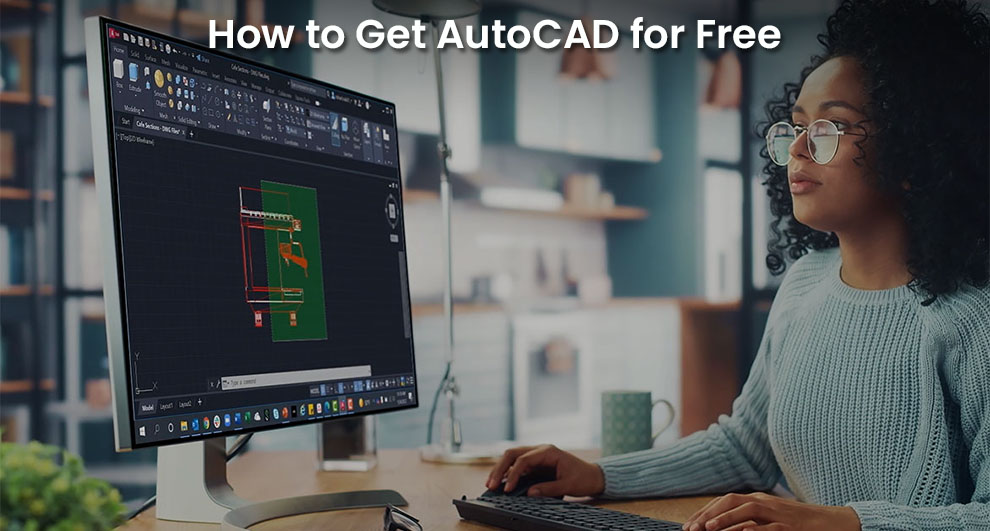 Be it designing handsome new sports cars or an instrument to revolutionize farming, AutoCAD is usually the top pick for most 2D and 3D CAD designers and developers. AutoCAD is one of the best and oldest commercial CAD software that has become an industry favorite over time.
But, the age old question that remains unanswered is – how to get AutoCAD for free?
See, AutoCAD has multiple uses. Almost all mechanical and civil engineers, fashion designers, interior decorators, product designers, architects, and landscape designers need to learn to use AutoCAD if they want to excel in their respective fields.
So, here is something for all of you aspiring to work in the design field and use AutoCAD.
In this article, we will look at various ways which will tell you how to install AutoCAD for free and also explore other affordable avenues to learn AutoCAD.
 
Skip To
Free Options That You Might Want To Explore Before Subscribing To AutoCAD
1. Limited Period Free Trial
If you are wondering how to download AutoCAD for free, then here is some great news for you. The AutoCAD software has a free 30-day trial period. In this trial period, anyone, ranging from individuals to industrialists to Multinational corporations can access all the features of AutoCAD for no charge at all.
After the trial period is over, you cannot extend it (unless you are a student and opt for the free student version of AutoCAD).
There is no point in uninstalling and re-installing the software from your PC
after the 30-day trial period, in hopes that you will be able to access the free trial again. It simply does not work that way. In short, AutoCAD is free only for a 30-day trial period when you first install the software.
How To Download The Free Trial?
The following steps will tell you how to get AutoCAD for free for 30 days availing the free trial period:
Open your browser and visit the Autodesk free-trials webpage.
You will see a search bar where you can search for your required Autodesk product (in our case, AutoCAD). Type AutoCAD in the search bar.
Next to the search bar, there are two options available, one for windows and the other one for Mac OS. Select the operating system that is loaded into your system.
Click on Enter.
A few AutoCAD versions will appear on the screen. Select the first one that just says 'AutoCAD'.
You will be redirected to a webpage where you will see the 'download free-trial option.
Click on the 'download free-trial tab and voila! The AutoCAD free trial version will start downloading to your computer.
Now run the application, fill in the necessary details (if asked) and you are good to go! Enjoy your free 30-day trial period.
Related: Best AutoCAD Courses | AutoCAD Books | AutoCAD Interview Prep Questions
2. Free AutoCAD for Students and Educators (1-Year Only)
AutoCAD is available for anyone who is enrolled in a higher education institution. Be it students or their professors and teachers. You just have to show proof that you are currently enrolled in/working for a higher education institute and you will be able to access the AutoCAD student version for free.
However, the license is available for one year at a time. AutoCAD student version comes with a watermark.
So whatever projects you make will have an AutoCAD watermark which does not happen in paid versions. The watermark is harmless in general but if you absolutely have to get rid of it, there is no choice but to purchase the paid subscription.
The following steps will tell you how to get AutoCAD for free (student version) on your personal computers if you are a student or teacher.
How To Download AutoCAD Student Version Software?
Autodesk provides AutoCAD's student version. However, if you are using the AutoCAD student version then it is illegal for you to make money out of it. Whatever products you design using the AutoCAD student version cannot be sold or used to make a profit. The free student version of AutoCAD can only be used for learning and teaching purposes.
If you are a student who is enrolled in an institution, then you can follow the steps given below to avail your free AutoCAD student subscription.
How to download AutoCAD for free as a student or teacher:
Go to Autodesk Education Community.
A drop-down list of several softwares will appear.
Select and click on 'AutoCAD' from that specific list.
If you already have an Autodesk account, then sign into your Autodesk account. If not, create a new Autodesk account following the steps mentioned on the website.
Fill in the details to complete your educational profile. It's plausible that your institution won't be listed among the institutions. In that case, click on the "Can't find your school?" option and wait for them to cross-check and validate the credibility of your school. This process may take up to seven days. Be patient.
Next, you might be asked to submit more documentation and proof of eligibility, such as a student ID or transcript.
After all your documents have been submitted, you need to wait for Autodesk to validate your credentials.
After your entire profile has been thoroughly checked and validated you will receive a confirmation email on your registered email ID.
Through the link provided in the confirmation mail, click on 'GET PRODUCTS'.
You will now be able to access the student version of the AutoCAD software and other educational programs by Autodesk.
Click on the "GET AUTODESK SOFTWARE" button to download AutoCAD 2023 for free.
This is how to get AutoCAD for free if you are a student or educator belonging to a school or university. The good news is that you can renew your AutoCAD student's license every year for as long as you remain a student or teacher of an accredited higher educational institution.
Why Should You NEVER Download AutoCAD From Anywhere Else Except The Autodesk Website Even If You Get It Absolutely Free?
Be very aware of fraudulent websites that offer AutoCAD for absolutely free. First of all, remember that no other website other than the official Autodesk website has the right to sell the AutoCAD software.
Downloading software from those sites or even clicking on those links can corrupt your entire system or make you install a pirated form of the software.
Be informed that the genuine AutoCAD software is available to you only and only when you pay a monthly subscription fee for it.
Falling into the trap of advertisements from fake websites that promise to offer AutoCAD at a very nominal price or for free can damage your entire PC including the hard drive. The pirated files will corrupt your system completely.
Other websites offer AutoCAD software for free and downloading that software might not corrupt your system but you need to know that you will be using a pirated (stolen) form of the software that is highly illegal.
 
Related: How to insert pictures in AutoCAD
FAQs
Q. How long is AutoCAD free for students?
Ans: AutoCAD, developed by Autodesk is beginner-friendly software that is available to students enrolled in accredited higher educational institutions for one year for free.
Q. Can I extend the AutoCAD free trial?
Ans: Once your 30-day free trial period for AutoCAD expires, it is not possible for you in any way to extend the AutoCAD free trial period legally. Cheap alternatives would be purchasing monthly plans if your requirements are short-term or making use of flex tokens which is basically a post-paid plan that charges according to the use of the software.
Q. How to download AutoCAD for free for Mac and Windows Operating Systems?
Ans: The steps to download AutoCAD have already been discussed above. After the 30-day trial period, you will have to start paying for your AutoCAD subscription. In short, it is not possible for you to avail of AutoCAD for free on either Windows or iOS after 30 days.
Q. What is the cheapest AutoCAD plan?
Ans: If you wish to purchase a long-term subscription to AutoCAD then the best available option for you would be to purchase the 3-year plan which comes at a fairly discounted rate.
If you have short-term needs then obviously purchasing an AutoCAD subscription every month would be your best bet. The cheapest AutoCAD plan depends on your AutoCAD requirements.
Otherwise, you can opt for the flex coupons plan which is sort of like a post-paid plan. You only have to pay for what you use.
Q. Is there a separate subscription for the android/iOS version of AutoCAD?
Ans: No. There is no separate subscription fee to access AutoCAD on your smartphone. If you purchase the AutoCAD subscription, you can enter the same Autodesk ID to access AutoCAD on your cell phones after downloading the free AutoCAD mobile app from 'Play store' or 'Apple app store.'
 
To Sum Up…
 
AutoCAD is a highly practical CAD program that is in great demand, a 30-day free trial version of the software has been made accessible to everyone by Autodesk and the student version of the software is available for free to all students and educators who are a part of an accredited higher institution.
It is safe to say that we now know how to install AutoCAD for free. Hope you also got an idea about the various pricing plans of the software and how it can be harmful to try to download the software for free from various fake websites.