Reading Time:
10
minutes
If you want quick and practical lessons, go for Babbel. Whereas, for structured comprehensive classes, pick Fluenz.
Babbel and Fluenz, both are language learning platforms. If you have narrowed down your search to these two, lets help you pick one that matches your learning style and expectations.
Both of them have their spin on things. If you need a straight answer on which from Fluenz vs Babbel is better, we have to say it is a tuff choice. But, we are slightly inclined towards choosing Babbel.
Babbel covers a greater number of languages at a lower cost. Their sessions are engaging and do a better job of holding your attention with shorter lesson lengths.
In addition, their speech recognition technology is relatively better, and the spaced reviews help with recalling whatever you've learned so far.
But, on the other hand Fluenz has very structured and comprehensive lessons that give you some serious learning goals. They provide one-on-one tutoring as well for in-depth focussed learning. But this all comes at a higher fees.
Babbel vs Fluenz Features
| | | |
| --- | --- | --- |
| Attributes | Babbel | Fluenz |
| Pricing & subscription | Cheaper | Relatively expensive |
| Languages covered | 14 | 6 |
| Lesson type | Casual and informal | Formal and structured |
| Class duration | 10-15 minutes | 45 minutes |
| Classroom-like feel | No | Yes |
| Trial period | Yes | Yes |
| Flashcards | Yes | Yes |
| Grammar lessons | Layered into lessons | Thorough coverage |
| Vocab training | Layered into lessons | Thorough coverage |
| Speech recognition | Advanced | Basic |
| Visit | Babbel | Fluenz |
About Babbel – How Do We Describe It?
Babbel is a popular website and language learning app that provides courses in several languages like German, French, Italian, Russian, Portuguese, and Spanish, amongst others.
It helps the learners develop practical communication skills via dialogues, exercises, and interactive lessons. The platform is available for mobile devices and desktops, letting the users learn anytime and anywhere.
Their courses are drafted by a team of language experts and linguists, and the platform adapts to the learner's pace and language proficiency. You can find Babbel courses on topics from grammar and elementary vocabulary to more advanced conversational skills.
One of their standout attributes is the focus on conversational skills. The platform provides speech recognition technology, enabling the learners to practice their pronunciation and get feedback on their speaking skills.
You can get subscription plans with Babbel, with pricing depending on the language studied and the subscription duration. You can get a free trial to test the platform before you commit to any subscription.
Babbel Pros and Cons
Pros
Cons

More pocket-friendly than Fluenz.
Lessons are short and fast-moving.
They have an intuitive and sleek app.
The advanced speech recognition technology is excellent.
Review sessions are a huge plus.
More languages covered.

 

More in-depth audio-based classes could have been better.

 
About Fluenz – The Language Learning App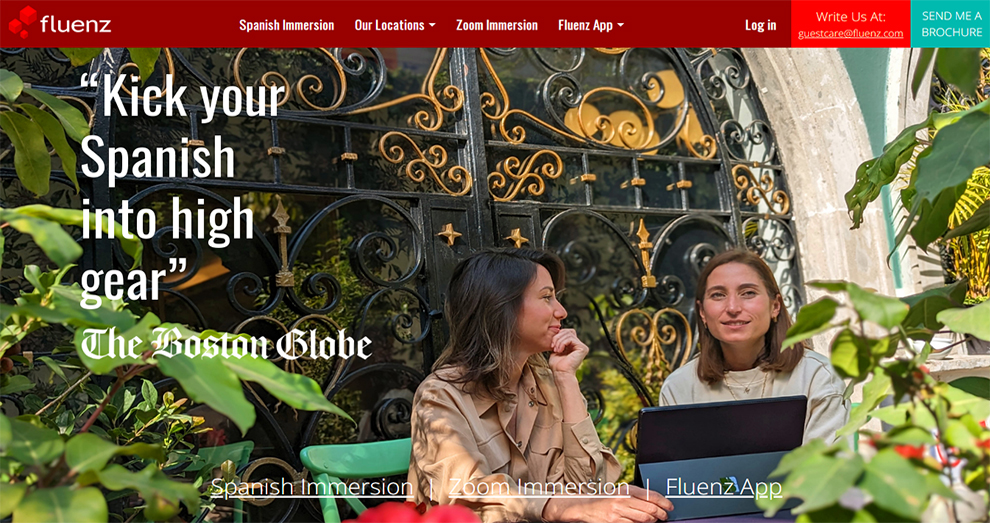 Fluenz makes a snide remark at gamified apps like Duolingo by stating that it is no game to get fluent in a language, and rightly so. They follow a more stern and rigorous approach across the program, something you do not find with most language learning apps.
Founded in 2007, Fluenz is the brainchild of Sonia Gill and Carlos Lizarralde. It started from a simple question they asked amongst themselves, 'Can there be a better way to learn a language?'
Their bad experiences with other teachers and language learning apps motivated them to devise a better way to learn a language. With this application, they hope to combat the clever marketers who claim that people can learn a language via a game.
They offer live tutoring, too, something not standard with language learning apps. Most apps only teach you via recorded videos and exercises.
So, if you like a structured learning environment with 1000s of hours of instructions, Fluenz can be a good selection.
Fluenz Pros and Cons
Pros
Cons

Video lessons are ideal for visual learners.
Optional tutoring can help in the advanced stages.
Structured study schedule that follows a calendar and has discipline.
Dynamic exercises and activities.

 

It is relatively more expensive.
Lessons are long and bland sometimes.
The digital platform is not as modern and clean as Babbel.

 
Is Babbel Better Than Fluenz?
Yes, Babbel is better than Fluenz in many ways. It focuses on enabling the learners to develop practical skills through interactive exercises and lessons. But both have their strengths and weaknesses.
So, what works best for you might not be so for another person. Below we will pit the two against each other to help you choose from Fluenz vs Babbel.
A. Pricing
Babbel is relatively cheaper than Fluenz.
The cost structure for both these companies is variable. Prices for Babbel usually start from $7 to $14 per month.
You can also opt for a lifetime pass with Babbel, which provides access to all their languages for about $200 to $300. However, it is relatively less popular than monthly subscriptions.
On the contrary, you do not get monthly subscriptions with Fluenz. However, you can buy individual levels for the specific language or shop for an all-level package.
Thus, in terms of the pricing, it is like comparing apples to oranges, but broadly speaking, Babbel is usually the more affordable option, especially when you are just starting out.
It is tough to beat the $7 price point. In addition, they also offer steeper and more frequent discounts than Fluenz, which is worth watching out for.
B. Free trial option
Both Babbel and Fluenz offer a free trial. 
When you sign up for Babbel, you can access the first lesson of any course for free before you commit to a paid subscription. It gives you a sense of what to expect from the platform. Please note you cannot take more than the first lesson for every course in the free trial. So, if you wish to proceed further, you must buy their subscription.
Fluenz's free trial gives you access to the first lesson of every level of the language course for free. It applies to all the languages that they offer.
C. Lesson type: traditional classroom feel vs modern approach.
Broadly, you will find two significant differences in the lectures of these two programs – lesson delivery style and length. Fluenz has a traditional approach with longer classes, and Babbel has a modern feel with shorter lessons.
Comparing Babbel vs Fluenz, we like Babbel better as they are fast-paced and more engaging than Fluenz.
Babbel has interactive and short lessons that focus on conversational language. They have a mix of writing, reading, speaking, and listening exercises to help you develop your language abilities. Their lessons are self-paced, and the learners can pick the topics they wish to focus on.
On the contrary, Fluenz follows a more traditional classroom-like approach to learning a language. They have a structure in the lessons, and the tutor guides them through the material and offers constant support and feedback.
These lessons focus on sentence structure and grammar and employ a mix of visual and audio materials to reinforce concepts.
As for the platform's feel, Babbel has a more fun and casual vibe with gamified approach and graphics to learning, whereas Fluenz has a stricter formal feel with a focus on accuracy and precision in the language.
D. Grammar & vocab building
Even though both do a fantastic job incorporating vocabulary and grammar into the lessons, Fluenz does better at helping students build a solid foundation in sentence structure and grammar.
Babbel puts more focus on practical and conversational language. So, you will learn everyday vocabulary. The classes incorporate grammar naturally, focussing on helping learners learn to use language in a context.
On the contrary, Fluenz follows a more structured approach to vocabulary and grammar building. The lessons help the learners learn the language rules and develop a sentence and grammar structure foundation. Their exercises are challenging and precise, focussing on attention to detail more.
E. Practice Exercises
Babbel has more variety and engagement in their exercises than Fluenz.
You will find various activities to develop your language skills with Fluenz and Babbel.
Comparing Babbel vs Fluenz, we found the former's exercises are more engaging and interactive. They focus on real-life situations and conversations. There is immense variety in listening comprehension, speaking, and writing drills.
Babbel follows a gamified approach to learning a language with badges and rewards that drive the customers.
On the contrary, Fluenz has more focused and structured lessons helping you build a solid command of the language. They have various reading comprehension, audio drills, and translation exercises. You also get feedback from a tutor to better your skills.
F. Special add-ons like Fluenz flashcards, Podcasts
Both offer flashcards and podcasts as supplementary resources to their language courses. Use them with other forms of practice and immersion in the target language. There is not much difference in their quality.
These flashcards help reinforce and contain clear and concise explanations of the vocabulary and grammar concepts, along with example sentences and audio pronunciations. You have to shop for them separately, but they will cover several sentence structures, adjectives, and verb exercises.
Fluenz and Babbel also have a variety of podcasts that supplement the language courses.
These podcasts enable the learners to practice comprehension skills and reinforce the grammar and vocabulary skills they picked up during the courses.
They cover several topics, from current events to news, entertainment, and culture.
G. Which app is meant for beginners Fluenz or Babbel?
Since Babbel has more interesting lessons, it keeps beginners interested. It does not overwhelm them with heaps of information.
However, if you are beginner with a different learning approach in mind, you can pick either depending on the learning style you enjoy more.
H. Mobile app experience
Comparing Fluenz vs Babbel, we found the latter more user-friendly.
Both Fluenz and Babbel have mobile apps, but Babbel's platform is more user-friendly and has a good feel. It is intuitive, sleek, and easy to navigate. You will know precisely where to go next from your current step.
I. Quality content
The video lessons from Fluenz are unprecedented.
Fluenz incorporates videos into their lessons, which is an excellent value addition. Every class begins with an introductory video wherein the instructor introduces you to the concept you will learn.
It will lay a good foundation for what's to follow. After that, you will find a series of workouts or practice drills. Amidst them, you will be prompted to watch bonus videos that further break down and explain the material you are studying.
This approach amplifies the content quality and makes it beneficial for the students. At times, it might feel a little overly choreographed, but it is nice to have the instructor on the screen walking you through the lessons. It betters the quality and helps with retention.
J. User support
The 'Ask Sonia' attribute of Fluenz sets it apart from Babbel. It adds to their personalized approach.
You can contact the support representatives via email or phone. They also have a comprehensive FAQ, wherein you can find some commonly asked questions answered in detail.
Fluenz also has a support forum to ask questions and get assistance from the staff.
You can contact Babbel via phone and email or their extensive help centers on their website, which comprises video tutorials, FAQs, and articles. They also have a community forum wherein users can get help from other learners and the staff.
K. Speech Recognition Software
Sadly, Babbel has no competition here with their 'speak Easy' feature. It is a clear win for them.
Babbel's technology will grade you for pronunciation when you complete the practice sessions. You will also find occasional prompts to repeat phrases and words if you mispronounce them.
It is a great technology and works exceedingly well. It is in sharp contrast to Fluenz's speech recognition software, which is elementary. They provide playback and recording abilities and do not evaluate your pronunciation. Thus, it is an easy win for Babbel in this category.
L. Spaced Reviews
It is a beautiful advantage for Babbel learners. 
Their review sessions are indeed helpful. So, whenever you log into the app, you will see 3 to 4-minute quick review sessions that examine the vocabulary you studied weeks back to ensure you remember better.
It helps improve recall value and moves the newly-learned phrases and words from your short-term memory to your long-term memory, a crucial requirement for language learning.
M. Live sessions
Both Fluenz and Babbel offer live sessions.
Comparing the two, we found that Babbel's live classes do not come in the standard subscription. You will have to pay extra for them. But they provide 100s of small weekly group live sessions across all their learning levels.
These are small group sessions and last for around 60 minutes. Usually, the sessions do not have over six students per class. These topics vary widely, and you can join the lectures on contents that interest you.
Whereas Fluenz's live classes are more of one-on-one tutoring sessions.
 
Related: Busuu vs Babbel | Babbel vs Rosetta Stone | Pimsleur vs Babbel | Mondly vs Babbel
Fluenz vs Babbel – Clearing Some Common Doubts!
Ques 1. How many Babbel lessons should I do a day?
Ans. The number of daily lessons you do depends on your personal schedule and learning pace. Since Babbel has a flexible learning system, you can easily decide how many classes you do per day.
But it is vital to find a balance between learning enough to make progress and not overwhelm yourself.
You can start with one lesson per day to keep up the pace but can adjust the number depending on your adaptability, schedule, and comfort level. Regardless, set realistic goals, and be consistent.
Ques 2. How long does it take to finish Babbel?
Ans. You can complete the Babbel course in six months if you dedicate 15 minutes daily to language learning. But you can decide your pace and schedule.
Ques 3. Will Fluenz make you fluent?
Ans. Fluenz can help you get acquainted with the basics of the language, but it does not guarantee to achieve fluency on its own.
To be fluent, you need immersion, dedication, and practice, but Fluenz can be a good step toward it. However, language exposure beyond the online program or classroom learning is mandatory to achieve fluency.
Consider watching TV shows or movies in the native language or communicating with native speakers. Traveling to countries where the language is spoken and reading articles or books from the target language can also achieve fluency.
Ques 4. How much does Fluenz Spanish cost?
Ans. You can shop for level 1 for $190 and all five for $400.
Ques 5. What age is Fluenz for?
Ans. Predominantly Fluenz is meant for adult learners. Their programs are comprehensive and structured and intended for students aged 16 and above who are willing to learn a new language and are ready to commit to a classroom-style, structured learning process.
Even though Fluenz can help younger learners, especially those in their late teens, it is not for children.
Final Verdict: Which Is Better – Babbel Vs Fluenz?
In this comparison, it is apparent that Babbel overshadows Fluenz in several respects. But, this isn't a clear win.
For casual, fun learning Babbel's practical approach has no match. But, for comprehensive lessons pick Fluenz. Remember that Fluenz is pricier than Babbel.