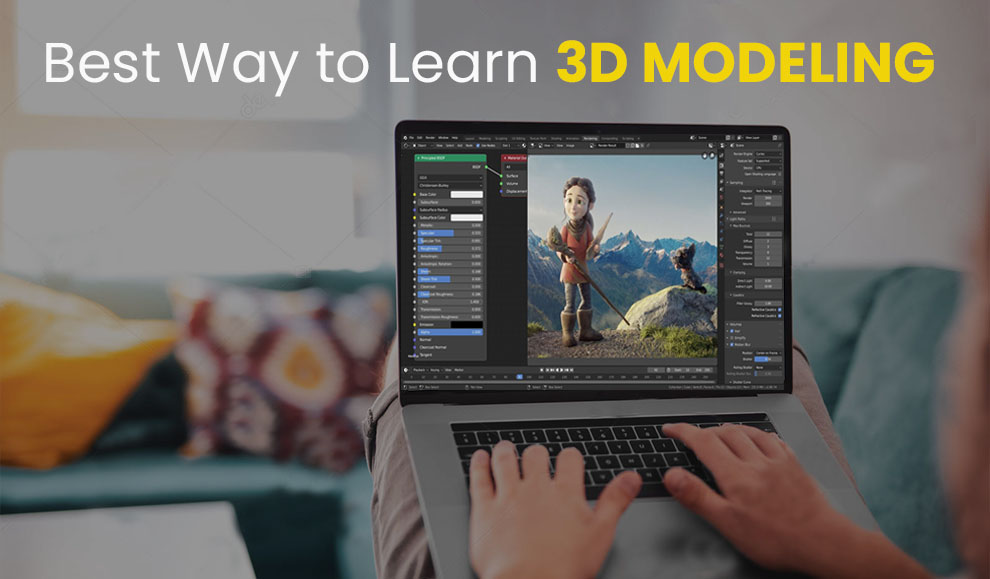 You could be an absolute novice looking for the best way to learn 3D modeling or an intermediate learner wondering – How can I learn 3D modeling to be an industry expert. Well, if any of these scenarios are true, give this article a read and thank us later.
What Is 3D Modeling?
3D modeling can be used in various applications to create computerized depictions of inanimate components. 3D modeling is a type of Computer-Aided Design wherein you utilize technology to help you with any form of design work.
The 3d model is leveraged to transmit dimensions, material kinds, and other information to anybody examining the model and may also use it to create control routes for Computerized Numerically Controller machines.
Skip To
In the broad sense, 3D modeling increases the effectiveness of the design and development process. Modeling software lets you easily develop and visualize final products, change and enhance conceptions, and record layouts, measurements, and other components.
3D models are employed to visualize, analyze, and generate visual content in the cinema, broadcasting, game console, architectural, building, product innovation, scientific, and healthcare sectors.
Without advancements in engineering surveys and different forms of 3D modeling, the methodologies and technology broadly utilized for 3-dimensional embankments modeling would not prevail.
Planning, architectural, and environmental evaluations can all be accomplished with 3D graphics. These models are particularly useful for pre-bidding since they enable vendors to experiment with different configurations and explain their concepts.
Can You Learn 3D Modeling at Home?
If you're someone who's wondering how can I learn 3D modeling? This article is of special importance to you. The learning process nevertheless needs dedication and perseverance from your side.
And if you're ready to take on new challenges, we assure you'll be able to learn 3D modeling and apply this all together.
The best way to learn 3D modeling sitting at home is to enroll in an online course. With the help of this article, readers will find a step-by-step guide to start 3D modeling training at home.
When you go into 3D modeling, you can constantly need to keep updating yourself with the advancements of the design world.
However, learning the skill of modeling may be difficult, especially for newbies. There is indeed a considerable amount of information available, and it might take some time to be completely at ease using modeling software.
The quickest way to perfect this level of expertise is to keep practicing whatever you learn from the 3D design tutorials, courses or books.
How to Learn 3D Modelling? Step-by-Step Approach
So, to begin with, in 3D modeling, you first need to be aware of the most common terms used in the field.
Step 1: Intro to 3D modeling terms
So, the best way to learn 3D modeling and have a rock-solid foundation is by going into details of all the essential terms frequently used in the 3D modeling industry.
Vertices, Edges, Polygons
Vertices: Points are referred to as vertices in mathematics. In a 3D model, vertices are any point inside the 3D space where the edges meet and cross paths.
Edges: The vertices are linked by edges. Edge is a point where two polygon faces in the 3D meet. They aid in the 3D model's form definition.
Polygons: A polygon is formed by connecting the edges of numerous vertices to create a structure and a front to develop the geometry. Polygons are now extremely important in 3D graphics since they are the fundamental building blocks of every three-dimensional model.
Mesh
It corresponds to a three-dimensional entity made out of triangular polygons. 3D meshes relate to lengths, breadth, and depth forms using algebraic coordinates X, Y, and Z.
Quads
A quad or quadrilateral polygon is a 4-sided polygon square in shape. It contains four vertices at the sides that are joined by four edges.
Non-Uniform Rational Basis Spline (NURBS)
NUMBS is an essential term in our list of how to start learning 3D modeling essentials. Non-uniform rational B-spline (NURBS) is a mathematical concept used primarily in computer animation to create and display geometric shapes.
NURMS modeling
NURMS modeling is an abbreviation for non-uniform rational mesh smooth. It is a segmentation interface approach that uses a small polygonal mesh (unlike NURBS) to create a smooth mesh high-quality polygon.
Polygon Modeling
Synonymously used with 3D modeling is polygonal modeling. It refers to the technique of representing structure using polygon meshes.
Lighting
In 3D modeling, this is a basic phrase. For example, we're all aware of how important lighting is in space while clicking a picture or drawing an object. Similarly, the same illumination is critical when it comes to 3D modeling.
3D Rendering
How to learn 3D modeling guide will be incomplete with an intro to Rendering. Rendering entails finishing the basic geometric 3D model and giving it a lifelike look.
Beveling
By reducing a model's harsh edges, beveling can improve the model's natural look and appeal. This is accomplished in post-production and provides the figure with a more true-to-life appearance.
Viewport
By default, the 3D viewport enables a number of unique mouse and touch motions. The viewport element in which you engage determines the accessible gestures.
CAD (Computer Aided Drawing)
CAD is the process of employing high-class algorithms to convert and modify an existent 2D model into a 3-dimensional one.
Texture mapping
Texture mapping is similar to painting, wallpapering, or putting a veneer on a real thing. It simply refers to the practice of placing a textured map (two-dimensional) surface around a 3D object to emulate a given material in graphic design.
These basic terms are enough for any beginner who is wondering "How to start learning 3D modeling online at home."
Step 2: Ask yourself if you have it in you to visualize & draw?
Now, it is time to question your creative abilities to visualize and create. If you find a positive answer, go ahead for some guidance online.
Step 3: Enroll in online training courses
Find a 3D modeling online course based on your level of expertise. You will find courses online that are designed for those who have no prior knowledge of 3D modeling as well as intermediate and expert learners.
With most of these online programs, you can master a range of methods, applications, tools, and subjects, such as Blender three-dimensional, Fusion 360, and much more, to depict, compute, design, and animation in three dimensional.
This is absolutely perfect for anyone looking how to learn 3D modeling online.
Step 4: Learn through quick tutorials
Make learning easier for yourself by going through quick learning tutorials that are readily available on YouTube. They might help you troubleshoot specific issues you are stuck with.
Step 5: Read up on books and other study materials
Try to find more resource materials related to 3D modeling to gather as much information as possible. E.g., 3D modeling books, manuals and reference guides.
Step 6: Once you are able to create what's shown in the tutorials, try your hands on something original.
3D modeling can only be learned by regularly practicing whatever you're learning from the course you've enrolled in.
Step 7: Know the popular software for 3D modeling
Do proper research and find popular 3D modeling tools available online. Keep an eye on industry experts and their suggestions.
Step 8: Get training in the tools you want to create 3D Models
Once you find a tool that suits you perfectly, keep creating 3D models and practice regularly until you get the hang of it.
Step 9: Keep practicing what you are learning
As we've mentioned earlier, practicing your skills every day and creating the models regularly will help you become better at it. In order to sharpen your skills, you need to practice daily.
Step 10: Try your hands-on online competitions to stay on top of your game and know what's going on with others.
It's easier said than done to practice every day. However, to be consistent with your course is a challenge many beginners face. The solution to this problem is to participate in online competitions, which will boost your confidence and help you enhance your skills.
Step 11: Stay patient & consistent
This is a creative field, so forcing yourself to be perfect too soon will only put extra pressure on you. You need to learn to be patient with the process of learning and creating 3D models.
FAQs
Q.  How long does 3D modeling take to learn?
A. Based on your level of expertise, the process of learning 3D modeling can take from 2 weeks to 6 months.
If you're a complete novice who wants to know how to learn 3D modeling from scratch, a beginner-friendly course can take approximately 2-3 weeks. This will include just the basic understanding of how to design your 3D model.
But if you want to take it up to a much-advanced level, like how texturing works and what materials can be used to make 3D models, this can take you much longer.
Q .  Can you learn 3D modeling on your own?
A. The answer to this is an absolute yes. But if you want to know how to start learning 3D modeling, the best way to learn 3D modeling is to enroll in an online course.
There are thousands of courses available online. Make sure you purchase a course from an expert who can explain things in a way that the process of learning doesn't get too difficult for you to follow through.
When you're looking for how to learn 3D modeling, choosing which course or instructor suits your method of learning is essential. Some individuals want a detailed, step-by-step explanation; others prefer a direction to begin experimenting according to their own understanding.
Q. What is the easiest 3D modeling software to learn?
A. Tinkercard, Fusion 360, ZBrush, Cinema 4D, SketchUp Make, Blender, and Morphi are some of the best 3D modeling software tools for beginners recommended by industry experts.
Q.  What education do you need for 3D modeling?
A. You could take up a degree in graphic designing before stepping into 3D modeling design world. However, it is not mandatory.
If you have it in you, you could start your journey as 3D modeling professional from your home. There are hundreds of courses available on how to learn 3D modeling.
Final Thought
As we've mentioned, a step-by-step approach is a must for any individual who wants to know how to start learning 3D modeling.
The best way to learn 3D modeling is to enroll in an online course, take help from online tutorials, books etc. and keep practicing whatever you are learning along the way.
But if you want an answer to how can I learn 3D modeling for free? Don't worry; the internet is full of free articles and resources too. Just pick wisely.