Reading Time:
7
minutes
Preparation guide to crack the FRM exam
The demand for Financial risk managers is at an all-time high due to the volatile economy. As a Financial Risk Manager, you will work with business giants and assist them in managing risk by analyzing the trends.
The FRM exam is not an easy cup of tea. You need the practice to get through it. Here, we bring you the best FRM prep courses that will guide you to ace the FRM exam. The exam prep course can make it easier for you to be certified in the first go, clear both parts of the exam and also make you accustomed to the duties you will be performing as a certified FRM.
All of the below-listed study materials for FRM are GARP (Global Association of Risk Professionals) approved. GARP aims to make professionals more aware of the risky environment and help them with better financial decision making.
Let us address these study guides one by one.
 
Why this course: Analyst Prep is the best FRM prep provider because It covers everything from study planners to forum discussions and mock tests.
What's there to like?
It is full of real-world scenarios and examples that help you envision the practical aspect of your learning.
You will find FRM Part I mock exams and practice questions that depict the style and difficulty level of the actual FRM exam.
Among all the FRM exam preparation providers, AnalystPrepoffers a personalized, exam-centered question bank to familiarize you with all the vital topics necessary to update you on the test curriculum.
The authors regularly update the question bank to incorporate the latest changes in the curriculum.
You get lifetime access to the preparation material.
Instructors offer formula sheets for easy and quick revision.
You get unlimited ask-a-tutor questions access.
Analyst Prep assures 24/7 Technical Support
You will study with Professor James Forjan, who has over twenty-five years of teaching experience.
Things you may not like
None
About the course
At times, concept demonstration is an ideal way to learn. This could be the best FRM prep course, to make the most of visual analogies. With the guided methods here you will be able to explain the otherwise mind-boggling and elusive concepts all by yourself.
You get video lessons for both FRM Part 1 and 2. You will also bag printable study notes and question banks online and offline for both parts.
Related: Best CFA Prep Courses|FRM Exam Prep Courses
Reviews by Joshua Brown.
"
Great study materials and exam-standard questions. In addition, their customer service is excellent. I couldn't have found a better CFA exam study partner.

 
Why this course: This course has one of the best study material for FRM because you will find a comprehensive curriculum offered in both written and video formats. That's not all. You also get a Schweser's PassProtection™. It implies that Kaplan will pay for your next course if you do not clear the exam.
What's there to like?
It has a ninety-one percent recommendation rate.
All Kaplan courses comprise a weekly online class.
Plenty of options to continue learning after video class time.
Check-in exams to assess your progress on the way.
Things you may not like
The only thing that keeps Kaplan from being the overall best FRM prep provider is the underlying truth that they have split the two parts of the FRM exam into two preparation bundles.
It directly reflects in the amount you pay. You will have to pay almost double the amount for the same preparation class compared to the other providers.
About the course
Kaplan has played an instrumental role in the career of 1000s of students. So to say that it may be the best FRM prep course and can also help you achieve your professional goals may not be an exaggeration.
As part of their weekly sessions, you get thirty classes in total for the premium bundle covering both Part 1 and Part 2. Beyond the video and document material, you also get access to an online review workshop, online mock exams, and a resource library.
Reviews by Yousef.
"
I passed the FRM pt 2 2022 May exam on 1st attempt by using Schweser premium prep material plus the additional mock exams, I highly recommend it .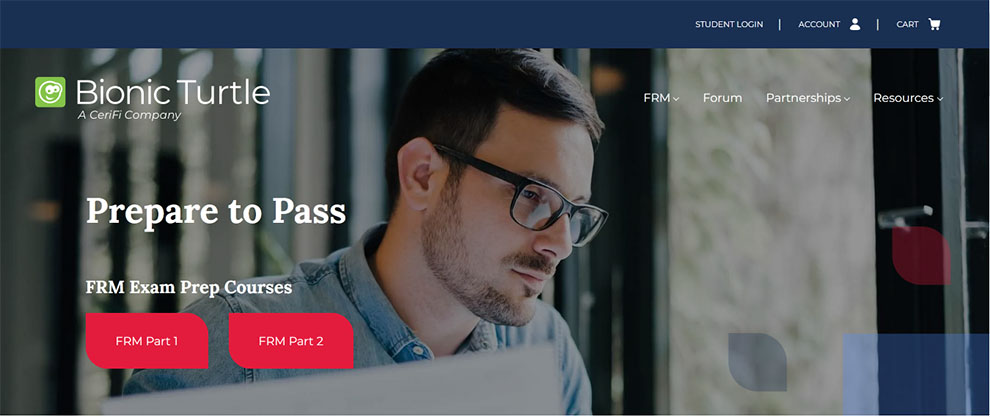 Why this course: Bionic Turtle is one of the top FRM exam preparation providers with many good things to like and appreciate, but what makes it stand out is the plethora of questions you get with every bundle. It help you practice and clear all your doubts.
What's there to like?
The instructor breaks down the material such that even the most complex topics become easy to understand and memorize.
You have the opportunity to collaborate with your peers.
In this FRM prep course, you receive the answers directly from the top experts.
Authors offer impactful study materials and leverage success.
Their bundles are full of resources, including supplemental videos, mock exams, quizzes, and practice questions.
They offer tailored FRM study plans for a seamless learning experience.
Things you may not like
They offer access to study material only for a year.
About the course
Bionic Turtle is a provider that offers the most in-depth lessons. It is backed by the most active and the biggest financial risk forum. They have assisted 1000s of students who have employed their active community, study materials, and friendly support to ace challenging investment management and risk management exams.
With this FRM prep course, you get more than a study guide. They help you deeply understand the material by breaking down complex tools. It offers ample composure and confidence and gets you ready for the exam.
Overall, they have detailed, organized course material to help you ace your exam in the first go.
Reviews by Jagan G.
"
I took the exam in Sydney and had a similar feeling about the exam being more qualitative (but no less rigorous). However, I felt I was better-prepared thanks to BT's relentless focus on throwing real-life examples and methods.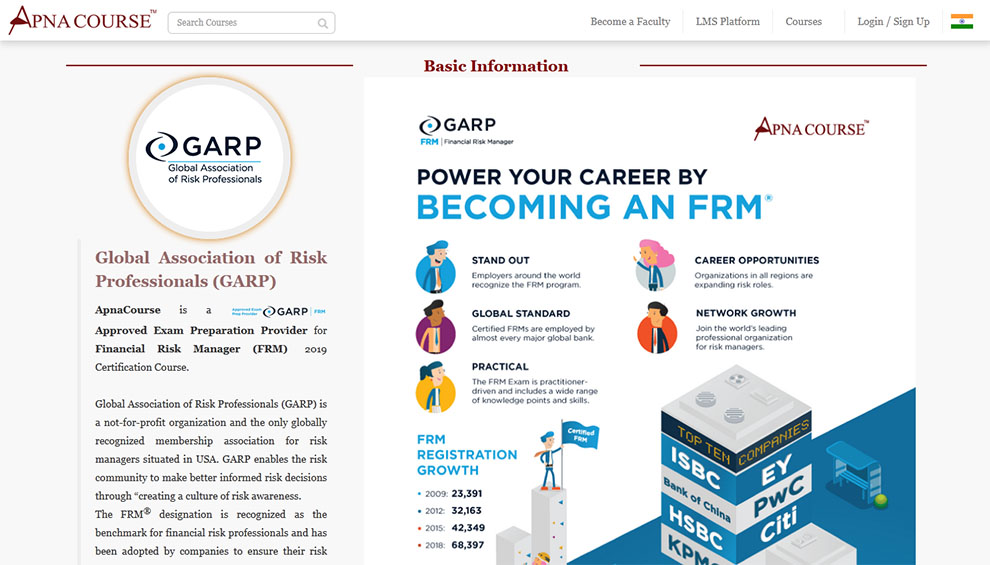 Why this course: They have the most value-for-money packages that ensure dense coverage.
What's there to like?
They are one of the FRM exam preparation providers that offer four full-length practice exams at a relatively affordable price to help you review your understanding.
The practice exams are modeled to stimulate the FRM exam.
Their relatively low price tag makes them suitable for those tight on a budget.
They offer a free demo, which helps you try the course before buying it.
Things you may not like
Their Part 1 class has been around for a while, but Part 2 has been released recently and is gaining traction. It is the reason it has only limited course material.
About the course
Apna Course is one of the top e-learning platforms that offer, arguably, the best FRM prep courses if you want a budget pick. They have helped several professionals amplify their skills and advance in their careers.
At less than $300, you can avail yourself of 100s of practice questions, exam questions, forums, instructional videos, and an eBook.
FRM Prep Guides Compared
| | | | | |
| --- | --- | --- | --- | --- |
| Top Courses for FRM Preparation | Analyst Prep | Kaplan Schweser | Bionic Turtle | Apna Course |
| Price Part 1 | Check Price | Check Price | Check Price | $280 |
| Price Part 2 | Check Price | Check Price | Check Price | $280 |
| Practice Questions | 4000+ | Available | 4000+ | Yes |
| Lifetime Access | Yes | No | No | No |
| Forum Discussion | Yes | No | Yes | Yes |
| Free Demo | Yes | No | Yes | No |
| Interactive Questions | Yes | Yes | Yes | No |
Selection Criteria for These FRM Prep Guide
Here are the selection criteria we followed for handpicking these FRM prep courses.
1. GARP approved – GARP, or Global Association of Risk Professionals, is an NPO and a Membership Association that works to protect the interests of the risk managers. We have attempted to ensure that all our listings above are GARP-approved.
2. Assured success rate – If the best FRM prep provider gives you assurance for success, why pick anybody else? When the provider gives you a guarantee for success, it is automatically easier to trust them. So, we picked the providers with an excellent past success rate or those that offer assurance for your exam success.
3. Comprehensiveness – You do not want to read ten different books to clear your FRM exam. Hence, it has been our sincere attempt to pick the internet's most comprehensive FRM prep courses to help you learn it all from a single platform.
4. Price – In our study material selection, we have assumed that the chosen classes give you value for money. Hence, we handpicked the ones that suit your budget and offer the necessary knowledge to ace the exams.
5. Mock practice – The presence of mock practice questions give you an insight into what the actual exam will feel like. Taking these mock practice papers in abundance gives you ample practice and makes you confident for the FRM exam. Hence, we picked the best study material for FRM that have enough mock questions for practice.
Reviews by Ms. Aarathi
"
Concepts are explained very clearly. Easy to understand and recall as well.
Conclusion
So, these are the study guides you can refer to for your FRM certification. These have all been selected keeping in mind different criteria. Prepare for the exam with these study guides and sail through the FRM exam with flying colors. Good luck!