7 Courses With The Best SAP Online Training Classes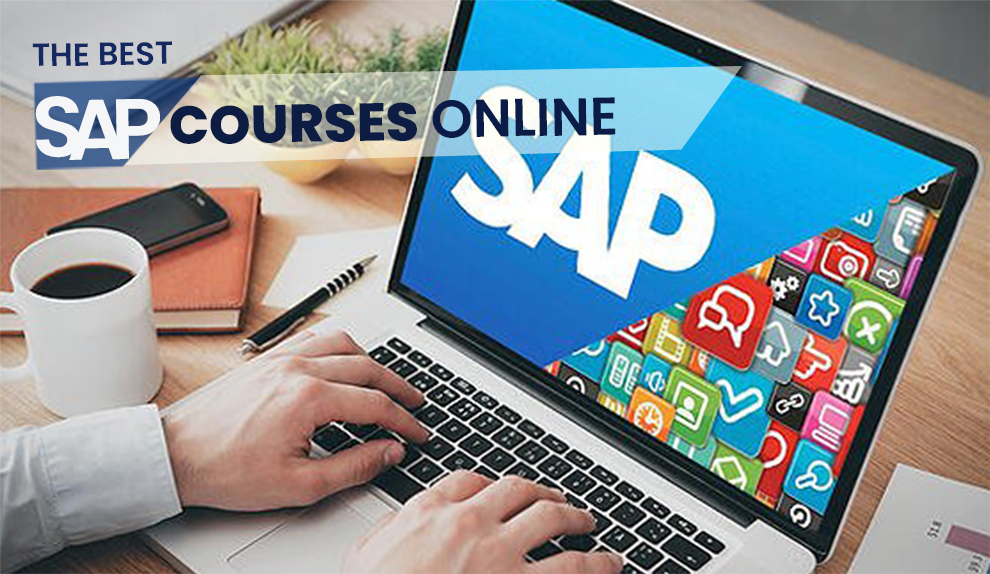 SAP is one of the most prevalent enterprise business systems. Some of the largest organizations globally employ it. It is a key tool for companies to function and streamline their processes across different business segments, from financial accounting to sales.
As a result, there is a burgeoning demand for SAP experts in the industry, and if you want to be a part of the industry, you, too, must enroll in a good SAP course. But, of course, the choice of SAP courses online is massive that it is often hard to pick the best SAP certification online.
Well, we understand the dilemma, and to rescue you from this overwhelming situation, we have the right solution for you.
Our team at TangoLearn performed intensive research in an attempt to find some of the best SAP courses online. This research helped us pick 15 of the best courses from over 100 courses that we analyzed. These 15 SAP online training modules were shortlisted based on the following four aspects:
What you receive from the course – knowledge, experience, study material, certification, downloadable materials, exercises, practice quizzes, risk-free guarantee, and alike
Knowledge and experience of the instructor
Ratings and reviews on the course by the students who have accessed this course in the past
As students, we understand the budget for you is a vital consideration. So, we attempted to pick courses that offer the best time value and the best value for money.
After we had our list of 15 courses ready, we presented these courses to some of the top recognized SAP experts globally. They screened the courses, and then we got the below-listed seven SAP courses online. So let us get started and address these courses one by one.
In This Article
Best SAP Courses Online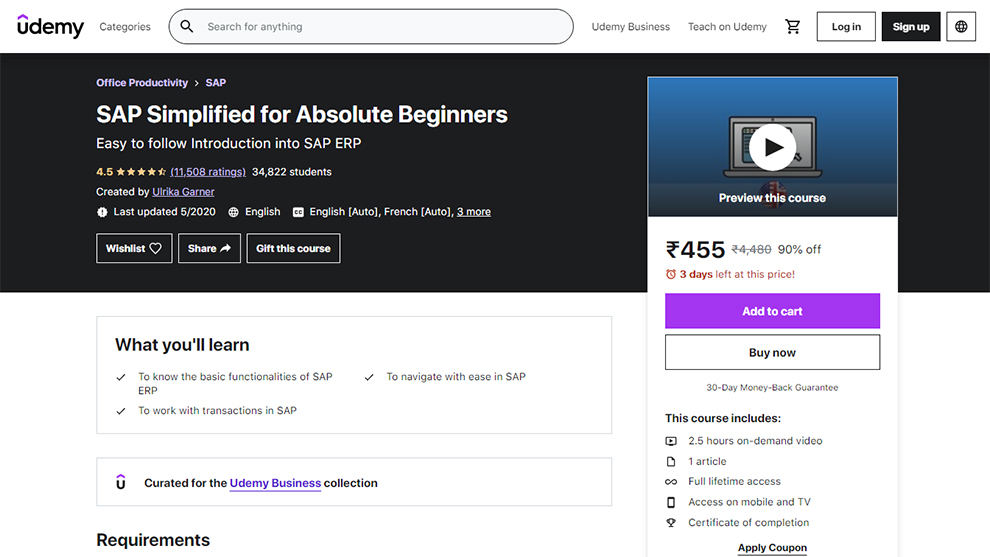 If you need a beginner-friendly course to learn SAP online, this can be your go-to pick. It teaches you everything that you will need for daily office work with SAP. Through this SAP certification online, you will familiarize yourself with the system's vital parts and understand them.
The instructor will take you from base to the advanced level in a very simplistic manner. These are not only theoretical SAP classes online. There is a proper balance of theory with practice to ensure whatever you have learned stays with you for long. Every little concept is demonstrated with a live system.
Rating
4.5
Paid
Yes
Return or refund policy
You have two options:

You can purchase the course, which comes with a 30-day refund policy.
Buy a subscription, which gets you this course plus top-rated picks in SAP and other popular topics. In this, you will get a 7-day trial. After which, you can end your monthly subscription, but there is no refund.

Enrolled
34,756 students
Certification
Yes
Instructor
Ulrika Garner
Duration
2.5 hours on-demand video
Cons

Audio quality is quite poor.
Quite basic SAP course online for advanced learners.
Learning Outcomes
There is a bundle of things you will learn with this SAP certification online. A few of them include:
Basic SAP ERP functionalities
Developing ease when navigating in SAP
Working with transactions in SAP
Prerequisites
As such, there are no prerequisites to take this SAP online course with certificate. Whatever you need is provided within the course.
Who should take this SAP course online?
This SAP certification online is perfect for:
Students who wish to learn about the SAP system from scratch
Beginners wanting to consolidate their SAP knowledge
However, someone with past IT knowledge or knowledge of any programming language will find this SAP online training relatively slow and basic.
Reviews by Navneet Narayan:
"
This is an absolutely amazing course for SAP beginner. I really loved the way the instructor carefully guided me through the course modules. I can rightly say that I am happy with this course.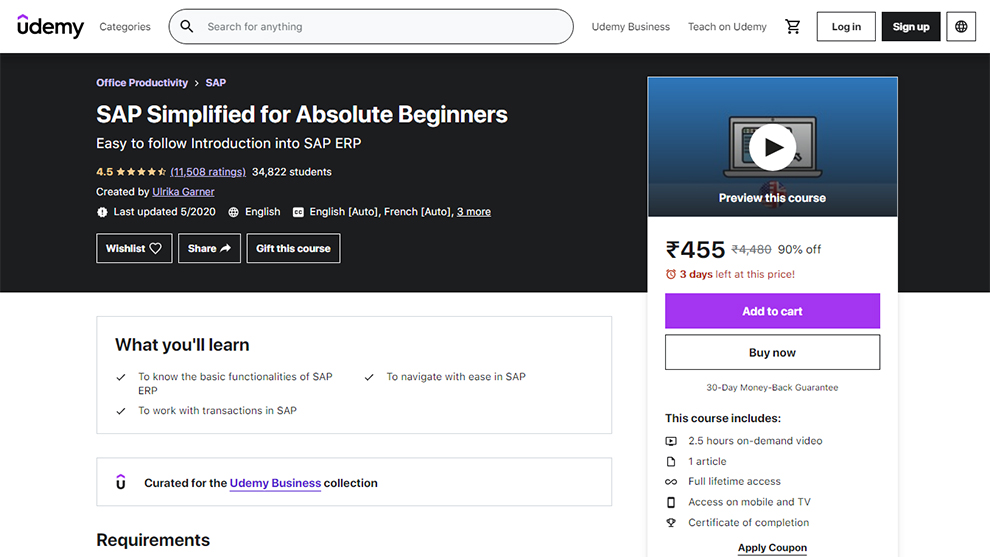 These are introductory-level SAP classes online that will teach you the fundamentals of the SAP system. In this SAP certification online, you will learn everything by seeing the instructor actually do it.
He will take you step-by-step to the ground up, starting from the absolute basics to ensure that you have a firm grip on using the SAP enterprise systems well.
| | |
| --- | --- |
| Rating | 4.5 |
| Instructor | Peter Moxon |
| Paid | Yes |
| Return or refund policy | 30-Day Money-Back Guarantee |
| Enrolled | 10,913 students |
| Duration | 2 hours on-demand video |
| Certificate | Yes |
| | In several instances, the course gets slow. Also, some parts of the course are outdated. |
Learning Outcomes
It is the best SAP online training program, which has an array of things for you to learn. A few of them include:
Thorough understanding of the SAP systems
Clarity on the fundamentals of the SAP systems
Navigating, searching, and getting help on SAP
Understanding the right way to run reports and export the data to MS Excel
An in-depth overview of the different SAP core modules
Customizing the SAP User Interface as and how you like it
Working with post transactions
Dealing with the master data
Application of the advanced tips, such as Pre-Populating fields to save you time and effort
Working with multiple sessions
Familiarity of the common icons in SAP
Working with drill-down and report layouts
Personalizing the desktop shortcuts and local layouts
Identifying the organizational structures of cost accounting like the country-specific charts of accounts, controlling areas, and controlling objects
Identifying the characteristics of sub-ledgers – asset accounting accounts payable and accounts receivable.
Prerequisites
These are beginner-friendly SAP classes online. Hence, there are no prerequisites for you to take this course. However, once you are through with the prevalently used features and functions of SAP, you will be comfortable working with SAP.
Who should take this SAP course online?
This best SAP online training will benefit everyone from a beginner SAP user, Project Manager, Business Analyst, or C-Level executive. It is the perfect guide to introduce you to the new SAP systems.
Reviews by Nomthandazo Maphisa:
"
This course helped me a lot to refresh SAP as it has been a long time since I have used SAP. Thank you!
Need the best SAP online training, which will rightly introduce you to SAP and enable you to work with SAP for the end-user? If yes, this is the course for you. The course will introduce you to all the vital parts of the system and help you understand them well.
One of the notable aspects of this best SAP course online is that you will grasp everything by seeing your instructor do it. Thus, giving you a practical insight into the things.
In this SAP online training, your learning journey will start from scratch. So, you will learn it all in the easiest to comprehend manner.
| | |
| --- | --- |
| Instructor | Justin Valley |
| Enrolled | 83,204 students |
| Level | Beginner |
| Paid | Yes |
| Certification | Yes |
| Self-paced | Yes |
| Offline viewing | Allowed |
Learning Outcomes
In this SAP online training, there is an array of things you will learn. A few of them include:
Knowledge of the basic functionalities of SAP ERP and use the enterprise software effectively.
Navigating with ease in SAP
Working with transactions in SAP
Thorough knowledge of commonly used SAP modules, including SAP Materials Management (MM) and SAP Sales and Distribution (SD)
Difference between master data and transactional data in SAP
Running and exporting the reports from SAP
Employing various search methods to find data
Prerequisites
This is a beginner-friendly SAP certification online. So, you do not need any prior knowledge for this course. Though it is a brief course, you still need time and motivation to take this best SAP online training.
Sign Up Here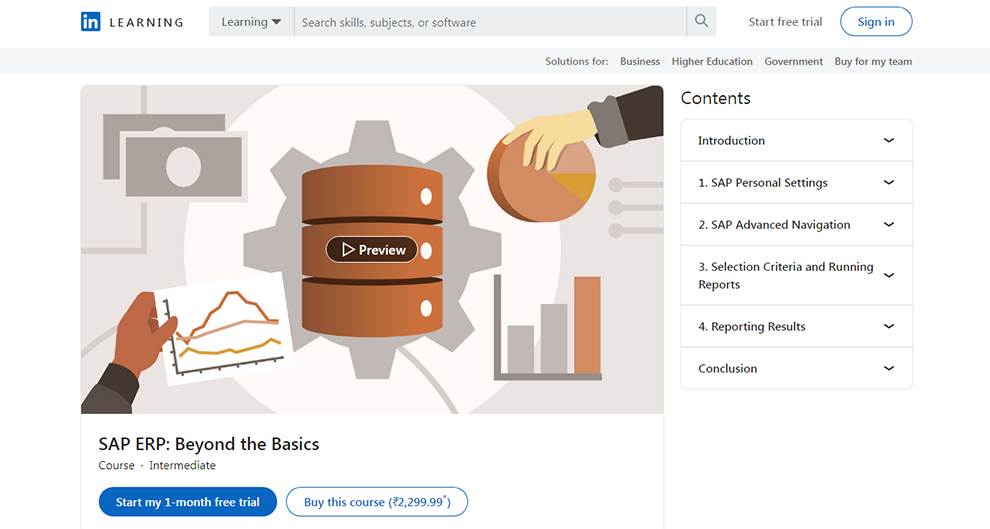 The next best SAP course online on our list is again presented to you by LinkedIn Learning or Lynda. Furthermore, it is an advanced course.
| | |
| --- | --- |
| Instructor | Justin Valley |
| Enrolled | 24,828 students |
| Level | Intermediate |
| Paid | Yes |
| Certification | Yes |
| Self-paced | SAP course online with flexible time |
| Offline viewing | Allowed |
Skills acquired
A few skills you will acquire with this best SAP online training are:
Related: Best Data Science Courses, SQL Classes
Prerequisites
As this is an intermediate-level SAP online training, you must either have clarity on the fundamentals or take the previous course before this one to firm your basics.
Learning Outcomes
This is undoubtedly one of the best courses to learn SAP online. Some things you will know with this SAP certification online course are:
Advanced tips to enable you to make the most of SAP
Knowledge of different techniques to define, automate, and deliver reports
Personalizing the SAP ERP layout to make it as per your liking
The right way to ensure your required tools and features are front and center
Making your system work in a manner, which is in keeping with the business goals
Learning to navigate with function keys
Using document flow
Searching with wildcards
Bonus SAP Online Training Classes And Courses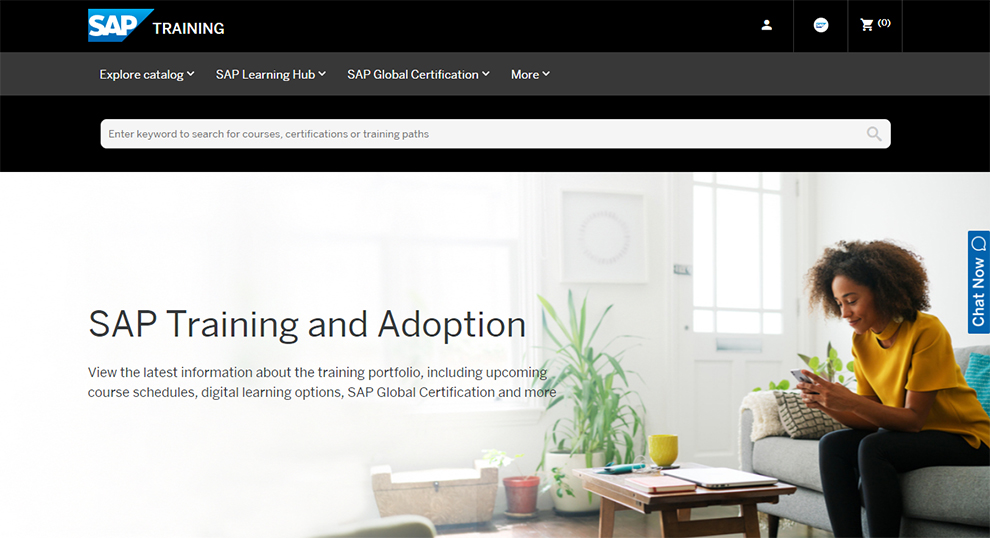 Would it not be best to learn about SAP from those closely working with SAP? If that's what you think, this is the platform. Here, you can find an array of options to pick and learn SAP online.
SAP Training has a vast training catalog, which includes training across all skill levels and learner roles. The experts have categorized their courses by business process and software solution, thereby simplifying it for you to navigate and find the ideal SAP online course with certificate.
A unique thing about this SAP certification online course is that you can either take it online or at any of their training centers. Even though you pick the learning format, you do not have the flexibility of time. These are not self-paced SAP classes online.
Hence, in these instructor-led classes, you will develop and maintain your SAP software skills with hands-on, collaborative learning. Overall, this course will help you stay current with your skills.
It is a certification course. So, you will be awarded the SAP Global Certification once you are through with the SAP course online. This course is a validation of your expertise and skills in the SAP ecosystem.
Here, we will enlist three of the most popular programs by SAP Learning Hub. All these three SAP classes online are trending globally.
Course 1 – IBP800 – SAP IBP for Response and Supply
This is a comprehensive and the best SAP online training, wherein you will acquire a solid understanding of the SAP IBP response and supply application. You will be learning with the instructor, and there are several hands-on practical exercises for you to understand better.
Course 2 – SIG121 – Introduction into BPMN 2.0 and SAP Signavio Process Manager
This is another course to learn SAP online, wherein you will be introduced to the SAP Signavio Collaboration Hub and the SAP Signavio Process Manager. In addition to the product introduction, the course also familiarizes you with the fundamentals of the model business processes, following the international industry standard BPMN 2.0 employing the features of SAP Signavio Process Manager.
Course 3 – DBW462 – Data Warehousing with SAP BW/4HANA – Delta from SAP BW 7.5 classic to SAP BW/4HANA
These SAP classes online are meant for experienced modelers, SAP BW users, and administrators who wish to work and run the SAP BW/4HANA. The objective of the course is to migrate an existing SAP BW architecture. Further, the course also teaches you things, such as leverage new data functions and models.
View Course Details
In addition to the above listed three courses, there is a bundle SAP online training program – SAP Blended Learning Academy. This SAP certification online program will prepare you for the SAP S/4HANA certificate simultaneously with your job.
It is an independent, virtual learning program, but you can also contact your SAP instructors when you have doubts or questions. The course also gives you the flexibility to collaborate with other learners.
In this course, the instructor follows a blended learning approach. So, you will reap the pros of several different learning methods and prepare for the SAP certification to work as an SAP S/4HANA consultant.
It is a comprehensive bundle package of SAP courses online, an amalgam of virtual training, SAP Global Certification program, and a subscription to SAP Learning Hub, wherein you learn everything in a two to four-month training program.
Wish to learn SAP online but do not want to spend a penny? If yes, we have the best SAP online training programs for you that are absolutely free. On the Open Sap Platform, you can find an array of SAP courses online.
They have the right course for all skill levels and experiences. You can browse through their wide selection of SAP programs and make your selection.
If you take their SAP online training programs in sequence, you will have to acquire the skills and build on them as required.
Now, we have arrived at the last SAP course online listing. But, like our previous listing, even this training platform has a variety of courses to learn SAP online.
SAP is a globally recognized SCM and ERM software provider. You can gather the requisite SAP skills and acquire SAP certification with the Learning Tree's SAP online training programs.
All the SAP classes online on their platform offer hands-on training and skill-building opportunity. You will learn about top skills, such as Business Objects, ABAP, and HANA, while simultaneously bagging a valuable certification with the right SAP online training.
Regardless of whether you choose to train yourself or your team, Learning Tree sure has the suitable SAP courses for you. You can find a range of SAP courses online that can suit both beginners and veterans. You can browse through their courses and make your selection.
You also might want to have a look at the Best Tableau Courses and SAP HANA Training Classes.
Sign Up Here
Conclusion
So, these are the top seven best SAP courses online. We have tried to include all the information pertaining to these courses in this guide.
However, certain aspects, such as the instructor bio, reviews on the course by the students, enrolment date, and the fee, are not covered in this guide, as most of these things are variable. But, they are vital aspects needed to make a wise decision.
So, to read through these aspects, you can check out the annexed link and enroll in the SAP online training program that best fits your needs and schedule. It could be a free course or a paid SAP online course with certificate.
Best SAP Online Training Classes
Reviewed by 10 SAP Experts 4.5