This Season, Make Sure You Know About These Resin Art Classes Online

Are you looking for a new hobby to feel productive in your leisure time? Or do you need a creative outlet for all the ideas in your mind? In any case we've got your back with resin art!
 
There are several affordable resin art classes online that you can easily take up. But before that, what's this Resin Art? Resin art is a distinctive style of decorative art work that does not involve the use of oil and acrylic paint or even brushes.
 
This art is made using a mixture that consists of two components including hardener and resin. These two components are mixed and hardened to form a smooth glossy finish on any surface. Epoxy resin gives a beautiful, glass-like, and waterproof finish to a surface.
Jump To
 
Whether you want to renovate ornamental items in bulk or create versatile resin jewelry, we have got something for all. At first, you might have some difficulty pouring the mixed resin, but once you go through a resin art training it will be uncomplicated for you.
 
This is a multi-skilled craft that will allow you to create a collection of decorative pieces with the help of some easy guidelines and simple tools.
 
Today this unique art is highly popular and anyone can learn it to design spectacular paintings and products for home decoration. The good news is that you can now get resin lessons from home.
 
After some good amount of research, we have shortlisted some resin art classes based on their learning outcomes, reviews, and creative quotient. Here, check them out:
 
11 Best Resin Art Lessons Online For Every Aspiring Resin Art Enthusiast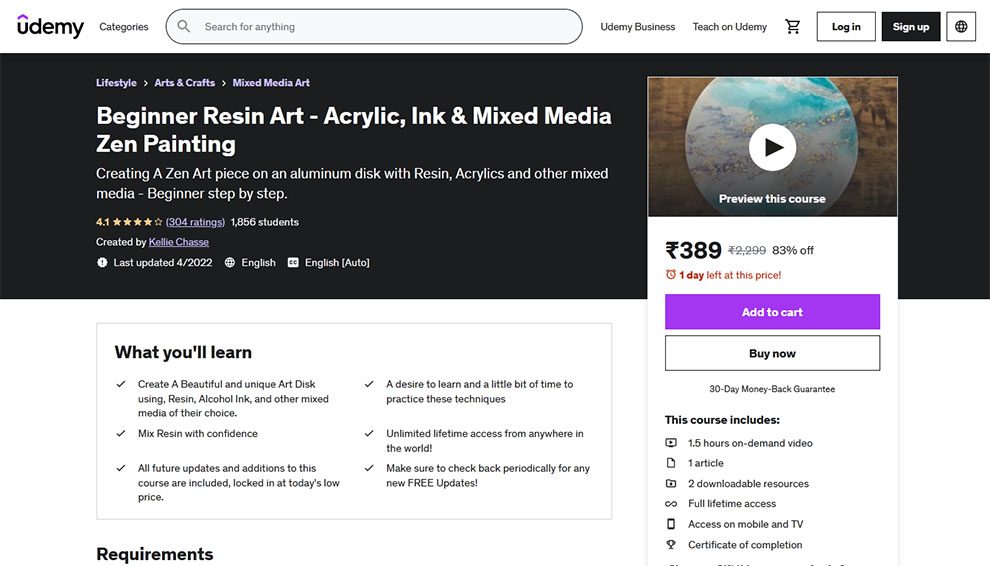 It's a really helpful course with easy-to-understand and step-by-step procedures to design your own Zen Disk.
 
If you are a beginner, then you won't regret signing up for this resin art course. It is led by the expert Kellie Chase, who will give you a real-time amazing experience throughout the course.
 
After this course, you will be able to design Zen art with resin, mixed media, and alcohol ink. You get to pick your favorite colors and show off your creative skills. Remember to check the course regularly for any new updates.
 
| | |
| --- | --- |
| Rating | 4.1 |
| Paid | Yes |
| Return or refund policy | 30-Day Money-Back Guarantee |
| Enrolled  | 1,853 |
| Duration | 1.5 hours of demand video |
| Certification | Yes |
| Access | Access on mobile and TV |
| Instructor | Kellie Chasse |
Learning Outcomes
To create a decorative art disk and tile with the use of alcohol ink, resin, and other mixed items. You can pick your favorite color combinations for the craft.
To try different resin art from anywhere across the globe with lifetime access to the course.
Take this professional resin art course online to learn how to confidently mix the resin and add pigments like acrylics, inks, etc.
To complete your beautiful piece of art with a hanger and cork backing.
Prerequisites
Just a zeal to learn
Sufficient time to practice the procedures and techniques described in this amazing course.
Who should take these resin art lessons?
Anyone who desires to be crafty and learn resin art.
Anyone who wants to create some spectacular decorative pieces to sell and make a business.
All levels of creative people and painters looking to create Zen art.
It is best for students taking art therapy who needs a fun way to express themselves.
Reviews by Boyka B.
"
Like the course very much. Easy to understand with clear explanations. Focusing on the material and step by step teach how to do this beautiful design. Thanks!

 
This is an easy-to-follow course for beginners as well as intermediate learners looking to have fun while creating earrings and artsy pendants.
 
In this resin art course, you will get familiar with simple tips and methods to make your beautiful jewelry. It will guide you on how to easily mix the resin and create decorative art pendants.
 
You will find out about all the materials and skills that you will need to make unique pieces of jewelry.
 
| | |
| --- | --- |
| Rating | 4.6 |
| Paid | Yes |
| Return or refund policy | 30-Day Money-Back Guarantee |
| Enrolled  | 1,510 |
| Duration | 1-hour on-demand video |
| Certification | Yes |
| Access | Access on mobile and TV |
| Instructor | Kellie Chasse |
Learning Outcomes
This resin art training teaches you to be creative and use resin to make unique and eye-catching earrings and jewelry pendants.
To tint resins using various mediums.
Prerequisites
Get a printable PDF list stating all the materials and basic supplies required for this class.
Get required supplies and set of tools for any known art supply company.
Get familiar with the features (like auto-play, help portal, or video speed controller) with Udemy Dashboard so you can easily follow this course.
Who should take this course?
Anyone who wants to try resin jewelry art for the first time.
Any beginner painter who is looking to be crafty can also take these resin art classes online.
Those students who want to make resin art and start their own business.
All art therapy students who need an enjoyable way to be creative.
Reviews by Dotty W.
"
The instructions were very clear and the documentation was an added bonus.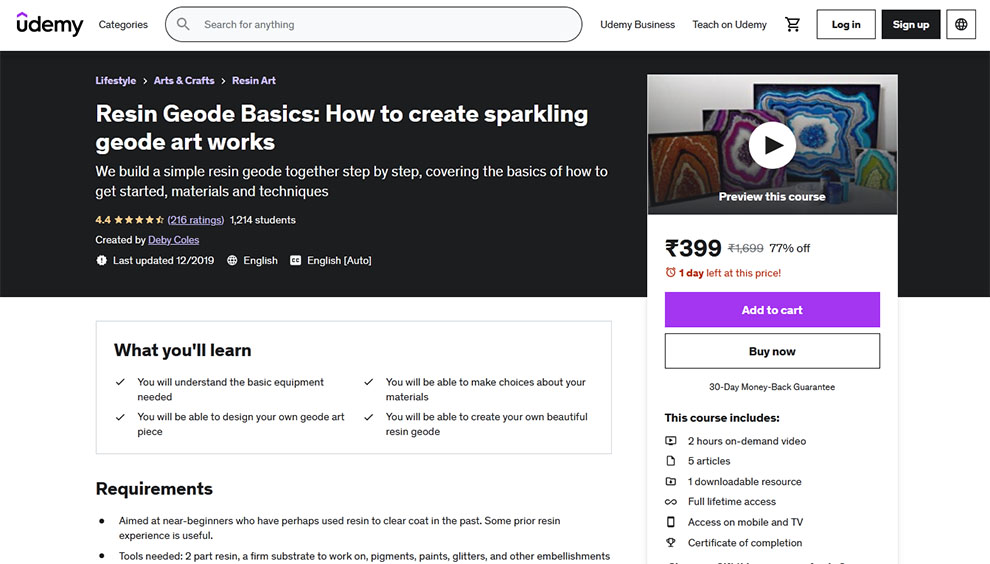 Are you enthusiastic about taking a resin art course online? Choose this simple course that comes with a step-by-step video guide to creating resin geode.
 
In this course, you can learn the techniques and materials from the basics. It will help you create amazing resin geode art.
 
The professional instructor will cover several topics in this online resin art training. This course also tells you about the supplies and safety tools required for this craft.
 
| | |
| --- | --- |
| Rating | 4.4 |
| Paid | Yes |
| Return or refund policy | 30-Day Money-Back Guarantee |
| Enrolled  | 1,210 |
| Duration | 2 hours of demand video |
| Certification | Yes |
| Access | Access on mobile and TV |
| Instructor | Deby Coles |
Learning Outcomes
To make your unique resin geode.
To design a beautiful piece of geode art.
To understand the basic equipment required resin art
This resin art course also guides you to pick materials as per your choice.
Prerequisites
All the recommended equipment for safety, such as gloves and other essentials.
Those who are sensitive to fumes will need a respirator before starting these resin art lessons.
All the necessary tools such as paints, two-part resin, pigments, glitters, a quality substrate, and your favorite decorative materials.
Basic items to make your resin work such as sticks, mixing cups, measuring cups, stirs, and more.
Who should take this course?
It is a helpful course for beginners who have never worked with resin geodes and looking for professional resin art training.
Those students who are creative and want to have fun trying new art.
Those artists who have skills in acrylic pouring and are crafty about learning resin art.
People with some previous experience like advanced students can also go for this resin art course online.
Reviews by Dana A.
"
Instructions are clear and direct, she covered all the topic. Instructor is really nice!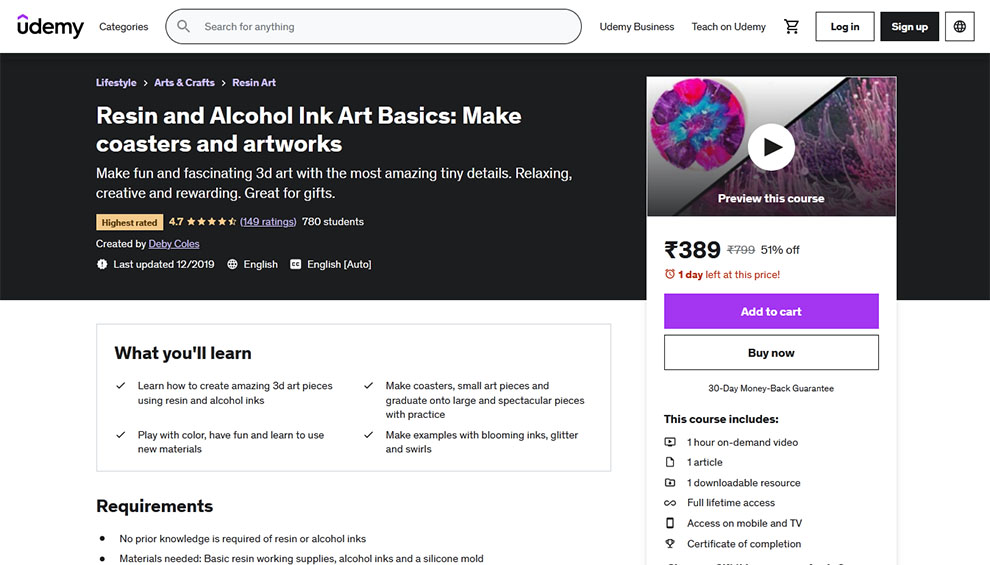 This is a fascinating course that you can take online from anywhere in the world. It will allow you to create incredible 3D art by using resin and alcohol ink art. It is not only a relaxing practice but rewarding as well.
 
With this resin art class, you can create beautiful art pieces called the resin petri and sell them. It goes for building pretty decorative pieces like pendants, paperweights, buttons, larger artwork, and coasters. By selling these you can make some extra bucks too.
 
| | |
| --- | --- |
| Rating | 4.8 |
| Paid | Yes |
| Return or refund policy | 30-Day Money-Back Guarantee |
| Enrolled  | 772 |
| Duration | 1 hour on-demand video |
| Certification | Yes |
| Access | Access on mobile and TV |
| Instructor | Deby Coles |
Learning Outcomes
With these resin art lessons, you learn to create incredible 3D resin artwork with alcohol inks.
To have fun with color and understand how to be creative with new materials.
To create mini pieces of art, and coasters and gain the expertise to create large pieces.
To create beautiful resin art using glitter, swirls, and blooming inks.
Prerequisites
Some useful materials needed for this resin art class include alcohol inks, a silicone mold, and basic resin supplies to work on.
Who should take this course?
This course is perfect for people with no previous knowledge of resin artwork and alcohol inks.
People who are crafty and looking to showcase their creativity using new materials.
Anyone who is looking for a fun hobby to enjoy their leisure time can join these resin art classes online.
Those who like to use their creative skills to make some business by selling their resin ink art.
Reviews by Tassi H.
"
The course was very informative & helpful. It told me everything I needed to know about starting to make resin petri art including problems that may arise and how to fix them. I had a lot of fun with this course.

 
If you want to learn the art of making solid resin sculptures and art pieces, go for this helpful course. Here you can learn to create artworks using embellishments like glass, glitters, and crystals.
 
In this virtual course, the instructor has discussed all the safety techniques and supplies required to make resin geodes and agate slices. This resin art course will provide you with enjoyable lessons about how to create solid resin sculptures.
 
| | |
| --- | --- |
| Rating | 4.6 |
| Paid | Yes |
| Return or refund policy | 30-Day Money-Back Guarantee |
| Enrolled  | 724 |
| Duration | 2.5 hours of on-demand video |
| Certification | Yes |
| Access | Access on mobile and TV |
| Instructor | Deby Coles |
Learning Outcomes
It will guide you on how to create amazing artwork with resin using the safety methods and basic supplies.
This amazing resin art training will help you understand two methods for making a mold for resin.
To create edges in three different styles.
To add precise definition and additional fine lines to your piece of art.
To display your fascinating artwork
How to give your art piece a nice depth by building resin layers on it.
Prerequisites
Just some basic knowledge about how to use resin.
Get all the materials needed for making the mold, like resin colorants, two-part resin, crushed glass, crystal chips, and glitter. Before you begin your resin art classes online you can find the necessary materials at affordable rates in your nearest DIY shop.
Who should take this course?
Any creative artist who wants to experiment with resin and create something new should take these resin art lessons.
Anyone who already has some experience in resin geode basics and wants to utilize their skills to create something new.
Reviews by Maryam R.
"
The instructor is an amazing teacher. explain everything in detail and clear.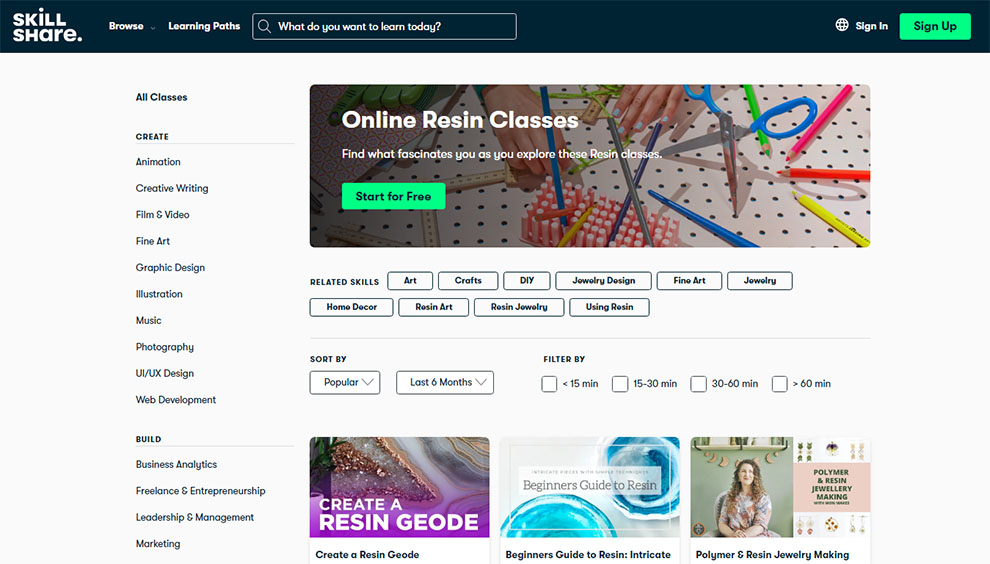 Skillshare is an amazing platform that inspires people to sharpen their creative skills. It offers a large number of creative classes like the resin art courses, painting classes etc..
 
With this platform, you can know more about resin and its creative powers. With their easy-to-understand tutorials, you can give life to amazing resin art projects.
 
There are so many new techniques and methods that you can learn in their resin art training. It doesn't matter if you are a beginner or already know how to work with resin, their step-by-step online tutorials can make you a professional artist.
 
With their simple and short lessons, it will be easy for you to upgrade your skills. Just hurry up to sign up for the skillshare resin art classes online.
 
Here is a list of numerous courses that this platform offers: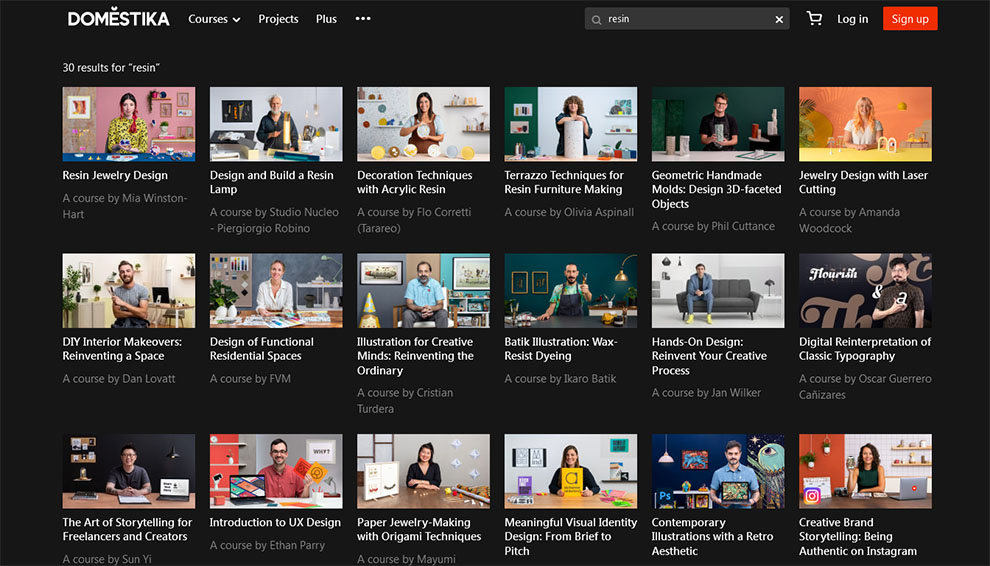 Domestika is the best community platform for people who are crafty/creative. It provides an array of creative lessons like the Resin art course online.
 
Here you will get tutorials from experts in resin artwork. The fact that you can learn at your own pace and convenience is the best part about this course. Learn about the valuable skills and useful techniques from professionals in the art of resins. Connect with a community of passionate and creative people from across the globe.
 
You can take the resin art lessons from helpful and high-quality videos offered by Domestika. Don't worry about missing out on any tiny detail or step. You will have a lifetime of unlimited access so you can replay the video tutorials as many times as you want. You can become the master of creating amazing pieces of resin.
 
If you join the pro or plus version of their courses, you can earn a certificate on the completion of the course. So, hurry and book a resin art class with Domestika.
 
Here we have listed a few popular classes that Domestika offers: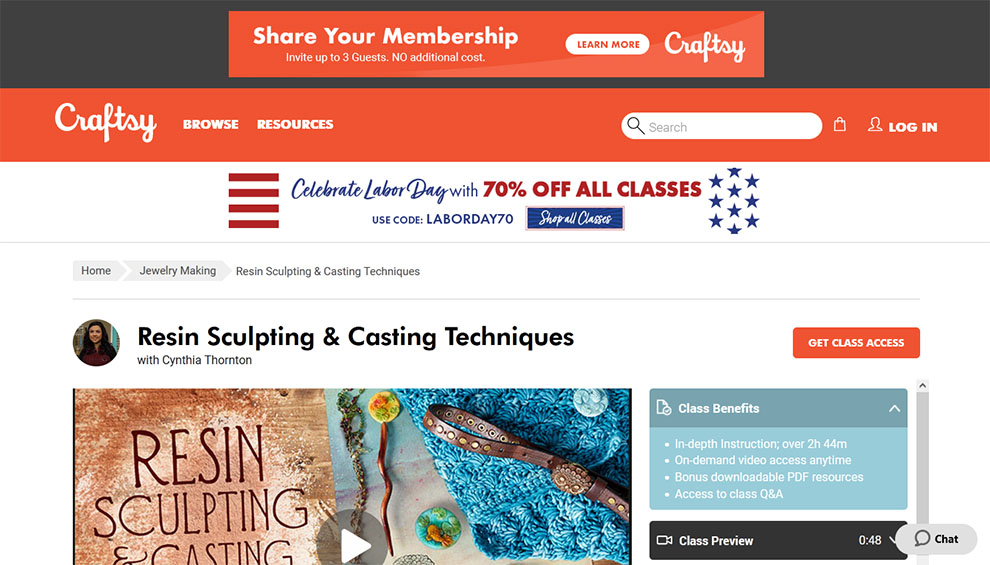 Looking forward to taking an amazing resin art course online? Sign up for this helpful course today. It will allow you to get started and understand the basic resin artwork with the directions from expert professionals.
 
In their videos, you will discover the techniques and methods of how to craft resin art in different shapes and sizes. Book a free trial for resin art classes online with Craftsy.
 
On their online platform, you can find out about effective tips for smooth, consistent, and improving your resin art results. If you want to reap the benefits of resin sculpting like a pro, then learn to build a sealed online with the paints, and improve your clay.
 
They have professional tutors who will guide you at every step until you can get eye-catching results.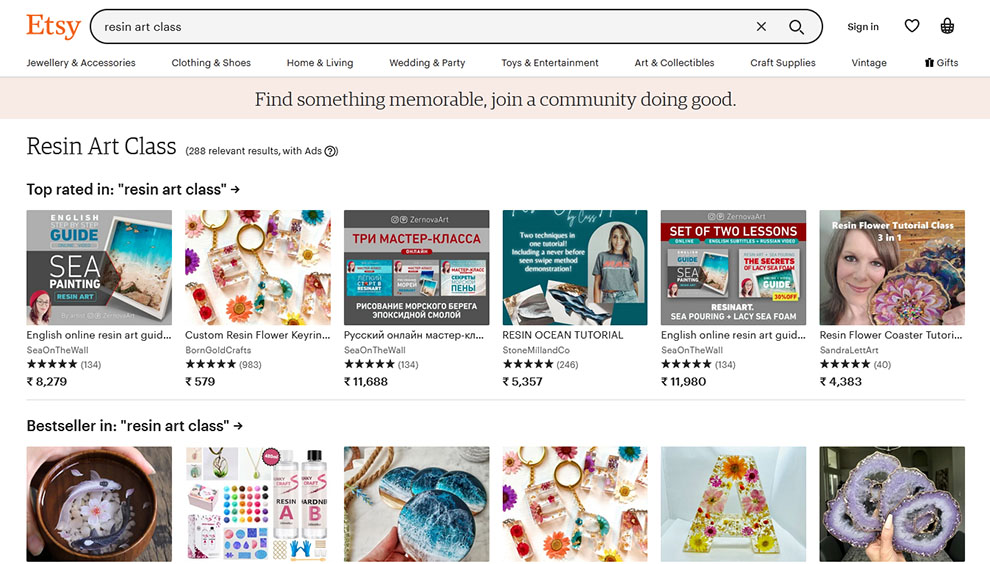 Etsy is an online market area that welcomes several people who want to create, buy and collect attractive art pieces.
 
It provides the best quality Resin art training, with the help of several different courses. They have a dedicated team of professionals who are always ready to assist you in any type of project. Here check out the various options that you can find and sign up for on Etsy.

 
This is an ultimate learning platform offering high-quality resin art lessons offers a resin learning package including geode resin art. The package consists of two classes which are guided by the professional Agner Rup.
 
Your resin art training will start by learning about the resin basics and a mini resin geode. You can get a PDF of the outline for the entire class on their online website. It is the best way to learn what you'll need and what mistakes to avoid.
 
After this, you will move on to the advanced level resin art class where you will learn tricks for building beautiful gold and white geode. On the completion of the course, you will get a valid certificate and become a part of their Facebook community.
 

 
This masterclass is guided by Sheri Vegas who is a trusted specialist in resin art. So it's the perfect  course for you if you are a creative enthusiast and looking to create some fun art.
 
There is no need to worry if you have no prior experience with resins. This incredible course consists of 7 modules of resin art classes online. These sessions are pre-recorded giving you an ultimate understanding of how to use resins.
 
As a beginner, you will also get to know about the errors to avoid wasting costly resin. You can master your skills and learn new techniques to create eye-catching pieces of resin art. Join this expert resin art course online today to get a fun experience and improve your artistic skills.
 
Other Creative Classes: Candle Making Course | Soap Making Class | Pottery Training | Leather Craft
 
Conclusion
All in all, resin art is a pretty popular hobby with a wide number of options that consumers can choose from. It's a beautiful kind of art that can be converted into a lucrative business. So, if you are an artist and looking to make some money by using your skills, you should certainly go for Resin art classes online.
 
For example, you can go for Resin and Alcohol Ink Art Basics: Make coasters and artworks. This course has got the best student reviews and can be helpful to reap some good money. You can not only create ornamental coasters and resin artworks but sell them at a good price as well.
Resin Art Classes Online
Reviewed by 8 Resin Artists 4.7