Reading Time:
11
minutes
Industrial computers are controlled with PLC – programmable logic controllers. Here are five courses to master PLC software and enhance your operational efficiency. Learn 5 PLCs in a Day with Udemy's course listed on top.
PLC is widely used in an array of manufacturing and process industries. Hence, in addition to having adequate knowledge about connectors and wiring, a student interested in this industry should receive thorough PLC training online.
Most industrial computer control systems utilize ladder logic as the primary programming language. Hence, you need to have basic, intermediate, and advanced knowledge of ladder logic programming. Now, how do you attain it?
For this, you need to enroll yourself in a good course for PLC programming. Which course, you may ask? Here, in this article, we tell you exactly that. However, We do not have any recommendations within the PLC programming course online free category.
Now, the big question is, how did we select these PLC courses? So, we scoured the internet looking for the best paid and free courses for PLC. We kept in mind the course offerings, reviews, cost, duration, and credibility of the platform & instructor before selecting the courses.
Following our research, we shortlisted 10 courses. Then we presented these courses to some of the renowned PLC experts from around the world, and from there, we came up with the list of the five best courses.
Now, let us get started and address these courses one by one.
PLC Training Online – Best Resources To Look Forward To!
5 Best PLC Programming Course Online Free & Paid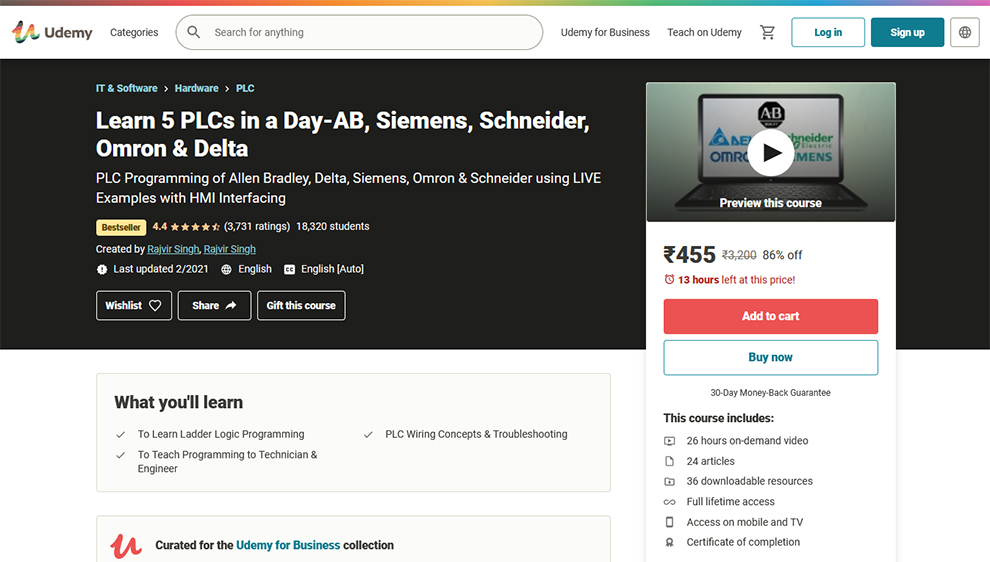 Details about the course
This course by Udemy has a rating of 4.5. With this course, you learn the correct way to troubleshoot a process. Further, you will also understand the application of tools, such as ITS PLC.
In addition, this course for PLC programming training has dedicated hardware trainers that have made this class a very rewarding experience. Your instructor for this course, Rajvir Singh, understands authentic learning comes from doing.
This is why he has included various exercises and quizzes that can help you assess and evaluate what you have learned.
So, be assured, there is no unnecessary and meaningless mugging and cramming involved here. Whatever is taught in these PLC programming classes is supplemented with projects, exercises, and examples.
Through this course, your instructor aspires to provide you access to top-notch education on industrial automation control systems utilized industry-wide from the comfort of your home. This course will help you troubleshoot systems fast to lower the downtime.
What will you learn?
There are a couple of things that you will learn from this course. Four significant things that this PLC automation training course will teach you are:
Programming to Technician and Engineer
Troubleshooting
Learning Ladder Logic Programming
PLC Wiring Concepts
What do you need?
This is a beginner-level course. So, everything that you need is included in the course. This PLC training online requires PLC software, but that, too, is a part of it.
Why this course?
This course comprises over 230 video tutorials, which make up for over twenty-six hours of on-demand video. Further, the instructor regularly takes doubt-clearing live classes, wherein you can get all your problems and doubts cleared.
These online PLC classes have ladder logic programming along with free PLC Simulation Software for Practice. In addition, you also get 24 articles and 36 downloadable resources. The good thing about this course is that whatever resource this course comes with has lifetime access.
It implies that when you pay for this PLC programming course online today, you can come back anytime in the future and view these resources.
It also means that if new updates and resources are added to the course, you will have access to updated free PLC training, too, at today's one-time fee.
Further, every resource and concept covered in the way is crafted to enable the students to grasp the knowledge of the systems and utilize revolutionary thinking to ensure that both their productivity and profitability are high.
You can watch this course on the go on your mobile or TV. After you are through with this PLC programming course, you will bag yourself a certificate of completion.
Lastly, this is a zero-risk course. It implies that Udemy's 30-day moneyback guarantee backs you. So, if you do not like what you get, you can return it and request your refund.
Who should take this course?
This programmable logic controller training is ideal for technicians, engineers, and PLC programmers.
 
Review Fernando Ramirez:
"
Great resource to have in your arsenal. My first intro to PLCs. I recommend this to anyone.
Details about the course
The runner's up course on our list is again an Udemy course. It is a bestseller PLC programming course and has a rating of 4.6.
This course is meant for beginners who wish to get better equipped with PLC and its lessons. From basic to advanced, all the topics of PLC are included in this course.
What will you learn?
It is one of the internet's top-rated PLC training courses, so you genuinely have a lot to learn here. Some of the key things that this PLC course will teach you are:
Designing a PLC program from the base up.
Familiarizing an amateur with ladder logic, PLC programming, and the interior workings of a standard HMI.
Understanding of the key difference between analog and digital signals
PLC training online will also teach you the distinction between analog and digital signals, and bringing them into PLC, processing them further, and sending them back.
Having a thorough knowledge of the standard and elementary control techniques to handle things, such as level control, HOA control, pump control, and PID control loops.
Knowing-it-all about the HMI development
Having a complete understanding of the working of the HMI program
Knowledge of notification and alarm programming and the necessary consideration to operator and safety usability.
What do you need?
We regard this as one of the top courses for PLC programming training because no software, experience, or hardware is necessary for you to take this course.
However, if you need to master whatever you have learned in this PLC programming course, you should practice all that is learned on live PLC or simulator. This can help you get better and learn faster.
Who should take this course?
This is a perfect course for anyone who wishes to acquire knowledge of PLC and get familiar with ladder logic.
Why this class?
These PLC programming classes come with zero risks. It is because you get Udemy's 30-Day moneyback guarantee with the course. So, if you do not like what's been taught in these PLC classes, you can reach out to Udemy and request your money back.
Further, it is a comprehensive course, which comprises 10-hours of on-demand video. The course also has nine articles and three downloadable resources.
Every resource included in this class comes with lifetime access to free PLC training with newer updates. So, you can pay for them today and have every resource accessible even years from now.
Further, you can view all the new updates from your instructor Paul Lynn in this course on your TV and mobile. After you are through with this PLC programming training, you will be rewarded with a certificate of completion. This is a shareable certificate, and you can download, print, and include it in your CV or share it on your LinkedIn to better your job prospects.
Details about the course
The next PLC training course on our list is a course by George Brown College. It is a certification course, where you will be provided with the basic and vital skills needed to work with the programmable logic control systems present in manufacturing and industrial setup.
The GBC simulators will metamorphose your computer into a virtual PLC. The PLCLogix 500 simulation software is crafted to emulate the Allen Bradley Rockwell PLCs series.
The PLCLogix 500 simulator simulates the PLC, the electrical components employed in PLC programming and operation, the ladder rung editor, and everything else required to learn PLC operation and programming.
The PLC programming training simulation also ensures that the program is 100% tested offline before online entry to run an online 'real-world' environment and eliminate the safety concerns and potential damage to the actual equipment.
To know more about the certification, you can check out plctechnician.com.
What will you learn?
In these PLC programming classes, you will learn about the different Programmable Logic Controllers systems, including analog and discrete devices. It includes PLCLogix 500 simulation software included in it. Their simulation software simulates the Rockwell Logix 500 series of PLCs.
What is included in the PLCLogix 500 PLC simulator?
This PLC training online course's simulator has:
Supremely user-friendly graphic user interface
One-click branches and rungs addition in the ladder diagram
Properly arranged element bins for seamless selection from the available devices
Necessary device settings and details entered by clicking on the placed device.
Direct input for masks, sequencer tables, data tables, files, and others
Run time counter and rimer values depicted during the execution phase
Resizable Windows, depicting input/output status and the program execution side by side.
Why this course?
We think of these PLC programming classes as one of the best because these are designed in a manner that you can take the sessions on your schedule. It is a self-paced course. So, students enjoy due flexibility throughout the course.
An interesting thing about these classes is that they come with nineteen modules. These modules come with an array of mini audio lessons, animations, text, review questions, practice exams, quizzes, and pre-built lab projects.
So, the good thing about this one of the top-rated PLC training courses is that you will not be cramming the concepts mindlessly. You will practice every concept in the class, and you will also be given an array of homework exercises to work on the emulators for being thorough with every concept.
More than 250 pre-built lab projects are included in this course, enabling you to work on your writing testing, programming skills, and debugging the PLC programs.
Further, in this PLC programming course, you get a wizard or a virtual tutor across the labs to provide troubleshooting tips, demonstrate circuit operations, and address the different instructions and commands needed for particular labs. The role of this wizard is to walk you through the lab project literally.
What's more? Beyond the curriculum, this one of the best PLC training courses to give you access to supplementary learning resources online. So, you can find some tutor-focussed tutorial forums, tutorial videos, topical exercises and examples, and the necessary details on the online exam center.
Applications included
In this course, ten 3DWorlds are included, which emulate an array of service and manufacturing applications. These are listed below:
Batch Mixing
Bottling Line
Dual-Compressor
Elevator
Moving Car Wash
Silo
Single-Compressor
Stationary Car Wash
Traffic Lights
Warehouse Door
Review Contimi Kenfack Mouafo:
"
Best way to start learning PLC from scratch. Explanations and walkthrough are really helpful and make it seem easy. Thank you very much!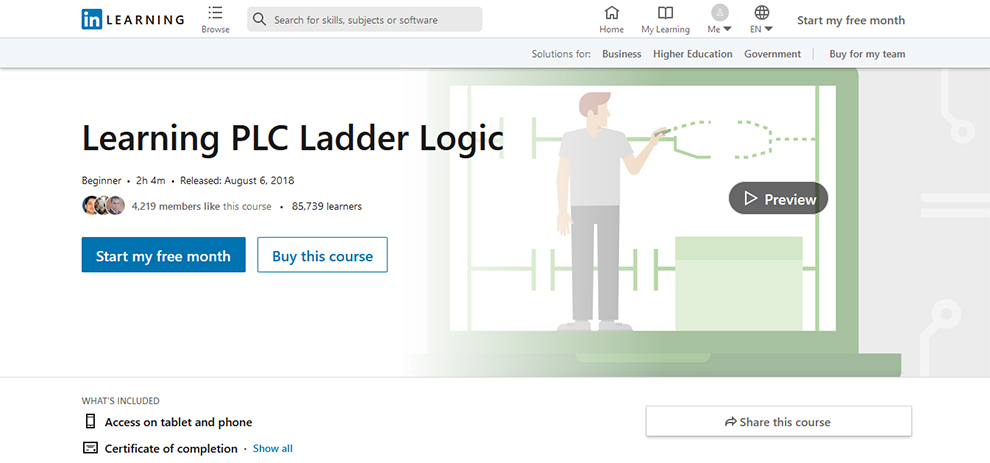 Details about the course
At number four on our course list is the PLC training online by LinkedIn Learning. Over 103,000+ students have taken this course, and they recommend the same to you.
What do you need?
This is a beginner-level course. So, as such, you do not need any prior experience or knowledge to take the course. This is a 2 hour and a 4-minute long course. So, you need to spare these two hours to take this programmable logic controller training.
Why this course?
This course deserves a mention because it is self-paced, and you can view it on the go. The course can be watched on your TV, tablet, and mobile. So, how, when, and where you like to complete this course is entirely your choice.
Another incredible thing about these online PLC classes is that they fetch you a certificate of completion. This is a shareable certificate. So, you can download it from your LinkedIn dashboard under the 'Licenses and Certificates' section and share it on your social media to boost your PLC skills to your friends and followers and also land a job more easily.
What will you learn?
With the advent of industrial automation technologies, manufacturing processes have been streamlined and become faster and more efficient.
Typically, PLC is employed in industrial automation, and several of the industrial computer control systems utilize ladder logic as the primary programming language.
Hence, you need to have knowledge of ladder logic programming to take this brilliant PLC programming training by LinkedIn learning.
Zahraa Khalil (the instructor) will present to you all the fundamental concepts through this course, such as counter instruction rung operation, output instructions, and timer concepts.
In addition, the course also covers the key kinds of inputs employed in ladder logic programming. Lastly, to give you a gist of the real world with programmable logic controller training, Zahraa will share real-world applications and exercises with you. These can help you be thorough with whatever is learned in this course.
Details about the course
The last PLC programming course online on our list is the Udemy course, part 2 of the second course listed above. So, naturally, in this course, too, you will be learning with instructor Paul Lynn. T
his is one of the top-rated courses with a rating of 4.7. Over 25,000+ students have liked and showed their appreciation for this course.
In this course, the PLC training online will acclimate you to real-world problems. So, whatever theoretical concepts you learned in Part 1 of the course will be further built upon in this course.
In addition, there will also be some newer concepts included in this intermediate-level course, which will take you closer to solving industrial problems associated with real-world ladder logic applications.
In these online PLC classes, you will be using the RSLogix 500 Emulate, RSLinx, and RSLogix 500.
So, Paul will familiarize you with all the programs' specifications and then help you create each one from scratch. Lastly, you will run every project and debug as needed to move ahead to the next part.
Why this course?
This is the best PLC programming course online for the many benefits you get with this course. It comes with Udemy's 30-day moneyback guarantee. So, it is a no-risk course.
You can enroll in this course; if you do not like, what you receive from Paul Lynn, you can let Udemy know about it, and you can seek your full money back within 30 days.
Further, this is one of the most comprehensive and practice-based PLC training online. It comes with eight hours of on-demand video, six articles, and twenty-nine downloadable resources.
Everything that is a part of this course comes with a lifetime guarantee. So, whatever new is updated in the course, even ten years down the lane, will be accessible for you and you will get up-to-date free PLC training. It is a self-paced course, which can be viewed on the go on your TV and mobile.
Lastly, upon successful completion of this course, you will fetch yourself a certificate of completion. This is a shareable certificate. So, you can download, print, and share on your LinkedIn or include in your CV. Either way, having this certificate will heighten your chances of landing a job in the field.
What will you learn?
In this PLC programming training, there is a lot for you to learn. Some of the things that this course will teach you are listed below.
Originating complex ladder logic applications
Practical exposure in developing original, unguided ladder logic.
Building on the lessons learned in the beginner-level course that you will take before this.
Creating real-world solutions to the problems depicted across the course.
Translating a description of the process to a functional, logical solution.
What will you need?
There are a few prerequisites to take this intermediate-level PLC training course. First things first, before you start with the course, you should have completed the "PLC Programming from Scratch (PLC I) course."
Secondly, you will be using Microsoft Excel in this course. So, you must have this software in your system, and a basic familiarity will be helpful.
Who should take this course?
This is an intermediate-level course with online PLC classes. So, the instructor does expect you to hold basic PLC knowledge before getting started with it.
So, if you have taken their refresher course or if you are through with the basics, this can be a great course for you. Further, to take this course, you must be familiar with RSLogix 500. So, the trainer can directly take you into the programming world of PLC training online.
Review Ioannis Papadakis:
"
Amazing course! Some very useful instructions in the beginning and then the big challenge of programming all those senarios. Almost all of the course is about how to programm the given senarios. Very good practice if you try them on your own, one by one, until they work as requested. It is very enhancive for someones knowledge, watching how the instructor is doing it.
 
Sign Up Here
 
Conclusion
So, these are the five best courses with PLC programming training online. Combining together both PLC Fundamentals (Level I) and Applied Logic (Level 2) by Udemy will provide you with a complete learning experience.
Happy Learning!