Reading Time:
8
minutes
I bring you my personal favorite courses for learning about operating systems. Dig in to know everything about the topic OS, starting from course learning outcomes, prerequisites, cost and job perspectives.
I have been immersed in the world of operating systems for over a decade and have come to appreciate the wealth of online resources that shaped my understanding of the domain and continue to support me on my journey as an OS professional.
In this guide, I will present before you five operating system courses online that have proven invaluable in boosting my skills and accentuating my understanding.
Whether you are a professional hoping to revise or relearn some intricate content or a novice eager to delve into the intricacies of OS(s), these courses will serve the purpose. Let us dive right in.
What Are The First Few Things I Notice When Selecting A Course?
There are 100s of courses on operating systems on the internet. So, the purpose of my guide is to only provide you with the alternatives that genuinely serve the purpose.
Hence, I am cautious during the selection process and only pick the classes that meet the following criteria:
1. They must be up-to-date: Many updates come in this domain, and several contents lose their significance. So, I made it a point to pick the courses constantly that undergo regular amends by their respective authors.
 
2. They have good reviews and ratings: While I personally previewed all these five courses, I ensure others found them equally beneficial before putting them on the recommendation list.
 
3. Instructor background: Many of these platforms have courses from amateurs who take 4-5 courses themselves and compile them into one without any formal knowledge in the domain. I am not being salty, but you can clearly make out when an instructor does not have the necessary knowledge of the subject. So, I always ensure that the options I pick come from experienced educators.
Students Enrolled: 410,142 already enrolled
Rating: 4.7 (25,505 reviews)
Certificate: Shareable career certificate from Google
Accredited: No
Key Highlights:
This course equips you with the skills to configure disk partitions and file systems, establish user accounts, manage access permissions, and handle software installation, configuration, and removal on both Windows and Linux operating systems.
Moreover, you will gain proficiency in navigating the graphical user interface and command-line interpreter to explore the filesystems of both Windows and Linux. All of this seemed pretty helpful for me, and I hope likewise for you.
What I particularly like about this course is you study through demonstrations, video lectures, and hands-on-practice material. It adds to the intuitiveness and makes it likable.
Further, it takes you through critical tasks, such as managing the users and software and configuring hardware, which comes in handy for me in the professional setup.
This is a 100% online course. So, you can study at your pace and learn at your schedule. Further, upon completing this course, you will be lauded with Google Career Certificates.
For the completion of this Coursera operating systems class, you will have to spend thirty-three hours. Though, this course is available in English. It has subtitles in other languages, such as Vietnamese, Spanish, Arabic, Portuguese (European), Portuguese (Brazilian), French, English, German, Russian, and Italian.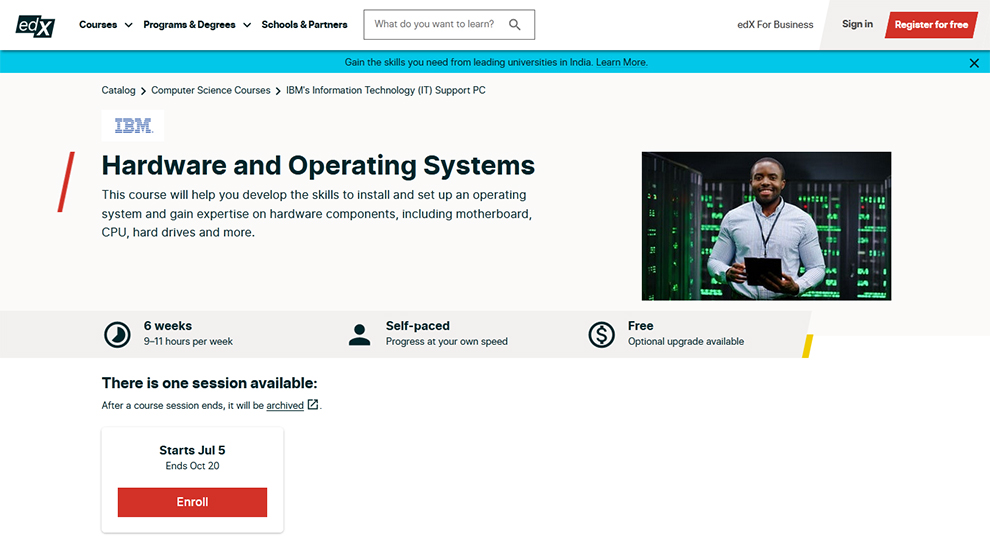 Certificate: Yes, if you pay for the course
Accredited: No
 
Key Highlights:
I am a sucker for free online OS courses. So, this one prepared, drafted, and imparted by IBM experts caught my eye. While the course is free to take, the no-cost version has limitations. You do not get a certificate and access to graded assignments.
But for an individual hoping to learn, it can still be a great resource, as upon completing this course, I personally gained a substantial understanding of the fundamental principles and concepts in IT.
Courtesy of the real-world inspired projects and hands-on exercises, I have acquired job-ready skills that boost my confidence to be a part of the industry.
It starts by taking you through the intricate workings of the Microsoft Windows operating system, helping you explore its key components and functions.
Further, with the detailed explanations in this class, it is now easier for me to describe the internal hardware components of a computer, including the motherboard, central processing unit (CPU), memory, hard drives, and expansion slots.
Moreover, it also enabled me to identify various hardware connections, such as different categories of ports and peripheral devices like mice. Consequently, the course leaves you well-acquainted with the subject to embark on your journey as an IT support-related professional.
You might also like: Know the Difference between Hardware and Software
Certificate: No
Accredited: No
Key Highlights:
Imparted at Georgia Tech as CS 8803, it is an intermediate-level course. Hence, you should have taken the undergraduate level course to pursue this one of the best online operating systems courses.
Further, for this course, the knowledge and familiarity of the computer systems organization's elementary software and hardware aspects are pivotal. Lastly, this course requires a programming experience with C. It will help you be thorough with the practical part of the course.
Two things that drew me into exploring this course were: It is in collaboration with Georgia Tech and is 100% free. With this undergraduate-level introductory course, you will understand the basic operating system mechanisms, abstractions, and implementations.
To complete the 'Introduction to Operating System Udacity's course,' you need almost two months but it is thankfully self-paced. In this course, you will learn with rich learning content delivered by recognized industry professionals.
You will have to take interactive quizzes to test what's been taught. Its core comprises concurrent programming (threads and synchronization), introduction to distributed operating systems, and inter-process communication.
Students Enrolled: 20,765 students
Rating: 4.6 (3921 ratings)
Certificate: Yes
Accredited: No
Key Highlights:
It is one of Udemy's bestselling online OS courses and is one of the most in-depth, comprehensive, and complete classes. Through this Udemy course, you have a lot to learn. The class teaches core concepts of operating systems and makes you familiar with the kind of questions asked in competitive exams like ISRO, PGEE, and GATE.
You will get well-acquainted with Operating Systems' working and process creation and learn how a process is moved from hard disk to RAM. All this knowledge and more can help you achieve a top grade in the Operating systems course in the Bachelor's degree.
One of the standout factors about this and other Udemy courses that I personally cherish is that they come with a 30-day money-back guarantee. So, if you are unhappy with the class during this period, you can contact Udemy's team and get your 100% refund.
Hence, your interests are fully protected. The course comprises 8.5 hours of on-demand video and five articles. You get complete lifetime access to the lessons and all the resources. You can view it on your TV and mobile. Following the completion, you will bag a certificate of completion.
Students Enrolled: 6,767
Rating – 3.1
Certificate: Yes
Accredited: CPD Accreditation
 
Key Highlights:
The last recommendation for the best online operating systems course is an Alison's revised course where you learn about operating systems and their role in computer systems. It is a 100% free course wherein the instructor will discuss your different kinds of OS.
In addition, you will learn about the hardware addresses, computer hardware, system calls, and computer processes responsible for the system's working. Through this course, you will develop a strong understanding of how operating systems function.
This course attempts to provide you with the requisite operating system skills to crack the interview questions on operating systems in top-notch companies. It is a course for someone well-versed in computer organization, C programming, and computer architecture.
Once you complete the course, you will have explored the functions of the computer operating system, delved into the intricacies of the CPU, examined hardware addresses, and gained a wealth of additional knowledge.
Do not miss the opportunity to enroll in this course today and embark on a journey to acquire formidable computer programming skills.
Do You Need Any Prerequisite Knowledge To Learn About Operating Systems?
In my opinion, if you have an elementary understanding of programming and hardware concepts, it can be a massive savior when learning about operating systems.
Fortunately, you can find many operating system courses online to learn about operating systems from scratch, making it accessible to beginners.
Related: Detailed Prerequisites Requirement for Learning Operating Systems
How Long Does It Take To Learn Operating Systems?
Ideally, the time needed to get well-acquainted with operating systems may vary significantly depending on multiple factors, such as the individual's learning approach, prior knowledge, and the level of understanding needed.
It can take several months of focused study, practical experience, and a few online OS courses to acquire a robust understanding of operating systems.
However, mastering all the aspects associated with OS can take a few years of real-world application and continuous learning.
What Is The Best Way To Learn Operating Systems?
The best way to get well-versed in operating systems is to combine
the oretical learning and practical experience. Here are a few effective approaches:
1. Hands-on practice: Work with some real operating systems, experiment with various OS installations, and set up a few virtual machines to directly interact with the system, troubleshoot issues, and comprehend the features.
 
2. Programming projects: Take up a few projects involving interacting with OS, such as creating system utilities, simple scripts, or device drivers for a deeper understanding of how software interacts with underlying OS.
 
3. Enroll in operating system courses online: Make the most of the online resources listed above and a few other tutorials to get well-structured information on the subject.
 
4. Open-source contributions: It helps to contribute to open-source projects related to OS and collaborate on real-world projects or with experienced developers, and gather hands-on experience on complex system-level programming.
 
5. Networking and forums: Lastly, engage with the community via discussion boards, online forums, and networking events. It helps you interact with people with similar expertise and interests and offers valuable insights, guidance, and opportunities to learn from experience.
 
Related: Operating System Books
What Are The Job Opportunities You Can Get After Taking Online OS Courses?
Once you complete a course, many opportunities will open for you. Some potential job roles that I find particularly interesting are:
1. System administrator: Managing and maintaining computer systems, such as configuring, installing, and troubleshooting hardware, software, and OS.
 
2. Network administrator: Managing, implementing, and designing computer networks.
 
3. Technical support specialist: Offering troubleshooting and assistance for networks, software, and computer systems and resolving technical issues to ensure smooth system operation.
 
4. Software developer: Creating applications that interact with OS or develop system-level software.
 
5. System analyst: Analyze an organization's computer systems and processes to recommend improvements and develop solutions.
 
6. IT consultant: Offer guidance and expertise to organizations on different IT-related aspects.
 
7. IT project manager: Oversee the implementation, execution, and planning of IT projects.
 
8. IT educator or trainer: Share your knowledge by conducting workshops or developing educational materials.
Have Recent AI Developments Made The Subject of OS Obsolete?
Fortunately, the recent developments in AI have not made operating systems obsolete. Operating systems continue to be vital components in managing computer resources, hardware, and software.
Of course, AI technologies accentuate some OS aspects, but they do not replace the fundamental need for OS in computer networks and systems.