Reading Time:
7
minutes
Cellular and Molecular biology is a dynamic discipline. There is a myriad of opportunities in this head within fields, such as medical, pharmaceutical, agricultural, and industrial fields. However, beyond preparing you for a diverse career path, the knowledge of molecular biology will also equip you to make decisions, which can benefit your health and diet.
Just like when you have to learn to write words, you must first learn to write alphabets. Similarly, every biologist should know some vital lab techniques to be good at wet-lab experiments. So, be it the R&D segment of a primate company or any government institute, the most quintessential question a recruiter will ask you is the techniques you know.
Many research labs or institutes offer opportunities for several hands-on training for lab techniques. However, the candidate needs to know the fundamental applications and concepts. For this, you must train yourself in the subject through a good course.
The internet has a range of molecular biology classes online. So, how do you find one of the best online molecular biology courses of the many available programs?
Well, fret no longer! Our team sat down with a group of molecular biology experts and dug the internet's best molecular biology certificate programs online. So, let us get started and address these courses one by one.
Best Online Classes and Molecular Biology Courses
6 Best Courses and Classes for Molecular Biology Online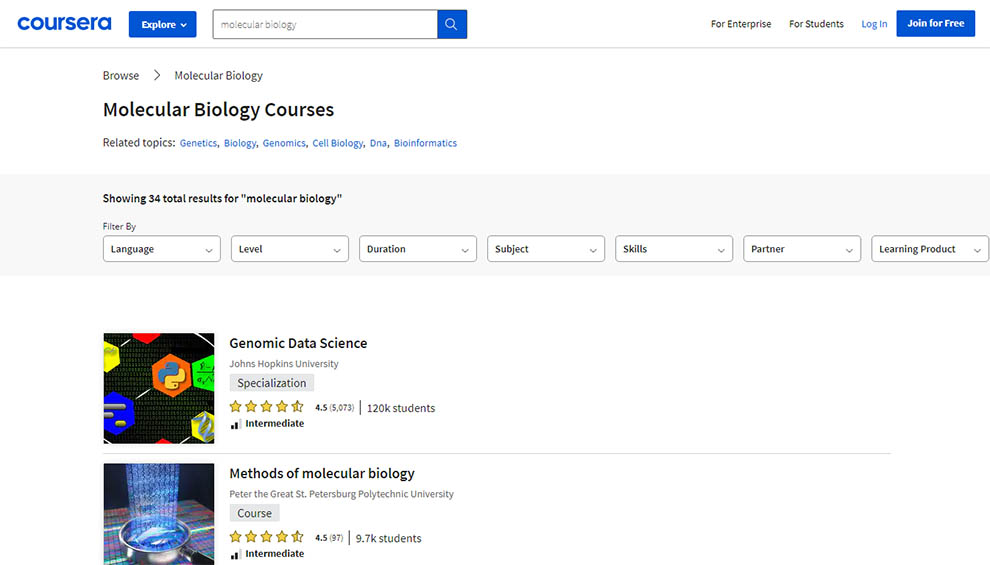 On Coursera, you can find an array of some of the best molecular biology classes online. You can filter the available programs according to language, level, duration, subject, skills, partner, and learning project.
This will help you find one molecular biology training program that best fits your needs. One of the best things about these courses is that they are all offered by one or the other top-end and reputed universities worldwide.
In addition, each of the available courses is 100% online. So, you can start and take at your timeline. Also, please know that the course will fetch you a shareable certificate. This can be an excellent boost to your CV. You can print and include the certificate to validate your skills and amplify your CV, or you can also share it on your social media, such as LinkedIn.
A few of the molecular biology certifications online that caught our eye were: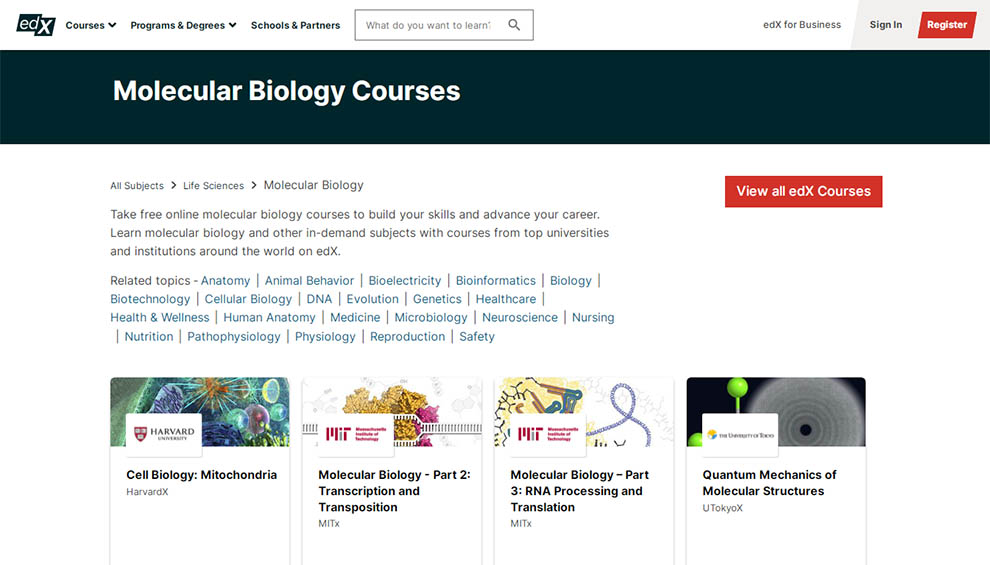 On edX, you can take some free online molecular biology courses that can help you develop your skills and boost your career. With their available best molecular biology training programs, you can learn molecular biology and various other in-demand subjects from the courses.
All their courses are provided by top-end and reputed institutions and universities worldwide. There are courses available for all skill levels, experience, and duration. So, finding one that matches your requirements shall not be complicated.
A good thing about their molecular biology certificate programs online is they are free. However, you will not be rewarded with the certification in the free molecular biology classes online. In addition, graded assignments and instructor support are also unavailable in the free variants.
So, if you need the full experience of this best molecular biology certification online, you will need to enroll in the paid version of the course.
A few of the courses that you can check out with edX are:

 
It is a self-learning molecular biology certification online. Upon taking this course, you will have a solid understanding of microbiology fundamentals. This will simplify the job finding process for you.
So, upon completion, you will bag yourself a hard certification to authenticate your skills. Once you complete this course, you can apply for a job as a:
Molecular biologist
Project assistant
Jr/Sr Research fellow
Research associate
You can also take other hands-on training to boost your skill sets.
The course content of this one of the best online molecular biology courses meets the desired industry standard. These are 100% online molecular biology classes online. So, you can take them anytime and anywhere.
All the sessions in the course are engaging and interactive. You also have a provision to clear your doubts on the spot. The course's timings are convenient and adapted around the timings of the working professionals and the students who take the course.
What will you learn?
Some things you will learn in this molecular biology training program are:
Different kinds of molecular biology techniques
Use of instruments in these techniques
Mechanism of the different techniques
Principles, procedures result in interpretation, the dos, and don't in wet lab procedures.
Research areas like molecular biology, cell biology, immunology, genetics, biochemistry, animal or plant biotechnology
Experiments involved using different techniques.
Laboratory techniques, such as Techniques in Recombinant DNA technology, Estimation Processes, Microbial & Chromatography Techniques, Protein Assay techniques, Protein Purification and, PCR techniques, , Immunological assays, and Sequencing Techniques.
 What do you need?
To take this one of the best molecular biology certificate programs online, you will need:
Fundamental knowledge about the different concepts in life science
Good internet speed
Laptop for live streaming
Who should take this course?
This is one of the best courses for research and industry professionals. Even life science students and graduates will appreciate the learning imparted in these classes.
Broadly, anyone who aspires to make their molecular biology fundamentals solid will understand this course.

 
Harvard University also has an array of the best molecular biology classes online. These are the best molecular biology training programs to provide you with a certification from Harvard University. There are four key molecular biology courses offered by Harvard University, which you can watch out for:
Each of these courses will cover a different aspect of molecular biology and train you for brighter things in the field of work.

 
This is one of the best online molecular biology courses. It is a brief course of only 35 minutes and will bag you a certificate of completion. Once you are through with the course, you will appear for a final exam, wherein you can access your understanding and grip over the learned subjects.
When you clear this exam, you will be rewarded with the certification. However, to earn this certification, your grade in the examination must be 70 percent or higher in the final exam. The grade will be calculated as and when you complete the exam.
However, if you do not pass the first attempt, you can re-appear for it. There is a 7-day waiting period before reattempt.
Who should take this course?
This course is suitable for students who wish to learn about the basic biological topics when studying biology's smallest units – cells and molecules.
What will you learn?
A few things covered in this course are:
Fundamentals of biology
Theories used by biologists
Fundamentals of chemistry
Understanding of chemical processes
Basic knowledge and appreciation of chemistry to appreciate biology
Understanding of atom
Learning of biological molecules
Difference between organic and inorganic molecules
Structures and functions of these organic molecules
Role of organic molecules for our body's function
Awareness around cells and their role
Components and functions of cells
Similarities and differences in organisms
What is cell metabolism, and the chemical reaction around it
What is photosynthesis
Learning about Mitosis or cellular reproduction in detail
Understanding the difference between cytokinesis and Mitosis
What is Meiosis?
Developing an understanding of Mendelian genetics and chromosomes
Principles of inheritance
Probability of passing on the traits from one generation to another
Gene expression
Understanding of the universal genetic codes deoxyribonucleic acid (DNA) and ribonucleic acid (RNA)
Difference between DNA and RNA
What do you need?
For this course, you will need:
Desktop Computer
Chrome (v74+)
Webcam + Microphone
1mbps+ Internet Connection

 
Next on our list for the top online molecular biology courses is this course by UC San Diego. This course aims to provide you with the requisite background in biology and chemistry. It is a web-based course. So, you can learn from the comfort of your home.
What will you learn?
In these molecular biology classes online, you will acquire:
Clarity on the fundamentals of molecular biology
Understand the organizing principles
Information on the figures and discoveries from the history of cellular and molecular biology
General understanding of ethical implications of certain lines of research
Overview of the key tenants of cellular and molecular biology
Information on the vital methods and techniques used by cellular and molecular biologists
Understanding of the advances in molecular biology and their impact on practical technologies
Knowledge of applying the scientific method to generate, test, critique, refine (or abandon) hypotheses
Learning of the practical applications from the field of molecular biology
Related: Anatomy and Physiology Courses Online, Best Pathophysiology Courses Online,Relationship Between Biochemistry and Molecular Biology,Best Molecular Biology Books
 
Conclusion
So, these are the top six best online molecular biology courses. We have tried to include every detail around these best molecular biology classes online with this guide.However, if any particular detail around any of the above-listed courses, you can click on the annexed link. This will help you make an informed decision.
Regardless of the course selection you make, it will be a good course because we have only included the internet's best pick in this guide. So, go ahead, take your pick, and enjoy learning molecular biology from the comfort of your home.
Happy Learning!

Best Molecular Biology Classes is rated 4.4 and reviewed by 10 Molecular Biology Experts & 20+ Molecular Biology Training Classes Students